What is Unlocator & Is It Safe For Streaming Content?
Editor Rating:





User Ratings:





(12)
What is Unlocator? Is it a VPN? A Smart DNS service? Does it provide online anonymity, or is it only good for streaming Netflix? All these are fair questions because not many people know about Unlocator and what it does. It doesn't have as much marketing publicity as services like NordVPN or ExpressVPN, and yet it's classified in the same category and tends to receive positive reviews.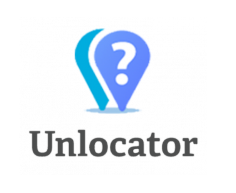 In a nutshell, Unlocator is the software you need if you like to stream content without any restrictions. Today, people want to access entertainment on the go. They want to watch series and movies on their laptops, tablets and mobile phones.
Unfortunately, most VPNs are hardly perfect on this score. You may be able to stream content from Netflix, for example, but it will depend on where you are located, what server you are connected through and a few other factors. No VPN has a 100% success rate when it comes to connecting users to streaming services.
That is where Unlocator comes in. It is the best way to stream content without geo-restrictions, and to avoid other issues that you may experience when using a regular VPN service. You can watch content on almost any device and from any location on the globe.
1. What is Unlocator?
This review will look at everything to do with Unlocator DNS and VPN service.
Unlocator is a Smart DNS streaming service. It allows users to access more than 190 geo-locked streaming channels.
Unlocator is also described as a VPN service. It indeed offers some level of privacy online, but compared to the giants like Nord VPN, Express VPN and others, it just doesn't make the cut.
The main strength of this service is unblocking content. With it, users can quickly access content on Netflix, Hulu, Amazon Video, Apple TV and many more. It allows you to stream and also download movies and series.
If you are looking for a robust security tool, Unlocator is not the answer. However, it is an excellent service for anyone whose primary interest is affordable online entertainment.
2. How Does Unlocator Unblock Content?
In countries like Russia, Cuba, Saudi Arabia and China, governments take active steps to restrict content; you can only watch what those in charge think is acceptable. When you get within the borders of such countries, you are immediately restricted in terms of what you can access through your laptop, tablet or mobile phone.
How is a government able to stop you from finding what you are searching for online?
They track DNS servers. Whenever you enter a query, it is transmitted to a DNS server, which passes your question to other servers, which get the answer and bring it back on your screen. ISPs control servers and there are millions of them across the world.
In countries where there are content limitations, governments keep track of servers. They define exactly what content can be passed between them. If you search for content that is marked as restricted, the search isn't completed, and you aren't able to get what you are looking for. Worse yet, your searches can be used to track your location.
Unlocator overcomes this by changing server identity. Instead of directing your search query through a server in a prohibited region, it directs it to one in a region where the content you are looking for isn't prohibited.
Your computer is "duped" into believing you aren't where you actually are. Anyone whose watching your online activity will not be able to see what you are searching, or what servers you are directed to. This way, you can access blocked content securely, and without fear of being tracked.
3. Unlocator Speed
So long as you aren't trying to use Unlocator as a VPN you will be happy with the speeds. We tested it in several locations and we got stable speeds throughout, except for a couple of times when the connection timed out.
This is to be expected though as you need to remember that your connection to any server will depend on several factors: where you are, how far the closest server is, the kind of device you are using and so on.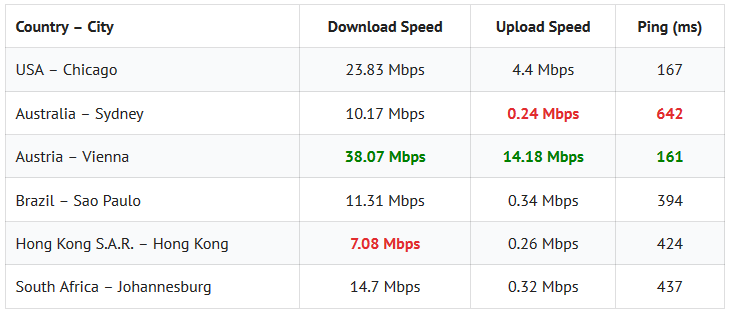 30-Day Money Back Guarantee
Unlocator's speed is commendable; it is not as high as some of the best VPNs, but it is pretty good, and there are very few timeouts.
However, if you use Unlocator and a VPN at the same time, the speed drops. If you use it without a VPN you will be able to stream and download content faster.
The other thing we noted is that with Unlocator, sometimes streaming speeds actually goes up.
4. Logging Policy
When you register for a free trial or pay for a subscription the company collects some details: name, email, address, IP address, credit card information, and cookie information. According to their website, this data is deleted after 24 hours. It is used internally within the company to improve the service and also helps track and contain malicious activity.
The company doesn't keep usage logs.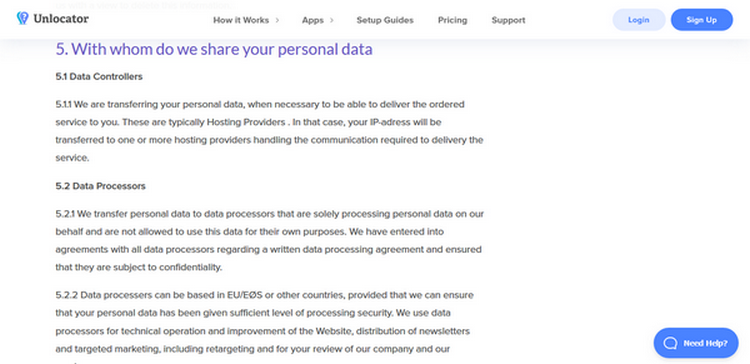 5. IP & DNS Leaks
Unlocator is safe to use and it doesn't leak information. We conducted a number of tests, including a virus test, and we found everything to our satisfaction.
As for security, the company isn't very forthcoming about what measures are in place, and we had to dig around quite a bit (this is a common theme with Unlocator; it works very well for its intended purpose, but it doesn't go into detail about how it does things).
Unlocator Smart DNS and VPN service supports OpenVPN, IKEv2, L2TP/IPsec, and IKEv1/IPsec. The protocols are device-specific: OpenVPN and IKEv2 for Windows, OpenVPN for OS X, IKEv2 and IKEv1/IPsec for iOS, and Open VPN for Android and Amazon Fire devices.  Platforms that have PPTP can also use it with ease.
The service uses 256 bank-grade encryption with AES-256 cipher.
All this may sound very complicated, but all it means is that if you are using an unsecured network such as public Wi-Fi, or unsecured home Wi-Fi you are safe; no prying eyes will see what you are streaming, or even whether you are streaming.
The service has a kill switch to prevent data leaks in case you are compromised.
6. Is Unlocator a VPN Service?
This isn't an easy question to answer; in fact, the answer is both yes and no. Ideally, Unlocator provides some degree of VPN protection, but very little. If you are looking for an anonymous browsing service, this is not the answer. As a VPN service, it's very slow, it keeps logs and it falls within 9-eyes jurisdiction.
If you are after a Smart DNS service Unlocator is the best. However, for a VPN we recommend you look at services like Express VPN, IP Vanish, Nord VPN, VyprVPN, HideMyAss and others.
You can read our post on the best VPNs for an in-depth look into how to be anonymous online.
7. What Devices for Unlocator?
When you stream content you want to be able to watch it on any device; TV, phone, tablet, laptop or desktop. Unlocator is compatible with a wide variety of devices.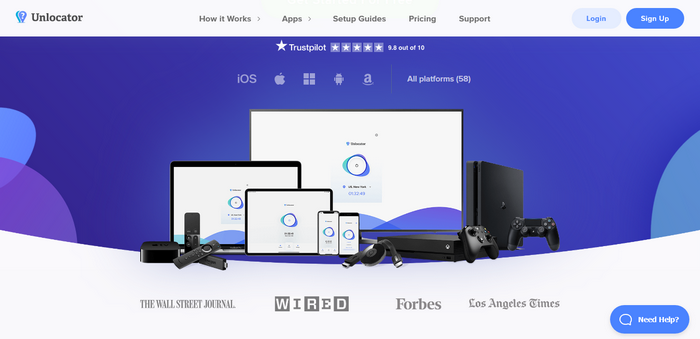 It supports 58 devices and platforms. You can use it on media players (Amazon Fire TV, Apple TV, Boxee, Nexus Player and more), gaming consoles (Playstations 3, 4, PS Vita, Wii, Xbox 360 and more), smart TVs (LG, Panasonic, Phillips, Samsung and more) and phones and tablets (all android and all iOS, Windows Phone 8).
8. Number of Locations
This service has very few servers – just 40 in 37 countries. It's no wonder it doesn't do very well as a VPN service. You can choose any specific server you want and you can also bookmark it for easier access in the future.
Unlocator is based in Copenhagen, Denmark. It was established in 2013 as a Smart DNS service and only recently added a VPN component.
Denmark falls with the 9-eyes jurisdiction, which is another reason why this service doesn't work well as a VPN. However, for streaming, the location doesn't really matter so much as servers are masked, so there is nothing that authorities can use against you.
9. Unlocator Channels
We've already mentioned that Unlocator can be used to unblock more than 100 channels, but you may be wondering what exactly you are getting. One question that's commonly asked is "does Unlocator work with Netflix?" The answer is yes; you can use Unlocator to unblock Netflix US.
That's not all. Here's a glimpse of other channels that you can access using this software: AMC, Apple TV, BBC America, BBC iPlayer, Amazon Instant Video UK and Germany, Prime Video, Discovery Channel, Disney, DSTV, ePix, ESPN, E! Entertainment, Fox, Food Network, Fox Sports, Hulu, itv, HBO, MTV, NBC, Showtime – the list is endless.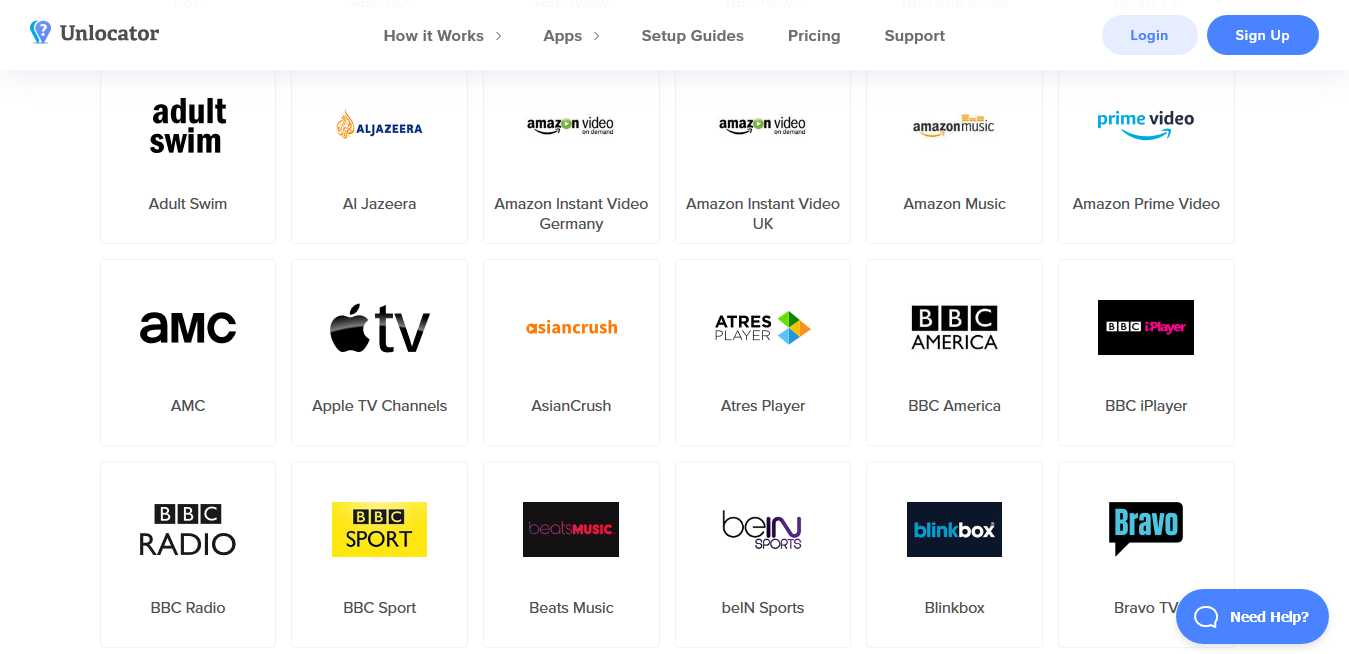 10. Setup & Ease of Use
One of the things we liked best about Unlocator is how easy it is to set up and use. The website gives an extensive guide on how to set-up different types of devices, and if you follow the guide you should be up and running in no time.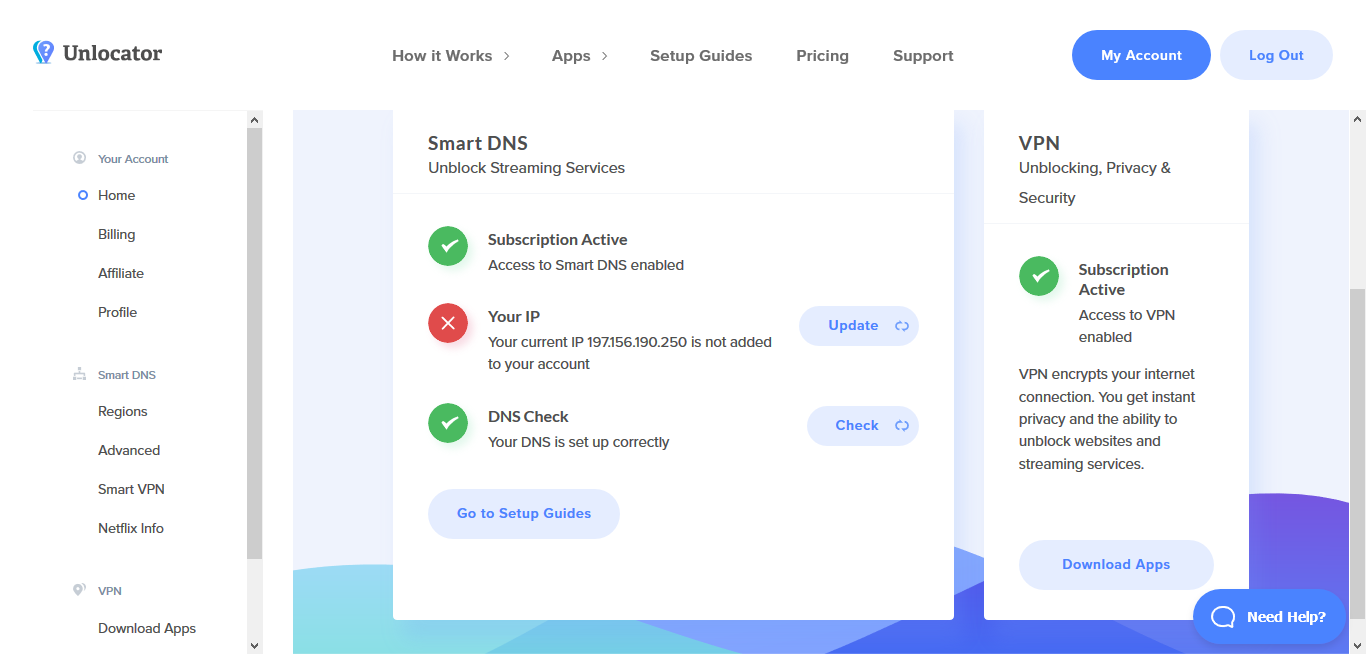 Your IP is added automatically to your account when you sign-up, even for a free trial. On registration, you are guided through how to change a few network settings and then you are good to start streaming.
If you are stuck there is a comprehensive tutorial as well as a support platform to help answer any questions you may have.
11. Unlocator Customer Service
Unlocator has a Live Chat and there is an extensive knowledge base on the website which has a list of popular articles and set-up guides.
We tried out the Live Chat and were greeted initially by a bot. However, within a few minutes we were handed over to a proper support person and they were able to answer our questions quickly, with in-depth information.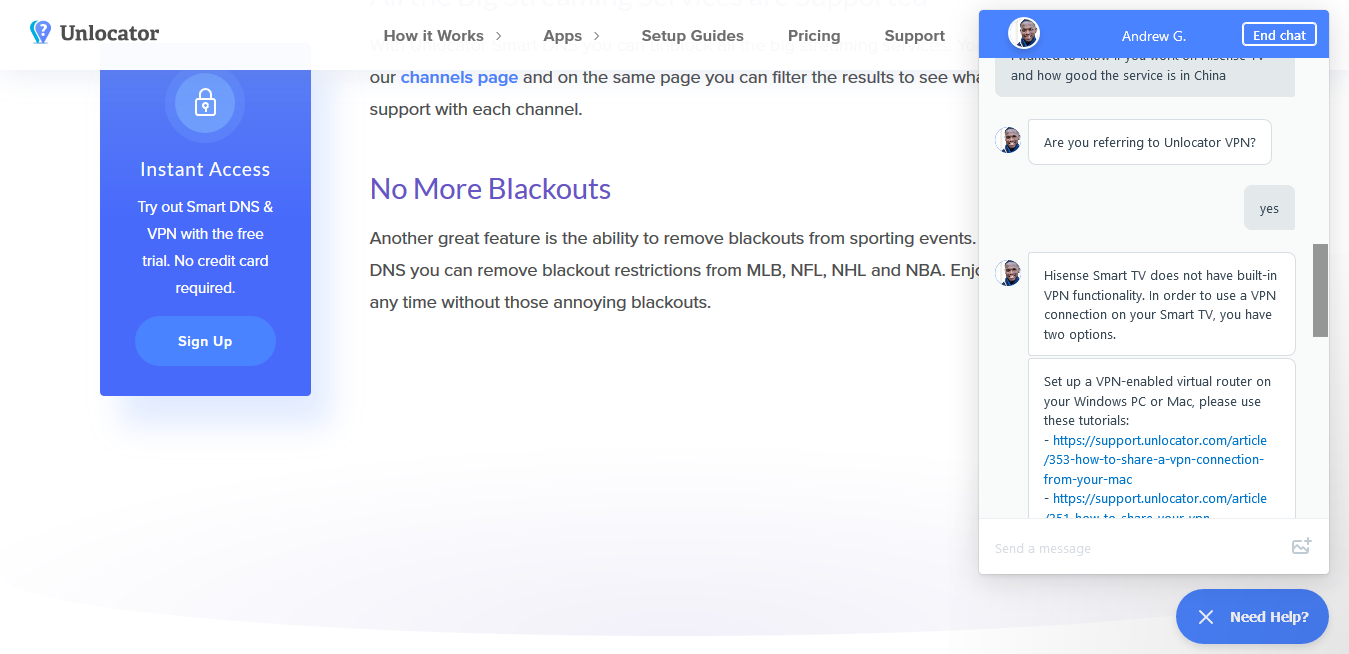 You can also contact the support team via email.
12. How Much is Unlocator?
Unlocator has a free trial that doesn't require any payment from you; just register and use the service for the first 7 days free-of-charge. Because you don't need a credit card for the free trial there is nothing to cancel afterward.
In our opinion, Unlocator is well priced for the value it offers. You can choose Unlocator Smart DNS, in which case you will only access the streaming services. It has 4 packages:
$4.95/month for a monthly subscription
$4.58/month for a 6-month subscription
$4.16/month for a 12-month subscription
$3.29/month for a 2-year subscription
You can pay more if you would like Unlocator Smart DNS + VPN:
$9.99/month for a monthly subscription
$8.17/month for a 6-month subscription
$6.58/month for a 12-month subscription
$4.96/month for a -year subscription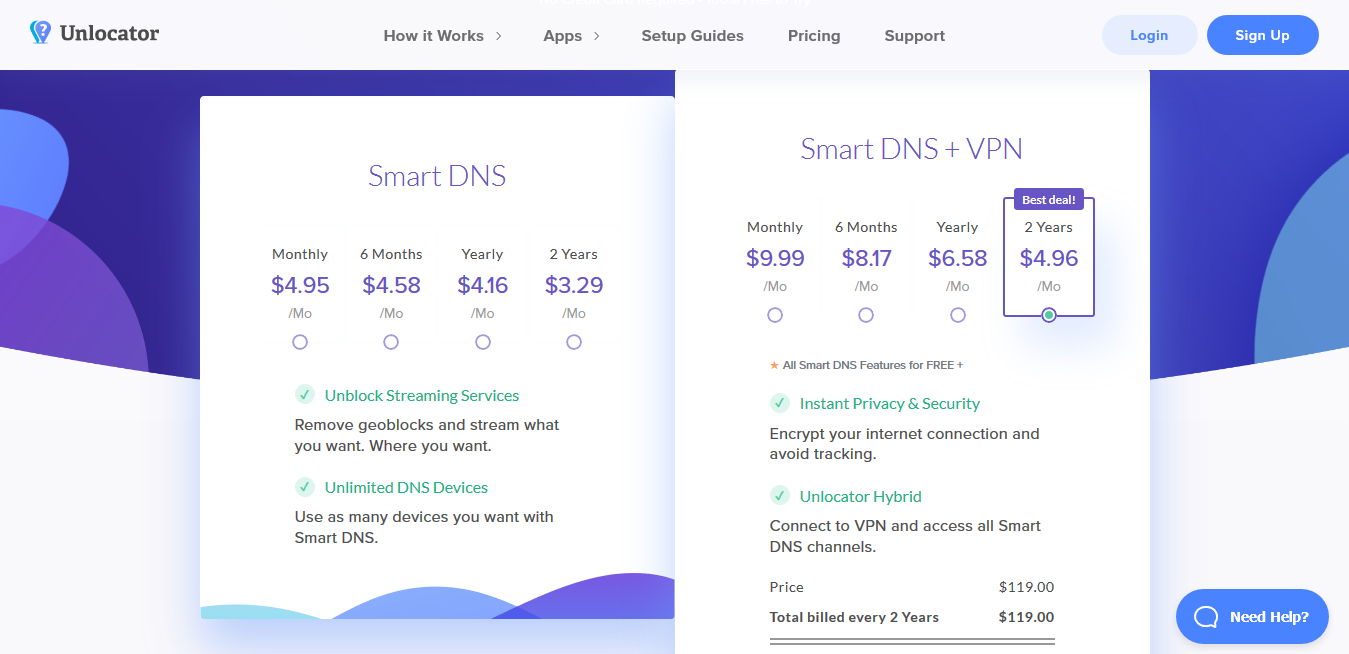 30-Day Money Back Guarantee
It's true that compared to mainstream VPN services, these services may seem a bit expensive but think about all the content you can access and how easy streaming is. Getting that much content any other way would cost you much more, and access would likely involve many hurdles.
How is Unlocator VPN?
According to the Unlocator website, the service offers a "powerful VPN" that can "add privacy and security to your online experience". While most people who buy this service are looking for streaming software, there are some who want a proper VPN, or a combination of both.
We have already mentioned that Unlocator as a VPN isn't very good. That said, there are several things that it does well:
Relatively fast and stable
Provides some degree of online anonymity
Doesn't have IP or DNS leaks
Has a pretty strong security protocol
Comes with a kill switch
However, these features are not enough to compare it to top VPN services such as Express VPN, Nord VPN, Hotspot Shield and others.
The main problem with relying on Unlocator VPN for online security is that the company has very few servers, which means connections will be slow. The VPN and Smart DNS service is in Denmark, which is in the 9-Eyes jurisdiction, and the fact that it does log some data makes it high risk for use as a VPN.
Conclusion
Unlocator fills a niche that's definitely lacking. Not everyone wants a VPN that provides Fort-Knox level security. For many people, a moderate level of online protection is all they need, but at the same time, they want to be able to stream TV series and movies on demand.
With this software, you are able to get both these things. True, it isn't as secure as the best VPNs, but if you don't need that much security then there's nothing to worry about.
The fact that the software is easy to install and use, and is reliable is a big plus.
User Reviews
Jonathan Thackray loves it:
"Unstoppable. Speed doesn't change, works on all devices except XBOX and has a small yet effective VPN to stop DNS Hijackers when needed. Never slows you down unless using VPN in cafes and public places for protection. A Smart DNS is the way to go if you need access to everything."
James says it's the best DNS he has ever used:
"I love the VPN Unlocator….we use it for MLB blackout. Awesome and easy to install …just follow the Unlocator instructions and most importantly, I believe you can only use this on a laptop computer and not your IPAD KC."
Mark McDermott's family is happy that he bought Unlocator:
"Unlocator works great on all my devices. I've installed it on my router and now the whole family watches whatever whenever they want."