The 4 Best VPNs for Pakistan in 2022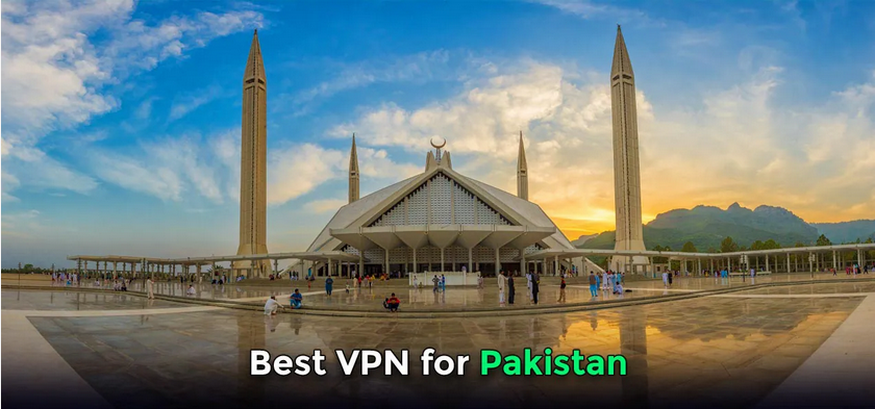 YouTube was banned in Pakistan from 2012 to 2016. Facebook was banned for a period in 2010. While these bans have been temporary, many websites are permanently blocked, and there are laws in place designed to keep them that way. How can you access these sites without worrying about consequences? This post tells you about the best VPN for Pakistan.
Pakistan has the fastest-growing internet market in South Asia. Back in 2001, only 1% of the population had access to an internet connection. By mid-2021, that number had grown to 55%.
You would think that a statistic like this represents a nation where access to the internet is free and uncensored. You'd be wrong. In Pakistan, you only access what the government wants you to access.
The government has passed laws that allow it to block, censor or remove online content as it sees fit.
---
A Brief History
There's quite a history to internet censorship in this country, and the list of sites blocked in Pakistan is extensive.
Back in 2010, an episode of South Park aired that drew criticism from Muslims in many countries, including the United States.
It was immediately banned from airing in Pakistan, and things have gone downhill since then. Facebook was banned because it aired a contest that urged participants to draw depictions of the Prophet. YouTube was banned for four years for similar reasons.
Today, the Pakistani government has laws in place that allow it to ban or censor websites that it deems "blasphemous, pornographic or going against the national interest".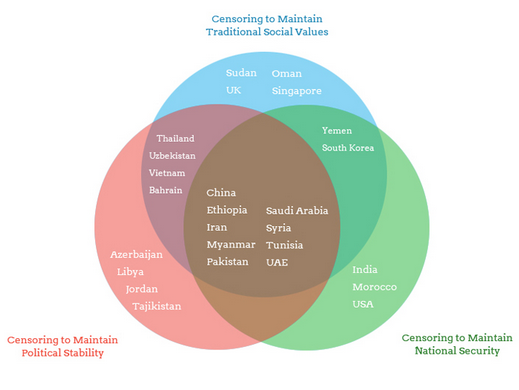 For citizens and visitors to this country, access to information and entertainment is greatly curtailed. As recently as 2021, the government restricted access to Facebook, Twitter, WhatsApp, YouTube and Telegram on Fridays. PUBG gaming was also banned.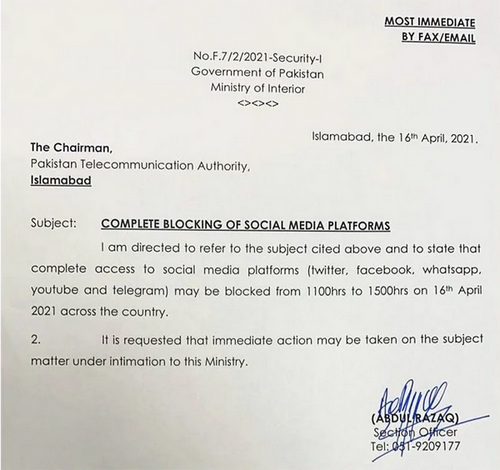 While these sites may be available on other days of the week, the government retains the right to bar access to any content on them that doesn't meet regulations.
This makes VPNs vital software for anyone who wants to access the internet without restrictions.
Finding the right Pakistan VPN provider helps you access any website at any time without fear of detection by the authorities.
---
Why Use a VPN in Pakistan?
A VPN is necessary for Pakistan because it is the only way you can access the internet without restrictions. Sites like Facebook, WhatsApp, YouTube and Twitter may not be blocked at this very moment, but they have been in the past, and they can be censored again at any time.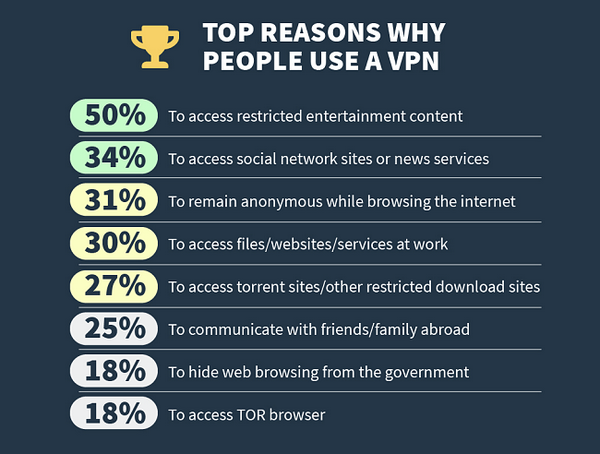 Statistics show that as many as one in four people in the world now use a VPN. Most of them are looking for different entertainment options and they also want to be able to browse anonymously.
For users in Pakistan, the stakes are a little higher. There is no guarantee that they can access whatever content they want online without fear of repercussions which may include hefty fines and even jail time.
With a VPN, you'll never have to worry about bans. Better yet, you don't have to worry about the government finding out about your internet activity because you're hidden at all times.
---
How Does a VPN Work to Give You Access to Blocked Sites?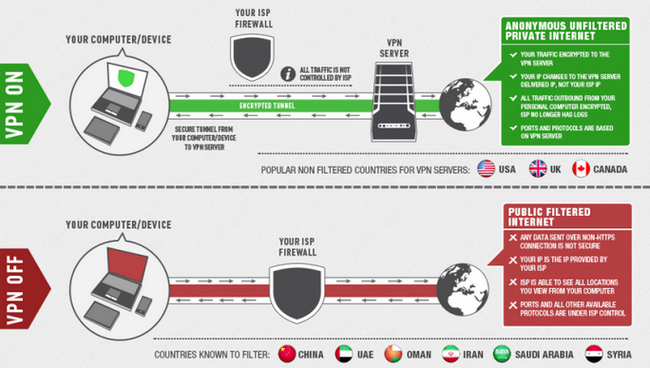 When you sign up and log in to a VPN the first thing it will ask you to do is choose a server. VPNs have servers located in different countries.
If you are in Pakistan, choose a server in another country, and to anyone looking it will appear as if the traffic from your device is coming from the country that holds your chosen server. The server you're using allocates you a different IP address from your real one.
That's not all. Apart from withholding your real IP address, a VPN also encrypts your traffic. If anyone should intercept data coming from or leaving your device, all they'll see is meaningless strings of numbers and letters.
In this way, A VPN provides two-fold protection.
You can learn more about how a VPN works in this detailed post…
---
What Can You Do With a VPN in Pakistan?
Before you go to the expense of acquiring a VPN in Pakistan you'd probably like to know exactly what you can do with it. For your investment, here's what a VPN can do for you:
You'll can use it to unblock geo-blocked entertainment
There has been a big spike in VPN use because of geoblocked content. Services like Netflix, Amazon Prime, Disney Plus, BBC iPlayer and thousands of others offer excellent entertainment, but it is not available everywhere.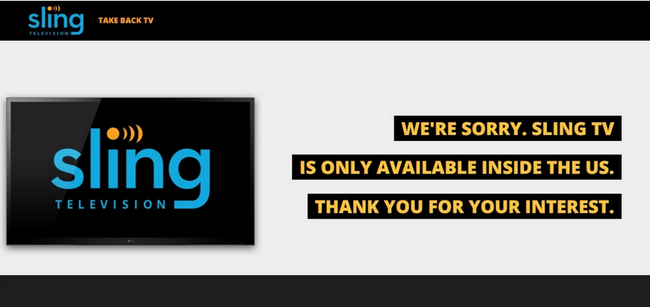 This is usually because of licensing and copyright issues. Viewers in Pakistan, for example, do not have access to shows and movies on Netflix US.
You can easily get around this by installing a VPN and choosing a server in a country where the content you want to watch is allowed.
You will access sites that are blocked or restricted by the government
It doesn't matter what websites the Pakistan government blocks; so long as you have a VPN you'll be able to access them. Just choose a server in another country and all traffic from your device will appear like it's coming from that country.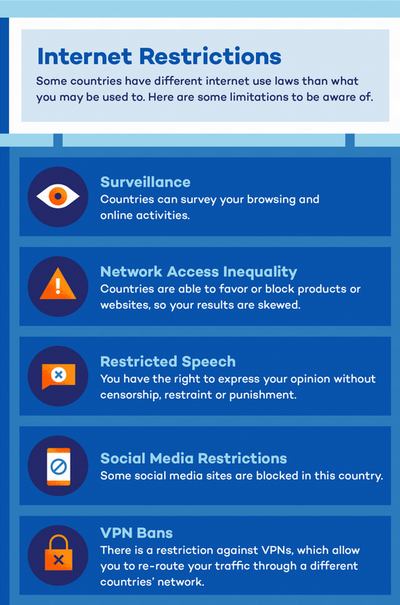 You'll be safe when using public Wi-Fi networks
While using your home Wi-Fi may be safe, public Wi-Fi exposes you to all sorts of risks. Hackers and other malicious parties prey on public Wi-Fi networks because they are easier to break into.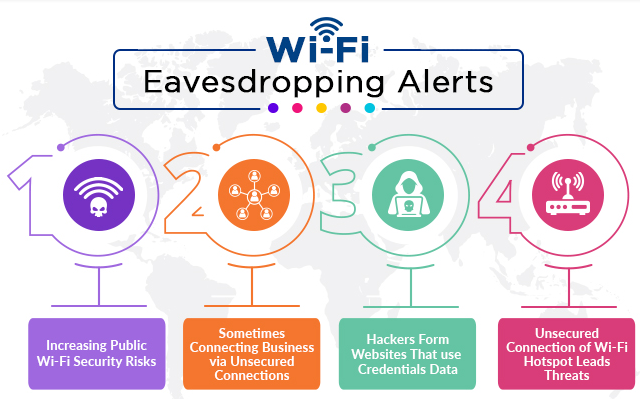 Safe communications for journalists and others in similar professions
Pakistan media watchdogs heavily supervise and censor what journalists can do. If you are in such a profession one way to communicate safely is to use a VPN. The authorities will not see when you communicate or what information you send or receive.
You can torrent
All top torrent sites have been banned in Pakistan since 2013. If you want to torrent files you have to use the proxies for these sites. You can torrent anything you want if you have a VPN.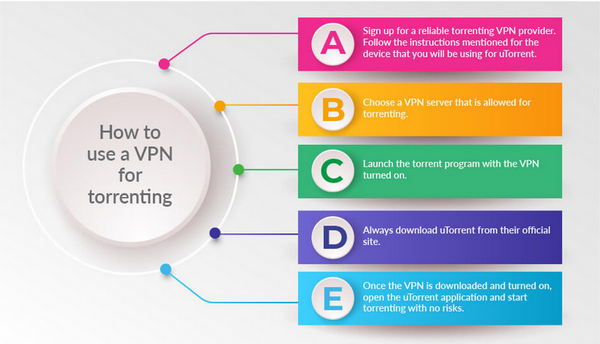 You can use a VPN to access blocked sites and stream when you travel
When you leave Pakistan, you can still use your VPN to access geo-blocked sites.
---
How to Use a VPN
VPNs aren't complicated to install and use. So long as you choose a good one that has an installation guide, you should have it up and running on all your devices in no time at all.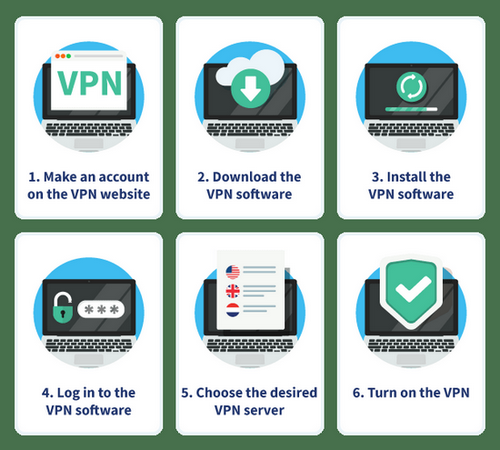 Here are the steps you need to follow:
Choose a VPN that meets your needs
There are certain important things you should take into account when you are choosing a VPN.
The first is security. You should look for one that uses the best security protocols in the industry. It should also be fast and have the ability to bypass geo-blocks and access sites like Netflix.
The number of simultaneous connections also matters; you want as many as you can get. Look for a VPN that is easy to install and use and that's well supported.
Pay for it and download the app
Paying for some VPNs may be tricky in some regions. In Pakistan, however, you can pay for most VPNs using a Visa or a MasterCard.
If you find this difficult to do you can ask someone outside Pakistan to buy the VPN and then send you the download link for the app and the login credentials using a secure messaging app.
Many VPNs also accept bitcoin payments.
If you are outside Pakistan we recommend you download and install a VPN before you arrive in the country.
Log in and choose a server outside Pakistan
After you download and install all that's left to do is log in and then choose a server. Alternatively, you can let the VPN allocate you the best server.
When choosing a server think about what you'd like to do with the VPN. For quick and easy access when streaming content, choose a server that's located in the country where the content is available to stream.
If, for example, you'd like to watch BBC iPlayer, choose a server in the UK.
Note: Pakistan's internet speeds can be rather slow, so when you're looking for a VPN focus on those that are fast.
---
4 Best VPNs for Pakistan
Read Review
View Listing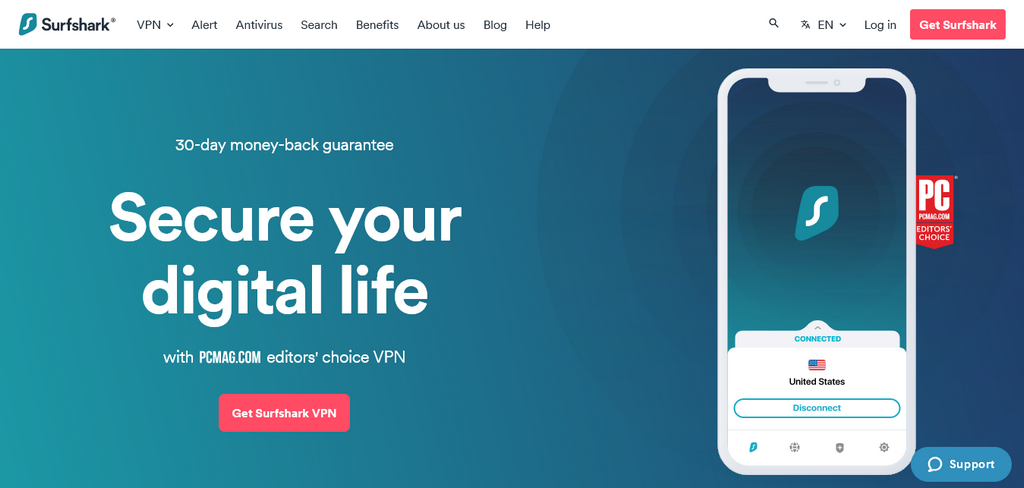 Surfshark provides excellent security and online privacy inside Pakistan and you don't have to pay a lot of money for it. For a few dollars every month you get unlimited simultaneous connections, speed and top-notch security features.
Compared to some of the big players in the industry Surfshark is a newcomer, but the company has worked hard to provide superior service.
The software has a nice user interface and is well supported, and you will not have a problem installing it and getting it to work.
The service has a feature called Camouflage Mode that disguises VPN traffic as normal traffic, as well as a raft of other online security features.
It is a good choice for accessing geo-blocked streaming services like Netflix because it is fast.
| | |
| --- | --- |
| Pros | Cons |
| The VPN has servers in countries near Pakistan, as well as in the Americas and Europe | It doesn't have many options for advanced users |
| It is great for unlocking geo-blocks, and you can use it to access banned sites | Some servers are slow |
| Use it to watch Netflix, Amazon Prime, BBC iPlayer and many other streaming services | The service doesn't have a one-year subscription, and the one-month plan is rather expensive |
| You get unlimited simultaneous connections | |
| It works on popular platforms like Windows, Android, iOS and macOS | |
| You can use it on TV sticks like Amazon Fire Stick and Roku | |
| It uses 256-bit AES encryption, has leak protection and other online security features | |
| The service has 3,200+ servers | |
| It is located in the British Virgin Islands | |
| It comes with a 30-day money-back guarantee | |
---
Read Review
View Listing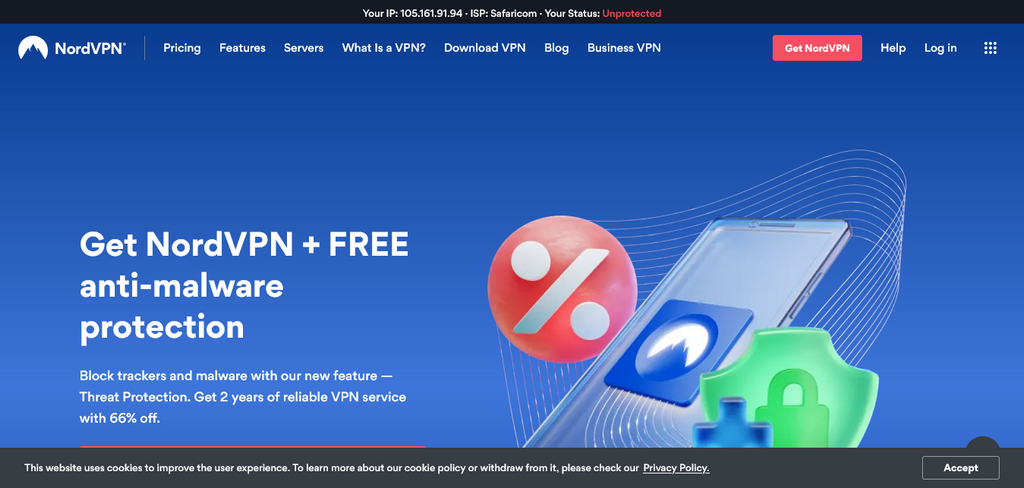 NordVPN is an excellent VPN for Pakistan. It will help hide your online activity while giving you access to streaming platforms like Netflix, Amazon Prime and HBO.
This VPN has been around for many years and remains an industry leader with excellent speeds and superior security features.
It has thousands of servers scattered all over the world, and connecting when you are in Pakistan should not be a problem.
The only reason we don't make this our number one choice is that you get few simultaneous connections, unlike Surfshark which allows you to connect as many devices as you want.
| | |
| --- | --- |
| Pros | Cons |
| It is fast – one of the fastest in the market | Streaming servers are not labeled – you have to find them yourself |
| The service has excellent security features, including military-grade encryption and an automatic kill switch | Some servers are slow |
| A double-VPN feature encrypts your data through two servers for additional protection | You get only 6 simultaneous connection |
| You can use it on Android, Windows, iOS, macOS, Linux and Amazon Fire Stick | |
| It is affordable | |
| The company has 5,000+ servers | |
| It is based in Panama City, Panama | |
| You get a 30-day money-back guarantee | |
---
Read Review
View Listing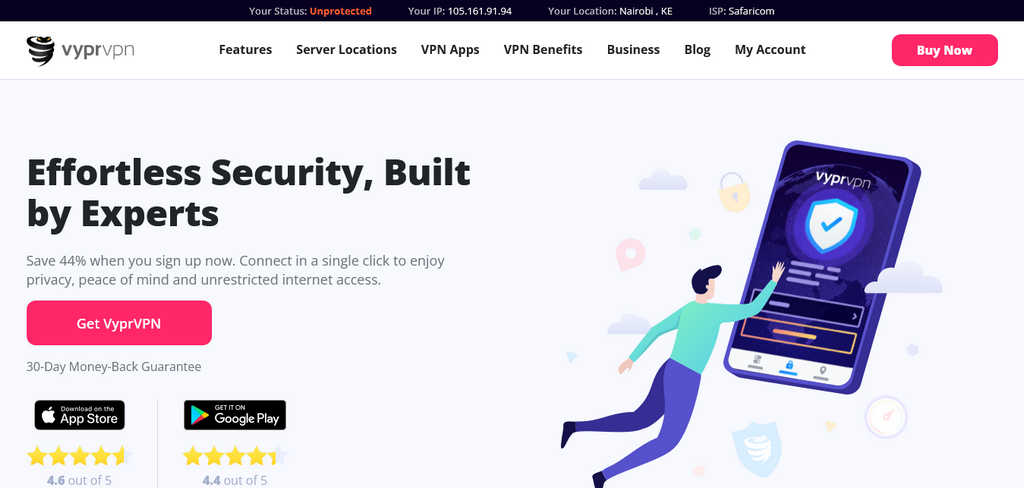 Users often overlook VyprVPN as a VPN for Pakistan because it has fewer servers than many of the big industry players.
It is a reliable service that will obfuscate your traffic and allow you access to geoblocked sites. We like this service because the company manages its servers in-house. Users experience very little downtime compared to other providers.
VyprVPN also has a strong set of security features. Apart from AES-256 encryption, the service also employs the Chameleon protocol to scramble data. It also has a kill switch and an auto-reconnect feature.
| | |
| --- | --- |
| Pros | Cons |
| The service is fast; it's as good as the big providers | You cannot pay for it using bitcoin |
| It is secure and uses the best protocols in the industry | Some server locations are slow |
| The company doesn't keep user logs | You only get 5 simultaneous connections |
| VyprVPN works for Android, Windows, iOS, macOS and Linix | |
| You rarely get downtime | |
| It will connect you to Netflix, Amazon Prime, HBO, BBC iPlayer, Disney Plus and many other streaming platforms | |
| It has 700+ servers | |
| The company is located in Switzerland | |
| You get a 30-day money-back guarantee | |
---
Read Review
View Listing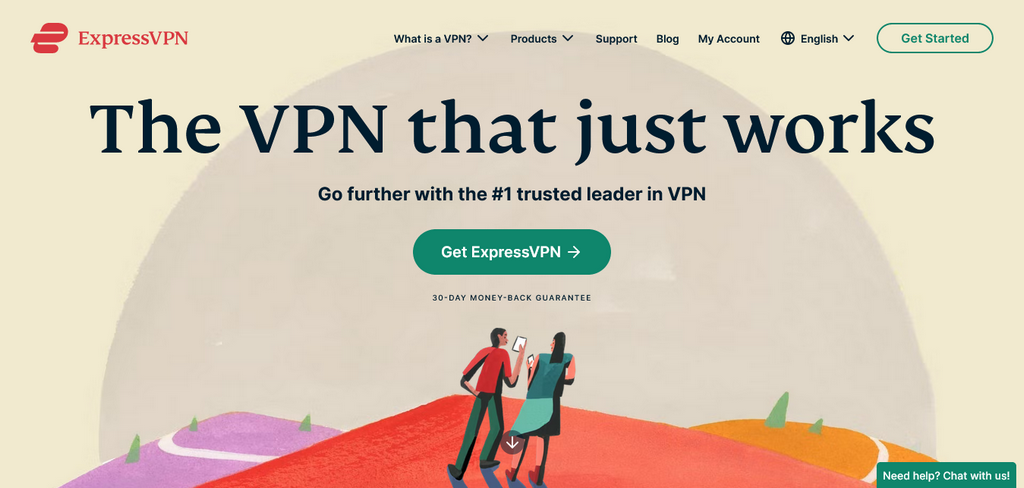 ExpressVPN already has a good number of happy subscribers in Pakistan. It is an excellent option for bypassing geo-blocks, streaming content and keeping your internet traffic anonymous.
The company uses top-of-the-line online security protocols including 256-bit AES encryption. It doesn't keep user logs, and the little user information that ExpressVPN collects is purged within a short while.
The software has native apps for Windows, Android, macOS, iOS, Amazon Fire and even Kindle Fire.
| | |
| --- | --- |
| Pros | Cons |
| It is one of the fastest VPN services | It is one of the more expensive VPNs |
| You can connect a large variety of devices | The apps don't render very well on mobile devices – they could do with some tweaks |
| The service uses 256-bit AES encryption and a host of other security features | You only get 5 simultaneous connections |
| You get reliable connections with a kill switch in case your internet connection drops | |
| It is a good choice for streaming Netflix and others | |
| The company has more than 3,000 servers | |
| It is located in the British Virgin Islands | |
| You get a 30-day money-back guarantee | |
---
FAQ
Does Pakistan block VPNs?
The country doesn't directly ban VPNs. Instead, the Pakistan Telecommunication Authority (PTA) requires that all users register their VPN with their ISPs. According to them, this is to "promote legal ICT services/business in Pakistan and safety of telecom users".
The PTA warns that it will take steps to terminate illegal traffic from VoIP gateways, GSM gateways, WLL phones, mobiles and other equipment and software.
It may not be a direct ban on VPNs, but it is just as effective.
Should you be worried?
While we don't recommend that you flout laws and regulations, remember that if you choose the right VPN it is impossible for authorities to tell that you're using one anyway. They would have to look at your physical device to see the actual app.
What is the best free VPN for Pakistan?
There is no "free best VPN for Pakistan". If you want a VPN that works, get one that you pay for. A free VPN isn't reliable for long-term use.
Free VPNs throttle bandwidth, making it impossible to stream movies or torrent large files. A free VPN will also collect and sell user details, so your information will be out there.
Lastly, a free VPN for Pakistan may not be able to get around government monitoring.
How to get an IP address for Pakistan?
To get a free IP address for Pakistan you need a VPN. After you register and pay, download the app onto your mobile phone or computer and then log in and select a server outside Pakistan.
The server will allocate you a new IP address, and to anyone monitoring your traffic, it appears as if you are in another country altogether.
Conclusion
A Pakistan VPN is a necessity if you want to go online without restrictions. The government carefully monitors what citizens do online, and many websites are banned or limited.
Social media sites are blocked from time to time, and only those with a VPN are able to access them. The right virtual private network also allows you to stream from platforms like Netflix and Amazon Prime.
The best VPN for Pakistan is one that uses top-of-the-line security features. At the very least, it should use 256-bit AES encryption and have a kill switch in case your internet connection drops.
Choose one that's fast because internet speeds in Pakistan tend to be slow, and a slow VPN will make your devices even slower. Look at the number of simultaneous connections that you get; the more the better.