Surfshark Review: How Secure Is It?
Editor Rating:





User Ratings:





(5)
On their website, Surfshark have a simple and clear marketing slogan: "Secure your digital life." This is a great way to appeal to first time users because that is all they seek to do – get online anonymously. But experienced users know that it takes more than this to make a good VPN.
A good VPN is one that doesn't collect user data, offers good speed, works on multiple devices, can be accessed from different locations across the globe and much more.
So how well does Surfshark do when put through all these tests?
That is what this in-depth review is about.

---
Surfshark VPN Review
We put Surfshark through a series of tests, the same ones that we use to test the best VPNs in the market. To our surprise it scored quite well in several categories.
A quick review of Surfshark reveals the following:
It is easy to use – once installed it will come on at boot-up.
Surfshark allows access to more than 30 Netflix libraries – the highest number among VPNs.
It is cheap, with a current coupon deal of $2.49/month for a 2 year subscription.
It is located in a good jurisdiction for VPNs.
You can connect an unlimited number of devices.
While these are all excellent features, a good VPN should offer more. For this review we took an in-depth view of the following features:
Security – Good
Speed – Good
User data logging – None
Number and location of servers – 3,200 in 65 countries
Netflix – Yes (30 libraries)
Torrenting – Yes
Company location – British Virgin Islands
Tunneling protocols – Good
Ease of Use – Great
Customer Support – Okay
---





Security
The most important feature of any VPN is security; it should be able to keep you completely safe whenever you go online. Our main concern for Surfshark was whether it had any leaks.
Whenever you go online using a VPN your IP address is encrypted and concealed. No one can see where you are or which locations you are visiting. Anyone watching will be able to see the IP address of the server you have used to get online but not much more.
Leaks can occur which reveal your IP address, your location and the sites you are visiting. They usually happen when you are directed to a default server rather than an encrypted one.
There are special programs you can use to test for leak tests. They are fast and tell you whether the VPN you are using shows your IP or DNS.
For Surfshark, we tested using 3 different tests: ipleak.net, perfectprivacy.com and dnsleak.com.
For all 3 we found Surfshark to be airtight – there are no IP and DNS leaks.
Translation: whenever you are online you are completely anonymous and your movements cannot be tracked.
We also checked the software for viruses, and we found it completely clean.
---





Speed
While security is important, speed matters too. Whether you need a VPN to watch your favorite shows on Netflix or for work, you want a connection that's fast.
Unfortunately, by nature VPNs are designed to slow down connections. It's the trade-off you make for security. Think of it as an additional gate that you have to go through to achieve complete anonymity online.
The best VPN is the one that slows you down the least.
Speed can be affected by type of device, your location and a few other factors. The best VPN providers are the ones that are able to go around all these factors, and our tests revealed that Surfshark is one of them.
We tested speeds on 3 of their busiest servers: UK, New York and Hong Kong, and here is what we found:
On the London server we were able to get download speeds of 20 mbps and upload speeds of 8 mbps.

On the New York server download speeds were about 70 mbps and upload speeds averaged 9 mbps.
For the Hong Kong server download speeds were 40 mbps and upload speeds averaged 2.5 mbps.

While these speeds may not compare with heavy hitters like Express VPN and NordVPN, they are still very impressive. They rank solidly among the top 10, especially when you take into account that they remain high even when you are in far-off locations. Surfshark also has a Quick Connect button…
There is a downside: when we tested speeds at different times we found that sometimes they experienced significant drops. This may not matter much if you want to use the VPN for entertainment but if you need it for work it can affect output.
---





User data logging
While a VPN may not have any IP or DNS leaks, if it logs user data it compromises your security. If those logs were ever to fall in the wrong hands your online footprint would be exposed.
Many VPNs claim that they don't keep data logs but on closer inspection you will often find that they keep some information; it helps them improve user experience.
The best VPN is the one that collects the least amount of user data. The data, should it fall in the wrong hands, shouldn't compromise the user.
On this score, Surfshark is great. While it collects information, it is basic and will not pose any problems.

Their user policy is very clear about what they collect: user email and encrypted password, billing information and order history. They also collect data on crash reports.
They don't collect IP addresses, browsing history, bandwidth data, session data, connection data and network traffic information.
---





Number and location of servers
Surfshark VPN has 3200+ servers spread out over more than 65 countries. This isn't a lot when compared to some VPNs that have thousands of servers. What you should look at is how the servers perform.
Why does the number of servers that a VPN has matter?
There are a couple of reasons why you want a VPN company that has a large number of servers:
A high number of servers means no overcrowding, which translates to better speeds.
If a VPN has many servers one (or more) may be near where you are located which makes for faster connections and better speeds.
3,200 servers are fewer than some popular VPNs, but Surfshark is doing very well on this score (just look at their speed and ease of connection).
Most of the servers are in Europe (mostly Eastern Europe) and the Asia Pacific region. The rest are in the Americas, and there are a handful in Africa and the Middle East.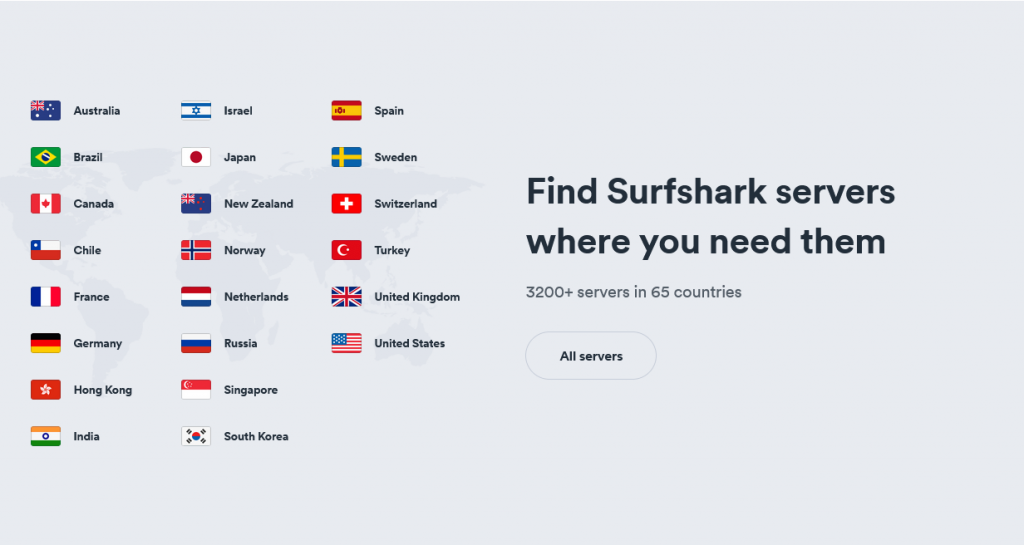 However, we want to wait and see whether they are able to keep this up. Surfshark is relatively new, which means they don't have a large client base. If they acquire more customers but don't add more servers speeds may become slow.
For now though, they seem to be doing well with the number of servers they have.
---





Netflix
A significant number of people want to buy a VPN so that they can access Netflix content.
Surfshark is one of the best VPNs if you want to get entertainment fast and without going through endless hoops. It allows access to 30 Netflix libraries, which is more than you'll get with any other VPN.
These include United States, United Kingdom, Canada, Germany, France, India, Italy and Australia.
You can access a library by connecting through a server in that country.
You get an awesome combination: access to numerous Netflix libraries and fast speeds that make for smooth watching.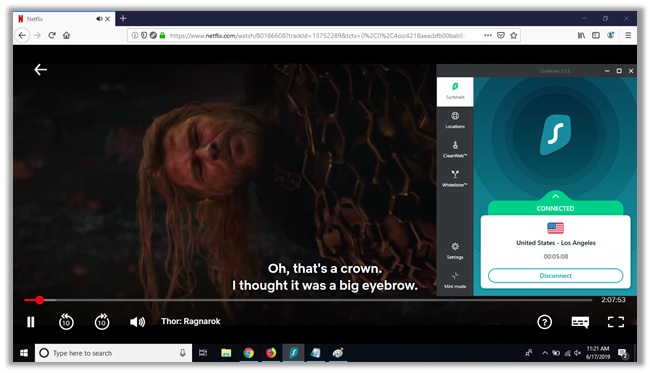 ---





Torrenting
This is a controversial issue. Some of the best VPNs in the market do not allow torrenting, citing copyright issues. Others will go as far as to block users who attempt to torrent.
Not Surfshark. According to their user policy, the software is P2P friendly and doesn't restrict bandwidth. Users have access to restricted websites and can torrent to their heart's content. They go as far as providing a step-by-step process on how to torrent.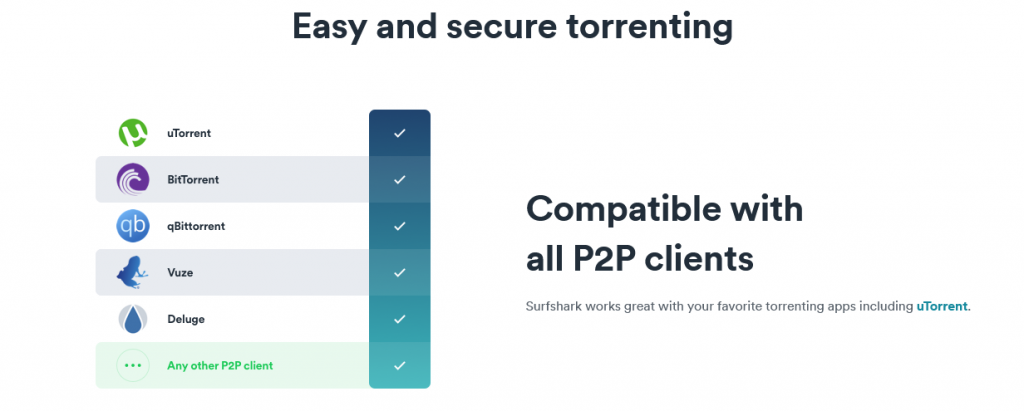 ---





Company location
Surfshark is owned by a company in the British Virgin Islands, which doesn't fall under 14 Eyes Jurisdiction.
There are areas around the globe that have signed an agreement with US authorities to collect and share information. A VPN company located in a location that has signed this agreement can be compelled to collect and share data with authorities.
You shouldn't underestimate the power of these agreements; users have been arrested and prosecuted based on information handed over by their VPN companies.
This isn't something you have to worry about with Surfshark. The British Virgin Islands is home to several VPN companies because it cannot be compelled to share information by any court in the world.
Who is the parent company?
Little is known about the company that owns Surfshark. Their contact information is vague and their phone numbers aren't listed. Some people are uncomfortable with this. They want to be able to contact their VPN provider in case of any issues.
Many VPN companies are hard to find on purpose. Remember, if you can find them easily, so can the authorities.
---





Tunneling protocols
Surfshark uses OpenVPN and IKEv2/IPsec. Both of these have their pros and cons, which is probably why the company uses them in tandem.
Many users choose IKEv2/IPsec because it offers multiple functions and is best for unblocking Netflix.
Those who prefer a slower but more reliable connection can choose OpenVPN. You can switch your tunneling protocol by clicking on the Settings button.
---





Ease of use
If you are a first-time user of a VPN it can be a little tough to figure out. You have to know how to connect it, choose a server and then get it to do what you want. Not Surfshark.
Once installed it will start each time you boot your device. There is a Quick Connect button that automatically chooses the nearest optimal server.
If you don't like this function you can manually choose the server that you would like to connect through.
The servers are listed by country, so you may want to check the exact location of each server so that you can connect to the nearest one each time.
---





Customer Support
Surfshark offers 3 types of support: you can submit an email request, have a live chat or refer to their use their Help Center.
Our tests showed mixed results. The poorest by far was email support. Users are asked to submit a question, and are promised a response within 24 hours. This is too long for a VPN user to wait; the best VPNs are able to respond within a short time.
The Live Chat is much more effective. We sent a simple test question, and we got a response in an instant. It wasn't a robot either – it was a real human being who had helpful answers.
The Help Centre is useful for basic issues such as how to connect different devices and use the VPN. There are some tutorials available to take you through different tasks.
However, if you encounter a more serious issue the Help Center will not be of much help.
Our recommendation is that if you have any problem with Surfshark you should use the Live Chat.
---





Number of Devices
One of the best things about Surfshark is that you can have simultaneous connections. You can connect multiple devices with a single subscription.
The service doesn't have bandwidth limitations, so you won't experience slow speeds on any of the devices you connect.
A VPN that offers multiple connections without bandwidth caps and with steady speeds can be a big boost for small businesses and families that have multiple devices. Each device enjoys protection at an affordable cost.
Some of the best services, like ExpressVPN and NordVPN offer faster speeds but they limit the number of devices that you can connect. They are also more expensive.
Many people opt for Surfshark because it's almost as fast as these two, it's cheaper and you can hook up all the devices in your home without compromising speed.

---





TOR Use
Surfshark is designed for use with TOR. If you would like to have an additional layer of protection apart from Surfshark you can connect your devices to the TOR network.
The process to use TOR and Surfshark together is easy. Download the VPN and install it on your device.
Each time you need to go online, connect to your preferred destination first through Surfshark and then through TOR. This way, the TOR network receives your assigned Surfshark IP address which is impossible to trace.
However, keep in mind that using TOR will reduce your speeds significantly. It's only recommended if you have high connection speeds to begin with.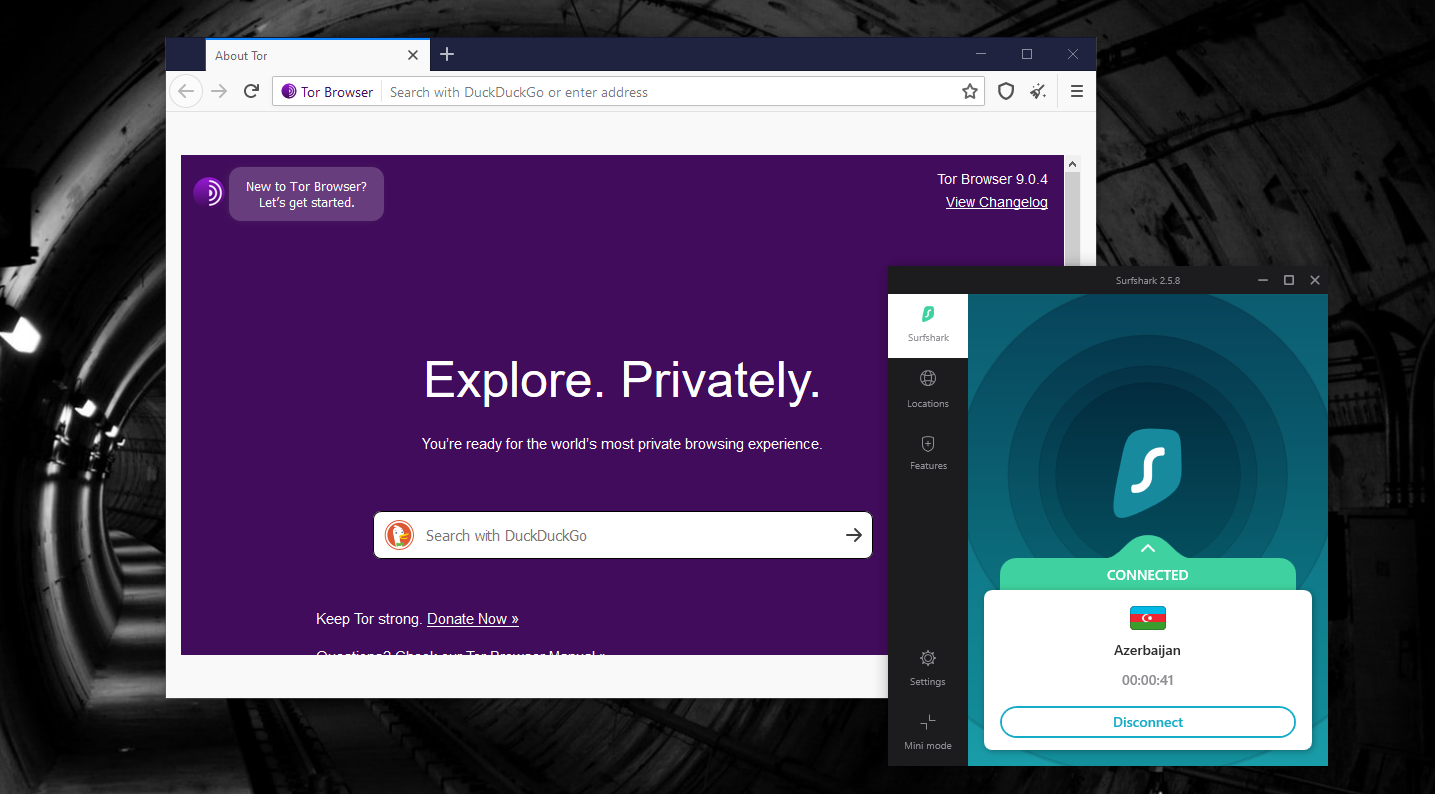 ---
Cons of Surfshark
Judging by the 10 features we tested, Surfshark is a pretty good VPN. That is not to say that it's perfect. There are definitely things that aren't to like, so look out for the following:
The website can be better.
A website should be a one-stop shop for anyone who wants to know more about a product. This isn't the case for Surfshark.
Their website is too basic for such a complex product. Many of the wonderful features of the VPN aren't discussed; you have to test it and find out for yourself.
While Surfshark does well on many fronts it is important to remember that it's a new entrant in the market. As its customer base grows its performance may change. We will definitely keep our eyes open for any changes.
The Surfshark app is quite basic, compared to other top-of-the-line VPNs. That said, this is not necessarily an issue, especially if you are a beginner. In that case, it's actually more of an upside than a downside, as it means it's straightforward to use.
---
Pricing Plans
Surfshark VPN is super affordable, as you can see below:
The company has 3 payment plans that you can choose from:
$12.95 a month for a monthly subscription
$6.49 a month for a 6-month subscription
$2.49 a month for a 24-month subscription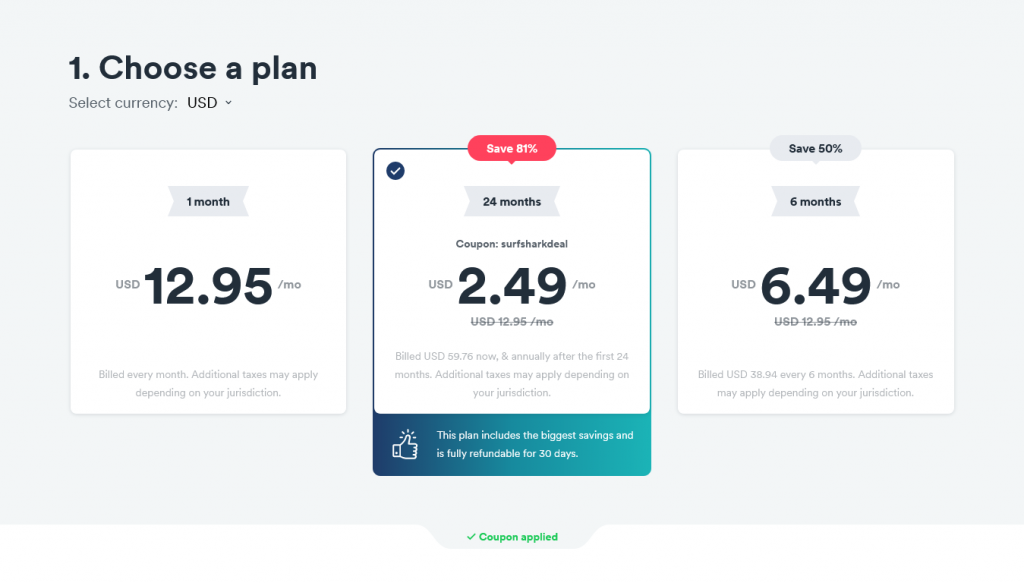 While the monthly plan is a bit expensive, the 2-year plan is a steal. This plan makes Surfshark one of the most affordable premium VPNs available on the market. Great value for money!
This is probably the best value your money can buy, if you ask us…
That said, if you aren't happy, you can ask for a refund. They indeed have a 30-day, no questions asked money back guarantee, so it's absolutely risk-free for you.
Surfshark accepts a variety of payments including credit cards, cryptocurrency, Alipay, PayPal, DragonPay and TenPay.
---
Do we recommend Surfshark?
Yes, we do. So far, so good. As mentioned, this VPN is still new, but it does well on many fronts. It is highly secure with no IP or DNS leaks, it doesn't log user information, it is located in a safe jurisdiction, it offers decent customer support and pricing isn't that high compared to other VPNs that have similar features.
We especially recommend it for those who are new to VPNs as it is easy to use, and the overall experience is quite pleasant.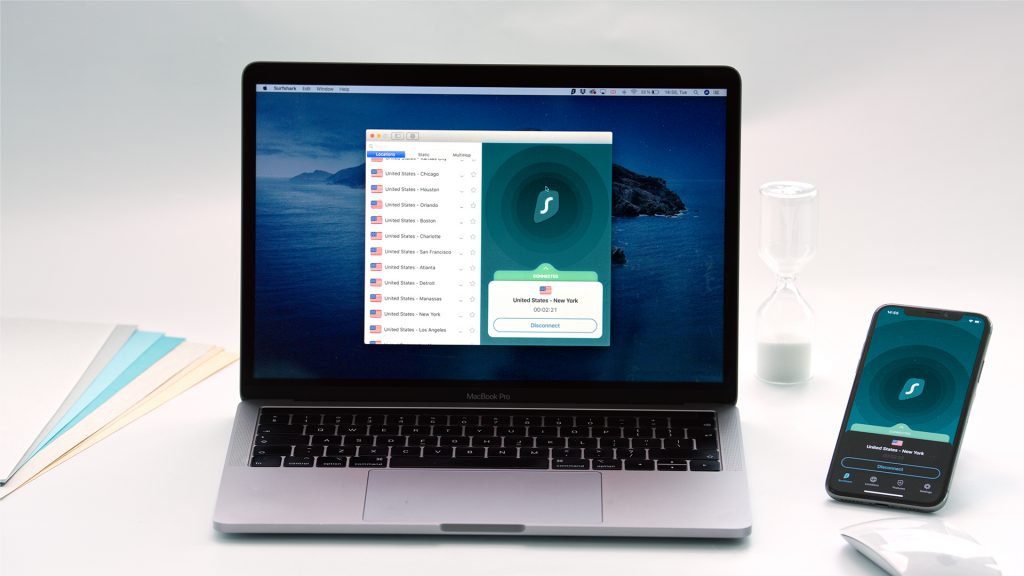 ---
Surfshark User Reviews
Lionel likes that Surfshark is cheap, but thinks it could be more stable:
"Surfshark seems to be one of the most affordable VPN's on the market. The bad thing is stability. In my case, Surfshark proved to be extremely, not very, but extremely unstable with very frequent random disconnections."
Colin C likes that he can watch Netflix without any issues as well as the speed and stability:
"Their interface does look really simple but it made it absolutely fool-proof for me. It, also, works great with Netflix and Amazon. You'll be connected to the nearest and fastest server in the location that you chose, so you cannot know what IP you'll get until you're actually connected."
Dom is impressed by the level of protection offered by Surfshark:
I tested most of the top rated VPNs and settled on this one. No regrets. The only thing to remember is to turn it off when your iPhone is on cellular data. Great protection when using public Wifi. Even great for home use too. It allows you to access Netflix in other countries. It also works for accessing Hallmark Now Movies from Canada. I would not hesitate to recommend SurfShark."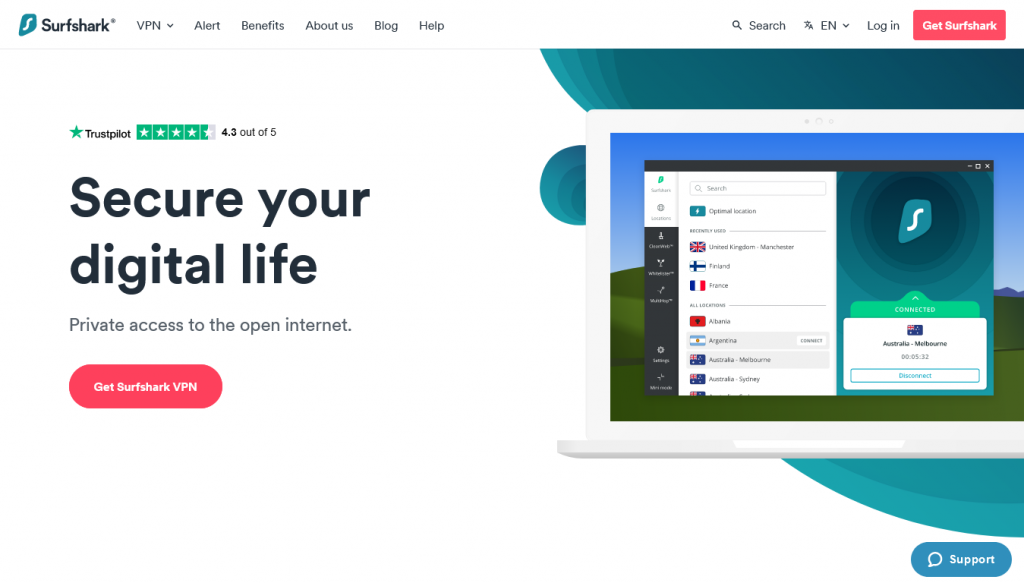 Stay anonymous and protect your identity every time you go online with a verified VPN. Click the button below for an incredible Surfshark deal!