Astrill For China: How To's & Tips
Editor Rating: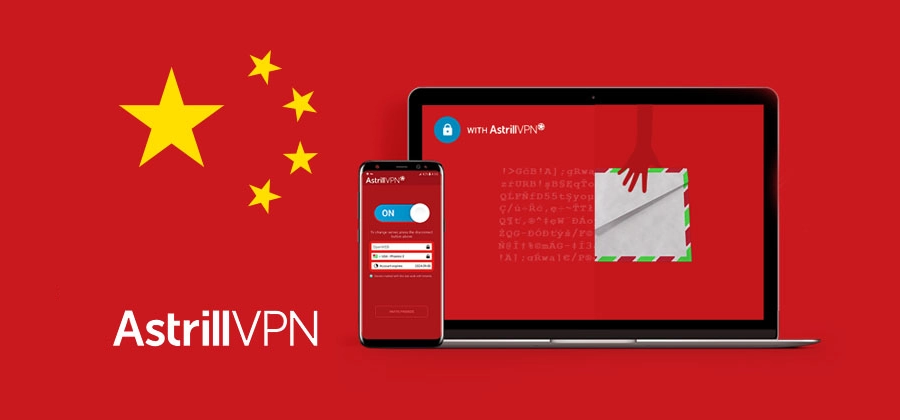 Astrill ranks as one of the best VPNs for China. The company, based out of Seychelles, uses a combination of superior security features to ensure that their servers are invisible to the Great Firewall of China, and users rarely experience downtime.
Stealth VPN protocol and Smart Mode allow users to get around censorship algorithms, and tests have shown that it is the only VPN that is between 95% and 100% effective for China.
China-optimized servers (also called SuperCharged Servers) ensure fast speeds and low latency. They are based in Hong Kong, South Korea and Japan, so users are not bound by China's data laws and restrictions.
The company has a sizable server network in Asia, and users can connect through Astrill's other servers. However, the servers in Hong Kong, South Korea and Japan provide the best connection.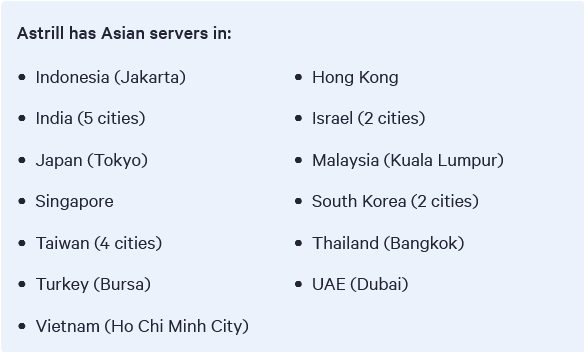 The Astrill interface isn't very pretty, but it is functional. It comes with lots of options and customizations that are ideal if you want complete anonymity as you browse the web from China.
If you're familiar with interfaces for security software like ExpressVPN or Surfshark you may be put off by this one, but if you want a truly steady and reliable VPN connection in China we suggest you go stick with it; it will be worth the effort.
---
How to Install and Set Up Astrill for Mobile in China
The good news is, the mobile apps for this VPN are minimalist. They come with fewer customization options and privacy tools, so they are easy to install. However, they still offer maximum security for users.
Step 1: Register on the Astrill website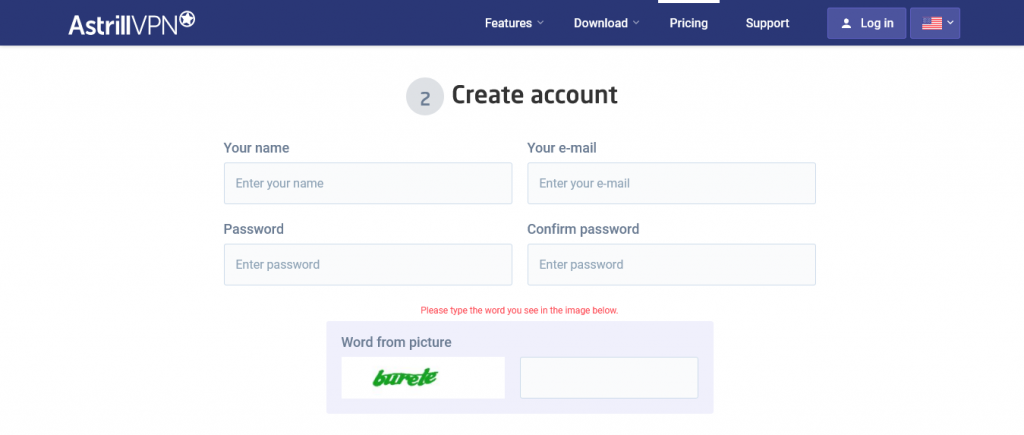 Visit the website and click on the "Login" tab to register an account.
Step 2: Download Astrill from the website or Google Play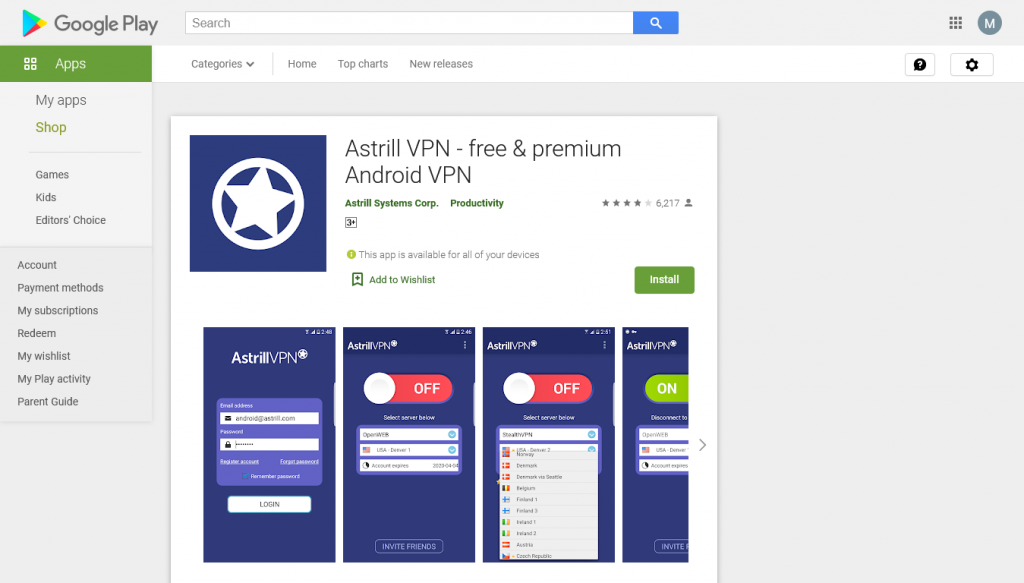 Visit Google Play and search for Astrill VPN. The right icon is the one that says "Astrill VPN Free & Premium Android VPN". Click "Install". Alternatively, you can click the "Download" on the website. You'll be redirected to Google Play and you can initiate the download.
After installation is complete you'll be asked to log in. Use the same password and user name that you used to register an Astrill account.
Step 3: Select a Server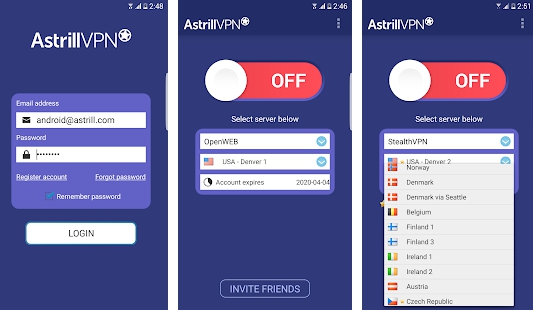 After you log in you'll see a server drop-down menu. Click on it to select your preferred server. As mentioned earlier, servers in Japan, Hong Kong and South Korea work best for users in China, but that doesn't mean the others won't connect. They will, but they may be a little slower.
Step 4: Connect
There is a red connect button – click on it to connect your device to the VPN.
Step 5: Confirm the Prompt
After you click "Connect" you'll see an alert that says "Attention". It is seeking your permission to confirm that you trust the application. Click "I trust the application" and then click "OK".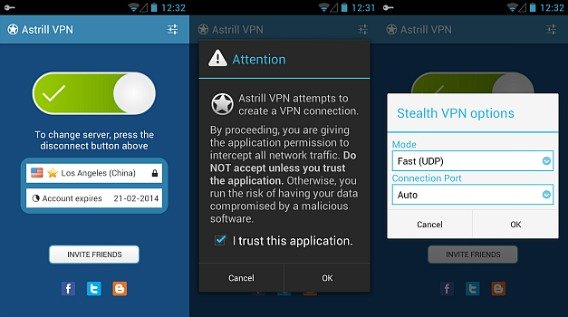 Step 6: Adjust Settings
On the top right of the app there's a settings button with options like Stealth VPN Options, Extend Account and Show Logs. They are all set to default, which is ideal. However, you can change them if you think it's necessary.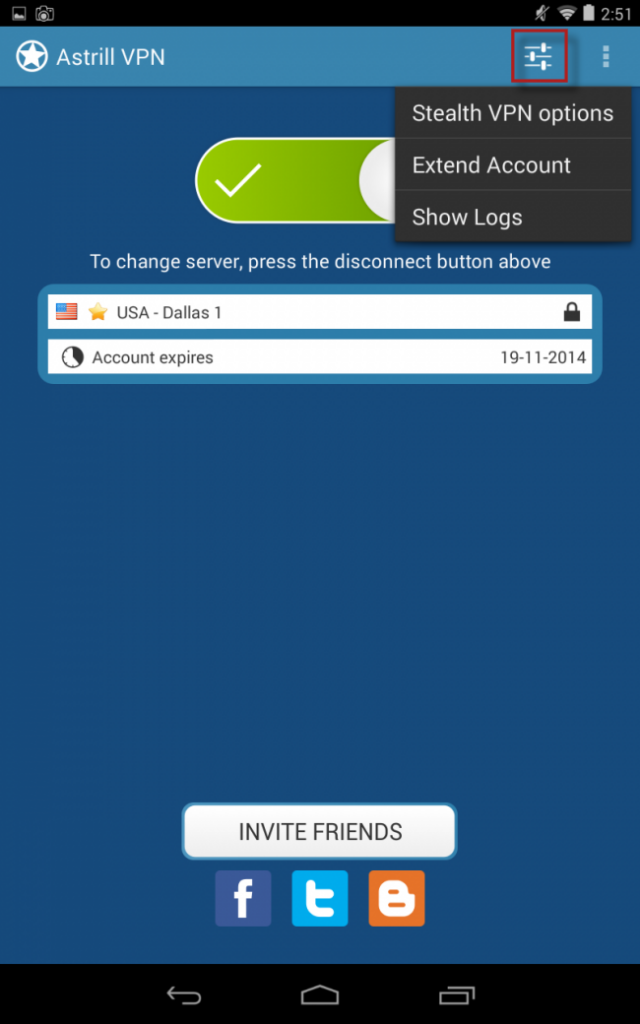 You are now fully anonymous, and you can visit any website you want without detection.
---
How to Install and Set Up Astrill for Desktop in China
The Astrill client for desktop isn't as easy to set up as mobile. It comes with a 36-slide installation guide, which can be off-putting for some users.
However, it's all useful information, and if you follow the steps and get the installation right you should be able to install and set up Astrill for desktop in China.
Note: Remember to temporarily disable your antivirus before you start the process.
Note: You'll not be able to access the Astrill VPN website once you're in China, so you should install it before you arrive.
Step 1: Download the installer
On the Astrill website, click the download button. A dropdown menu shows you downloads for different operating systems. Choose the right one for your device. This explainer assumes we are downloading and setting up Astrill on a Windows PC or laptop.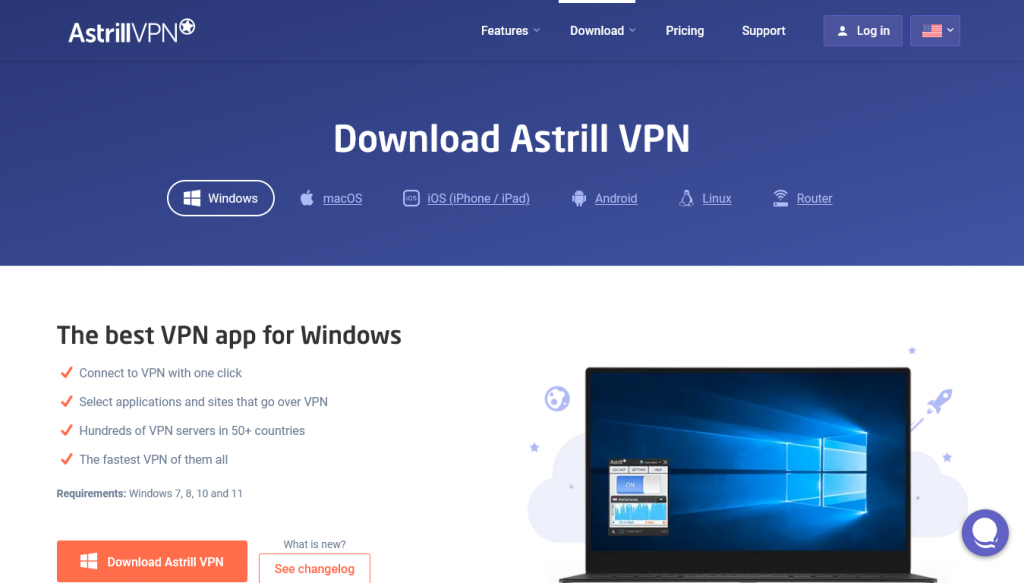 After you click the download button you'll see the installer. Double-click on it to run it. You may see a warning like this: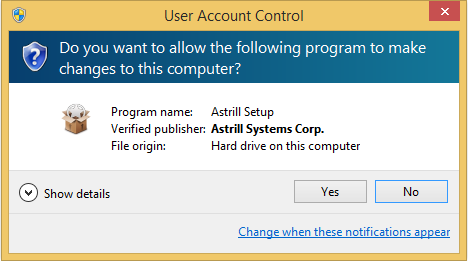 Click "Yes" to allow the program to make changes to your computer.
Step 2: Install the software
An installation wizard will appear on your screen. Click "Next". "Accept Terms of Service" and then create a desktop shortcut. After that, click "Install" and the desktop shortcut will appear on your screen. Wait for the installation to complete and then click "Finish". Your computer will restart automatically, and Astrill VPN is ready for you to use.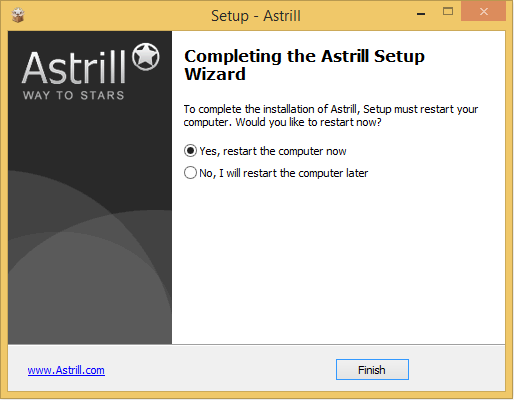 Step 3: Log in to the app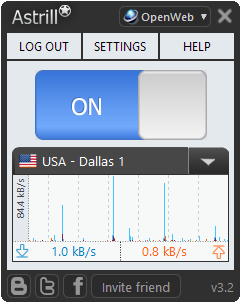 Double-click on the icon on your desktop and enter your username and password. You will immediately be connected in OpenWeb mode and you can select a server from the drop-down menu.
Step 4: Change settings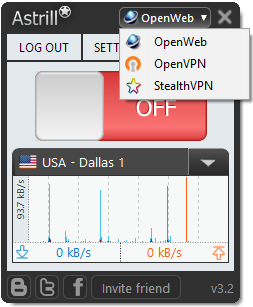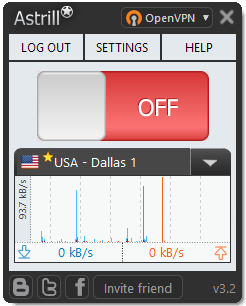 Click on the "Settings" tab to adjust settings as desired. You'll see an OpenWeb tab on the top right of the icon. If you click on it you'll see "OpenWeb", "OpenVPN" and "StealthVPN". If you want all your traffic to go through the VPN tunnel make sure to choose OpenVPN mode.
Step 5: Turn on the VPN
When you click the On/Off button your device will take a minute or so to acquire an IP address. You can choose the server you want to use. To make sure that you're connected with an Astrill IP click on "Check My IP". If it gives you an Astrill IP it means you're connected and ready to go online anonymously. You'll get a notification that looks like this: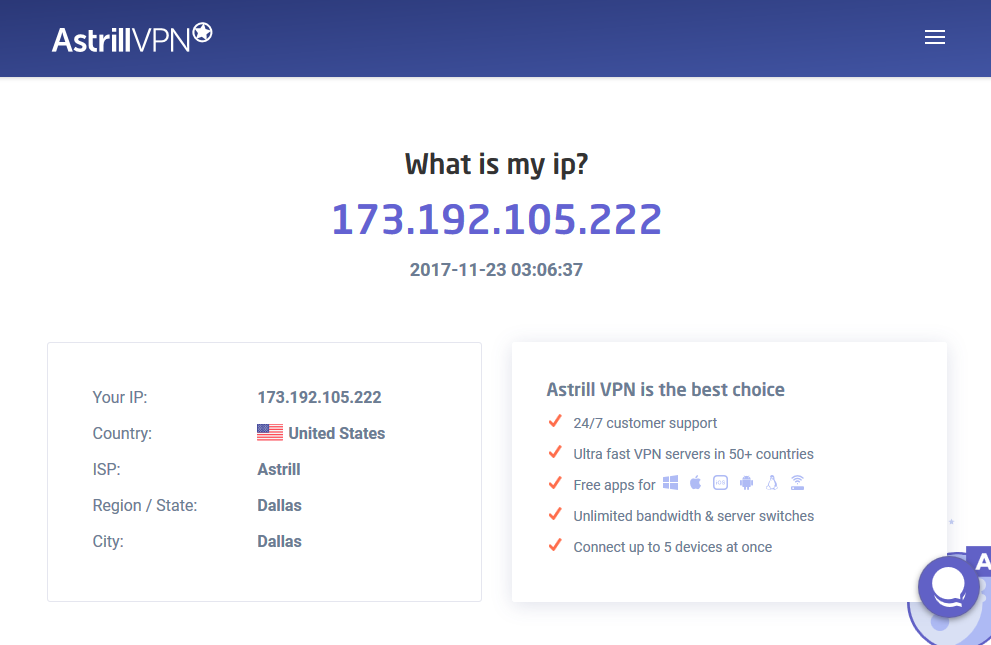 ---
Conclusion
Astrill is not the VPN of choice if your main interest is streaming content; it connects to very few streaming servers, and other VPNs like ExpressVPN, NordVPN and Surfshark do a better job.
However, if you are looking for a VPN that can bypass geoblocks with little inconvenience, you'll find none better than Astrill. It has been described by many as the best VPN for China because it rarely experiences downtime and has airtight security protocols.
Installing Astrill for China may seem complicated at first glance, especially if you want Astrill for desktop. If you follow the instructions provided in this post you should be able to have a successful installation.
However, if you encounter problems the Astrill team is responsive, and you can get in touch with them via live chat or through a direct message on their website.
Remember, it is best to install Astrill for China before you arrive in your country; after you get there, you'll not have access to the website.