TunnelBear: Is It as Good as Other Top VPNs?
Editor Rating:





User Ratings:





(4)
When TunnelBear first came to market in 2011 there was much talk about the fact that it was Canadian. Canada is a member of the 5 Eyes, 9 Eyes and 14 Eyes alliances, which means that it can force private companies to share data and information about their customers. This is not good for a VPN, because the whole point is privacy and anonymity.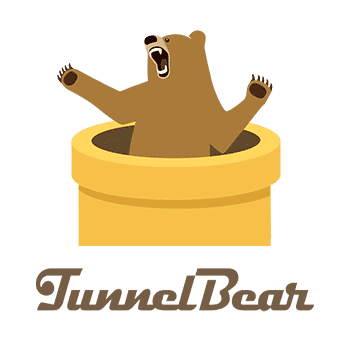 TunnelBear wasn't fazed by this. They had a strong product, and they continued to build on it and grow their customer base, competing with some of the best VPNs. To demonstrate just how far this VPN has come, it was acquired by McAfee in 2018.
Admittedly, there were concerns because McAfee is a US-based company, but TunnelBear remained secure and to date, it hasn't had any major issues such as data leaks or brushes with the government.
How does it do it? That is what we will be exploring in this review. We will look at an overview of TunnelBear as well as features, pricing, customer support and a few user reviews. We will also tell you what is not to like about this VPN, and you can decide whether it suffices for your needs.
TunnelBear Review
TunnelBear is a Canadian-based VPN that offers a free and paid service. It uses the strongest encryption protocol available today. It was established in 2011 and acquired by McAfee in 2018.
The founders, Ryan Dochuk and Daniel Kaldor, have strong corporate backgrounds (Microsoft, Goldman Sachs and they both spent time in mobile security).
While TunnelBear may not be as popular as Nord VPN, IP Vanish and others in that caliber it has a lot going for it. This is easily demonstrated by the fact that it continues to grow steadily but surely.
Top selling points for TunnelBear
It is a very user-friendly VPN
Highly secure and doesn't keep logs
It offers users 500 MB free data on sign-up.
These are all excellent things for a VPN to have, but if you are a serious user who cares about security, you know that this is not enough. Hence the need for this in-depth review.
What will the review cover?
Logging – Strict
Speeds – Moderate
IP and DNS leaks – None
Encryption Protocol – Strong
Number and distribution of servers – in 23 countries
Location – United States
Netflix and torrenting – No Netflix but good torrenting
TOR access – Present but slow
Number of supported devices – Good
Customer Support – Good
1. Logging





Any experienced VPN user will tell you that the first thing you should look into when choosing a VPN is logging. In a nutshell, logging refers to whether or not the VPN company keeps records of users and user activity.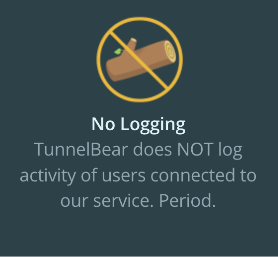 If a VPN company is keeping records, things can go seriously wrong. Imagine, for example, that your VPN keeps a record of each time you log on, the sites you visit, how long you stayed on each site and so on. If that information falls into the wrong hands it can cause you lots of grief.
Worse still, if, for any reason, the government gets hold of VPN user data they can use it to launch prosecutions, founded or unfounded.
It is, therefore, vital that a good VPN doesn't keep logs. So how does TunnelBear fare on this score? Quite well.
TunnelBear keeps some logs, but only the least amount of information that is required to help it to function properly. They collect each user's email address and keep a log of paid users and paid user expiry dates. If you like, you can include your Twitter handle of sign-up, which will be stored and used for promotions.
In the past., the company collected user data, but they scrapped this policy in favor of more privacy for users.
In case you are wondering, no VPN is completely logging-free. They have to collect some information to provide good service. The question is how much information is collected, and here TunnelBear only needs your email address and payment details.
2. Speed





While it is normal to experience some speed loss when you use a VPN, you don't want one that slows your device down so much that it interrupts normal function.
When looking at a VPN's speed you should check the ping speed, upload speed, and download speed.
Several things can affect the speed of a VPN: distance from server (the further you are, the slower your speeds), the kind of device you are using (older devices tend to be slower) and how much traffic you are uploading or downloading (if you stream lots of movies or shows, for example, you are liable to experience slower speeds).
TunnelBear gets mixed reviews for speed. Some users report very good speeds, while others have the opposite experience. When we tested it for ourselves we found it to be somewhat slow compared to VPNs like Express and Nord:

The Europe server in Switzerland had download speeds of 39.24 Mbps and upload speeds of 8.70 Mbps.
For the UK server, we got download speeds of 4.83 Mbps and upload speeds of 8.83 Mbps.

The US server gave us download speeds of 4.58 Mbps and upload speeds of 1.79 Mbps.

For Canada, we got upload speeds of 28.94 Mbps and download speeds of 3.12 Mbps.
3. IP and DNS leaks





On this score TunnelBear does quite well. We tested it and found that there were no IP or DNS leaks. The VPN uses OpenVPN and AES-256, which is why it is airtight. We also tested the installation files and found them completely clean.
4. Encryption protocol





No matter how cheap or expensive a VPN is it needs to be secure, and this is done using encryption protocols.
TunnelBear uses the industry standard, OpenVPN, which is also the most secure. It is available on Windows, Mac and iOS devices. Recent iOS devices are able to get IPSec/IKEv2 which is as good as it gets.
This is the same kind of encryption software that is used by US government agencies such as the CIA and NSA, so you can be sure that you are completely secure.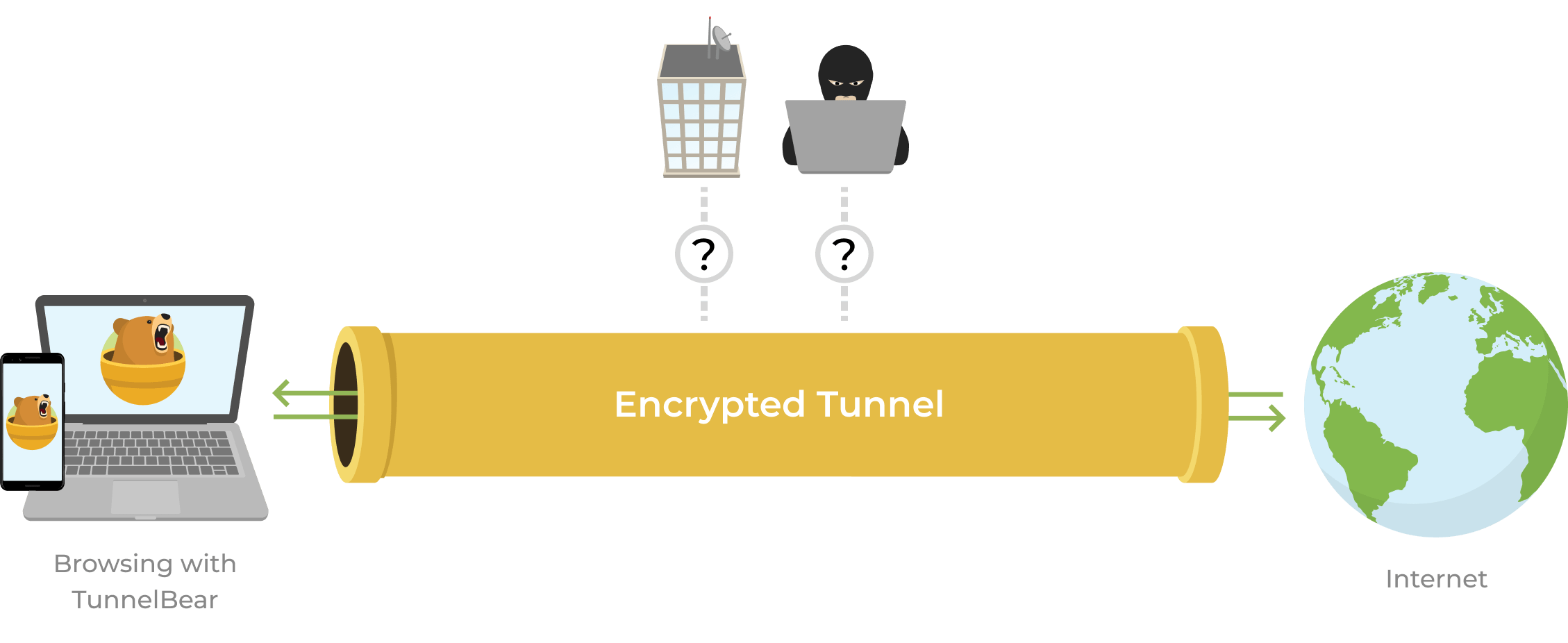 30-Day Money Back Guarantee
TunnelBear goes above and beyond to make sure that you are anonymous every time you are online. In addition to the strong encryption protocols, there is a data authentication procedure through a Diffie-Hellman key exchange to ensure that each time you log on you use a genuine TunnelBear server and not a "middleman". This works best in newer devices. Hackers have been able to get past this exchange successfully in older ones.
You also get VigilantBear, which keeps you secure at the time of connecting and disconnecting.
5. Number and distribution of servers





This matters because the closer you are to a server, the better your speeds. The best VPNs have thousands of servers across the globe, but TunnelBear is yet to get there.
One interesting thing about TunnelBear is that it doesn't tell users the number of servers it has. Instead, it focusses on countries – there are servers spread across 23 countries.
There are about 12 servers in Europe, which may account for the fair speeds that users are able to get in that region. There appears to be one server in the US and one in Canada, and others in Mexico and Brazil. Asia has quite a few located in Japan, India, Hong Kong and Singapore. There are also servers in Australia and New Zealand.
Now that TunnelBear has been acquired by McAfee it is hoped that they will increase the number of servers especially in high traffic areas like Asia and North America.
6. Location





Location matters for a VPN. The best VPNs are in regions that haven't signed any agreements (5 Eyes, 9 Eyes, 14 Eyes) to provide user data to governments.
TunnelBear started off in Canada and is now owned by a company in the US, which are both signatories to all 3 agreements. The company gets around this by ensuring that they collect only minimal data from users.
If they were compelled to provide information to the US government, all they have to give is email addresses and payment information. There is no data on sites visited and there are no names, which keeps users safe.
Although the company is located in the US users can rest easy because it collects very little information, and none of it can be used to incriminate.
7. Netflix and Torrenting





Netflix has become very good at blocking VPNs from accessing its content. Even some of the ones that have a wide reach and many servers are no longer able to access Netflix.
Some users can access Netflix with TunnelBear, but our tests were not fruitful. We suggest that you try it for yourself; you may be lucky.
If you are really keen on accessing TV shows and movies anonymously we suggest you try Unlocator. With it, you will be able to access over 200 channels including Netflix, and you will be safe from prying eyes as you do it.
Initially, you could not use TunnelBear for Tor, but that seems to have changed in recent years. There is nothing explicit about torrenting stated on the TunnelBear website, but if you try you will find that it works pretty well. VPN companies avoid mentioning P2P on their websites as it can lead to copyright issues. However, if most of them work without a hitch.
8. Tor Access





Tor stands for The Onion Router, and it is what you use when you want to get on the dark web. Some VPNs allow users to access TOR without any problems while others don't.
Why would anyone want to use a VPN when Tor already hides behind layers of anonymity? For added protection; they want to be sure that they are 100% anonymous at all times.
TunnelBear works with Tor but there is only one problem; it will greatly slow down your speeds (remember you have to bypass 2 layers of security software, and this is what will slow your device down).
If you must access Tor we suggest you either disable TunnelBear, or you use another VPN, but don't expect the speeds to be much better.
9. Number of supported devices





For each TunnelBear license you can connect 5 devices. The process is rather simple; just visit the download site from each device, download the VPN and then log in using your account credentials.

TunnelBear Teams allows you to buy a minimum of 2 licenses, and for each you can connect up to 5 devices. This means that each employee can safely surf the net on all their devices – desktop, laptop, tablet and mobile.
The free account only allows you to connect to one device, and since you get only 500 MB there isn't much you can do, except check out the VPNs main features.
10. Customer Support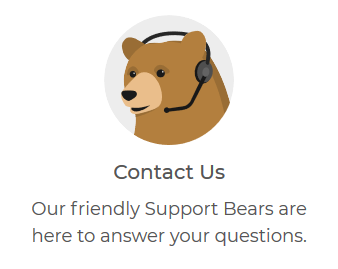 There are a variety of Help articles on the TunnelBear website and they are detailed enough and helpful. They cover topics like Getting Started, Billing and Payments, Troubleshooting and TunnelBear for Teams.
Unfortunately, this VPN doesn't offer a Live Chat option, and if you need more help than is available on their website you have to submit a ticket and wait for someone to contact you. The turnaround time is quite fast.
Other interesting features
We usually assess VPNs on the above criteria, but with TunnelBear we found that there is more to talk about. Here are additional features that we think make TunnelBear quite unique:
This is probably the only VPN in the market that conducts independent annual audits and publishes results online for all to read. This is quite impressive, and the company does it in a bid to remain transparent. It is a good way to avoid the bad press that so often troubles VPNs.
This is one of the best things about TunnelBear. It has a very nice user interface that's easy to use. Once it is installed you will see your location and the tunnel (or server) you are using. You can add more settings, but most people are happy with the simple and clean interface you get on installation. You also get browser extensions that you only need to turn on once.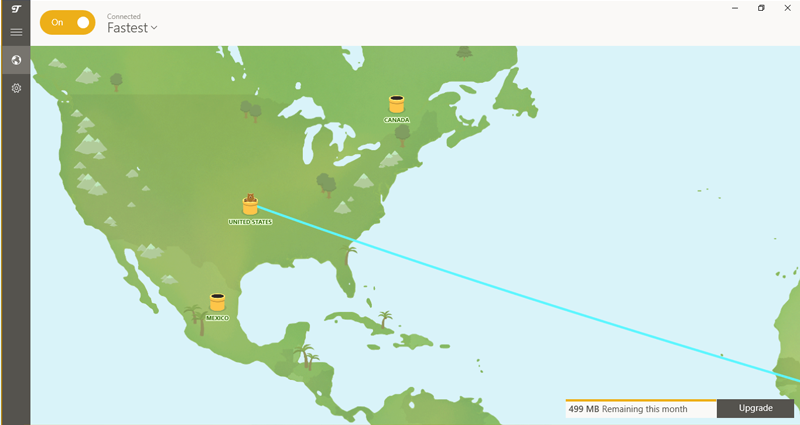 What are the cons of TunnelBear?
The most obvious con of this VPN is that it is slower than others that come in at the same price range. That said, the speeds are stable and people are able to use the service with ease.
You cannot use TunnelBear to connect through a router. This isn't very good if you have to connect a team – you have to download the software to every device which is time consuming.
You cannot pay for TunnelBear using Paypal or cryptocurrency.
They don't have a clear policy about refunds. Their privacy policy states: "While all amounts paid are non-refundable, certain refund requests for subscriptions may be considered by TunnelBear on a case-by-case basis and granted at the sole discretion of TunnelBear."
TunnelBear Pricing
TunnelBear has a very simple pricing model:
Free (up to 500 MB of secure browsing)
Unlimited for $3.33/month for unlimited secure browsing for 5 devices
Teams for $5.75/month/user for unlimited secure browsing.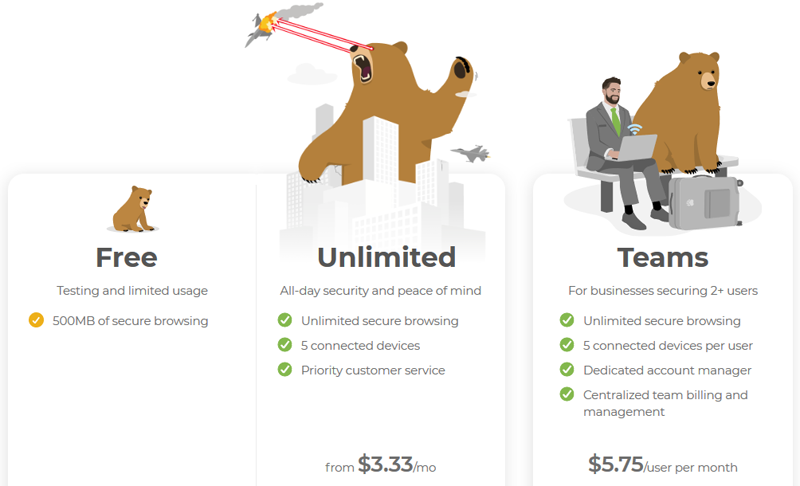 30-Day Money Back Guarantee
How does this compare with other VPNs? It is definitely cheaper than many of them, and value for money when you consider that you are getting a good service, albeit one that isn't very fast.
Do we recommend TunnelBear?
After reviewing TunnelBear quite thoroughly and comparing it to others in the market the only serious fault we could find with it is the speeds. If they can improve on that score it will be able to compete with industry leaders like Nord and IP Vanish.
That said, the speeds aren't so slow as to render it unusable. Indeed, it has millions of users across the world who are happy with the service they are getting.
If you don't handle high volumes of traffic it is TunnelBear is one of the best VPNs there is at its price-point. It is secure, it collects very little information and has a beautiful, simple interface. We definitely recommend it.
User reviews
Sachin says: "While TunnelBear excels at accessing the data I need, at good speeds (no slowness noticed), it also does so at a great price point (that's free). Further, their twitter promo adds upto 1 GB monthly usage, which is perfect for occasional users."
James Evans is also happy: "I use the free version of Tunnel Bear mainly for my financial apps. I have it on my desktop and my laptop, and have not had any issues with access or speed. It does everything I need a VPN for with no hassle or complicated set ups."
John says: "I am very happy with my choice. I am allowed 5 devices (so computers, phone, tablet all have secure vpn) and unlimited data. And the speeds are excellent. As is the support, on one device I had a small issue and the response from support was prompt, and resolved my issue immediately. And the app is intuitive and simple to use."