NordVPN Review: What's True & What's Hype?
Editor Rating:





User Ratings:





(13)
A quick glance at NordVPN reviews might convince you it's the best VPN available today. It seems to check all the boxes – speed, privacy, no logging, Netflix, torrenting and much more. But if you look at most VPNs that make it to the top-ten list you will find that they make similar claims.
One thing is certain; while many VPNs claim to offer a premium, unmatched service, they are lacking in some aspects.
One review might state that a VPN is fast while another says it's slow. A VPN may be described as "no logging" on one website, while another will state that it actively logs and keeps client details. This is certainly true of Nord VPN; there is no shortage of contrasting reviews.
The only way to find out is to test different VPNs. This isn't practical for the average user; it is expensive, not to mention it may not lead to an optimal VPN service.
That is why we decided to test NordVPN for ourselves so that we could find out once and for all what's good and what isn't.

This is an in-depth and unbiased review that looks into the pros and cons of NordVPN.
---
NordVPN Review
At a glance, NordVPN has some great features:
It uses double data encryption.
Has a large number of servers.
It is in a secure jurisdiction.
It offers decent speeds.
The average user is looking for more than this. They want to know a bit more about how their VPN works and what it does to ensure that they remain anonymous.
To give you a complete picture of this VPN, we tested all important features and you can read what we were able to find out below.
---





Security features
There are several reasons people use VPNs. Some want to access Netflix content while others want to torrent with ease. There are many who want a VPN for anonymity and privacy.
If you are looking for the latter NordVPN is a great choice. It has some of the best security features in the market.
Double VPN or Multi-Hop VPN is a standard feature in NordVPN. Users can choose it or leave it depending on desired levels of security.
The software offers two kinds of kill-switch: internet (kills all traffic in case of a dropped VPN connection) and app (closes all applications in case of lost VPN connection).
This VPN has an ad blocker and will warn you when you are about to access a malicious domain.
---





Speed
When you install a VPN on any device it will slow it down somewhat. The best VPN is the one that slows a device down as little as possible.
NordVPN does quite well in this aspect; it is relatively fast. We tested the US, EU and Asia servers and here is what we found.
The US server had download speeds of approximately 60 Mbps and upload speeds of 30 Mbps.
The European server had download speeds of around 70 Mbps and uploads of 50 Mbps.
The Asia server had upload speeds of 12 Mbps and downloads of approximately 5 Mbps.

It is important to note that these speeds aren't fixed. Test results can vary depending on the device you're using, where you're located and even how much traffic the server is experiencing on any particular day.
Based on the tests we conducted we are confident that NordVPN is one of the fastest VPNs of 2019.
---





Number of servers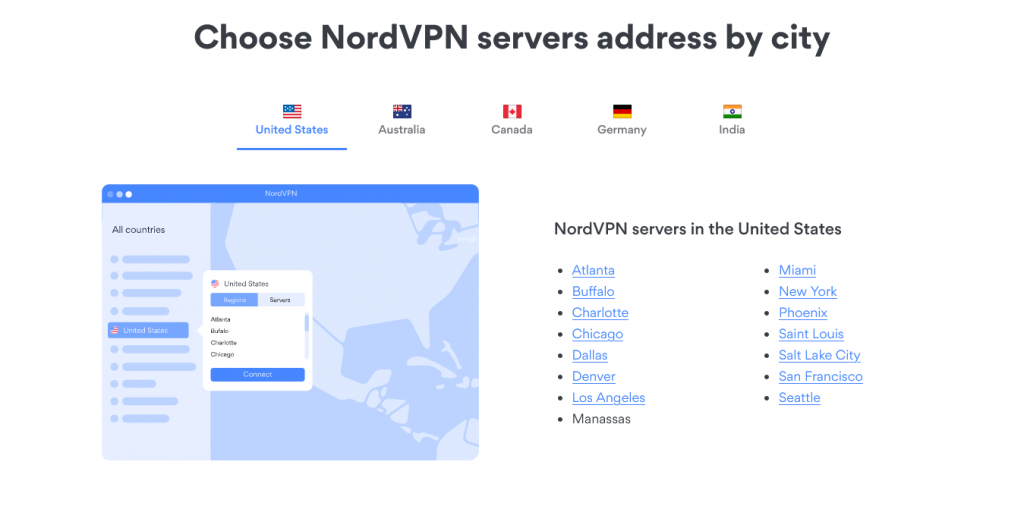 NordVPN has 5,400+ servers in 59+ countries. This large number of servers is great for its extensive client base. The more the servers a VPN has, the less congested the service. Clients don't have to endure slow speeds.
The app has a Server Navigation menu where users can see bandwidth stats for every server. Based on this they can choose the best server for the task at hand.
Obfuscated servers are another plus for this VPN. When a server is obfuscated, all traffic looks like normal traffic, which makes it less likely to be flagged. This is useful in countries where authorities block VPN traffic.
While NordVPN has more than 5,400+ servers, it is worth noting that it doesn't have a very wide geographical spread.
They don't have servers in some key locations in Africa and South America. VPN users in these locations have to choose other providers.
---





Logging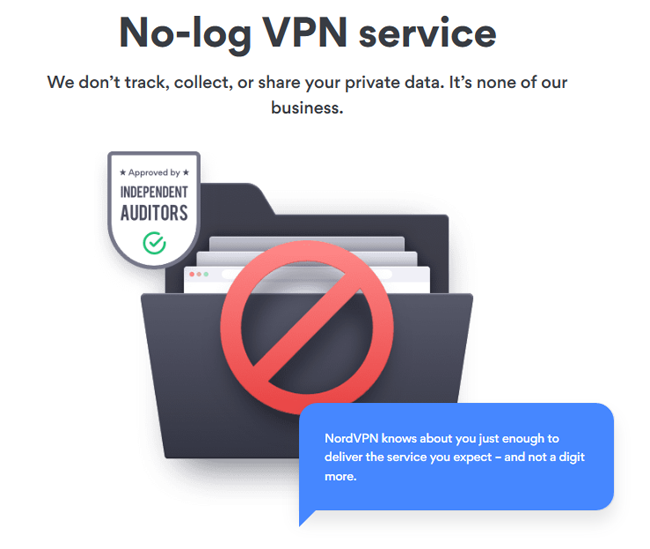 Every good VPN service will claim that they don't keep logs but it's often not strictly true. While they may not collect detailed logs of user traffic, they still collect some information which they say is necessary for optimal user experience.
NordVPN is very clear: they have a strict NO LOGGING policy. According to their website, all data is encrypted from the moment you log in using NordVPN and is not visible to 3rd parties.
This is mostly true. Your data is completely secure and isn't logged, but the company collects some information that they consider necessary. It includes service performance data, payment data and your email address.
This information is for internal use only and will never be shared with authorities or any other third parties.
In keeping with the strict no logging policy the company does independent audits. The last one was in 2018 by PriceWaterHouseCoopers. The report is only available to existing customers, so you have to buy the VPN to see it.
After interviewing employees, interrogating databases and reviewing procedures PWC verified that NordVPN doesn't store connection logs, IP addresses or any other internet activity.
---





Location
NordVPN is in Panama, one of the best jurisdictions for any business that is keen on privacy. There are no laws requiring companies to track client activity and they cannot be compelled to share information.
As NordVPN has grown and extended its reach to different countries there have been concerns that this could lead to data sharing. This isn't true.
A court can only compel a company to share information in the jurisdiction where it's incorporated. While NordVPN has offices in several countries, this doesn't pose any privacy challenges.
NordVPN accepts payments via PayPal and you may notice that your payment is processed in the US.
This shouldn't worry you. It is necessary because banks and payment companies are reluctant to deal with Panamanian entities, so payments are processed in other jurisdictions. This doesn't affect VPN security in any way.
---





Netflix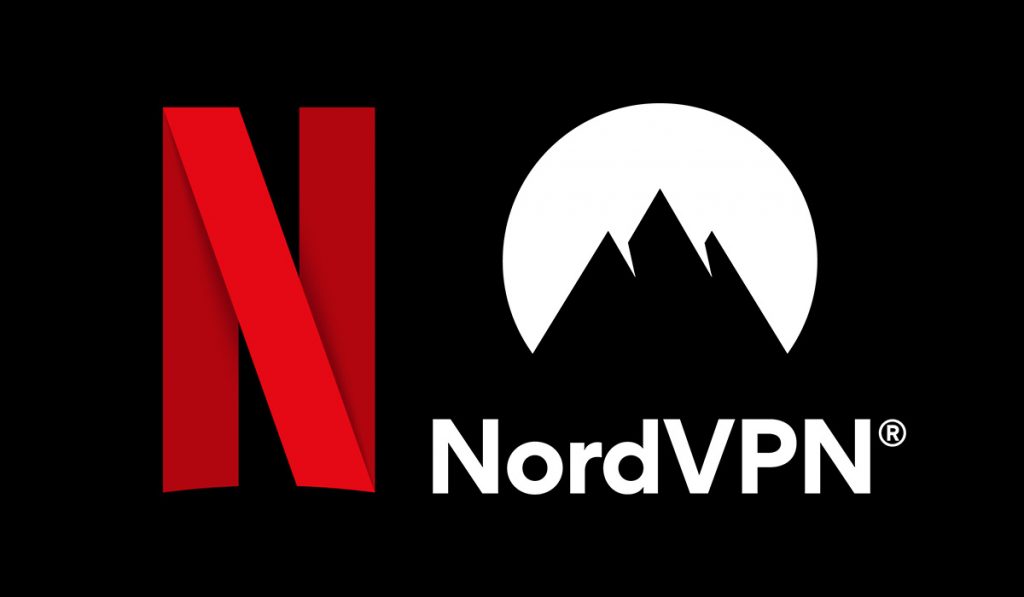 NordVPN works well for Netflix. You can unblock with ease on most servers and access content on a user-friendly screen.
One thing to keep in mind as you use VPNs for Netflix is that there is a continuing battle between these two entities. Netflix isn't happy that VPNs are able to offer their content for "free" so they are always finding new ways to block it.
Remember, Netflix doesn't work on all servers and the sheer number makes testing tedious. You can contact the NordVPN support desk for the nearest Netflix-enabled server.
---





IP and DNS Leaks
This is the ultimate test for any VPN. In the event a connection drops a VPN should be able to contain leaks. We tested NordVPN using several different tests and found it completely secure.
You can do your own tests on frequently used servers using IPLeak, PerfectPrivacy, BrowserLeaks or any other trustworthy leak testing software.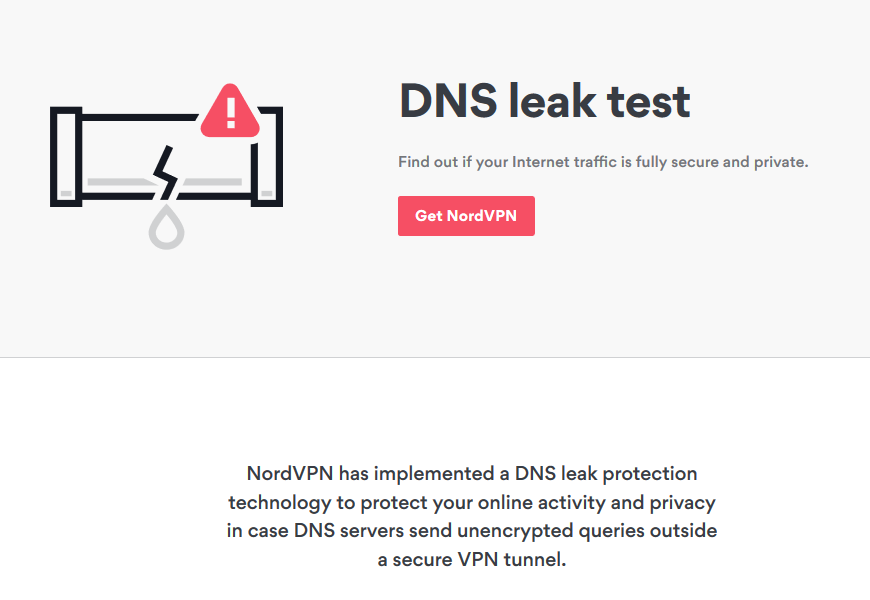 ---





Support
Support is one of the biggest weaknesses of VPN companies. Many are able to design an excellent product but when it comes to support they are lacking.
Even experienced VPN users need support from time to time. Questions range from simple set-up issues to more complex ones about encryption.
NordVPN offers excellent customer support. You can contact them via Live Chat or email. For immediate attention you can contact them using Live Chat. You may get a copy/paste answer, or you may get a customer support rep who actually talks to you – it depends on your issue.
If the CS rep that you find on Live Chat isn't able to assist they will recommend that you send an email to their technical department. They are fast and respond within a few hours.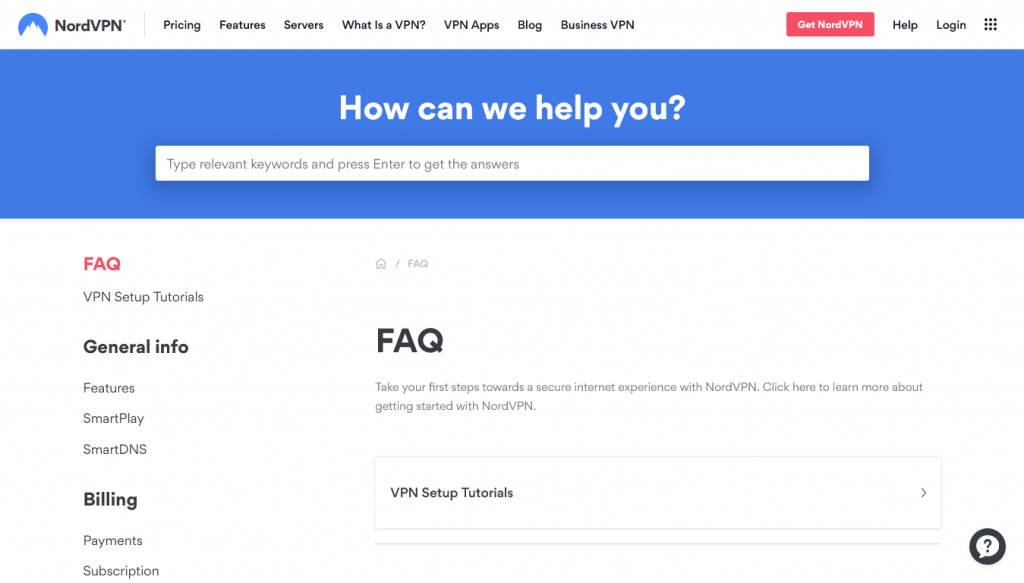 NordVPN also has a resource centre that has hundreds of articles to help you get set up and tutorials to guide you through every step. There are extensive articles on topics like setting up your VPN, billing, troubleshooting and more.
---





TOR use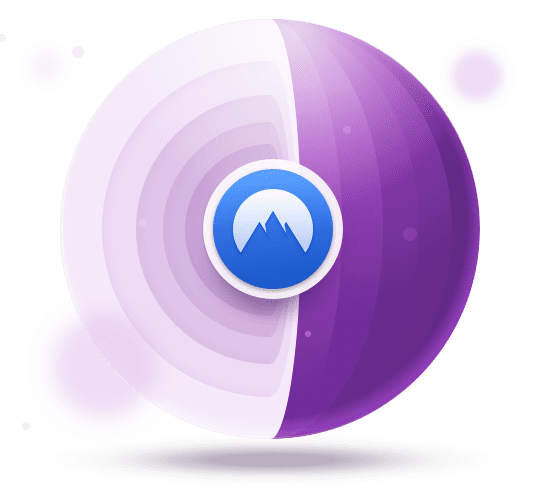 Why do you need TOR when you already have a VPN? Simple; you need an additional layer of protection. In some countries, accessing the TOR network is a crime that can land you in jail or worse.
While TOR protocols are mostly secure, they are breached from time to time and users find themselves in trouble.
Some VPNs aren't TOR enabled, but NordVPN is. While it may slow things down to a degree, it ensures that you are completely anonymous every time you are on the dark web. Your data is first encrypted by the VPN before it gets additional encryption on TOR.
---





Torrenting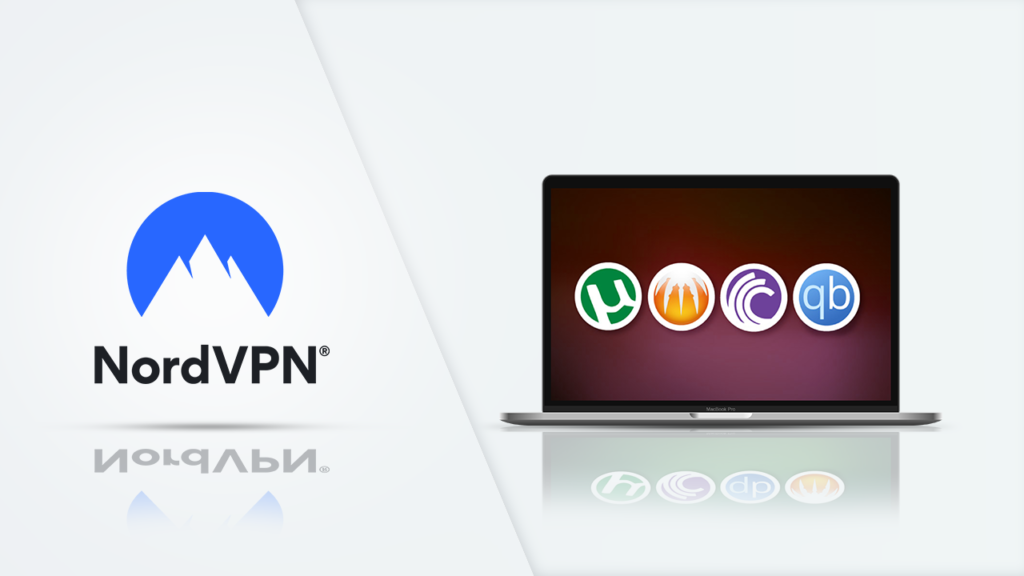 NordVPN is marketed as the best VPN for P2P. They have special servers set aside for just this purpose. While some VPNs don't encourage torrenting, NordVPN promises its clients that it doesn't interfere and they can download content at will. Torrenting speeds are fast on this VPN.
---
Cons of NordVPN
It is true that NordVPN is one of the best VPNs of 2019, but that's not to say that it doesn't have its share of problems. Before you buy you should take into account the following problems:
The speeds could be better
Everyone wants to have a faster internet connection and while NordVPN is fast, it can do better, especially considering how many servers they have.
Some of their recommended servers are slower than other VPNs, such as Express VPN. The server in Switzerland, for example, is quite slow compared to servers owned by other VPNs in the same country. The New York server is also slow compared to others.
In a nutshell, when you compare NordVPN and Express VPN for speed, Express VPN comes out at the top every time, yet it has fewer servers.
The kill switches aren't available on Mac OS OpenVPN
This is a puzzling drawback. NordVPN has 2 kill switches for Windows clients – an app kill switch and an internet kill switch, but none of these are available for Mac OS OpenVPN.
If you are a Mac OS user who is keen on this feature you may want to look into other options.
The issue of who owns NordVPN is murky, and information isn't easy to come across. It can be traced to CloudVPN Inc. which is in the US, but the marketing material says that NordVPN is incorporated in Panama.
This may be a deliberate ploy on their part – a good VPN company should be hard to find. However, for users who want to know exactly who they are dealing with this is not a good thing.
Customer refunds can be problematic
30 days is a long time to process a refund, but that seems to be happening at NordVPN. According to them, all refunds are processed within 24 hours, but there are customers who complain that it takes a lot longer than that.
---
Pricing Plans
Nord VPN has 3 different pricing options:
$11.95 a month for a monthly subscription
$4.92 a month for an annual subscription
$4.13 a month for a 2 year subscription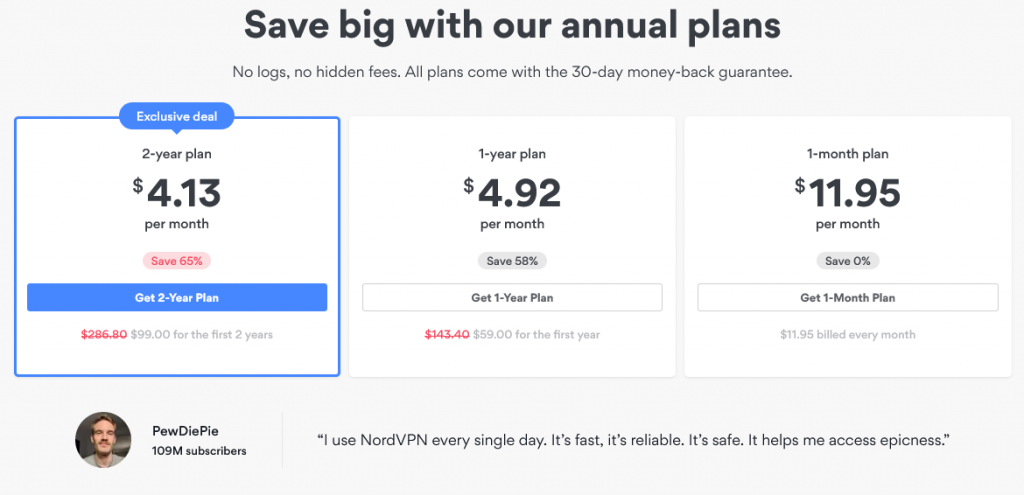 The 3 year subscription is the cheapest there is among top-rated VPNs of 2019. However, if you buy it and you aren't happy getting a refund isn't all that easy.
---
Do We Recommend NordVPN?
Without a doubt, NordVPN is one of the best VPNs to date. Its speeds may be slower than Express VPN but it performs very well in all other areas. It offers high level security and it is steady and reliable. Its price, especially the 3-year package, makes it an easy choice.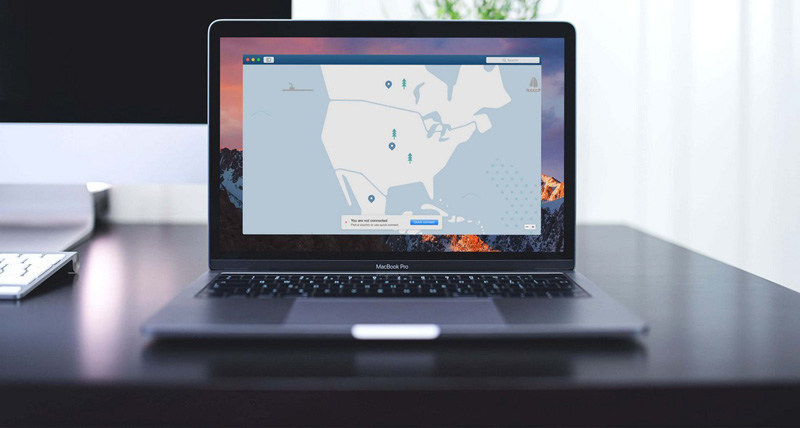 NordVPN User Reviews
Rich S likes that he can use Nord VPN in remote locations:
"I work offshore in the North Sea and many installations restrict certain video sites and certain video sites "see me" as out of the territory but using NordVPN overcomes those issues fine. Embarrassingly easy, in fact."
Jason is impressed by the fact that he has access to Netflix and other entertainment channels:
"Can watch BBC (London) and Netflix (USA) thanks to all the servers all around the world, no weird packages behavior (doesn't steal info), never had loss of connection after hours of streaming.
Fab doesn't like Nord VPN's pricing:
"Almost every site online states they are cheap. This is just not true as if you want that $2.99/mth, you must pay for 3 years upfront which is $107.55."