VyprVPN Review: Why You Should Not Underestimate This VPN
Editor Rating:





User Ratings:





(12)
VyprVPN makes some pretty serious claims. On its website there are statements like "most trusted VPN service", "VPN choice for millions" and "fast, secure and global".
We've heard these claims from other VPN providers that proved to not be the case, so we know better than to just take them at their word. Hence a personal deep dive into VyprVPN was required to ensure the accuracy of this review.
What is it and what does it do?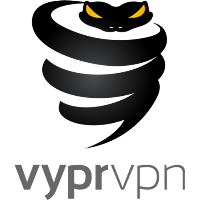 VyprVPN was born out of frustration. According to the founders Ron and Carolyn Yokubaitis, NSA was conducting surveillance on AT&T networks in San Francisco in 2003, and when they filed a complaint with the FCC they were all but ignored.
They decided to take matters into their own hands by designing software that allowed users to be completely anonymous online.
They incorporated a company in Switzerland and with a small team, started work on VyprVPN.
Like all VPNs, VyprVPN gets a mixed bag of reviews – some swear by it while some think it could be better. At a glance, there are 3 things that this VPN has going for it:
It is fast
It is one of the best for masking VPN connections
It has excellent customer support
---
VyprVPN Review
This VyprVPN review looks at more than these three features. We will look at all the pros and cons of VyprVPN so that you can make up your mind. At the end we will include a few user reviews so that you can see what others think.
This review will examine:
Logging – None
Speed – Decent (outside the US)
Number of servers – 700+
Security protocols – Good
IP and DNS leaks – None
Netflix – Yes
Torrenting – No
Supported devices – Most
Ease of use – Good
Customer support – Good
---
1. Logging





Logging is a serious issue for VPN users – you don't want to use a service that keeps logs of your activity as that would defeat the purpose of the software.
So does VyprVPN keep logs? The answer depends on where you look. We decided to go as far back as possible and this is what we discovered.
According to their Privacy Policy, VyprVPN clearly states that they log the user's IP address, the VyprVPN IP address used to connect, the connection time and total number of bytes used for each session.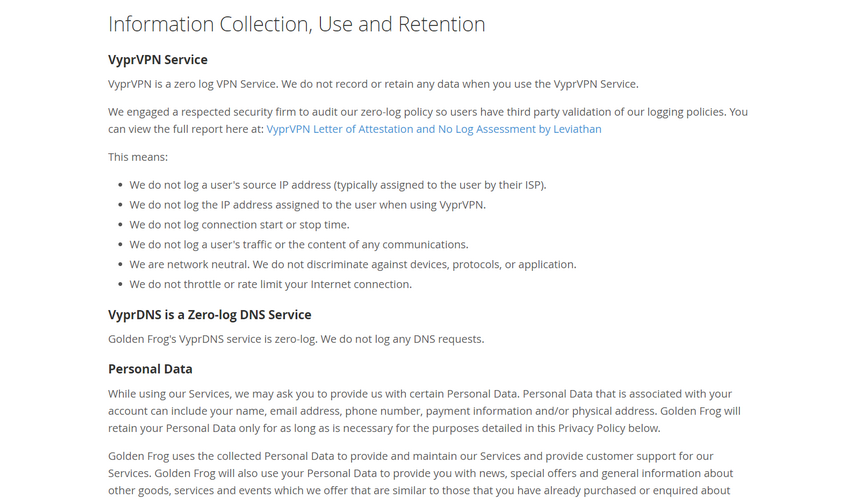 This, they explain, is to enable billing, troubleshooting, crimes committed while using the service and a few other housekeeping issues.
The Privacy Policy is very clear that it doesn't log user traffic, doesn't perform shallow or deep packet inspection, doesn't discriminate user devices or applications and doesn't throttle internet connection.
The Privacy Policy has since been updated. Beginning March 2019, VyprVPN is a ZERO LOG SERVICE. They no longer keep user IP addresses, VPN connecting addresses, connection times, user traffic and are network neutral.
Bottom line: although VyprVPN kept logs in the past, they don't anymore.
However, in our experience, when it comes to logs we always tell users to take privacy policies with a pinch of salt.
It is standard practice to collect some information from users to help with the day-to-day maintenance of the service. The VPNs that collect the least amount of information are the best.
---
2. Speed





VyprVPN is definitely one of the fastest VPNs that we have tested. We do our tests on servers that have lots of traffic, and for this we pinged servers in Washington, Amsterdam, Hong Kong and London.
Washington: Download speed 57 Mbps, Upload speed 8 Mbps
Amsterdam: Download speed 70 Mbps, Upload speed 35 Mbps
Hong Kong: Download speed 55 Mbps, Upload speed 8 Mbps
London: Download speed 15 Mbps, Upload speed 5 Mbps
With such speeds you would expect this VPN to have a higher rating among top VPNs but not quite, and here's why: speeds in the US aren't very good compared with other VPN services.
An upgrade of their US servers would put them among the top ranked VPNs.
However, if you are in other regions you will enjoy the speeds offered by VyprVPN.
---
3. Number of servers





VyprVPN has more than 700 servers in 70 countries. This is fewer than services like Express VPN and NordVPN, but this VPN competes quite effectively.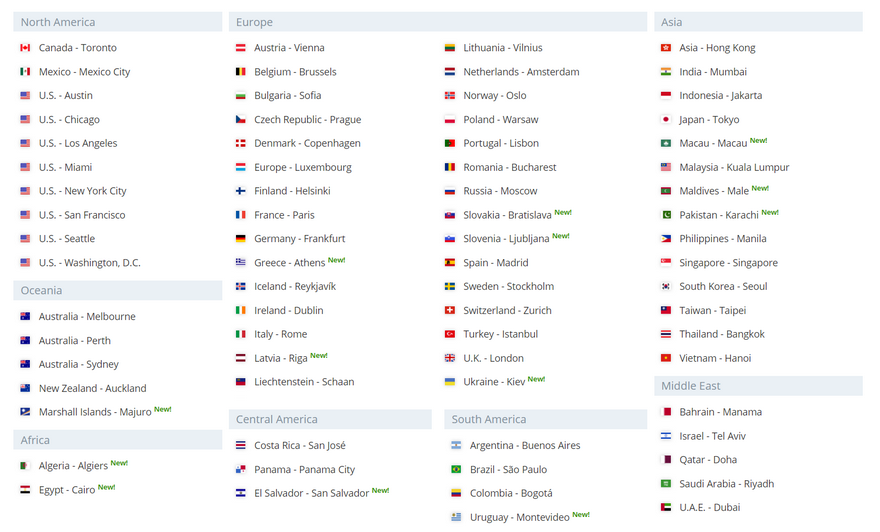 One reason is that they have full control of all their servers (they don't use any third parties). Not only does this make for excellent maintenance, it also means additional user privacy – no one outside the company has access to your online activity.
The servers have a kill switch feature so users can immediately disconnect in case of a dropped VPN connection.
Users in America may not be happy with their speeds, but in other parts of the world VyprVPn is well-liked. Their spread of servers across the globe is good. In Asia, they have a server in every major hub, and they have servers in Central and South America as well as the Middle East.
---
4. Security protocols






VyprVPN uses the best VPN security protocol – AES 256 encryption. This includes 256 OpenVPN for Windows, Mac and Android.
VyprVPN's best security feature is its proprietary Chameleon Protocol.
Some countries discourage VPN use by tracking IP addresses that look like they are linked to a VPN and blocking them. VyprVPN has found a way around this. Chameleon Protocol scrambles VPN traffic so that it looks like ordinary traffic.
While this may not seem like a big deal to some, users in places like China, North Korea and similar locations love this feature. Unfortunately it isn't available on iOS.
There is a caveat here: Chameleon Protocol has stopped working in China. It did in the past, but according to VyprVPN support, China has adopted complicated firewalls. The company promises to continue improving the software so that it can keep up with the new blocking methods.
---
5. IP and DNS leaks





We ran 3 tests to find out whether VyprVPN has any DNS and IP leaks and we found none. After reading about the failure of the Chameleon Protocol in China some users worry that this VPN isn't that safe after all.
This shouldn't be a major concern. It has an encrypted zero-knowledge DNS service to prevent intrusion.
The servers have a kill switch, and users can download their own third-party privacy software.
All in all, we are confident that VyprVPN offers good protection against DNS and IP leaks.
---
6. Netflix





Netflix is a big selling point for any good VPN, so we tested VyprVPN to see how easy it is to access blocked content. Here is what we found.
In the United States we were able to connect almost instantly through 2 servers: New York and Chicago. When we tried a few others we found that we could access content just as easily.
In the UK we connected and tested the London server and we were pleasantly surprised to access BBC iPlayer content with ease.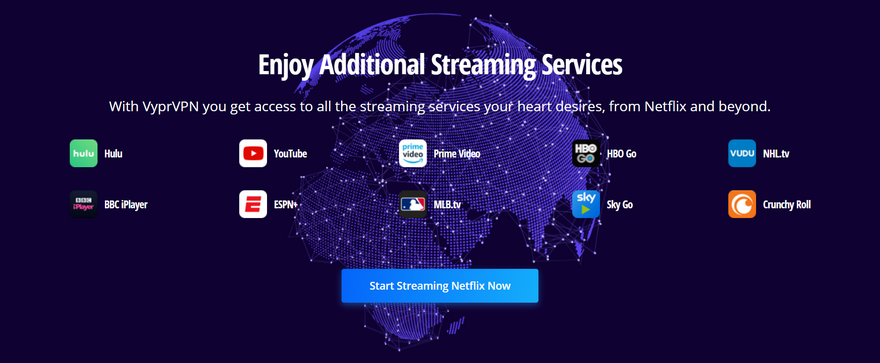 30-Day Money Back Guarantee
VyprVPN is helpful when it comes to accessing other geo-blocked sites. They have a detailed guide on how to set up Sky Go, Amazon Prime, Hulu and iPlayer. You can get in touch with the support team so that they can walk you through the steps.
For users who want a VPN so that they can access films and shows VyprVPN comes highly recommended.
However, keep in mind that Netflix constantly works to make sure that its content isn't accessible through VPNs, so while you are able to have access today, it may change in the future.
---
7. Torrenting





Torrenting is a controversial issue for VyprVPN and some users have dropped their subscriptions solely because of this.
The website doesn't discourage torrenting; on the contrary, it says that they have the utmost respect for user privacy and will not monitor or interfere with user content in any way. Just below that it states "Please ensure that your use of our protocols is in accordance with your local copyright law and Terms of Service".
And there-in lies the crunch; it would be helpful if the company stated clearly whether or not torrenting is allowed.
User accounts can (and have been) suspended for torrenting. They claim that if they are contacted by copyright holders regarding breaches they have no choice but to suspend the specific accounts that are involved.
This is antagonistic for clients. A more useful approach would be to make it very clear that torrenting is not allowed using VyprVPN.
---
8. Supported devices





You can use VyprVPN on Windows, Mac, Android, iOS, TV, router, AnonaBox, QNAP and a few others.

The only major drawback, when it comes to access, is TOR. TOR users may want to try alternatives like NordVPN or Express VPN.
---
9. Ease of Use





VyprVPN is one of the easiest to use. It is quick to install and you don't have to be a genius to get it to work.
The interface is intuitive and works even for VPN newbies. It shows your public IP address, how long you've been connected and your VPN protocol and encryption. From the settings menu you can choose the kind of encryption protocol you prefer.
---
10. Customer Support





Customer support wasn't very good in the past but has come a long way in recent months. They have a Live Chat, you can get in touch by email, or you can refer to their online knowledge base.
The Live Chat feature is the best. We were able to get a response in a few minutes. Unfortunately, it was a bot, an it referred us to some articles on the website.
The email option is also helpful; you will get an answer to your question in a couple of hours.
The website knowledge base is a good idea but isn't very useful. While it has hundreds of articles, they aren't well indexed, and they don't provide a lot of detail.
---
Cons of VyprVPN
Torrenting
The biggest complaint about this VPN is its stance towards torrenting. It has scored a lot of negative reviews for suspending client accounts for torrenting when in fact they could have made it clear that they don't allow torrenting.
Location
Some users worry that although the company is in Switzerland, which has strict privacy laws, it belongs in a stable of American companies. We don't feel that this is anything to worry about. The company is incorporated in a safe jurisdiction and cannot be forced to share user information.
---
Pricing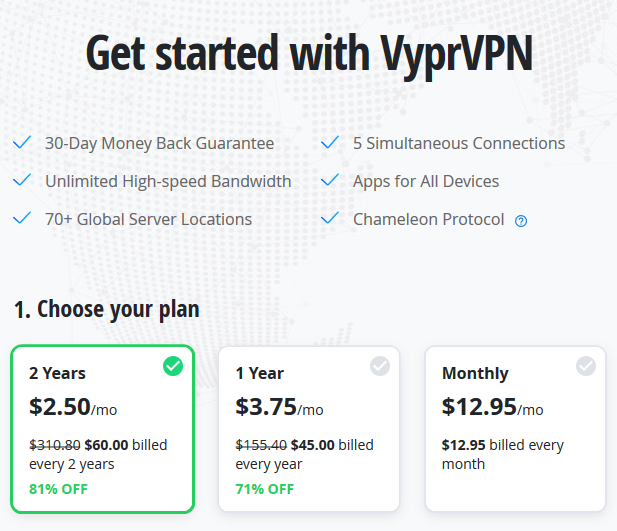 VyprVPN offers three different pricing plans depending on how many devices you would like to connect:
$3.75/month for a year
$2.50/month for two years
$12.95/month every month
Each plan comes with a 3 day free-trial. You will start to be billed as soon as the 3-day period expires.
VyprVPN has a 30 day money-back guarantee.
What do we think about their pricing plan?
It could be easier; a one-size fits all, differentiated by subscription duration might have been a better way to go.
That said, we feel that the rates are fair when you consider that you are getting fast speeds, tight security, Netflix and more.
---
Do we recommend VyprVPN?
Indeed we do. VyprVPN is not the fastest VPN; it is doesn't have thousands of servers and clients cannot torrent files without risk to their subscriptions.
However, we feel that this is still a very solid VPN. It offers what most users are looking for. They are able to enjoy good speeds, they can go online anonymously, there are additional security protocols and they can access Netflix with ease.
Sure, VyprVPN isn't the same as Express VPN or NordVPN but it is definitely among the top VPNs that we have reviewed so far. If you have tried other VPNs and haven't been impressed we definitely recommend this one.
---
VyprVPN User Reviews
John likes the service but thinks they can do a better job with pricing:
"It usually works, has lots of servers to choose from and is relatively stable. In 2017, the PRO service was discontinued and replaced with what they call the PREMIUM service, costing $80/year. Problem is, they never informed me or other customers by email about this."
Lee C had some problems but they were resolved and he is now happy with the service:
"I originally had an issue with not obtaining a refund which prompted me to write a pretty negative review. This seemed to work and the matter has since been resolved."
Myra is pretty happy with VyprVPN:
"I've been a user of this service for the past 5 months or so, and to be honest, it's been satisfactory. They've got very fast servers and it connects to servers in seconds! However, I just wish they could add more US server locations to the few they've got. Conclusively, this is an easy to use and handy VPN service."