Top 14 VPN Services for 2022 (& The 3 Best)
Choosing the right VPN Software for online privacy can be confusing and is of critical importance. That, however, is easier said than done.
There are about 300 VPN services on offer at any one time and each claims that it is the best. A recent study revealed that about 80% of all VPN services are defective in some way – while they may offer some degree of protection, they have leaks that can lead to significant security breaches.
Before we look at the top VPNs for 2022, let us take a moment to explain what a VPN is and what it does. Each time you are online your IP address is traceable, which means that someone can tell where you are. They can also see everything that you are doing online.
You may think that if you have nothing to hide, this isn't something to worry about. That's not true; think about all the transactions you do online, whether on your phone or your computer. So long as you are doing it on an open network (Wi-Fi) your information can easily be picked up and put to wrong use.
A VPN protects you against this. It transfers your IP address to a secure proxy server so that no one can tell where you are or what you are doing online. You can install a VPN service on a desktop, laptop or mobile. There are two types of VPN software – those that you pay for, and those that are free.
The free ones have limited features which allow for a significant degree of exposure. The paid ones offer better features, but that's not to say that they are all safe – some are better than others.
For this article we reviewed dozens of paid VPNs and came up with the best 14 based on features and pricing. Whatever you plan to use your VPN for, if you choose any that we have reviewed here you are assured of online anonymity wherever you are.
---
14 Best VPN Services of 2022
There are several features we used to determine the best VPN software – anonymity of websites visited and files downloaded, ability to mask IP addresses and the number of servers. Based on these, here are the best VPNs available for download today:
---
Read Review
View Listing
NordVPN scores as the best all round, and while it performs exquisitely on many levels, it has one main problem – pricing. Here are some the best things about NordVPN:
It has the highest number of servers among VPN service providers (more than 5,500 extremely fast, in 60 countries).
The company uses "double encryption" for added security.
You get a kill-switch that you can activate at any time to prevent leaks.
Great for Netflix and torrenting.
The company doesn't keep any logs of user activity.
Rigorous tests over multiple servers showed no IP or DNS leaks.
Can have up to 6 simultaneous connections.
NordVPN is in Panama – a country well-known for its privacy-friendly policies.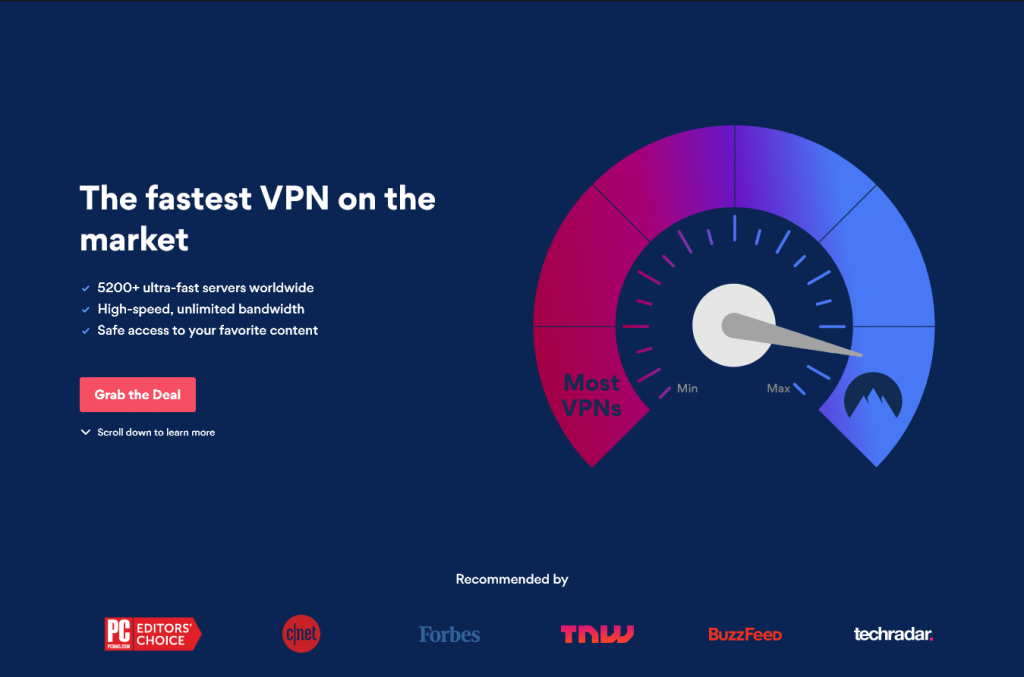 Cons
The only thing that's not to like about NordVPN is the pricing. If you plan to buy for the long-term you will get a great deal. However, for those who want short-term plans there are no discounts.
---
Read Review
View Listing
This one makes the list as the "best cheap VPN of 2022" and it has several impressive features:
It is one of the best for streaming Netflix content.
It allows torrenting and P2P connections are fast and secure.
You can use it on an unlimited number of devices.
The app is easy to use and has a nice interface.
The VPN comes with "Camouflage Mode" which allows users to operate in more stealth than other VPNs.
The software has useful add-ons like Ad-Blocker.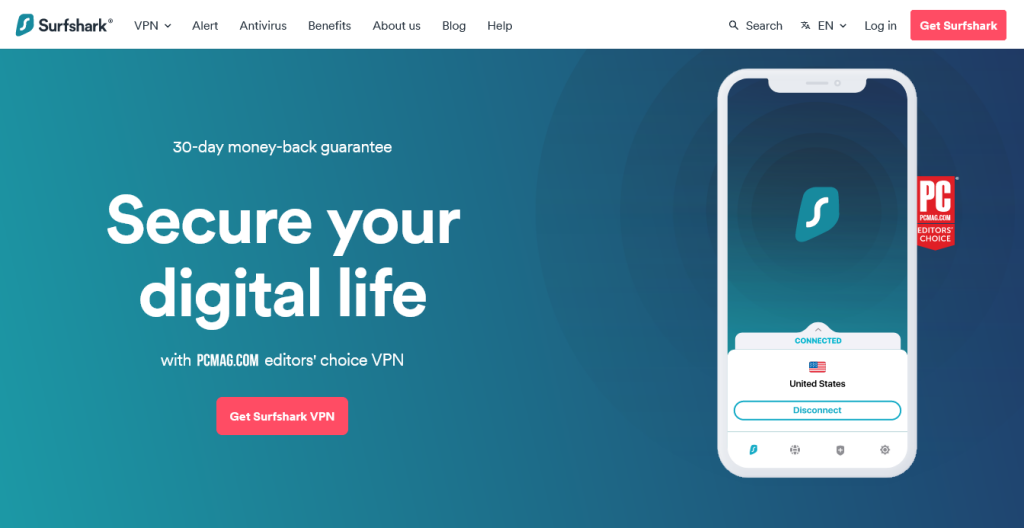 What is not to like?
While this is one of the best VPNs for those who want unlimited Netflix and torrenting, it comes with some drawbacks that are hard to overlook.
The first is that the speed isn't very good – it's described as average (you will not be disappointed but you won't be impressed).
The server network is small compared to other VPNs (3,200+ in 65 countries). The app isn't very reliable and has been known to crash.
---
Read Review
View Listing
If you are keen on torrenting and have lots of P2P traffic IPVanish is the perfect VPN for you. Its top features include:
All servers are managed in-house for higher levels of security.
You get excellent download speeds.
A strict no logging policy ensures added security.
It works on all devices.
Good for unblocking Netflix.
Highest level encryption.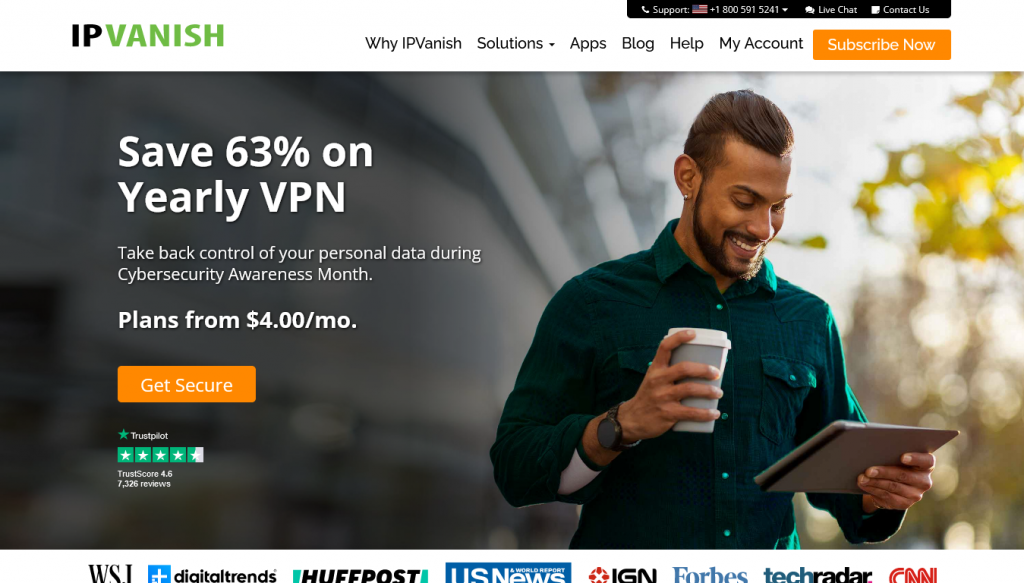 Cons
Although this is a great VPN service it comes with several problems that are hard to overlook. The first is the price – some feel that it is a little high especially for the long-term plans.
The other big problem with IPVanish is that it is in the US which means that well executed legal maneuvers can lead to exposure. The VPN doesn't support TOR and it isn't big on torrenting either.
---
Read Review
View Listing
While this VPN may not have all the features that are available on IPVanish, ExpressVPN and NordVPN it does have some unusual features that put it in the category of best VPNs for 2022. They include:
It is very fast – the company has more than 700+ servers in more than 70 countries.
You can quickly and anonymously get online in countries where VPNs are actively blocked (think China for example).
The company is very serious about logging – they do frequent audits to ensure that the whole system is logging-free.
You have access to Netflix and BBC iPlayer.
All sever tests have found no DNS leaks.
It is relatively fast.
It is compatible with most devices.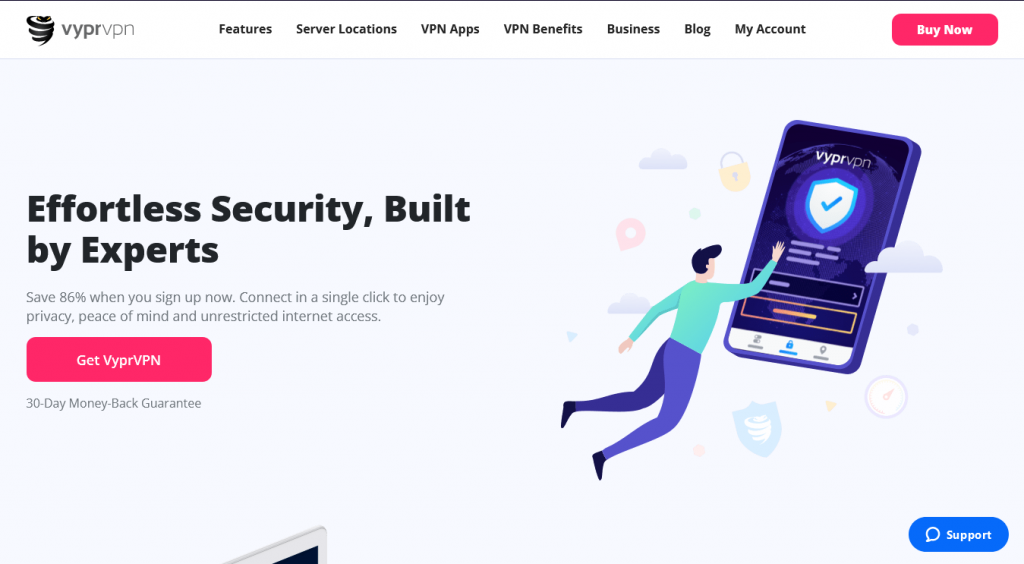 Cons
While this VPN is great there are definitely some cons you should know about before you dive in.
The first is that tests have revealed problems on some Windows devices. The test period is also relatively short compared to other VPN providers.
Some users complain that support is slow at times – not what you want with a VPN service, and the company discourages torrenting.
---
Read Review
View Listing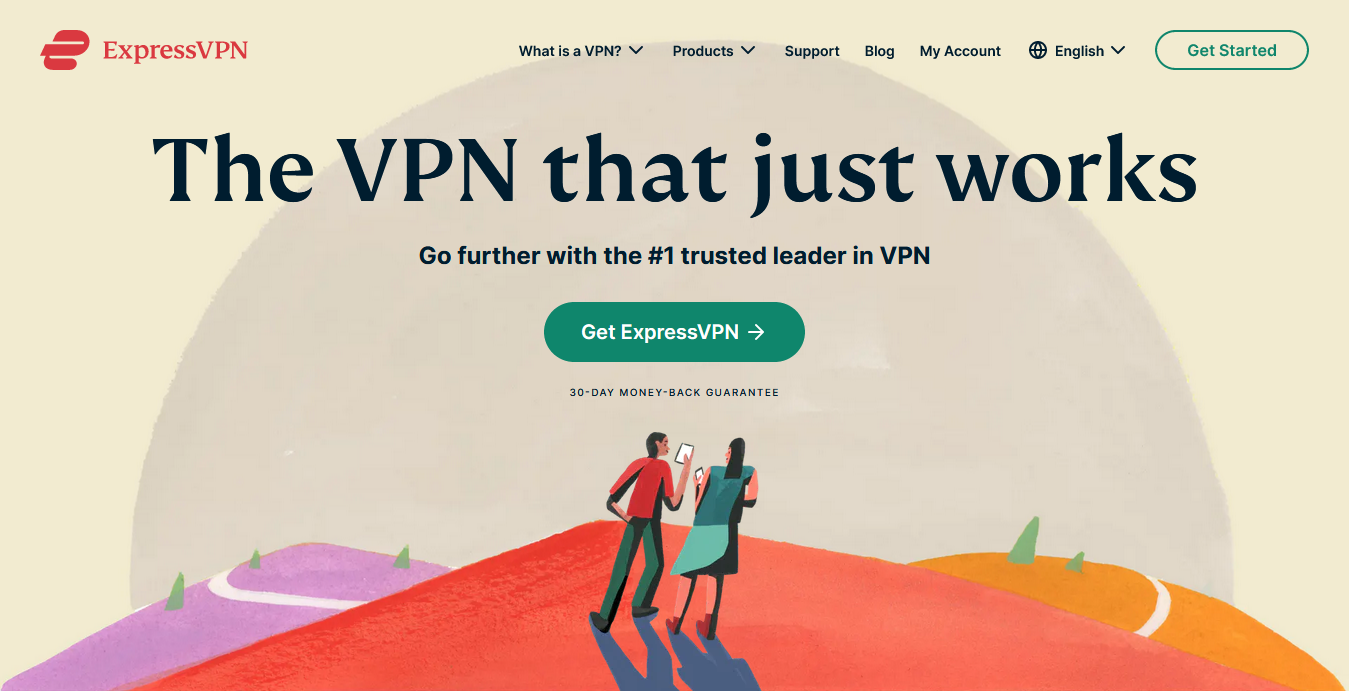 Based on thousands of reviews ExpressVPN comes in as the best VPN of 2022. It has several features that deliver outstanding performance:

Once you subscribe you have access to more than 3,000+ servers in 94 countries.
You can run it on any platform.
It is the best for streaming Netflix.
Makes torrenting easy.
The fast servers deliver an optimal online experience every time.
Each subscription has a 30 day money-back guarantee.
They have great customer service – issues are resolved quickly and there is always someone at the other end.
It uses the highest encryption standards (AES-256).
Rigorous testing has shown that it doesn't have any IP or DNS leaks. The installation files are clean.
It is very easy to use and it comes with a kill-switch for added security.
The company has a log-free policy – there are no logs of your activity anywhere.
You have good reason to trust ExpressVPN. It's brought to you by a relatively mature company in a part of the world that takes privacy very seriously. The company opened its doors in 2009 and has provided top-rated VPNs since. It is in the British-Virgin Islands which is not bound by any intelligence sharing agreements.
What's not to like?
The only problem with ExpressVPN is the price – it is more expensive than rival VPNs that offer almost similar features at a lower price.
---
Read Review
View Listing
HideMyAss is a VPN that's a little perplexing; it has a client base of more than 10 million users, but over the years it has been dogged by accusations of logging client details. This doesn't seem to change public opinion; it has remained a trusted service.
The company was indeed collecting an uncomfortable amount of user details, but the latest update has taken care of this. The newest version states explicitly that the VPN doesn't collect IP addresses, DNS queries or save activity logs. Here are additional features that make HideMyAss a winning VPN service:
The few user details that are collected are destroyed every 30 days.
While it doesn't have speeds as high as other VPN's, it is known for stability. You'll get good speeds consistently wherever you are.
It has no IP or DNS leaks.
The VPN has 1,100+ servers in more than 290+ locations.
The service automatically chooses the fastest server that's closest to you.
It has a simple user interface that's easy to understand and use.
You get a Shuffle IP address feature to help you access websites faster.
You can choose what applications you would like to connect through the VPN.
You are allowed to install the VPN on unlimited devices, but only 5 devices can be connected at once.
HideMyAss has made big strides with the current update, and any concerns that users had in the past about logging can be laid to rest.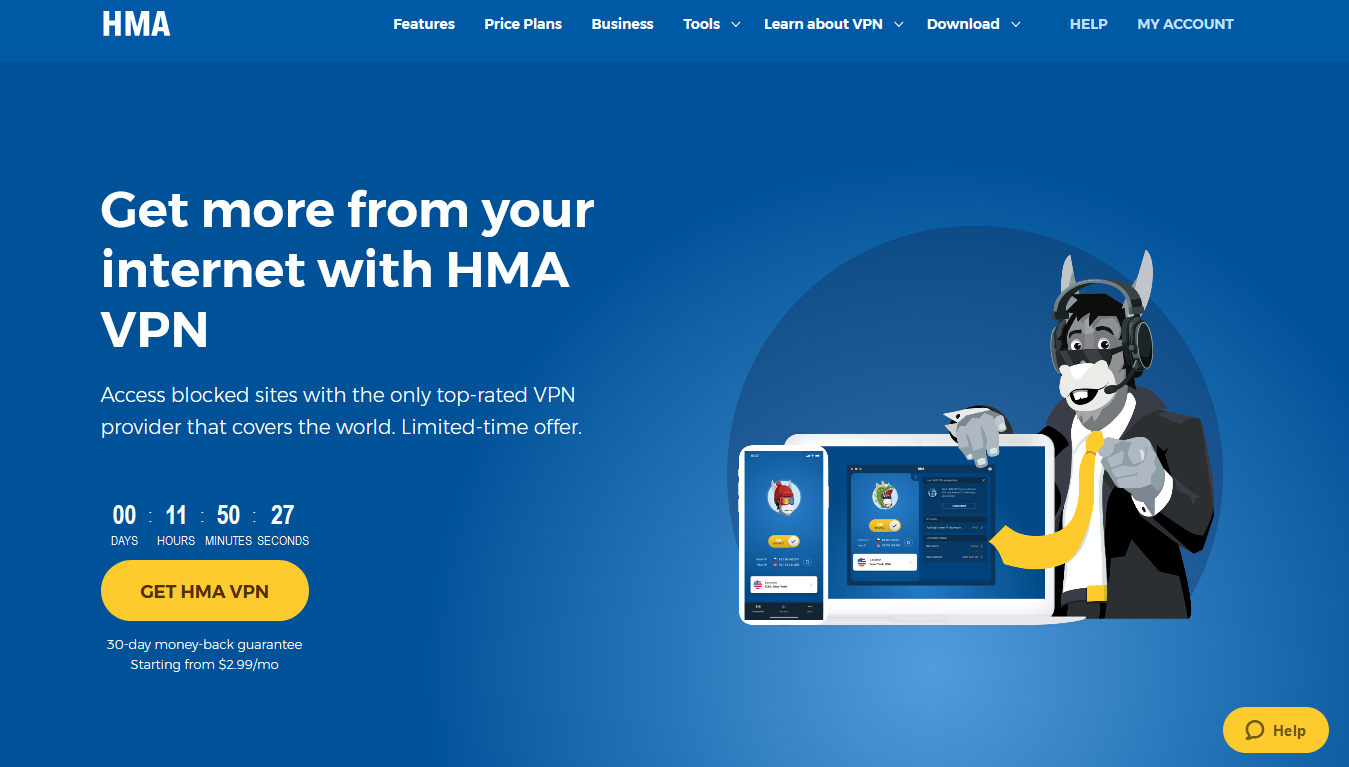 Cons
The biggest con of HideMyAss is that it isn't very efficient for torrenting Netflix. You can only connect through a couple of servers that are in a "virtual" location, and even then, a lot depends on luck.
---
Read Review
View Listing
TunnelBear makes it to this list because it is easy to use – even first time users don't have any problems setting it up and getting it to work. It has excellent features:
There is a free service and a paid version.
It has 2,600+ servers in more than 40+ countries.
The software delivers simplicity for the user.
You can use it on Windows, Mac, iOS and Android.
Easy access to Netflix.
The company is keen on security and conducts frequent audits to ensure there are no leaks.
It has decent speeds especially for users in Europe and Asia.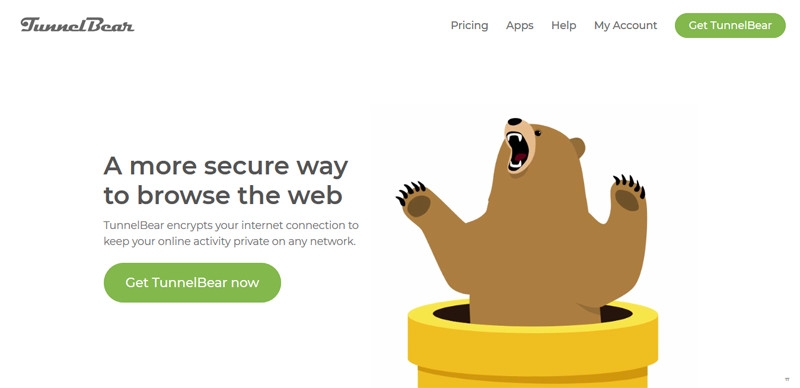 Cons
TunnelBear's biggest strength, simplicity, is also its weakness. More sophisticated users who are looking for a system that offers more functionality may not like this VPN.
The company doesn't do very well when it comes to support and they are slow to respond.
As mentioned, the VPN works well for users in Europe and Asia but customers in far-off locations complain about slow speeds.
The fact that the company is in Canada doesn't help much – privacy laws can be circumvented by authorities.
---
Read Review
View Listing
The fact that this VPN has more than 10 million users tells you that it deserves a spot on this list. Its biggest selling point is a wide array of features that aren't available on other VPNs.
It compatible with Microsoft, Apple, Android and iOS.
You can disable the VPN when using some apps.
Strict about keeping no logs.
The company has more than 7,300+ servers in 90+ countries.
You can choose servers to unblock geo-blocked sites.
Great for Netflix.
Torrenting enabled, easy and fast.
It comes with a free plan (with limited features).
You get a 30 day guarantee – if you aren't happy you get a full refund.
The VPN has a kill-switch in case of any problems.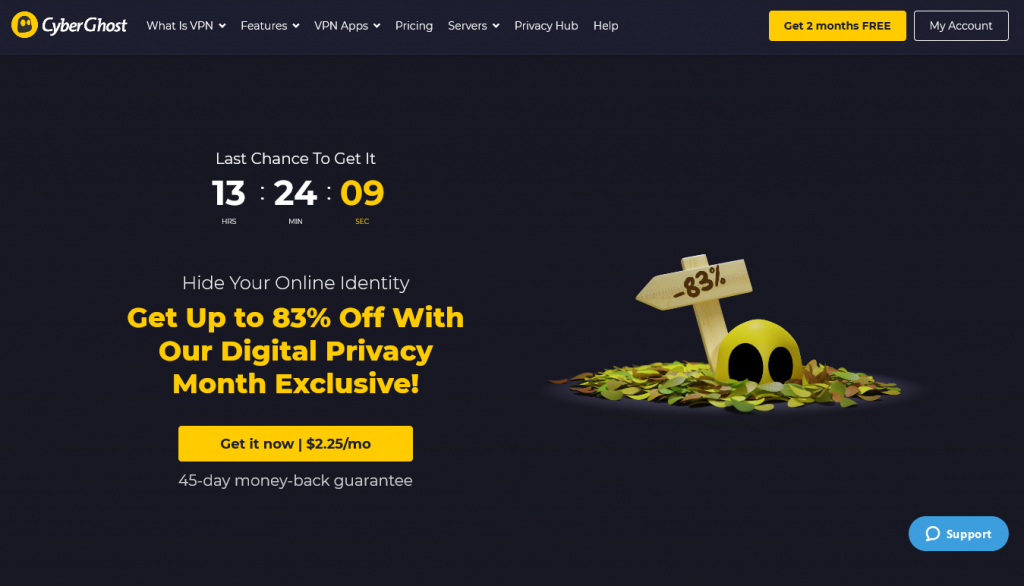 Cons
While this VPN service has a huge user base, it has some drawbacks that cannot be ignored. The company is in Romania which means that privacy is supreme. However, the company was recently bought by Kape Technologies, a leading malware producer and distributor.
Support for this VPN is also poor and in distant locations speeds are rather low.
---
Read Review
View Listing
What users like most about Windscribe is that they get 10GB session bandwidth a month. This alone has enabled this VPN service to amass a large number of users in a relatively short time.Here are some of its top features:
They use the latest protocols to secure data and boost anonymity.
They do not keep logs. However, they store a timestamp of the last activity for each user, which they say helps to identify inactive users.
No IP or DNS leaks.
You get Netflix content, but you have to connect through specific servers.
You can connect several devices including gaming consoles.
The app has a solid, user-friendly interface.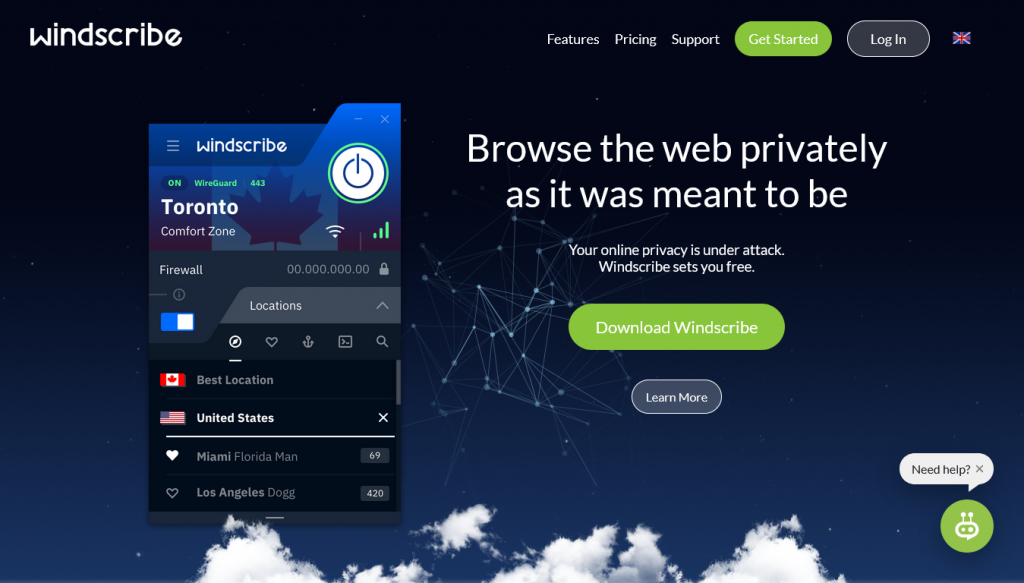 Cons
There are a few complaints about Windscribe that you should know about.
The first is that it is slow. Although the company has around 480 servers in 63+ countries, not all of them are active.
Support is another big problem for this VPN – they use bots which often leads to frustration and confusion.
---
Read Review
View Listing
We decided to add Unlocator to this list. While it is not a "bona fide" VPN, it does have VPN functionality. Unlocator's main strength is as a DNS. It is excellent for those whose primary use for a VPN is streaming content.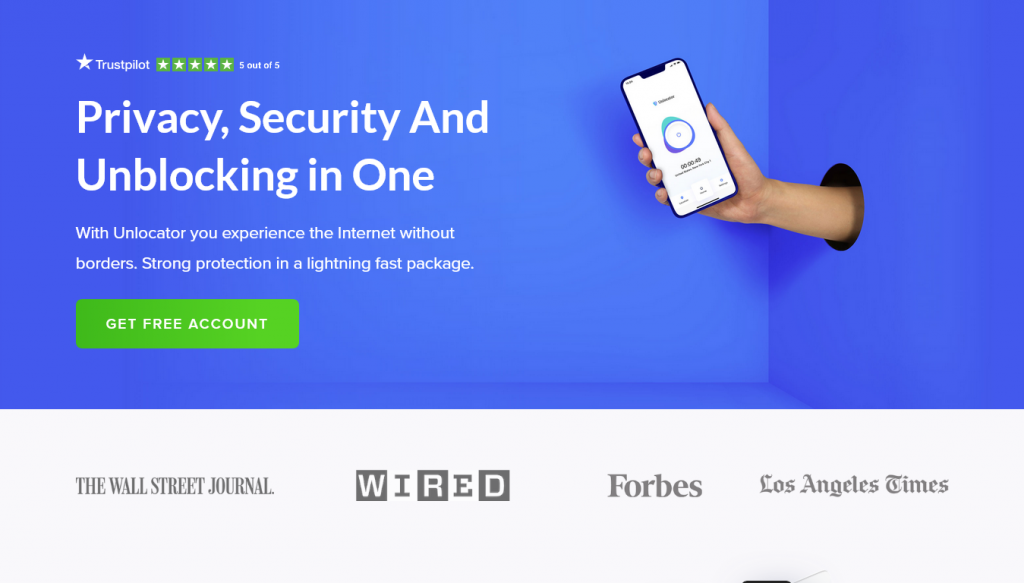 If you would like to be able to access services such as Netflix, BBC iPlayer, Apple TV and more, we highly recommend Unlocator. Some of it's features include:
It offers stable download speeds.
You can access more than 100 channels for streaming content.
It is very easy to set up, and comes with detailed guides for different devices.
It offers good customer service with live chat and an extensive knowledge base.
It doesn't have IP and DNS leaks.
It is affordable.
Cons
The main problem with Unlocator is that although it is sometimes positioned as a VPN it really isn't. It is a DNS service, so if you are looking for a VPN you will be diasppointed.
Unlocator also keeps some user information (name, email, address, IP address, credit card information, and cookie information) although it is deleted after 24 hours.
---
Read Review
View Listing
With a name like StrongVPN you'd expect this service to be right at the top of the list of top VPNs for 2022, but this isn't quite the case. This VPN is designed to provide a highly effective service but on a smaller scale. It has only 950+ servers in 30 locations, but it has some of the best connection speeds you will find in any VPN.
You can connect 12 devices at the same time making it ideal for families.
Tests show impressive speeds across all servers.
Absolutely no logging policy.
It is perfect for Netflix downloads and BBC iPlayer.
Allows torrenting.
You get a 30 day money-back guarantee.
You get excellent customer support with a ticket system.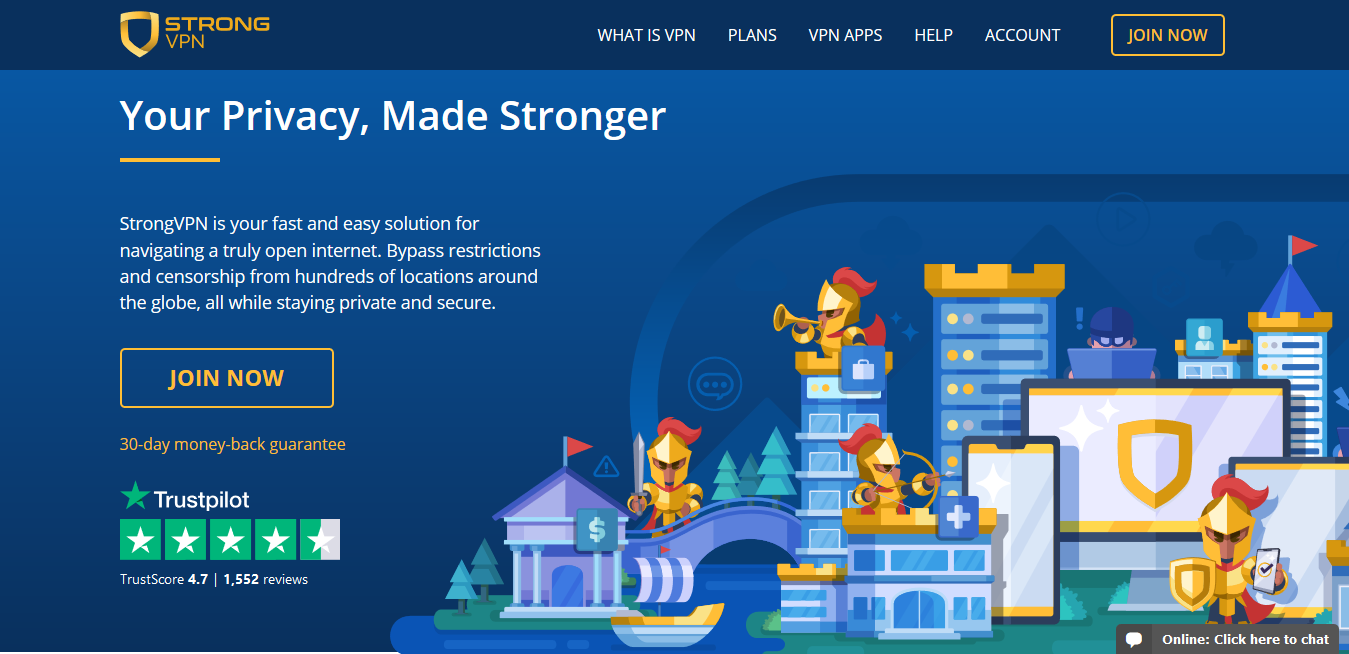 What is not to like?
The most obvious drawback is reach – with only 950+ servers, clients in some locations get poor speeds.
The interface could do with some work too – it lacks the intuitive feel that you get with good VPNs.
The biggest problem with StrongVPN however, is the price – the features aren't good enough for the price. The company that delivers this VPN is in the United States which makes some uncertain when it comes to absolute privacy.
---
Read Review
View Listing
Private Internet Access makes it to this list because it has good speeds. It may not be as fast as NordVPN or IPVanish, but it's better than a lot of other VPNs on this list. There are several features that make Private Internet Access an excellent VPN:
It has more than 35,000 servers in 70+ countries.
Download speeds are uniform in most locations.
There is a strict no logging policy.
Tests have revealed that the VPN has no leaks.
You get up to 10 connections at once.
VPN has a kill switch for emergencies.
Several levels of encryption provide added security.
Allows torrenting and P2P sharing.
Compatible with most devices
Cons
The biggest complaint about Private Internet Access is support. They have a Live Chat for paying customers in North America – not good if all you want is a few answers.
Coverage isn't very good because of server locations. Clients in Europe and North America get excellent speeds but all others have to make do with slower speeds.
The company is in the US which means that data can be obtained by authorities if a judge allows it.
---
View Listing
The main promise of this VPN service is that they will mask your IP address. So far, we have looked at 10 VPNs that do a lot more than that, so why does this one make it into the top 14 VPNs of 2022? Because there are some people who don't want any frills – all they would like to do is surf anonymously.
TrustZone is perfect for that. Here are its features:
The VPN doesn't collect any personal information – when you sign up all they ask you to provide is an email address.
The company is in the Seychelles which isn't bound by any international data surveillance agreements. Your data will be safe from authorities at all times.
A strict no logging policy.
Uses state of the art technology for maximum anonymity.
Speeds are as good as some of the best VPNs in the market.
It has 200+ servers in 38 countries.
Can unblock Netflix and torrenting is a breeze.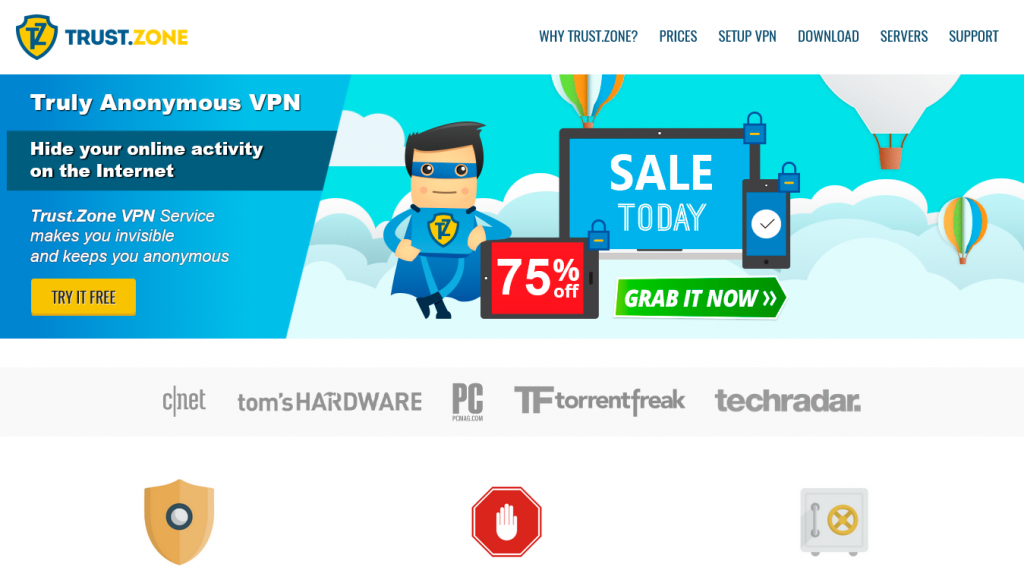 Cons
The biggest con is support – they are not available to users 24/7, and you can only contact them by sending a message through their website. This is hardly ideal for a company that is supposed to provide online security.
---
Read Review
View Listing
This is the best VPN for those who want to browse anonymously every time. It has several impressive features:
It has more than 1,800+ servers in 80+ countries.
Fantastic download speeds.
Nice, easy-to-use interface.
You can connect up to 5 devices at the same time.
It's completely ad-free.
Customer support is great.
The low price is attractive for anyone prepared to overlook the cons.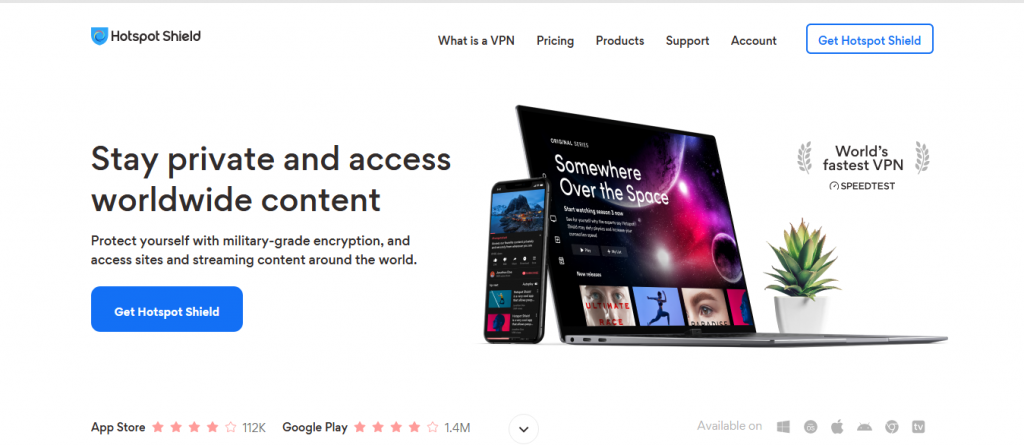 Cons
There are a few notable problems with this VPN.
Although it delivers some of the best speeds of any VPN, there are some vital features that are lacking.
Since it doesn't support OpenVPN, it cannot be used on routers and gaming devices.
It's limited to Windows, Mac, Android and iOS.
It doesn't support Bitcoin, and you can't use it to download Netflix.
---
Mullvad is owned by a Swedish company and as expected, is big on anonymity. One of the first things that you will notice when you sign up is that they don't even ask you for an email address – instead, each user gets a numbered account. Additional features include:
You can connect the VPN to 5 devices simultaneously.
They have a strict no logging policy.
The VPN uses the latest technology (OpenVPN and WireGuard).
You get a kill switch for emergencies.
No DNS and IP leaks.
Mullvad offers good connection speeds.
Netflix and torrenting are possible with this VPN.
It has 760+ servers in 37 countries.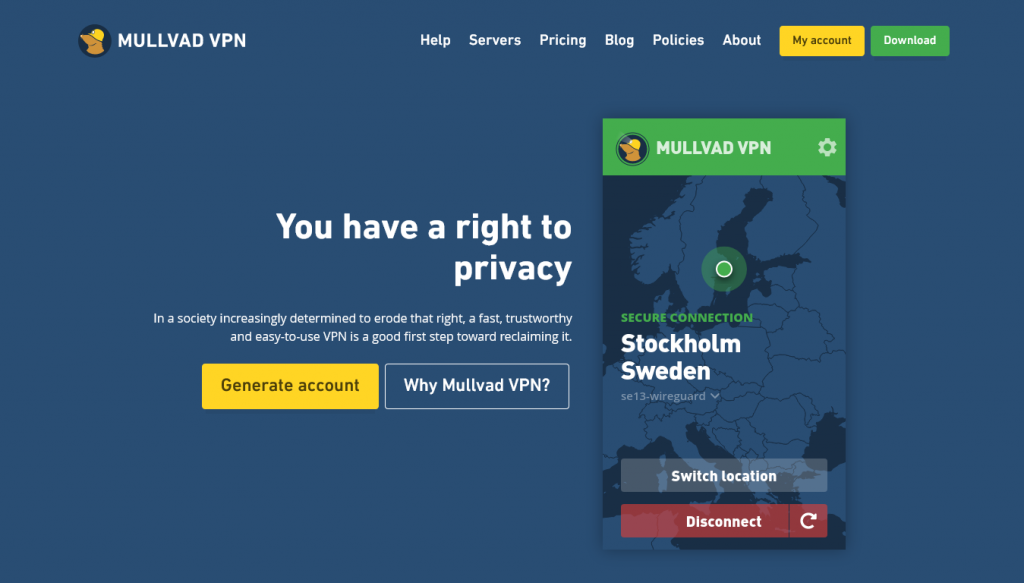 What is not to like?
Some users are wary of the fact that the company is in Sweden which has signed agreements with the US to provide intelligence. This shouldn't worry you; Mullvad goes to extra lengths to maintain client anonymity.
The company doesn't offer Live Chat Support which can cause delays.
It is also quite difficult to find basic information about the VPN online. Some users have complained that it isn't very user friendly.
---
How to choose the best VPN
You know the features, pros and cons of the top 14 VPNs, but it can leave you confused – how do you know which one is best? The answer is simple really; it depends on what you want to use it for. The ability to keep you anonymous is the most important feature of any VPN.
Speed also matters, and that is why we include the number of servers that a VPN service has. However, having lots of servers doesn't always translate to high speeds. Online reviews can help you determine which VPN's offer top speeds and which ones don't. The higher the speed, the easier a VPN is to use. For many, the ability to unlock Netflix and torrent are important so include them in your shortlist. Some VPNs have this feature but it is limited, while others allow you a wide reach.
VPN interface is also important. Creating a good user interface is the very least that a VPN company can do, so a poorly designed interface could be an indication that the service isn't any good.
It is a good idea to test trial versions before you buy, but remember they differ. There are some companies that are happy to offer a 30 day free trial while others offer only hours. Some will offer trials that have limited features, so you have to buy in order to know the true capabilities of the software.
Still confused which VPN service to choose? Then your best option is to go with one of our top three current recommendations: NordVPN, IPVanish or VyprVPN – balancing all factors, any of these three companies will be a strong choice.