Hotspot Shield Review – What Should You Believe?
Editor Rating:





Hotspot Shield is possibly the most controversial VPN in the market in 2019; it is the fastest, it has thousands of servers and it has its own proprietary protocol. It also claims to offer users complete anonymity.
What makes it controversial is that it has been dogged by scandals. There are claims that it sells user data (which directly implies logging) and it doesn't provide as secure a connection as it would like us to believe.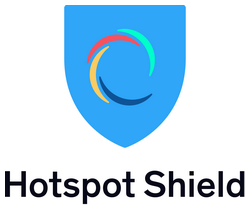 What's the truth?
It's hard to tell with Hotspot Shield, which is exactly why we are doing this in-depth review. In order to know how good a VPN is you have to look at several factors including speed, security, number of servers, how easy it is to use, Netflix unblocking, torrenting, client support and a few others.
A quick look at Hotspot Shield reveals that:
It is very fast (in most locations)
It has a great user interface
It can be used on a variety of devices
It is good value for money
However, this VPN gets a bad rap because according to some, it fails to do what a VPN should: provide anonymity.
Yet millions of people continue to rely on Hotspot Shield. As of 2019, it is estimated that the company has more than 650 million users around the globe.
The company makes some remarkable claims. An early 2018 article stated that in one 10-day period more than 1 million people in Iran downloaded Hotspot Shield because it was capable of surpassing government blockades on social media.
The obvious question is, if this VPN doesn't provide anonymity, how come so many people continue to use it and sing its praises?
Let's find out.
This review will look at important factors that determine how good a VPN is:
Speed – Great
Security (IP and DNS leaks) – Some
Number of servers and locations – 1,800+ servers, 80+ countries
Location of parent company – USA
Logging – Some
Netflix – Some
Torrenting – Yes
Ease of use – Great
Customer support – Great
1. Speed





Every Hotspot Shield review you look at will immediately make one thing clear: it is the fastest VPN there is. We ran our own tests to determine if these claims were true, and we were pleasantly surprised. We tested servers in the US, Europe and Asia and here is what we found:
The Europe server (Amsterdam) had download speeds of 100 mbps and upload speeds of 50 mbps.
Another Europe server (London) had download speeds of 100 mbps and upload speeds of 50 mbps.
The Asia server (Hong Kong) had download speeds of 80 mbps and upload speeds of 20 mbps
The US server (New York) had download speeds of about 30 mbps and download speeds of 12 mbps
If you compare with other VPNs, you will see that the speeds in Asia and Europe are unsurpassed – we are yet to come across another VPN that is this good.

45-Day Money Back Guarantee
And yet, the US speeds can only be described as slow.
A server in a busy location like New York handles a lot of data, so it makes sense that it is fast. In fact, for most other VPNs, their fastest servers are in North America.
So, why are Hotspot Shield servers everywhere else faster than in America? We don't know. We couldn't find an answer. The company is based in the US, so you would expect that their infrastructure there to be great. It hasn't offered any explanations.
Speed tests for VPNs should always be taken with a grain of salt. They can be affected by many things. Your location can determine how fast your connection is, as can your device and any additional security software you may have on your device.
That said, we can confidently say that one of the reasons why so many people choose Hotspot Shield is that it is fast. Users in the US don't have to suffer slow speeds; they can connect using servers in Europe or Asia.
2. Security





A quick test for DNS and IP leaks revealed that the VPN is airtight. However, users have experienced leaks when using the Chrome extension, and also when using the free version.
To protect yourself, we recommend that you test it thoroughly once it is installed on your device. If you find any leaks you can change the configuration. If, for example, you are using the free version of Hotspot Shield and you have leaks it may be worthwhile to upgrade to the paid version, or use a different extension.
There are a couple of security-related things that are worth mentioning. The first is that Hotspot Shield makes your VPN connection look like normal browsing. Regardless of the site you are visiting, your IP address will look like normal traffic.
The second is that this VPN is able to detect and block malware it encounters online and can protect you from spam and phishing.
Hotspot Shield will automatically connect when you get within range of an open Wi-Fi network, providing protection at all times.
3. Number of servers and locations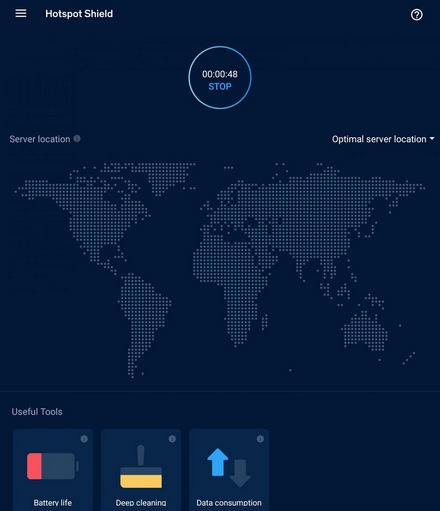 Hotspot Shield has about 1,800+ servers located in 80+ countries. The servers offer good encryption. They are located in the United States, Europe, Asia and the Middle East.
One thing that users complain about is that when connected they cannot see the particular servers they are connected to, only the country.
This isn't unusual; while some VPNs will show you the exact location of the server you are using, there are others that only show the country through which you are connecting.
The server locations for Hotspot Shield work well. Even in locations that don't have servers nearby speeds are pretty good. When travelling in South America and Africa, for example, users report that they don't experience a drop in speed. This is remarkable considering the large number of clients and the location of the servers.
If you subscribe to Hotspot Shield Elite you are entitled to unlimited bandwidth, but remember this may be restricted by your ISP.
4. Location of parent company





Hotspot Shield is owned by AnchorFree which is in California, United States. If you know anything about VPNs, you know that the United States is not a good location for a VPN company.
The authorities can compel the company to collect and surrender customer data at any time. This has contributed to the unease that users feel about Hotspot Shield.
If the government were to serve a warrant or issue a gag order on AnchoFree, clients would be exposed.
There are ways around this problem. Many VPN companies that are based in the United States don't collect data, so that even if authorities come calling there's nothing to share. As you will see, Hotspot Shield has a problem when it comes to logging.
5. Logging





Hotspot Shield does poorly when it comes to logging. Their user policy isn't clear on whether they collect IP addresses.
It states "Our VPN product will never store or log your IP address beyond the duration of your VPN session and we will always delete your IP address after you disconnect from the VPN."
Does this mean that they keep your IP address for the duration that you are logged on? It's hard to tell with such ambiguous wording.
The VPN collects information on the language in use, your device specs, your OS, your network and a few other details that are enough to make anyone concerned about online security and privacy quite uneasy.
The user policy insists that they do not make any connections between your IP address and personal information (email address, payment details). Without linking these two things the information would be useless, which makes this claim hard to believe.
As you read this, you should remember that this VPN is still trusted by millions, and they continue to use it every day without any complaints. While it doesn't do well in logging, privacy and security, it does very well in other areas that seem to matter more to users.
6. Netflix





If you want a VPN that will help unlock Netflix, we don't recommend Hotspot Shield. You will not be able to connect through a server outside the United States. If you are in the United States, you will be able to connect, but the process is complicated and requires time.
However, that isn't to say that it doesn't work. We decided to try a few servers to see if there have been any changes since we last checked, and we found that we could access Netflix through limited servers in Canada, the UK and Netherlands.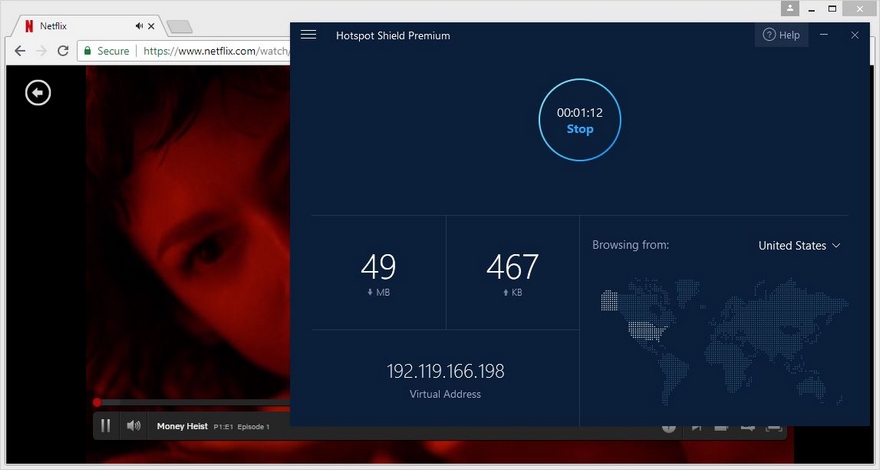 We concluded that it's a question of luck; if you try and are able to unblock Netflix, good for you. If you are really keen on watching movies and series, we recommend that you try other VPNs, like Express VPN, NordVPN or Surfshark.
7. Torrenting





Hotspot Shield is highly recommended for torrenting.
Unlike many VPNs that forbid or limit the practice, you can torrent as much as you want with this software as it offers unlimited bandwidth. All data is secured using AES 256 encryption so no one will see what you are torrenting (except the parent company of course).
The site has a guide on how users can use torrenting, as well as how to securely set up a torrent.
8. Ease of use





Hotspot Shield scores very highly for ease of use; it has one of the best interfaces of any VPN. The software takes only two minutes to install, after which you have a beautiful interface to work with. It is clean, clear and doesn't leave room for confusion.
The top half of the app shows you how long you have been logged in while the lower half shows you the download and upload speeds, the location of the server you're using and the allocated virtual IP address.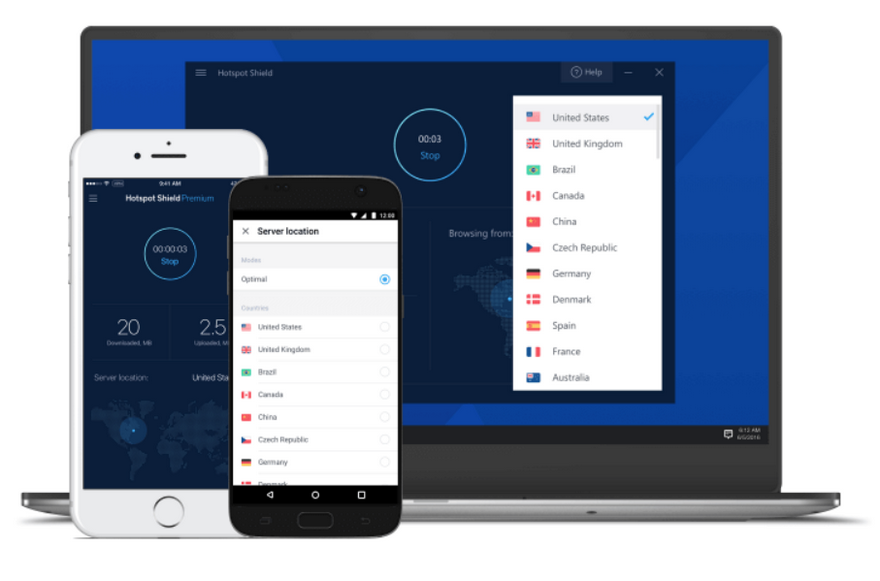 9. Customer support





The customer support offered by Hotspot Shield may be another reason why it has so many users. While it wasn't very good in the past, the company has taken real strides to ensure that user's queries are attended to without delay.
Before, users were required to submit tickets and then wait for a response. This took long, and answers weren't always satisfactory.
Today, there is a Live Chat option and it works very well. We tested it by submitting a series of questions, and we got a response right away.
The answers provided were helpful, and we could tell they were human, not automated.
Cons of Hotspot Shield
Data collected from the free version may be leaked to advertisers
There are two versions of Hotspot Shield: the free version and the premium version. There have been claims that information that's collected from those who use the free version is sold to advertisers.
The company has issued denials but they aren't very reassuring, as the user policy isn't clear.
The company is under investigation by the FTC (Federal Trade Commission)
The investigation is linked to how the company uses logged data. According to the claim, "The VPN promises to connect advertisers to users who frequent websites in particular categories, and while most VPNs prevent ISPs from seeing user internet traffic, that traffic is often visible in unencrypted form to Hotspot Shield."
While these allegations cannot be confirmed or denied until the investigation is concluded, users who are keen on internet security will be reluctant to use Hotspot Shield.
Hotspot Shield Pricing
Hotspot Shield is more expensive than NordVPN but cheaper than Express VPN. Like most VPNs, it comes with a tiered pricing plan:
$12.99 a month every month
$7.99 a month for a year

45-Day Money Back Guarantee
There are some interesting things to note about this pricing plan. If you are in the EU, you pay more than other parts of the world. The company doesn't explain why this is necessary.
Hotspot Shield has the best guarantee of all VPNS – 45 days money back if you aren't happy. The refund process is uncomplicated and doesn't attract many complaints.
You can pay using all major credit cards, wire transfer and PayPal. They do not accept Bitcoin and other similar forms of payment.
Do we recommend Hotspot Shield?
This is one of those VPNs where we have to say that it depends on what you're looking for. If your main concern is speed and a great user experience, this VPN is absolutely worth having.
However, if you care more about being anonymous while online you may not like this VPN very much. Keep in mind that many of the claims and allegations leveled against Hotspot Shield have been strongly denied by the company and cannot be proved.
Of course that leaves the question: are you safe or not? So far, it seems, so good. There haven't been significant data breaches, which is why Hotspot Shield has millions of users.
If you would rather err on the side of caution you may want to find a VPN that has a clear data logging policy.
Bottom line: Hotspot VPN is a great, uncomplicated VPN for everyday use, and so we recommend it.
User Reviews
Jay is very happy with Hotspot Shield:
"I have been using Hotspot Shield for almost 2 years and I couldn't be happier. I get access to all my favorite BBC content as well as US Netflix without issues. Anytime, I have any issues, their support team gets back to me the same day to resolve my issues."
Mirkual Sen likes the service but recommends that you buy the Elite package:
"As a Hotspot Shield user, I can tell you that if you are going to spend more time using the VPN, then buy the elite subscription because the connection is super fast and you have a wide variety of locations. If you spend very little time using VPN then go with the free plan."
Sam has only good things to say about Hotspot Shield:
"Elite customer here. One important thing about Hotspot Shield is that it's fast, like super fast. I feel it even enhances my connection because when I stream videos, the stream is faster and more stable than the direct speed."