The 4 Best Netflix VPNs in 2022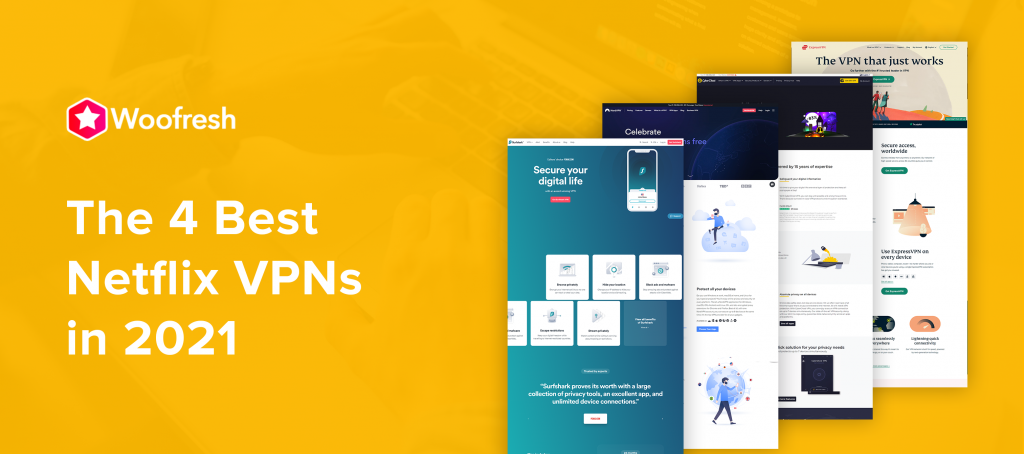 Do you have the right Netflix VPN for the best viewing experience? Let's find out…
When you sign up for a Netflix account you can only watch shows and movies licensed for your country. This sounds like a raw deal. Since you're paying a monthly Netflix subscription, shouldn't you have access to all their content?
Unfortunately that's not the case. Netflix restricts users and the only way to get around those restrictions is with a VPN.
According to a recent survey, more than 56% of subscribers use their VPN service for streaming Netflix.
Most people stream Netflix movies and shows every day, and they are frustrated when they encounter restrictions. For those outside the United States, getting a steady stream of Netflix entertainment can be frustrating.
Try accessing Netflix libraries and you'll find most of them throw back an error. This is because your geographic location determines whether you can access Netflix or not and which of their libraries is available to you.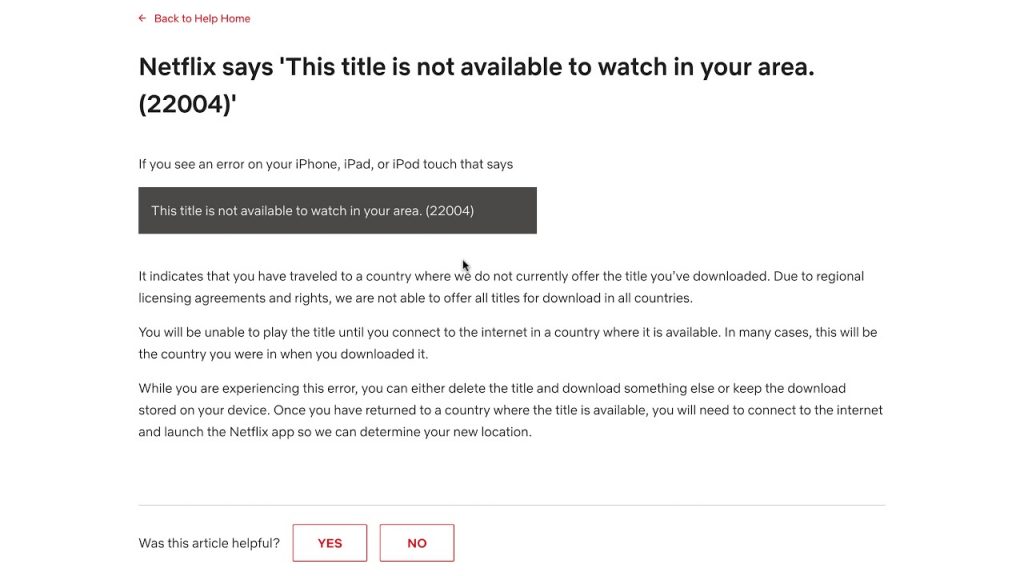 Netflix uses geo-blocking to restrict content in unlicensed regions. They do this for a variety of reasons. In some cases it's because the law prohibits certain shows in some countries. Sometimes it's because it doesn't make financial sense to broadcast content in these places.
Netflix also looks at regional interest in a show or movie before deciding whether or not to buy the rights for the region. Then, if they feel that there is enough interest in content to help them recoup their investment, they license the show for that specific country.
Whatever the reason for restricting catalogs for overseas regions, it leaves many users feeling frustrated.
---
Why Use a VPN for Netflix?
Because it's the best way to bypass restrictions and access foreign catalogs. When you connect through a VPN, you are issued a new IP address that's region-specific, so Netflix cannot tell that you're trying to access content from a restricted region.
Let's say, for example, you're in Asia and would like to watch a show that's available on Netflix Canada. The best way to stream the show would be to have a VPN subscription that unblocks Netflix Canada. Select a server in Canada and choose the show you'd like to watch.
The streaming service assumes that you're within Canada's borders and gives you full access to their library. There is no difference between a user within Canada and one who's using a VPN. You can do this with practically any Netflix library that's restricted to your region.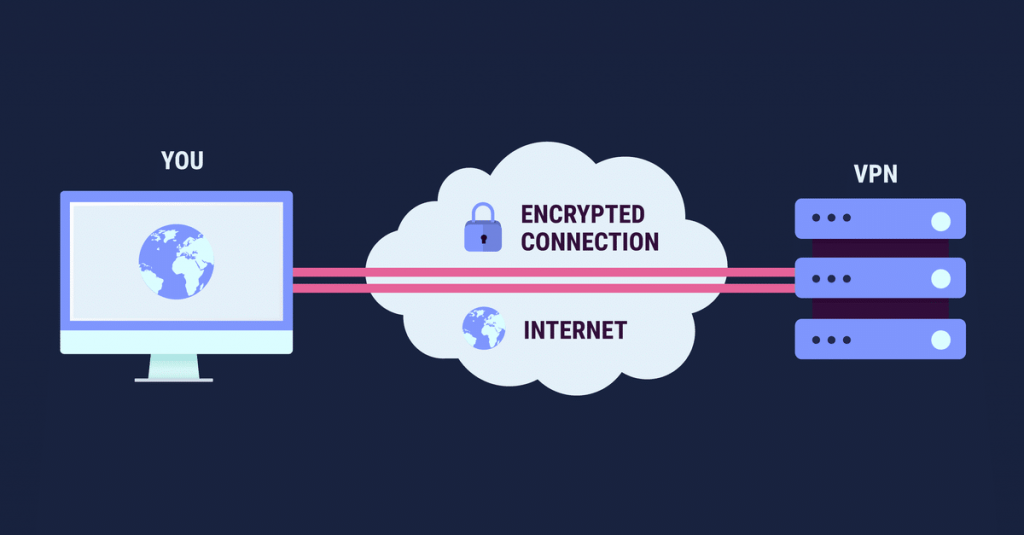 Buying a VPN unblocks Netflix and gives you access to thousands more shows and movies for a small monthly or annual fee.
However, VPNs aren't built equal, and that's why we are doing this review. Some have a far wider reach, offer enhanced security and can support multiple devices simultaneously.
We'll review what we think are the 4 best VPNs for Netflix and then you can decide which one best serves your needs.
---
How to Use a VPN For Netflix
It's easy to get your TV or computer set up to watch Netflix libraries from foreign countries. Here's what you need to do:
Step 1: Sign up for a good VPN that unblocks Netflix. Any of the ones discussed in this article are excellent for Netflix and other streaming channels.
Step 2: Download and install the VPN app onto your mobile devices and computers.
Step 3: Choose a show you'd like to watch and look up which library has it (more on this in a minute). Select a VPN server in that country and connect. Download speeds are faster that way.
Step 4:Visit the Netflix website, search for the show and start streaming. You shouldn't have any difficulties but if you do, try refreshing your browser. If that doesn't work clear your cache.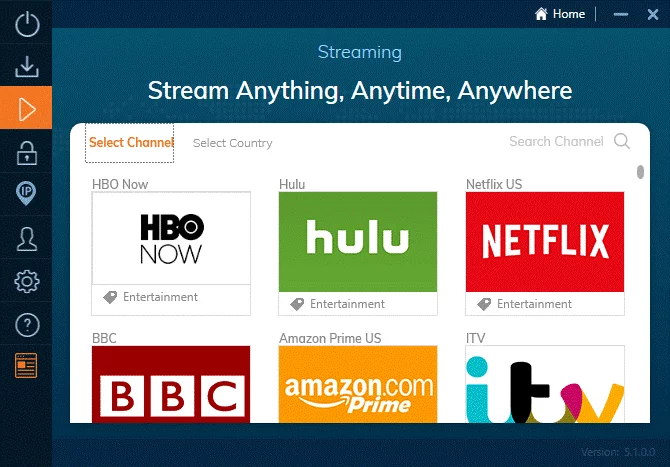 ---
How to Find What's Available on Netflix For Different Regions
How do you find out the right Netflix library to stream a show or movie from? There's a site that can do it for you. It's called uNogs and it stands for Unofficial Netflix Online Global Search.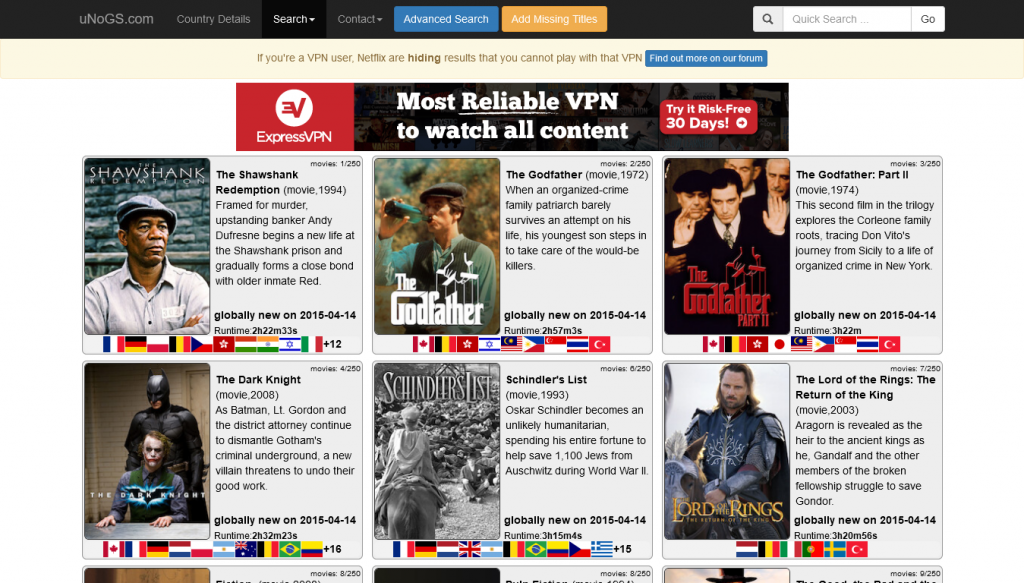 You can filter your searches by genre, program type, IMDB rating, What's New and more.
---
The 4 Best VPNs For Netflix
We've selected Surfshark, NordVPN, CyberGhost and ExpressVPN. We'll give you a summary of each and the pros and cons of using them for Netflix.
Our Criteria – What Makes a Good Netflix VPN?
Here is what we took into account as we tested these 4 VPNs for Netflix:
Speed – speed is vital for a good streaming experience. The best VPNs for Netflix stream ultra-HD quality. You should be able to get good speeds regardless of server location. Here are the streaming speeds recommended by Netflix:
| | |
| --- | --- |
| Speed Recommendations Per Second | Quality |
| 0.5 Megabytes | Required Speed For Broadband Connection |
| 1.5 Megabytes | Recommended Speed For Broadband Connection |
| 3.0 Megabytes | SD Quality |
| 5.0 Megabytes | HD Quality |
| 25 Megabytes | Ultra HD Quality |
Number of servers – the best VPNs have at least 1,000 servers in more than 40 or 50 locations across the globe.
Libraries –we looked at how many libraries each of these VPNs can access. Most people consider the Netflix America library most important, followed by popular ones like the UK, Canada, Germany, Australia and Japan.
Devices –we looked at whether you can use the VPN to access Netflix on different devices. We also checked whether the VPN works on Amazon Fire Stick and gaming consoles.
Support –we checked whether the VPN provides good 24/7 support.
Security –we checked that the VPNs all provide the highest level of security and do not keep user logs.
---
The Best VPNs That Work For Netflix
Read Review
View Listing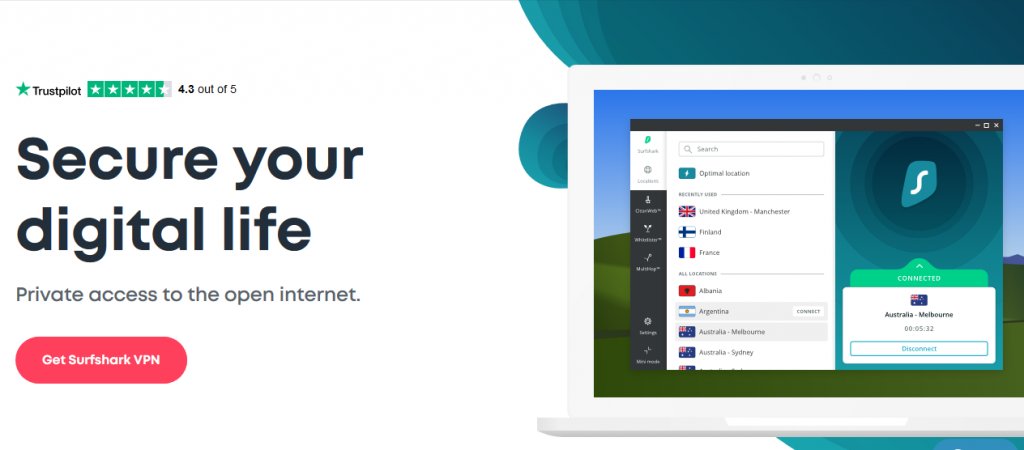 Surfshark makes it into the list of best VPNs for Netflix because of its good speeds, numerous libraries and the fact that you can have simultaneous connections running on multiple devices.
It may not be as fast as ExpressVPN and NordVPN but it has good download speeds that allow for stable connections without buffering.
There is no limit to the number of devices you can connect with Surfshark VPN, making it perfect for homes with several television sets. You can use it to connect Netflix on smart TVs, PCs, game consoles, tablets and mobile phones.
This VPN uses the latest security technology and does not log user details. It's easy to download and install and has apps for Windows, macOS, Android and mobile, and the Amazon Fire stick. It has a 30-day money-back guarantee.
| | |
| --- | --- |
| Pros | Cons |
| 3,200+ servers make for flawless streaming | It has a small server network compared to one or two other VPNs |
| Can access numerous Netflix libraries | You can occasionally experience slower speeds |
| It has advanced security options | |
| It provides good customer support | |
| You can connect unlimited devices with unlimited bandwidth | |
| Comes at a budget friendly price | |
---
Read Review
View Listing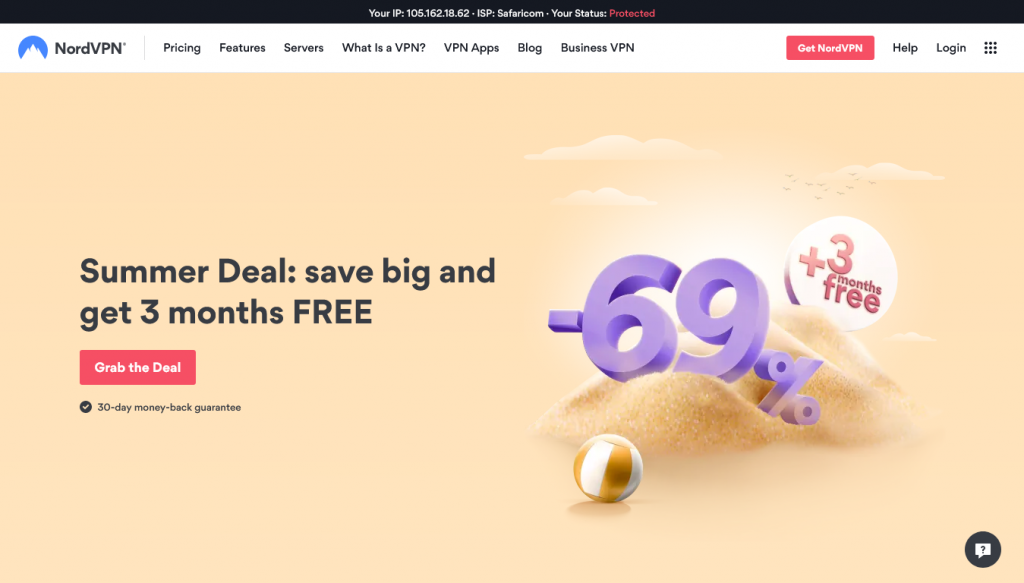 NordVPN is one of the best VPNs for unblocking Netflix. With a vast server network, it can reach libraries worldwide and provides access to lots of shows and movies. You can use it to unblock Netflix US, Canada, Australia, Brazil, Italy, India and many more.
Apart from Netflix, you can use NordVPN to access Hulu, HBO, Amazon Prime and other streaming services.
It offers solid protection, using the latest encryptions in the market to maintain user privacy. This VPN has a 30-day money-back guarantee.
| | |
| --- | --- |
| Pros | Cons |
| It has more than 5,000 servers | It is limited to 6 devices for each subscription |
| Some servers are optimized for video streaming | It has slow speeds in some servers like in Malaysia |
| It has one of the fastest VPNs | Some servers don't support torrenting |
| Can access a vast number of Netflix libraries | |
| Works on all common devices | |
---
Read Review
View Listing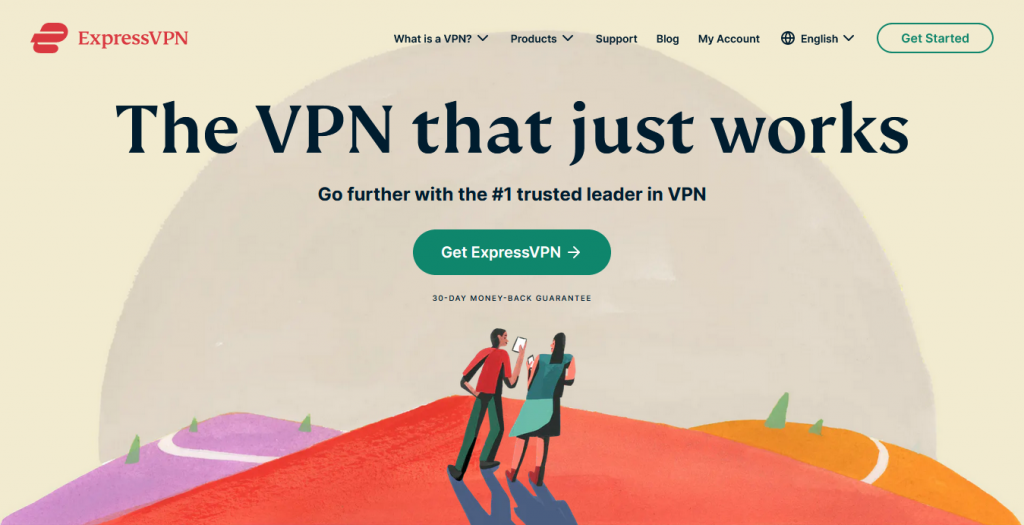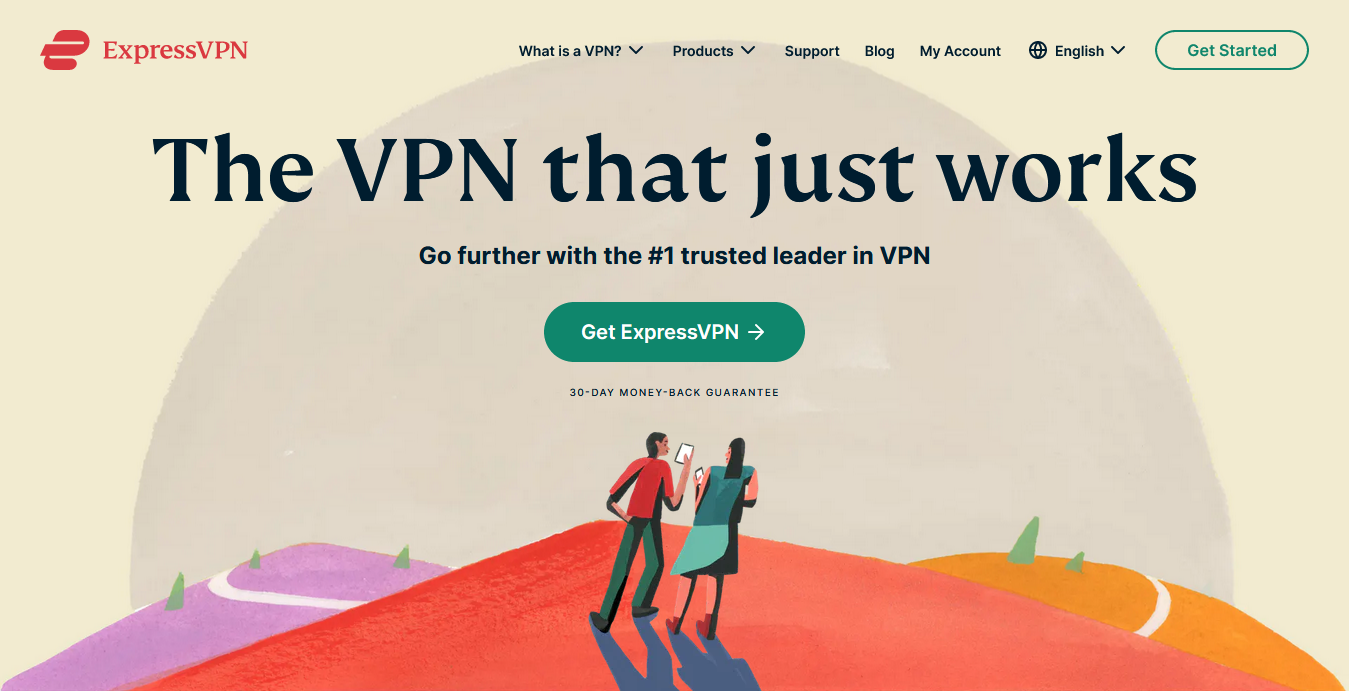 ExpressVPN is well known as one of the best VPNs in the market. It has a huge network of servers that provide access to dozens of Netflix libraries around the world. You can also use it to access Hulu, Amazon Prime, Hulu and many other streaming services.
This VPN provides excellent speeds, and although it's a bit more expensive than others with the same capabilities, users are happy to pay for the flawless service and fast speeds.
ExpressVPN uses the latest encryption to secure user data and doesn't keep user logs. You can use it on a variety of devices. In addition, the software has a 30-day money-back guarantee.
| | |
| --- | --- |
| Pros | Cons |
| You can use it to access nearly all Netflix libraries | You van have only 5 simultaneous connections for a single subscription |
| It has high connection speeds which provides flawless streaming | It has more expensive than others that have a similar offering |
| It comes with the best security protocols | |
| It unblocks Netflix on more than 3,000 servers across 94 countries | |
| Can be installed on all popular devices | |
---
Read Review
View Listing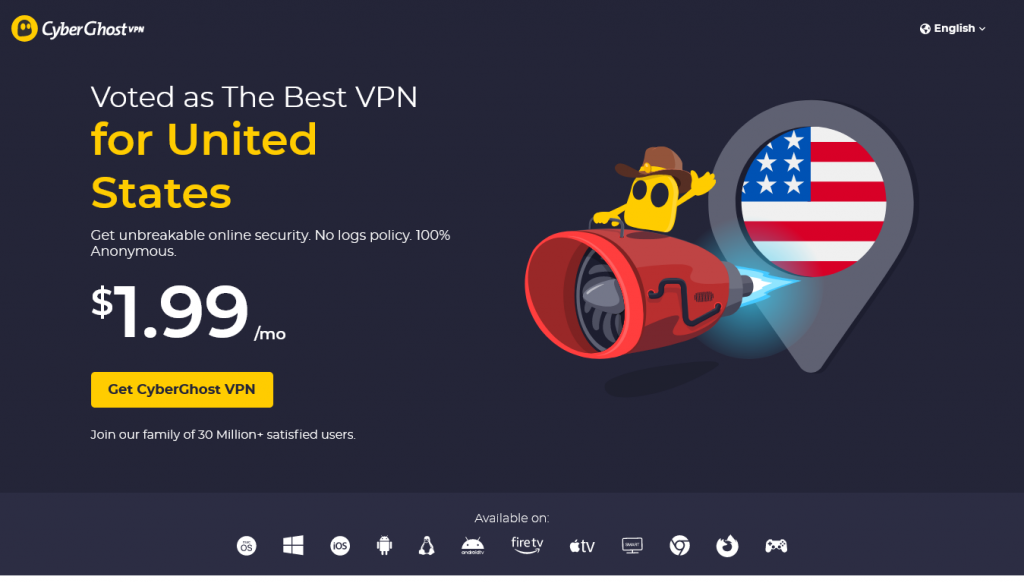 CyberGhost is a reliable VPN for Netflix. It has access to many libraries across the world and it constantly adds new series and movies. With over 7,000 servers in 91 countries, it unblocks Netflix with the perfect combo of speed and unfettered access to libraries.
The VPN has a large number of streaming-optimized servers. It has dedicated servers for all major libraries and users get a 45-day trial period to see whether or not they like the service.
You can use a CyberGhost VPN connection to stream Netflix on all popular devices without bandwidth caps. It has apps for Windows, macOS, Linux, iOS, Android and Amazon Fire TV.
CyberGhost also works for BBC iPlayer, Disney+, Hulu, Amazon Prime and HBO Max.
| | |
| --- | --- |
| Pros | Cons |
| It's user friendly (a good VPN for novices) | You can only get 7 simultaneous connections |
| It has a strong privacy policy | Its live support can be disappointing at times |
| The large server network allows for smooth streaming | |
| Packages are affordable especially if you buy long-term | |
| It has dedicated streaming servers | |
---
FAQ
How Can I Get Around a VPN Netflix Ban?
Netflix works hard to detect VPNs and when they do, they blacklist as many IPs as they can from that whatever virtual private network they're able to detect on their servers.
Unfortunately, if the VPN you're using is detected and banned by Netflix there isn't much you can do. The best solution would be to try another high-quality VPN that can unblock Netflix.
Big brands like Surfshark, Express VPN and the rest that are discussed here can stay ahead of Netflix bans quite effectively.
Can you use a Free VPN for Netflix?
There are some good free VPNs and they can help you avoid detection online. However, there is always a limitation.
They may limit how many devices you can connect at once, they might slow down your connection, limit your data and more.
If you want a Netflix VPN that won't give you hassles it's best to get a paid one.
I can't connect Netflix through my VPN. What should I do?
If your VPN is not working with Netflix there are several things that you can do. You can turn it off and then back on again. Connect through the same server and if that doesn't work, choose another server.
You can also clear your cache and then try again. It works in most cases. It could be that your browser is leaking your location, so you can try connecting through a private window through a new server location.
If you experience this problem often you should get a dedicated IP address.
Which Netflix region has the most content?
A recent study found that Ireland has the most extensive Netflix library with more than 6,300 titles. It's followed by Malaysia, Indonesia, Japan and the Philippines. In the top ten you'll also find USA, UK, Canada and India. Hong Kong and Italy have the fewest titles.
Is watching Netflix with a VPN legal?
Using a VPN is not illegal in most countries. However, in their Terms of Use, Netflix states that "You may view the Netflix content… only in geographic locations where we offer our service and have licensed such content".
In a nutshell, Netflix frowns upon the practice, but no one has been arrested for watching Netflix with a VPN. They don't even ban users who use VPNs; all they do is ban the VPN if they can.
---
Conclusion
Finding a Netflix VPN is the best way to access Netflix libraries from around the world. There are several good ones in the market.
Before you buy look at the features to see how many devices the VPN can support at once and how many libraries it can unlock. Ideally, you want a VPN that can unlock libraries in Ireland, Indonesia, Japan, the US and UK and other countries with extensive libraries.
You should also look at how many servers a VPN has. The higher the number of servers, the faster the speeds.
If you choose one of the VPNs for Netflix in this post you'll be able to unlock most Netflix libraries successfully. Although highly unlikely, if the one you opt for stops working you can choose another.