9 Best Marketing Automation Software for Small Business 2022

Why do you need automation for small business?
According to reports, about 65% of digital marketers say that the most demanding tasks that they have to undertake for their business involve generating and converting leads.
Traditional methods no longer work because the online marketing landscape has changed a great deal. Old marketing techniques take a great deal of time to execute, and while you are fumbling your way along, your competitors are getting ahead.
Marketing automation for small business is no longer an option; it's a necessity.
Automation software is a dime a dozen. Everywhere you look, you'll find software that claims to be better than all the rest. That's obviously not true, so it falls upon you to do the hard work of sifting through available options and come up with solutions that work for your business.
After careful consideration, we selected what we feel is the best marketing automation software for 2020. It's suitable for small and medium-sized businesses in all niches.
Before we get into it, it may be worthwhile to look into the basics of small business marketing automation. What is it and why does it matter?
What is Marketing Automation?
In a nutshell, it is the process of automating repetitive and mundane tasks within a business. We live in a busy world, and spending time on such tasks is not ideal. That is why you need to use marketing automation platforms.
Once you program it to complete certain tasks, you can sit back and let them run in the background as you put your time to more productive tasks.
Benefits of Marketing Automation
We've said that marketing automation platforms will free you from the mundane day to day tasks, but what are their other benefits?
Marketers who use automation software report about 40% higher revenues than those who don't.
You avoid costly mistakes. As the saying goes, humans are prone to error. Software isn't, and automation ensures that you avoid mistakes.
Small and medium-sized businesses save on employee costs by investing in marketing automation software.
Accountability is easier with this kind of software. With the click of a mouse you can see exactly how input correlates with output.
Instantaneous reports allow you to adjust your marketing campaign on the fly.
Marketing automation functionality allows you to engage customers across a variety of channels for better results.
You can do more with less time. If you invest in the right kind of software you may not even need to hire anyone to assist you in digital marketing, especially if you run a small operation.
Marketing automation solutions for small business allows for more creativity, happier customers and a healthier bottom line.
---
What is the Best Marketing Automation Software?
Platformly is a leading marketing automation tool for digital marketers who truly want to automate their businesses, especially marketing messages. It works right from the beginning of the sales cycle (to help you capture leads) until the very end (track every interaction you've had with each lead until they buy).
With Platformly you can give each lead a personalized experience and take them through a journey that leaves them more inclined to become customers.
It's easy to set up and automate functions, as the software comes with dozens of templates and a drag-n-drop builder. You also get opt-in forms for automated lead generation.
You don't need to have any technical expertise or know-how to code to use Platformly. The interface is intuitive, and anyone can use it to boost their marketing strategy. You can program automations in advance, and they will go out on a set date and time. It is one of the most powerful tools you can get for marketing messages.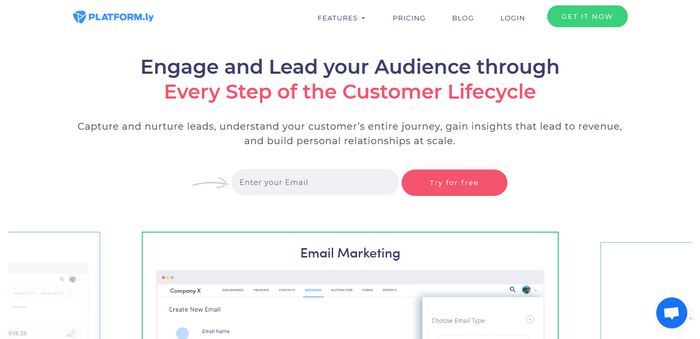 Platformly Features
Powerful lead capture – The software has a dedicated landing page builder and an opt-in form builder to turn your website into an automatic lead generator. Both of these use drag-and-drop so that you can create forms and landing pages within minutes. There are also pre built templates you can use.
Advanced publishing options – If you want to convert leads fast you have to act fast. Platformly works with Amazon infrastructure to publish pages in record time. You can use custom URLs or use those provided by the software.
Dynamic text – You can add dynamic text to any page you create to customize the user experience.
Email responders – You can send event-triggered emails with this software. Set it up to send an email for every lead that signs up, to send out reminders on certain dates, send out birthday messages and more.
Marketing funnels – These are important for nurturing relationships with leads, educate them about your products and nudge them to make buy decisions.
Lead scoring – Do you know the value of each of the leads that you generate? Platformly has a powerful lead scoring module that will help you prioritize your resources.
Webhooks – Receive a message whenever specific events are triggered in third party applications.
---
View Listing
You may see Keap also referred to as Infusionsoft. Don't let this confuse you – it's the name that Keap was known by until 2019.
Keap is a cloud-based online marketing software that combines customer relationship management, e-commerce and marketing automation. Designed primarily for small businesses, it will help increase sales volume and offer a better customer experience.
Keap users are able to segment their client lists and see where most of their sales come from. They can track interactions with leads and carry out effective email campaigns. The automated email triggers allow you to send personalized communication to each person on your list.
The Keap e-commerce module lets you manage inventory, purchases and payments. You can keep an eye on shopping carts and see what is going on in your storefront.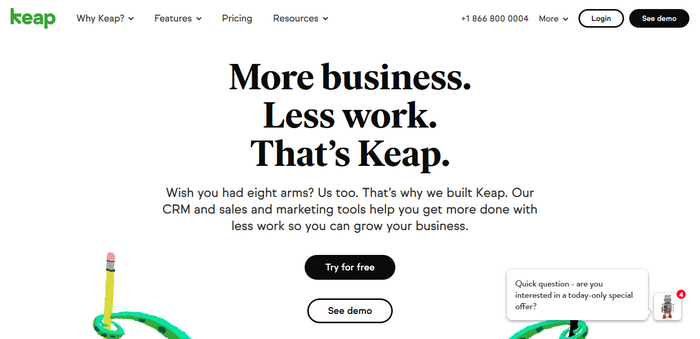 Keap Features
Client Relationship Management – You can see all communications with every lead on one screen. The software alerts you when there are follow-ups to be done, automatically updates contact records and allows you to send automated messages.
Messaging – Keap understands the power of text messages – they can be used to reach anywhere at any time. They can also be personalized. The software offers a texting module that organizes messages. You can see when every lead needs follow-up so that nothing falls through the cracks.
Scheduling – If your business requires you to meet with clients Keap is the perfect software as it has a great scheduling module. No more scheduling mix-ups. And you can eliminate the back-and-forth of finding suitable timings and locations to meet.
Sales Pipeline – You can see your entire sales pipeline, from the time a lead signs on until they buy.
Marketing Automation – You never have to manually manage the sales process with Keap. You can automate almost every action through the sales process, leaving you free to use your time more effectively using this marketing solution.
Payment Tracker – See who pays you and when they pay. The software sends invoices and generates receipts. Clients can pay using credit cards.
---
View Listing
ActiveCampaign is mostly a newsletter marketing tool, although it has other functionalities that make it excellent marketing automation software for small business. According to their marketing material, clients send fewer emails but achieve better results.
The automation module can trigger emails based on many different conditions. The site messaging feature allows you to send personalized messages to site visitors (according to your marketing strategy), which increases conversion rates.
One of the reasons marketers choose ActiveCampaign is deal pipelines. They work more or less like Kanban boards. You can build different deal pipelines for different client segments. They allow you to see exactly what is going on with each potential lead, and nothing is left to chance on your marketing plans.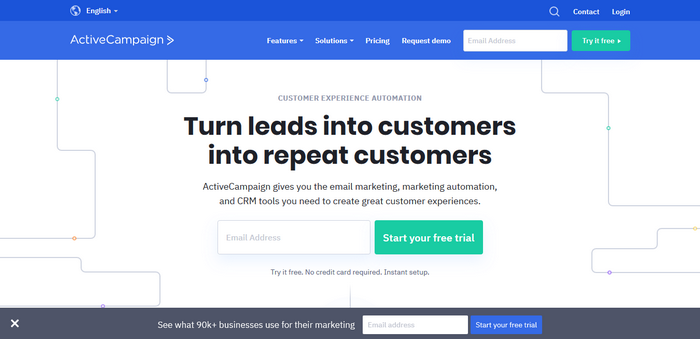 ActiveCampaign Features
Email Campaigns – The software allows you to create email newsletters and keep in touch with your audience throughout the sales process. You have a choice between broadcast emails, triggered emails and targeted emails.
Marketing Automation – You can track awareness and intent with subscription forms. You can also nurture and educate leads with predictive sending, dynamic content and email segmentation.
Sales and customer experience management – ActiveCampaign allows you to eliminate the use of spreadsheets to keep track of contacts. You can see and communicate with each contact from the time they submit a form until they buy. Personalized messages allow you to nudge them into action along the way.
Messaging – You can reach your audience using email, SMS and social media. You can also design site messages for different client segments.
Machine Learning – The machine learning module makes this small business marketing automation software unique. It crunches all the data that you have collected in your business and uses the results to help you make decisions going forward.
---
Read Review
View Listing
Klaviyo's main focus is on email marketing for e-commerce. With this software you don't have to sacrifice speed for functionality or vice versa. You can quickly collect actionable data, segment it, track user behavior and personalize communications.
Klaviyo offers a free account that you can use to send up to 500 emails to 250 contacts. The A/B testing tool allows you to test and modify each campaign before it goes live.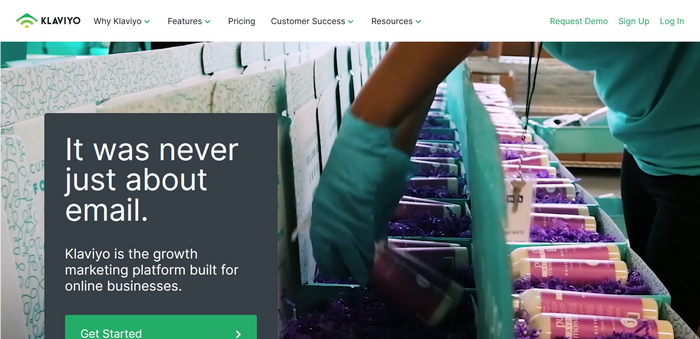 Klaviyo Features
Integrations – This is one of the most powerful features of Klaviyo. It integrates seamlessly with most e-commerce shopping platforms including smile.io, 3Dcart, Aftership, Amazon and many more. It also works with helpdesk software, email list software, payment software and rewards programs software.
Forms and personalization – Popup and signup forms ensure that you engage your audience with personalized messages. You're able to collect vital data that's helpful in the sales process and create lasting customer relationships.
Segmentation – Each customer receives an email or popup that's designed specifically for them, based on the data that you collect through forms.
Data Science – Using data science you can predict when a lead will purchase, how much they will spend, how many purchases you can expect for a certain period and more. All this information is derived from the data you collect which is crunched by an AI module for easier decision making.
Automation – You can automate the customer journey from beginning to end with this Klaviyo module. Test each automation before it goes out to see how effective it will be in real-time.
Social Advertising – Leverage the power of social media with this software. It allows you to sync data gathered from social media sites into your database and follow up leads generated from Facebook.
---
Read Review
View Listing
Ontraport has all the email marketing tools you need in one place. Its core strength are email campaigns, but it has a strong CRM module that allows you to track interactions with every lead in your list.
A variety of forms allows you to collect leads, and you can follow them throughout the marketing funnel, nudging them along whenever encouragement is needed.
The block-based editor reduces the time required to learn how to use the software. With the campaign builder you can create unique experiences for different customer segments. The software has pre-made campaigns to get you started.
Ontraport users can share ideas and even campaigns. If you build a campaign that works particularly well, you can share it with others who use this software or sell it to them.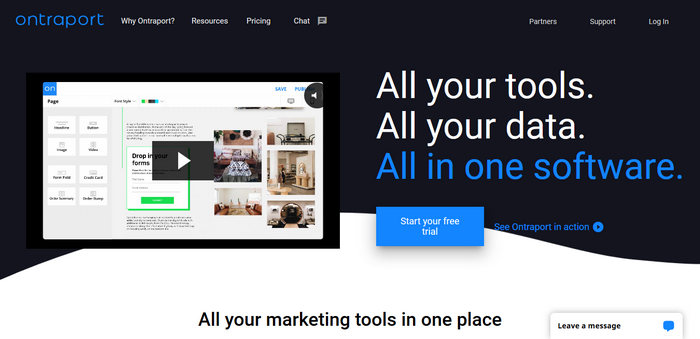 Ontraport Features
Marketing Automation – The software has a visual campaign builder that helps you see how your campaigns will come together. The CRM module allows you to track and communicate with leads even after they buy from you. You learn how best to engage your customers and the basics of SMS marketing.
Email Marketing – Each email can be personalized, scheduled and delivered at the right time. Ontraport has high email delivery rates, and you can use emails and buttons to make your campaigns more engaging.
Landing Pages – You don't need to have any technical expertise to create beautiful and effective landing pages that help you capture leads and sell products. The drag-and-drop feature lets you create and launch pages in a short time.
Marketing Analytics – The more you learn about your leads, the more you can sell to them. Detailed insights allow you to give different customer segments exactly what they are looking for.
Customer Relationship Management – You can see all your customers and the interactions you've had with them in one location. Nothing falls through the cracks as you can see where you're at with each lead at all times.
---
Read Review
View Listing
Constant Contact combines tools for page building, e-commerce, domain search, logo design and online marketing. It is ideal for small and mid-sized businesses, as well as non-profit organizations.
You can use this software to create professional and personalized emails, create landing pages to capture leads, build websites with the website builder, set up and manage online stores, and customize your brand with Constant Contact LogoMaker.
You can send emails with different fonts and images to thousands of contacts at once. For each campaign you can create a unique template, or re-use ones that you have used before.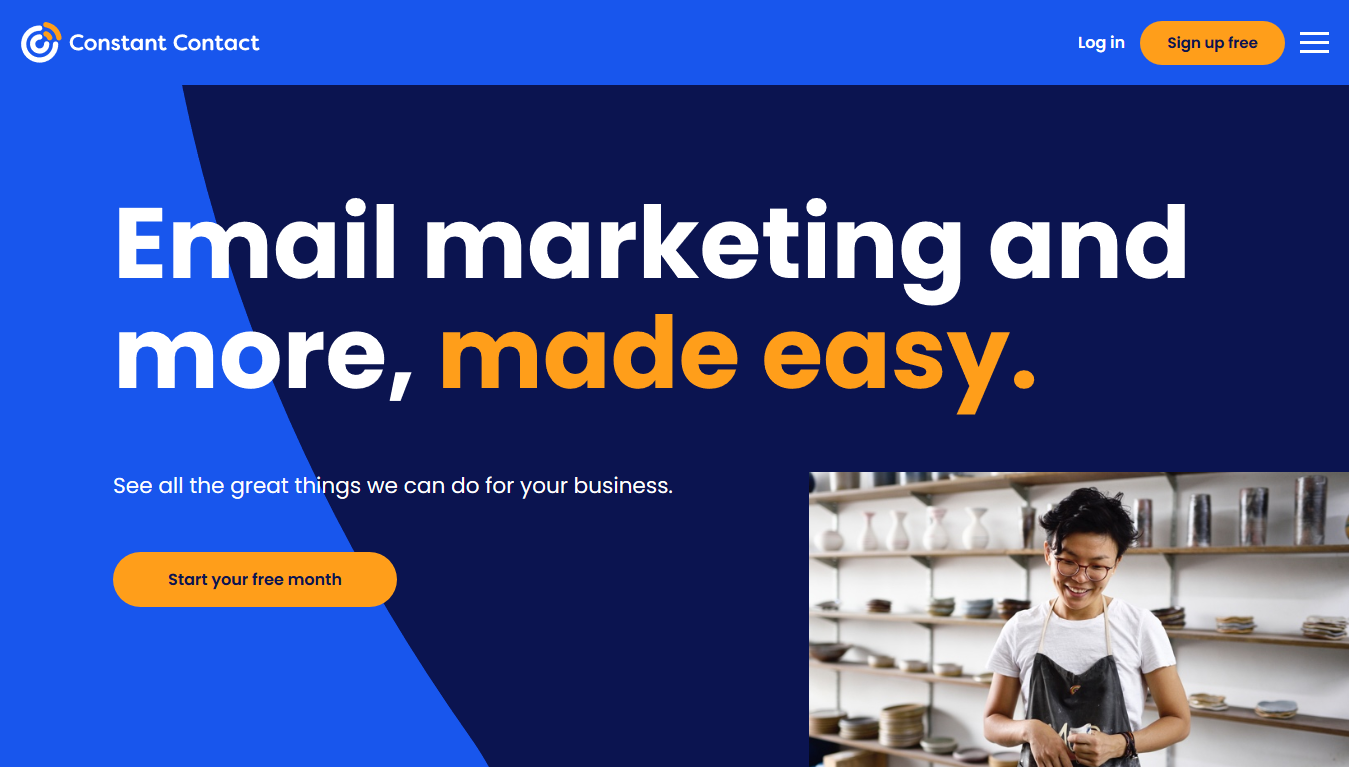 Constant Contact Features
Easy Email Creation and Editing – Use the drag-and-drop feature to create and edit professional emails in minutes. All emails created with this software are mobile-responsive.
Marketing Automation – You can welcome each new subscriber with an email and trigger follow-up emails depending on what link they click. Segment contacts and send them personalized emails based on their preferences. Also send follow-up emails to contacts who don't open emails.
E-commerce tools – Use them to find leads and manage the sales process with Constant Contact.
Contact Management – You can import contacts from Excel, SalesForce and Outlook. The software has a 98% email delivery rate.
Real-Time Email Tracking – See who receives and opens your emails, what links they click on and whether or not they share them.
Email Plus – You can create email campaigns to offer your customers discounts, coupons, invite them to events or get them to fill out forms and provide more information about their preferences.
---
View Listing
Salesforce is one of the more expensive CRMs in the market. Implementation can cost as little as $5,000 and as much as $80,000 depending on the size of your business. This is a lot more than many small and medium size companies can afford.
Although Salesforce is marketed as one of the best marketing automation software and has lots of good features it comes with challenges that are hard to ignore.
Most obvious is the fact that installation and use are not very easy – accomplishing simple tasks can take more than a few clicks.
Don't let this deter you. Read up on Salesforce features to see whether it's the right choice for your business.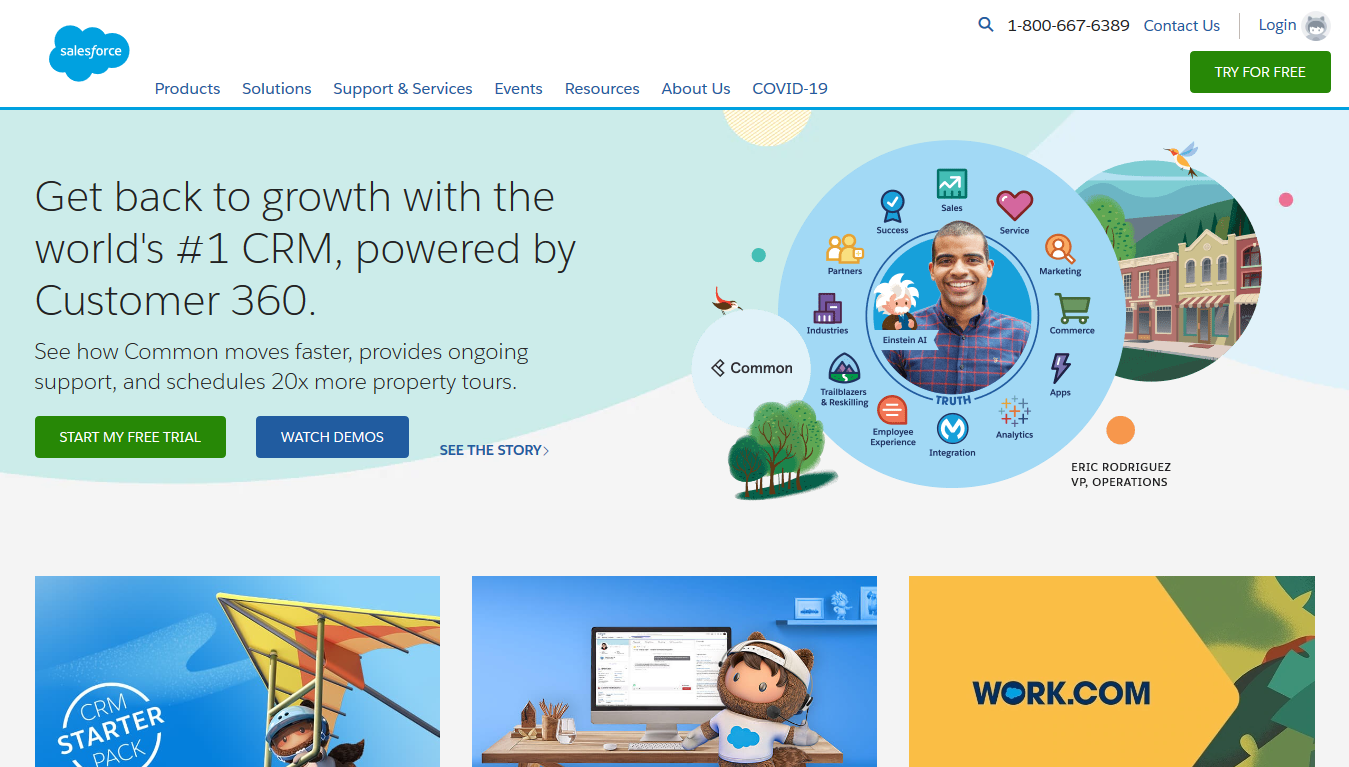 Salesforce Features
Pipeline management – This is one of the best things about this software. You get the opportunity to manage a lead right from the beginning so nothing is left to chance. Leads can be managed according to sales reps, regions, products and so on.
Partner channels – Build better relationships with partners by actively managing their accounts using the Partner Management module.
Task management – You can decide exactly what happens with each task. Assign it to the right team member, set up sub-tasks, assign due dates, integrate it with other tasks for other team members and more.
Contact management – You can track interactions with each contact and guide them through the customer life cycle. This proactive approach reduces lost leads.
Email marketing – This module includes campaign management, lead management and ROI analytics to track which of your efforts produce the best results.
Customer support – for this you get call center features, a customer support portal, support analytics and a knowledge base.
---
View Listing
Marketo is marketed as one of the biggest names in marketing automation software but you should take that description with a pinch of salt. Like Salesforce, it may have some good features but it is expensive and out of range for most small and medium businesses.
Depending on the size of your contact list Marketo starts at around $800, and you have to contact the sales team to get a quote.
Marketo integrates very well with Salesforce and the two work together to provide a comprehensive solution especially for big companies that are seeking custom marketing automation software.
However, there are areas where Marketo can improve, including their landing page and reports.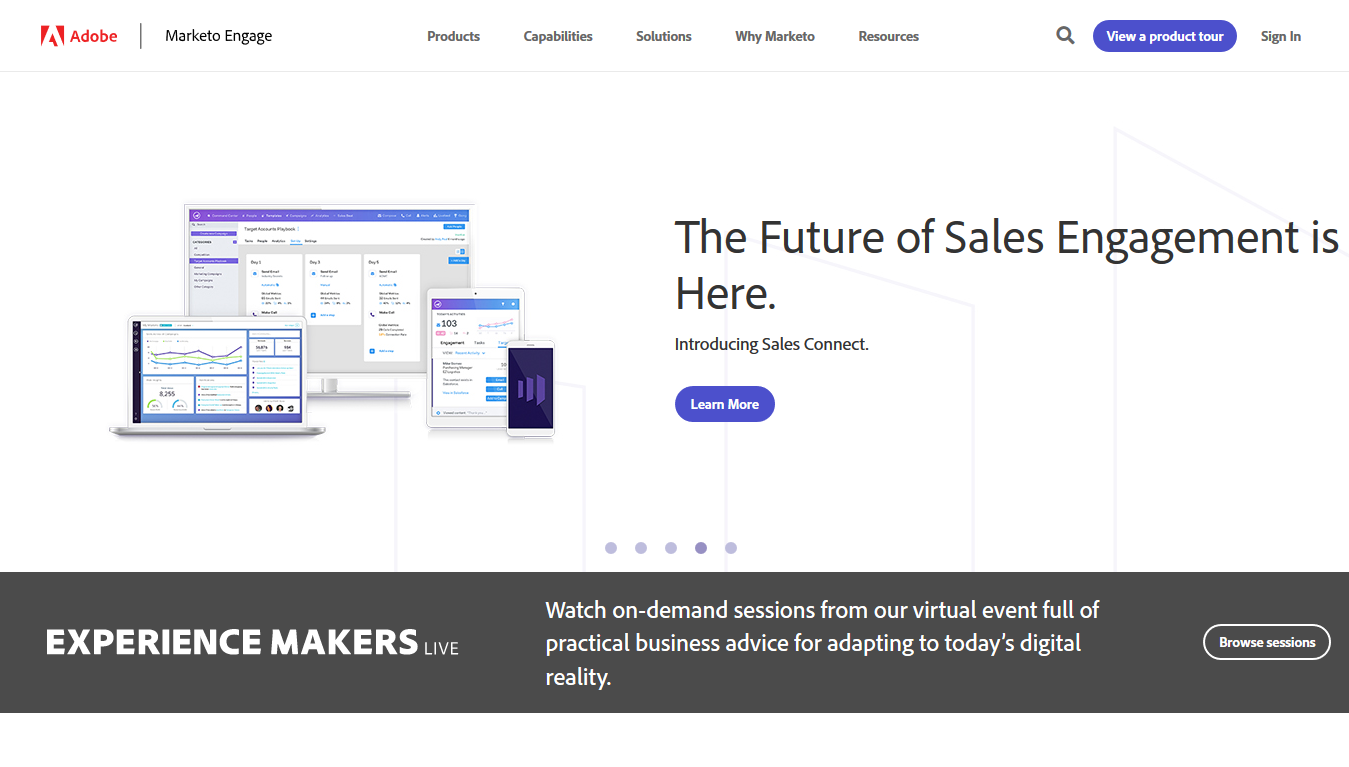 Marketo Features
Marketing automation – You can use Marketo to create campaigns, track and measure them across different channels.
Account-based tracking – You can identify your most important or productive campaigns and track them using the AI feature.
Email marketing – The email marketing module allows you to create and send emails to your contact list in minutes.
Mobile marketing – This feature allows you to communicate with contacts wherever they are at any time.
Digital ads – You can create and display ads on your website using this software.
Analytics – You can track the effectiveness of different campaigns.
Content AI – You can monitor the content that customers engage with on your site and give them more of the same using the AI module.
---
View Listing
The first thing you'll notice about Pardot is that it's expensive – the cheapest module retails for $1,250. This is out of range for most small and medium sized businesses, which may be what Pardot was aiming for in the first place.
Its primary focus is business to business sales. For many who use this software, the higher price tag is worth it. It has a range of features that can do more than basic email marketing automation.
Pardot uses the Salesforce platform and integrates well with it to provide a wider range of solutions. Unlike Marketo, it has a simple user interface and is easy to use.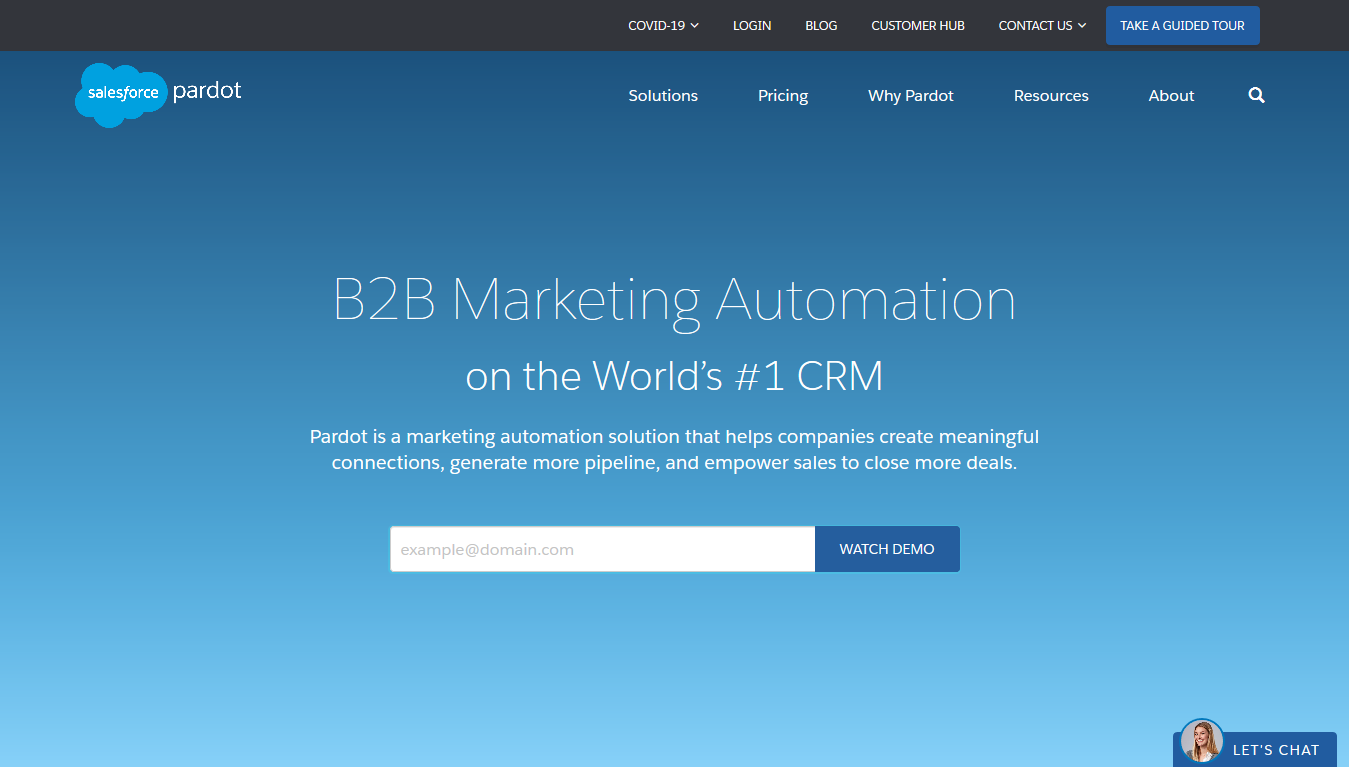 Pardot Features
Lead management – This the software provides a module for lead nurturing, lead qualification, lead segmentation and automation. You can provide leads with the kind of content they are interested in using the dynamic content feature.
Lead generation – For this you get a landing page builder, smart forms that you can use to collect additional information from leads, organic and paid search with Google Adwords, campaign performance tracking and social media posting and profiling to ensure you get your target audience right.
Email marketing – The email marketing module has an intuitive email builder, automated engagements that allow you to send emails to the right contacts at the right time, an A/B testing module and personalized messaging.
Sales alignment – With engage campaigns, real time alerts, activity tracking and CRM integration you can streamline and optimize your sales process.
Reporting – The reporting module in Pardot allows you to test campaigns before they go out. You can see the most profitable channels and understand how customers move through them. The reporting module tracks each email through every stage of the sales cycle.
AI – The Pardot AI module includes Pardot Einstein, Einstein Lead Scoring, Einstein Behavior Scoring and Einstein Campaign Insights. They all help you identify the right leads and send them the right message at the right time.
---
Conclusion
Marketing automation software for small business is no longer optional; any digital marketer who wants to compete must find software that takes over tedious, daily tasks.
All the software discussed in this post is affordable and will help you improve your bottom line. You'll be able to capture more leads, send them personalized messages and nudge them into taking action. You can also keep in touch with them after they buy.
As you choose keep in mind the particular needs of your business. Look at the features of each software and think about whether it will provide the necessary automation to increase efficiency and profits.
---
Best Marketing Automation Software for Small Business