10 Best MailChimp Alternatives Services & Softwares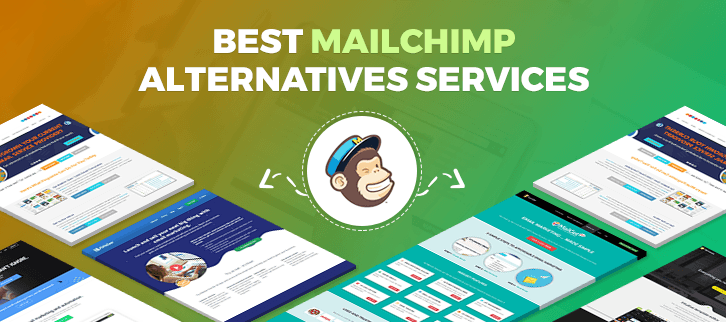 ---
The time has gone when people use to opt MailChimp as their email marketing tool. As the world is becoming advanced so as the services.
But unfortunately, MailChimp still bears some issues which make people switch from their services.
Some of the popular and well known issues with Mailchimp are –
Ready-made templates for signup forms which can either be hosted or integrated on the website.
Your account can be suspended if you get a lot of unsubscription or spam complaints.
If you have a membership-based website beware because autoresponders won't work here. Autoresponders are only set for users who have signed through a web or signup forms.
Very tiresome interface which takes a lot of time to navigate throughout the system.
You can't send the same email campaign to multiple subscribers at a time the service restricts you to send to a single list at a time.
FREE plan doesn't come with email automation feature you need to upgrade your account in order to use it.
And so to help you choose a better Mailchimp alternative I've listed out 10 best email marketing tools that are way advance in functionalities when compared to MailChimp.
Some stunning list based articles of your interest, check them now:
Let's dive into the services feature now –
---
The Best MailChimp Alternatives
Compared (in full)
Check all the services in detail as per your needs and choose service wisely – by the end, you'll know exactly which one is the right option for you.
---
MailGet Bolt will be the best alternative to MailChimp as it gives the finest features to create and send mails to a number of people and convert them to customers, You can do the schedule communication through the mail which will be delivered at a specified time chosen by you.
Also, the software contains a drag and drop builder which will enable you to smoothly frame a mail and customize the design as per your will. The system can be leveraged by its features like autoresponder emails which will be automatically sent to the customer as soon as they fill up the form on your website.
The software enables all the users to demonstrate their key services in the mail, also, the mails will directly fall in the inbox increasing the deliverability rate.
---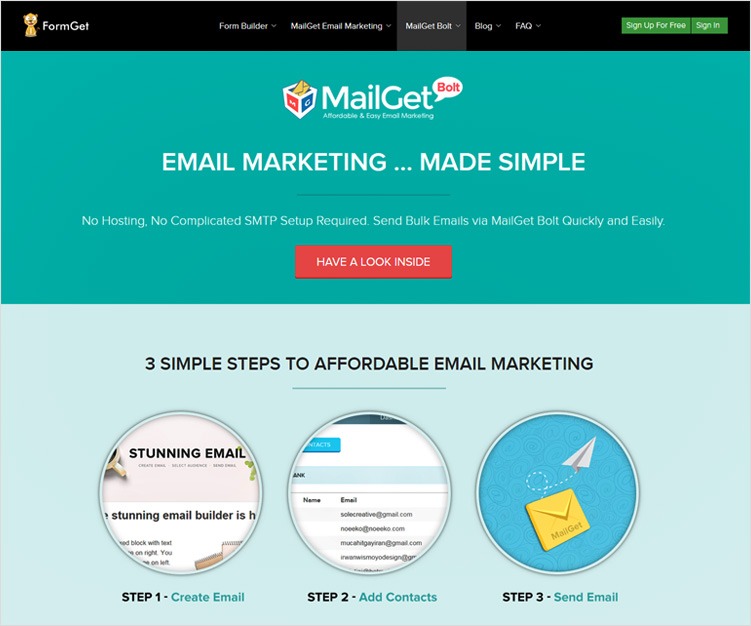 ---
Features of MailGet Bolt :-
Email list cleaning is a vital feature that helps you clean the email list by removing the unwanted mail ids from the list.

The software will enable you to easily manage all your subscribers list, also you will be updated on the part that whether the mails has been opened or not.

The system enables the user to monitor the emails sent to the customers by viewing the number of mails falls in the spammed, suspended and bounced respectively.

You can increase the number of leads through the inbuilt lead capture tool, one more way of increasing your leads is through inducing subscription forms to your website.

The software supports an internal SMTP which is an added advantage whereas in other software you have to buy them separately.

The emails thus created will be of responsive in nature which means it will be compatible with all the electronic devices.
Pricing :-
Plan 1 :- In the first plan, the services will be available at $42 per month by which the user can dispatch unlimited mails to 10000 subscribers.
Plan 2 :- Like the first plan,in the second plan, the user will have the services at $59 per month through which you can send unlimited mails to 15000 subscribers.
Plan 3 :-  The third plan will give you the services at $89 per month through which you can send unlimited mails to 25000 subscribers.
Plan 4 :- Likewise, in the fourth plan you will get the services at $139 per month through which you can send unlimited mails to 35000 subscribers.
Plan 5 :- In the fifth plan you will get the services at $199 per month through that you can send unlimited mails to 50000 subscribers.
Plan 6 :- Further in the hierarchy is the sixth plan, you will get the services at $279 per month by which you can send unlimited mails to 75000 subscribers.
Plan 7 :- The highest plan is the seventh plan you will get the services at $369 per month through which you can send unlimited mails to 100000 subscribers.
After trying out all the software I found MailGet Bolt as the best software as it provides the most economic plans that you can have, i was also surprised at the open rate which was 25% in the initial phase itself.
---
MailGet email marketing service gives you the freedom to send emails via Amazon SES as well as any SMTP of your choice without any complicated setup and hosting.
Create email, add contacts to your list and connect SMTP and you are all set to send emails right away!!
Trusted and used by over 1200+ happy users. The service charges you on the basis of your subscribers rather than emails so ultimately you get a full privilege to send unlimited emails.
---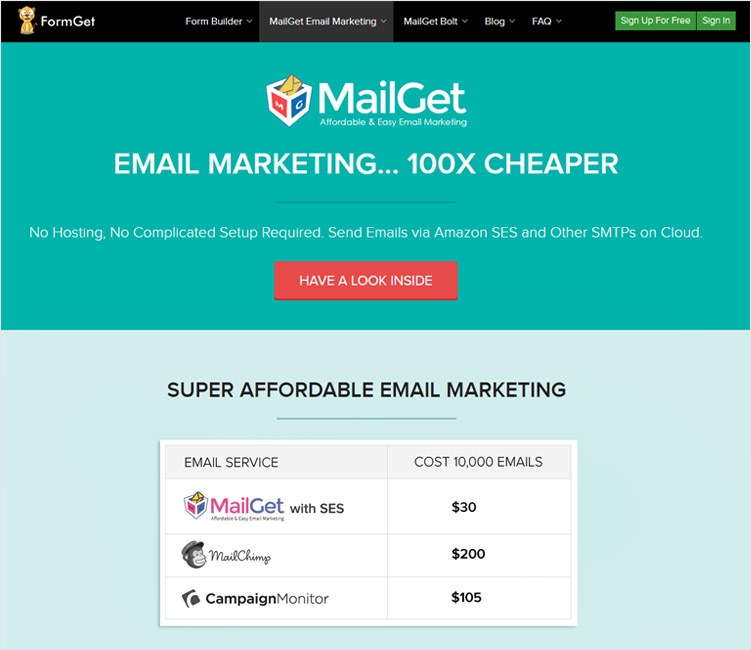 ---
Features of MailGet – Email Marketing Tool –
Beautiful and stunning email builder to create awesome emails.
Email list management – create and manage all your contacts easily to reduce bounces and unsubscribes.
Subscribers segmentation helps you to group contact list according to user's interest. This features improves your click through rates and email deliverability.
Email Scheduling – MailGet allows you to send recurring emails on the basis like – daily, weekly, monthly or yearly.
Email Tracking – one of the ultimate feature of MailGet using which you can track your email sent, opens, clicked and unsubscribed numbers.
Google Analytics Integration – track you email campaign success and get a detailed overview of your website traffic.
Price – The basic monthly plan of MailGet starts from $29 for 10,000 subscribers and then varies as the subscriber's number increases.
---
Pinpointe is yet another amazing email marketing service that is jampacked with stunning features.
Being a cloud based email marketing service Pinpointe provides 3 editions known as business class email marketing, professional edition and enterprise edition.
Free plan of this permission based email marketing offers 1,000 email credits to send for 15 days with no credit card details. Moreover if you choose to upgrade your account the service gives you 25% discount for first month subscription.
---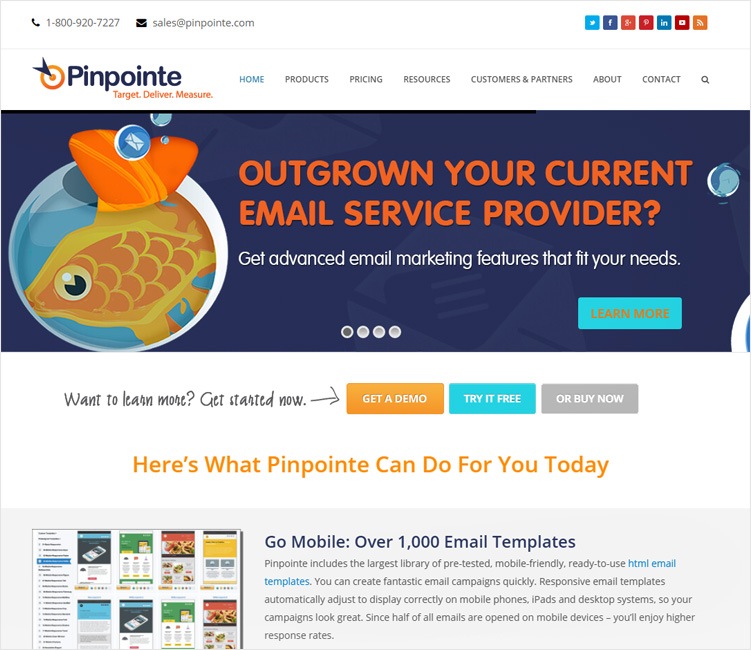 ---
Robust features of Pinpointe includes –
Intuitive easy to use WYSIWYG email editor user interface to design emails and newsletters.
Google analytics integration for complete tracking and reporting.
Easy lead capture form integration for websites.
Preview your email campaign to correct the faults if any.
Get high deliverability as the service manages ISP relationships and feedback loops.
Easily export/import contact data records.
Price – The basic package starts from $49 for 5,000 contacts and 40,000 email sending limit.
---
Active campaign is all in one marketing platform where you get email marketing, marketing automation, sales and CRM tools.
The tool provides drag and drop interface, free templates and image hosting. Active campaign is mobile friendly and provides a single platform where you can manage and grow your contacts easily.
Extensive contact data collection ability from an email address i.e. active campaign can retrieve age, gender, location, interests, social profiles, and much more.
---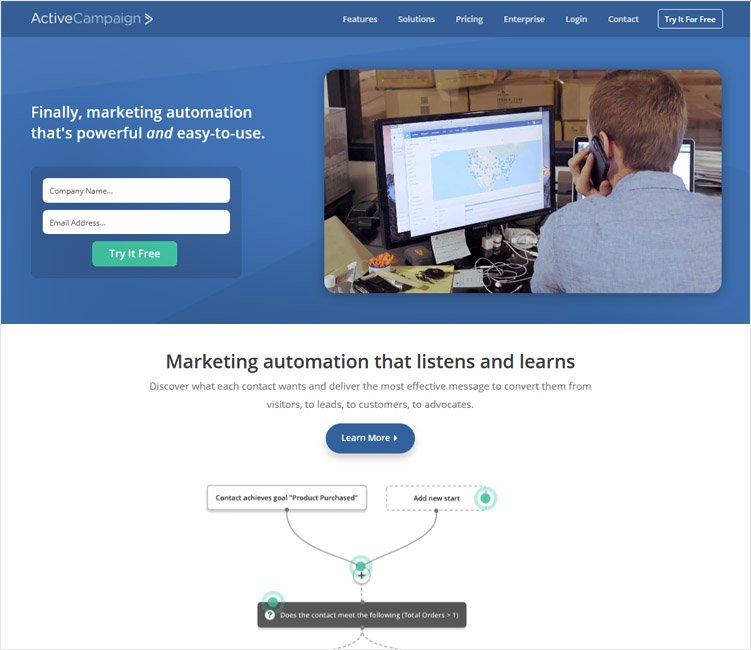 ---
Features of Active Campaign are –
Subscription form to let your visitors receive latest news.
Contact segmentation according to user's interaction and activity on various platforms.
Send automated emails on the basis of behavioral data.
Get highest ROI by split testing.
Geo location tracking system to track where users interact the most.
Price – For 1,000 contacts the service charges a flat fee of $49.
---
Madmimi email marketing provides super fast and friendly environment to create, send and track email campaigns.
Over 40 million emails are sent everyday. You can try the service for free upto 100 contacts with no credit card details being shared.
Mad mimi bulk email marketing provides ultimate design features that make it easy for you to create fashionable and professional newsletter.
---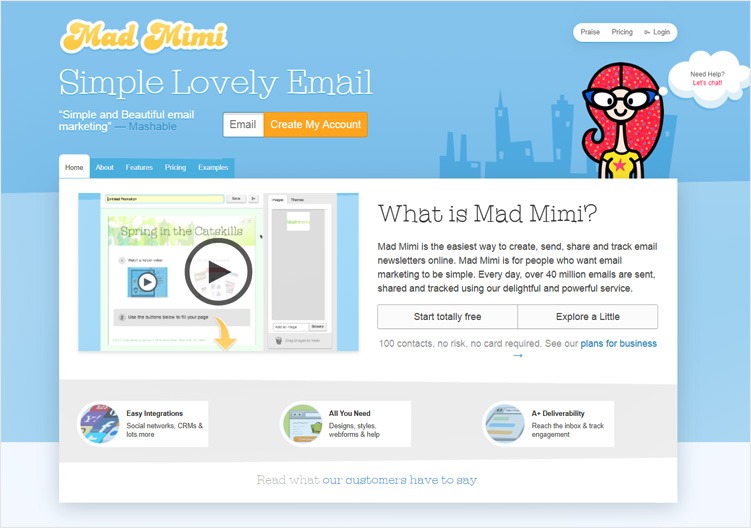 ---
Features of Madmimi are –
Provides ultra clean interface and themes to design beautiful emails right away.
Mad mimi web form help you grow your audience in no time.
Automatic suppression of bounces, unsubscribes and segmentation helps you maintain your contact list.
List management helps you to easily import or copy your contacts on spreadsheets where after the list get filtered as the service removes duplicate contacts.
Know who opened, clicked and unsubscribed you using service report and tracking mechanism.
The service ensures that your information is safe and secures your data transactions too by the use of SSL.
Price – Basic plan starts from $10 for 500 contacts to Pro in $42 for 10,000 contacts.
---
iContact is considered as best mass email marketing service provider in the market. The service provides Free account with no billing information to be filled.
The service features competitive pricing plans for every type of business holders. Also gets covered on android and iphone apps. Incorporates developer portal and API.
Provides Salesforce integration for CRM programs. Best customer support to help you deal with any sort of problems.
---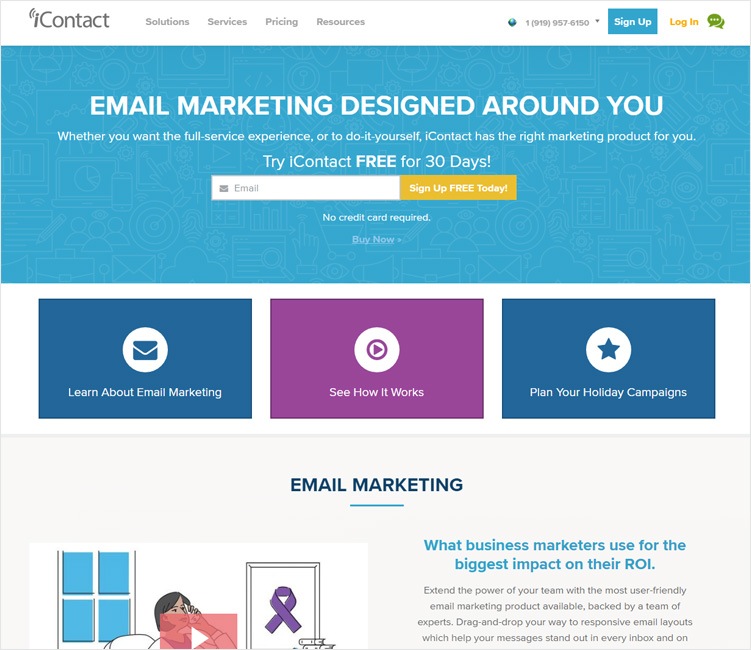 ---
Features of iContact are –
The service provides HTML editor and templates for email creation.
Grow and manage your contact list with list management feature.
Spam check ensures your email reaches inbox and not marked as spam.
Gives you freedom to schedule your messages for Facebook, Twitter and LinkedIn.
Send automated messages over scheduled time.
Price – Basic plan starts from $14/month for 500 subscribers and varies as the number of subscribers increases.
---
Constant contact is well known as one of the oldest email marketing campaign since 1996.
The service covers basic email marketing features to some amazing advanced features like trigger based targeting to A/B split testing.
Constant contact offers 60 days free trial with no billing information required. Also provides wide range of templates on covering various niches.
---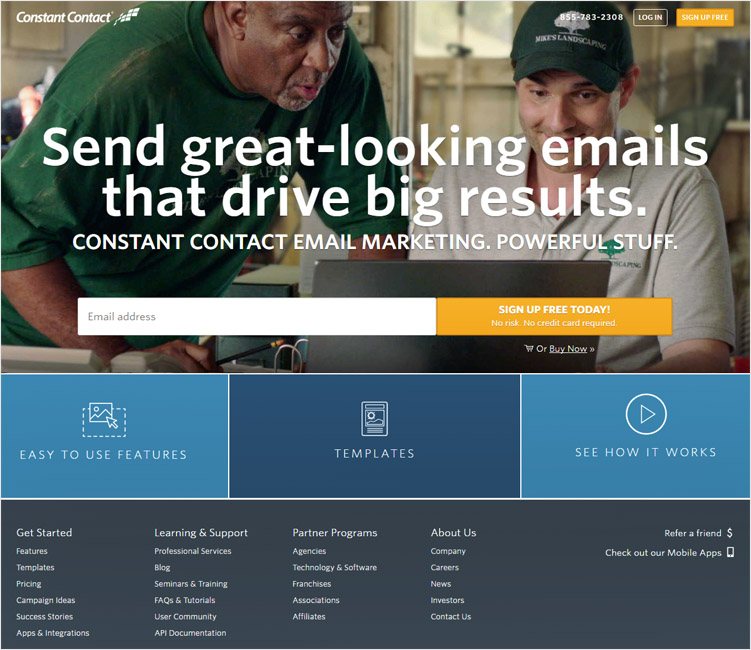 ---
Features of Constant Contact are –
Customizable templates to create professional emails.
Personalized emails in order to build strong connections with users.
Engage your audience by sending scheduled series of emails.
Get your contacts added to your list from social accounts easily.
Track your email success in real time.
Price – Starts at $20 per month for 500 subscribers and unlimited email sends.
---
Campaign monitor email marketing software is mainly build by keeping graphic designers in mind.
The service is liked by over 2 million people from over 200,000 businesses around the world. Provides powerful email marketing and automation solutions.
Award winning customer support ensures your success, around the clock, and around the world.
---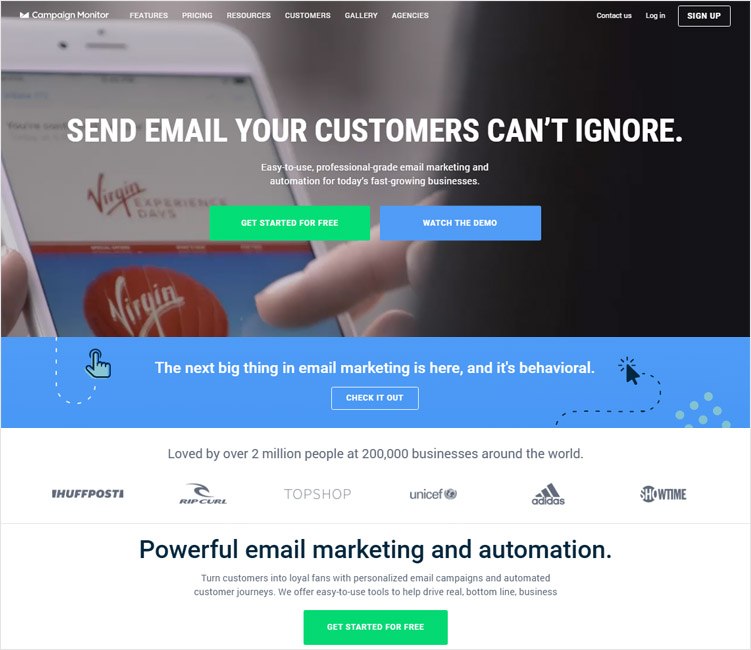 ---
Features of Campaign Monitor are –
Provide screenshot gallery with 100 best email client designs.
Incorporates over 250+ integrations.
Easily integrate API with your CRM, blog, or other softwares.
Campaign monitor doesn't uses branding, logos, or watermarks in your email campaigns.
Drag and drop email builder to create stunning emails.
Create personalized email journeys with marketing automation.
Price – Starts at $9 for 2,500 emails and $29 for unlimited emails where both rates are up to 500 subscribers.
---
Freshmail is UK based email marketing software. They provide free trial but along with some limitations.
Since the service is UK based phone support hours are extremely limited. The service provides free inbox inspector and spam test along with send time optimization.
---
---
Features of Freshmail are –
40+ integrations which mainly includes Zapier, Google Analytics, Salesforce and many more.
Responsive and beautifully designed templates.
Competitive free and paid pricing plans for any type of business.
Real time email tracking which captures email opens and clicks.
Clever autoresponders to respond on your customers action.
Automatic A/B testing which checks subject lines, template designs and email content.
Price – Start at $30 for 5,000 emails – Pay as u go plan.
---
Aweber is well known full fledged email marketing solution present in the market. The service is trusted by over 100,000+ email marketers.
The service provides 30 days free trial but requires billing information in prior. Over 700 mobile templates are provided to create emails.
Easily integrate third party applications with Aweber API. Use Aweber's mobile subscriber app supported in both android and ios devices which is well known as Atom app to grow your list anytime, anywhere.
---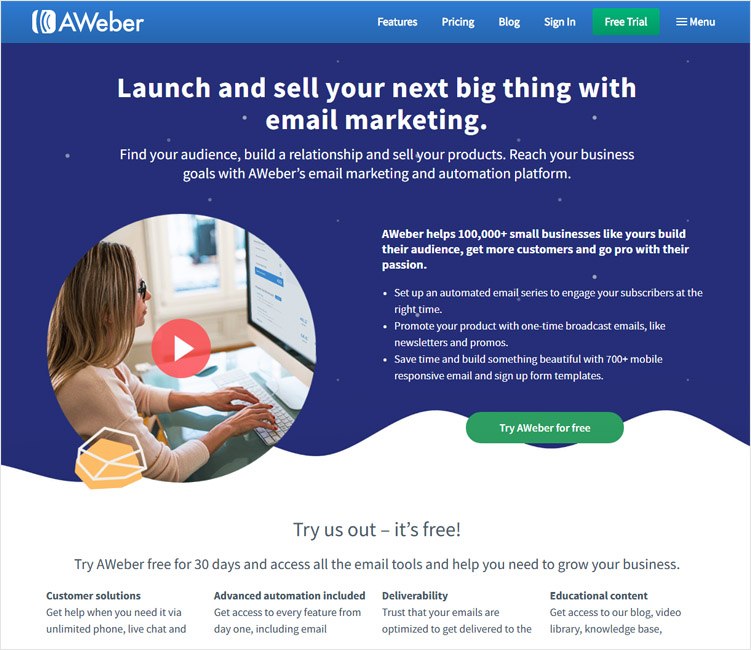 ---
Features of Aweber are –
Add attachments up to 1 mb to your email newsletter with the help of Digioh integration.
HTML editor to create emails.
The service provides unlimited image hosting and 6,000+ stock images.
Incorporated excellent email list management and split A/B email testing.
Features shopping cart integrations like – PayPal, Shopify, and Google Checkout.
Integrate 50+ apps with App showcase to enrich your email marketing campaign.
Price – Starts at $19/month or $194 annually for 500 subscribers and an unlimited number of emails.
---
Getresponse is most likable email marketing campaign. The service has more than 350,000+ happy customers.
Getresponse all in one email marketing platform provides various solutions to grow your business ranging from marketing automation to designing landing pages and webinars.
Advanced list segmentation and html-based email customization are one of their limitations.
---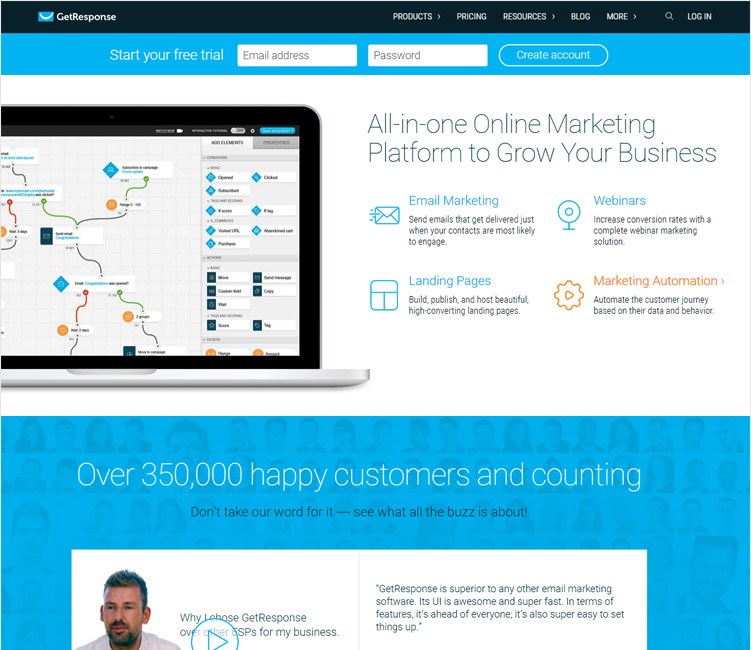 ---
Features of Getresponse are –
QR code generator.
Create audio and video files using multimedia center.
100+ apps and softwares to connect.
HTML email creator to design email campaigns.
Social sharing support for Facebook, Twitter, Google+, Pinterest and LinkedIn channels.
Advanced analytics to track open rate, click rate, goal conversions and much more.
Web forms to capture lead and grow your contact list.
Price – Monthly pricing starts at $15/month for 1,000 subscribers.
---
Conclusion
I hope you found these 10 email marketing tools useful! So choose the best according to your requirements and start sending emails. Is any best email marketing service missed? Share it in the comment box below and we'll look forward to review it.