10 Best MailChimp Alternatives 2022
Find the best MailChimp alternative in this review!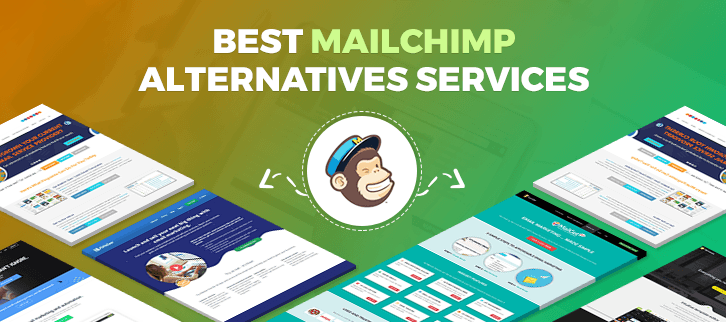 The time has gone when people use to opt MailChimp as their email marketing tool. As the world is becoming advanced so as the services.
But unfortunately, MailChimp still bears some issues which make people switch from their services.
Some of the popular and well-known issues with MailChimp are:
Ready-made templates for signup forms which can either be hosted or integrated on the website.
Your account can be suspended if you get a lot of unsubscriptions or spam complaints.
If you have a membership-based website beware because autoresponders won't work here. Autoresponders are only set for users who have signed through a web or signup forms.
Very tiresome interface which takes a lot of time to navigate throughout the system.
Besides, you can't send the same email campaign to multiple subscribers at a time the service restricts you to send to a single list at a time.
FREE plan doesn't come with email automation feature you need to upgrade your account in order to use it.
And so to help you choose a better MailChimp alternative I've listed out 10 best email marketing tools that are way advance in functionalities when compared to MailChimp.
If you are looking for the email marketing tool you can also check these blog posts:
Comparison of various Email Marketing Services
The Best MailChimp Alternatives
Compared (in full)
Check all the services in detail as per your needs and choose service wisely – by the end, you'll know exactly which one is the right option for you.
---
Platformly is a powerful all-in-one marketing automation software that allows to capture and nurture leads, understand your customer's entire journey, gain insights that lead to revenue, and build personal relationships at scale.
Platformly makes marketing attribution easy by precisely tracking interactions across different campaigns and channels throughout your entire marketing funnel.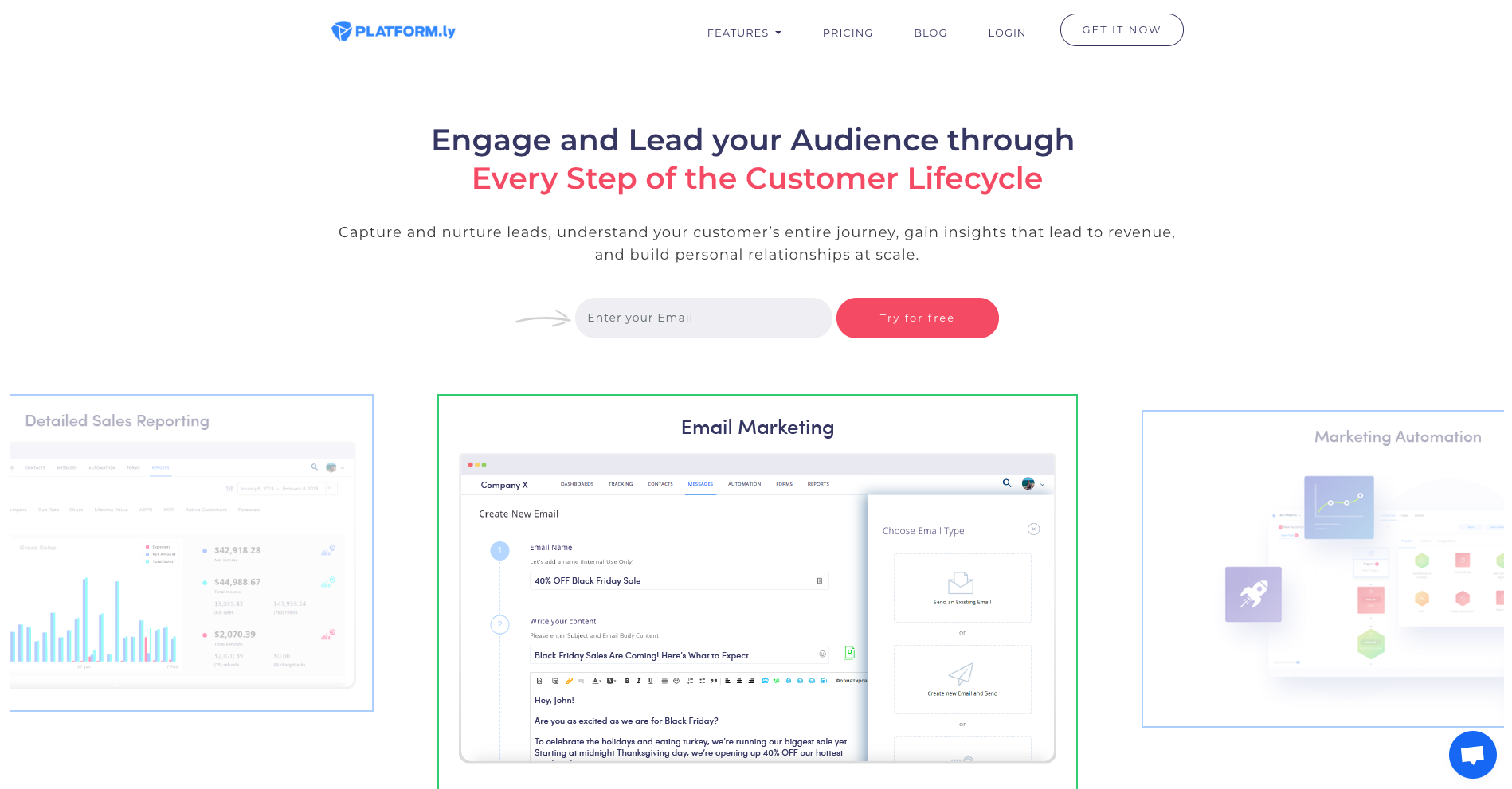 ---
---
Pricing:
All Platformly plans are based on the number of contacts you have. Please check the pricing page to get more information on the plan that works the best for you.
Here are a few popular ones:
1K contacts – $19/mo
2K contacts – $29/mo
5K contacts – $49/mo
10K contacts – $69/mo
You can also choose one of the packages as the addition to your plan:
Starter: Send 10000 emails/mo for free (you can send more emails for free if you connect your own SMTP from any provider).
Growth: Allows sending 100000 emails for $49/mo (as in the Starter plan you can send more with your own SMTP).
Unlimited: Send unlimited number of emails for $99/mo.
Features of Platformly includes:
A full featured, drag-and-drop email builder allows  to setup professional emails super fast.
Personalized customer journeys based on actions your customers take – like making a purchase, or signing up for the monthly newsletter. These actions trigger highly relevant emails to keep your customers engaged over time.
Advanced personalization functions so you can precisely customize the content of an individual email for each of your subscribers and their situation.
Great level of flexibility for your designs and templates. There are a lot  of awesome templates that you can use as often as you want, there is also the option to create your own, too.
Platformly offers lead scoring and robust list segmentation capabilities that help you deeply understand your audience and who your most loyal fans are.
In case of a hard bounce, Platformly will automatically clean, notify you of removed email addresses and help make educated decisions based on actionable data.
---
2. MailGet Bolt – Mass Email Marketing Services
MailGet Bolt will be the best alternative to MailChimp as it gives the finest features to create and send emails to a number of people and convert them to customers. You can do the schedule communication through the mail which will be delivered at a specified time chosen by you.
Also, the software contains a drag and drop builder which will enable you to smoothly frame a mail and customize the design as per your will.Plus, you can leverage the system by the features like autoresponder which will automatically send emails to the customer as soon as they fill up the form on your website.
Furthermore, the software enables all the users to demonstrate their key services in the mail, also, the emails will directly fall in the inbox increasing the deliverability rate.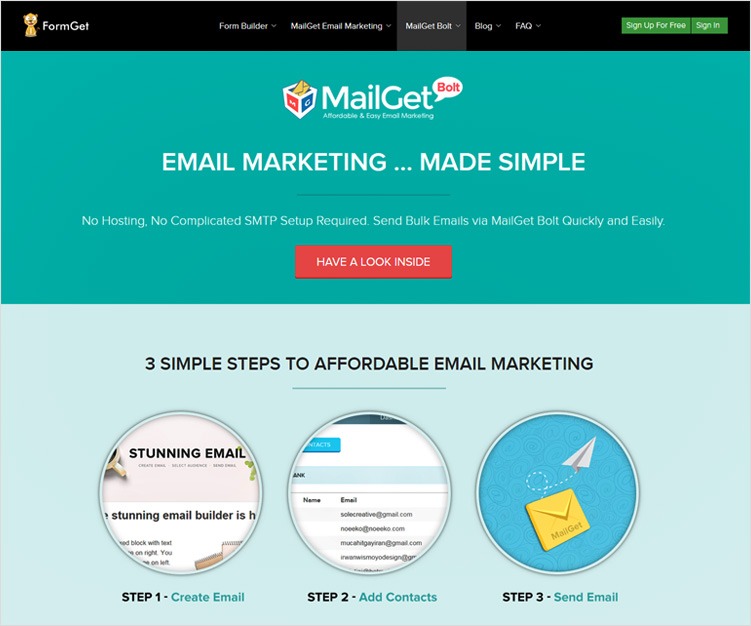 Pricing:
The pricing for this plan range from $9 to $49 depending on the features you opt for such as auto follow-ups, monthly campaigns and a lot more.
Features of MailGet Bolt:
Email list cleaning is a vital feature that helps you clean the email list by removing the unwanted mail ids from the list.

The software will enable you to easily manage all your subscribers' list, also you will be updated on the part that whether the mails has been opened or not.

The system enables the user to monitor the emails sent to the customers by viewing the number of emails falls in the spammed, suspended and bounced respectively.

You can increase the number of leads through the inbuilt lead capture tool, one more way of increasing your leads is through inducing subscription forms to your website.

The software supports an internal SMTP which is an added advantage whereas in other software you have to buy them separately.

Thus the emails created are responsive in nature which means it will be compatible with all the electronic devices.
---
3. MailGet – A Tool For Email Marketing
MailGet email marketing service gives you the freedom to send emails via Amazon SES as well as any SMTP of your choice without any complicated setup and hosting.
You can easily create email, add contacts to your list and connect SMTP and you are all set to send emails right away!!
Moreover, it is trusted and used by over 1200+ happy users. And the service charges you on the basis of your subscribers rather than emails so ultimately you get a full privilege to send unlimited emails.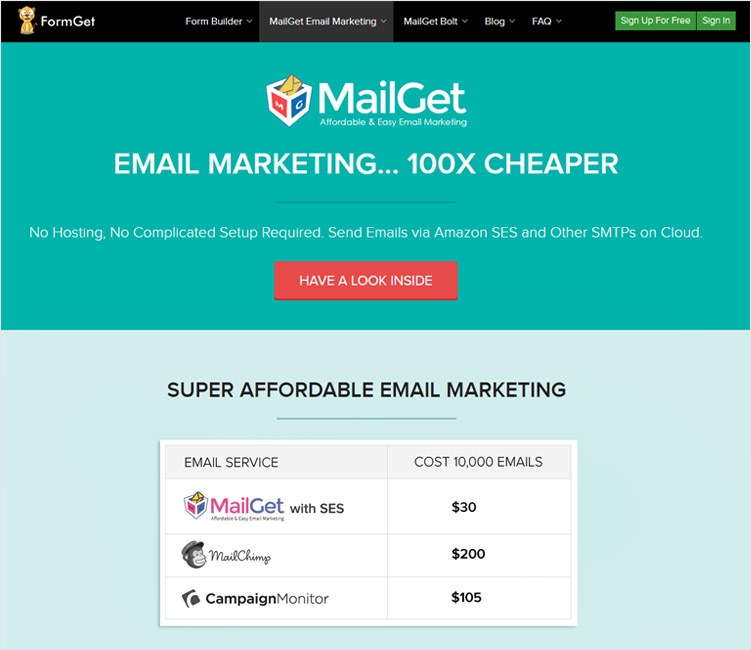 Pricing:
The basic monthly plan of MailGet starts from $5 for 5,000 subscribers and then varies as the subscriber's number increases.
Features of MailGet:
Email Builder. Beautiful and stunning email builder to create awesome emails.
Email list management. Create and manage all your contacts easily to reduce bounces and unsubscribes.
Subscribers segmentation. Helps you to group contact list according to user's interest. These features improve your click-through rates and email deliverability.
Email Scheduling. MailGet allows you to send recurring emails on the basis like – daily, weekly, monthly or yearly.
Email Tracking. One of the ultimate feature of MailGet using which you can track your email sent, opens, clicked and unsubscribed numbers.
Google Analytics Integration. Track you email campaign success and get a detailed overview of your website traffic.
---
4. Pinpointe – Email Marketing Software
Pinpointe is yet another amazing email marketing service that is jampacked with stunning features.
Being a cloud-based email marketing service Pinpointe provides 3 editions known as business class email marketing, professional edition and enterprise edition.
Free plan of this permission-based email marketing offers 1,000 email credits to send for 15 days with no credit card details. Moreover, if you choose to upgrade your account the service gives you 25% discount for the first month subscription.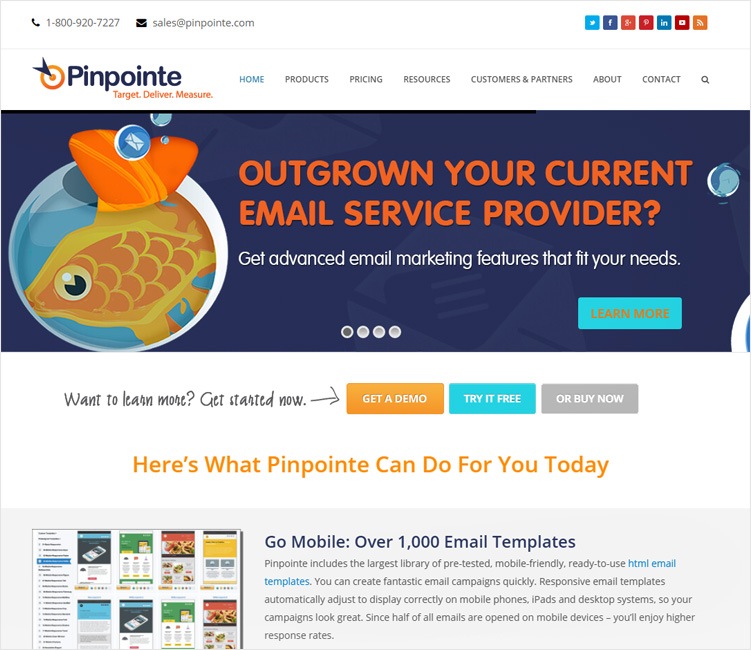 Pricing:
The basic package starts from $49 for 5,000 contacts and 40,000 email sending limit.
Features of Pinpointe includes:
Intuitive easy to use WYSIWYG email editor user interface to design emails and newsletters.
Google analytics integration for complete tracking and reporting.
Easy lead capture form integration for websites.
Preview your email campaign to correct the faults if any.
Get high deliverability as the service manages ISP relationships and feedback loops.
Easily export/import contact data records.
---
ActiveCampaign is all in one marketing platform where you get email marketing, marketing automation, sales and CRM tools.
This tool provides drag and drop interface, free templates and image hosting. ActiveCampaign is a mobile friendly and provides a single platform where you can manage and grow your contacts easily.
In addition to this, it offers an extensive contact data collection ability from an email address i.e. active campaign can retrieve age, gender, location, interests, social profiles, and much more.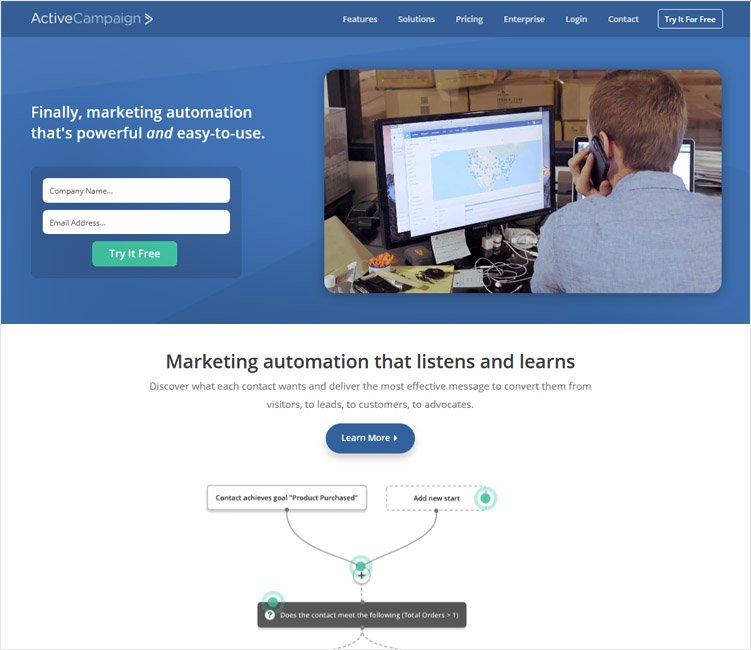 Pricing:
For 1,000 contacts the service charges a flat fee of $49.
Features of Active Campaign are:
Subscription form to let your visitors receive the latest news.
Contact segmentation according to user's interaction and activity on various platforms.
Send automated emails on the basis of behavioral data.
Get highest ROI by split testing.
Geolocation tracking system to track where users interact the most.
---
6. Omnisend – Email Marketing Automation
Omnisend is an all-in-one robust marketing automation suite that approaches email marketing from an omnichannel standpoint. In terms of Mailchimp alternatives, Omnisend stands out among other tools as far as channel integration, user friendliness, and price.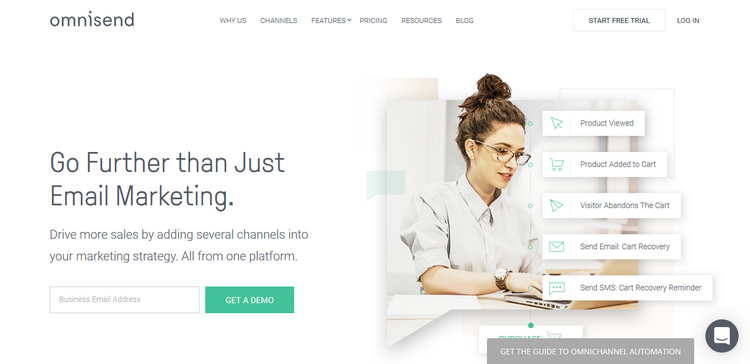 Aside from a drag-and-drop email builder that's simple enough to be accessible, but complex enough to allow for full personalization, Omnisend combines email creation with smart segmentation for precise customer targeting.
Omnisend also integrates well with ecommerce platforms, meaning that it gathers critical data on customer behavior and piles it onto the data already gathered from campaign activity, allowing you to layer segmentation and target your customer with an ultra personalized and relevant message. Adding in pre-built automation workflows, your customers can be automatically updated and contacted depending on where they are in their customer journey.
Omnisend's automation workflows don't stop at email; you can use this tool to integrate with Facebook and Google retargeting ads, provide web push notifications, and communicate with your customers via WhatsApp, Facebook Messenger, Viber, SMS, and more.
Pricing:
Omnisend offers a 14-day free trial of their paid plans, plus a free plan for those who just need the email marketing side. Their paid plans are dependant on how many subscribers you have, and the standard plan starts off at only $10 per month for under 500 subscribers.
Features of Omnisend are:
User-friendly drag-and-drop email composer.
Automated marketing workflows including multiple channel integrations for welcome messages, cart abandonment, order confirmation, and more.
Smart segmentation based on shopping behavior, campaign engagement, and profile data.
Direct integrations with ecommerce stores so you can pull merchandise into your campaigns right from your store
A/B testing
Email capture through opt-in forms, pop ups, and gamification (like a Wheel of Fortune).
Personalized landing pages and popup templates.
Intelligent campaign performance insights, click maps, and reports.
---
7. Mad Mimi – Bulk Email Marketing Software
Mad Mimi email marketing provides super fast and friendly environment to create, send and track email campaigns.
Over 40 million emails are sent every day. You can try the service for free up to 100 contacts with no credit card details being shared.
Apart from this, Mad Mimi bulk email marketing provides ultimate design features that make it easy for you to create a fashionable and professional newsletter.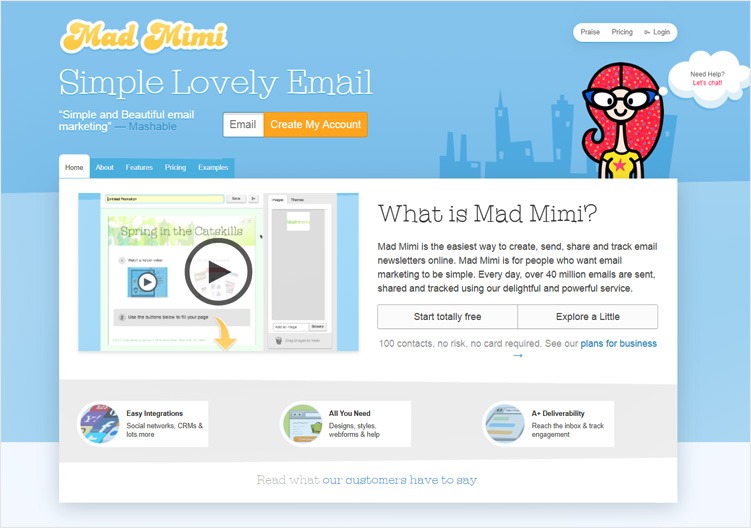 Pricing:
Basic plan starts from $10 for 500 contacts to Pro in $42 for 10,000 contacts.
Features of Mad Mimi are:
Provides ultra-clean interface and themes to design beautiful emails right away.
Mad Mimi web form helps you grow your audience in no time.
Automatic suppression of bounces, unsubscribes and segmentation helps you maintain your contact list.
List management helps you to easily import or copy your contacts on spreadsheets where after the list get filtered as the service removes duplicate contacts.
Know who opened, clicked and unsubscribed you using service report and tracking mechanism.
This service ensures that your information is safe and secures your data transactions too by the use of SSL.
---
8. iContact – Software For Email Marketing
iContact is considered as best mass email marketing service provider in the market. The service provides Free account with no billing information to be filled.
Moreso, it features competitive pricing plans for every type of business holders. Also gets covered on Android and iPhone apps. Incorporates developer portal and API.
In addition to this, it provides a Salesforce integration for CRM programs. Best customer support to help you deal with any sort of problems.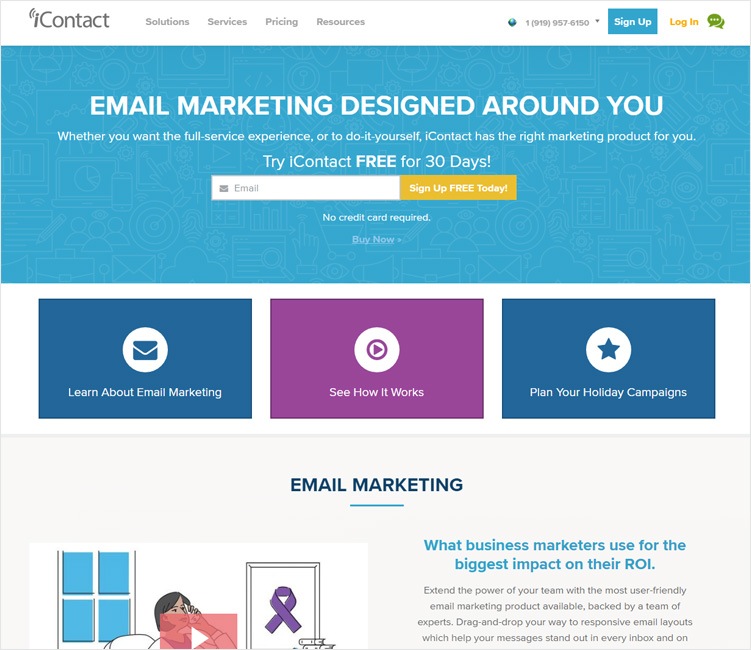 Pricing:
The basic plan starts from $14/month for 500 subscribers and varies as the number of subscribers increases.
Features of iContact are:
The service provides HTML editor and templates for email creation.
Grow and manage your contact list with list management feature.
Spam check ensures your email reaches inbox and not marked as spam.
Gives you the freedom to schedule your messages for Facebook, Twitter & LinkedIn.
Send automated messages over scheduled time.
---
Constant Contact is well known as one of the oldest email marketing campaign since 1996.
This service covers basic email marketing features to some amazing advanced features like trigger based targeting to A/B split testing.
Constant Contact offers a 60 days free trial with no billing information required. And, also provides a wide range of templates on covering various niches.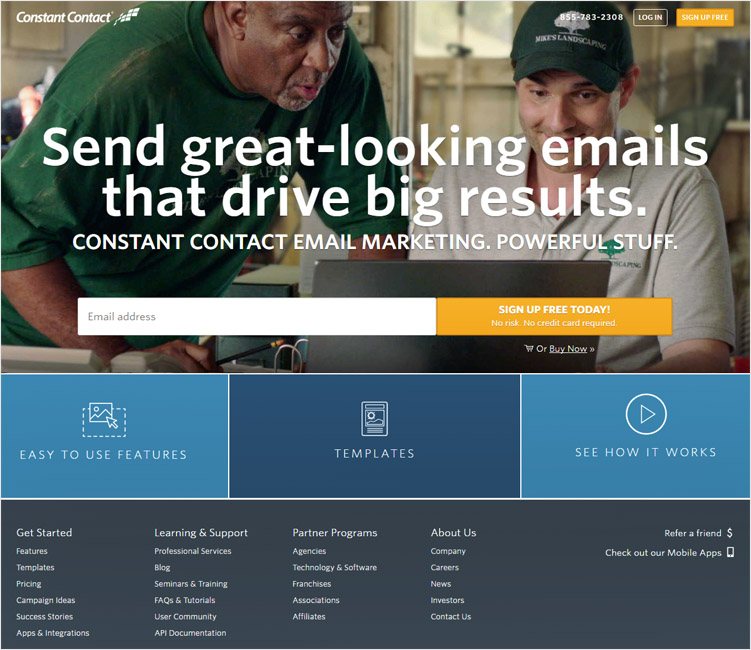 Pricing:
The pricing starts from $20 per month for 500 subscribers and unlimited email sends.
Features of Constant Contact are:
Customizable templates to create professional emails.
Personalized emails in order to build strong connections with users.
Engage your audience by sending scheduled series of emails.
Get your contacts added to your list from social accounts easily.
Track your email success in real time.
---
This email marketing software is mainly build by keeping graphic designers in mind.
Campaign Monitor is liked by over 2 million people from over 200,000 businesses around the world.  Plus, it provides a powerful email marketing and automation solutions.
Its award-winning customer support ensures your success, around the clock, and around the world.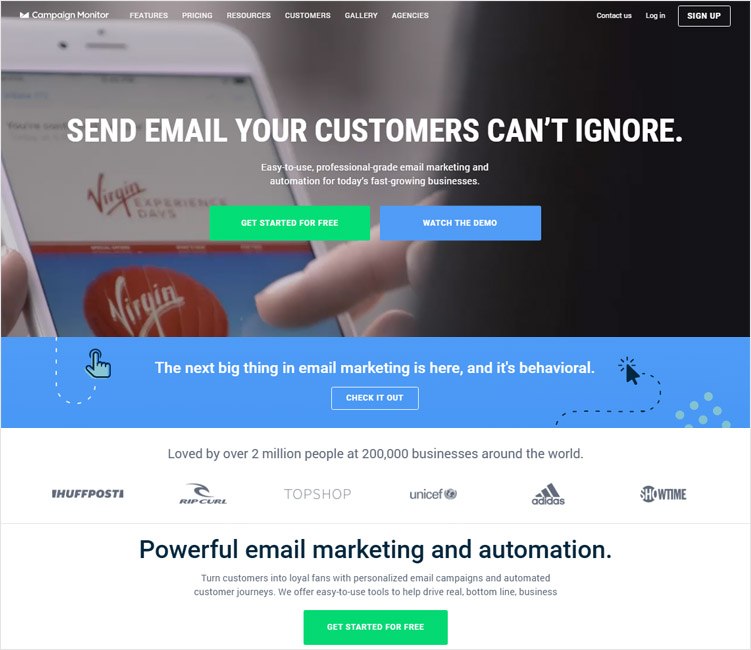 Pricing:
Starts at $9 for 2,500 emails and $29 for unlimited emails where both rates are up to 500 subscribers.
Features of Campaign Monitor are:
Provide screenshot gallery with 100 best email client designs.
Incorporates over 250+ integrations.
Easily integrate API with your CRM, blog, or other software.
Campaign Monitor doesn't use branding, logos, or watermarks in your email campaigns.
Drag and drop email builder to create stunning emails.
Create personalized email journeys with marketing automation.
---
Conclusion
After going through the blog post, I hope you will choose the best tool according to your requirements and start sending emails.
Although, in this blog post, we have enlisted all the details about the services to make sure that you don't have to trouble yourself with spending hours searching.