10+ Best Drip Email Marketing Services & Software
"Do you wish to raise the conversion rates without wasting your time on email leads?
Start launching drip email marketing campaigns."
Drip email campaigns make it possible to create a sequence of emails to be sent. These emails are sent automatically, in a defined order. The automated email campaign continues to run until you close the campaign.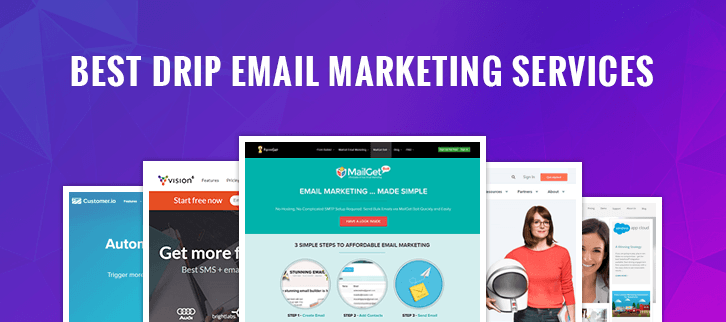 If you own a business, you must promote it so that it can grow.
There are multiple marketing techniques available in the market, like email marketing, SMS marketing, social media marketing, etc. One of the most effective marketing techniques is drip email marketing.
To effectively promote your business, you need to choose the best drip email marketing service.
But, why drip email marketing?
With a drip campaign, you can send the emails automatically to your subscribers or customers on the regular basis. You can continue for a specific time period till the campaign stops by itself.
With the help of drip email marketing, the right information can be delivered to subscribers when they need it. It automates marketing activities by tracking leads to enhance the sales of your company.
There are several companies that offer good drip email marketing services that you can buy for your business.
Explore email marketing service providers in the following posts:
Quickly Go through Drip Email Marketing Services
Let's dive into the services features now
Check all the services in detail according to your needs and think about your business; by the end of this article, you'll know exactly which one is best.
---
Platformly allows you to set up drip email campaigns in the most efficient and effective manner. You can automate any aspect of your business with this powerful software. Create emails ahead of time and schedule them to send whenever you want for highly profitable campaigns.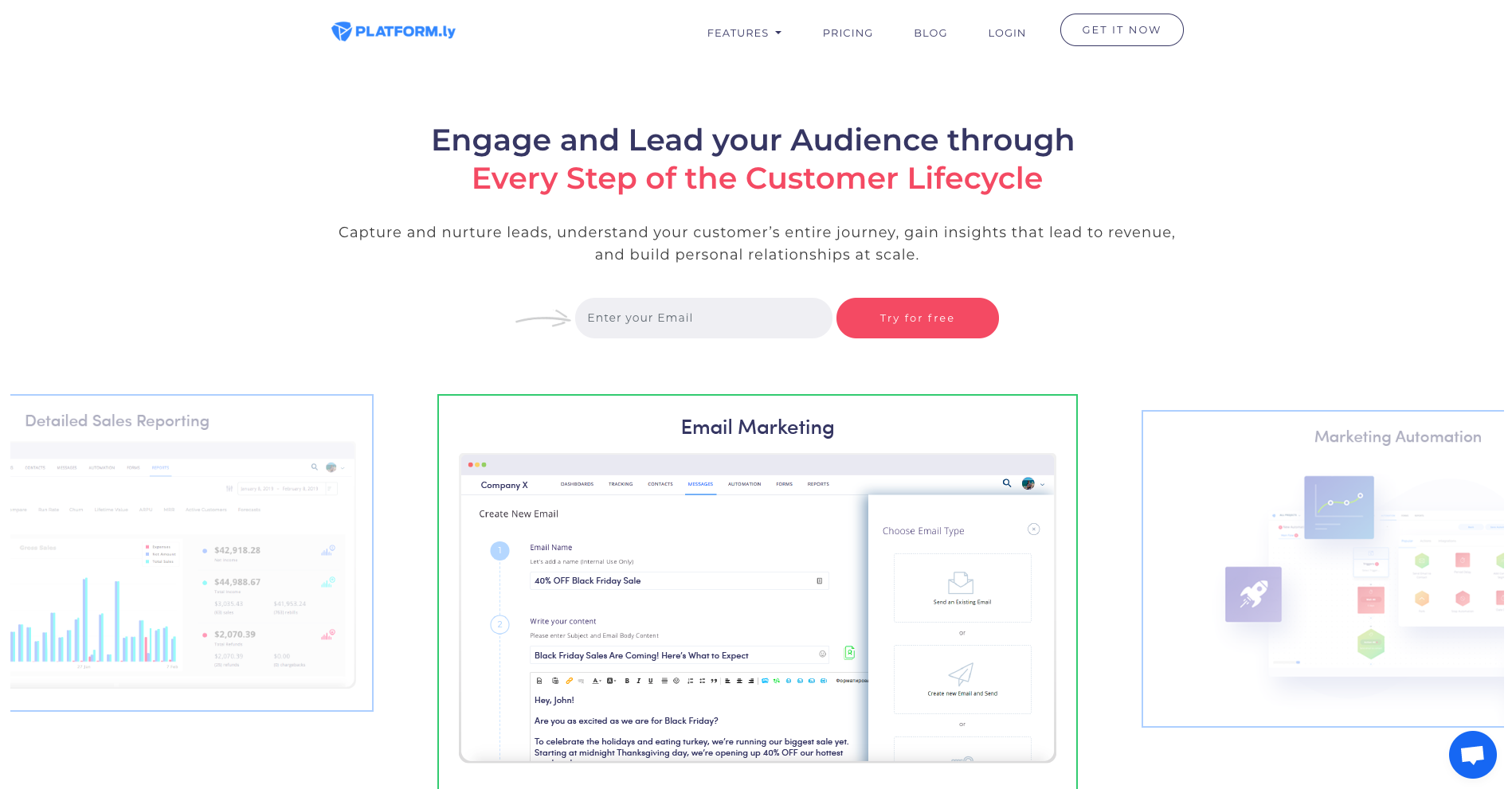 Pricing
You can scale and automate your business for as little as $19. Alternatively, choose the Unlimited Package starting at $99/month. It includes unlimited dashboards, unlimited domains, unlimited integrations and webhooks.
Choose any of the feature packages and get to try out Platformly free for 15 days. All plans can be scaled to infinity.
There is a 30 day money-back guarantee if you are not happy with the service.
Unique Features
The simple drag-and-drop email builder makes marketing automation easy to set up.
Design a variety of emails
You can engage with your contacts from the moment they sign up with a simple welcome email and send more complex emails like birthday coupons and gifts. No contact falls through the cracks.
Pre-built templates allow you to set up any automations you need for your business in minutes, including churn campaigns, on-boarding campaigns, welcome series and more.
Platformly allows you to trigger personalized messages based on user actions, increasing engagement with every contact on your list.
You can integrate your favorite tools including Google Analytics, Zapier, JotForm, EmailListVerify, Facebook, and much more.
You can get a complete picture of your business at a glance. Reports show real time sales, income breakdowns, churn, customer lifetime value, average revenue per user, monthly recurring revenue, your active customers, forecasts of the next year and comparison functions.
The tool has a large variety of beautiful email templates to optimize lead generation.
---
It is one of the finest tools for the life-cycle emailing facility. You can send emails to subscribers without any trouble. All you've got to do is simply define the time and the subscribers you want to deliver emails to. That's it! The rest is done by the software itself. MailGet Bolt will send the emails automatically in a defined order.
You can also trigger emails on certain actions like sign-ups or subscribes. MailGet Bolt lets you drag and drop content to create a responsive template.

Pricing
The pricing for this drip email marketing service starts from $9/month which allows you to send emails to 2500 subscribers. For the next plan, the cost is  $19/ month with which you can send emails to 5000 subscribers with 10 monthly campaigns.
You can opt for a Pro plan by paying $34/month to send emails to 10,000 subscribers. You get live chat support, email builder and a lot more.
If you want to send emails to up to 15,000 subscribers, auto follow-ups, monthly campaigns and many other features, you have to pay $49/month.
Unique Features
You can provide your subscribers the facility to easily opt out of lists i.e. your users can simply "unsubscribe". This will ensure that they don't report or spam your emails which will affect your site's credibility.
It provides you with the details about how many people received your email, opened it, clicked on the links or opened attachments.
Personalized Email Marketing
This feature allows you to insert the name of the receiver or client in the mail. It makes them feel valued and gains their attention, hence higher open rates.
---
MailGet offers drip email marketing services at very affordable prices so that any business can buy them. Drip email campaigns in MailGet offer you scheduled emails to your customers to overcome communication gaps.
Drips are a set of automated emails which reach subscribers at specific times. It saves time and effort. This feature is becoming a more prominent strategy of email marketing with time. Around 1200 companies are using MailGet services.
It is an all-in-one platform for marketing as it integrates various valuable features like email builder, responsive email design and email tracking into a single platform.
Pricing
MailGet is available at a very reasonable price by offering unlimited emails to 5,000 subscribers at $5/month, unlimited emails to 25,000  subscribers at $29/month and unlimited emails to 50,000 subscribers at $49/month.
You can also chose the number of subscribers you want to send emails to. If you wish to use the Amazon SES platform, you can send 10,000 emails at the cost of $1.
Unique features
It's amazing email editor saves you from doing the HTML coding as you can design appealing templates in just a few minutes. Simply, drag and drop the components in the email section and your template is ready!
This feature allows you to send the emails automatically in a predefined order with timelines. Once anyone gets added to your list, he or she starts getting the emails automatically.
You can use this feature to cleanup your list of emails.You only send emails to active users as inactive ones are filtered out of the list.
---
Drip offers the best drip email marketing automation platform to increase the productivity of your business by sending the right emails to subscribers.
Its aim is to create effective and dynamic email marketing campaigns in minutes by automating the marketing process. It lets you design the email campaigns on the basis of your subscriber's goals, actions and decisions to ensure positive subscriber reactions.
Drip integrates a wide range of tools and each can be used to build smart email campaigns. The email marketing tool at Drip is used by various types of business because of its variety of features and ease of use.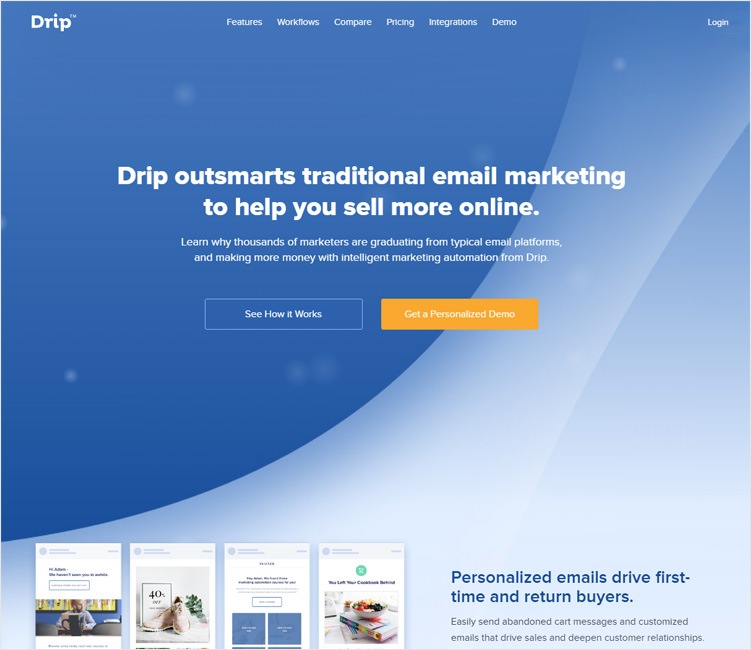 Pricing
Drip lets you send unlimited emails to 100 subscribers. Its basic version allows you to send emails to 2500 subscribers at $41/month, and the pro version allows you to send emails to 5000 subscribers at $83 per month.
Unique features
Drip offers around 16 actions and 18 triggers in its automation rule builder. This automation lets your subscribers enter in and out of campaigns.
Tagging subscribers on the basis of actions
It does this with the help of its automation engine. If they visit your website, make purchases or click a link emails can be sent to them according to their interests.
Its email marketing campaign is designed with a lead scoring algorithm that lets you track which subscribers are interested in your content and can become your customers.
Drip's flexible segment builder lets you find the right subscribers to send emails to.  It allows you to send targeted emails to a targeted audience.
---
MailChimp is one of the most popular drip email marketing service providers. It has over 14 million users who use the platform to grow their businesses. An automation workflow feature in MailChimp lets you perform drip campaigns after someone buys a product from your company or subscribes to your email list.
Around 10 billion emails are sent every month from MailChimp.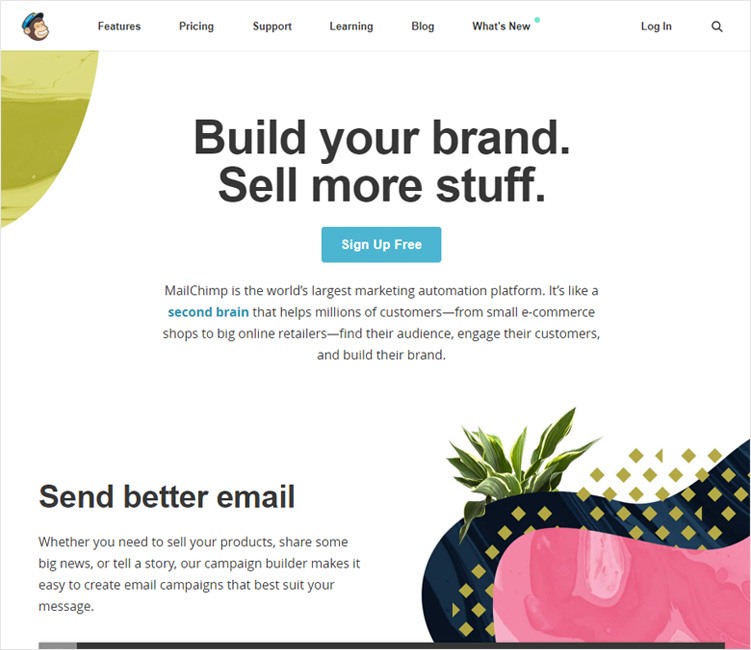 Pricing
If you are starting up a new business, it offers you the free version with which you can send around 12,000 emails to 2000 subscribers or less. If you have a growing business, then it offers a Growing Business version at $10/month and if you have already reputed business, then it provides a Pro Marketer version at $199/month.
Unique features
Design emails effectively
MailChimp lets you customize emails by simply dragging and dropping content and media. With a dynamic email campaign, you can attract customers, and according to their response, you can keep on changing email templates to make them look more appealing and professional.
It provides robust automation so that your emails can reach the right subscribers at the right time. You do not need to manually send emails again and again, as emails can be sent automatically according to subscriber's reactions.
This email marketing platform lets you monitor the sales and performance of your email marketing campaign so that you can make changes as needed.
---
Predictive Response is an excellent drip email marketing service provider especially built for Salesforce applications. Launching a drip campaign by Predictive Response keeps reminding your users and customers of the services your business offers.
Creating drip email campaigns on this platform lets you know whether people are opening your emails or not, and whether they are clicking on the link sent in the email so that you can keep enhancing email campaigns.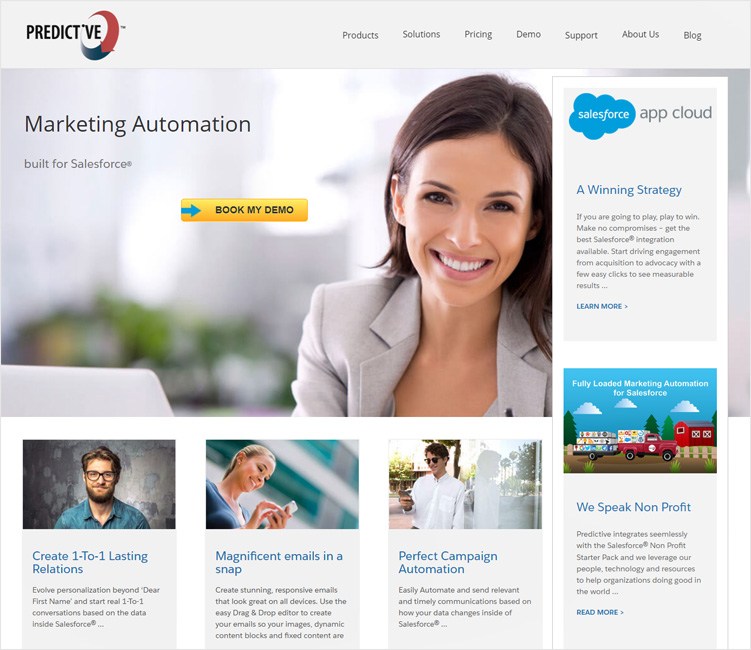 Pricing
EventBrite starts at $25/month, Standard at $300/month, Professional at $600/month and Enterprise at $900/month. Packages are flexible and can be chosen based on the number of contacts in the email list.
Unique features
With its click and page tracking feature, you can track how many people click on the link you provide in an email.
You can pre-define the sequence of emails to be sent and pre-define the time when they will be sent.
---
Vision 6 offers great, easy-to-use drip email marketing services that perform a variety of functions. By using drip email marketing services at Vision 6, you can send various types of campaigns, be it a welcome autoresponders or customized emails.
Drip campaigns at Vision 6 may allow you to deliver drips via SMS and social media too.
Pricing
Vision6 packages are classified as Starter, Business, and Pro Marketer.
In the Starter Package, you can send around 2500 emails to 500 contacts at $9/ month.
In a Business package, you can send unlimited emails and 25 free SMS at $29/ month while with the Pro Marketer package you can send unlimited emails and 100 free SMS at $99/month.
Unique features
It's amazing drag and drop editor lets you create dynamic, effective and creative emails to attract more and more subscribers. No need to do any HTML coding; just drag and drop.
You can view email insights to grow your business accordingly. You can see how many people have opened your emails and clicked the links.
---
Another secret weapon that you should have in your drip email marketing arsenal is the free and effective CRM software by HubSpot. As you know, a drip email marketing campaign is meant to send emails at specific and automated times.
HubSpot's CRM offers a great opportunity to run an effective email drip campaign that gets you the desired results.
Pricing
HubSpot CRM is free!
Unique features
With this feature, you can queue up emails and deliver them to selected customers on a time schedule.
Create email templates and measure performance
HubSpot allows you to convert monotonous and repetitive emails into attractive templates. They can be created and sent in seconds. The tool also allows you to measure the performance of each email.
Notifications in real-time
This software allows you to know exactly when a prospective customer has opened an email or downloaded an attachment. This function helps you to target the prospects at the right time for a follow-up.
---
Email Monks is a popular drip email marketing software that provide services to design or code emails, landing pages and newspaper templates.
Drip email campaigns at Email Monks help to nurture sales leads by increasing website clicks by up to 3 times.
Pricing
There is a free offer, and you can contact the support team for a detailed quote.
Unique features
Customized email design and coding
Email Monks understands your brief and accordingly provides you the crafted email design. After you approve the email design, you get an email HTML which is responsive and also compatible with more than 40 email clients.
Converting PSD into Email HTML
If you already have the ready design files, Email Monks can convert them into the email design you want in less than 8 hours.
---
Customer.io offers one of the best platforms for drip email marketing based on customer behavior.
This software does drip email campaigns on the basis of an individual's actions. It keeps on tracking, whether the customer is interested in viewing the message you sent or not, so that you can make changes accordingly.
You need to have good coding skills in order to work on this platform.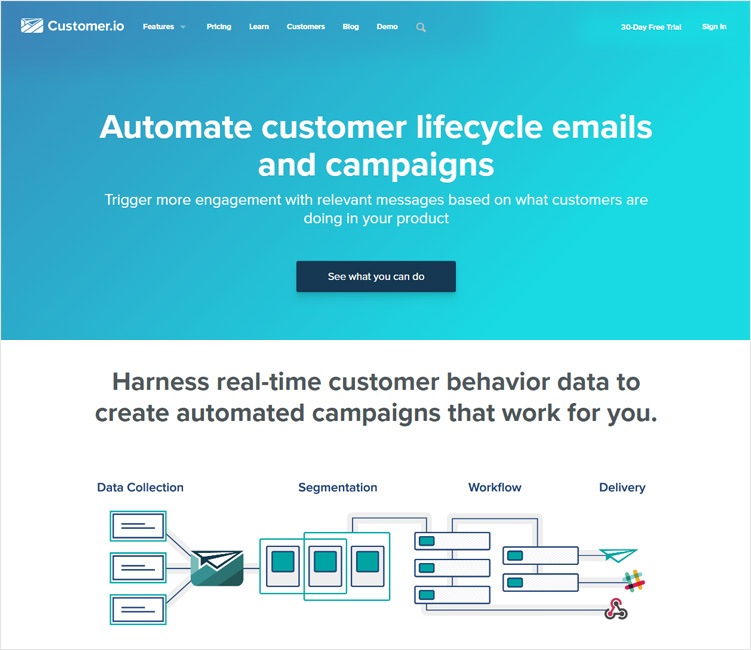 Pricing
The Basic Package costs $150/month and has Unlimited Emails, Send SMS, Push, Webhook and Technical Support.
The Premium Package costs $995/month and has everything that's included in the Basic plan as well as a Customer Success Manager, Dedicated IPs and Premium Technical Support.
Unique features
With the help of advanced rule-based engine technology, you can perfectly time and trigger your messages.
This platform helps you to evaluate how many people open your emails and how many people click on the links within.
You can either add your own designed HTML page or use the help of experts at Customer.io to get better email design.
The segmentation feature allows you to create groups of similar people so that you can target them accordingly.
---
Sendloop offers you a well-organized drip email marketing service that makes it possible to increase sales by offering easy-to-use email marketing tools. It's ready-to-use email templates help create drip email marketing campaigns in just a few minutes.
A variety of email layouts makes it one of the best platforms to create drip email marketing campaigns.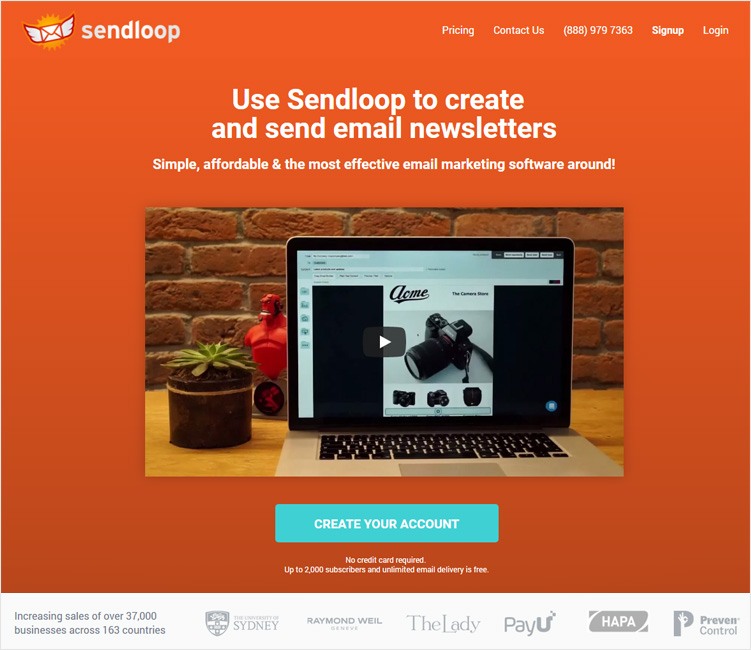 Pricing
Pricing of email marketing campaigns at Sendloop differs with the number of subscribers you target.
Its lowest package starts at $14 per month which allows unlimited emails to 1000 subscribers, more than 100 mobile friendly email templates and more than 500 third-party integrations.
Its highest package is for $1645 per month which has unlimited emails to 350000 subscribers, more than 100 mobile friendly email templates and more than 500 third-party integrations.
Unique features
Creating the email templates hardly takes any time as you only need to drag and drop content blocks.
Mobile responsive email templates
Email templates available at Sendloop are 100% mobile-responsive as most people check their emails on their smartphones. Mobile-responsive templates can fit different screen sizes.
To perform email marketing at Sendloop, you don't need to have technical knowledge as it is easy to build templates with drag and drop editing.
It offers an email schedule feature with which you can pre-define the time and date when you want your emails to send to your subscribers or customers.
The marketing automation feature allows you to send emails to the right audience at the right time so that your communication can be more effective.
Email gateways at Sendloop ensure that your emails don't fail or delay. You can send emails via Sendloop infrastructure – no need to waste time and money setting up and maintaining infrastructure.
---
Agile CRM provides a cool and simple way to create drip email marketing campaigns. As the name suggests and makes it possible to create drip email marketing campaigns with a variety of functionalities on a single platform.
Drip campaigns at Agile CRM allow you to send relevant messages at the right time according to customer behavior.
It is built with intelligent technology that makes it easier for businesses to use.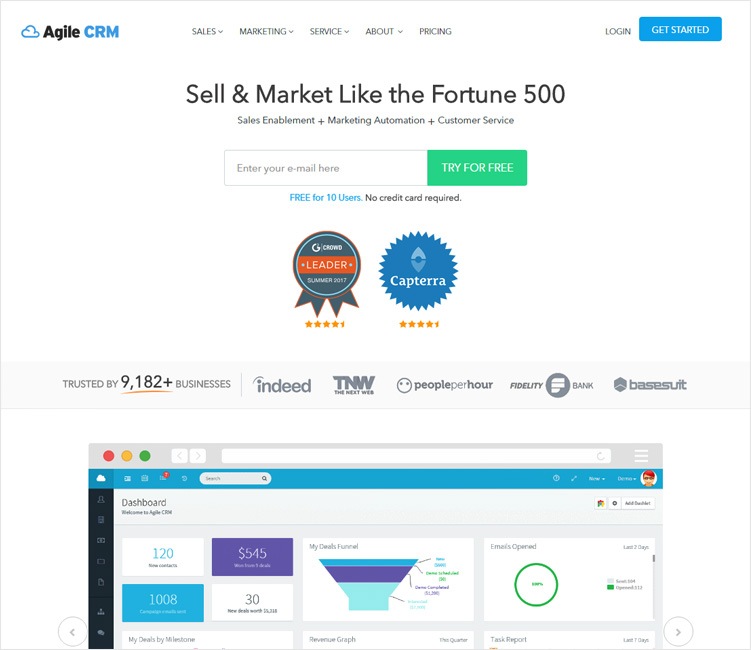 Pricing
Pricing package at Agile CRM is classified as Free version, Starter version, Regular Version, and Enterprise version. The Starter version is available at $8.99, the Regular version at $29.99, and the Enterprise version at $47.99.
Unique features
It has various features to make design more effective. For example, it offers pre-designed templates and themes. All you have to do is alter the text, images, and color themes as desired.
First name marketing technique
It provides the first name marketing technique in which email campaigns are designed in such a way that when they reach the customer, they feel that the email is specifically designed for them.
It helps you to know the various activities of the subscriber: whether they opened your email or clicked on the link you provided. That way, you can evaluate the lead score.
It allows you to track the performance of your email marketing campaigns in real time.
---
Conclusion
Listed above are the best drip email marketing software;  you can use any of them to improve your business.
As you choose, keep in mind the specific needs of your business as well as your budget.
Do you think we missed any drip email marketing service? Share it in the comment box below and we'll consider it for review.
You may wish to read the following posts:
Contact us with any queries and suggestions.
Thanks for reading!