Ontraport Review – Everything You Should Know
Editor Rating:





Running a small business requires juggling when it comes to online marketing. You have to collect leads and build an email list, write emails, make sure they have the right message and look good, and that they go to the right people at the right time.
You also have to track each email to see what kind of results your campaign is getting you. Not only that, you need to decide, based on the results of each email campaign, what you should do next.
What if there was software that could do that for you? Ontraport might be the answer. Those who use it say that the return on investment is huge.

What is Ontraport?
Ontraport is an all-in-one marketing automation and CRM system for small and medium-sized businesses. What makes Ontraport unique is that unlike many automation and CRM software that is designed to solve a few problems, Ontraport brings together features that provide solutions to a host of issues.
The company was launched in 2006 as OfficeAutopilot, and by 2011, it was recording such remarkable results that it appeared on Inc's list of 500 Fastest Growing Companies. In 2015 also it appeared on Forbes' list of "America's Most Promising Companies."
The company's mission statement supports the all-in-one nature of this software: "To Support Entrepreneurs In Delivering Their Value To The World By Removing The Burden Of Technology."
Ontraport Features
CRM
According to most users this is the feature they love most about Ontraport. The software delivers an all-in-one system, but users can customize it to suit their needs.
Most CRM modules have just 3 functions: companies, contracts and deals. These work just fine, but what if you would like to automate another function in your business? Ontraport allows you to create your own databases using custom objects.

Let's say you would like to keep track of all the proposals sent to your business, how long they take to complete, how much you spend on each and so on.
Many CRM software will not provide a database with this level of detail but with Ontraport you can create your own and keep track of every aspect of the proposals section of your company.
It allows you to create databases for 3 types of relationships: one-to-one, one-to-many and many-to-many.
This is a great way of simplifying what may seem like a complex aspect of your business, and it helps you see the bigger picture for better decision-making.
Marketing Automation
Ontraport helps by making sure that you can automate the customer life cycle. Right from the moment you capture a lead until they buy and even give you referrals, you have tools at hand to make sure they don't slip through the cracks.

14-Day Free Trial
Ontraport's marketing automation is unique because it begins with a campaign map. At the very beginning, you develop a flowchart or map to depict every step of the customer journey. The software offers pre-built maps, but you can also create your own to suit your needs.
It allows you to set up tracked links to trigger actions, triggers to send contacts down a certain automated path, create actions that force you to respond to certain contact activity, create filters based on certain activities and more.
List Segmentation
When you segment your contact list you can send more targeted messages. Ontraport is excellent at this. You can split your list according to tags or fields. When a new contact joins up they are automatically added to the right list (based on whatever criteria you have put in place).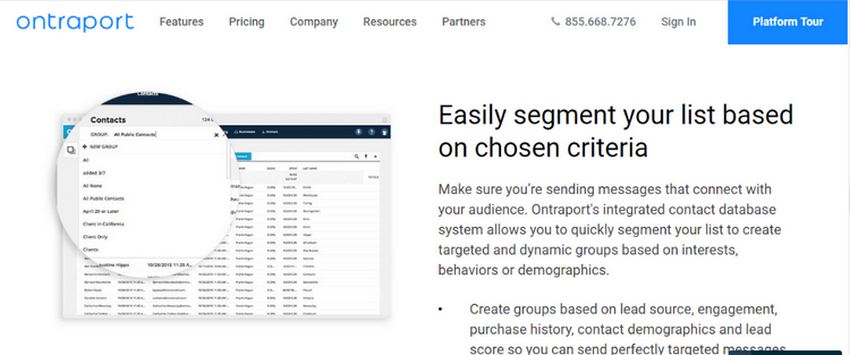 Searching lists is easy: just narrow or widen the search criteria to get what you want. You can apply universal actions to a list, or you can single out the contacts you want to act on.
Email Template Builder
Ontraport has a set of templates and blocks that make email creation a breeze. The template builder, Ontramail, is based on the blocks system. It is a series of pre-made blocks that you place into templates to create emails.
You will find that blocks apply throughout Ontraport, making its mastery easier. Once you learn how to use them to build email templates, you'll be able to use the same skills to build landing pages and forms.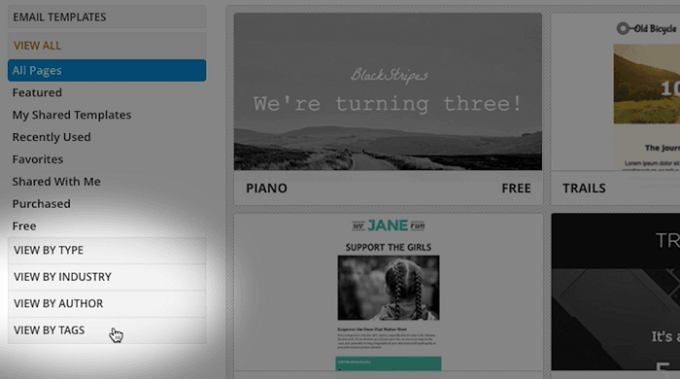 You can create emails in minutes with a few clicks and send them to your whole list, or to a select group. You can also send out emails immediately you create them, or you can schedule them to go out any day of the year.
All templates can be tailored by incorporating images and videos, and you can add your logo and social media buttons to every email.
For unresponsive contacts or contacts that you haven't been in touch with for a while, the software lets you create re-engagement campaigns to bring them back in the fold.
SMS Module
Sometimes you want to be able to reach your contacts quickly and encourage them to act without delay, and for that Ontraport has an SMS module. If you head over to the Campaigns Marketplace you will find an SMS lead-capture template, as well as a detailed guide on how to use the module, and tips to ensure that you are successful.

You will not be sending out messages blindly; contacts can opt-in by filling in a form with their details and allowing you to text them. They can opt out of your campaign at any time. You can set up automated messages for contacts who respond to your texts.
Landing Pages
Landing pages are an excellent way to publicize your business and products, and with Ontraport you don't have to be a professional or know anything about coding to build them. The software has a library of landing page templates with all essentials included.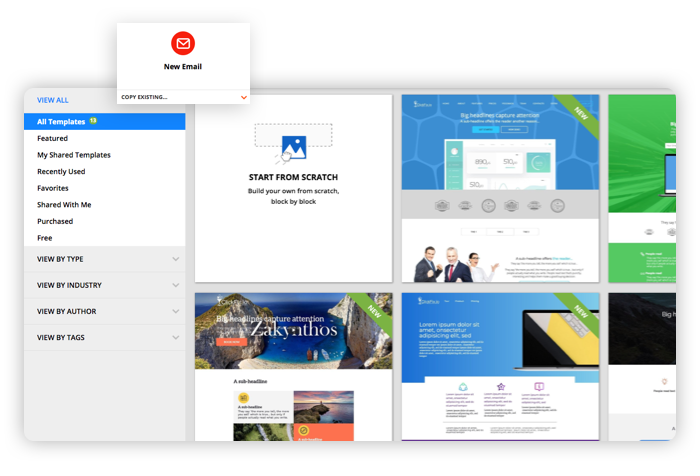 To customize each page, you have a color palette, different fonts, layouts and you can move different elements to different parts of the template.
The design process allows you to provide users with a personalized landing page experience if you use your contact database. Visitors can be directed to different pages depending on where they are from, who they are, their preferences and so on.
All landing pages created using Ontraport render properly on mobile and you can block certain sections if you don't want them to be visible.
Forms
Forms are a critical part of the automation process; they allow you to gather important details about contacts such as names, email addresses, likes and dislikes, location and more. Ontraport has prebuilt forms that you can use to gather basic information, or you can create your own to suit your needs.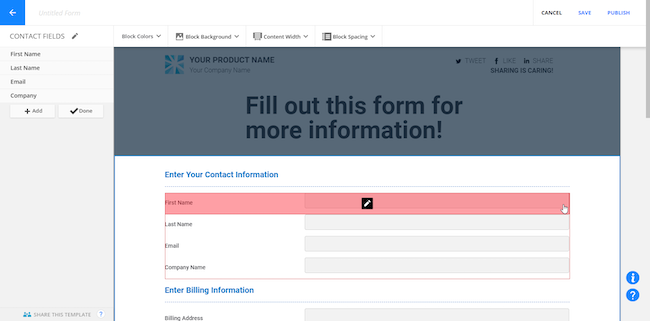 It has a facility for forms that pop up when a user clicks a button, and you can also pre-fill forms to save users' time. You can add drop-down menus for easier database management.
Membership Sites
This Ontraport module allows you to create membership sites for your customers without any coding experience or technical expertise. Everything is in templates, so choose the ones you like best, customize, brand and you have a membership site ready to go.
Members can subscribe, login and retrieve passwords. You can limit members to their levels based on the information that you have for them in your contact database. For example, members who provide you only a name and email address can get access to basic-level content, and those who provide more information about themselves can get access to a course or an e-book.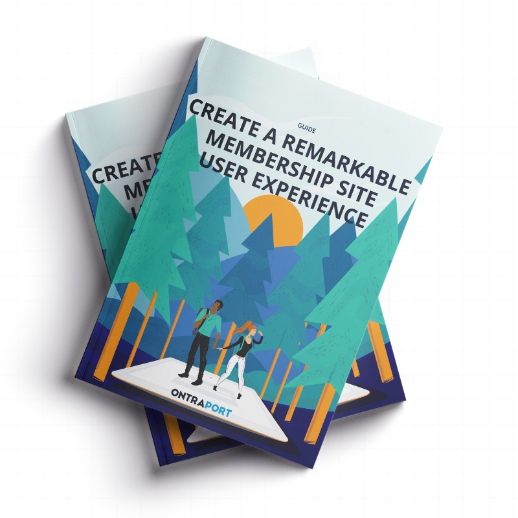 You can also release content at different rates to different membership levels. Members at the highest level can access all content at once, while those at lower levels can unlock content over time.
Marketing Analytics
How long does it take to convert a lead into a buying customer? How often do you make repeat sales from a particular customer? Which region do most of your leads come from? What is their age and gender? You can only answer these questions if you have good tracking and analytics software, and Ontraport provides just that.
You can see how your email campaign is doing with the click of a button, and the data that you receive is insightful and accurate. Use it to adjust your campaign and provide a better experience for your customers in the future.
Reporting
Each Ontraport user has access to Performance Mode, a module which shows you all reports from all campaigns in real-time. However, if you would like to see reports about ROI and UTM tracking you have to hold a Pro account.
You have 6 report modes to choose from and in each you can see a customer's journey through the sales funnel: Contact Flow, Funnel Conversion, Lifetime Value, Goal Conversion Rate, Goal Conversion Time and Goal Conversion Point.
Integrations
Integrate Ontraport with dozens of other apps to make it even more powerful. They are divided into categories. Under API helpers, for example, you can integrate with Apiant, Fuzed, Zapier and others.
Under Forms you can integrate with JotForm, ConvertPlus, Bloom Forms and more.
In Social Media you can integrate with Facebook, Twitter, Heyo and Viral Sweep.
Customer Support
Ontraport has many how-to articles on their website. They cover topics like business process automation, CRM, eCommerce, membership sites, referral programs and more.
There is a quick-start guide for new users, and live tutorials and training for those who may require it.
Users can join the Facebook community where members get answers from the team and experienced fellow users.
The customer support team is available from Monday to Saturday, and you can email them, chat or send screenshares.
Cons of Ontraport
One complaint that's mentioned from time to time is that the software is so detailed that it's hard to learn, or even use, all the modules. This is a good problem to have, because the more you use it, the more familiar you get with it.
The basic functions that you need, such as creating emails, campaigns and tracking, are easy to learn because the software has an intuitive user interface.
You may encounter complexity as you go deeper into email marketing and CRM, but there is a comprehensive knowledge base and excellent tutorials on the website.
The other problem with Ontraport is that it doesn't have as many integrations as some other email marketing software in the market. Before you buy we advise you to check to make sure it works seamlessly with whatever software you already have running.
Ontraport Pricing

There are 4 plans you can choose from:
Basic for $79/month, and you can send unlimited emails to up to 1,000 contacts.
Plus for $147/month, and you can send unlimited emails to up to 2,500 contacts.
Pro for $297/month, and you can send unlimited emails to up to 10,000 contacts.
Enterprise for $497/month, and you can send unlimited emails to up to 20,000 contacts.
If you would like to send emails to more than 20,000 contacts get in touch with the company for a quote.
Sign up for a 14-day free trial, no credit card required.
14-Day Free Trial
Do We Recommend Ontraport?
Yes, it is definitely one of the best email marketing and CRM software. It may take some time to learn how to carry out more complex tasks, but we suggest you do because it's this extra functionality that gives your business an edge.
User Reviews
George L says, "Once installed and configured, this program will be your best ally and I love that it lets me see many functions with a high degree of automation that will leave you amazed."
According to Donna M, "Very easy to learn and use. Their tutorials are Great. Very easy to train my staff on this program. Ontraport runs and has automated so many of the processes of my business and made my digital marketing seamless."
Yusheeka G is happy: "I really can't think of any downsides. I guess if I had to pick something, then it would be features that I hope to see developed soon, like integrations with RingCentral, and perhaps a few more automated triggers that aren't there yet. None of this stops the flow of my business though."