The 6 Best Email Autoresponder Software in 2022
Is email autoresponder software necessary for a good email marketing strategy? Read on to find out whether you need this type of software or not.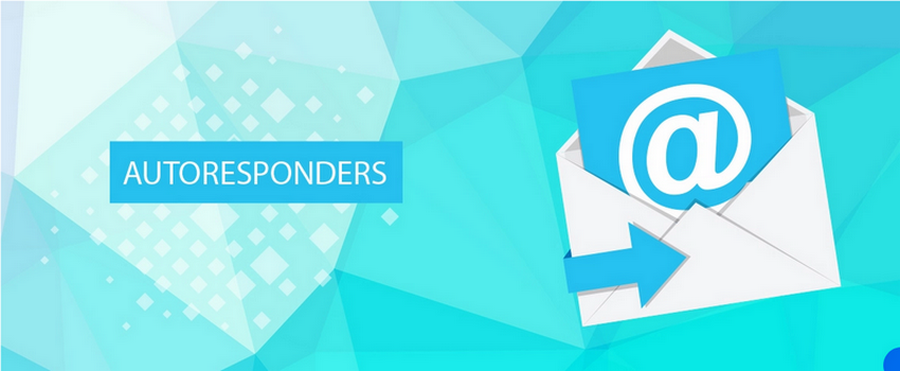 Email marketing is one of the most powerful ways to promote products and services. According to Oberlo, nearly 300 billion emails are sent and received each day.
From that same research, statistics show that it has a very high ROI – for every dollar you spend on an email, you can expect to make $42. Nine out of ten marketers use email marketing to send content organically to their contacts.
This tells you that email marketing is an effective tool. Unfortunately, it's not easy. Building an email list is just the beginning. After that, you have to craft smart, appealing and interesting emails and send them out.
You also have to manage the process. You have to respond to inquiries for more information, thank contacts who respond positively, nudge those who don't and much more.
As your email list grows, this will become a full-time activity. Hence the need for email automation and email marketing tools.
Autoresponders are a form of email automation that makes the process a lot easier.
---
What is an Email Autoresponder?
An autoresponder is an email set to go out automatically to the contacts on your email list. Autoresponders help you manage one-to-one, personalized communication with your contacts without spending too much time.
These emails are set up in sequences. A sequence comprises several emails that cover the sales funnel. This means that from the time a contact joins your list until they buy, they receive a sequence of emails that pushes them along the funnel until they convert into buyers.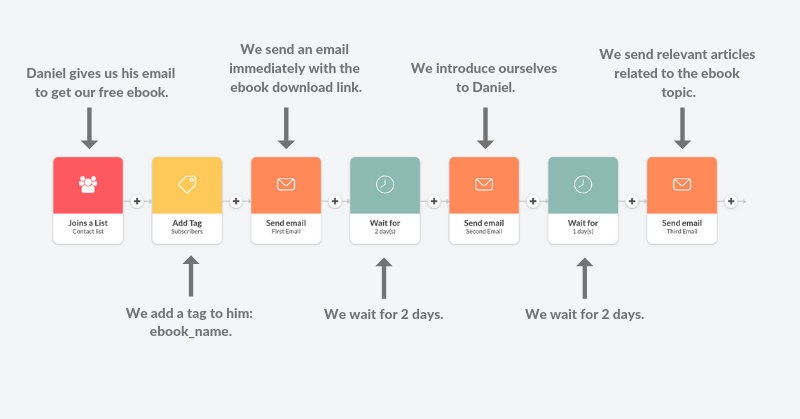 You don't have to stop there; set up another sequence of autoresponders for those you've already converted into customers informing them about relevant and new products and offers.
You trigger autoresponders using rules. The rules depend on the software you're using and the needs of your business.
One common rule, for example, is to set up an autoresponder so that a welcome email is sent as soon as someone signs up through a form on your website.
You can also set up an autoresponder to send a thank you email as soon as a customer completes a purchase. A confirmation email is another common type of autoresponder.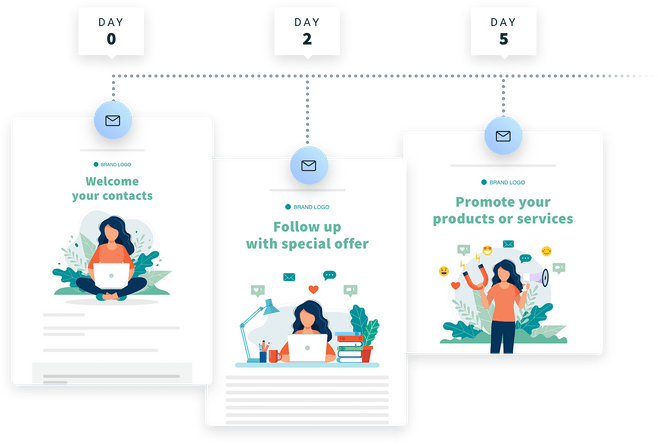 It's a good idea to set up rules to trigger emails in intervals, starting from when users subscribe. Design the sequence so that automated emails go out every few days.
When set up correctly, autoresponder emails are a powerful way to communicate with leads and grow sales.
One way to know whether your autoresponders will have the intended effect is to use A/B testing. You can test them against other types of emails to see which one gives better results.
You should be careful when setting up autoresponders. Don't overdo it, or your emails will end up ignored or spammed. All it takes is one or two ill-timed or off-target emails to put prospects off.
You can set up an email to welcome every new subscriber, but you don't need to set one up for everyone who responds to your newsletter. Deal with these emails yourself so that you can read customer responses and respond accordingly.
---
Why Do You Need an Autoresponder?

The most significant benefit of autoresponders is that they are time savers. You cut down the amount of work needed to stay in touch with leads while maintaining a personal touch.
You can communicate with prospects at scale in a strategic, staggered manner without overwhelming them.
These emails ensure that you get the right message to the right lead at the right time. Messages are prompted by user action, and because they are automated you can expect them to go out as scheduled.
There are several ways you can use autoresponder emails to benefit your business:
Give prospects a taste of your offering – some prospects need to see what your brand is about before buying.
You can use autoresponders to deliver valuable information. Not all autoresponders should contain a sales pitch. If, for example, you sell electronic kitchen equipment like microwaves, dishwashers, instant pots and so on, you can design an autoresponder email that goes out after prospects have bought, telling them how best to take care of the item they have purchased. It reinforces trust in your brand.
Use it to introduce relevant products – find out what prospects are interested in and send them more information through autoresponders.
Keep your brand alive – prospects have fickle memories, and if they don't see your brand for a time, they will forget about it. Use an autoresponder email to remind them of your offering and how it benefits them.
Send out personalized offers – segment your list to understand your prospects better so that you can send them offers that are likely to appeal to them.
Autoresponders can help you build lasting relationships with your customers. You'll not have to spend money to market to them after you convert them; just send them an email letting them know of your latest products, and because they've grown to trust your brand they'll buy.
---
What to Look For in Email Autoresponder Software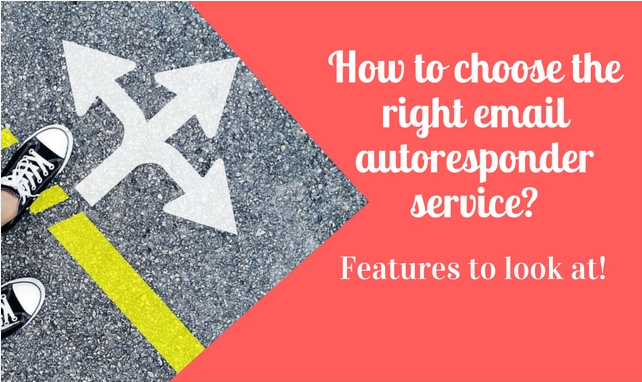 Email autoresponder email software, also called drip marketing software isn't created equal. Some offer a brief sequence of 4 or 5 emails that allow you to set up the most basic communication for a sales funnel.
Others offer unlimited emails and are more complex, and you can use them to set up detailed triggers that respond to various customer behaviors, shopping habits, products purchased, pages viewed and more.
Your goal should be to send the right message to the right contact at the right time, so that should be key in finding the best email autoresponder for your business.
Here are some standard features that the best email autoresponder software share:
Enhanced Automation Capabilities
It's all in the name; autoresponder software is all about automation. Whatever autoresponder you choose should be able to automate as many tasks as possible.
It should link to your CRM or customer database and pull data straight from there. This ensures higher accuracy, and nothing falls through the cracks.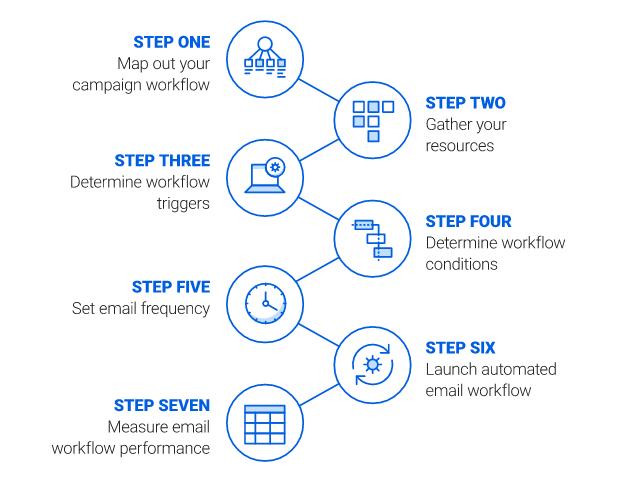 If your business is relatively new you may think you don't need much automation, but as it grows and your customer base becomes more complex you will need additional capabilities to cover all bases.
Some basic automation that must be included: welcome or onboarding emails, reminders (sales, deals, online events like webinars), abandoned cart, thank you emails, celebration emails (birthdays, anniversaries) and more. Choose software that allows you to send a web trigger, such as when a user clicks a link.
Email Editor
Crafting good sales emails is not easy. Formatting and customizing can be even more challenging if you don't have the right software.
The best email marketing tools have an email editor that's easy to use and has lots of features. You can customize emails to suit your brand using different fonts and colors.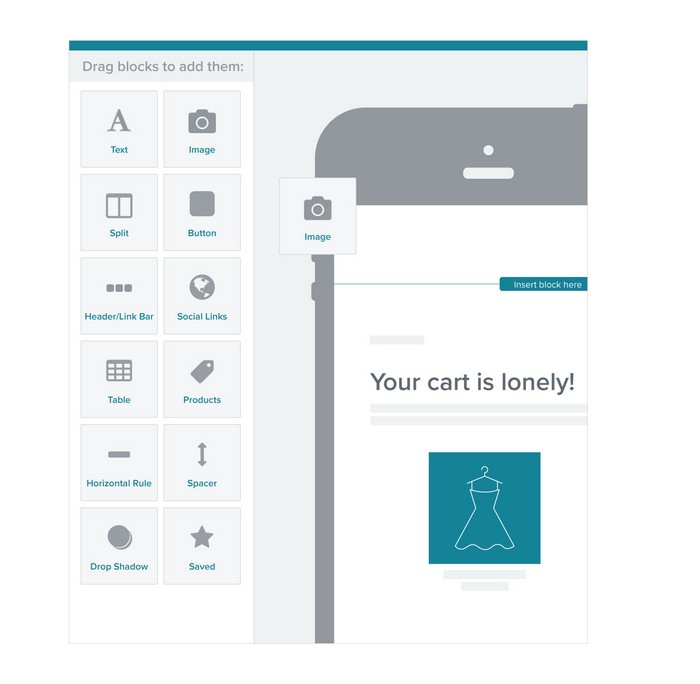 Choose software that allows you to add buttons and images, embed content and more.
A good drag-and-drop interface is a must so that you can create emails on the fly. It should be supported by a good user interface, have a short learning curve and allow you to view emails before they go live.
List Segmentation
Your list comprises users of all backgrounds – they are from different parts of the world, are of varying ages, are of different genders and have different needs.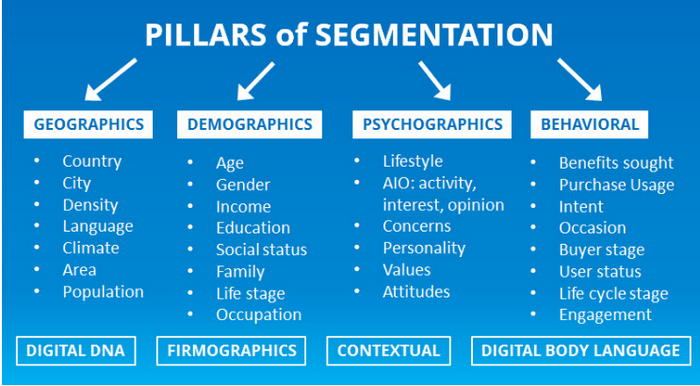 Segmenting is about putting forth products that customers actually want.
Look for autoresponder email software that allows you to segment your list and send out relevant messages at the right time.
Segmentation can depend on age, gender, location, previous purchases, website behavior, cart contents, weather and more.
Remember, how well you segment your list will depend on the forms on your website. If you want rich data, capture it right at the beginning and send it to a reliable CRM that integrates with your email responder.
Personalization
We receive them all the time; emails that address us by name in the subject line and directly talk to us. That kind of personalization is important, and it has an impact on how well your emails are received, but it's not enough.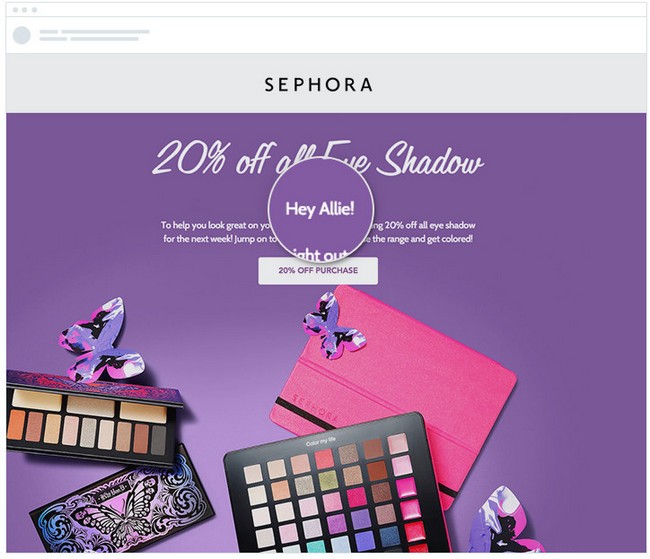 Good personalization includes product recommendations based on previous purchases, location, weather, etc.
As the summer months come to an end, for example, an apparel business can send out highly personalized emails to customers in the northern hemisphere telling them of their winter collection and vice versa for the southern hemisphere.
List Management and Reporting
As your business grows you'll need more features to manage your email list. You should see what is going on in each segment and highlight different metrics as required.
Don't buy cheap email autoresponder software with few features to save money, as you'll need to replace it when your list grows to thousands or hundreds of thousands.
It makes more sense to choose feature-rich drip marketing software that can scale.
Subscriber Limitations
Most email marketing software is priced according to how many contacts you have and how many emails you'd like to send each month.
As your email list grows, you'll need to move from a basic pricing tier to one that can accommodate a larger number of contacts. Look at how much this will cost you and whether your business can afford it.
Note: Subscriber limitations are one of the biggest drawbacks of free email autoresponders. You will not pay a cent, but what you can do with the software is quite limited.
---
Email Autoresponder Hacks That Work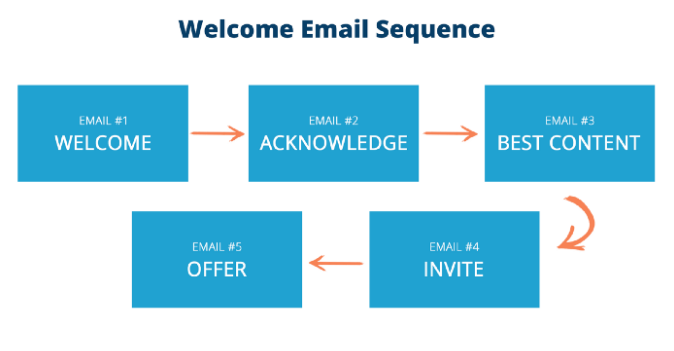 If you take the time to create a good autoresponder series you'll get excellent results. You need to sample your current customers to find out what sort of material they are most likely to read.
Social media is a good way to do this. Put out several posts on one or two social media platforms and see which ones get good interaction.
Use a good keyword tool to see what users are searching for so that you can deliver it right to their inboxes.
Here are additional hacks that will get your email marketing campaign to a great start:
Set a schedule for when each email in the sequence will be delivered. Try out several schedules to see which one gets the highest response.
Set up an "unsubscribe" button, but remember to ask users why they are leaving. It helps with future campaigns.
You don't have to recreate the wheel; copy email autoresponder series that have worked for successful marketers in the past. Make sure to adapt the series to your own brand.
---
Best Email Autoresponder Software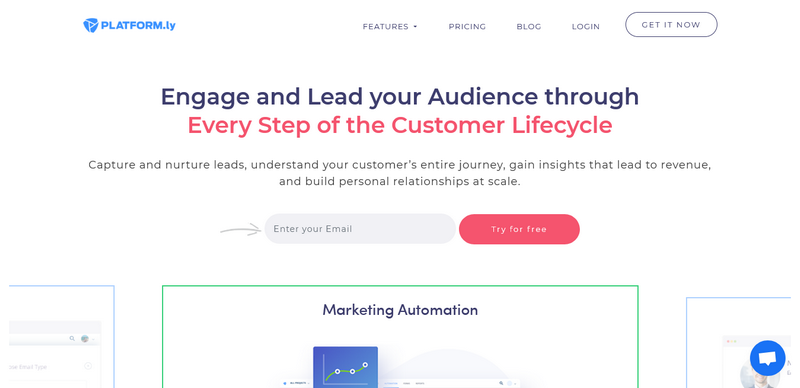 Platformly promises to help you send the right message to the right audience at the right time. It has an abundance of email marketing features, including an autoresponder that will make marketing campaigns worth your while.
Platformly is not your typical email autoresponder software. It has a sales CRM module that you can use to capture leads, nurture them through the sales cycle and close sales. All the while, you are able to keep in touch through emails and phone calls.
This drip marketing software promises a combination of simplicity and functionality that help you communicate with prospects easily.
 A raft of customization features allows you to build your brand and remain memorable to prospects.
Features
An easy-to-use drag-and-drop builder – if you know how to drag and drop, you know how to use Platformly. The whole software is designed with ease of use in mind. You don't need any technical expertise to create autoresponder sequences, and you can set up emails in minutes.
Platformly is especially adapted for eCommerce and SaaS, but you can use it for other types of online marketing.
Prebuilt templates – if you don't want to create your own templates, select one from those provided within the software.
Segmentation – you can send more personalized emails with the segmentation feature.
Trigger actions – create triggers based on user actions. You can personalize emails at scale.
Business dashboards – see the status of each lead and how far they are in the email sequence.
Feature-rich pricing – whatever tier you choose, you get all features offered by the software. The price only increases when you have more contacts.
In-depth reporting – the software has a rigorous reporting module that you can use to track email marketing campaigns.
Integrations – the software integrates with a variety of marketing applications so creating a seamless platform is easy.
Platformly is much more than autoresponder software. It's a complete sales and CRM software and email marketing platform with business dashboards, a detailed reporting function, link tracking, lead capture and a host of marketing automation features.
---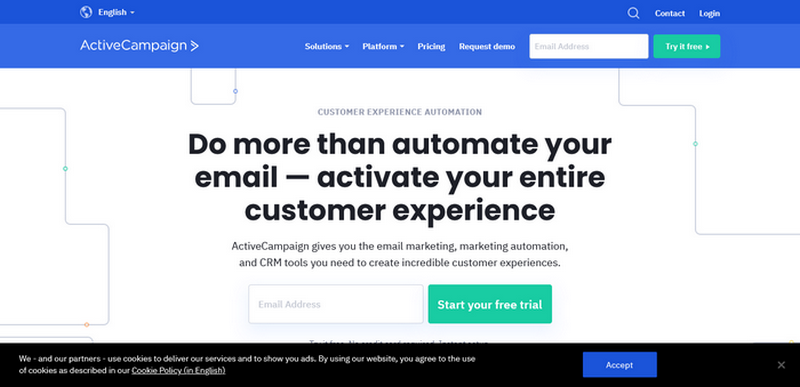 ActiveCampaign autoresponders include broadcast emails, triggered emails, targeted emails, email autoresponders, scheduled emails and more.
You don't need to know how to code to use this email autoresponder software. The drag-and-drop interface allows anyone to set up autoresponders within minutes. You can segment lists and customize messages to suit your audience.
The software allows you to set up autoresponders that respond to immediate triggers, like when a lead signs up. You can also set up emails to go out after some time.
The reporting module allows you to see which campaigns have been most effective, and you can save them and re-use them in the future.
Features
Tagging – these are pieces of information that you add to a contact to refine segmentation. They include things like where the lead signed up from, what products they are interested in and which of your previous emails they opened.
Visual email editor – the drag and drop interface allows you to set up sequences in minutes.
Integration – the software integrates with several CRMs, allowing you to draw contact details directly from a database.
Tracking – see whether your emails were opened, read and whether prospects clicked on links.
Campaign Builder – this feature makes it easy to set up triggers.
A variety of campaigns – if you feel that an autoresponder doesn't suit your business you can use another type of campaign. The software has a Standard Campaign, Automated Campaign, Split Testing Campaign, RSS Triggered Campaign and a Data-Based Campaign.
---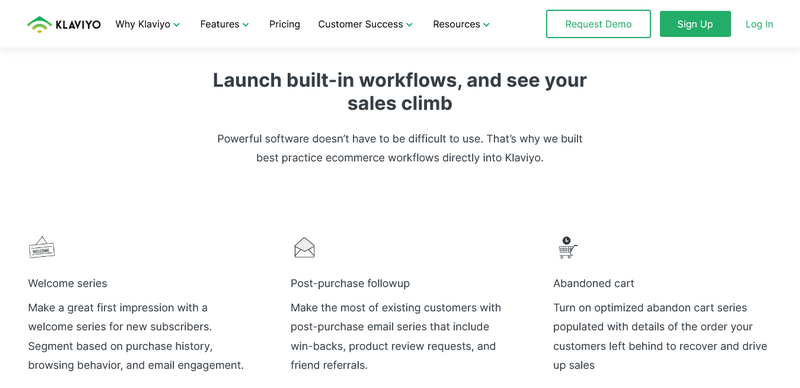 Klaviyo's autoresponders come recommended for eCommerce. You can use it to create customer journeys for repeat customers or first-time shoppers. It has a simple user interface that anyone can use.
Features
Prebuilt autoresponders – you don't have to create emails from scratch. Choose a template and customize it to suit your brand and campaign.
Personalization and segmentation – you can personalize for regular buyers, returning customers and first-time shoppers.
Conditional Split – this feature allows you to split the welcome email into customers who have bought before and first-time buyers. You can give bigger discounts to first-time customers to encourage them to stay.
A/B split testing – test each email before you send it out.
You can use it to set up shoppable product recommendations within emails.
It provides lots of segmentation options and a wide variety of triggers.
This email autoresponder software is recommended for eCommerce and integrates with WooCommerce and Shopify. It also has great features for drop-shipping businesses.
You can save images and videos to use in future emails.
Klaviyo is free for up to 300 contacts and 500 emails.
---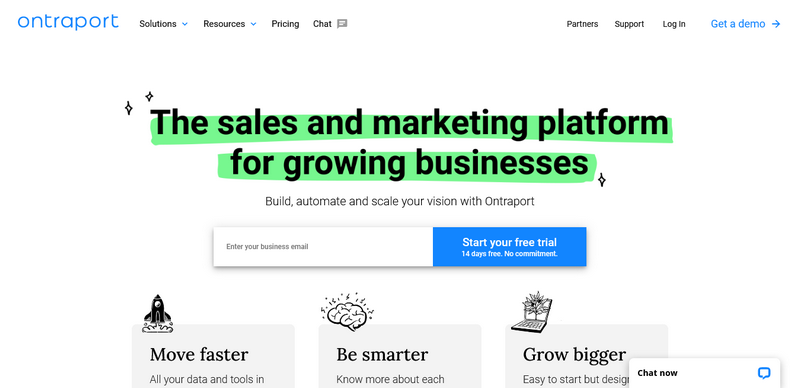 According to Ontraport's email marketing service, their CRM module is designed for customer relationship management rather than just email marketing.
Different sales team members can see updated information and add notes and new information to keep everyone up to date.
Ontraport prides itself in its ability to gather and integrate more data into your emails. Its forms are extensive and allow you to capture lots of important information for segmenting your list.
It's easy to use and allows you to set up email sequences in minutes. Apart from sending thousands of emails per month you can also use SMS and calls.
Features
Predesigned templates – no need to start from scratch if you don't have the time or don't need a completely original sequence. There are many existing templates to choose from.
Drag-and-drop template – you can create emails in minutes and don't need to know how to code.
Postcard feature – instead of sending a regular email for to thank customers or for birthdays, you can send them a personalized postcard instead.
Data collection – use Ontraport's forms to collect detailed data that will help you better segment your list. The software also gathers data on page visits, links, sales, call conversations and more.
Dashboards – you can see all customer data on one screen with this email marketing service. Find out where they are in the email sequence, how many of your other emails they opened, whether they clicked on the links and so on.
---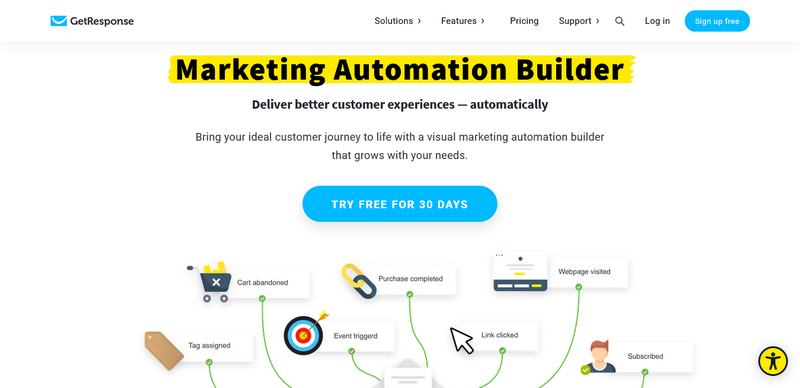 GetResponse promises to help you automatically deliver a better customer experience through automation.   It provides a visual marketing builder that you can use as your business grows.
You can set up automations when a user subscribes, and also by web pages visited, completed purchases, clicked links, abandoned carts and even web events triggered.
The software allows you to assign tags to contacts and you can use this additional data to segment your list further.
Features
Engagement Scores – use these to monitor how much a lead interacts with your emails. It tells you the probability of converting them.
Unlimited tags – set up an unlimited number of tags to drill down into your data as much as possible.
Drag-and-Drop message editor – quickly create and customize emails. You don't need to know how to code.
Previews – you can see your designs before you send them out.
---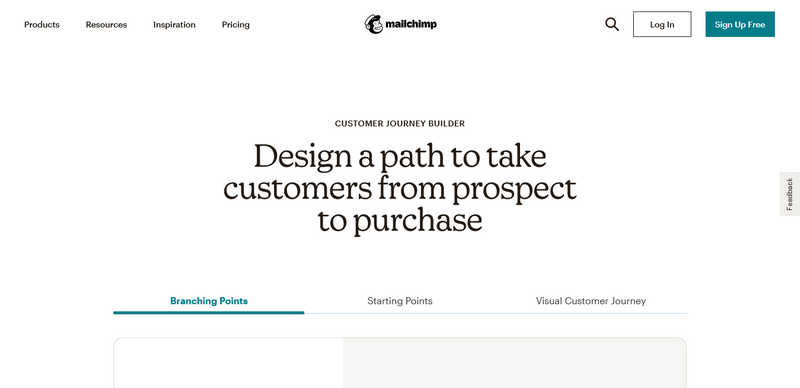 MailChimp makes automated email marketing easy by sending the right email to the right person at the right time. It promises to help you add the personal touch without the personal effort.
The email autoresponder software determines the best time to schedule emails, so you don't need to worry about when to send out emails.
You can send customers a summary of their purchases and account activity using an autoresponder email.
Features
Personalized customer journeys – you can capture data on unique customer behavior and use it to customize their email sequence.
Postcards – these help you stand out, and you can set them to go out just like autoresponder emails.
Autoresponders for special occasions – never miss a birthday, anniversary or any other special day. The software will automatically send out emails or postcards on your behalf.
RSS-to-email – share your latest information directly with leads using this feature.
Dashboard – you can see exactly where you are in your campaign on a single dashboard.
---
Conclusion
Email autoresponder software is not an option in a growing business. It saves you time by doing all the work for you, and the variety of available automations means you can do much more with your data.
There is a lot of marketing software in the market, and you may be tempted to choose one just because it's cheap. Always remember that you get what you pay for.
All the software discussed here is feature-rich, easy to use and well supported. However, if we had to choose one, we would go with Platformly.
It comes with lots of features, and one of the best things about it is that unlike other software in this category it is very well supported. There is always someone standing by to help you. It also has a friendly user interface, has excellent business dashboards and provides detailed reports.