10 Best Benchmark Email Alternatives
Hi there! So you are looking for a Benchmark Email alternative!
Benchmark has users worldwide and by their reviews we found some flaws like:
Email templates designed by Benchmark take a lot of time to load.

Benchmark does not provide enough feedback as compared to other email marketing tools. In short, it has a weak support system.

Pricing is another major issue that may stop users from choosing Benchmark Email.
There are many alternatives available for email marketing services that provide better options to Benchmark Email.
In this blog, you will find Benchmark alternatives that are free from these flaws. The software discussed in this blog are tested and verified by professional email marketers so you can trust our selection.
We hope all the information in this post will help you to choose the best software and make your email marketing easy and efficient.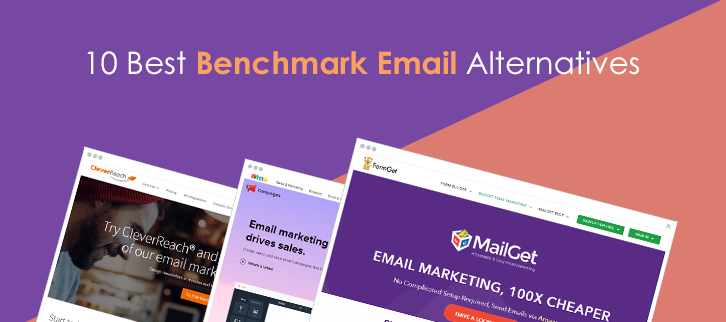 You may also read:
A quick glance at top Benchmark alternatives
Here are the top 10 Benchmark Email Alternatives in detail:

---
Platformly is a leading tool that allows you to leverage email marketing in order to grow your business. It is easy to use with lots of features, and is affordable. With this software you can engage your contacts at every step of the customer life cycle allowing you to accelerate business growth.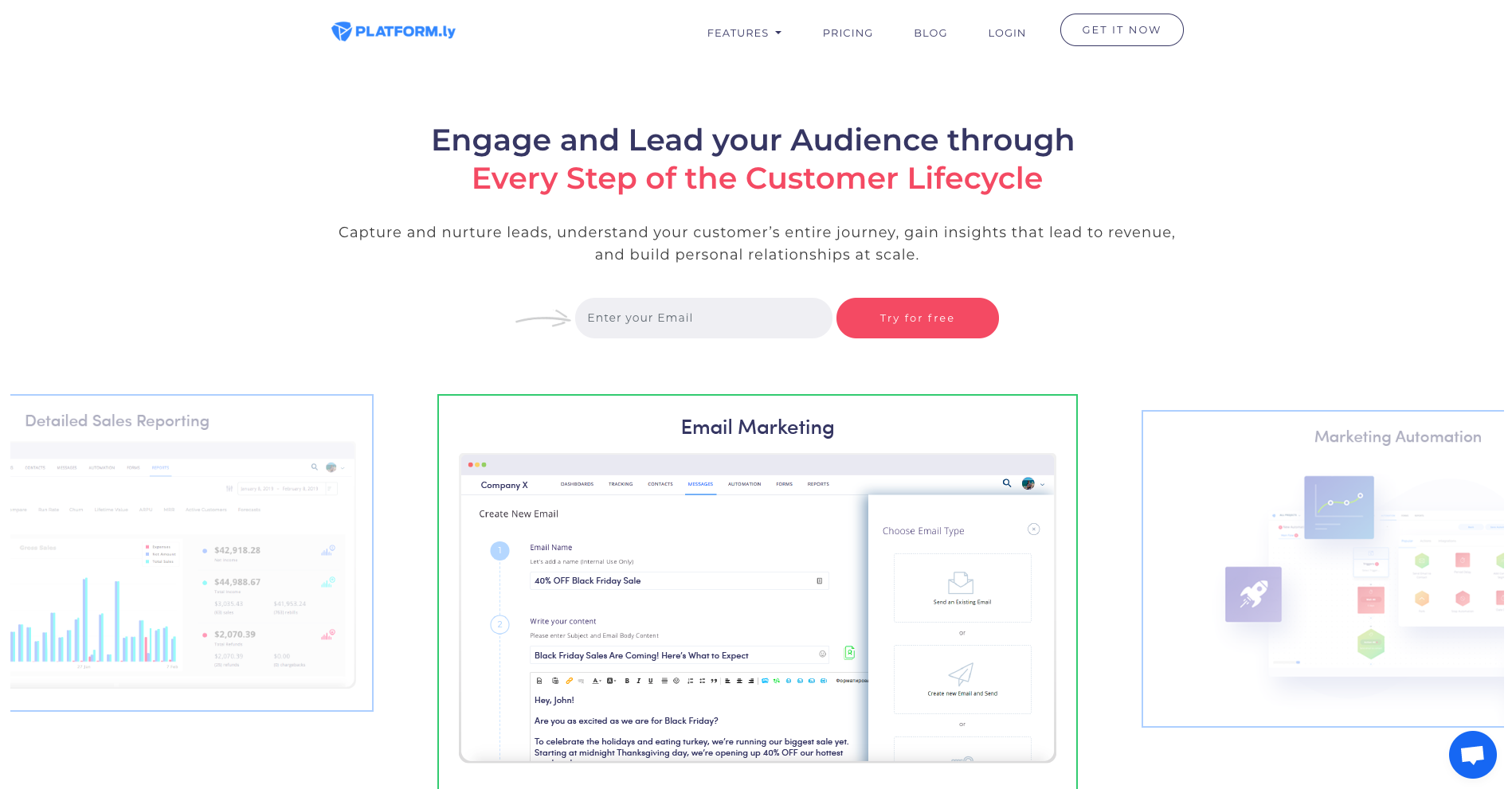 Features of Platformly
Real-time dashboards give you live, actionable insights into your business.
Platformly provides advanced reporting. You are able to see full sales reports, link tracking reports, email reports, event reports and advertising reports.
The Platformly Tracking System is a powerful feature that tells you all the vital metrics you need to know for your business. You can see how much you are making from each channel.
Platformly helps identify key relationships through the powerful CRM module. Your sales team can use the lead scoring system to ensure they never lose any leads.
The software works with a variety of apps including Google Analytics, Zapier, JotForm, EmailListVerify, Facebook, and many more.
Rich Profiles Data can help you uncover important information about each customer on your contact list so that you can create even more targeted emails.
Plaftormly offers full functionality while maintaining simplicity; creating targeted, impactful emails takes only a few minutes.
Pricing
You can choose from 3 available plans: Starter Plan is free, Growth Plan starts at $49 and Unlimited Plan starts at $99.
Each of these packages comes with a 15 day free-trial and a 30 day money-back guarantee.
Each plan has a slew of useful features including dashboards, domains and integrations. Growth and Unlimited Packages have webhooks included.
There are no set-up fees, no contracts and you can cancel your subscription at any time.
---
MailGet Bolt is an email marketing platform which is designed to send emails in bulk.
It is an affordable Benchmark Email Alternative because it provides you with an easy and quick email service.
In order to give high email deliverability and higher open rates, MailGet Bolt uses exemplary features like list management, email scheduling and more.
It provides you with the functionality to integrate with other apps like Google forms, Formlets and FormGet via Zapier which all which help your business grow.
It is simple to set up and doesn't require any technical or programming knowledge.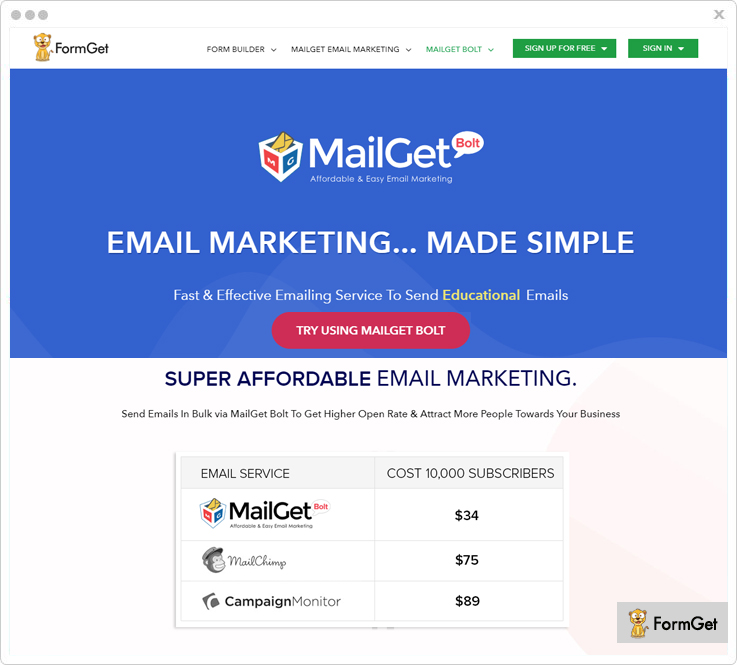 Features of MailGet Bolt
Drag and drop email builder makes eye catching email templates which can be created in a few minutes. These templates open in mobile and IPAD as emails created using MailGet Bolt are completely responsive in nature.
Email Inbox Preview helps you to see the preview of your email before sending it, which increases response rate.
List cleaning provides you the opportunity to remove unwanted emails from the contact list so that delivery rate and subscription rate increase.
It offers drip email, a series of emails that are sent to the customer automatically on a scheduled date and time.
Pricing
In the Starter plan, you can send email to 2500 subscribers for $9/month.
Under the Rookie plan, you can email 5000 subscribers for $19/month.
Pro plan costs $34/month and allows to send emails to 10000 subscribers.
The advance plan costs $49/month and can be used for 15000 subscribers.
---
MailGet is a simple and reliable email marketing software that helps you create beautiful email templates in a breeze.
MailGet has many features, like email scheduling, email tracking, and more.
It provides us with an Autoresponder in which automatically generated replies are sent to customers. For example, if a new contact appears in your email list then automatic welcome emails are sent using the Autoresponder.
The best thing about is that it's 100 times cheaper than other email marketing software and its set up is very easy and accessible.
MailGet also connects with 50+ SMTP including Postmark, Mandrill, Dyn, Spark post, Amazon SES and others.
MailGet is the only tool which resolves the problem of spam and bounce created by SMTP.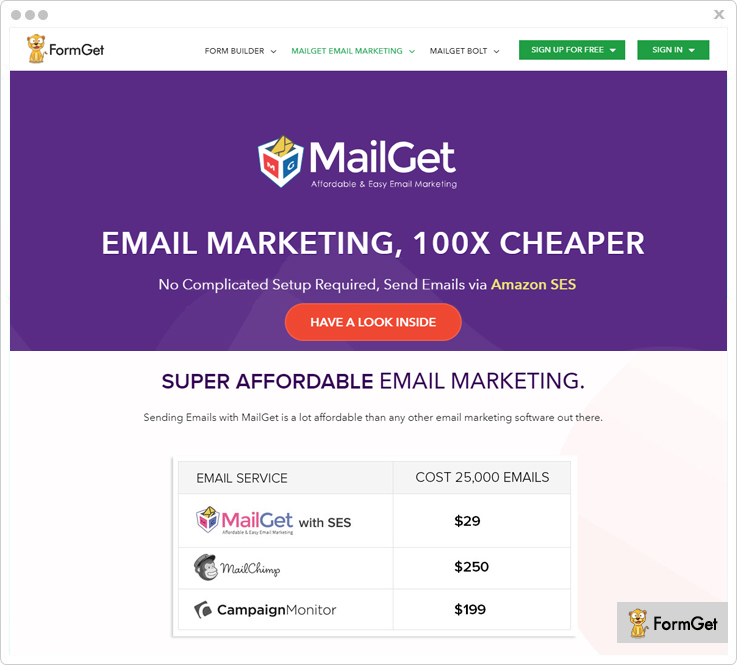 Features of MailGet
It can add multiple SMTP help to send your emails and increase sending deliverability when there are so many senders.
With the unsubscribe button any customer can remove himself from your email marketing list and stop receiving emails.
You can add a subscription form to your website and also share a link of your forms on the social media to collect leads.
Google Analytics integration help to analyze from where traffic comes to your site, how subscribers use your website and you can use them to track website performance.
Pricing
Starter plan allows you to send emails to 5000 subscribers for $5/month.
For the Rookie plan, pay

$29/month to send email to 25,000 subscribers.

In the Pro plan, you have to pay

$49/month to send emails to 50,000 subscribers.

Advance plan is used to send emails to

100,000 subscribers and costs

$79/month.
---
Mailjet is a handy solution for the fast-moving team, as it works on email as a squad.
Using its email builder, you can easily create beautiful emails and send to the users.
Compared to many other email marketing software, Mailjet provides high deliverability and sending speed.
It allows users to send the right message to the right person at the right time using the scheduling feature.
MailJet has subscription forms which can be added to your website and also shared through links on social media to collect leads.
Users can contact any of the 7 data centers of Mailjet which are located in France, UK, US, Germany, and Belgium.
Features of Mailjet
MailGet creates a workspace where team members are given specific roles and permissions regarding what they can access and operate.
Through contacts and segmentation you can collect user data and arrange it in subgroups so that it is simpler to send emails according to responses.
Personalization creates mail by inserting users' names which makes them feel appreciated.
Email Tracking can easily track the send, click and open rates of your campaigns.
Pricing
The free plan offers

6000 emails per month and allows to send 200 emails a day.

The Basic plan contains all the essential features, and you can send 30,000 emails a month for $8.04.
Premium offers all the advanced features, and can be used for 30,000 emails. It costs $14.96/month.
For higher volumes you have to

contact the Mailjet sales team.
---
VerticalResponse is another Benchmark Email alternative that you can use to build, send and track send emails within minutes. The emails look amazing on all devices. It can be used to build landing pages and view reports on every email sent.
Using VerticalResponse as a Benchmark Email alternative provides you with a ready editor.

The software allows you to send automatically generated emails to customers in case they missed your original email.
You can easily get to know the subscriber to whom you have sent an email. VerticalResponse provides information about their emailing device, Geolocation, country, IP and more.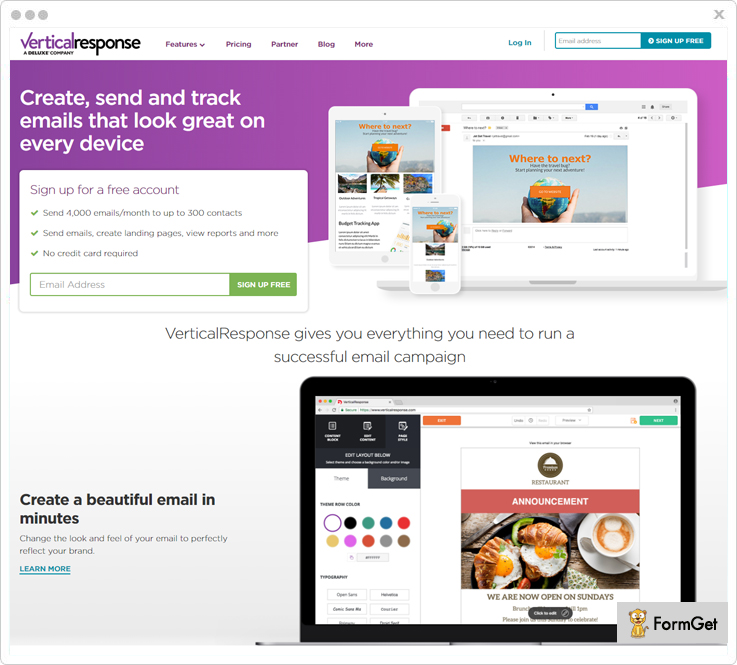 Features of VerticalResponse
You can use A/B Testing to easily determine which subject lines are getting more results and catch the interest of your customers.
The test kit shows you a preview of your email before sending it to the customer.
Survey features of VerticalResponse help you develop mobile-friendly emails which open in other devices like IPADs and mobiles.
In VerticalResponse you have a feature to change the brand name of your email.
You can have a professional look to your brand name.
Pricing
Under the Free plan you can, send up to 4000 emails a month to 300 contacts. The offer never expires.
Basic plan is best for small businesses. It can be used to send unlimited emails monthly for $11.
Pro plan is for

businesses that need automation and advanced campaign reporting. It costs $16/month.

Pro+ costs $196 and is perfect for those who need advance guidance.
---
SendinBlue makes marketing campaign automation very easy.
It can be easily accessed because no coding is required. It can be used to create an attractive email through a drag and drop tool which is one of its most important aspects.
The software provides you with 24×7 customer support and experts to help you with all types of queries related to emails: unsubscription, link, tracking and more.
Its headquarters are located in the US and they have offices in France and India.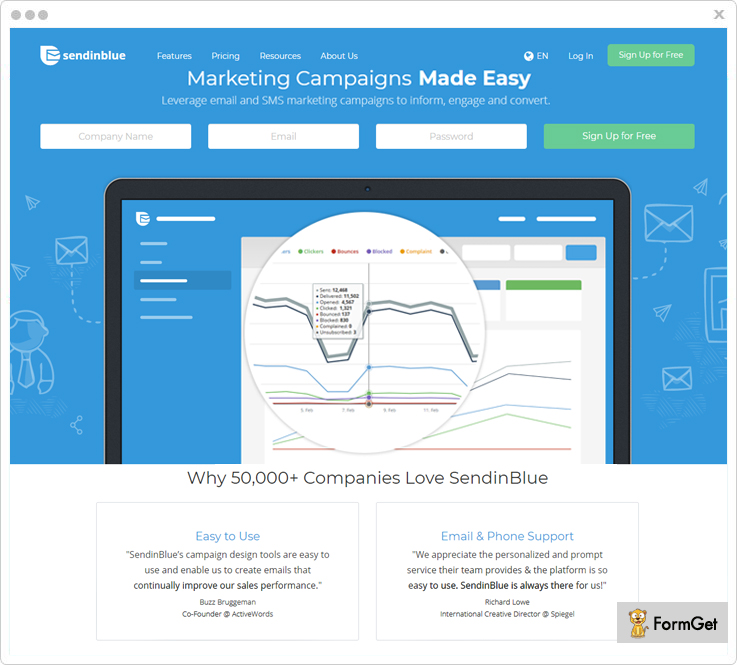 Features of SendinBlue
The SendinBlue report tracking tool tracks click and open rates.

In spam and inbox testing, you can add contacts to the test list and send them a test email before sending to the whole contact list. You can then check whether emails are sent or become spam using the deliverability test.
Deliverability checker in SendinBlue checks whether the email is sent to the customers' inbox or not.
Contact Management consist of 3 simple steps: advanced search, list management and dynamic lists. Customers are filtered, grouped and sent automatically updated emails.
Pricing
In the Free plan, you can send 300 emails to unlimited contacts in a day.
Lite plan is best for new marketers; they can send 40,000 emails per month for $25.
Essential plan suits businesses that are growing and can send 60,000 emails for $39/month.
The Premium plan is perfect for marketing pros and can be used to send 120,000 emails for $66/month.
Enterprise is a custom plan that you can use to send 350,000 emails a month.
---
Campaign Monitor delivers emails that cannot be ignored by customers. Its email builder tool makes an appealing email template which looks fabulous on each and every device.
Marketing automation in Campaign Monitor designs timely and applicable emails which are sent to the customer depending on their response to the first email.
One of the most distinctive features of this BenchMark Email alternative is that it has a personalized email sensor. If the email is opened by the subscriber you can send more emails, and if not you can send appropriate follow-ups.
The software is highly efficient and profitable because it can also be used to create striking newsletters.
Around 250,000 businesses trust Campaign Monitor to promote their products and services.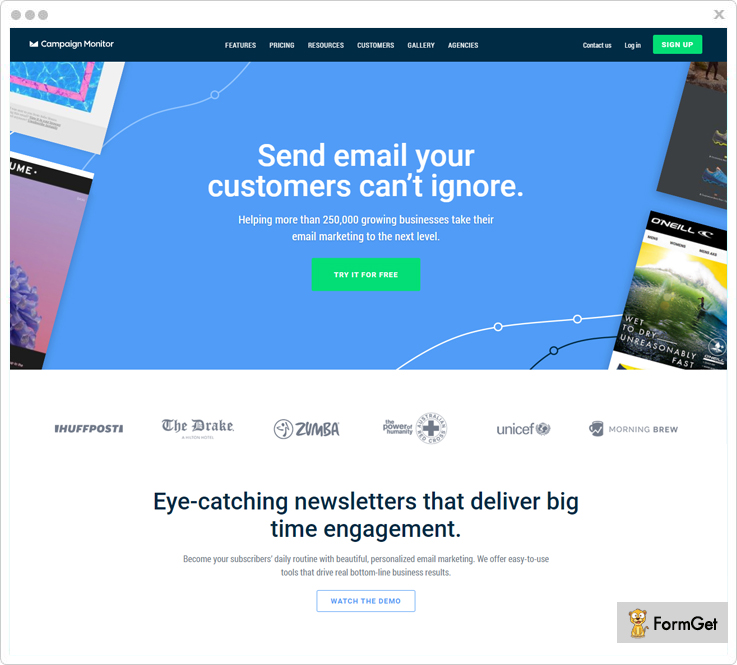 Features of Campaign Monitor
You can set specific dates and times for your email campaign by the email scheduling feature.

Apps and Integration feature allows you to connect many apps and integrations.

You can add sign-up forms to capture more leads. These forms can be embedded or shared on different websites.

Marketing Automation feature helps to create "personalized customer journeys" by sending emails which are aptly designed, when they are needed most.
Pricing
Basic plan provides all the core features and allows you to send emails to 2500 subscribers a month at $9.

Unlimited plan allows you to send unlimited emails at $29/month.
Under the Premier plan, you get all advanced features and can send unlimited emails for $149/month.
---
StreamSend provides a platform for powerful email marketing to help small, medium and large businesses.
In it, you'll find an abundance of pre-designed templates and a slew of useful features.
It has a tracking feature which you can use to track your sent emails, seen videos etc.
It has proved its reliability in over 100,000 businesses including Hallmark, Thomson Reuters and many others.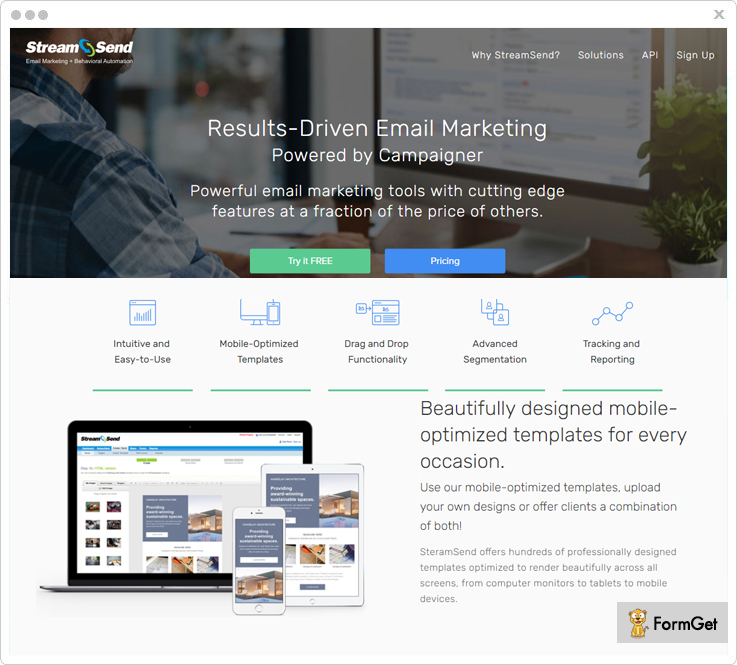 Features of StreamSend
Email workflows automation feature makes it easy to send emails to targeted subscribers at scheduled times, dates and events.
You can send emails to subscribers no matter what type of email service they use.
Intuitive reporting keeps you on top of your campaigns.
Dynamic RSS feature generates automatic emails for your new blog.
Pricing
StreamSend's cheapest plan allows you to send email to 25,000 contacts for $149/month.
Its medium plan costs $299/month and can be used to send emails to 50,000 subscribers.

If you have a list with 100,000 or more contacts you will pay $549/month.
---
Zoho Campaigns can create, track and send email campaigns that build a solid customer base. With it, you can target the right audience and increase reach.
It can connect with other business applications like Facebook, YouTube, WordPress and others to grow your business.
Zoho is awesome because it provides us with the ability to run campaigns on mobile devices.
The software lets you make an easy analysis of sent status, open status and read status of all emails.
You can create your own integrations using developer API and manage your email list.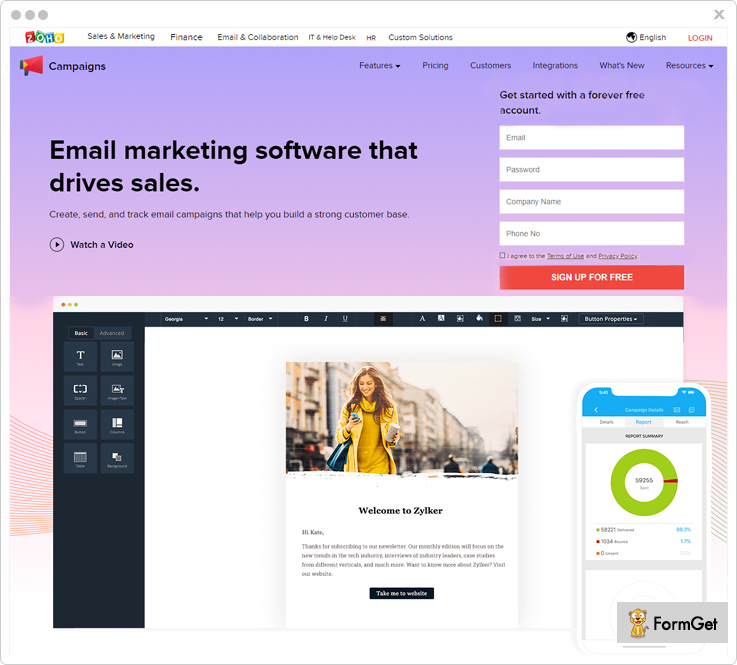 Features of Zoho Campaigns
Pre-designed templates in Zoho provide you with variety for all occasions.
Autoresponder automatically generates emails replies.
If you want more leads you can use consent management to keep customer data updated, and send emails on a regular basis to those who show interest.
Email Policy will enable you to increase email deliverability and decrease the rate of email going to spam.
Pricing
In the Zoho basic plan, pricing is based on how many emails are sent.
1 – 500 emails are sent for $3.
501 – 1,000 emails are sent for

$

6 and so on.
In Subscriber-based plans, pricing is based on the subscribers.
Emails can be sent to 1 – 500 subscribers for

$

5.

Emails can be sent to 501 – 1,000 subscribers for

$10 and so on.
250 email credits for

$

6.

500 email credits for

$

12 and so on.
---
ConvertKit helps to grow your online business by providing you the tools which are necessary to build an email template.
The email automation tool is very simple; you can use it to send targeted content at right time to the customer.
Email tracking in ConvertKit is easy and provides all information related to open and click rates.
Its integration partners include Instapage, SumoMe, Zapier and others.
Beginners in email marketing can easily execute ConvertKit.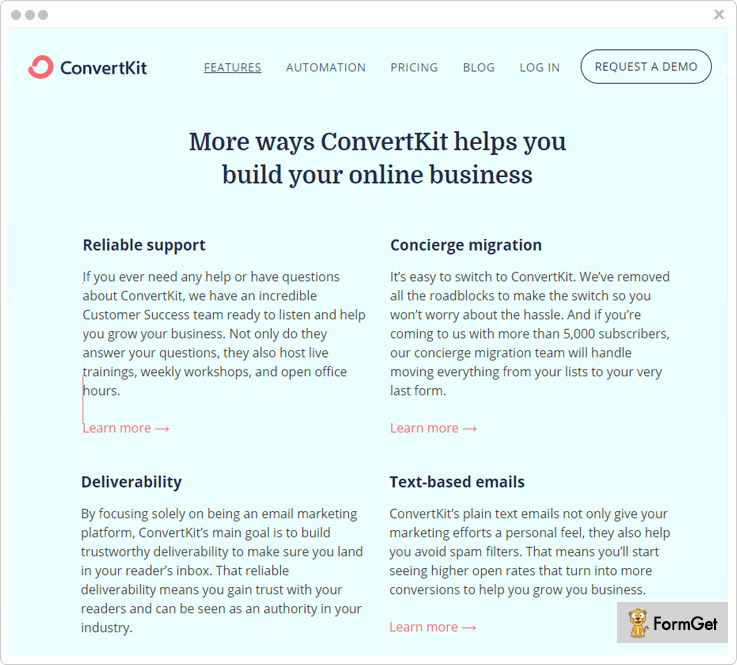 Features of ConvertKit
Problems with ConvertKit can be resolved by customer support.
Concierge Migration feature helps to handle hassles that come about when switching plans after a subscriber changes subscriptions.
Slack community – ConvertKit users can easily connect with other users.
Forms are 'easy- to- embed' and users can easily send them to subscriber and make them regular customers.
Pricing
The starter plan of Convertkit costs $29.95/month and you can send emails to up to 1000 subscribers.
The next plan costs $49/month and can send emails to up to 3000 contacts.
If you want to send emails to 5000+ subscribers, you have to pay $79/month.
---
Conclusion
As we come to the end of this post, we hope you have been able to compare the features and pricing of the different software discussed.
Benchmark Email is a good email marketing software, however, it has weak customer support and buffering issues. All the ones discussed here are excellent. Hope you found the best Benchmark Email alternative!
Thank You.