10+ Best Affordable Email Marketing Services & Software
"Use cheapest email marketing software & increase your ROI in a matter of time! "
Email marketing is one of the most powerful marketing strategies for any business in today's world. It is that marketing strategy that enriches business communications, target specific markets, drives conversions, open platform and is both environment-friendly and cost-effective technique.
For several years, email marketing when compared to other marketing techniques has generated the highest ROI for marketers. For every penny spent, it has been able to generate around $40 of ROI.
How does it work and what are its uses?
---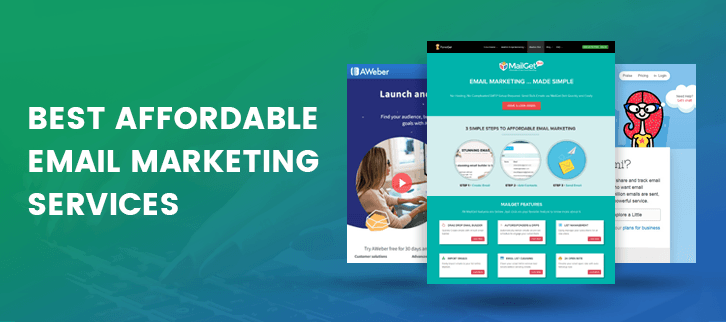 ---
There are companies that provide this particular services & software. You just have to choose according to your budget and requirements the best service provider. Hire any service and start sending emails to your target audience.
Uses –
Personalize every message using rich customer's data.
Track, test and optimize emails performing in real time.
Segment your subscriber's list.
Autoresponders and drip emails can be send.
With email marketing retain potential clients while targeting new markets. Give promo codes to collect discounts or any welcome notes in just a few clicks. Isn't it's amazing!!
That's why this article contains some of the best email marketing services which you can use for your work. They all are under budget & easy to use in such a way that even a non-techy guy with a little bit of guidance can also use it like a pro!
All they have to do is to choose the best tool according to their needs & transform the growth of their business at a high rate!
Also read our popular posts:-
---
Have a quick review at various affordable Email Marketing Services
---
1. MailGet Bolt
MailGet Bolt is one of the most effective email marketing service providers that lets you create all the attractive emails quite easily through the drag and drop builder which has been incorporated into the software.
An additional advantage with the MailGet Bolt is the SMTP feature which is inbuilt in the software whereas in other software you will be required to separately buy the SMTP feature. It also contains multiple features like autoresponder which are pre-framed mails and are sent when a customer fills up the form on your site.
---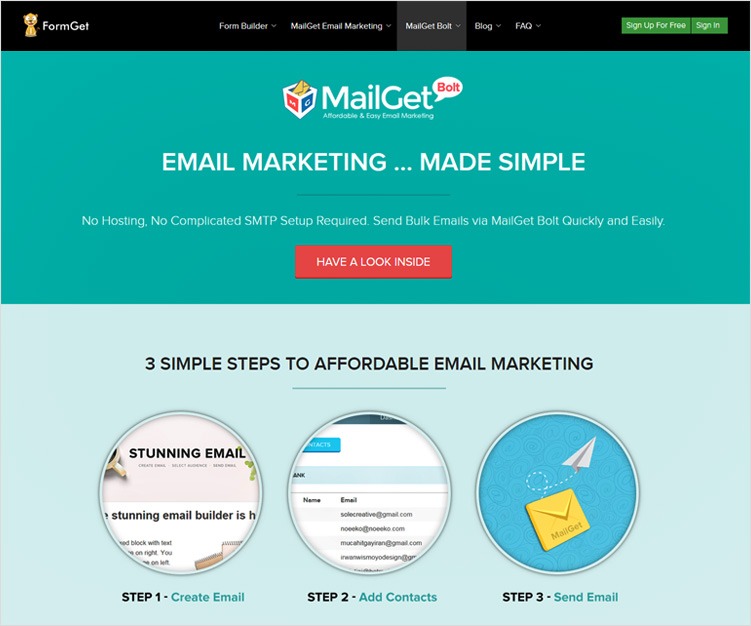 ---
Pricing:-
It has a Starters plan which cost only $9 on monthly basis. After purchasing it, you can send emails to 2500 subscribers in a single click.
At $19/m, you will be able to send unlimited emails to 5000 ids without any issue.  Also, you will get the live chat support with it.
In order to send emails to 10,000 ids, you have to pay only $34 per month & you will also get to use its auto-follow-up feature.
For subscribers ranging from 15,000 to 200,000, the price range also varies from $49/m to $439/m respectively.
Awesome Features:-
The MailGet Bolt has an exclusive feature termed as the email list cleaning which removes the non-desirable email ids from the list.

The software allows you to the email marketing effectively thereby always keeping you aware of the progress.

You can easily add subscription forms to your website and increase the number of subscribers to your business.

There is an auto follow up rule that will help you to double the open rate of your emails that you will send.

The system also enables you to import emails within the software.

Another feature is drips by which you can send multiple emails to a number of customers at a desired time slot.

Segment the contact list as per the customer ids, compartmentalize them as per the requirement.
I have tried and tested all the the softwares and it is my observation that MailGet Bolt is providing the best OPEN RATE of 25% with accurate results and at an economic price plan which is starting at $34/m for sending UNLIMITED EMAILS.
---
2. MailGet
MailGet is an email marketing service that sends the email by integrating standard Amazon SES as an SMTP. It also supports 5 more SMTPs Mandrill, SendGrill, Postmark, Mailgun and Mailjet. Amazon SES is a very cost effective mode of sending emails at 2,000 messages per day for free. Once you have crossed 2,000 messages, you have to pay $0.10 per thousand messages, the current Amazon SES rate.
Some of the benefits of using MailGet include you get the best delivery rate. The delivery rate is much faster than any autoresponder, excellently designed templates and multiple SMTP options.
---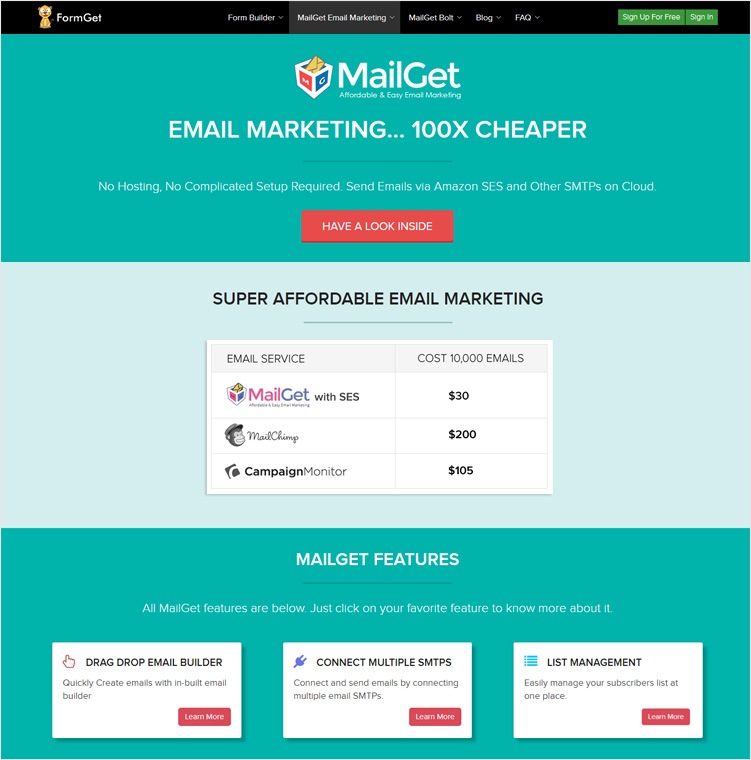 ---
Pricing:-
This product has a starters plan costing only $5 on the monthly basis through which you can send emails to 5000 ids.
When we talk about the Rookie plan, you will get to send the emails to 25,000 subscribers at a time. Also, you will get to create unlimited monthly campaigns for your work.
The Pro package costs $49/month for 50,000 subscribers facility.
For subscribers ranging from 100,000 to 1,000,000, the price range also varies from $79/m to $672 respectively.
Commendable Features :
Create Email – You can create an email for broadcast to sequence using the drag and drop email builder, basic text editor, and custom code (HTML) editor.
List cleaning & validation – It provides email cleaning, verification and validation service to remove spam, invalid, bounce and suspended emails from your contact list.
Autoresponder – automated emails to welcome your new subscribers.
Add Contacts – you can add contacts by pasting them in the box. Your new contacts will automatically synchronize with your desired list through API.
Drip emailing – set drip campaigns and save time by automating your email marketing.
Customize signup forms and add them to your blog or website.
Connect SES – you have to configure the Amazon SES properly.
---
3. ActiveCampaign
ActiveCampaign facilitates the growth for small to mid-size businesses. It is an all-in-one marketing platform which comes with the best user interfaces for building automation campaigns and enjoyable to use. Apart from scrolling customer information from a small window and the basic reporting, the email marketing tool is a great tool to use.
If you are running a small firm and want a powerful tool, then ActiveCampaign is your best option as it provides you with the tools for keeping track of clients in the sales process, managing existing contacts, and getting new customers.
---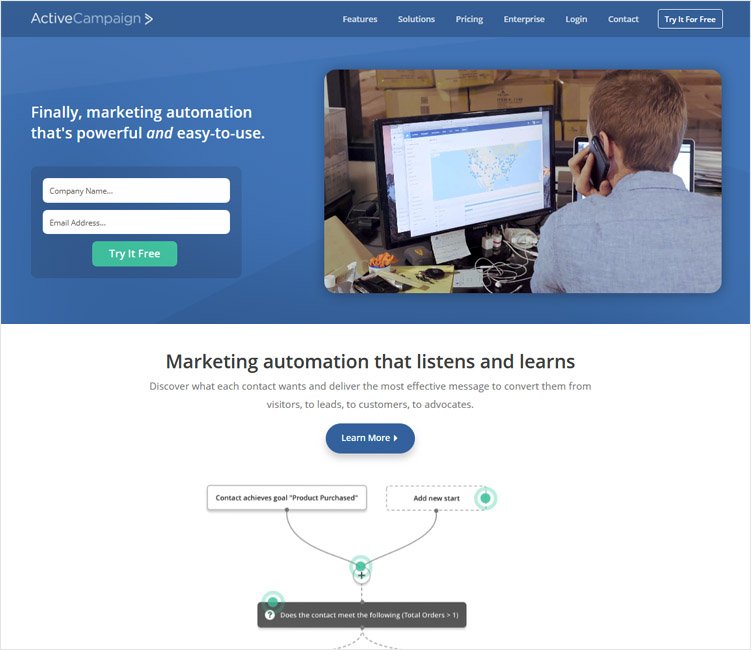 ---
Pricing:-
Their plans include Lite which comes for $9 /month, Small Business which costs $49 /month, and Enterprise that costs $149 /month.
Notable Features :
Zapier Integration – it integrates with more than 120 different tools through their Zapier integration. You will need to use a paid Zapier subscription to be able to access certain integrations.
Email Marketing – you can send design beautiful email campaigns, newsletters, and keep in touch with your customers.
Marketing Automation – you can automate your marketing channels.
Sales and CRM – you can get more leads using this feature.
Few of the drawbacks include CRM & email builder design and no native integrations.
---
4. GetResponse
GetResponse comes with most of the features you could possibly find in an email software service which include excellent autoresponder functionality, ability to import contacts, grow and host an email database, a wide range of templates, responsive email designs, split testing, in-depth reporting, RSS / blog to-email functionality, comprehensive segmentation options, and social sharing tools.
The text, sign-up, and image editors are limited in their capabilities.
---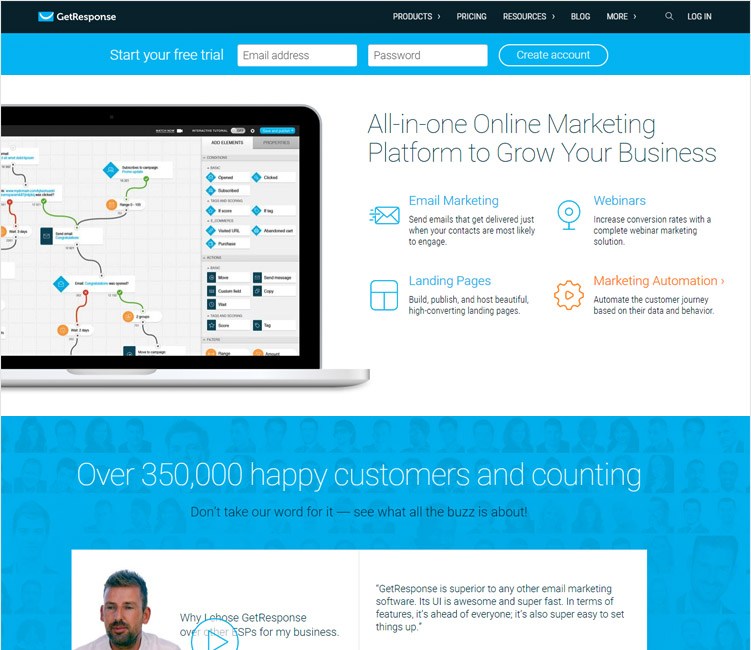 ---
Pricing:-
Some of their plans include Email, Pro, and Max. Apart from that there are also 7 additional types of plans. It begins with $15 ('Email') / $49 ('Pro') / $165 ('Max') for 1,000 subscribers and goes up to 50,001 to 100,000 subscribers: $450 / $490 / $580.
Commendable Features :
Landing pages – you can use landing pages which let unlimited views and split testing when you purchase the "Pro" plan or higher.
Webinars – you can make use of this feature depending on the package you have bought.
Autoresponders – they are e-newsletters which are received by your subscribers at regular intervals which are chosen by you.
Tracking options – the purchase behavior of your customers is tracked.
Unique marketing suggestions – this is deal choice for start-ups because of editing and customization of its templates which can help your email campaigns.
---
5. Benchmark
Benchmark email service provides a free plan through which you can access several of its tools. Some of the features include A/B Testing for Subject Lines, Contact List Automation, RSS Email Campaigns, Email Delivery Management, Signup Forms, List Segmenting, Surveys & Polls, Google Analytics, Inbox Checker Email Client Preview, Data Security Pin, Sub Accounts, Engagement Email, and Engagement Automation.
The benefits of using this email service are that it comes with a free plan, several user segment options, excellent live customer support, and the Google Analytics tracking. Few of the drawbacks of the tool include no Gmail or other third-party contact integration, email editor quite poor, Flickr integration not working sometimes, and no mobile preview.
---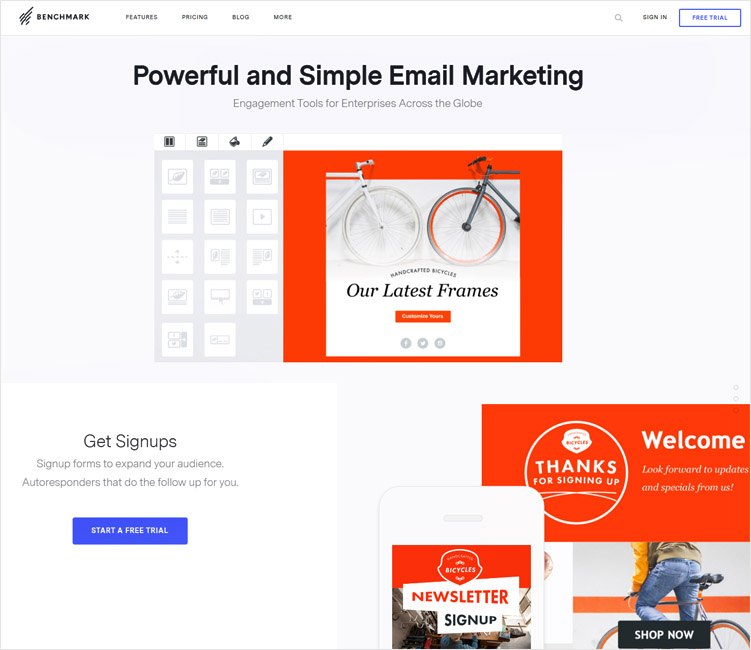 ---
Pricing:-
Their free plan comes with 2,000 contacts and more than 10,000 emails per month. The contact-based plans start at $11.95 per month for 600 contacts, for up to 4 million emails they come for $4,000 per month. The send-based plans start at $9.95 per month for 600 emails and for 100,000 emails per month they cost $375.
Notable Features:
Great template selection – the email marketing service offers hundreds of template designs for several purposes. Some of them are newsletters, product promotion templates, seasonal and holiday greetings, event invitations, and templates for real estate offices, restaurants.
Visual editor tools – it offers visual editor tools which enable you to control the process of the email design.
---
6. AWeber
AWeber is known for designing powerful autoresponders and comes with efficient email marketing templates. Some of the pros of using AWeber include unlimited emails, helpful materials, cost-effective plans, and extensive reporting capabilities. Few of the drawbacks include you cannot import from third-party address books or Gmail, there are no free plans, there is no Google analytics, and imports are very time-consuming.
When you are looking for a tool that comes without a lot of fuss, then you can give AWeber a try.
---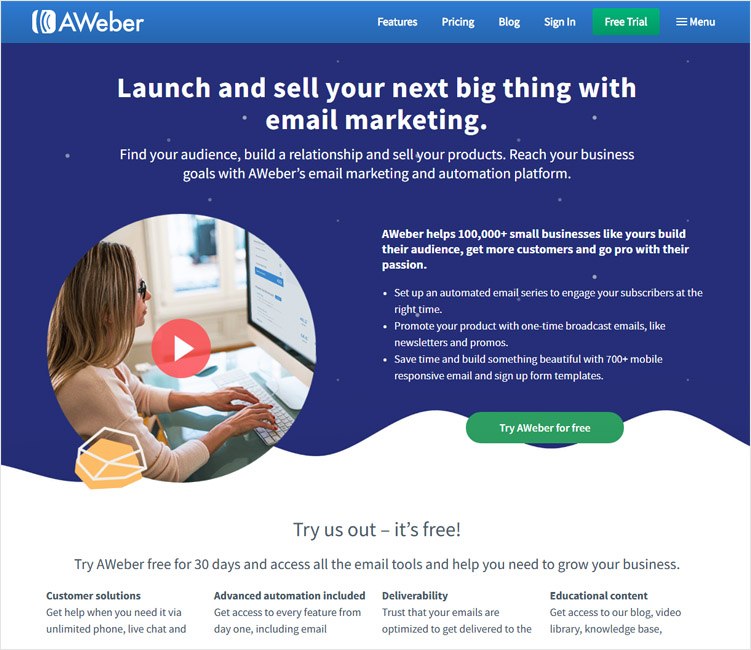 ---
Pricing:-
Few of the other features include Email Newsletters, RSS to Email, Drag-and-Drop Editor, HTML Email Templates, App Showcase, Manage Subscribers, and others. The cheapest plan costs $19 per month for 500 contacts. For 2,500 contacts you will need to pay $29 and $49 for 5,000 users which are suitable for small businesses.
Commendable Features:
Campaigns – you can now create automated emails using their drag and drop editor.
Autoresponder follow up – with the autoresponder follow up you can now send several delivered emails.
Sign up forms with style – you can now design your list with excellent looking mobile-responsive sign up forms.
Template customization – gives you the flexibility to customize your own email templates and manage contacts.
---
7. Constant Contact
Constant Contact is an easy to use and powerful email marketing tool. Business can be accelerated using the Email PLUS features like Coupons, Polls and Surveys, Event Marketing and Auto-responders. They offer different types of templates that are supported by various digital devices like mobile, tablets etc.
You can connect with your prospects and customers in minutes on email marketing with the features including, social integration, one-click editing, and comprehensive tracking. Constant Contact helps you manage and store all your contacts in a well-organized form. The new and improved delivery system helps you overcome your customer's spam filters and deliver the mail to the right person on time.
---

---
Pricing:-
Few of the other features include Email Newsletters, RSS to Email, Drag-and-Drop Editor, HTML Email Templates, App Showcase, Manage Subscribers, and others. The cheapest plan costs $19 per month for 500 contacts. For 2,500 contacts you will need to pay $29 and $49 for 5,000 users which are suitable for small businesses.
Notable features:
Contact management – contacts can be easily uploaded from Outlook, Gmail and Excel. Inactive, bounced & unsubscribe emails are updated automatically.
Image editing – This tool has designed for making the editions easily. Good redo/undo features.
Success Tracker – email tracking tool helps to track who is clicking, opening, and sharing the emails.
Extended possibilities – the PLUS features enable you to marketing capabilities beyond the inbox. So that you can connect people to the new ways of business.
The basic plan starts at $20/month and the Email PLUS have their plan starts at $45/month for email list up to 500 emails.
---
8. ConvertKit
ConvertKit is an ideal email software service which has been designed by bloggers and is suitable for bloggers who are in search of quality tool. The sequences enable you to easily communicate with your readers.
You should consider using ConvertKit if you are looking for a tool that comes with ease of use, automatic send-to-un opens, simple list cleaning, white glove migration, competitive pricing, aggressive feature release schedule, and quality support team.
Some of the benefits of using ConvertKit are it is cheaper, faster, cleaner, and has awesome automations.
---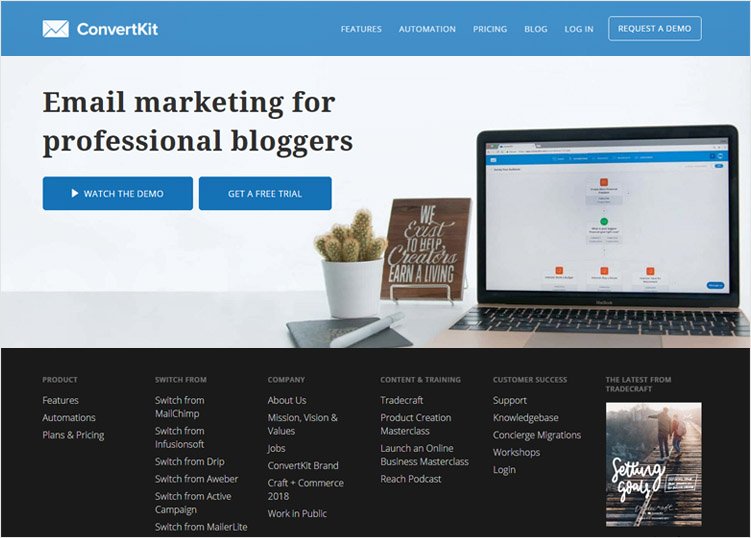 ---
Pricing:-
When you want 1,000 subscribers for your blog, then you will need to shell out $29 per month. If you want 5,000 subscribers you have to pay $79/month. The rates keep increasing depending on the number of subscribers you intend to have.
Commendable Features:
Beautiful, responsive opt-in forms – the opt-in forms are can be used on your website as and when you want.
Automate your book marketing – unless your book marketing is automated, the chances are that the reader will not come back to your blog.
---
9. Campaign Monitor
With Campaign Monitor, you have a tool that makes it simple to send uses with beautiful email newsletters, attract new subscribers, and receive excellent reports on the results.
Campaign Monitor is an easy to use email software service. Their website is extremely helpful as it provides demos on their link, tutorials, and best practices for communications and email content. With features like the analytics, you can identify content, title, links, are useful for users.
---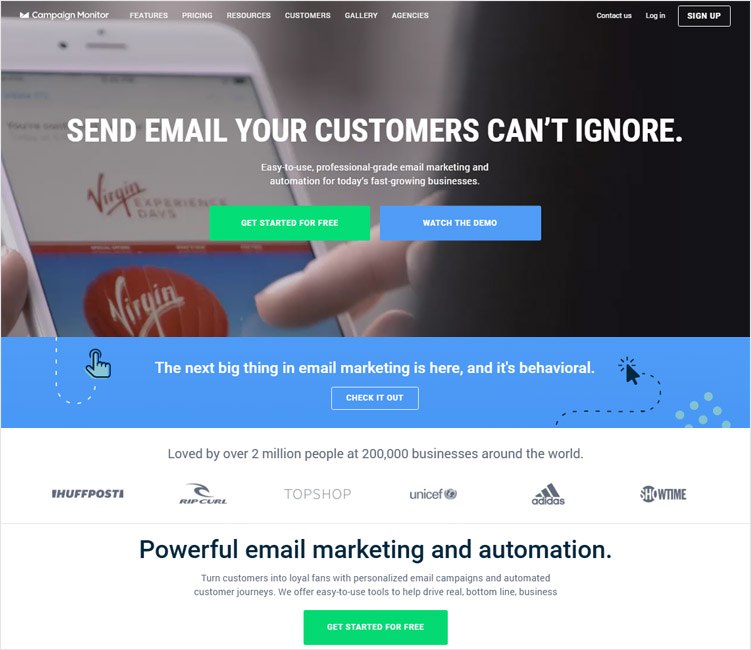 ---
Pricing:-
The Campaign Monitor comes with three plans namely basic that comes for $9/month you can send 2,500 emails to 500 people, unlimited plan for $29/month you can send unlimited emails to 500 people, and premier for $149/month you can send unlimited emails to 500 people.
Notable features:
Powerful email marketing with drag-and-drop simplicity – with the drag and drop simplicity you can run professional email marketing campaigns which are beautifully designed.
Personalize every message using rich customer data – you can personalize the email using the right content to the users.
Grow your email list, reach a bigger audience – you can now make use of signup forms to introduce new customers and increase the audience.
---
10. Mad Mimi
If you are looking for a cheap way to send, track, and share your e-newsletters online, then your best option would be Mad Mimi. It comes with simple features that might not seem very effective, but they can get the job done. It is also cheaper to competitors like GetResponse which comes for $15, MailChimp for $15, and Campaign Monitor that costs $19.
Some of the benefits of using Mad Mimi are the pricing. It is quite cheaper when compared to its competitors. It has the ability to integrate several third-party apps. You can make use of the free trial. Some of the drawbacks of using Mad Mimi are the autoresponder functionality is very limited and you have one email template to work with.
---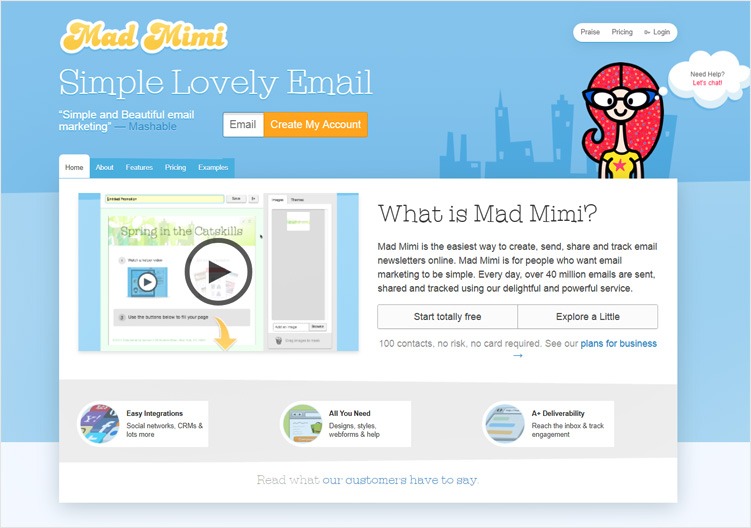 ---
Pricing:-
Mad Mimi provides you with four main plans which include basic for $10 per month which lets you send e-newsletters to 500 email addresses, pro for $42 per month helps you send e-newsletters to 10,000 email addresses, silver for $199 per month enables you to send e-newsletters to 50,000 contacts, and gold for $1,049 per month – 350,000 email addresses.
Commendable Features:
Convenience and cloning – you can save your customized themes. Usually, email services come with features based on designer's creations, but unlike them, you can design your own.
List Management – you can design your own web form on your website and manage automated suppression which comes with unlimited lists, segmentation, unsubscribers.
Reports & Tracking – you can keep track of the real-time results and find out the results of your e-mails.
Facebook web form – If you have a Facebook page then you can add your Mad Mimi web form.
Simple to use – it is extremely simple to use. Even newcomers to email marketers can start using it without outside help.
---
11. SharpSpring:
SharpSpring was earlier known as GraphicMail gives you everything that you would expect from an email marketing platform. With SharpSpring's marketing automation platform, advance email reporting is possible like real-time stats on deliveries, clicks and customizable reports. It also guarantees email deliverability it helps you protect your mail from going into the spam and provides you the best SMPT delivery platform.
It is really a comprehensive content management system which provides cost-effective services. You can say that it is ideal for small and medium-sized businesses.
---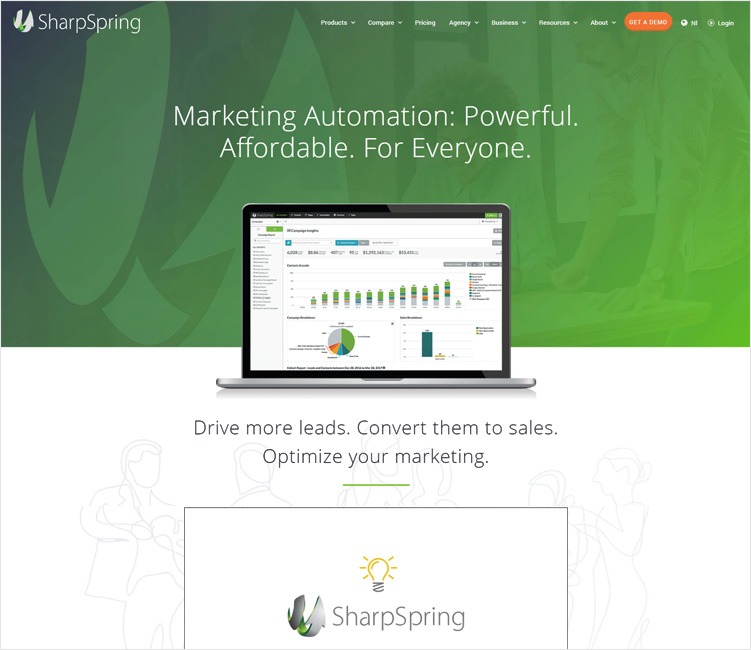 ---
Pricing:-
The pricing is flexible, ideal for small businesses and cannot get any better. Their plans start from $5 you can contact 0 – 500 people and for $35 you can contact 2501 – 2600 people. For the sending costs for $10 you can send emails to 0 – 2000 people and for $230 you can send emails to 50001 – 100000 people.
Notable features:
Email Editor Built for Designers – the email software is built for easy drag-and-drop, responsive templates, and superior email deliverability. It also comes with excellent SMTP's delivery platform, real-time anti-spam protection, dynamic IP pools, and advanced email reporting.
VisitorID – The contact tracking enables you to keep track of your visitors once they have clicked, see the time spend on your website and number of visits. You can then format emails based on their interests and behavior patterns.
Dynamic Email Content – you can design a single email for 1000s of clients using relevant content that can be customized. You can also automatically swap out messages, images, and CTAs based on their interests. It reduces the manual work.
Contact Manager with Social Integration – you can understand your clients in a better manner. Unless you know them better like their Facebook interests and LinkedIn profile, you can then create a better interaction with them to ultimately make a sales.
Dynamic Form Builder – you can easily create dynamic forms which have been built for conversion. You can make use of the drag-and-drop editor which can be done yourself. You can also improve conversion by tracking the auto-populates fields for return visitors.
---
Conclusion
In today's competitive market, using email software efficiently makes all the difference. When you select an email service, see to that it has excellent deliverability to the inbox and has bulk emailing abilities.
Well, I'd suggest you to go with that tool which allows you to connect multiple SMTP services at a time. That's how you can test if your emails are landing on the inboxes of your subscribers rather than spam folder.
Do not hesitate to leave a comment below and help us if we missed any best email marketing software. We'll for sure look forward to review it.
For more information on email marketing, go through the following blog –