The 10+ Best Free Email Marketing Software
What better way to keep in touch with your customers, clients, and prospects than through email?
---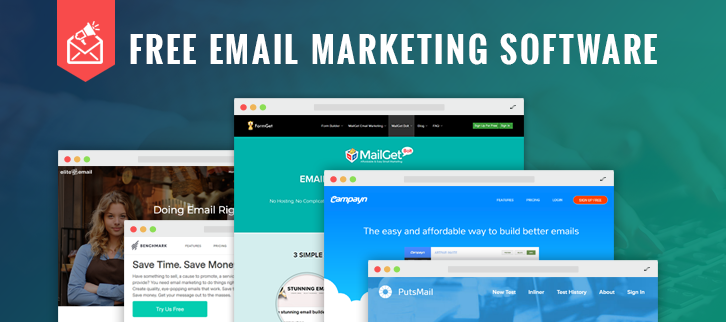 ---
Possibly, you have seen the impressive and flashy email campaigns and you are fairly certain that to create and send such emails companies spent thousands of dollars that you may not have to invest. But what you may not know is that you send such emails at a much affordable price.
Make your choice from email marketing or SMTP services compared in the following post–

In order to step up email marketing experience, we recommend you try some free email marketing plugins-
WordPress Email Marketing Plugins
There are a lot of email marketing software packed with head-turning features you need to grab the attention of your customers or audience, and the best of all; you may not have to spend anything to try them out. A number of email marketing software are completely free for the first few hundred subscribers, helping you to get started, build your subscribers list and figure out how email marketing is helping your business before you go big.
Here are 10 of the best email marketing software available that offers free plans too.
---
Quickly, Go through the Comparison of various Bulk Email Marketing Services
Check all the services in detail as per your needs and choose service wisely – by the end, you'll know exactly which one is the right option for you.
---
1. MailGet Bolt – Best Bulk Email Service Provider
MailGet Bolt is the best email marketing platform using which you can design creative and responsive email templates, newsletters, promos, coupons for your business and send them to the number of customers efficiently.
Free pack –
MailGet Bolt offers a FREE plan in which you can send 9,000 emails to 300 customers in a month. If you find that you outgrow the free plan, then you can upgrade to its advanced version which charges only $49 on monthly basis.
NOTE – If you go with the annual pricing of this software then, you can use this service completely FREE for 2-MONTH!
---

---
Key features of MailGet Bolt:
Create 100% responsive email templates using drag-n-drop email editor.
Maintaining and managing a healthy email list is now easy with this service.
Increase click-through rates with subscriber segmentation.
You can increase user engagement by sending them an auto-generated email on sign-up.
Create a series of emails with Drip emailing.
Build and maintain a relationship with the customer by tracking the send emails.
Grow your email subscriber list by using MailGet API key.
After using MailGet Bolt the change that came in open rate is – promotional emails are boosted to 99% and the transactional emails are increased to 43.64%.
Another amazing thing of the service is its cost, it only charges $9 for UNLIMITED EMAILS to 2,500 subscribers. 
---
2. MailGet – Email Marketing Tool 
MailGet is a phenomenal email marketing service for those who have their own SMTP server, as this software allows you to connect multiple SMTP servers at a time which will definitely hike-up your deliverability rate.
Free pack –
The service gives a FREE plan where you can design numerous attractive email templates, send unlimited newsletters to 100 subscribers in a month and can explore every feature of MailGet. You can upgrade to its paid plan which charges only $5/ month for unlimited emails + your SMTP server charges.
---

---
Key features of MailGet:
Schedule your emails on daily, weekly, monthly, or annually basis.

Effortlessly automate your emails with Auto-follow up.

Check your email before sending it to the customer with inbox preview feature.

Manage & clean the email list in simple steps.

Integrate multiple SMTP server such as – mailgun, SendGrid, Mandrill, Mailjet, Amazon SES, etc.

Merge Google analytics and track the status of send emails.
The only service which I found that allows connecting multiple SMTP servers at a time is MailGet that too with the CHEAPEST cost. You can get its pro version by just spending $5 per month for UNLIMITED EMAILS to 7,500 customers.
---
3. Moosend – A Software For Email Marketing
Moosend is an email marketing software which packs all the essentials that you need in a simple drag-n-drop editor so that, you can easily create and send emails to the subscribers.
Free pack –
Moosend's free plan is great for you if you send less than 2000 emails. You can send emails to up to 500 subscribers per month completely free.  A credit card is not required to sign up, also you can cancel your account at any time. Also, you can easily upgrade to a paid plan from your account.
---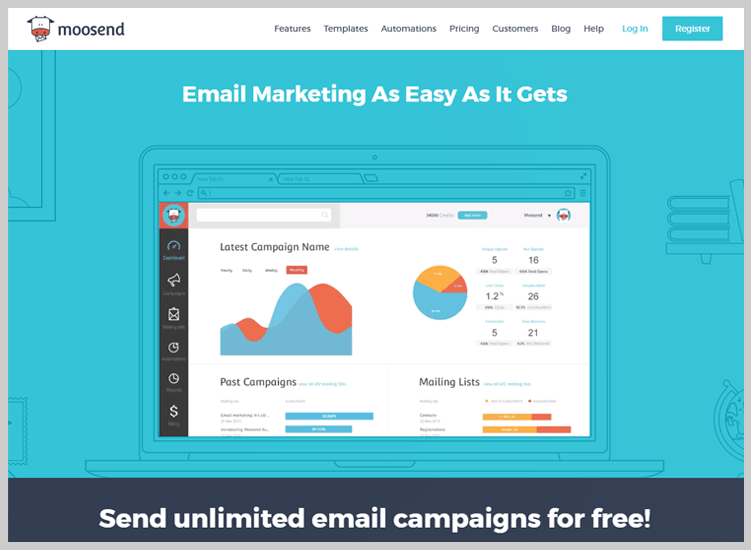 ---
Key features of Moosend:
You can create beautiful and effective templates without any coding knowledge with the help of email creator.
It automatically generates discount and promotion barcodes and attaches them to each message if required.
You can import your contacts from .xls or .csv or upload contacts from Google, Basecamp or other online services. It automatically identifies and removes any duplicate emails.
Autoresponders allow you to send automatic emails whenever you want, thus saving your time.
Also, it offers powerful analytics tools to see real-time reports.
Moosend offers free inbox inspector, spam testing, automatic a/b testing, time-optimized messages and transactional emails.
Moreover, it offers 24/7 free expert support.
The paid plan starts at $14/month
---
4. VerticalResponse – Targeted Email Marketing Services
VerticalResponse is a bulk email marketing software with which you create the unlimited number of sign up forms and connect your Facebook and Twitter account to post your messages there.
Free pack –
VerticalResponse's free plan allows you to send up to 4000 emails per month to 300 contacts or less.
---

---
Key features of VerticalResponse:
This software provides responsive templates which automatically adjusts itself to look great on mobiles, tablets, and PCs.
Drag images and text blocks to your email to create a beautiful email in minutes.
Automatically send welcome emails to new members through autoresponders.
Get more clicks and opens by resending an email to those who did not open the original email.
It provides reports of clicks, opens, email delivery, and much more.
Advanced Reporting gives you more detailed insights into how your readers opened your emails, where they click, where they are located, which device they use and more.
The HTML Editor helps you to create own custom templates.
You can send the emails immediately or schedule it for later.
Also, you can always update to monthly plan starting at $11/month.
---
5. Benchmark Email – Email Marketing Services
Benchmark Email is one of the best free email marketing software used by many businesses. Also, you get access to some of its amazing features such as use email templates, create online surveys, and track email statistics.
Free pack –
Benchmark Email provides a free starter allowing you to send up to 14000 emails per month to up to 2000 subscribers.
---

---
Key features of Benchmark Email:
You can either use the professionally designed templates or drag and drop your images into the email designer.
All the templates are fully responsive and fit well on all screen sizes.
It offers WordPress or Facebook signup forms to grow your subscriber lists.
Track and analyze the email campaign performance with the help of inbox checker, A/B testing, and reporting features.
Easily import your data from the app that you are already using such as Gmail, Zendesk, and Shopify.
This software integrates with 300 + popular applications such as Google, Salesforce, Shopify, PayPal, WordPress, Facebook and more.
Benchmark provides free 24/7 support via call chat or submit a ticket option.
Besides, it offers a pay as you go plan.
---
6. SendBlaster – Email Mmarketing Software
SendBlaster is an email marketing software perfect for those who are just starting up. Sending the newsletters, managing mailing lists and analyzing statics of the campaign is made easier with this software.
Free pack –
It offers a free version which can be downloaded for free and allows you to manage it directly and quickly from your desktop.
---

---
Key features of SendBlaster:
Use the ready to use templates and customize them in a few clicks.
You can send personalized emails to each subscriber and add calendar events to your
Directly imports all your customer's emails and database from other software like Outlook or Thunderbird. You can also import contacts in CSV file format.
Additionally, you can merge two or more lists and can sort the list by using advanced data filter.
It has an automatic duplicating filter which checks the duplicate emails before sending the email.
Also, it is integrated with Google analytics and checks the open rates and reading times.
Advanced tracking helps you to analyze customers' behavior such as clicks, open rates, etc.
---
7. MailChimp – A Tool For Email Marketing
More than 14 million people use MailChimp as their email marketing software. The emails which are to be delivered at a specific time can be scheduled in different time zones. MailChimp has a clean interface which makes it easy to use.
Free pack –
MailChimp offers a 'free plan forever' which includes 12000 emails to up to 2000 subscribers per month.
---

---
Key features of MailChimp :
You can connect your website with MailChimp to create subscribers using customizable sign-up forms.
Flexible designs can be created for different brands by using simple drag and drop email designer.
You get free reports and insights into customer's behavior, sales, and revenue using Google analytics.
The responsive mobile-friendly templates fit well on mobiles, tablets and other devices.
It can be integrated with popular apps like Google, Twitter, and Facebook.
You can always update to its paid plan i.e, growing business plan, starting at $10 per month.
---
8. Litmus – Email Marketing Services
Litmus is an email marketing software that helps you to create a clean, web-based version of an email with instant desktop and mobile previews, comprehensive checklists, and advanced analytics. It helps you to build, test and track your email campaign and offers a complete email testing tools for marketers.
Free pack –
It provides you with a free trial of 7 days to try before you buy.
---

---
Key Features of Litmus :
You can build, test and troubleshoot your emails using the code editor provided by Litmus.
It scans and spam tests your emails with every major spam filter before sending.
Litmus provides email previews to see your messages across all popular web browser and mobile platforms.
Get instant screenshots of your messages to easily tweak the format and make adjustments on the fly.
Email analytics provides complete data on the performance of your emails like opens, clicks, etc.
All the email designers and marketers can learn and educate each other through litmus community.
Moreso, you can always upgrade to a pricing plan starting from as low as $99/month.
---
9. PutsMail – Email Marketing Software
PutsMail is a free standalone tool for email designers to perform quick tests for templates and newsletters. This tool helps you to send HTML email to any email address for debugging and design testing.
Free pack –
Litmus purchased Putsmail in 2014 but still continued to offer PutsMail as standalone with the same earlier services.
---

---
Key features of PutsMail:
PutsMail is a simple and efficient email delivery testing software.
It allows you to send HTML emails for cross-platform testing.
This software offers email previews across more than 50 different devices and platforms – including Lotus Notes to iPhone 6.
Apart from this, it's a great tool which detects errors in HTML code.
CS Inliner inline your style to improve the compatibility and resilience of your design.
---
10. Elite Email – Email Marketing tool
This is an efficient email marketing software which helps you in sending emails to subscribers. You can effortlessly select the list of users you want to send emails to and rest is done by the software itself.
Free pack –
Elite Email's Free Forever plan allows you to send emails to up to 500 contacts per month. You can sign up free with no time limit and without requiring any credit card details. Also, you get full access to all their features with unlimited image storage. It also provides you access to phone, email and live chat support.
---

---
Key features of Elite Email:
All the templates are customizable with the drag and drop editor. Add images, coupons, articles, links and create a professional looking template in just a few clicks.
The fully responsive and mobile friendly templates fit perfectly on all devices like smartphone, tablet, and PC.
It provides you with real-time reports to give you in-depth analysis of how your emails are performing.
You can capture new contacts with customizable sign-up forms and pop-up buttons.
Add contacts manually by the copy and paste option or upload a CSV or Excel. You can also use API to sync your contacts from your CRM program.
Built-in CRM to create and tasks and reminders for any of your contacts.
Gives you a visual insight of each individual campaign through the easy to read charts and graphs.
If you find you outgrow the free plan, you can always go for a paid subscription starting at $15/month for up to 1000 contacts.
---
11. Campayn – Email Marketing Services
Campayn offers email marketing solution to small businesses through which you cancreate templates using drag & drop platforms and send that emails, newsletters, etc to number of customers in just few mintues.
Free pack –
Its free plan allows you to send 20000 emails per month to up to 500 contacts; it also includes 1 follow up email and basic reporting.
---

---
Key features of Campayn:
Contact Manager helps you to import your email lists from other online services like Gmail, Highrise, and Yahoo.
You can create simple sign-up forms and embedded on your website.
All the emails are responsive and adjust to all devices and different apps to look great on different screen sizes.
You get the detailed report of a number of clicks, shares, likes, and opens.
All your data are fully safe and secure with campayn.
The share button on the newsletter makes it easy for your contacts to share it on Twitter, Google+, Facebook, Pinterest, and Linkedin. You will be able to see every share of your contacts in your reports.
Also, you can set up a single or a series of autoresponders to send to your new contacts.
Anytime you can upgrade to the paid plan, starting at just $10/month.
---
Mailerlite is a mailing software which allows you to design fast and simple email newsletters with drag-n-drop editor. Here you will also find variety of pre-designed email templates which will help you to deliver a best content to your customer.
Free pack –
Mailerlite's Forever Free plan enables you to send unlimited emails to up to 1000 subscribers. This plan is perfect for you if you send high-volume of emails. The plan also includes full access to all the features, including automation and landing pages.
---

---
Key features of mailerlite :
It provides you drag and drop editor, custom HTML editor, rich text editor and built-in photo editing feature in addition to pre-designed templates to create amazing campaigns.
They provide Popup subscribe form to convert your website visitors into subscribers.
This software manages your subscriber list by handling unsubscribers, bounces and more.
You can create signup forms for your website using the Web form Builder.
It helps you to track everything like the number of opens, subscribes, clicks, bounces, spam complaints and more with the campaign Reports.
You can create and schedule automated emails like birthday greetings, welcome messages, and other date-based emails.
And it offers 24/7 customer support via live chat and email.
Besides, you can upgrade anytime to its paid plans, starting at just $10/month.
---
Conclusion
Trying out the free plan of the email marketing software before actually buying it is always a wise idea. In this way, you get to know the good's and bad's of each plan and take the right decision for you or your company. Go and try them all for free.
You may also like:-
Thanks for reaading!