10+ Best Email Template Builders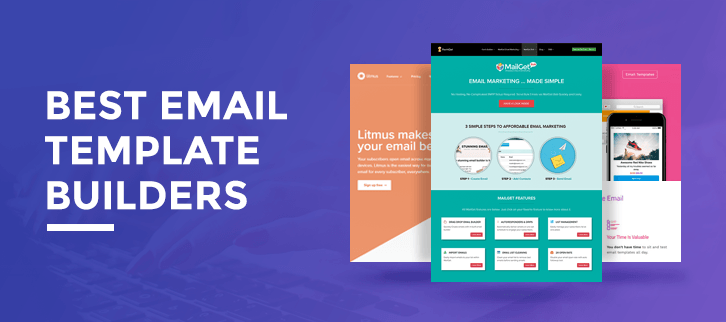 ---
Are you talking about simple email or some kind of fancy emails full of text, graphics, and all? This might be the question that might be popping up in your mind. Well, email template is neither simple email nor fancy email. What is it? Email Template can be defined as a reusable HTML file, which allows you to add things like images, links, and it also allows you to add CSS for building email structure.
Check out some top & best quality listicles on email marketing: 
---
The Best Email Template Builder
Compared (in full)
Check all the services in detail as per your needs and choose service wisely – by the end, you'll know exactly which one is the right option for you.
---
MailGet Bolt is a fine email template builder which enables you to frame number of emails and these mails are created by drag and drop builder in which the fields have to be dragged and put on the content section. The software has a feature called as drips through which you can send a series of mails to a number of people across the globe which gives you a chance to convert strangers into customers.
---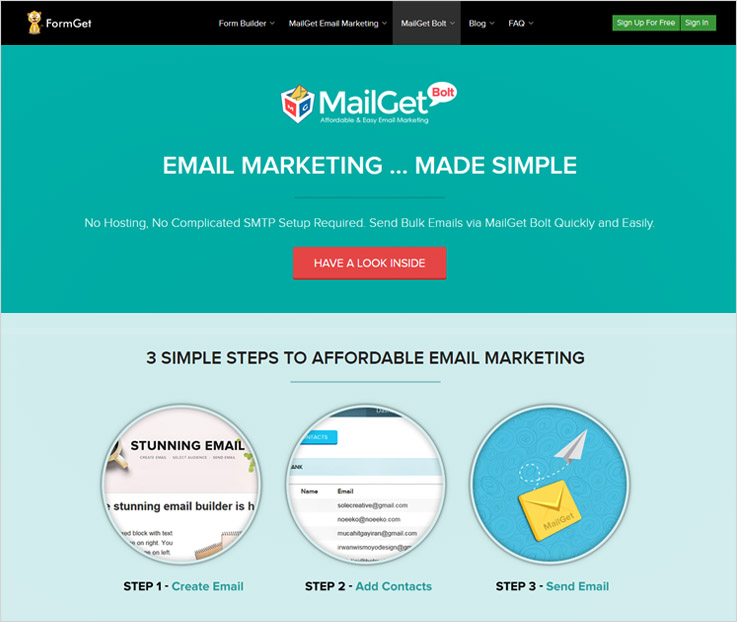 ---
Key features of MailGet Bolt :-
A feature termed as autoresponder has been incorporated in the software which allows you to send an auto generated mail to the people who has filled the form on your site.

Email list cleaning is another feature that removes any sort of unwanted email ids in the contact list there by keeping your list sorted organized and cleaned.

The status of the mails which has been delivered by you can known by the section spammed lists, suspended lists and bounced lists.

Add subscription forms through the software on your website and increase your leads, one more way of capturing the leads is through the inbuilt lead capture tool.

Tracking the emails, once they are are sent is yet another amazing traits which countenance the user to know whether the mails has been delivered in the inbox or spam.

You can easily manage the subscribers list at one place and also import the mails within the software.
Pricing :-
Plan 1 :- In the first plan you will get the services at $42 per month through which you can send unlimited mails to 10000 subscribers.
Plan 2 :- In the second plan you will get the services at $59 per month through which you can send unlimited mails to 15000 subscribers.
Plan 3 :- In the third plan you will get the services at $89 per month through which you can send unlimited mails to 25000 subscribers.
Plan 4 :- In the fourth plan you will get the services at $139 per month through which you can send unlimited mails to 35000 subscribers.
Plan 5 :- In the fifth plan you will get the services at $199 per month through which you can send unlimited mails to 50000 subscribers.
Plan 6 :- In the sixth plan you will get the services at $279 per month through which you can send unlimited mails to 75000 subscribers.
Plan 7 :- In the seventh plan you will get the services at $369 per month through which you can send unlimited mails to 100000 subscribers.
On a personal level my recommendation to you is to go for MailGet Bolt as it is the most economic and best software available in the market, the OPEN RATE is also 25% in the initial phase itself, the service is available at $42 per month which is a lucrative plan in comparison to others.
---
MailGet offers you an affordable email marketing solution, and it also provides you an advanced email template builder. The drag and drop email builder is so simple that you can easily add, arrange, and delete the content block from the email template. MailGet is used and trusted by more than 1,200 companies.
---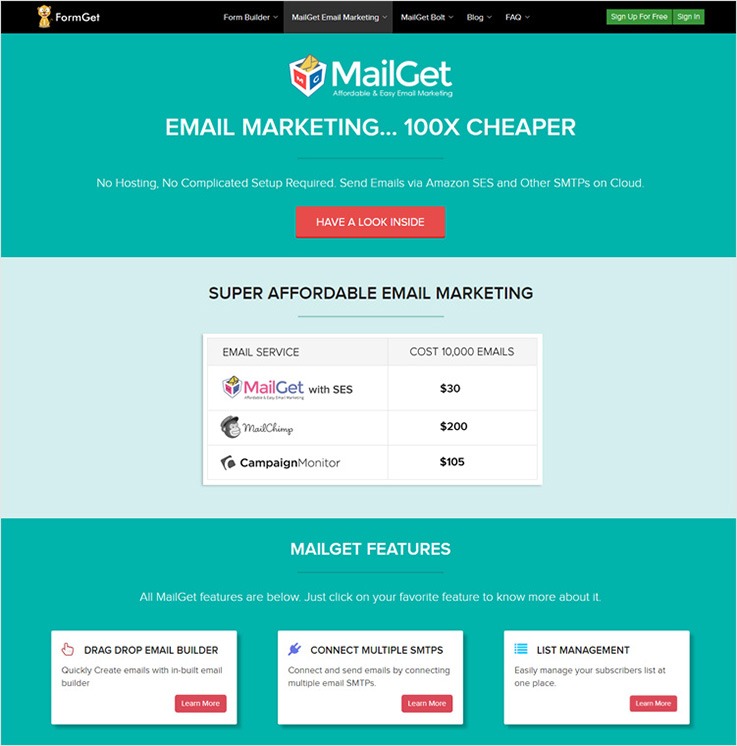 ---
Key features of MailGet:
It has simple email builder, which allows you to format text, add images, links, and content in a systematic manner.
The emails become optimized for all gadgets, and they are 100% responsive.
The image editor in email builder allows you to upload and insert your own custom images and links. It supports majority of image formats like jpeg, gif, jpg, and others.
MailGet allows you to personalize your email with favorite colors for various fields like button background, content, heading, and more.
The Save and Preview feature allows you to save and preview the inbox email, which you've created in real time before sending to the subscribers.
The special feature of MailGet gives you the authority to integrate with multiple SMTPs relay at single time, if one of the servers stop working then there will be other services that will still send  your mails definitely.
---
Litmus can help you out with your email marketing campaign, whether you are blogger, marketers, or agencies. It allows you to test and optimize the emails for the apps and devices, which are used by the subscribers. You can quickly build your email with the web-based editor of Litmus, and it provides instant previews in more than 50 email clients. Every change done by you can be previewed in a real time. It works with existing email provider like Mailchimp, Hubspot, Silverpop, and others.
---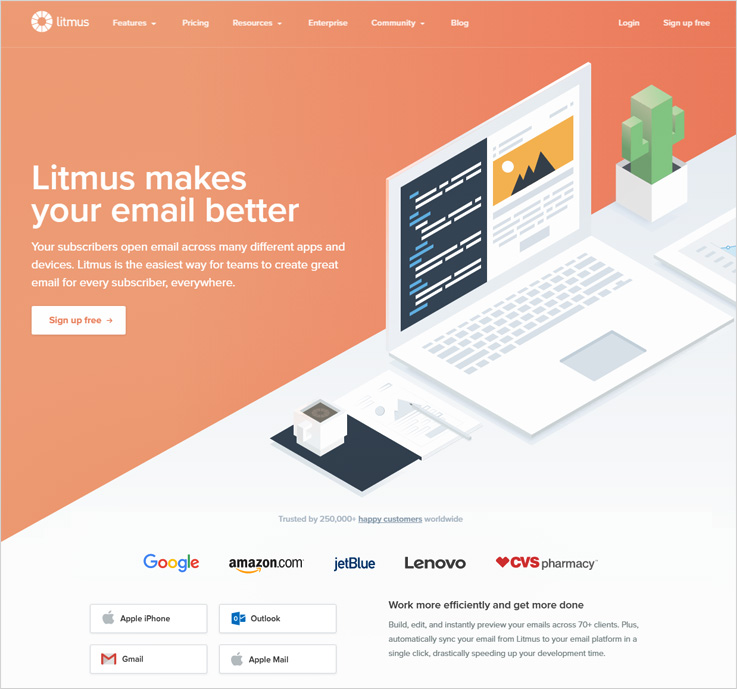 ---
Key features of Litmus:
You can build, test, and troubleshoot your emails with a single code editor
The beginner can start with basic package at $79/month.
It allows you to create your own template, or you can choose from one of their pre-tested template to get started.
The spam testing feature tests all your email before sending to ensure your emails get to inbox every time.
The grid view feature enables you to land on the specific HTML element by simply clicking the HTML element on the preview.
Litmus optimizes the image to ensure CTA (Call-to-Action) is visible.
---
MailStyler allows you to create excellent email templates, which looks great on any email clients. The task of building email template is just the matter of dragging and dropping the required images, links, and other contents. You need no coding experience to create email template. Moreover, you can easily edit the templates in just a few clicks to create the perfect template.
---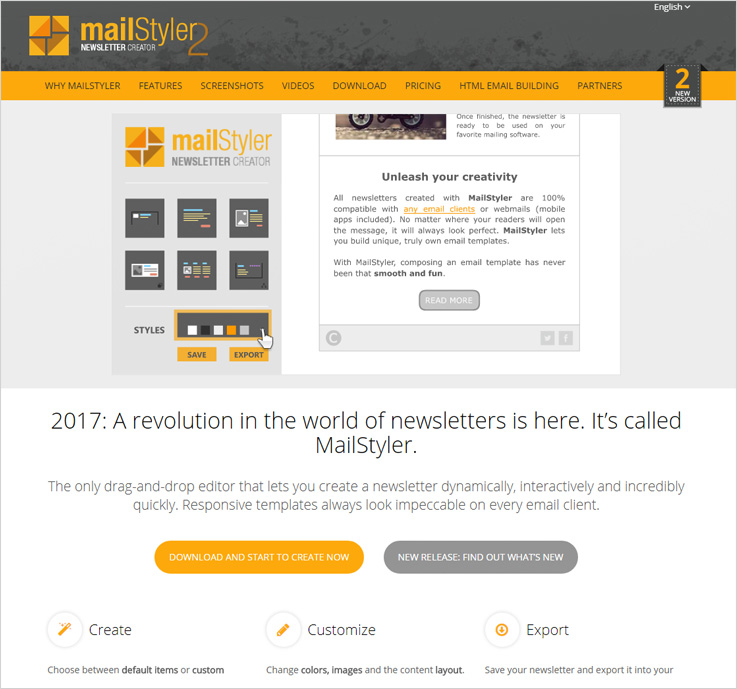 ---
Key features of MailStyler:
It provides a library of more than 2,000 images to help you create and compose creative emails.
The dedicated cloud space is provided to store all your images.
You can get MailStyle, starting at $99.
The automatic resizing feature automatically resizes your images to fit on the box.
The Ready-made styles and palettes offer a different balance of shades to help you create a better layout.
The one-click exporting feature allows you to export your layout as .eml or .html with a single click to use it in any software, clients, and services.
---
Inkbrush provides you with various tools to help you create a fully responsive email in the matter of minutes. You don't have to go out to learn html for creating exclusive email templates. Your email templates are tested for compatibility with all the major browsers and email clients. If you already have the photoshop design, then you can simply upload it, convert it into html, and get started.
---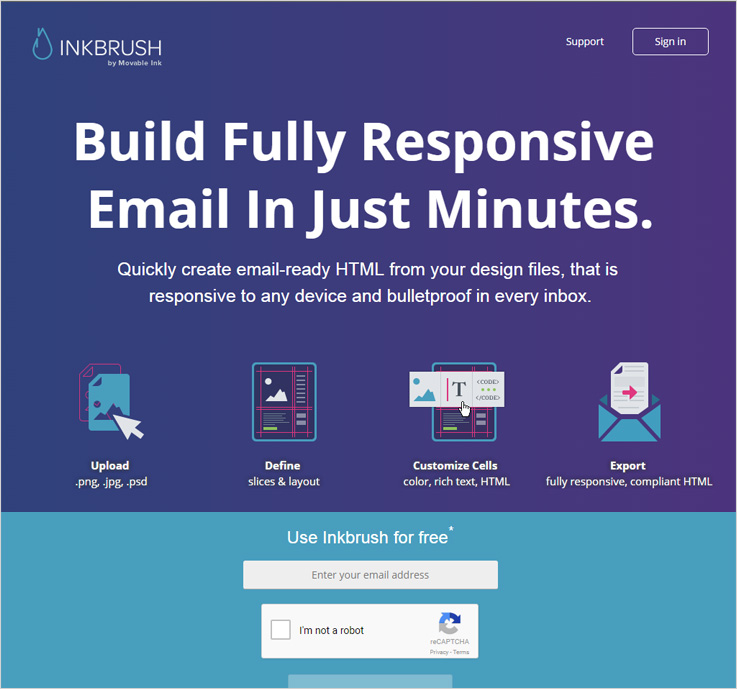 ---
Key features of Inkbrush:
It offers precise slicing tools, with which you can zoom, slice, nudge, and adjust the design to create a perfect layout.
The duplicate email feature helps you to quickly generate an email.
The color awareness feature suggests you a color palette according to your layout
You can use Inkbrush for free with a maximum of two exports per month, and for unlimited access, you need to contact at their support.
The version control feature allows you to preview every change made to the layout
The test email feature lets you to send email to those who are not using Inkbrush.
---
Klaviyo allows you to create beautiful, responsive, and personalized emails with its intuitive and easy drag and drop email builder. You are required to load your logo and business colors after signing up. Klaviyo automatically generate responsive template, which are customized for your business. If you need to customize it, then it will allow you to do that as well. It is easier to get started with Klaviyo, as many of its integrations are set up in a single click.
---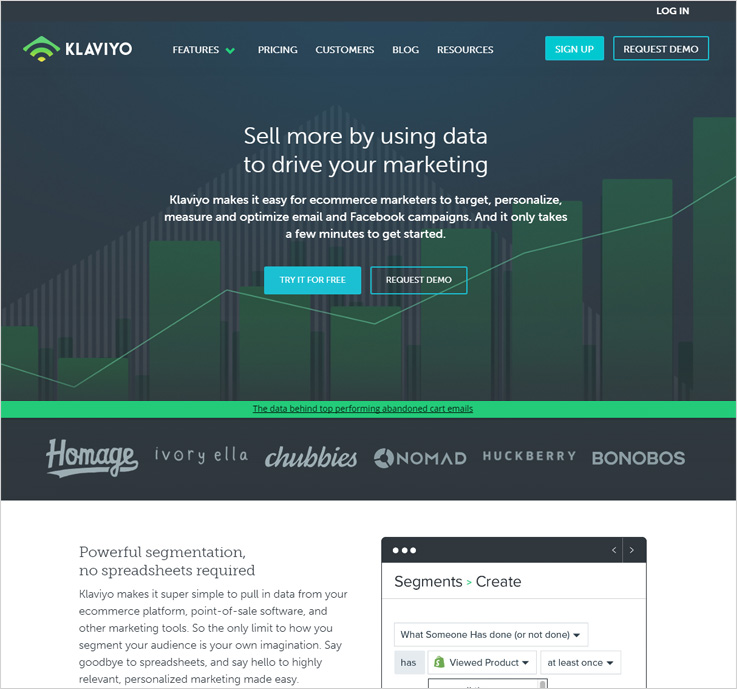 ---
Key features of Klaviyo:
The best practices built-in library allows you to see the best practice emails like recommended products, cart reminders, and others, and it helps you to send emails in the matter of minutes.
The emails can be easily tested across various devices and browsers to ensure the emails are looking right.
The pricing plan starts at $25 per month.
You are allowed to personalize the newsletter with dynamic data to differentiate the emails according to customer's properties.
The robust customer profile is built by Klaviyo to give you insights about your best and worst customers.
The simple and real time API allows you to see your website visitors and behaviors.
---
Revaxarts presents you 8 different premium email themes. It is useful for everyone, whether you are a blogger, established internet marketer, or a business person. The 8 different email themes are Linus, Metro, Business, LooseLeaf, LetterPress, Skyline, Market, and One. All these 8 different email themes have their own prebuild layouts, color variations, elements, and more.
---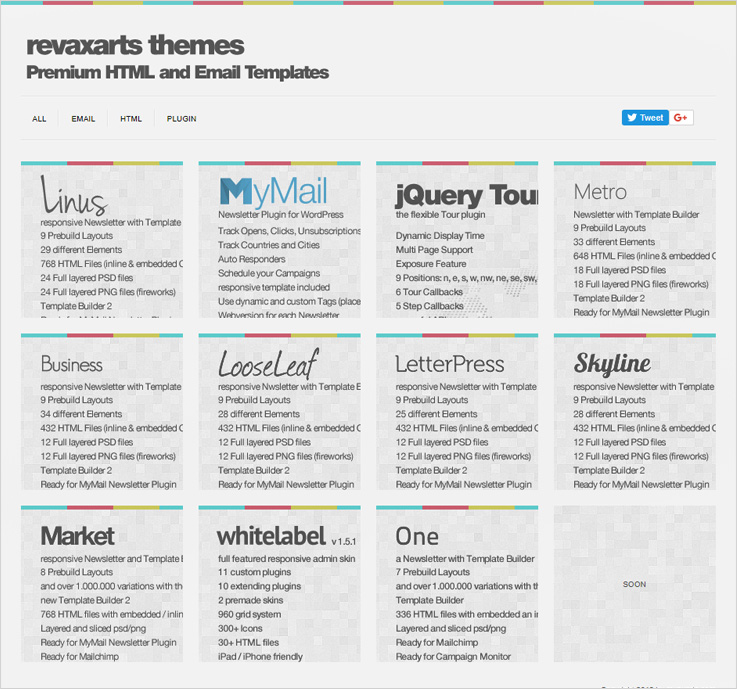 ---
Key features of Revaxarts Themes:
The simple template builder is made up of predefined elements, and it is very easy to arrange with drag and drop feature. Furthermore, the easy interface enables you to easily upload your design to MailChimp and Campaign Monitor account.
You can choose any one of the email themes, and all costs $20 for a regular license except for one, which costs $16 for a regular license.
You don't need webspace. You can use My Template Builder website, and there you need to enter the purchase code to get started.
The templates perfectly work with two popular newsletter service providers, and i.e. MailChimp and Campaign Monitor.
You get full layered photoshop file and png files with the templates.
The themes are compatible with majority of editable sections of newly introduced template language and editor by Campaign Monitor.
The MailChimp Merge Tags are used by the themes for easy customization of your campaign without being an HTML expert. You need to sign up for MailChimp to use this feature.
As some email clients have left out embedded CSS, you will get one inline CSS with every version of newsletter.
---
Email on Acid comes up with all necessary tools to enable you to create, edit, preview, and optimize all your emails in a single platform. It is used by more than 80,000 companies worldwide, and some of its popular clients are Linkedin, CocaCola, EverNote, and ebay. Its improved email editor sets you free from the hassle of toggling between your text editor and ESP. You can build and test edits your HTML emails in real time. You can quickly create email templates by saving and reusing the images in all email templates.
---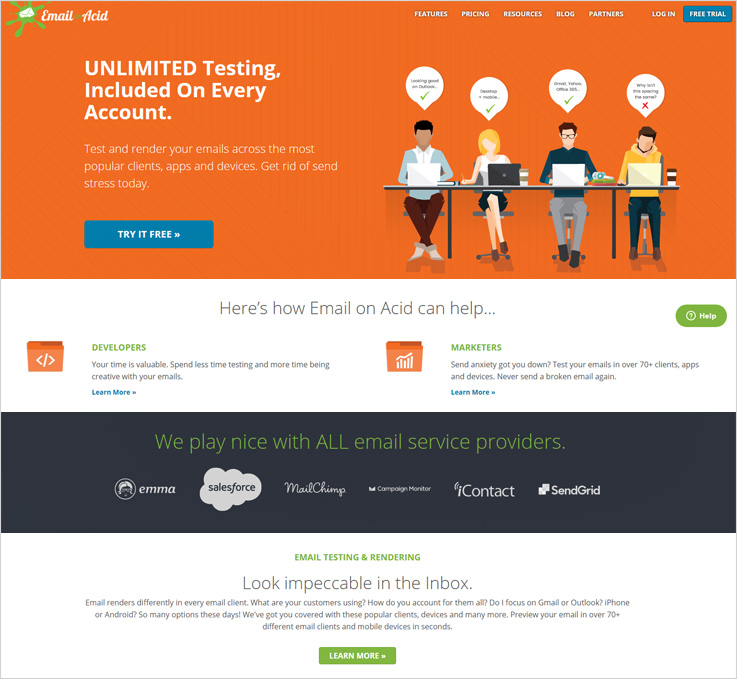 ---
Key features of Email on Acid:
The email testing feature allows you to preview your emails on all different email clients.
You have 3 packages on Email on Acid, and the package starts at $45/month.
The spam testing filter feature tests your emails against the majority of spam filters to ensure your emails gets into inbox instead of junk.
The mozify feature helps you to generate text backed up by images by converting images into formatted HTML texts or mosaics.
The optimizer tools fix all your common email problems with a single click.
You are allowed to use the library, which contains more than 1 million emails, and you can also stay in touch with the latest design and trend to create creative emails.
---
Octanego comprises of all the necessary tools, which allows you to create responsive and beautiful lead generating emails. It offers you limitless design blueprints to help you enhance your creativity for developing a beautiful email template. You are allowed to view your newsletter history for recreating it by simply undoing any changes. To make your email more attractive, the video tagging feature lets you to add embed videos on your mailer in .mp4 or .ogg format.
---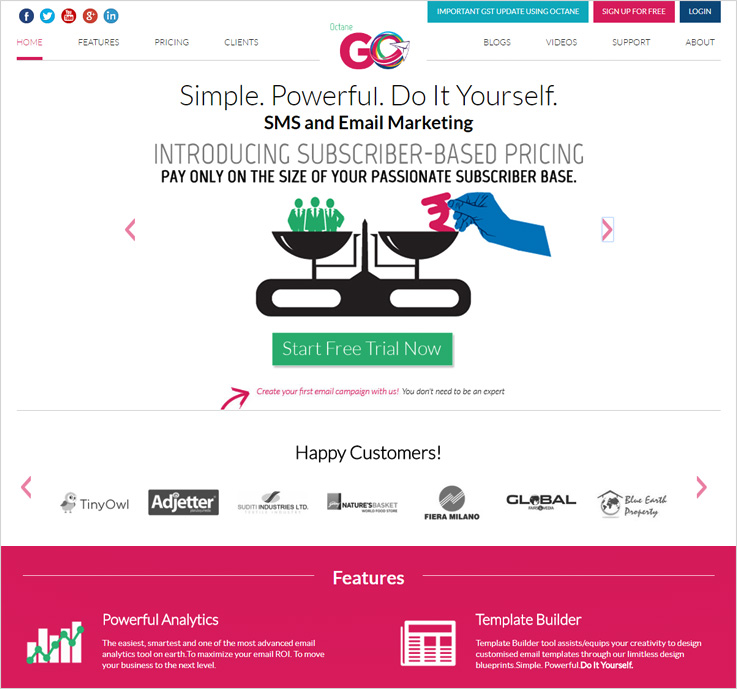 ---
Key features of Octanego:
Obtanego offers smart image editor to crop, resize, filter, scale, and others for creating perfect image.
The drag and drop tool makes it easy for you to add and remove content blocks to develop an email template in a less time.
The HTML Doctor feature allows you to detect any coding error on your mailer to rectify the code.
The Inbox Preview feature allows you to preview your email on all major devices, browsers, and email clients, making sure your email is looking fine on every platform.
---
HTML EMAIL provides you the collection of 8 HTML email templates to make your task of email marketing easier by helping you to send responsive emails in a quick time. These templates are tested in all the major email clients. You don't need to sit and test your emails whole day after you purchase these HTML email templates. All the HTML email templates are designed by the author keeping various types of users in his mind like starters, developers, and marketers.
---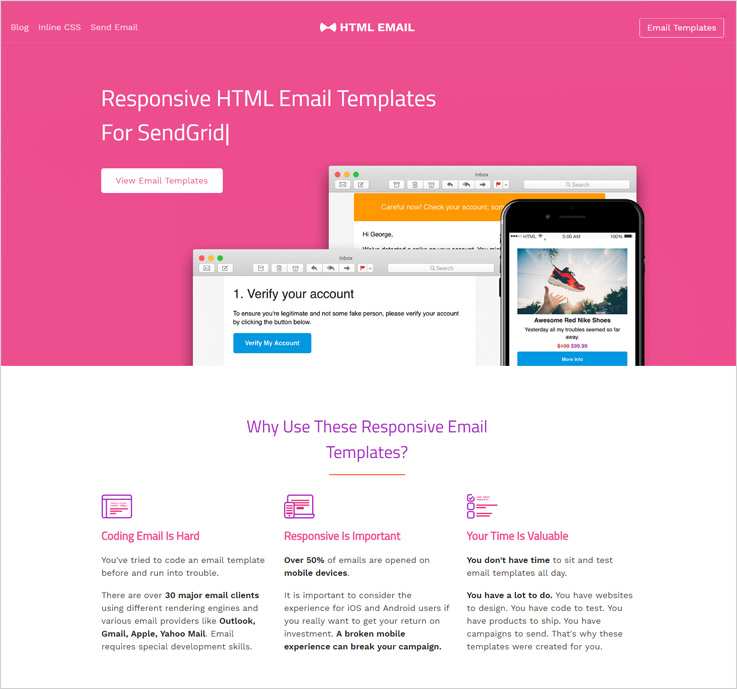 ---
Key features of HTML EMAIL Templates:
The hybrid technique used by the templates will check out the size of the screen and the design adjusts accordingly, which makes it fully responsive on a mobile platform.
The templates are compatible with all major email service providers like MailChimp, Campaign Monitor, Hub Spot, and others.
You can purchase these 8 HTML templates in just $49.
These templates include retina ready image assets, which allow your users to receive a high quality experience while browsing your email.
The templates contain both external stylesheet and inlined CSS
---
MOSAICO is an open source email template builder. You just need to select a template to get started. It is not necessary to test the emails, as they are already tested, and it is compatible with all the devices and major email clients. This email template builder is so flexible that it even allows style customization of its elements. It is developed by professionals, and those who love freedom would love MOSAICO.
---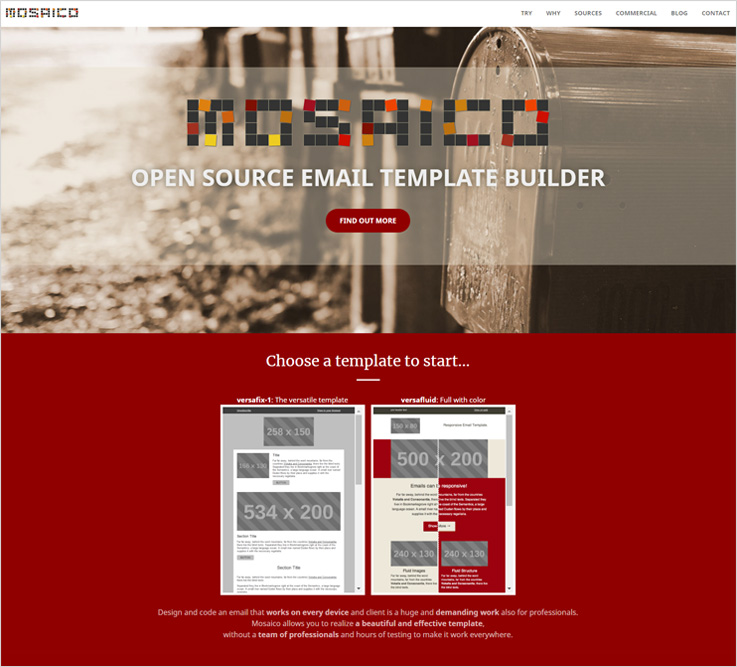 ---
Key features of MOSAICO:
MOSAICO allows rapid graphic personalization of the overall themes.
It offers intuitive drag and drop image upload, and the automatic resizing feature will automatically resize the images to fit the space.
MOSAICO is free to use, but for commercial use, it has its own separate pricing scheme. The pricing is based upon the total MOSAICO end users.
It supports custom template. You just need a simple template language, and you can make your html design work on MOSAICO in just few hours.
With Global undo/redo feature, you don't need to waste your time with saves, reviews, and confirmations.
---
Conclusion
Have you gone through all the features of the email template builders on the list? If you have gone through it, then you need to first identify your needs. After identifying your needs, you should see which email template builder can best serve your needs. No matter which email template builder you choose, you can expect the best because all of the email template builders on the list are full of exceptional features.
For more related stuff check out the following blog –