10 Best Email Inbox Monitoring Tools
It is often very difficult, if not impossible, to ascertain the success of your campaigns if you do not know for sure that your emails were
delivered. Email box monitoring goes a long way in revealing an information treasure trove about email deliverability. They give you an email delivery guarantee so your emails are not sent to spam yet you are not aware.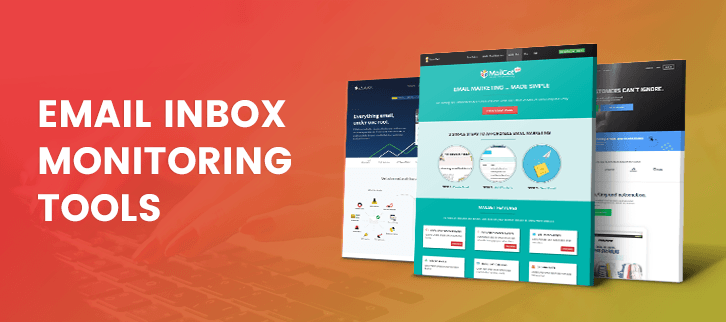 With an email box monitoring tool, the intelligence level availed to you on aggregate is certainly overwhelming. You won't have to worry about spamming your contacts so you can send bulk emails easily and get assurance that they actually reached the contacts inbox.
This ensures that every email marketing campaign you employ is accounted for and no effort goes to waste. Actually the amount of things you can achieve with email box monitoring is boundless. But most importantly you need an email monitoring tool at your disposal to make things work just perfectly.
When it comes to choosing a tool from the market, the number of options can be really available, especially if you are just getting started with email box monitoring.
Also, read our latest listing posts:-
Check out these 10 great tools that perform excellent email box monitoring and rest assured your contacts received your email marketing messages.
---
The Best Email InBox Monitoring Tools
Compared (in full)
Check all the services in detail as per your needs and choose service wisely – by the end, you'll know exactly which one is the right option for you.
1. MailGet Bolt
MailGet Bolt is an effective inbox monitoring tool which gives 100% deliverability rate, the mails send by the software directly fall into the inbox of the recipient, the software provides you the full control of creating your own mails, the system supports a drag and drop builder by which you simply have to drag the specific field and drop it to the content section.
Apart from this the mails once created will be sent to a number of people through the software, also, there is a feature through which you can send an auto generated mails to the customers as soon as they fill up the form on your site.
---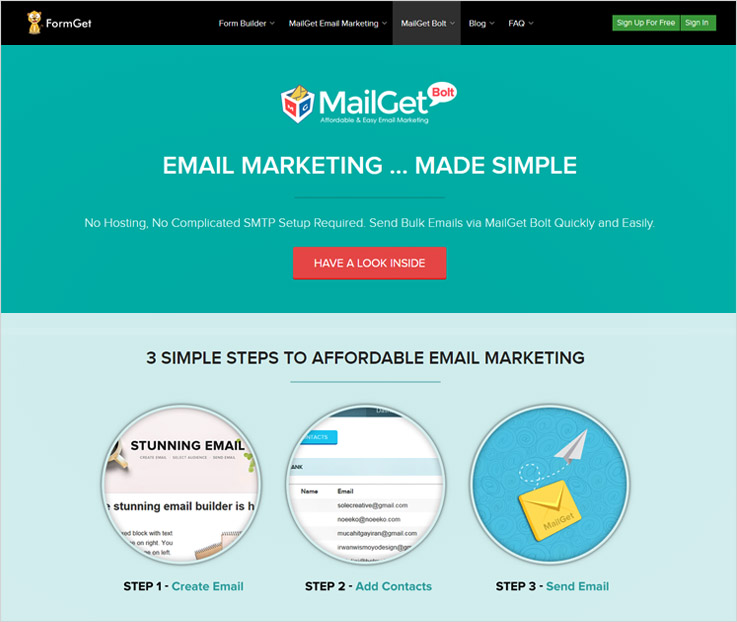 ---
Exemplary Features :-
Drips section :- The software contains a feature through which the user will be capable of sending series of emails to a number of people at a desired time slot which can be chosen by the user.
List management :- You can manage the list of the customers at one place the email ids of the customers can be segmented and monitored as the spammed, suspended and bounced.
Email list cleaning :- The email list cleaning feature of the software allows you to remove all the unwanted email ids hence keeping updated only on those email ids which are valid and useful.
Email tracking :- The email tracking feature of the software is a productive features as it helps you monitor the mails which has been dispatched by you, the feature gives you real-time monitoring as which emails is in the inbox and which is in spam.
Add subscription forms :- You can also include subscription forms to your website to capture the leads which you can use for future reference to contact them for expanding your business.
Pricing :-
Plan 1 :- In the first plan, the services will be available at $42 per month by which the user can dispatch unlimited mails to 10000 subscribers.
Plan 2 :- Like the first plan, in the second plan, the user will have the services at $59 per month through which you can send unlimited mails to 15000 subscribers.
Plan 3 :-  The third plan will give you the services at $89 per month through which you can send unlimited mails to 25000 subscribers.
Plan 4 :- Likewise, in the fourth plan you will get the services at $139 per month through which you can send unlimited mails to 35000 subscribers.
Plan 5 :- In the fifth plan you will get the services at $199 per month through that you can send unlimited mails to 50000 subscribers.
Plan 6 :- Further in the hierarchy is the sixth plan, you will get the services at $279 per month by which you can send unlimited mails to 75000 subscribers.
Plan 7 :- The highest plan is the seventh plan you will get the services at $369 per month through which you can send unlimited mails to 100000 subscribers.
After trying all the softwares, I have analyzed that MailGet Bolt is the most economic and functional software for email inbox monitoring, also surprisingly the OPEN RATE is quite high which is 25% in the initial phase itself. The price plan also starts at an affordable charge that is $42 for 10000 subscribers.
---
2. MailGet
MailGet is best deliverability monitoring tool that helps you in delivering the emails successfully to the recipients. It offers many different services that are all aimed at helping you boost your email marketing campaigns. Email box monitoring is one out of all the services and features offered by MailGet.
This tool uses the Amazon SES as a server, thus offering a higher deliverability of your emails. This gives you access to the filtering technologies among other features implemented by Amazon SES.
---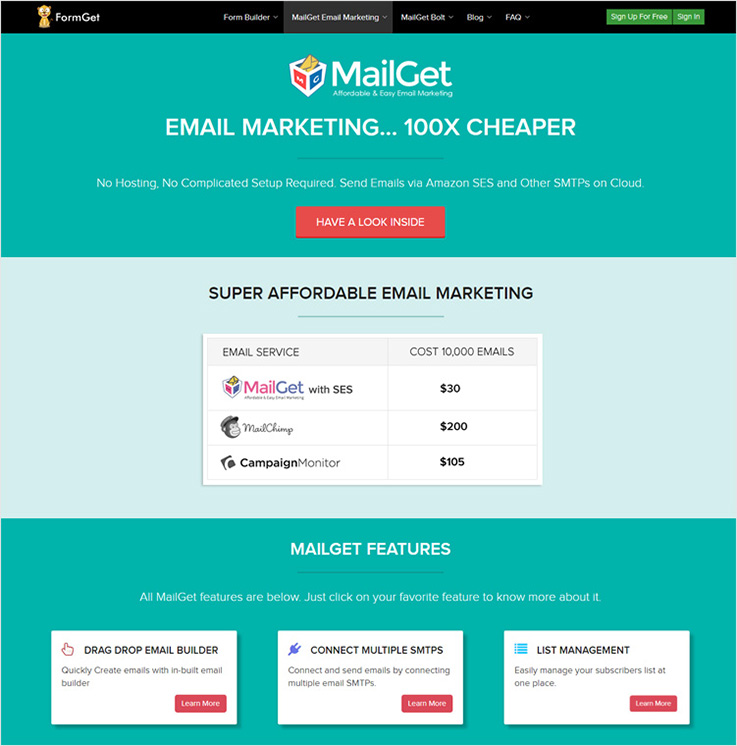 ---
Exemplary Features:
Email deliverability – MailGet uses Amazon SES to scan the contents of your email messages to ascertain that they conform to the requirements of the ISP. After that, the message is queued for sending. All email messages containing suspicious contents such as viruses or malware are also blocked.

Tracking and reporting – MailGet tracks and records the number of users who opened and clicked on links inside the emails after receiving. It also tracks those who unsubscribed from your campaigns lately. You can also view the spam and bounceback from the Amazon SES dashboard.

HTML and plain text alternative – if a subscriber happens to have blocked the HTML templates, then another version consisting of plain text only is sent automatically.

Email drips – with this feature, you can send automated messages in pre-defined orders at certain timelines.

Includes/Excludes – with this feature, MailGet allows you to exclude or include certain subscribers from the list of emails that you want to send your messages to.
This tool is suitable for the small sized and medium sized enterprises that have minimum input but aim at maximizing ROI. MailGet works on a pricing plan that is based on the number of subscribers you have.
---
3. 250ok
This is yet another great email box monitoring tool. It's a platform that is based on delivering real time insights concerning your email performance, brand reputation and more.
It facilitates easier monitoring of inbox, spam plus missing emails. 250ok allows you to identify spam filters with ease by testing your campaigns preview before actually sending your emails. This gives you a guarantee that your email is delivered to the inbox of your subscriber.
250ok is one of the most popular tools as it is used by many other popular brands such as Adobe, Act-On, Marketo and many others.
---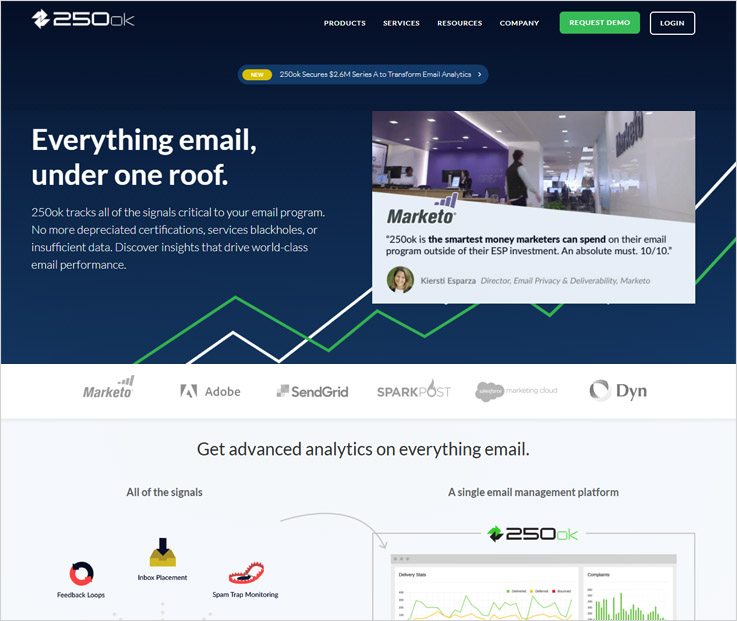 ---
Exemplary Features:
Inbox Informant

– this tool gives real time reports on whether your emails actually reached the inbox of your contact.

Blacklist informant –

this is a proprietary feature or service by 250ok that lets you know whether you have been blacklisted by ISPs, filtering and hosting companies before sending your emails.

Reputation Informant –

this is also a proprietary feature that allows you to monitor your reputation. It records spam traps hits over more than 30 million domains.

Email informant –

this is quite a unique feature that is mostly absent with other email inbox monitoring tools. It allows you to know how the user interacted with the email after receiving it.

Design informant –

it lets you preview your email design against more than 30 devices and email clients such as Gmail and Yahoo.

Their pricing plan is however delivered upon requesting a quote. You can learn more about their features and plans

by visiting their site.
---
4. BlueHornet
BlueHornet is among the popular email service providers with quite a number of email marketing campaign services, including email box monitoring. They have been in the industry for 15 years and managed to build a reputation within such a time.
BlueHornet offers an intuitive platform that is cloud-based services enabling you to build your email campaigns on.
What sets it apart is its wide range of features offered as compared to other providers. This is perhaps one of the reasons why it is trusted by many top brands such as CNET, Xerox, Mountain Creek, Skechers, KFC, Microsoft and many others.
---

---
Exemplary Features:
Real time monitoring –

all your emails sent are monitored to determine if they are delivered in the right inbox or to spam folder. You are then given notification in real time.

Deliverability review –

your email content and design are reviewed on a monthly basis against major mailbox providers to ensure that they do not contain anything that can raise red flags.

Delivery metrics monitoring –

get all your delivery metrics monitored in real time, such as the time when the email was delivered, the region of delivery, user engagement with the email after delivery and many more.

Provision of recommendations –

BlueHornet also provides recommendations concerning the deliverability of your emails when issues are identified so you can make necessary changes and improvements.

Segmentation management –

know the category under which your emails are delivered, such as Primary, Social or Promotion tabs of Gmail.
On top of these features, BlueHornet also offers another great features that are aimed at improving your email marketing campaign in general. BlueHornet offer free trial accounts but again upon contacting them for it. Signing up directly won't give you an automatic free trial.
---
5. Return Path
Return Path is a strong tool produced by Return Path. It lets you assess the deliverability of your emails thus allowing you to maximize the returns on your investment.
Return Path alleviates the difficulties of your messages reaching your subscriber's inbox. These tools have the capacity to differentiate between the junk folder and inbox. It allows you to gauge the deliverability of emails at more than 150 domains all over the globe, including Europe, US, Canada, Asia Pacific and Latin America.
---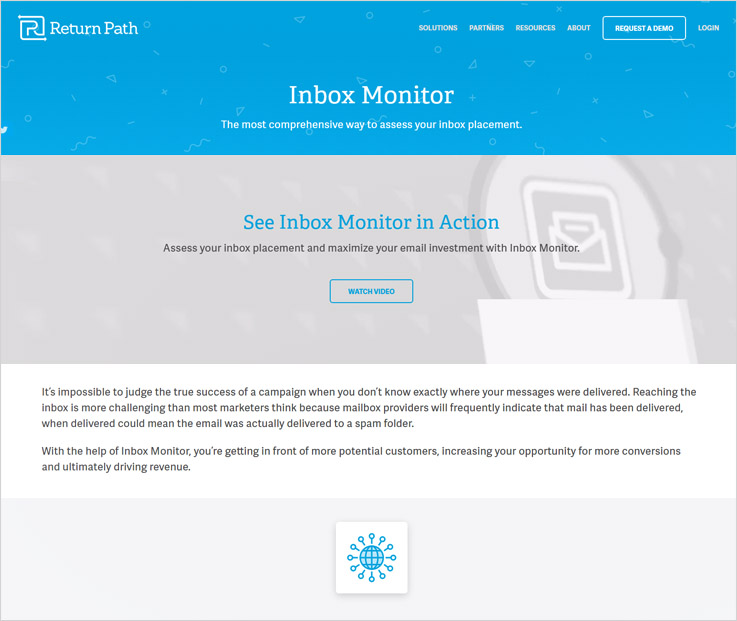 ---
Exemplary Features:
Deliverability guarantee –

you are given the assurance that your messages have actually been delivered to the right inbox. In the event that that does not happen, you are also notified immediately.

International view –

it lets you track the deliverability of your emails according to the country or region sent.

Inbox Optimizer –

this is a proprietary feature of Return Path that lets you diagnose the filtering issues for certain mailbox service providers like Yahoo and Gmail.

Smart filtering –

Return Path allows you to navigate to certain campaigns easily and monitor them.

Visualization –

the tool can identify any fluctuations and give alerts in real time.

Filter type view –

you can monitor the inbox placement through the same filters that mailbox service providers use.

Customizable dashboards –

Return Path gives you access to important information while highlighting those critical matters.
Apart from these features, Return Path also offers many more features that are worth taking note of. Pricing plans are offered by contacting their team through filling their contact form. You can check other features and pricing plans of Return Path by visiting their site.
---
6. Mail Monitor
This tool is pretty straightforward just like its name conjure up. Mail Monitor actually gives you a feedback in real time concerning the delivery time of your email and to whom it was delivered.
It also allows you to track of the sent emails and be able to fill any deliverability issue that showed up.
---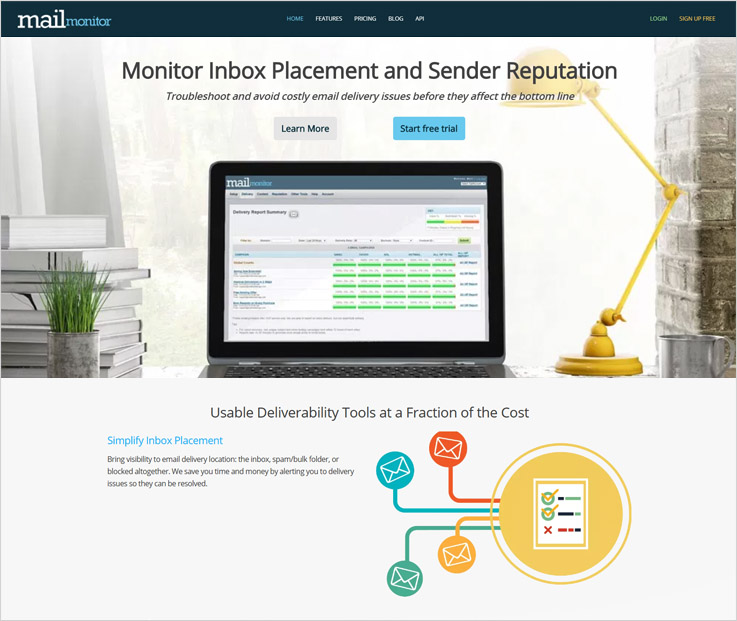 ---
Exemplary Features:
Spam filter test –

this tool runs the contents and design of your email against commonly known spam filters to ensure that your emails are not directed to spam rather than into the right inbox.

Reputation tracking –

every time your email is delivered, Mail Monitor collects various metrics to help you know your reputation against popular mailbox providers.

Gmail tab tracking –

basically, Gmail has three tabs in which emails are categorized on arrival – Primary, Social and Promotion. Mail Monitor tracks the tab in which your email was delivered and informs you. This is quite a unique feature of this tool.

Blacklist monitoring –

Mail Monitor does multiple checks on a single day to ensure that your IP addresses or domains are not listed on any type of blacklist. The results of the search are then delivered to your email.

Content preview –

Mail Monitor lets you preview the contents of your email on various mailbox providers for a maximized user experience.

Delivery notifications –

this tool can inform you about the time that your emails were delivered to the ISP so you can know for sure if the latter has issues.
Mail Monitor's pricing plans start from as low as $79 per month where you will receive spam filter testing, monthly email campaigns, etc. they have annual plans for those with larger number of emails.
---
7. Mail-List
Mail-List is a trusted email box monitoring tool that lets you offer guaranteed email delivery to your subscribers. It enables monitoring of the delivery logs in real time for a relaxed peace of mind.
As a trusted tool, it has earned the loyalty of various big brands in the industry, such as MIDI Manufacturers Association, American Biological Safety Association and Hepatitis-B Foundation. However, there isn't much details about their services on their site.
---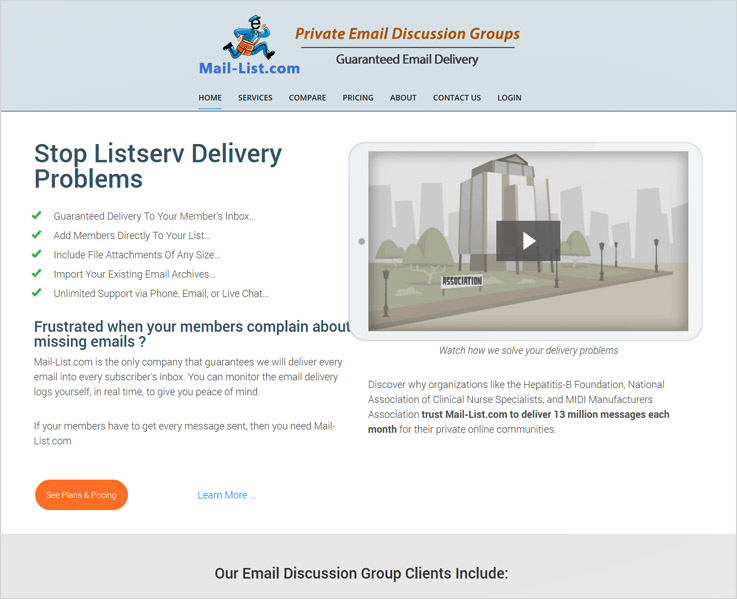 ---
Exemplary Features:
Guaranteed email delivery –

Mail-List performs checks for all the emails sent to give you a guaranteed delivery of emails to your subscribers' inbox.

Monitoring of delivery logs –

you are given the opportunity to monitor the logs of all delivered messages in real time to give you peace of mind with your campaigns.

Direct addition of members –

the tool allows you to add members to your list directly.

File attachments –

it allows you to include files attachments to your emails.
Mail-List has a flexible pricing plan which starts with a free trial. An annual plan is also included where you get to pay $3.47 per year for each email address on your list.
---
8. Campaign Monitor
Campaign Monitor allows capturing of data to an email list to allow you test, track and optimize your email marketing campaigns. It enables you to view the performance of your sent emails in real time.
You can also learn the engagement and sharing of your audience with your emails and track the effectiveness of the calls to action included in your emails. Campaign Monitor seems to tread on a slightly different level as compared to other tools. It makes gauging the success of your campaigns much easier.
---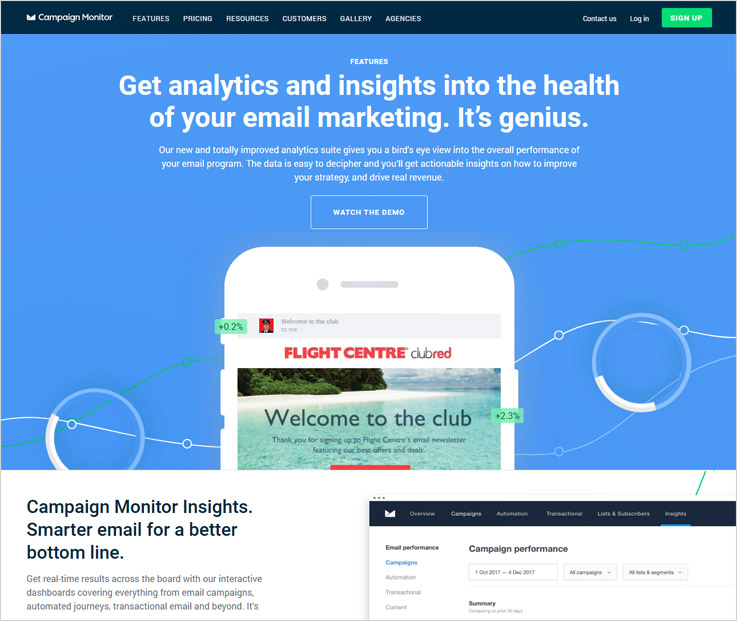 ---
Exemplary Features:
Email deliverability –

checks whether your email has any issues that can affect its deliverability. When emails are delivered to the users' inbox you are also notified in real time.

Inbox preview –

check your email previews against more than 25 email providers before sending them to enhance user engagement and experience.

Opens and clicks tracking –

this tool allows you to know the users who opened your emails, when they actually opened them plus the number of times the email was viewed by the recipient.

Share tracking –

Campaign Monitor allows you to view who shared your emails on social media such as Facebook to amplify your strategies.

Subscriber activity tracking –

you are allowed to track the engagement levels of your subscribers so as to know who opens your emails and the links they actually click.

Email performance comparison –

Campaign Monitor allows you to connect your campaigns to platforms such as Google Analytics, CoreMetrics and WebTrends.
Campaign Monitor actually provides many more features that can go long way to enhancing your campaigns. It is trusted by more than 200,000 companies all over the globe. You can get started with Campaign Monitor with a free trial.
---
9. SmarterTools
SmarterTools is perhaps one of the most popular email marketing campaign tool as it has a customer base of over 15 million. This tool offers many more services and features apart from email marketing tools.
SmarterTools offers more comprehensive features that are aimed at boosting overall marketing campaign. For you to get those features that relate to email box monitoring, you may be forced to contact their support team as their site has tons of information that you may not be ready to filter. Their service that relates to email marketing is known as Smarter Mail.
---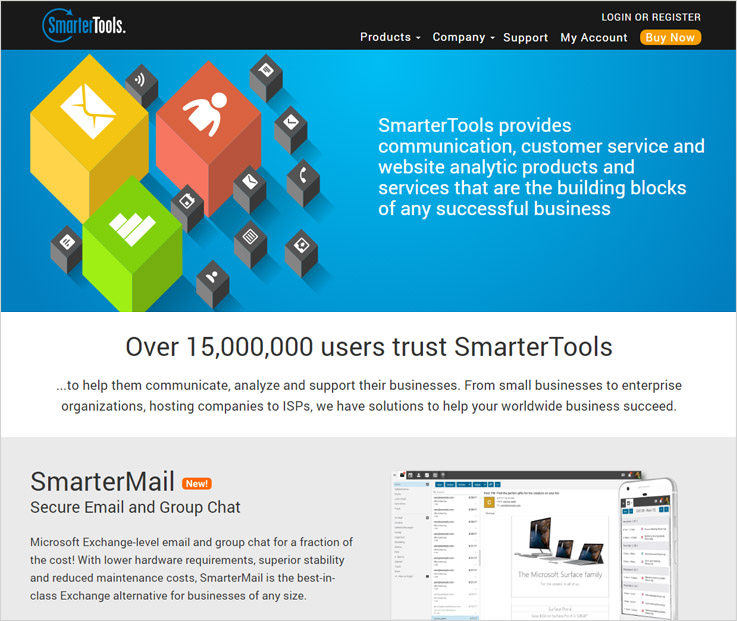 ---
Exemplary Features:
Despite offering a lot of services based on marketing campaigns in general, you have to do a lot of filtering to find features and services that relate to email box monitoring. For this reason, it is best to contact their support team to get precise information.
However, they generally provide:
Email deliverability – your sent emails are tracked to see if they were delivered in the right inbox.

Spam filter testing – your emails are tested against popular blacklists to identify anything that may lead to your emails being marked as spam. This is achieved through their proprietary Message Sniffer feature.
In terms of pricing plan, it is quite difficult to determine their pricing along with the features provided. This is because the plan listed on the site is way too big to cover only email box monitoring services. As such, it would be good to contact their team for a precise pricing plan and features.
---
10. GlockApps
GlockApps stands among the top tools used in checking email deliverability. This tool offers many amazing features including reputation checks, authentication and feedbacks for popular spam filters. The reports are produced in real time to allow you ample time to fix the issues before applying another email marketing campaign into action.
---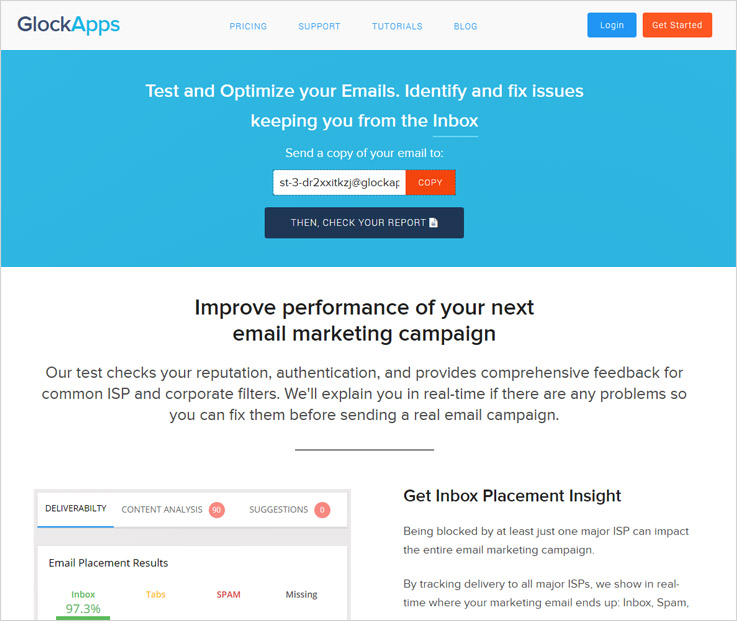 ---
Exemplary Features:
Inbox placement insights –

this tool tracks the delivery of all your emails on all main ISPs to give you real time feedbacks including where your email was delivered. You also get spam filter updates and more so you can fix the issues in time. You also get the chance to compare different tests on various provides and determine which offers the best deliverability.

Reputation monitoring –

GlockApps tests the reputation of your IP against more than 50 blacklists and helps you resolve the deliverability issues.

Recurring tests-

this tool lets you automatically test your email outreach regularly and receive notifications whenever a single email is delivered into spam folder of any mailbox provider.

Email content check –

y

ou are allowed to check the contents of your email for anything that can raise suspicion by a mailbox provider.

Gmail tab tracking –

get notification on which tab of Gmail your email message was delivered so as to maximize its visibility.

Authentication –

GlockApps performs sender authentication check whenever you send emails to their seed list. You will be notified on whether your message passed SPF and DKIM authentication.

GlockApps has many other attractive features including inbox rate tracking, spam score testing, delivery duration tracking among others.
You are given a pricing plan where you get to pay according to your usage. Plans start from as low as $19 with spam filter testing, Gmail tab tracking among other features included.
---
Conclusion
You are now well acquainted with the top email box monitoring tools available on the market. The best one, however, will mostly depend on your needs, preferences, and budget. Review each and select the tool that can help you optimize your email campaign.
You may also like:-