Top 7 ActiveCampaign Alternatives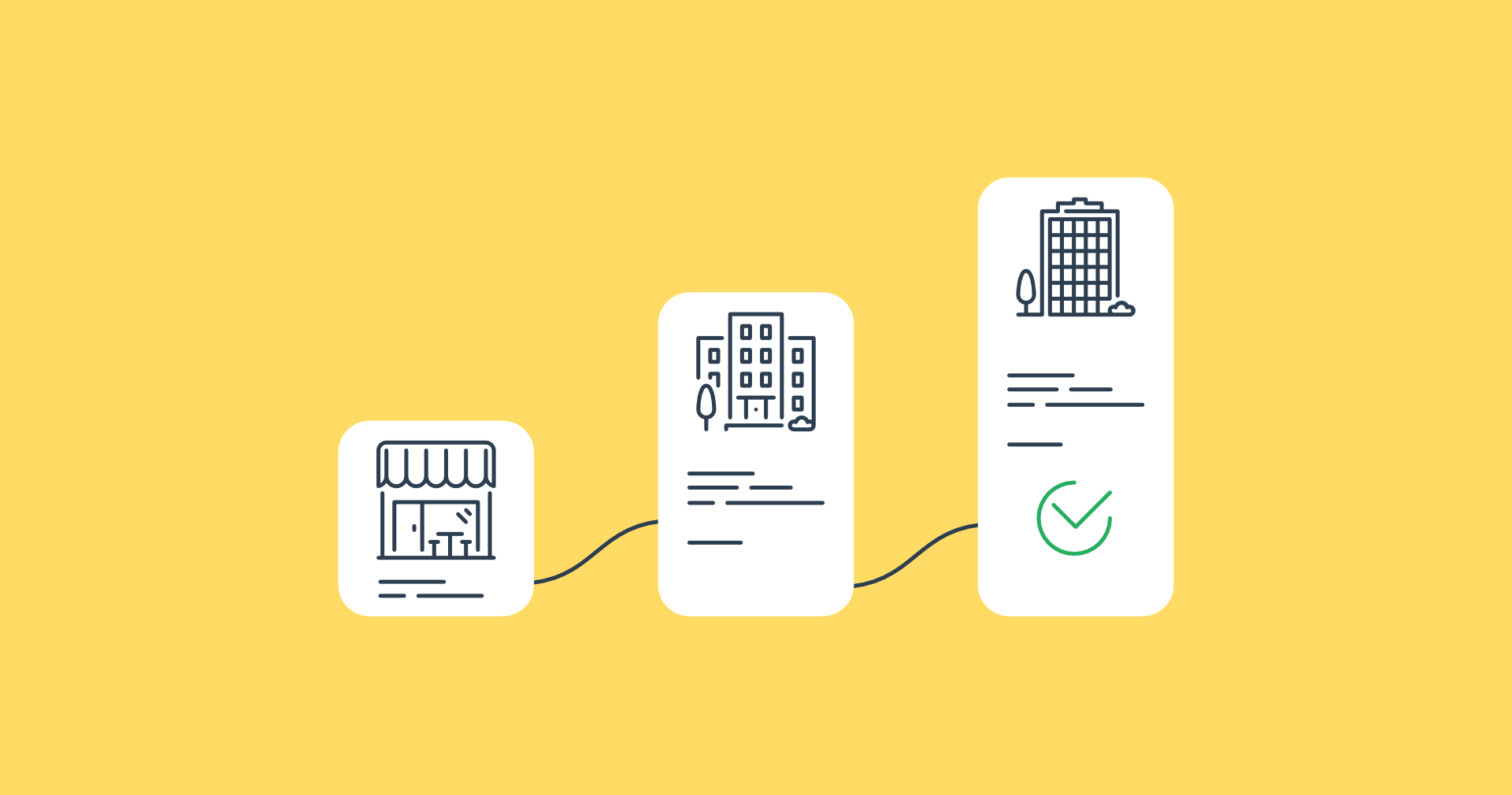 Smart marketing is about good time management; if you can automate tasks, you can reach more prospects, and over time you will increase sales.
Smart marketing also helps reduce costs; instead of paying employees to spend hours doing manual tasks, marketers pay for software that's cheaper and that can do the same tasks more efficiently, with higher accuracy and with far better results.
ActiveCampaign is a popular email marketing software. It is used to create bulk emails that can be customized according to client behavior, their history and their interests. The software has a CRM that allow you to customize and track each email so that you can close in on clients that are most likely to convert.
ActiveCampaign achieved 50,000 users in 2018 and continues to grow, but that's not to say that it is the best in the field, or that it offers a specific advantage that's lacking in similar software. Users are seeking tools that can perform the same functions better, and for a better price.
This article will look at 7 best ActiveCampaign alternatives. All the software discussed here can do everything that ActiveCampaign can do, and sometimes more.
For beginners in the world of marketing automation, let's start by discussing the difference between automation and CRM (Customer Relationship Management). If you are a seasoned marketer, you can jump straight to the good stuff, the best ActiveCampaign alternatives.
What is marketing automation?
Imagine that you want to get users to download an e-book from you so that you can capture their email address and tell them more about your product. You have to design an email capture form and then keep an eye on things so that each time someone leaves their email address you can manually send them the eBook.
Once you have their email address, you would have to manually send each and every lead a series of emails in the hope of converting them. This would take up all your time.
Marketing automation takes away all this painstaking work.
Every step of email marketing is automated so that all you have to do is create a web form and craft emails. The rest is put through a funnel that automates actions. If a user leaves their email address, they automatically receive your eBook and a thank you email and you can send them a series of additional communications to convert them from leads to buying customers.
Marketing Automation vs. CRM
It isn't unusual to come see the two terms used interchangeably, but they mean different things. Marketing automation deals with lead capture right at the top of the sales funnel. Once you have the lead you can send a series of emails to explain the value of your product until you can convert it into a sale.
CRM, or customer relationship management, is just that: it's about creating and maintaining relationships with existing customers or with leads that are on the verge of becoming customers so that they can become repeat buyers.
Unlike marketing automation, which happens at the top of the sales funnel, CRM happens somewhere in the middle.
A good marketing automation software will have a strong CRM. In a nutshell, CRM is a component of marketing automation.
What are the benefits of marketing automation?
There are three main goals of using marketing automation software:
It helps you automate otherwise laborious tasks which leaves you with time to focus on other aspects of your business.
It is a great way for any business to save money; you can reach hundreds of thousands, or even millions of leads, for a fraction of the price of doing it manually.
You can provide a consistent experience for every lead that you capture, which helps when you want to know what your most effective channels are.
Why ActiveCampaign Alternatives?
While ActiveCampaign is excellent software, there are some on the market that are just as good if not better. Providing you with alternatives allows you to choose according to your needs.
The problem is, there are so many of these alternatives that it can be hard to choose. To know which marketing automation platform is right for your business you may have to sign up for multiple trials and track their performance. As a business marketer, this isn't a good use of your time.
This article has done the work for you; we have taken the time to test the different software so we can tell you the features of each.
By reading through the alternatives provided here, you will be able to quickly decide which one is most suitable for your business. For each, we take a quick look at the following:
Price: cheapest package, whether or not there is a free plan.
Best feature: What is the best thing about the software?
Ease of use: what is the user interface like, and does the software have a long learning curve?
Who can use it?
---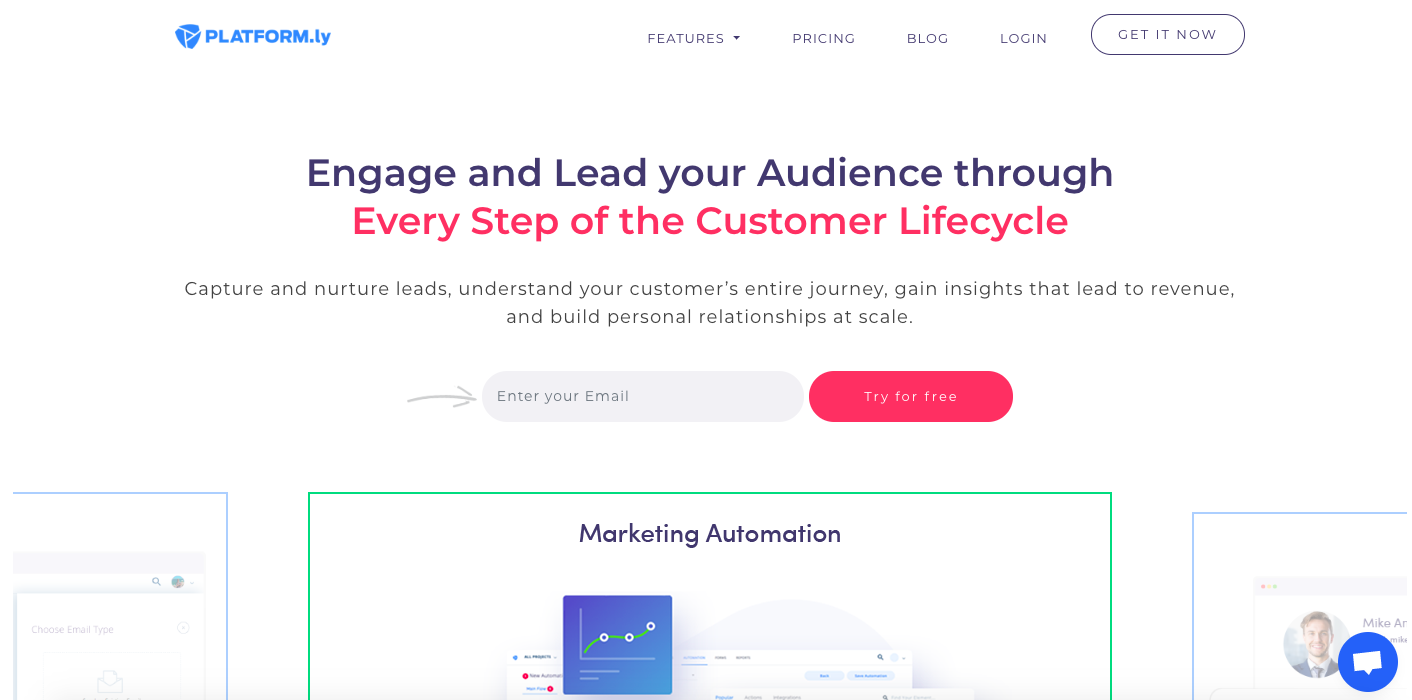 We mentioned at the beginning that the tools that we will look at here are the same, or better than ActiveCampaign. Platformly is one of those that is better. It takes marketing automation and CRM to a whole new level.
It is a marketing automation and CRM tool for eCommerce and SaaS companies that are focused on growing their customer base, but it does more than the average software.
One of the things that makes it unique is its features. They include business dashboards, link tracking, a landing page and opt-in form builder, email campaigns, sales reporting and CRM, to mention but a few. All these can be tracked across different campaigns on one dashboard, and you can generate a wide variety of reports.
Drag-and-drop builder allows to create emails and web forms on the fly, and you can tailor them depending on the behavior and history of your leads.
You can view all interactions you have had with a lead in the past in one place, and you can adjust your campaign based on detailed reports. At a glance, you can see your warmest prospects and guide them through the whole funnel until they convert into buying customers.
The smallest package costs $19/mo. Price increases depending on the number of contacts your business have and some additional features. At the highest tier, you get to enjoy unlimited emails, domains and dashboards.
Platformly offers great support to clients across all tiers.
Price: Starts at $19. No free tier, but you get 15-days free trial for each of the 3 tiers.
Best Feature: You can create automated funnels with ease using the simple drag-and-drop builder.
Ease of Use: Has a great user interface that beginners can learn fast.
Who Can Use It: Businesses of all sizes.
---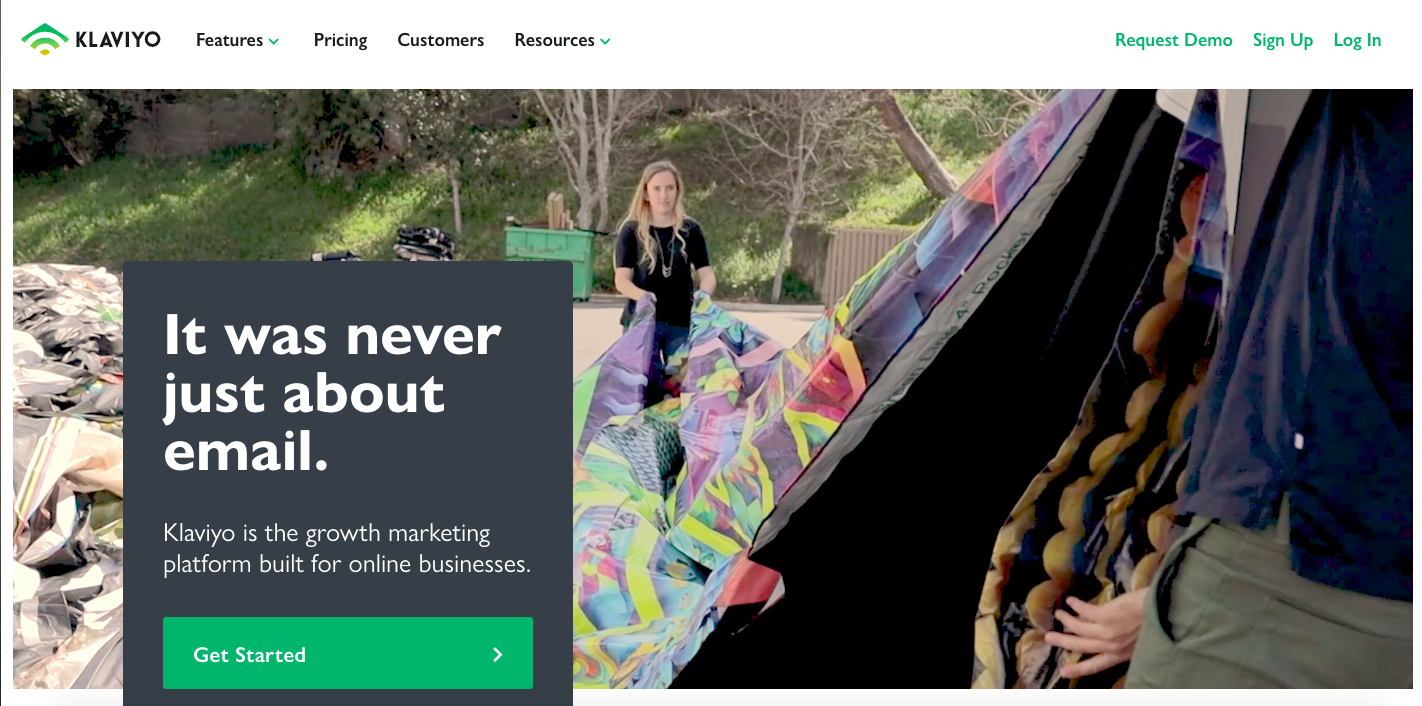 Klaviyo's slogan is "it was never just about email". The software is positioned as a specialized tool for eCommerce businesses; it is designed specifically to help eCommerce businesses grow. It has a wide variety of features including segmentation, personalization, and tracking.
The software offers a direct Facebook integration which is useful for companies who are active on social media. It can also be integrated with Shopify and BigCommerce.
The main concern with Klaviyo is that it is a little clunky, especially compared to other tools that are discussed here. That said, it still among the top enterprise tools for marketing automation.
Klaviyo has a free tier but it doesn't provide much value: you can only use it for 250 emails. The cheapest paid tier costs $20/month, and you can add features as needed by switching to higher price tiers.
Price: Starts are $20/month.
Best Feature: Can integrate directly with Facebook for more powerful campaigns.
Ease of Use: It can be better. Offers good customer support.
Who Can Use It: Strictly for enterprise.
---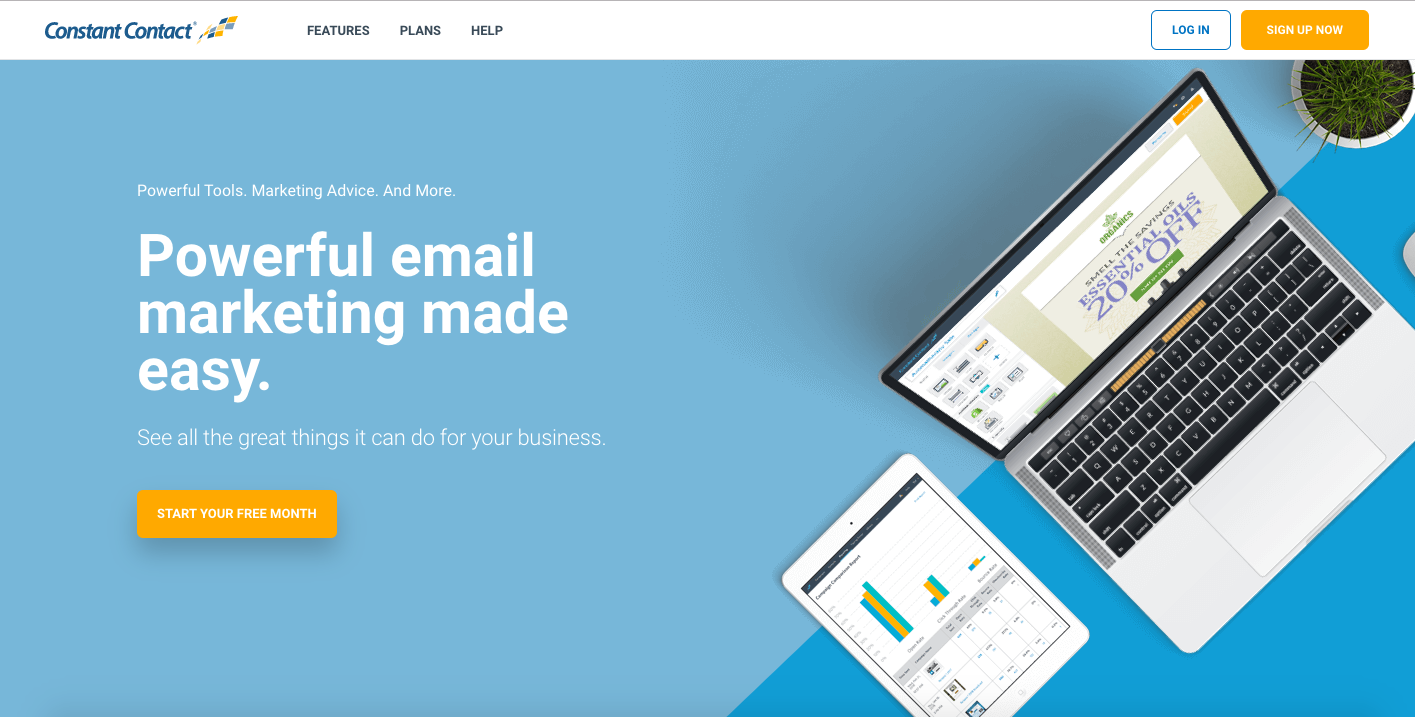 Constant Contact is the perfect tool for email marketing beginners; it doesn't have a CRM module, but it is one of the most efficient and effective software for email marketing. You can create and send emails to large email lists in a matter of minutes with this software.
The tool offers features like list segmentation, automated cart abandonment emails, tracking and reporting.
In recent times the software has been updated to include a website building feature, and it can be used to connect to online stores.
The software comes in two pricing tiers, Email and Email Plus.
Price: You get a 1-month free trial. The cheapest paid tier costs $20/month.
Best Feature: It has a wide variety of features for email marketing.
Ease of Use: It has an easy user interface and is perfect for beginners.
Who can Use It: Ideal for all types of businesses.
---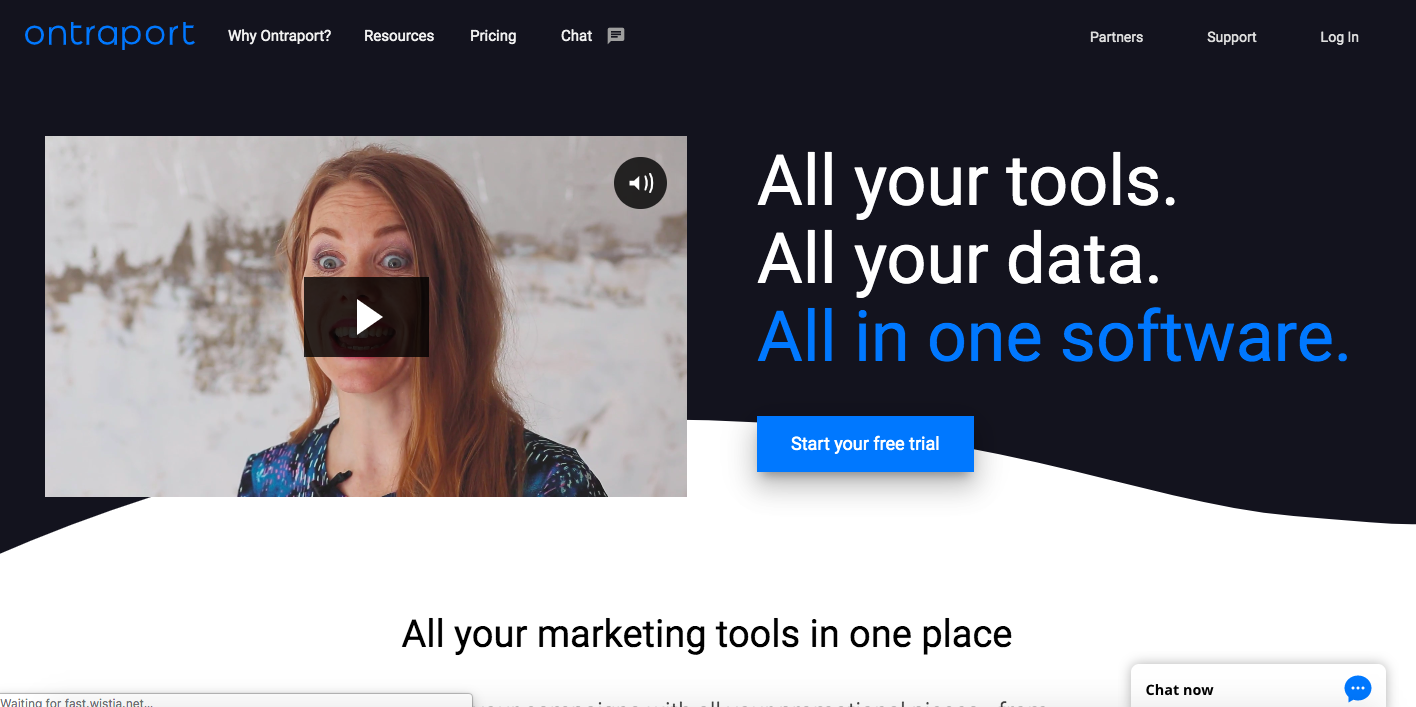 The slogan for Ontraport is "All your marketing tools in one place." The email feature allows you to design and send emails with ease, while the CRM module allows track each and every customer and save their data for better campaigns in the future. With Ontraport you can send texts, create landing pages and web forms.
This software isn't ideal for beginners; it has a lot of features packed into it, and getting to understand how they all work takes some time. However, once you get the hang of it you are able to create highly effective email marketing campaigns.
Features include CRM, email, landing pages, automation, data integration automation and easy-to-customize templates.
This tool isn't cheap and is recommended for enterprise use.
Price: No free plan, but there is a 14-day free trial. Starts at $77/month.
Best Feature: Offers seamless integration with CRM.
Ease of Use: Not easy.
Who Can Use It: Designed for enterprise.
---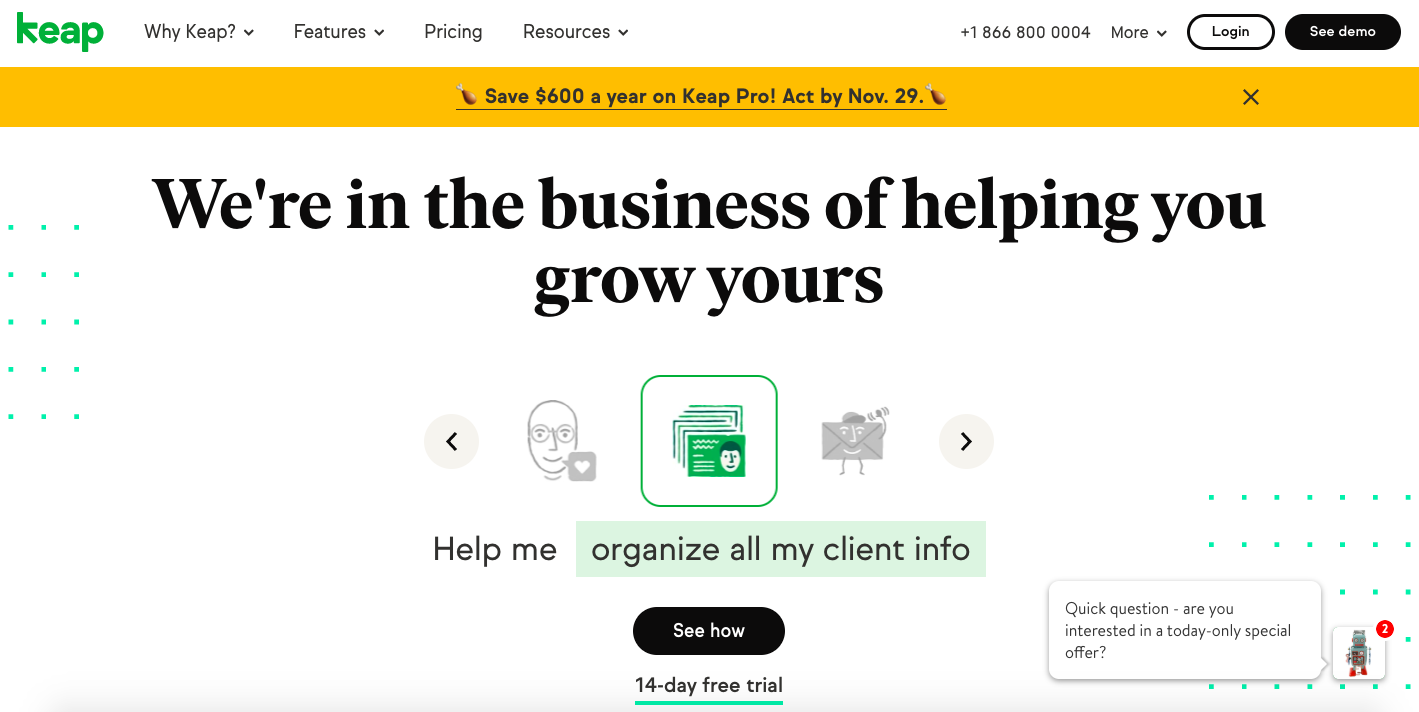 Keap, formerly InfusionSoft, is marketed as a client management software that you can use to turn leads into clients. The main difference between Keap and InfusionSoft is that Keap is more of a CRM.
While the new features are appealing to some, there are many who prefer that InfusionSoft kept the original features; they find the new version a little overwhelming and it doesn't offer very good customer support.
The tool isn't cheap either; you need to pay at least $34 to get access to the most basic features, and if you want to go to the next tier it will cost you $79/month.
If you want to get Keap with InfusionSoft features, you will need to pay at least $99/month for just 500 contacts. For many email marketers, this kind of pricing is a little too high.
Price: There is a free trial available. The cheapest package costs $34/month.
Best Feature: The new CRM module.
Ease of Use: Not as easy to use as some of the other software discussed here.
Who Can Use It: The pricing skews it towards enterprise.
---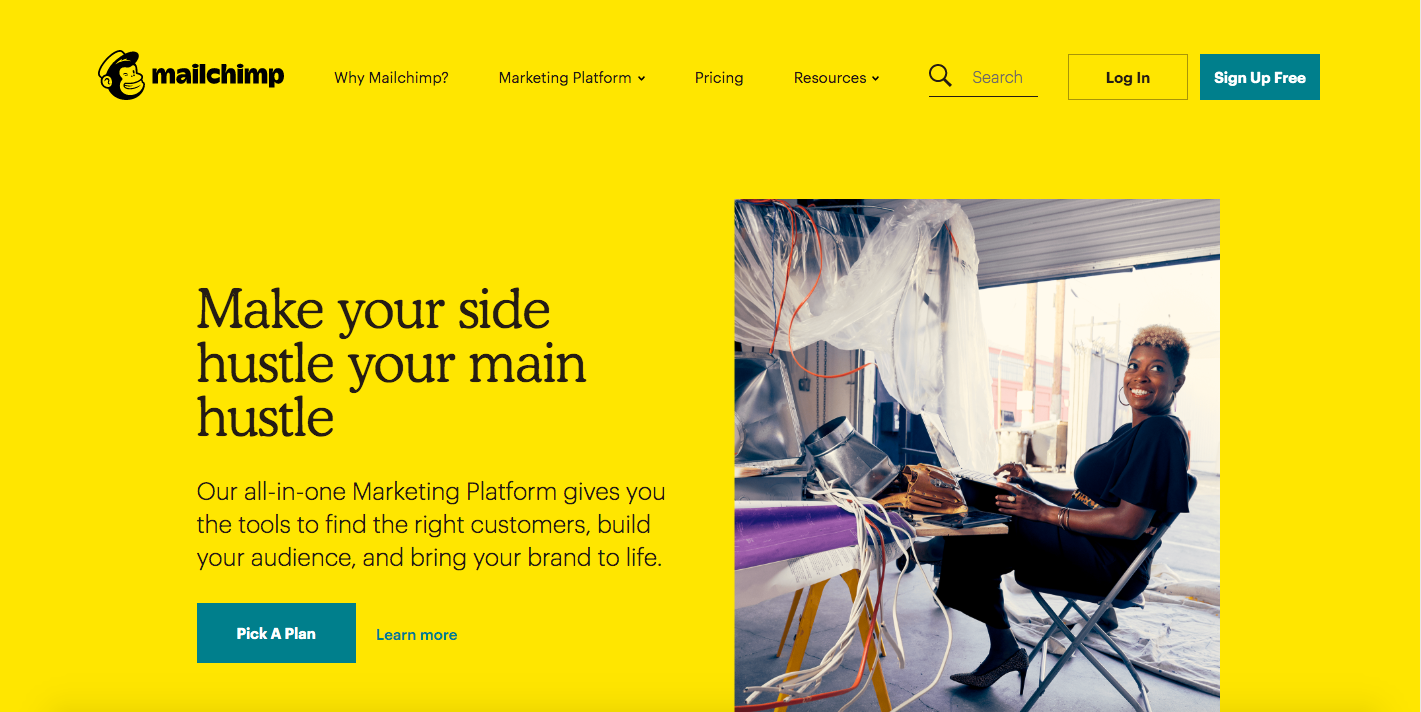 Mailchimp is one of the most commonly used bulk email marketing tools. It is great for newbies as it's easy to use and has decent pricing. You can use it for free for up to 2000 contacts, and you have access to a variety features with the free tier.
The software allows you to set up and send bulk emails fast and with ease. The user interface is ideal for beginners – you can figure it out even if you have no experience with similar tools. Some of the features offered by this software include mailing list creation, landing pages for campaigns, CRM and link tracking.
Some of the features, like email creation and new campaigns, are a bit clunky. That said, Mailchimp is pretty easy to use. There have been many updates in recent months in an attempt to compete with others in this category. However, the software still has some way to go.
Price: The cheapest paid package costs $9.99/month. The most expensive, Premium, costs $299/month.
Best Feature: Bulk emailing
Ease of Use: Easy but clunky
Who Can Use It: Businesses and organizations of all types and sizes.
---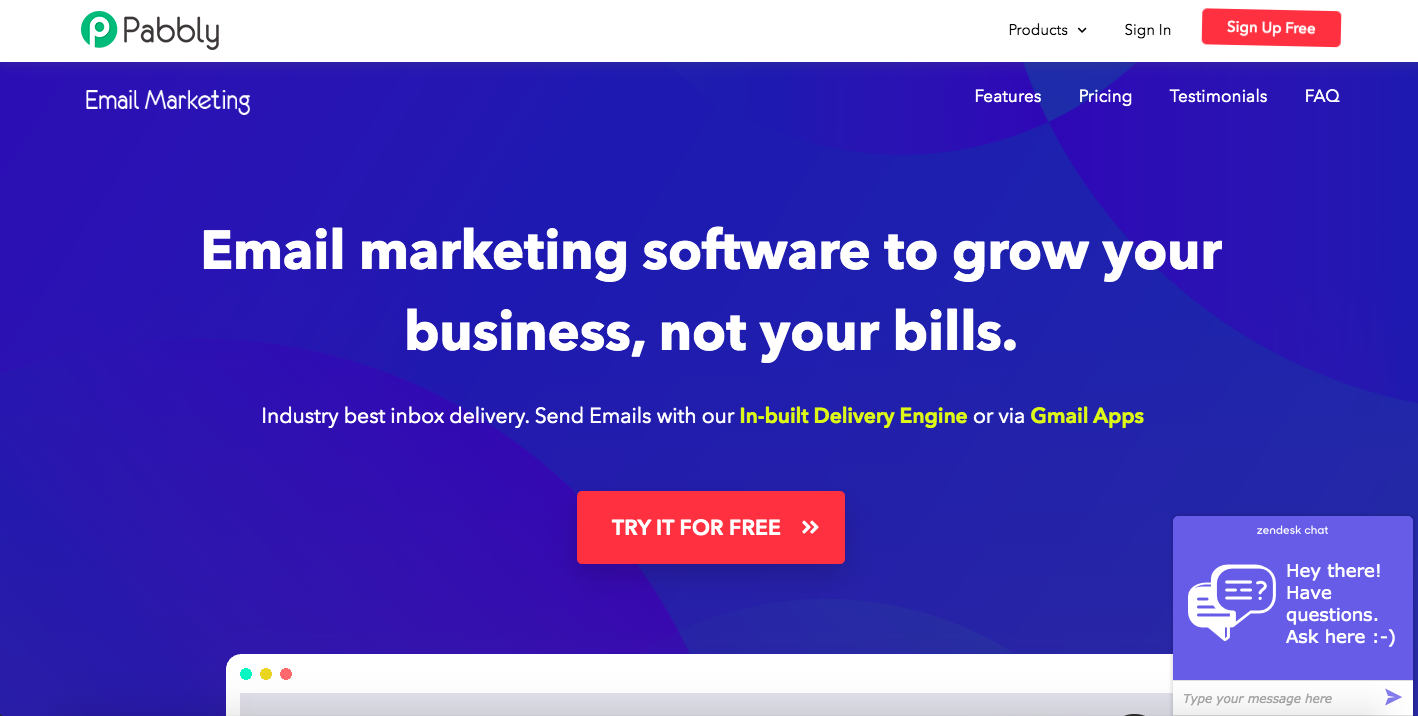 MailGet, or Pabbly as it is sometimes known, is chosen by many marketers because of its affordability. It is considered one of the cheapest email automation tools in the market today. It has a simple user interface that is perfect for anyone; even newbies can use this software without any problems.
On a single dashboard you can see all your recent campaigns and a selection of reports. Features include an email editor, sign-up forms, autoresponders, email drips, an include/exclude feature and HTML to plain text.
Price: There is a free package. You pay $29/month to send 5000 emails. The most expensive package costs $99/month.
Best Feature: Affordability with tons of features.
Ease of Use: Easy to use
Who Can Use It: Businesses of all sizes
---
Which email marketing software should I choose?
After reading through our selection of top 8 ActiveCampaign alternatives you may still feel a little confused as to which one is most ideal for your business. Start by outlining your needs. What exactly would you like to do with the marketing automation software?
If, for example, you are only running a short campaign you will not need to build relationships with your contacts, so you will not need a CRM module. You can pay for a simple software that allows you to send bulk emails and has high deliverability rates.
If you plan to build a business through email marketing, you should be looking at more complex software like Platformly or Klaviyo;  they have all the features you need to get to know your leads and understand their needs.
Your budget also matters; can you afford the software you have in mind for the long term? Think about where you will be in six months or a year; your business will have grown and you will have more contacts so you will need to pay more for email marketing automation.
Lastly, as you compare the ActiveCampaign alternatives on this list think about ease of use and support. Choose a software that has a short learning curve and a support team that's available when you need them.