7 Best Marketing Automation Software in 2022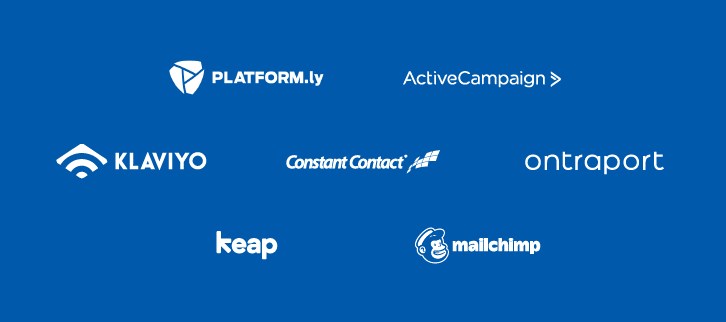 Marketing Automation was one of the biggest marketing trends in 2019, with a lot of new companies appearing and some older ones getting more attention from marketers. But, first of all, it's important to understand what marketing automation is.
Marketing automation won't replace marketers. The thing is, many marketers are stuck on menial tasks for a great part of their days. Marketing automation helps marketers stay on top of those tasks through automation, making it easier to focus on creative tasks and thinking about new ways to improve their company's marketing.
This is especially important for companies that have a small marketing team, mainly small businesses or startups. So it is essential for your company to find the best marketing automation software. The right one for you will depend largely on the needs of your company and on your needs as a marketer.
There are a few things in common among the software we're going to present on this list. The right tool for your company should include CRM, email marketing and several other tools we'll explore along with this article. These are just the bare-bones features: it will depend upon your company and your job whether you need more or not.
It's also important to know that marketing automation focuses on inbound marketing. However, it can improve your outbound marketing efforts as well if used correctly. It's all about getting to use the insights that are provided to you in an effective manner. Using marketing automation, you can make tasks like sending personalized emails automatically – and you can set triggers to these tasks according to the actions that your customers performed on your website.
This might seem like too much at the beginning, but we can assure you marketing automation will save you a lot of time and hassle on repetitive tasks that you're tired of doing. If you choose the right tool, it'll just take you a few clicks to create an automated task: choose the trigger, choose the action and boom – you've done your first automation.
You don't need to worry about delivering these tasks to a machine instead of doing them yourself – marketing automation has been perfected and still keeps on perfecting itself so you can trust that the marketing tasks you automated will be done right and in the timing you specified. So, follow us into the list of best marketing automation software in 2022.
---
Platformly is at the top of this list for many reasons. First of all, it is a quite comprehensive marketing automation tool with CRM, Link Tracking, Lead Capture, Messaging, Marketing Automation, Dashboards, Reports, and Integrations with several well-known platforms like Facebook and Google Analytics, just to mention a few.
On another note, Platformly's pricing plans are scalable according to the number of contacts you have on your mailing list. If you have a startup, you can begin with the 1000 contacts plan for $19 per month. That is if you haven't got many contacts. If you have more, you'll find Platformly's prices are quite reasonable for bigger contact lists.
Platformly allows you to create automations in just a few clicks, choosing the trigger and action to be performed from a large variety of options. It will engage your audience to a higher degree, no matter where your customers are in your sales funnel. Platformly gets you reports that help you improve your relationship with customers, and enhance sales numbers.
Plus, its dashboards can be customized to show just the metrics you care about and which are truly important for your business. No need to have unnecessary information that does not make a difference in your everyday management. Use Platformly's CRM features to manage every interaction of your customers with the brand.
Use link tracking to get analytics for all your campaigns under one roof. You can also create opt-ins and forms for your website that help you with lead capture.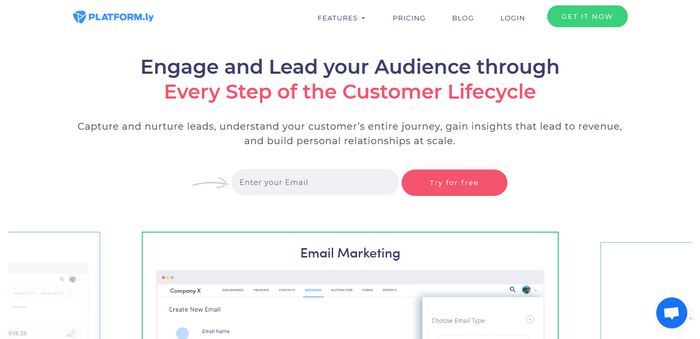 Features of Platformly:
Building and Personalizing Emails: Use a template or create your own email for your contacts
Manage Email Deliverability: Ensure your emails get delivered to your contacts' inbox
Landing Pages and Forms: Create landing pages and opt-in forms for your website
Segmentation: Use segments and tags to split your contact list
Lead Scoring and Grading: Grade your leads according to their internal scoring and understand which of your customers are most likely to buy
CRM Lead Integration: Keep your leads in your CRM so you can track interactions
Contact Management: Manage your contacts in your list according to their positions in your sales funnel
Marketing Analytics: Analyze your campaigns and their overall performance
Reports and Dashboards: Receive real-time updates about your campaigns
Revenue Analytics: Get info about the ROI of your marketing efforts and sales information
Integration APIs: Integrate several other services under the same platform
| Pros | Cons |
| --- | --- |
| Looking after customers without any actual work | Email builder could allow for more customization |
| Value for money | Could have more templates available |
| Easy to use | Still needs more integrations |
| Great variety of automations | Wealth of features can be overwhelming |
---
ActiveCampaign has been around since 2003, and in the meantime, 80 thousand businesses have come to use it and trust it for its marketing automation tools. Its goal is to support small and medium businesses in doing marketing automation without much effort – something it does not always manage due to the degree of complexity it aims to reach. However, it's a tool that fits many businesses and might fit yours.
Its platform supports 14 languages,  which is a good feature for non-English speaking marketers and business owners. It offers many tools such as subscription forms, site tracking, email segmentation, contact and lead scoring, and e-commerce features.
The fact that it's one of the oldest tools in the market has different results: on the one hand, it has been up to the trends in marketing automation in the latest years, but on the other hand, its integration of newer features can be a little clunky sometimes.
These facts are not lost on ActiveCampaign's team, which keeps on working to improve the app, but it's still a daunting experience when you first begin working with it. Their blog is quite useful for those experimenting with marketing automation, even if you're going to use another of the tools on this list. It is full of useful tips about marketing automation that work for any of these other tools if you put them in practice. To get all the features, pricing starts at $129 per month.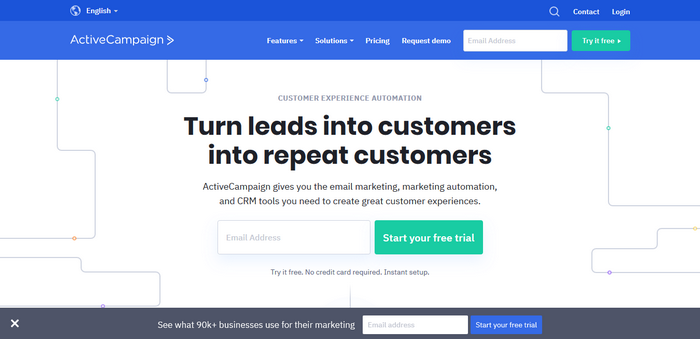 Features of ActiveCampaign:
Subscription Forms: Sign-up forms that allow you to collect contacts
Site Tracking: Site Tracking adapts your website to the features your contacts are most interested in so they won't leave without purchasing or subscribing
Facebook Custom Audiences: Follow up your contacts using Facebook Ads
Predictive Sending: Email your customers at the moments they're more likely to convert
Email Segmentation: Send each contact what they really want to see
Contact & Lead Scoring: Know the leads who are most likely to become customers and follow up with them
Attribution: Get to know how each of your customers came to you and find your top-performing marketing channel
Conversations: Live chat tool helps you track your interactions with customers more easily
SMS: SMS campaign automation to contact your leads and customers while on the go
E-commerce: Connect the SalesForce app to your ActiveCampaign account
| Pros | Cons |
| --- | --- |
| Time-saver | Difficult importing contacts |
| Great support team | Problems with the email builder |
| Free trial period | Not many social media buttons |
| Drag and Drop System | Difficult editing email templates |
---
Klaviyo is mostly aimed at online business, and it has amassed a following of 28 thousand clients trusting their business with their tools. It considers itself a growth marketing tool, but it's based on marketing automation like the rest of the tools included in this list. It creates a healthy relationship with your customers by listening to what they have to say.
It claims to be the platform that consumes more data for each customer, which, while interesting, can be too much at times. There are times when you just want to look at the metrics that matter, instead of information overload. Segments update automatically on your contact list, which is nice.
One interesting thing is that unlike most tools on this list, Klaviyo has a free tier. However, don't get too excited: it only allows for 250 contacts and up to 500 emails sent per month, which is really not that useful for many companies. Nonetheless, it's worth mentioning if your company is really that small and you don't expect much from your marketing automation tool.
On the other hand, if you are serious about marketing automation, the company's pricing starts at $30 per month for 1000 contacts, which is reasonable (while higher than Platformly, which offers the same tools).
Klaviyo helps you analyze trends within your customer base and take the opportunities that arise. If you have many subscribers, be aware that Klaviyo might be too pricey for you – $150 per month for 10000 contacts. It all depends on what you need your marketing automation tool to do – although Klaviyo claims to be a growth tool, it is lacking a few features that you can find on ActiveCampaign and Platformly – and that you might need eventually.
The good thing is, Klaviyo does not charge you annually – their plans are monthly only, so it's easy to give up and keep on looking if you figure this is not the tool for you.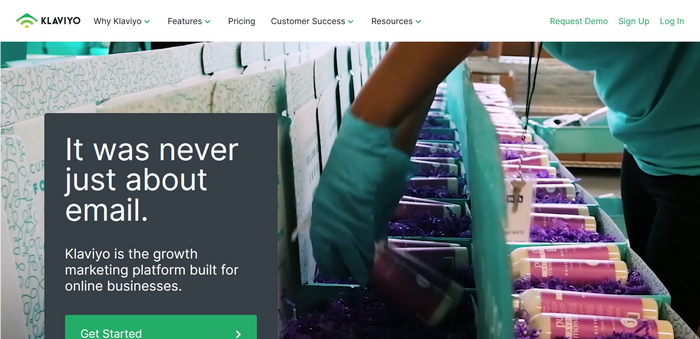 Features of Klaviyo:
Integrations: Integrate other apps on Klaviyo for ease of use
Forms & Personalization: Customizable forms for opt-in and collecting data about your customers
Profiles: For full-on personalization, Klaviyo's CRM collects a lot of information about your customers and leads' actions, so you'll be able to full personalize your communications
Segmentation: Automatically updated segments for contacts
Data Science: Machine learning used for predicting customer behavior
Reporting: Get a dashboard that allows you to see the metrics that matter to you, like sales resulting from specific campaigns
Customer Analytics: A feature coming soon that will allow you to have access to all your customer data in a dashboard
Automation: Design your ideal customer journey with a drag and drop builder
Social Advertising: Get data from Facebook and Instagram to create unique campaigns that cater to your customers the way they should
Campaigns: Send targeted email campaigns segmented by Klaviyo
SMS: Personalize your messages and send them to your customers on the go
| Pros | Cons |
| --- | --- |
| All-inclusive pricing | Workflow quite linear and not heavily customisable |
| Great for email marketing | Expensive |
| Easy to integrate with other apps | Slow return on investment |
| Increase your online presence | Does not work with drip email campaigns |
---
Constant Contact is more of an email marketing tool than a straight-up marketing automation tool. However, many users make do with it for the same purposes, so we figured we'd include it on this list. For many people, marketing automation is just email marketing with something extra.
The fact that's not one of the most complete tools on this list should not deter you if that's what you're looking for. For some small and medium businesses, all they need really is email marketing, or at least they're not thinking of upgrading their marketing efforts into something that takes a bit of time to learn – even though all the marketing automation tools on this list work using a drag and drop builder which is quick to learn how to use. However, who are we to judge?
If you just really want email marketing, Constant Contact is one of your safest bets. It also offers web building tools, an e-commerce feature, domains, logo making and, what you're all looking for, online marketing tools. It also comes with limited reporting tools to control your email open rate and get to know who's just deleting your emails.
To get all the features, you should get the Email Plus plan which costs you $45 per month. This plan comes with Automated Emails for Welcome messages and Behavioral emails that get sent to customers who performed a specific action. It also offers RSVP, Subject Line A/B Testing, Customizable Pop-Up Forms for your website, enabling different users with different levels of permissions, Event Marketing, Surveys, Polls, and much more. It also provides you with the options to do Online Donations and New Consumer Consultation.
Constant Contact users can also get a discount on their plans when they subscribe for 6 months to one year, saving them up to 15% in the monthly plan. For non-profit organizations, the savings can go up to 30% if they prepay yearly.
The company claims to be a leading expert in email marketing for the past 20 years, so there's also that. They're not lacking in experience, but could use some upgrading of their features.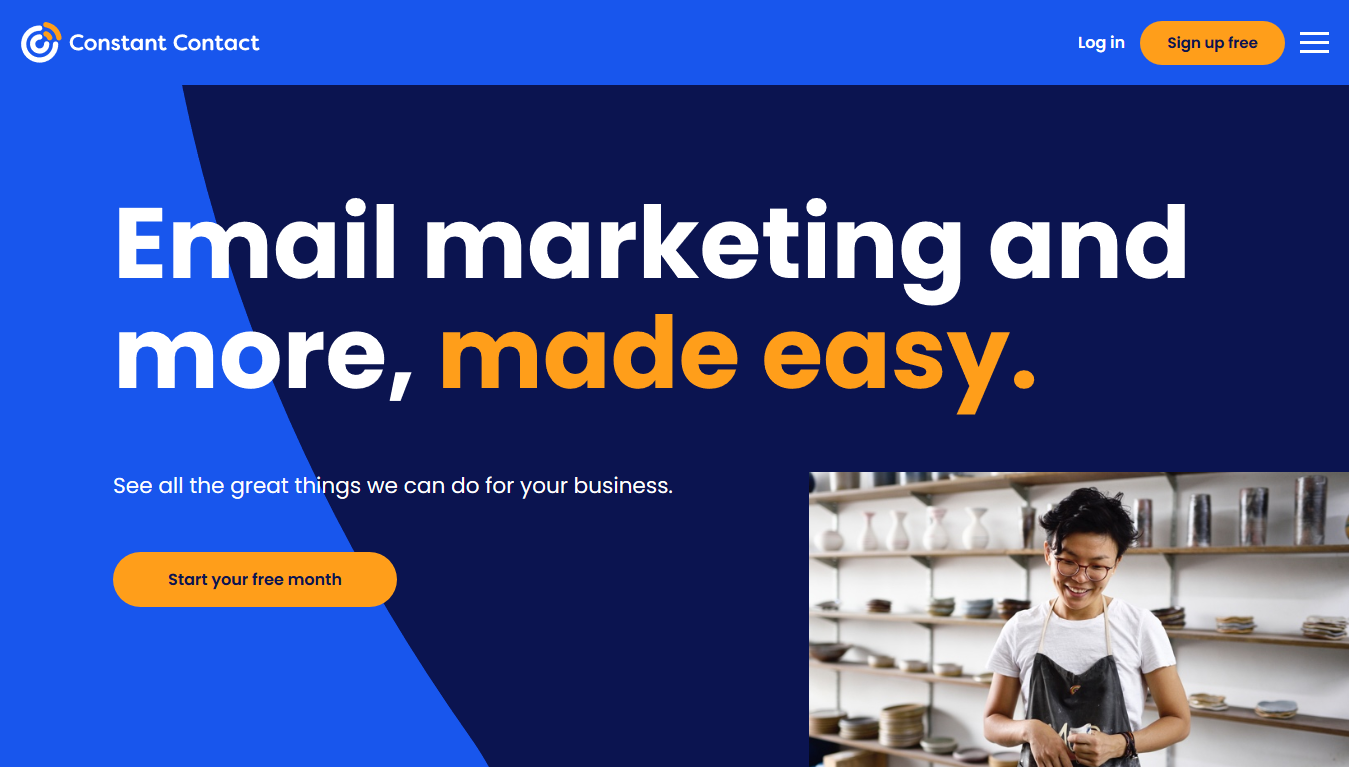 Features of Constant Contact:
Drag and Drop Email Builder: Build your emails from templates using a drag and drop builder
Email Marketing Automation: Automate your emails to be sent when your customers are most likely to convert
E-commerce Email Marketing: Perfect your e-commerce marketing strategy with supporting emails
Contact Management: Manage your contacts manually and get warned when you receive hard bounces or fake emails
Reporting: A dashboard that shows your main email marketing analytics
Surveys and Polls: Get to know your customers' opinions using surveys and polls through email
Donations: Collect and track online donations easily on a specific landing page
Dynamic Sign-Up Forms: Set up dynamic forms for signing up for your mailing list
Eventbrite Integration: Create, promote and manage events with Constant Contact's Eventbrite integration
| Pros | Cons |
| --- | --- |
| Ease of use | Lack of diverse templates and customization |
| Email reporting metrics | Does not show a mobile preview |
| Allows to create several users in one account | Glitches when formatting text |
| Great customer support | Limited segment function |
---
Ontraport is another useful tool for marketing automation that has most of the features of previous tools on this list, including CRM, Email Marketing, SMS, Landing Pages, Forms and, a feature not very common, Membership Sites. You'll probably notice that's lacking a reporting feature, and you're not wrong.
Plus, Ontraport is on the expensive side with $79 per month for 1000 contacts, which is a lot more than some of the tools in this list – as an example, both Platformly and ActiveCampaign are a lot cheaper and offer the same features, if not more (in the case of Platformly).
The good thing is, there's a free trial of 14 days so you can decide if you like Ontraport or not before shelling out almost eighty dollars for a monthly plan. However, we all know that sometimes two weeks is not enough to decide if you like a tool or not. You need to test it thoroughly and maybe an account setup would help – well, you're out of luck, since that only comes with the Plus plan and onward, which means you would have to pay $147 per month to get help with your account setup.
If you're a seasoned marketer, maybe you don't need help with your account setup. But, for beginners in marketing automation, it can be a deal-breaker. If you're just starting to understand what you can do with marketing automation, you'll need a little bit of help to set up things properly from the get-go.
Nonetheless, all of Ontraport's plans offer unlimited emails, which is useful for those who sent emails with a very high frequency. Plus, if you automate your email marketing, you want to feel free to send as many emails as your strategy requires. Ontraport seems to be a little difficult to work with, with users reporting a steep learning curve for getting used to its tools.
Plus, although their platform is quite good, when it breaks, it really does break. Users report having trouble with a feature and it taking a long time to solve, which can be an issue that can cost you money and customers in the time your tools are down.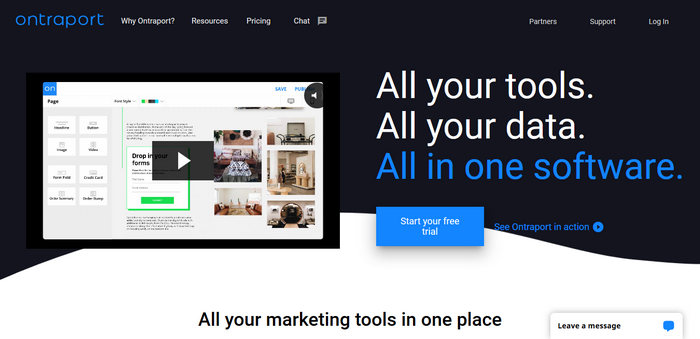 Features of Ontraport:
CRM: Manage your contacts and every single interaction with them across every channel with ease
Email Marketing: Use one of the professionally designed templates for email marketing or design your own – automate their sending using Ontraport's re-engagement tool
SMS Texts: You can use this feature to remind your customers of appointments, confirm purchases and much more that will reach your customers wherever they are
Landing Pages: The Landing Page creator allows you to develop pages that will help you turn leads into customers using compelling CTAs and based on templates for easy implementation
Forms: Get info from your customers like their contacts and much more, using forms that are easy to build and to implement
Membership Sites: This is a new Ontraport feature that allows you to generate passive revenue through membership sites
| Pros | Cons |
| --- | --- |
| All-in-one tool | Steep learning curve |
| Tutorials provided | Some issues take a long time to solve |
| High automation level | Too many functions make users feel confused |
| Easy to integrate contacts | Designs and page edition are limited |
---
6. Keap (formerly InfusionSoft)
Unlike other tools on this list, Keap (formerly known as InfusionSoft) describes itself as a CRM tool. However, this tool not only includes CRM but also marketing automation, and that's why it's on this list. Keap's goal, as it says, is to put your CRM to work for you. Marketing automation is just how it does it.
Keap allows you to have CRM, marketing and a sales platform all under the same roof, however, it comes at a hefty cost. With its Grow package at $49 and Pro at $99, you're only allowed to have 500 contacts, which might be not enough for most users. This leaves you with only the option of getting Infusionsoft's package, which costs $199 for 2500 contacts. Nonetheless, if you have a really small contact list, you'll do just fine with the Pro plan, which includes most relevant features.
According to Keap, Infusionsoft's package is dedicated to agencies and professionals at large companies. That's also the only plan that offers advanced reporting, which means that reporting is going to be very limited in other plans that are cheaper. Even then, "cheap" plans at Keap are a lot over the average in this list. We think it's worth mentioning, having been in the market since 2001.
As we mentioned before, experience means a lot in this business, but it's not all. Keap might have almost 20 years of experience in the market and be trusted by thousands of professionals, but it's had better days when the competition was scarce and there weren't many options for marketing automation and online CRM.
Keap also has a quite good messaging app that allows you to stay connected on the go, but not for Android users. The app only exists in the App Store so far, which might be a let-down for those Android hardcore fans who prefer their Samsung over an iPhone.
Like we said in our introduction to this article, it's all about what you need and require from your marketing automation app. If you don't value messaging, that's not going to be a big issue if you don't have it. Many other companies live well without it, as you can tell from the number of customers platforms that don't have it have amassed.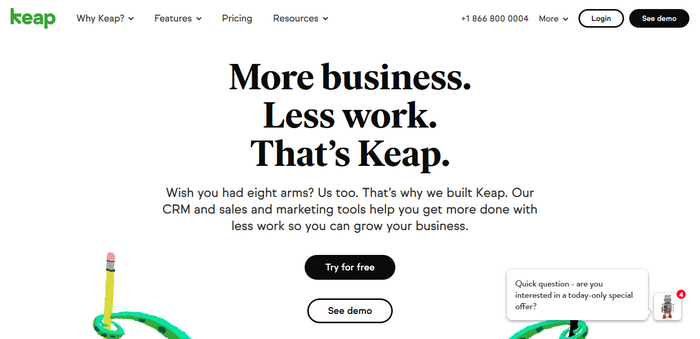 Features of Keap:
CRM: Get access to all the information you have on your clients on every device
Email Marketing: Use templates, segmentation, and reporting to improve your email marketing campaigns
Messages: Helping you stay organized, this feature allows you to reply to customers quickly and effortlessly on all your Apple devices
Appointments: Set up a calendar for easier scheduling of appointments with clients that integrates with your Google Calendar making it easier to have your schedule always on hand
Sales Pipeline: A single view of all your interactions with customers across your sales funnel in an interactive format
Marketing Automation: Automate emails and SMS to leads and customers helping you stay on top of your sales effortlessly
Quotes: Instant quoting to make it easier never to lose sales
Invoices and Payments: Make invoices and payments automatic through Keap's gateway which stores your customers' credit card data
Integrations: Keap boasts an impressive number of integrations with other commonly used apps and platforms
Reporting and Insights: Get valuable insights through a business dashboard that integrates marketing and sales to figure out which of your marketing efforts are paying off and which aren't
| Pros | Cons |
| --- | --- |
| Intuitive campaign builder | Quite expensive |
| Very easy to apply tags to customers | Lacks control over permission settings on custom fields |
| Lots of templates | Does not allow automations for business opportunities |
| Easy to make follow ups | Quick search does not allow to navigate companies |
---
Mailchimp used to be known just like an email marketing platform, and a quite good one at that. However, it has evolved into much more than that. These days Mailchimp has rebranded itself as an "All-in-One Marketing Platform". The good thing about Mailchimp are its prices: you even have a free tier, and paid plans start at $9.99 per month for up to 50 thousand contacts, apparently.
However, their website also says that prices are calculated according to audience size, so that's not very clear from their website. On the other hand, it seems too good to be true – 50000 contacts for less than ten dollars a month? We'll leave it up to you to decide.
Other thing that's not clear about Mailchimp's rebranded platform is its usability. If you look them up on Twitter, you'll find hundreds of unanswered messages from users complaining about issues that Mailchimp's support has failed to answer in months. That does not look very auspicious, and many of its previous users that have a larger audience are flocking to other tools, which seems to imply that something is very wrong with Mailchimp these days.
Nevertheless, this rebranding was recent, so there might be a chance that these issues are going to be solved soon and Mailchimp will return to what it does best – email marketing. These days, even its email marketing seems to be giving its users a hard time. Most of all the requests for help on Twitter are from email marketing users, and many Mailchimp customers are wondering around about how to get a similar platform that won't fail so often. Deliverability issues are common, which is a truly bad sign – you don't want your email service provider failing to deliver your messages to your customers, as it will cost you a lot of money and possibly cause business relationships to fail. But let's take a deep look at Mailchimp's features, pros and cons.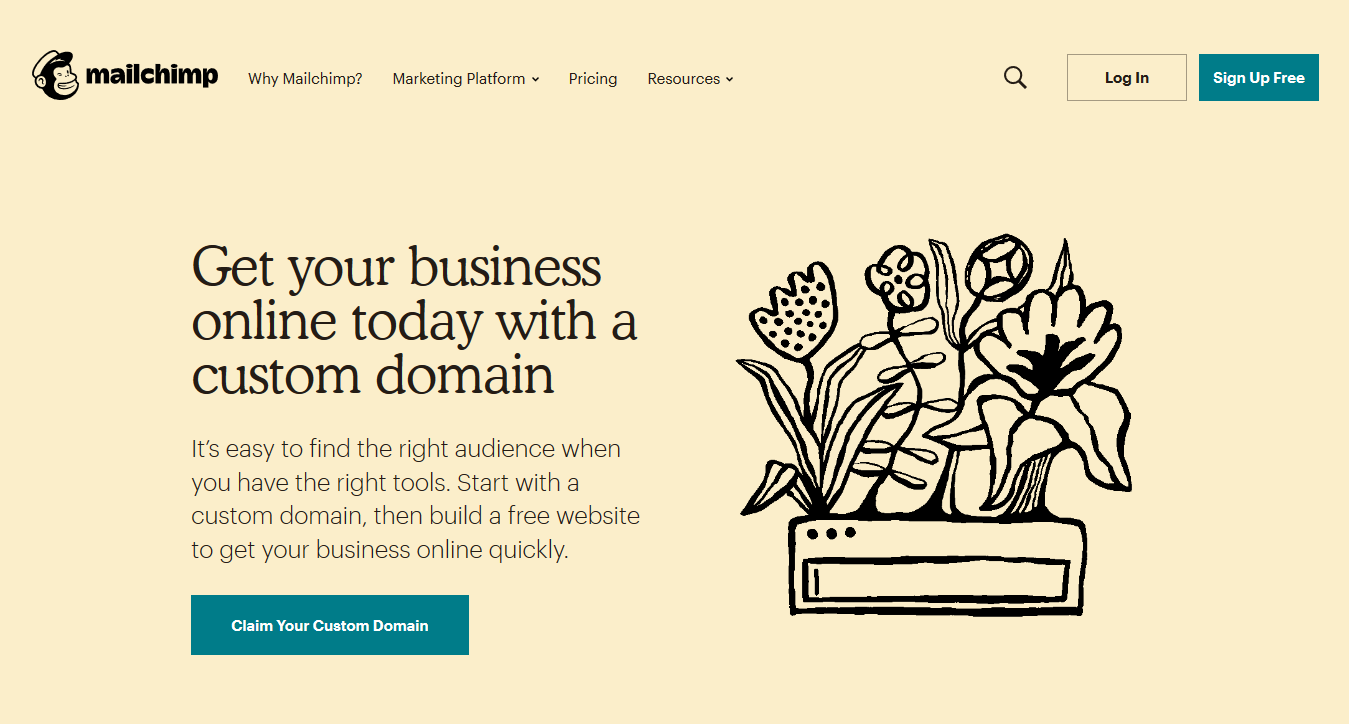 Features of Mailchimp:
Marketing CRM: Manage your relationships with your customers by getting to know your audience and how to communicate with them
Segmentation: Manual and automatic segmentation options to split your audience into several similar-interest chunks
Personalization: Send the right message to the right people, at the right time
Signup Forms: Get your users' consent to use that data using pop-ups and forms designed from scratch or from templates
Landing Pages: Set up landing pages which automatically tag users who are already on your contacts to figure out when to contact them
Website Builder: Mailchimp helps you get a domain and design your website without using code, which is perfect for one-man operations or small businesses
Email Marketing: An easy-to-use email builder helps you set up campaigns and A/B test them, using automations that are already set up or that you have customized yourself
Reports & Analytics: Get easy-to-read reports and dashboards that can even be accessed through a mobile app, making it easier to control your marketing efforts
| Pros | Cons |
| --- | --- |
| Easily create email marketing campaigns | Free version does not have most of the paid features |
| Adapted to social networks | Common issues with support |
| Allows customer tracking across sales funnels | Follow-up automation not available on the free version |
| Great email templates | Non-marketing messages overriding opt-out option not available |
---
Conclusion
All of the tools we mentioned can be used to automate your marketing. However, it's how you are going to use them that determines whether they are useful for you or not. What we recommend is that you enjoy your trial period to ask all the questions to support that your business requires.
As an example, Platformly offers a two-week trial and 30-day money-back guarantee, which means that you have a month and a half to get used to the tool and understand if it's the right fit for your team without having to worry about having spent money on something that you're not going to use.
Most tools here offer a trial period, so you should have no issues trying out each tool and getting to know whether it's what you need or not. We tried to compare these tools according to the features they provide, price, pros, and cons. From this article, you should have an idea of which of these tools is going to be useful for you and which won't cut, for many reasons – features missing, expensive plans, anything really.
If you read this article closely, you'll probably find the right tool for you without having to get it for yourself. As an example, if you have many contacts, Keap is not going to be worth it for you. According to the size of your contact list and the features you feel your company will require, it's easy to figure out the best option. If not, you can always drop us a comment asking about it and we'll let you know which tool fits you best regarding your requirements.
Our favorite from this list is Platformly, which offers the best price-quality ratio at $19 for 1000 contacts with all the features. However, to each his own. You might find another tool from this list that suits you better for your business. It's all about evaluating your company's needs and figuring out which tool will get you the best results.