5+ Best SMTP Relay Servers | Email Relay Services
Marketing has changed over time. Now, for reaching out to people in mass, email marketing has become the most preferred way. However, email marketing has got its own technicalities. One such technicality is SMTP relay servers.
SMTP Relay servers are getting more popular as in today's world people are using emails to do product promotions, sell services, deliver transaction information, newsletters, announcements and more.
But do you how useful these SMTP servers actually are?
These SMTP servers will act as a medium through which your emails will land in the inbox of your users. More like a postman who delivers the right letter to every post box.
Have A Look At The Best SMTP Relay Servers
| | | | | | |
| --- | --- | --- | --- | --- | --- |
| Services | Price | No. of Emails | Whitelisted Servers | Live Chat Support | Ratings |
| MailGet Bolt  | $5/Mo. | 5K | ✓ | ✓ | 4.5/5.0 |
| Pepipost  | $15/Mo. | 100K | ✕  | ✓ | 4.6/5.0 |
| SendinBlue | $25/Mo. | 40K | ✕  | ✕ | 4.0/5.0 |
| SendGrid | $79.9/Mo. | 100k | ✓ | ✕  | 3.7/5.0 |
So, if you're looking for an SMTP server which is affordable, has whitelisted servers and provides higher delivery rate then you are at the right place.
This blog is all about 5 Best SMTP Relay Servers available in the current market which focuses on email relay services. We have covered each and every aspect of the listed services and have defined them with perfection.
List of blogs that can be a great help in finding best email marketing services for you:-
I am sure you will find a suitable SMTP relay service for yourself here.
Let's get started –
---
MailGet Bolt is an advanced email marketing service which comes pre-equipped will the SMTP and other settings. If you are using MailGet Bolt then you just have to create emails, add contacts and start sending emails with a click.
This email marketing service is one of the quickest and simplest ways to do multiple emailing campaigns simultaneously, without any hassle.
Features:-
Track Actions of Receivers:-

Email tracking is a simple feature with the help of which you can track the activities of the users or the actions taken by them on your emails like opened, clicks, unsubscriptions and more.
Advanced Email Builder:-

Using the inbuilt email builder facility you can quickly create attractive and responsive emails for multiple campaigns.  
Auto Respond To Users:-

With this excellent feature, you can send an auto-generated reply to people who have contacted you, performed certain actions like sign up, etc.
---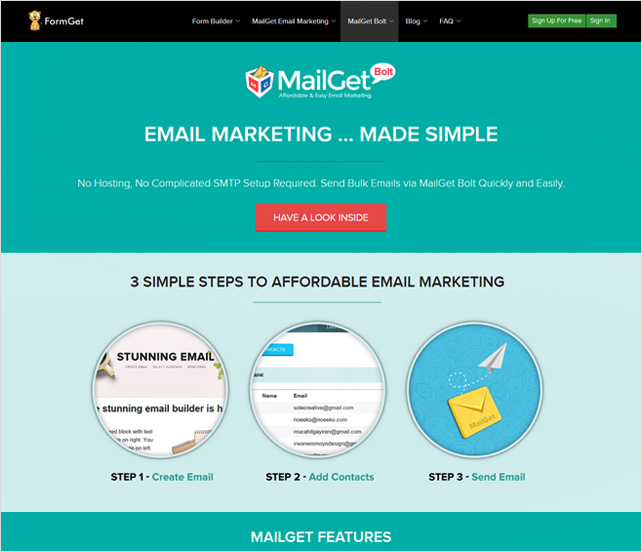 ---
MailGet Bolt Has Designed Free As Well As Various Paid Plans For Email Marketing Needs.
With the free plan, you get 9000 emails for a period of 14 days. Using this no charge plan, you can send 9000 emails to 300 users. This is the best means to test all the features of this service.
There are 7 paid plans starting from $9 a month and going up to $439 a month. These listed plans will give you access to send emails to 2,500 subscribers – 200,000 subscribers.
The most exciting thing about MailGet Bolt plans is that you can send unlimited emails to the allotted number of subscribers.
Additional Amenities:-
For all the above-mentioned plans of MailGet Bolt, if you subscribe for a yearly subscription then a straight discount of 2 months will be given to you on each plan.
---
Integrate the Pepipost with your website or application that provides a secured and reliable environment while you send your emails. You can sit back and get the real-time reports on your fingertips without having to wander here & there.
No matter what the situation is or how many emails you send in a day Pepipost delivers them at a very fast speed and ensures that it reaches th
Features:
You can manage the accounts with any trouble & add up to 15 sub-user accounts for different sending domains. Also, it empowers you to allocate individual email credits to each sub-user.
It offers you webhook integration with the help of which you can effortlessly get the notifications in real-time as when the user subscribes/unsubscribes, bounces, etc.
You can rely on this software with the critical emails of your business as they don't store your emails and use email protocols like SSL & TLS encryption to protect your data.
---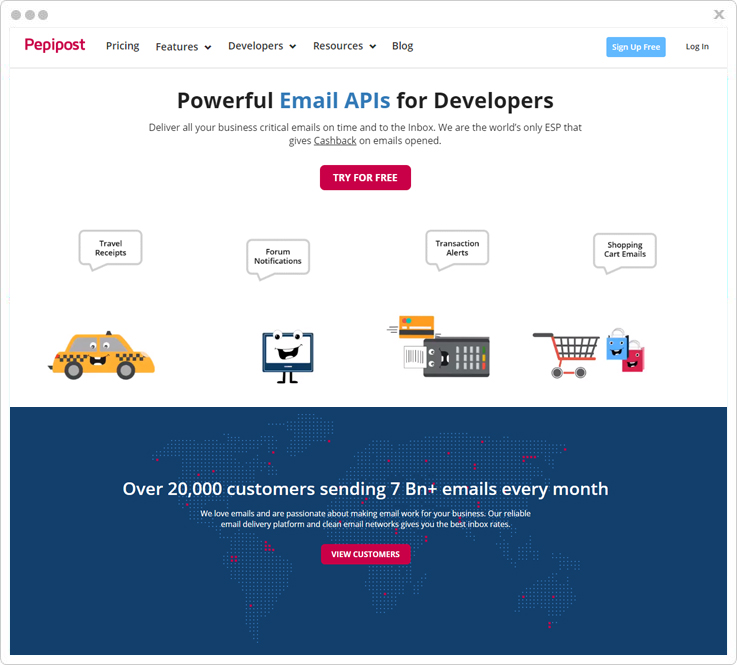 ---
Pricing:
You need to pay $15 per month for sending 100,000 emails per month. Further, if you want to send more emails, you need to pay $0.60 per 1000 extra emails.
If you want to send 300,000 emails, the cost is $65 per month. While to get extra 1000 mails you will have to pay $0.55.
For sending 2000,000 emails, you gotta pay $445 per month. Whereas, the extra 1000 emails will cost you $0.40.
---
SendinBlue offers you a platform through which you can send emails in bulk without any hassle. You can effortlessly create an email newsletter, all you need to do is simply drag & drop the fields in the editor without needing any special coding skills.
Features:
It facilitates you with automation functionality under which you can send automated emails such as- thanks for signing up and other such follow-up emails.
With SendinBlue, you can keep a track on the emails you sent and get to know all the important details like real-time statistics, open & click-through rate, heat map, etc.
You can select the different SendinBlue integration options such as – API, classic SMTP parameters, postfix configuration & SendinBlue PHP library.
---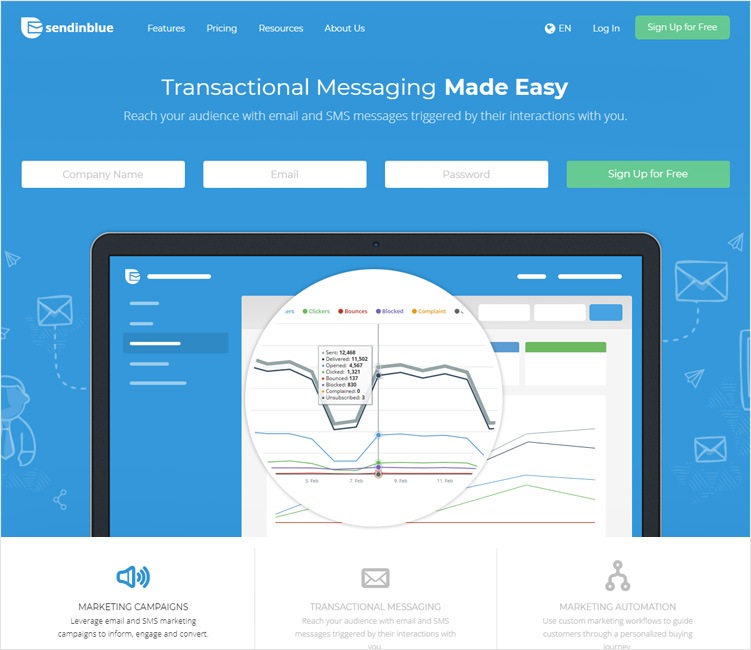 ---
Pricing:
FREE: It offers you a free trial in which you can send 300 emails per day to unlimited contacts.
MICRO: With this plan, you can send 40,000 emails per month to unlimited contacts at $25/month.
BRONZE: You need to pay $39/ month in order to send 60,000 emails per month without the watermark and provide advanced stats.
PREMIUM: It provides you with diverse plans to choose from i.e. $66 per month for 1,20,000 emails & $173/ m for 3,50,000 emails.
---
With SendGrid, you can send promotional and other types of emails that are delivered to the inbox of your customer, at a low-cost and with fewer efforts. Plus sending attractive and responsive emails through SendGrid SMTP relay service needs only a few modifications.
Features:-
Multiple Language Integration:- SendGrid SMTP relay service supports 7 different development languages. These languages are Ruby, Python, GoLang, PHP, Java, C# and Node.JS can be used for easy integration.
Different Sender Addresses:- You can have multiple sending ID's for the same account to deliver emails. Plus you can track essentials like email delivery, clicks, open rate, and it also reports bounce, spams and more.
Whitelisted Servers With 100% Delivery:-

All the servers that SendGrid uses are whitelisted and this is the reason why it guarantees 100% inbox delivery.
---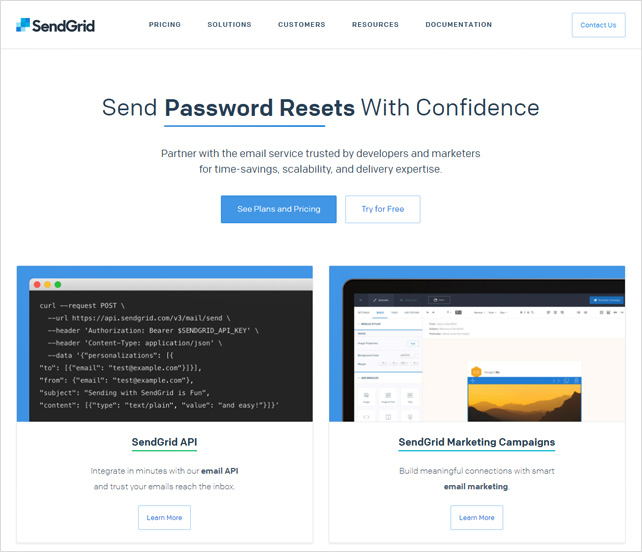 ---
SendGrid Provides 3 Pricing Categories – Essential, Pro and Premier.
There are 2 plans in the Essential category, the first is priced $9.95 for a month with which you can send 40,000 emails. A 30-days free trial is given on this plan to all new registrations. The other plan costs $19.95 and allows you to deliver 100,000 emails every month.
In Pro category, there are 5 different plans starting from $79.95 and going till $949.95 a month. These plans give you the sending limit of 100,000 to 2.5 million emails a month.
The last is the Premier category using which you can deliver over 4 million emails. For its pricing, you have to contact the sales team of SendGrid.
Additional Amenities:-
The pricing page of SendGrid has a special email and contact calculator. It allows you to select the number of emails you want to send, number of contacts that you need to store. Then it automatically displays the estimated price charged.
---
ElasticEmail right now has some of the best emailing servers with the help of which you can perform and manage multiple email campaigns from a single place.
You can use third-party clients with the account to send emails and it will work fine as the inbuilt SMTP relay service is efficient.
Features:-
Easy Bulk Emailing:-

Sending emails in bulk with ElasticEmail is simple as it permits bulk email campaigning and just a few step can help you start a new campaign.
Drag & Drop Email Editor:-

Create and send emails that look attractive and have a responsive design with the drag & drop email building option. With this feature, it becomes extremely simple to design eye-catchy emails.
Monitor User Actions:-

Conduct email campaigns and track the user activities on your emails. It shows data of opened emails, clicks, unsubscription and more in eye-pleasing visuals.
---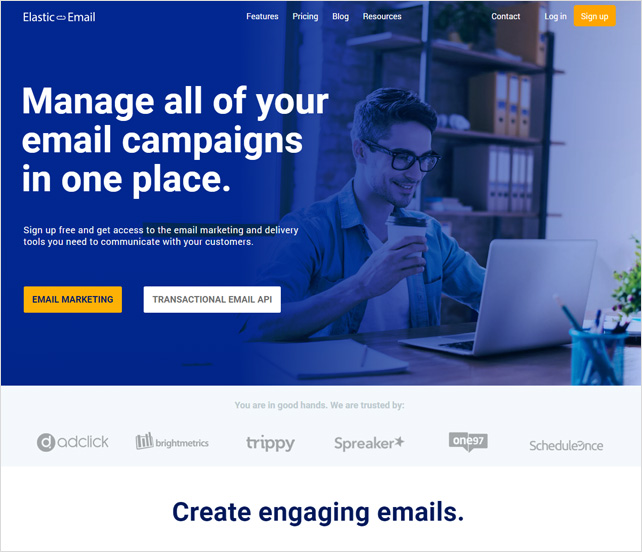 ---
ElasticEmail Has Various Affordable & Cost-Effective SMTP Pricing Plans.
ElasticEmail is equipped with an awesome free plan. Using this free plan, you can send around 5,000 emails on daily basis and you get 150,000 emails for free.
It has different paid plans as well, starting with just $5 a month through which you can send 200,000 emails. ElasticEmail has multiple other plans as well which you can subscribe as per your needs and requirements. These price plans go up till $4,000 in which you can send billions of emails.
You can also calculate the monthly bill on the scale by setting the number of emails required by you every month.
Additional Amenities:-
Add-ons like Private IP's, emails attachments, support and more are not very expensive.
---
You can configure Amazon SES server easily with the emails. This software provides you with extremely simple and real-time access to important stats. This is a secure, reliable and the most cost-effective service. Further, with this you can send transactional, marketing and other types of emails.
Features:-
Get Higher Delivery Rate:-

Amazon SES specializes in facilities like dedicated IP addresses, whitelisted servers, and good reputation. Also, it enhances your emails delivery rate and ensures that your emails reach the inbox of receivers.
Track User Activities:-

 Furthermore, with this SMTP relay service, you can have insides to all user functions performed on the delivered emails.
Easy Bulk Emailing:-

 Moreover, when you target a large number of audience via emails, complications are encountered. But with Amazon SES, sending emails in bulk marketing campaigns is a few clicks job.
---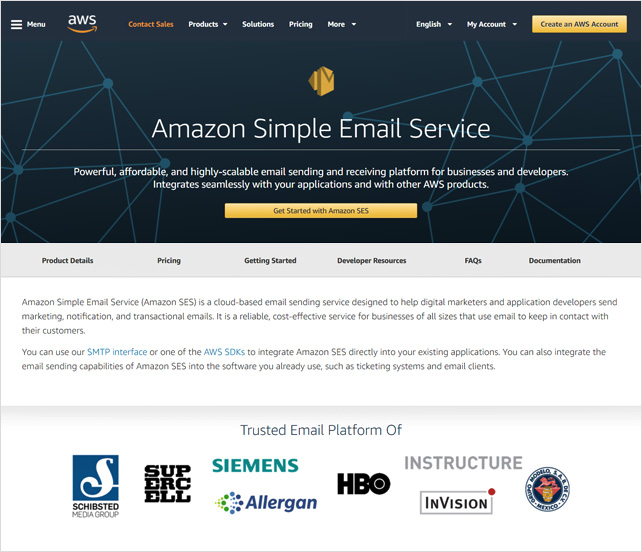 ---
Amazon SES Charges As Per Usage.
Now, you can enjoy the benefits of free 62,000 emails every month with Amazon SES if you get EC2 as your application host.
The first paid plan will cost you $0.10 per 1000 emails and $0.12 per GB for attachments, in case you want to send emails through other software.
But if you are receiving emails, in such a situation, the first 1000 emails will be of no charge. Later, it the cost will be $0.10 per 1000 emails.
And the calculation goes on…
Additional Amenities:-
Get dedicated IP addresses with Amazon SES services. This is a premium facility through which you can deliver a huge amount of emails.
---
MailGet SMTP relay service is fast, affordable and easy to integrate with any emailing application available in the market. It will perfectly deal with all your emailing needs and provides higher delivery and inbox rate as the servers are whitelisted. You can easily conduct bulk emailing campaigns with MailGet SMTP relay service
Features:-
Send Bulk Emails:-

With this SMTP service, sending emails in bulk becomes just a few clicks task. You can send thousands of emails in a fast, simple and easy way.
Use Several Domains:-

Emails from a single account can be sent using different addresses and multiple domains.
Trusted Whitelisted Servers:-

Each & every email delivered via MailGet SMTP will surely land in the inbox of the receiver as the servers used are whitelisted and guarantees reliability.
---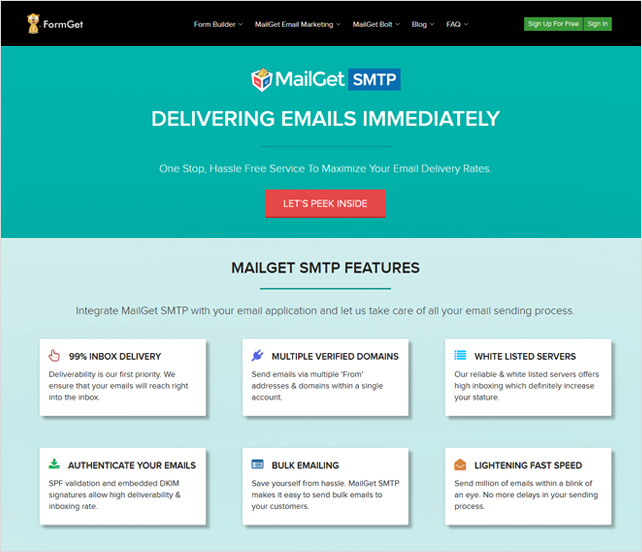 ---
Price Plans Offered By MailGet SMTP Service Provider.
MailGet SMTP service provider has multiple price plans that offer various advanced features and facilities to the senders. The most basic plan costs $10 in which you get 30,000 emails delivery.
Other than this, there are 5 more plans which start from $25 and goes till $200. If you have the access to the above plans you can send emails ranging from 75,000 to 600,000.
One of the things which is great about MailGet SMTP plans is that they have no expiry (monthly, yearly). This means that you only have to renew the plan when all the emails in your plan are consumed.
Recently MailGet SMTP has cut down the pricing by 3 times which makes it the cheapest amongst the list.
It leads the list of 5 Best SMTP Relay Servers because, with the real-life testing, we finally found that it has the best-whitelisted servers that give 100% delivery rates.
Time To Conclude
This is an end of our blog featuring 5 Best SMTP Relay Servers that deliver top class Email Relay Services! Now, take the decision about which SMTP relay service will best suit your needs and requirements.
In this blog, we have covered all the aspects of the finely tuned SMTP relay services in the market. So, if you still have any doubt then you should go through the below-listed blogs.