10 Best Marketing Automation Services & Softwares
Most companies today are ensuring that their respective marketing departments have good marketing automation software in place. Having good software will ascertain that all marketing actions are automated and this, in turn, will make the handling of repetitive tasks like emails, social media and other website actions much easier.
Good marketing automation software enables companies to generate more leads and itemizes them. Managing those leads and converting the prospects into customers becomes a lot easier with this software. All email marketing campaigns can also be handled with ease using the marketing automation software.
These post will be crucial in your decision-making process, for opting the best e-marketing service provider:-
There is various marketing automation software available in the market today. Choosing the right one for your company, however, can become confusing.
We have for you here a guide to the ten best marketing automation software which are available today.
---
The Best Marketing Automation Software Compared (in full)
Check all the services in detail as per your needs and choose service wisely – by the end, you'll know exactly which one is the right option for you.
1. MailGet
MailGet assures to give all its users a simple and affordable email marketing. This email marketing software is very easy to set up and does not require any hosting. All emails can be sent through Amazon SES and various other SMTP and that too in Cloud. Email marketing can be accomplished in three simple steps using this software.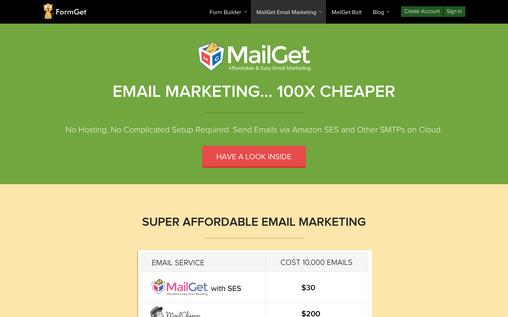 Key Features of MailGet:
The stunning email builder is very easy to use.
Mails can be sent easily by connecting with widely used SMTP services like Mailjet, Postmark, Mandrill, SendGrid and many more.
Manage your contacts effectively using the excellent email list management feature.
All contacts can be imported easily via CSV.
All spam, bounce, discarded and invalid emails can be discarded easily using the email list cleaning feature.
The contact lists can be selected before sending emails.
All email campaigns can be tracked.
Fully customizable sign-up forms can be added to the website.
Use the email drip feature to set up drip campaigns.
The autoresponders will send automated emails to your subscribers.
---
2. Wigzo
Wigzo is an excellent marketing automation software which enables you to smoothly automate the marketing actions of your company. The great features of this software work effectively to enable you to generate more leads and convert them into customers.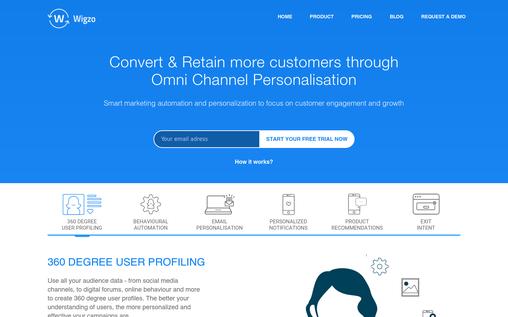 Key Features of Wigzo:
The 360-degree user profiling feature enables you to keep track of prospective customers and create a complete user profile.
The behavioral automation feature enables you to analyze individual customer behaviors and enhance your overall campaigning results.
Automate email marketing and send personalized emails using the email personalization feature.
Optimise your conversion and retention rate by sending personalized notifications to your customers.
Send tailor-made product recommendations to your customers to maximize retention.
Retain more website visitors using the exit intent campaign feature of this software.
---
3. Foxmetrics
Foxmetrics is a top quality marketing automation software which will not only provide you with complete and advanced customer information but also enable you to connect with them on a personal level. This will ascertain greater lead generation and also ensure a that a higher conversion rate is achieved.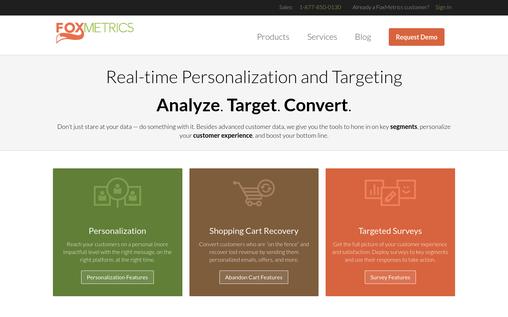 Key Features of Foxmetrics:
Create and send personalized marketing messages to customers using the personalization feature.
Recover your lost customers by using the excellent tool for recovery of abandoned shopping carts.
Make use of the targeted survey feature to analyze the levels of customer satisfaction and make improvements.
Segment your customers according to their interests, send them segmented mail campaigns and reach out to them accordingly.
Use the excellent attribution modeling feature to maximize the effectiveness of your campaigns and enhance your revenues.
The analytics and ad hoc reporting feature enables you to analyze customer profiles and understand trends and segments.
---
4. Act-On
Act-On is a trusted marketing automation software which has gained increased popularity over the years. With this software, you are sure to provide optimal customer satisfaction. The easy to use a platform of this software enables you to build brand awareness, generate more leads and convert them into customers and subsequently establish better customer relationships.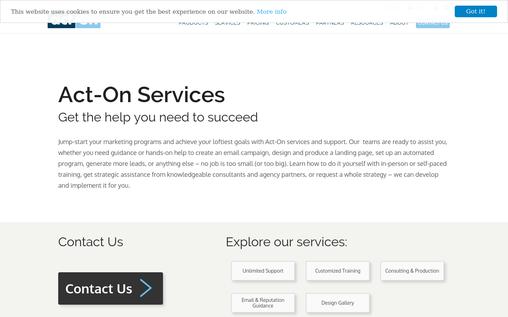 Key Features of Act-On:
The software comes with a fully customizable and easy to use dashboard.
Use the excellent email marketing tools to create top quality and highly responsive emails and templates.
The great list management tools help you to create, manage and segment the lists.
You can review the entire activity histories of your contacts and understand their interests.
Keep a track of all the pages viewed, downloaded or forms filled by your website visitors.
The software features integrations with CRM systems like Microsoft Dynamics, Salesforce, Sugar, NetSuite and many more.
All repetitive tasks can be automated easily using the automated campaigns.
Use the inbound marketing tools to attract customers and optimize conversion rates.
The funnel reports of this software enable you to get a clear picture of the working of your marketing efforts.
---
5. Adobe Campaign
Sending personalized and great marketing campaigns across all channels have become a lot easier with this great software. You can create personalized individual profiles according to your customer interests across all marketing channels. All campaigns can be automated and managed easily using Adobe Campaign.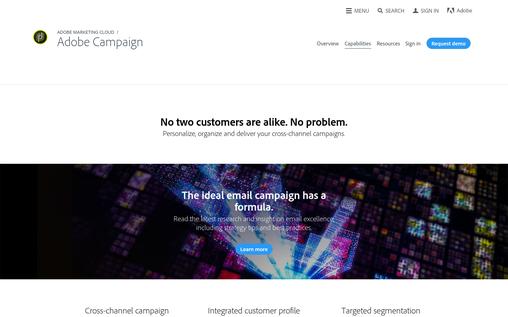 Key Features of Adobe Campaign:
The software offers efficient campaign management across all channels and that too from one place.
Send appealing and personalized emails to customers to enhance their overall satisfaction.
Automate all your marketing campaigns easily and improve productivity.
Create personalized customer profiles based on their activity and interests.
Make use of the centralized offer catalog to send individualized messages across inbound and outbound channels.
The software is well integrated with Adobe Analytics and Experience Manager.
The software also offers excellent email marketing strategies.
---
6. HubSpot
With HubSpot, you have an excellent marketing automation software which will surely enable you to increase your website traffic, generate more leads and convert them into customers. The entire marketing actions can be created, automated and their efficiency-optimized using this software. Sending great campaigns and personalizing customer experience has become a lot easier with HubSpot.
Key Features of HubSpot:
Create great web pages, landing pages, blog pages and email templates using the simple drag and drop interface of this software.
Publish all pertinent content easily with the blog post blueprints.
Enhance your website traffic by designing engaging calls- to- action and personalized messages.
Design excellent landing pages with ease and generate leads.
Convert leads into customers by making use of the drip campaigns.
Keep a record of all customer interactions by easily connecting with the HubSpot CRM and Salesforce.
Make use of the excellent keywords tool of HubSpot to create engaging content using key phrases being searched by customers.
Create search and social media ads and also keep a track of them within HubSpot itself.
---
7. GetResponse
The GetResponse marketing automation software comes with a host of easy to use and excellent features which will help you realize all your marketing objectives and help your business grow. The advanced tools can be used to build perceptive and great workflows. The visual workflows help you realize all your marketing goals effectively. Generate more leads, convert subscribers into customers and retain them using this great software.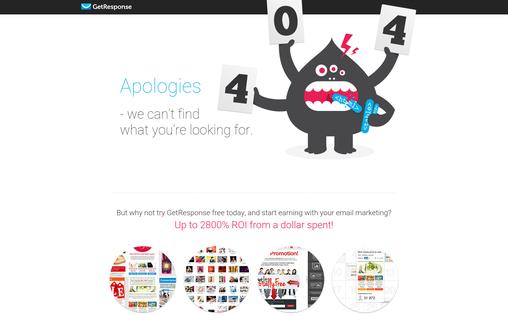 Key Features of GetResponse:
Keep track of customer activity and segment them using the scoring and tagging tool.
Use the web event tracking feature to keep track of the inbound traffic to your website and convert more and more visitors into happy customers.
Recover all abandoned shopping carts and convert abandonments into purchases.
Create excellent and fully expandable workflows and personalize customer experience using automation segmentation.
Reach out to specific subscribers using the dynamic segment filters.
Manage all contacts by utilizing the custom fields in the workflows.
Create great campaigns using the simple drag and drop builder.
Create perceptive workflows based on customer behavior and activity and then add filters to maximize impact.
Create visual workflows to optimize marketing communications.
---
8. Juvlon
With Juvlon you can rest assured of having a good quality marketing automation software which will provide you excellent email and SMS marketing. You can execute great email and SMS campaigns using this software. Juvlon also allows you to cut down on invalid email addresses and send messages to customers through channels chosen by them.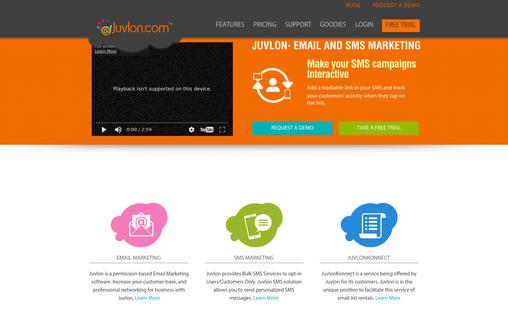 Key Features of Juvlon:
The software provides multi-channel reporting for your SMS and email campaigns.
Track the activity of all subscribers for both the SMS and email campaigns.
The software provides a unified database for sending emails and circulating messages.
The email and SMS databases have a unified subscription and unsubscription list.
Help your customers step on to the next level of the sales pipeline by using the event-based triggers of the software.
Juvlon integrates easily with your web applications, CRM or website.
Use the A/B testing feature of the software to enhance the quality of your email marketing campaigns.
Juvlon helps you keep a track of your website visits by automatically creating a UTM tracking code.
Analyse the performance of emails and understand customer behavior by studying the Juvlon reports.
The anti-spam feature enables you to send emails without spam.
The software assures optimal email deliverability by dedicating a separate IP address to every client.
---
9. Marketo
The marketing automation solutions provided by Marketo are one of the best available in the market today. The excellent features and great functionality of this software enable you to find the most appropriate customers. You can establish lasting relationships with them by building scalable automated marketing campaigns. Marketo allows you to understand prospects and improve your sales.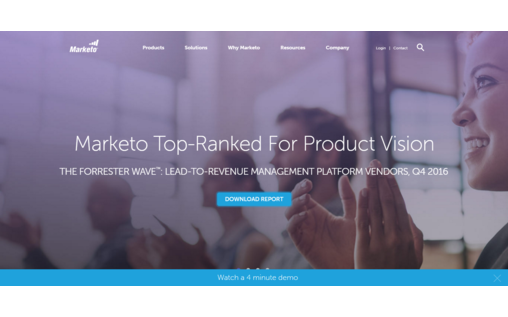 Key features of Marketo:
The great email marketing tools allow you to create great email campaigns seamlessly.
Increase your website traffic with the help of the easy to use SEO tools.
Marketo enables you to create personalized campaigns across channels like the web, mobile, ads and much more.
Engage in personalized conversations with your customers and establish lasting relationships with them.
Lead scoring allows you to identify leads and also understand customer behavior.
Marketo's applications for Salesforce.com and Microsoft Dynamics allow you to seamlessly integrate your CRM system with Marketo.
The sales dashboard gives you a clear and comprehensive idea about your prospective leads and opportunities.
The centralized calendar helps you plan and manage all your marketing activities.
Analyse and understand the effectiveness of your marketing activities and calculate your marketing ROI easily.
Use the Marketo Moments mobile app to understand the trends of current marketing campaigns.
---
10. Emma
Emma is a trusted marketing automation software which provides you with the best email automation. You can create relevant and intuitive email campaigns based on the interests and activity of your customers using this software. Target your campaigns and send them at the most appropriate time using the great features of this software.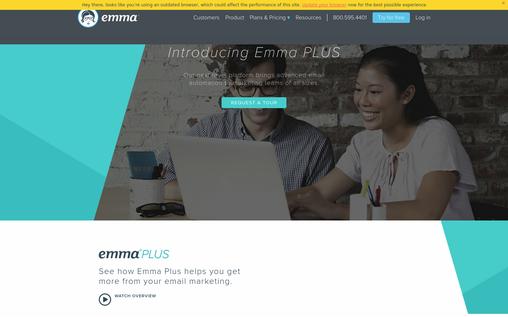 Key Features of Emma:
Send automated emails based on customer behavior using this software.
Establish better customer relationships by sending follow up messages to customers and assisting them to complete purchases.
Send personalized messages to customers using the great email marketing tools.
With the Dynamic Content, you can send individualized content to every subscriber from one email.
Create excellent content using the simple drag and drop editor.
Custom HTML emails can be sent easily using the Code your own Template builder and Litmus Inbox Preview.
Use Lightbox forms to ask for email addresses at the most appropriate time.
Emma gives you a clear insight into subscriber behavior with the unique response results.
The mailing score helps you view the email performance.
Click Map shows you where people are clicking the most.
Emma's reporting enables you to understand the audience behavior.
Use Metric, the software's mobile app to compare and share campaign results.
Use Emma Guestbook to maintain your email subscriber list.
Emma is integrated with various other platforms like Salesforce, Microsoft Dynamics, WooCommerce, Magneto, Google Analytics and many more.
---
Conclusion:
Most companies today are on the lookout for good marketing automation software which will strengthen their marketing strategies. This guide to the ten best marketing automation software will surely help you choose the right software best suited to the needs of your company. All these software have excellent features and have satisfied users with their great functionality. Your company's marketing team is sure to benefit by using the most appropriate software.