10 Best Cheap Email Marketing Services & Software
If you have content to market and want to keep your customers and loyal subscribers updated on the best and latest content or you want your customers and subscribers to know about your latest products and service, then email marketing is one of the top ways of reaching out to them on personal and regular emails. With email marketing, you can build your customer and subscriber list easily and quickly without complexity.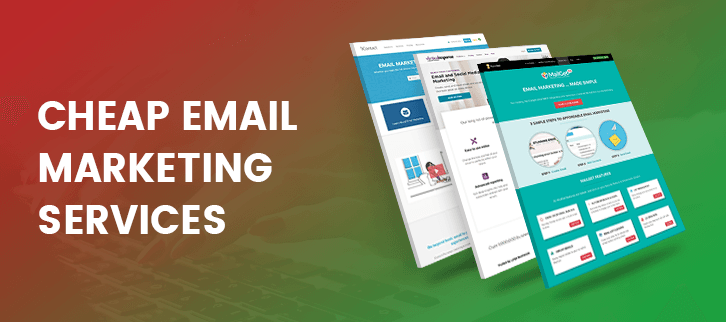 In this digital age where a lot of options are available, it is hard to find a worthwhile email service provider that doesn't burn your pocket and provides you with the best results.
Still confused about choosing the cheapest email marketing service? Just read out following post:-

Cheapest Email Marketing Services 2018 

Autoresponder Email Marketing Services

Apart from email software you must be in need of some free email marketing plugins. We've compiled up such plugins- WordPress Email Marketing Plugins
To make it easier we have listed below the top 10 best cheap email marketing service providers.
---
The Best Cheap Email Marketing Software
Compared (in full)
Check all the services in detail as per your needs and choose service wisely – by the end, you'll know exactly which one is the right option for you.
MailGet Bolt is a great service to send emails to a number of people and convert the strangers into your customers. The software lets you create multiple attractive emails that will grab the attention instantly and thereby increase the probability of business progressiveness.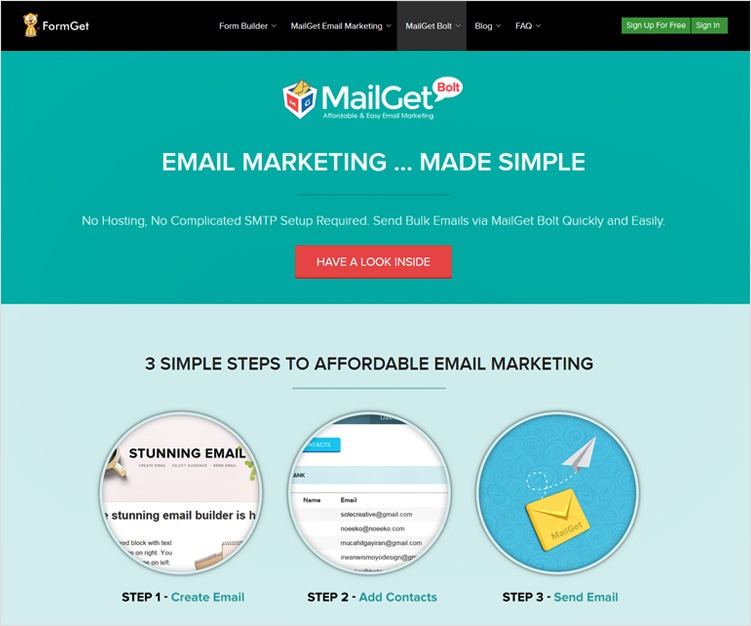 The software has an integrated SMTP which is an added advantage for the user and he doesn't have to hunt for the same anywhere, the system has an inbuilt drag and drop builder by which you can frame your emails quite easily. One more great feature is the drips which pre framed mails which can be sent at any particular time slot chosen by the user.
I have tried and tested the MailGet Bolt and it gave me 25% OPEN RATE which was really surprising for me, also, the software provides the cheapest plan, the services start from $42/month where UNLIMITED MAILS can be send, so it's my suggestion that you should go with the MailGet Bolt software.
Key features of MailGet Bolt :-
You easily manage your subscriber list at one place without scattering all your email management work.
An autoresponder function of the MailGet Bolt allows you to send an auto-generated mail whenever a customer fills up the form.
You can easily import mails from the list and manage them accordingly.
An incorporated feature is the email list cleaning which remvoves the unwanted email ids of the customers.
The software handles the bounced, spammed and suspended list hence keeping you updated.
You can also track emails which has been sent via the software, this feature gives you the full supervision of mails.
Capture more leads through the inbuilt lead capture tool.
Pricing :-
Plan 1 :- In the first plan you will get the services at $42 per month through which you can send unlimited mails to 10000 subscribers.
Plan 2 :- In the second plan you will get the services at $59 per month through which you can send unlimited mails to 15000 subscribers.
Plan 3 :- In the third plan you will get the services at $89 per month through which you can send unlimited mails to 25000 subscribers.
Plan 4 :- In the fourth plan you will get the services at $139 per month through which you can send unlimited mails to 35000 subscribers.
Plan 5 :- In the fifth plan you will get the services at $199 per month through which you can send unlimited mails to 50000 subscribers.
Plan 6 :-In the sixth plan you will get the services at $279 per month through which you can send unlimited mails to 75000 subscribers.
Plan 7 :- In the seventh plan you will get the services at $369 per month through which you can send unlimited mails to 100000 subscribers.
---
MailGet makes your email marketing journey as easy and affordable as it gets. It is loaded with an astonishing number of features and its affordable packages are sure to bring smiles to small businesses.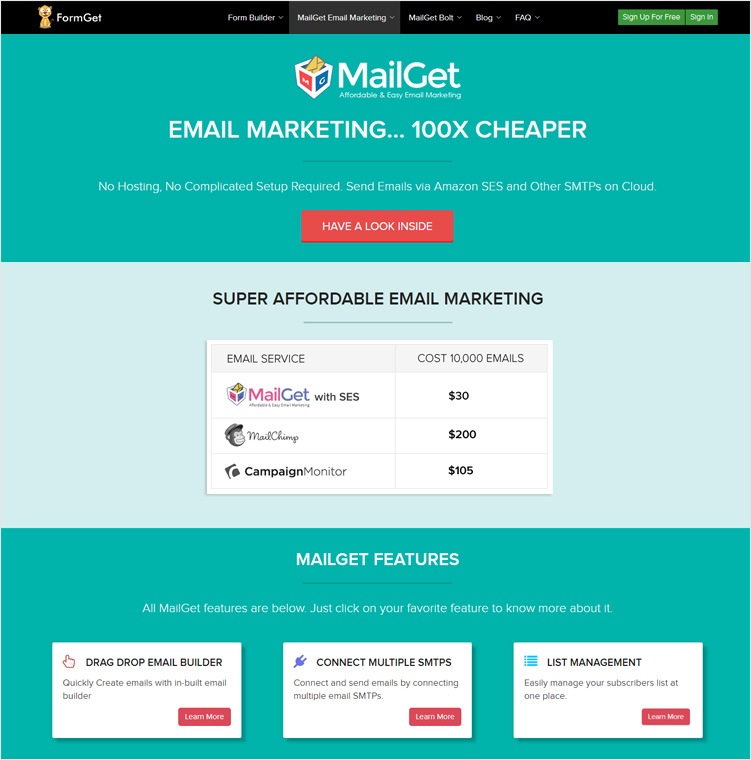 With MailGet, it is super easy to launch your email marketing; with their fast service, you can set up your account and start sending emails within minutes. Once you sign up, you will be provided with all the tools that will help you jumpstart your journey on the email marketing road. With extremely user-friendly interface and affordable prices, MailGet is surely one of the best and cheapest email service providers out there.
Key features of MailGet:
Easy to launch and use your email marketing service in 3 simple steps
Stunning WYSIWYG email editors that make framing and designing emails easy and fun.
Great embedded web form feature through which you can embed signup forms which in turn helps you generate leads back to your website
You can set up autoresponders to you emails like welcome messages, payment confirmations, coupons, etc.
Uses Amazon SES which provides high deliverability.
Provides emails drips which let you add pre-written emails that customers and subscribers receive on a timely basis as soon as they get added to the list.
Plan starts at as cheap as 29$ a month.
---
StreamSend is an email marketing service provider that is easy to use and get started with. It also offers seemingly flawless interface, mobile-ready templates and smart message delivery. It offers great services through which you can convert your social media followers into email subscribers.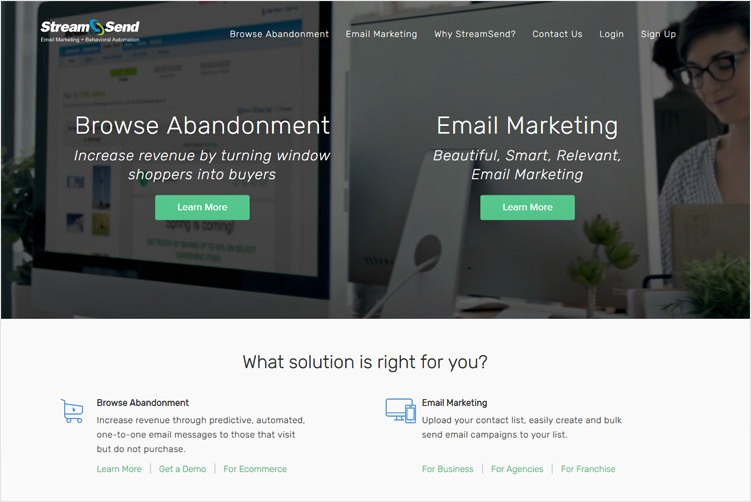 StreamSend also offers the ability to add videos to emails making them instantly more effective and interesting at an affordable rate.
Key features of StreamSend:
Get access to hundreds of impressive templates which help you in creating custom layouts, design graphic elements with access to different color schemes.
Customizable sign up form to capture leads.
Simply drag and drop to add videos to your email.
Preview your emails in 30 email clients and the nine different spam filters ensures they will be delivered successfully.
Provides reporting and tracking your emails through which you can monitor bounce rates, forward rates, click rates, open rates, etc.
Offers a free 30-day trial period for up to 200 emails.
The paid plans starting at $19.90.
---
Zoho is a web-based email marketing solution that offers CRM and social media integration at a very low price. It is designed for small to mid-sized businesses and helps them to automate their entire email marketing process. If offers many amazing features such as social sharing, list management, HTML editor, A/B Testing and link engagement at an super affordable rate.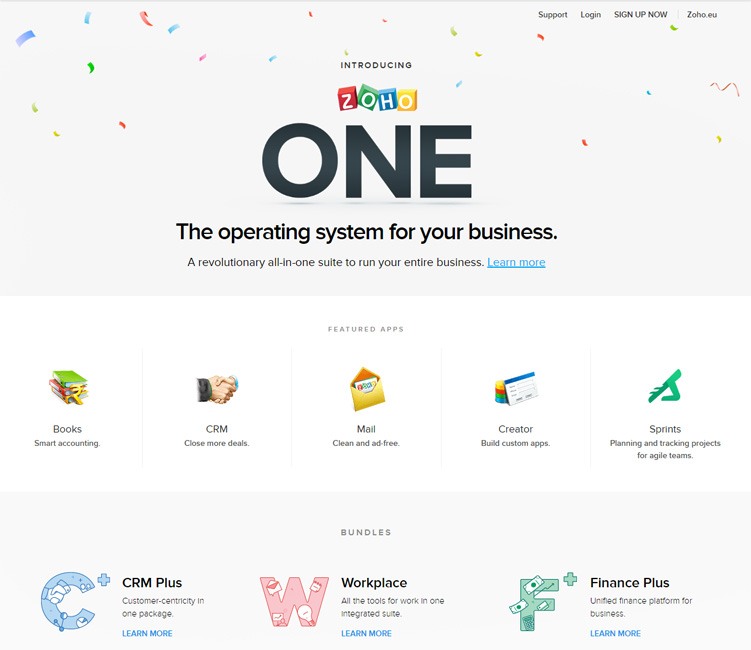 Key features of Zoho:
Add contacts manually, import them or sync from your Zoho CRM account to build your mailing lists.
It provides sign-up forms to be used on your website. The new subscribers automatically get added to your mailing list.
Edit and customize your templates with the drag and drop editor, without any programming skills.
Select a date and time of your convenience to schedule your email campaign in advance or you can also send campaigns immediately.
It allows you to automate your follow-up emails.
Share your email campaigns on your social media accounts such as Facebook, Twitter and LinkedIn. Let your subscribers share your campaign.
Check the performance of your email campaign in real-time and get complete campaign report including opens, bounces and click-through rates.
It offers you social reports which provide you the number of likes, comments, tweets or views for every email campaign.
It offers both pay-as-you-use plan and monthly subscription plan starting at $6 and $5 per month respectively.
---
VerticalResponse is a cheap and effective email marketing service that provides you with a complete set of online tools to design, deliver and engage audience with your emails. Its advanced editing features make it ideal for newsletters and emails with multiple pictures in them.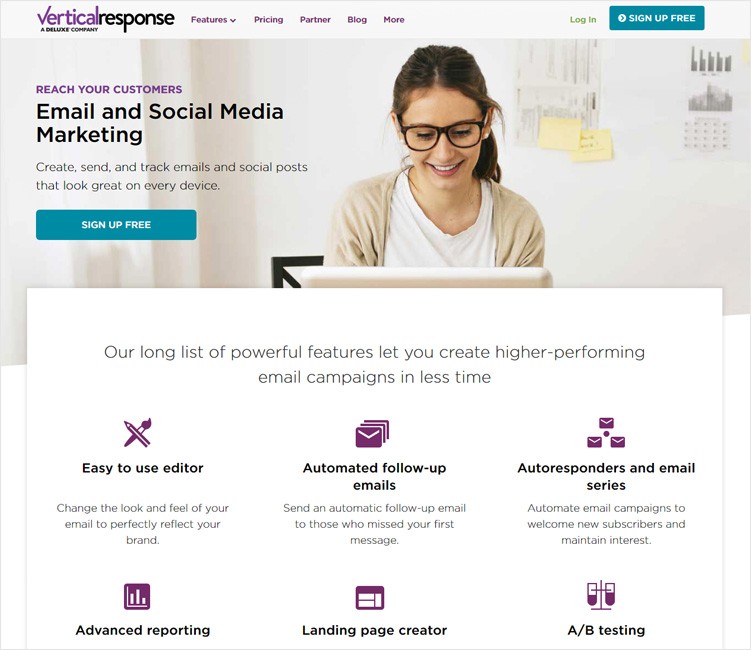 Key features of VerticalResponse:
Use the mobile-friendly free templates or you can also import your own HTML code. The templates are fully responsive and provide simple drag and drop options.
Let's you create sign-up form to build your list.
Adavnced image editing features.
It enables you to automatically welcome new members by sending them welcome emails through autoresponders.
It posts your messages to Twitter followers and Facebook fans.
It allows you to send automated follow up mails to get more clicks and opens.
It offers you delivery and engagement reports of your camping and helps you to strategize your next steps
The pricing plan starts at just $11 a month.
---
GetResposnse is one of the most popular and easy-to-use email marketing platform to that provides a variety of advanced features to grow your business. With its beautifully designed templates, solid customer support and good third-party contact integration, it stands out from the others.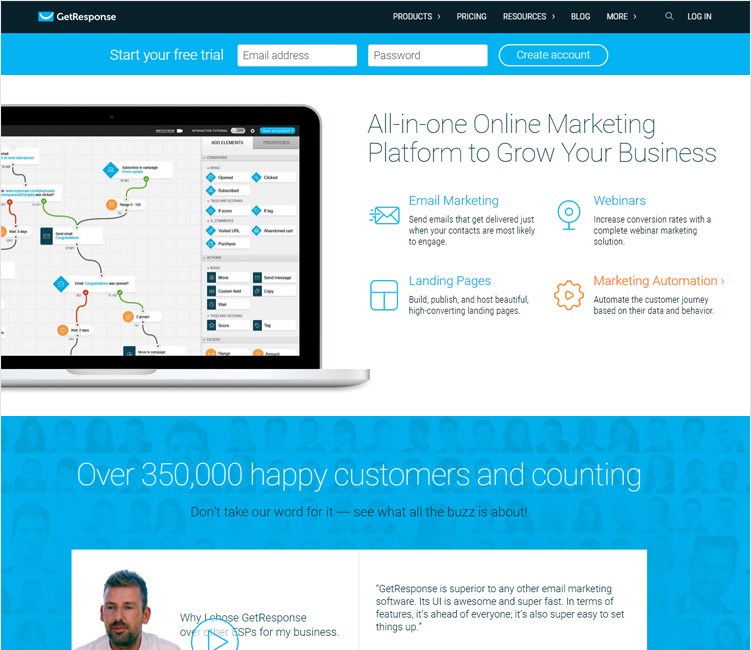 Key Features of GetResponse:
It offers you more than 500 pre-designed and customizable templates to choose from. Also, you can use the drag and drop HTML editor to create your own template.
GetResponse provides you amazing tools to grow, import or host an email database.
It provides in-editor mobile preview to preview your email while creating them.
Automate your emails with autoresponder and manage through drag-and-drop organizer.
It suggests the perfect timing to deliver your emails to your subscribers.
You can share your newsletter to social platforms like Facebook, Linkedin, Google+, Twitter etc.
Provides an option to identify people who did not click on the newsletter so that you can put them in a separate section and send them a differently designed email.
Provides split testing options which allow you to split test up to 5 different users
Track clicks, opens, unsubscribes and social shares – all from one analytics dashboard.
The company offers great support through live chat, email and phone (9am-5pm EST).
Provides you with a 30-day trial period without the need to enter credit card details.
The pricing plan starts at only $15/month.
---
moosend offers you a fully-featured email marketing service with automation features and a fully-responsive email campaign editor. It provides many bulk email tools such as personalized fields, A/B Split Testing, sign-up sorts, click maps and segmentation of your client's lists. It is best suited for small, medium and even large enterprises.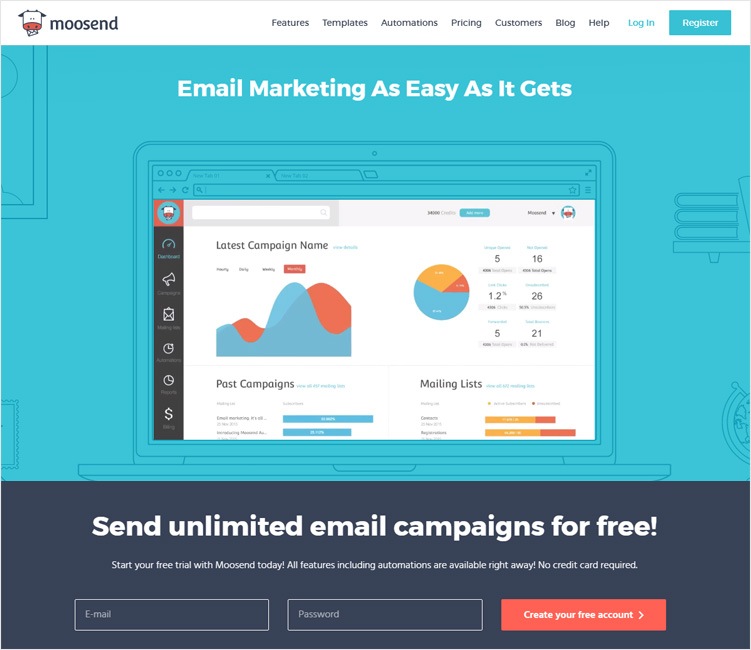 Key features of moosend:
Use the drag and drop editor to design a newsletter that looks beautiful oevery device.
You can use the email marketing automation to send campaigns to your subscribers based on their activity or information.
Advanced list segmentation to provide the right information to the right customer.
It offers scheduled deliveries and spam tests.
Powerful real-time analytics to optimize your email campaigns and measure their success in real-time.
It integrates with your favorite apps through API.
The monthly plan starts at as low as $25/month for up to 5000 subscribers.
---
iContact offers email marketing service with easy-to-use tools that is suited for beginners and experts alike. All stages of business from small businesses to large senders can benefit from the professional email marketing services provided by iContact. It specializes in sending high volume email sending from 35,000 to 5 million plus subscribers.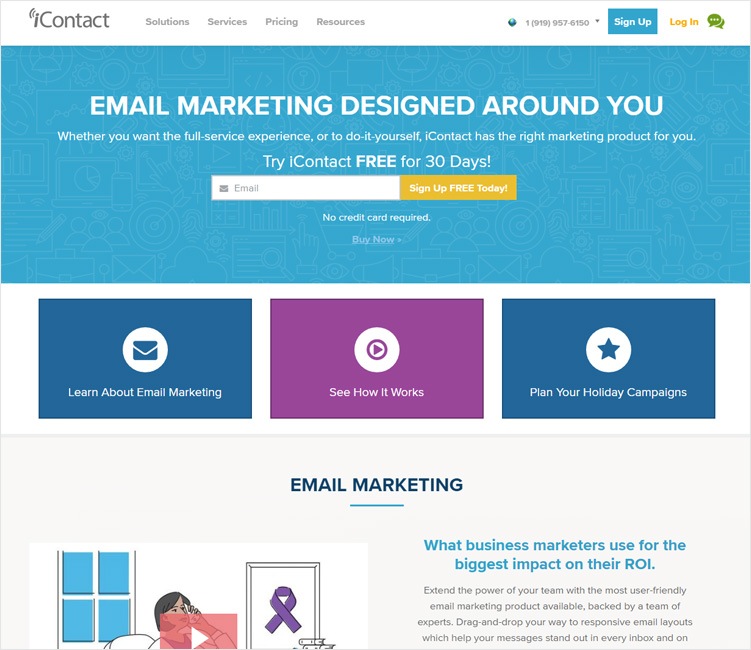 Key features of iContact:
iContact provides with hundreds of well-designed templates to choose from for different type of customers.
It allows you to send or schedule posts on your social media pages like Facebook, Twitter and LinkedIn.
It provides tools that let you create signup forms and track your social media likes.
To make sure that your email reaches your potential customer, iContact includes spam checker in emails that suggest different lines and changes to your mails that will help you bypass the spam folder of your potential client.
Provides you with tools to check results and track your email newsletter activity.
iContact automation feature greets new subscribers which not only saves time but also keeps your business in the minds of your potential customers.
Pricing plan starts at $14/month.
---
ActiveTrail provides a simple and effective email marketing solution that can be used by anyone without any technical knowledge. ActiveTrail offers services to wide range of businesses like small and large businesses, freelancers, non-profit, public administration etc. It is a feature-rich software that supports both Mac and Windows alike at a cheap rate.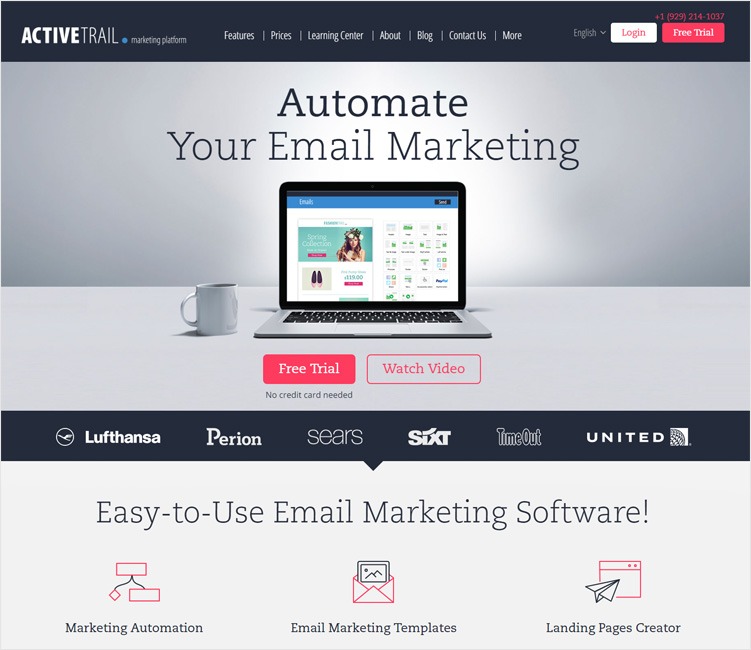 Key features of ActiveTrail:
Simply build a campaign by adding text and images, ActiveTrail will do the rest for you.
It offers A/B Testing to experiment your emails on various factors before sending them.
The personalization feature enables you to customize the recipient's name, text and in the subject line and within the campaign.
Create emails and automate them with visual autoresponder software.
It integrates with PayPal for quick and convenient payment directly from a landing page or email campaign.
The sign-up form builder allows you to build dynamic and responsive sign-up forms and incorporate them into your landing pages or website.
Advance image editor allows you to do editing such as crop, resize, re-scale and fix red eyes.
The advanced reporting tools provide real-time reports about the performance of your campaign in an easy and clear manner.
It provides integration with your social media accounts like Facebook and Twitter and helps you track the amount of shares and likes.
Its pricing plan is very affordable and starts at just $7/month.
---
MailerLite is an affordable email marketing service perfect for small businesses or start-ups. It offers many list building, template designing, photo editing and reporting features that you really need. It also supports A/B Testing and autoresponder.
Key features of MailerLite:
It provides the simple drag and drop options which make designing emails easier.
Use the free pre-designed templates or create your own custom emails with the HTML editor.
Resize, crop or edit photos with the built-in-photo editing tools.
Design Embedded webforms and popup subscribe forms for your website to turn your visitors to subscribers.
It offers you campaign reports to track your campaign's performance based on opens, clicks, bounces, unsubscribes, link activity, spam complaints and much more.
Go mobile with the iPhone app and iPad subscribe app.
It integrates with most popular web services like WordPress, Facebook, SumoMe and many more.
The paid plan starts with as low as $10/month for 1001-2500 subscribers.
---
Elite Email is an easy and effective email marketing software that offers simple yet robust platform for both beginners and expert marketers. Unlimited image hosting, affordable pricing and high-quality customer support are some of the notable features of Elite Email.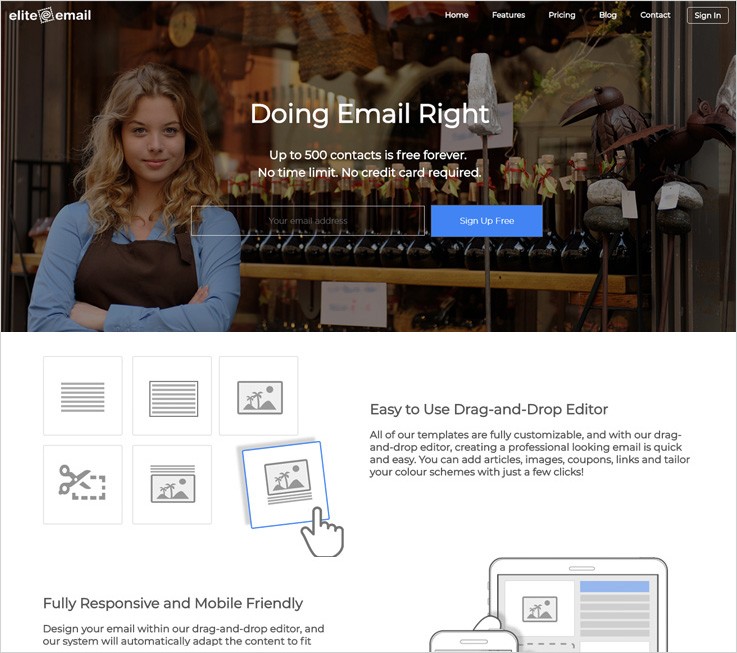 Key features of Elite Email:
It offers professional and mobile-friendly templates which can be customized according to your tastes and audiences.
Sharing your emails across social media platforms like Facebook, Twitter, Linkedin etc is easier than ever with Elite Email.
It offers free unlimited storage with no upgrades or add-ons required.
Easily add fully-customizable sign-up form or buttons on your website.
List segmentation to send target emails.
You can schedule your messages in advance for sending them to your subscribers at a preferred time.
The spam checker saves your campaign from being marked as spam by your readers.
Elite Email gives you real-time reports and to see who are engaging with your emails and what interest them.
It allows you to export your email reports as a CSV, Excel, or text file.
The paid subscription starts at $15/month.
---
Conclusion:
Deciding your marketing strategy and planning your campaign is perhaps the most important thing you can do for your business to retain the existing subscribers and customers and bring in more potential customers and subscribers. And in this digital age, email marketing makes it easier and more intimate and personal. No matter what email marketing service provider you choose, it's very important to remain in the marketing game. Whether to build credibility or generate calls and sales, email marketing can make a huge impact in your business. Chose the one that best suits your businesses and keep your customers and subscribers informed about your latest activities and products, happy emailing!
For more related information go through the following blog –