Find The Best Email Marketing Automation Software in 2022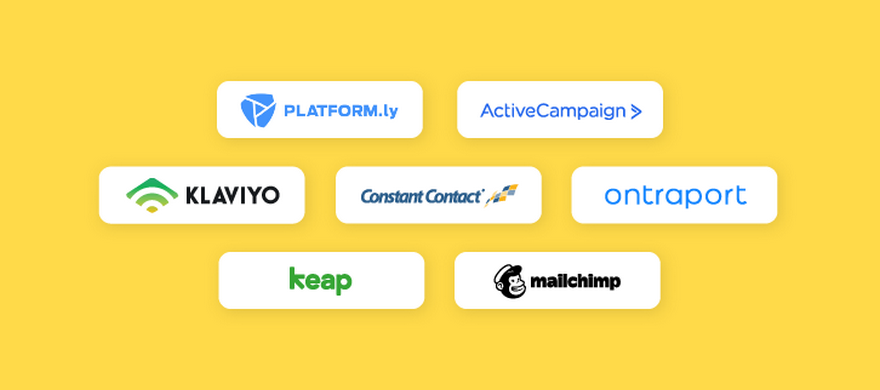 Email marketing automation is becoming more important than ever. In the face of an increasingly mobile-friendly world, highly sensitive spam filters and short user attention spans you have to find the best email marketing automation software if you want to get your audience to your landing page.
According to a 2019 Hubspot report, there are more than 5.6 billion active email accounts. Online marketers are exploiting this; more than 80% of them reported higher levels of customer engagement through email in the last year.
Email marketing automation software is expected to continue to dominate the marketing landscape, using processes such as automation, CRM, and artificial intelligence based predictive analytics.
For many marketers, the problem is not finding an email marketing automation software; there are plenty of them online. The issue is finding email marketing automation software that can meet the specific needs of their business and increase their return on investment.
Certain qualities are shared by all good email marketing tools, and they are worth looking into.
What to Look For in Email Marketing Software
As mentioned, there is no shortage of email marketing software online. Choosing one that works for you can be a challenge even for seasoned digital marketers. Many users pick a tool, try it out to find out whether or not it works, and if it doesn't, they move on to the next one. This takes up valuable time and money.
You also need to create a landing page for your campaign, and that might disturb your workflow if you keep on changing landing pages, having to forward those links over and over.
To make things a little easier, let's have a quick look at the 5 most important things to look for as you choose the best email marketing automation software.
Ease of use – the whole point of automating your marketing workflow is so that you can make things easier and free up time that you could use to do other things for your business. Before you buy any email marketing tool make sure that it has a short learning curve.
Integration with existing systems – this is more important than ever. Even the most modest business uses some form of sales and marketing software. You want to choose an email marketing automation software that integrates easily with these systems. Social media integration is also something you should look for.
Automation – the use of the word automation throughout this post is not merely a catchphrase. If you want to make your email marketing workflow flawless, as well as fruitful, you should make sure that it has as many automated functions as possible. It should have an inbuilt CRM module, automated lead capture, a messaging system, link tracking, automated workflows, autoresponder, and more.
Segmentation – one way to make sure that your emails have a high conversion rate is to talk to the right people at the right time. You can only do this if you segment your audience list. It can be tedious, (even impossible) to do that manually, so you should look for the best email marketing automation software that can do it for you.
Detailed reporting – live stats are very important for email marketing campaigns because they inform you of the direction you should go. The best email marketing automation software can track all actions. It tells you what happens after each contact on your list receives an email from you. You can see whether they click through or trash it, how long they take to read it and any other actions they take after that. You can also track sales attributed to each contact, making your workflow seamless and deepening your marketing strategy. It also helps to have a thorough marketing knowledge base to guide your actions.
---
How to Choose the Best Email Marketing Automation Service
Platformly is a relatively new, but highly effective, all-in-one email marketing automation software. It is an ideal tool for any small business or medium business owner who would like to see high conversion rates and a high open rate using a simple, affordable tool that automates processes.
One of the best benefits of Platformly is marketing attribution. The simplest way to describe marketing attribution is this: it is the process through which you can track which actions contribute to the highest conversions. It is especially useful if you use Woocommerce, since Platformly integrates with its API.
Platformly allows you to track a lead from the first contact to the last. You can see what they do when they get onto your site. After you convert them into leads you can see which email messages they click on, and what they do after that.
By learning how leads interact with your brand you understand what changes are required to make your campaign a success. The onboarding process also works like a breeze, helping you create automations in no time.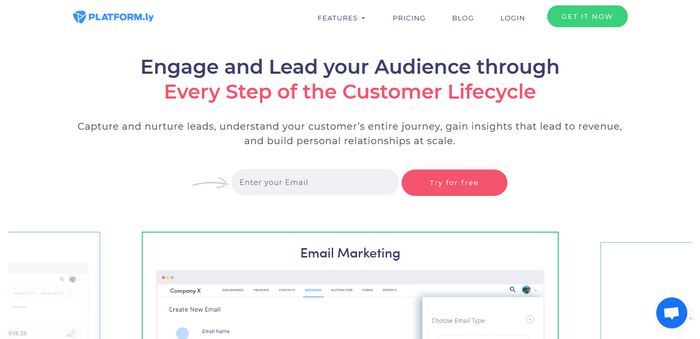 Platformly Features
Business dashboards – Platformly gives you the ability to see exactly how your business is doing at a glance, with a very helpful user interface. You can see all new subscribers in real time, and what they do once they've signed up. It tells you how much money you made from each lead at any time. You can use existing dashboards, or you can create your own depending on the metrics you would like to see. Dashboards are easy to create and the software provides the necessary widgets.
Link Tracking – one of the things that make Platformly unique is that you can see the lifetime value of each lead. Not only that, generate and attach a link for each marketing channel and track how much revenue it generates over a specific period.
CRM – Customer Relationship Management is an important element of email marketing. If you don't develop relationships with your customers, you'll never know why they buy from you or why they drop out of the sales funnel. Platformly lets you see top spenders and what they buy. You can also see warm prospects. As a result, no potential lead can slip through the cracks.
Lead generation – a lot of email marketing automation software doesn't have a lead generation feature. You have to use one tool to generate leads and another to convert them. Platformly changes that. You can create opt-ins and pages that convert visitors to leads.
Lead scoring – lead scoring helps you understand where customers are in your sales funnel and whether you should keep on investing on them. The lead scoring feature on Platformly is quite useful, and you save lots of time that would go to waste if you tried to create your lead scoring system by yourself.
Email builder – you no longer need to spend hours crafting emails you think will appeal to your contact list. The software provides a multiplicity of tried and tested templates for you to use with your mailing list, and you can create emails quickly with a drag-and-drop builder.
Marketing automation – when you automate customer engagement, you make your business more efficient, increase your open rate, and make sure your messages reach the right leads. Automation also allows you to send personal messages like welcome and birthday emails and even physical gifts. Platformly sends automatic messages to you whenever a lead completes an action.
---
View Listing
We can best describe ActiveCampaign as the one package that offers all the email marketing automation tools you'll ever need. Its users send fewer emails, but they achieve a better open rate. This software has lots of useful features and automation that fit either small businesses or the largest companies.
This software works at every stage of the email marketing process. You can use it to create emails, onboard new subscribers by triggering specific actions, save abandoned carts, create and send newsletters, and more.
ActiveCampaign allows you to integrate marketing data from different areas of your campaign seamlessly. If things are not going according to plan, it allows you to correct them quickly.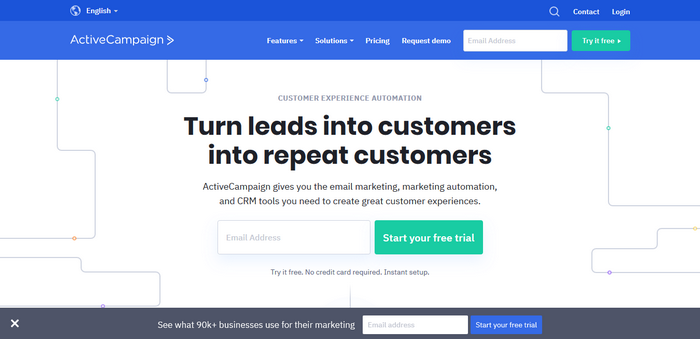 ActiveCampaign Features
Email marketing – ActiveCampaign lets you send different types of emails depending on your audience. You can choose broadcast emails (talk to your entire contact list), or triggered emails (based on what action a user takes). Other options include targeted emails, autoresponders, scheduled emails, and the possibility to set up email funnels.
Marketing automation – the ActiveCampaign automation module allows you to do to perform tedious tasks with the click of a mouse. You can set up a welcome email for all new signups, collate data from other apps, send automated follow-up email messages, send important notifications and reminders to your sales team, and more. All these things can be done with a few simple steps.
CRM – as mentioned earlier, no email marketing automation software is complete without a customer relationship management module. With ActiveCampaign's CRM feature you can see a lead's history with your brand at a glance. This allows you to nurture leads automatically but organically and increases the conversion rate.
Messaging – ActiveCampaign is about more than sending emails. You can also send text messages, posts to your Facebook audience, and on-site messages. For each message, you can test subject lines to gauge their level of engagement, and you can communicate one-on-one with any lead on your list. Its social media integration is one of the great features of ActiveCampaign.
Machine learning – this feature makes ActiveCampaign unique. It collates all data from all campaigns and then uses it to guide your decision-making in the future. Machine learning can tell you things like the odds of a lead becoming a buying customer, the best times to send emails, what email formats have a higher level of engagement, and more.
---
Read Review
View Listing
Klaviyo is an all-in-one email marketing solution for online stores. It's especially useful in small businesses that use MailChimp, Shopify and Marketo. Klaviyo gives you the ability to control the customer experience so that you can make the most out of every lead.
The software provides you insights into what leads are thinking so that you can create winning conversion campaigns. It uses customer data science to help you project things like churn rate, the best times to send out messages, customer lifetime value, and more.
You can segment leads with Klaviyo based on a wide selection of metrics. This way, you know your VIPs, hot leads, and those that would require more work to convert.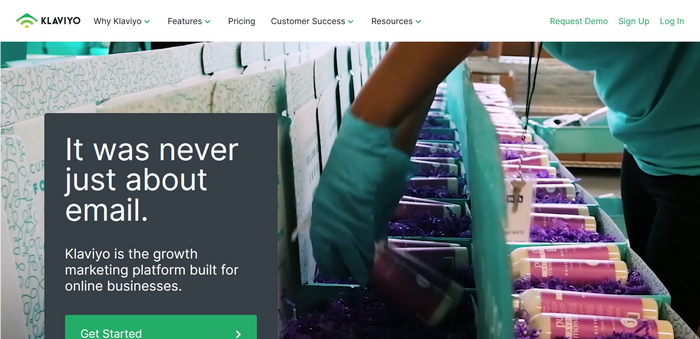 Klaviyo Features
Integrations – Klaviyo is all about customer data, and that's why it's designed to integrate with lots of other marketing apps and platforms. It also integrates with internally developed tools. Klaviyo is one of the best email marketing automation software to have if you use Magento, BigCommerce, Desk, JustUno, FaceBook, Stripe, Shopify, and similar tools.
Segmentation – if you want to reach out to your leads effectively you have to know exactly who they are. Klaviyo allows you to segment your email marketing list based on behavior, special actions (purchase, repurchase), which products customers are interested in, how much each lead has purchased in a certain period, and more.
Advanced personalization – most email marketing automation software uses first and second names to personalize emails. Klaviyo goes one step further. You can craft emails that show cart contents, product recommendations based on what a lead looked at and even custom web feeds.
Social media advertising – social media is a powerful marketing tool when used correctly. Unfortunately, it doesn't allow for much personalization. Klaviyo can use data from apps like Facebook and Instagram to create impactful messages to individual users.
---
Read Review
View Listing
Ontraport's main selling point is that it is one of the most affordable email marketing automation software with a wide range of capabilities. It has a full customer relationship management element, and you can see every interaction a lead or customer has with your brand.
With this software, you can build high-converting sign-up forms, design marketing communications with a drag-and-drop builder, create effective landing pages… Ontraport has a steep learning curve, but if you take the time to learn and understand all its functionalities there's a lot you can do with it.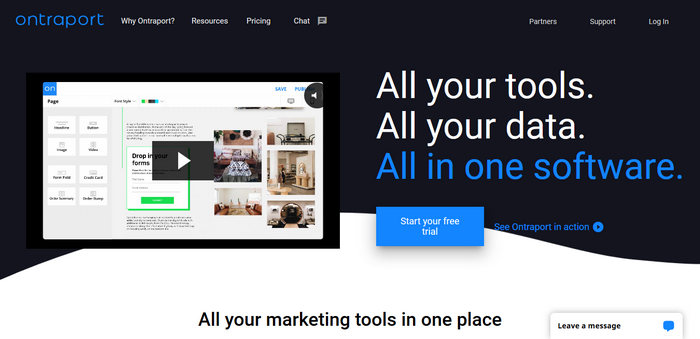 Ontraport Features
Marketing automation – you are by now familiar with the benefits of email marketing automation software. With Ontraport you can guide your customers through the sales funnel. It works from the moment you capture a lead until you sell to them and even afterward.
Customer Relationship Management – Ontraport allows you to manage your contacts with customer support with little effort. All customer data is stored in a centralized location, and you can segment it to see exactly what each person does. This allows you to engage naturally with customers.
Email design – each email you send out is unique. With a simple drag-and-drop editor and a library of email templates, you can create email sequences in a matter of minutes. You can include images, videos, and buttons to make your emails even more engaging.
Re-engagement campaigns – there are always contacts who will not buy on the first contact. Ontraport allows you to re-engage with them, allowing them back in your sales funnel through email, text messages, and social media.
---
View Listing
Keap, which previously went by the name Infusionsoft, is an email marketing automation and CRM software with a variety of useful features. It helps businesses of all sizes across all industries increase sales volume and enhance the customer experience.
Keap by Infusionsoft shows all your customer information in one place, and you can see your workflow at a glance. You can automate repetitive tasks so that you can put your time to better use. You can see all customer contact information, including contracts, sales records, payments, meetings, and more in just a click of a button. Onboarding is also easy with their helpful support team.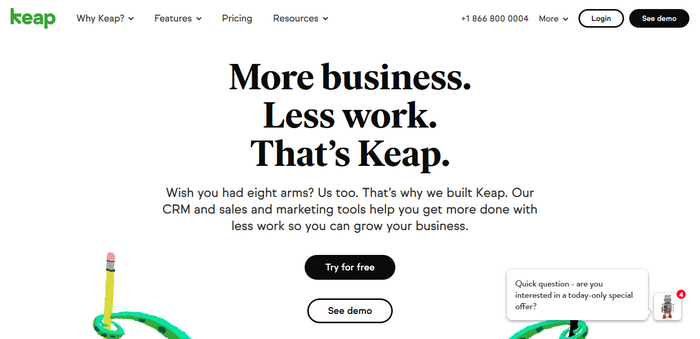 CRM – Keap is like a detailed diary of your client base that you can see at a glance. You can view all interactions with every lead, including messages and appointments, where they are in the sales funnel, and what actions they have taken to date.
Messaging – Keap is an email marketing automation software, but it also relies strongly on SMS to keep in touch with customers and potential leads. You can see whenever contacts respond so that you can reach out without delay.
Scheduling module – how often do you lose a sale because you forgot to follow up, or mixed up meeting times? It will no longer happen if you use Keap, as you can program all meetings into the calendar, and you can also see all the relevant information about each customer.
Automation – you can pre-write and schedule email and text messages, and they will be sent automatically when the time comes. Each time you move a lead from one stage of the sales funnel to the next you can send an automatic message. In other words, all your communication is automated and you are free to do other things with your time.
---
Read Review
View Listing
Constant Contact is one of the oldest companies in the game, with more than 20 years of experience in email marketing automation. This software has email templates for every industry, as well as a host of features, and a great UI. You can boost your marketing efforts with coupons, events, and polls. Constant Contact is perfect for small and medium businesses with no more than a few hundred thousand contacts in their email list.
Constant Contact Features
Easy email editing – the drag-and-drop feature makes it easy to craft and edit emails. There is a library of templates that you can choose from, but if you would like to customize further you can create your own.
Automation – each time a visitor on your site signs up you can send them a welcome email. You can trigger an email to send based on what links a contact clicks, and you can see who didn't open your emails and re-contact them. Automated segmentation allows you to send the right messages to the right contacts every time.
Integrations – eCommerce marketing is easy with Constant Contact as it integrates with most apps in the business.
High delivery rate – one of the things that make Constant Contact stand out as email marketing automation software is its delivery rate. 98% of emails reach their destination inboxes, compared to an average of 77% in other tools.
---
In 2022, these are the best email marketing automation tools. Whichever one you choose will help make your marketing strategy easier, increasing your profit. Remember, brand awareness is not only about social media.
Each of these tools can be the best for you according to your needs – so evaluate what matters for you in email marketing automation before you pick a tool for you. You know your business better than anyone, so it's up to you to find out the software you need.