10 Best Bulk Email Marketing Services & Software 2022
Use bulk email marketing services to transform the growth rate of your business! 
Email marketing is a proven method that can help to promote your business, attract new customers and maintain a good relationship with loyal customers. By using the best mass mailing services, you can gain momentum in your business.
But which is the best bulk email service provider?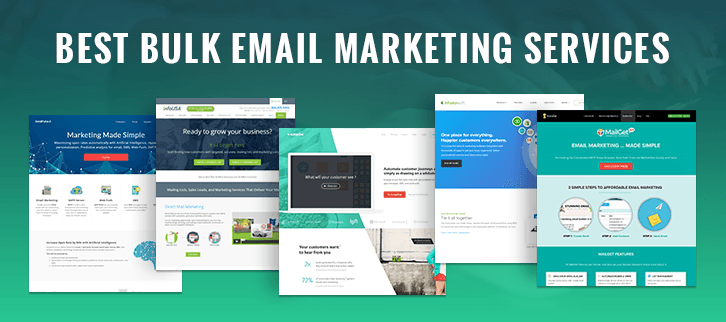 Here are the most important factors to consider as you choose:
Best delivery rate.
Which one offers the most value in terms of price.
Fast delivery of messages.
360-degree sales as well as marketing automation.
Comprehensive tool suite.
Easy to use User Interface.
Multiple autoresponders & workflow options are available.
To help you find the perfect bulk email marketing services software that best suit your business, we have highlighted 10 of the best in the market along with their top features.
With any of these you can create customizable emails & send them to multiple contacts in mere seconds.
Some of these tools also allow you to connect UNLIMITED SMTP services. You are able to connect any strong SMTP service with excellent reputation so that your emails always land in the inbox rather than spam folder.
Read through the bulk email marketing services software discussed below; we are sure one or more will match your needs and your marketing strategy.
You may also like to read:
Let's go through the comparison of various Bulk Email Marketing Services
| | | | | | | |
| --- | --- | --- | --- | --- | --- | --- |
| Service | Business Dashboards | Drag & Drop | Multiple SMTPs | Email Tracking | Link Tracking | Marketing Automation |
| Platformly | ✔ |  ✔ |  ✔ |  ✔ | ✔ | ✔ |
| MailJet | ✔ | ✔ | ✔ | ✔ | ✔ | ✔ |
| MailGun | ✔ | ✔ | ✔ | ✔ | ✖ | ✔ |
| MailerLite | ✖ | ✔ | ✖ | ✔ | ✔ | ✖ |
| Keap | ✔ | ✔ | ✖ | ✔ | ✔ | ✔ |
---
Platformly is a powerful yet easy to use business management and marketing automation tool for busy business owners who are focused on growth. Platformly makes marketing attribution easy by precisely tracking interactions across different campaigns and channels throughout your entire marketing funnel.
It helps you understand in unparalleled detail which marketing activities drive the most sales, who your most loyal customers are and what drives growth.

Pricing:
You can choose one of the following once you're ready to upgrade: Starter ($19), Growth ($49/mo) or Unlimited ($99/month).
Try Platformly free for 15-days. There are no limitations in the plan you want to test.
Pricing for 1000 contacts start at $19/month, 2500 contacts cost 29$/month, 5000 contacts – $49, etc. For more information click here.
Features
Beautiful pre-built templates designed to save you time. Use them to create your churn campaign, on-boarding campaign, welcome series, and much more.
Segmentation and tagging allow you to create more personalized messages and pinpoint follow-ups for particular contacts; it ensures that recipients won't consider your emails as spam.
With the easy-to-use drag-and-drop builder, you will be able to create visual workflows demonstrating each step in the sequence.
---
MailGun is a cloud-based, developer email marketing service that's used to send, receive and track emails. It's fairly popular – with more than 150,000 customers so far (including free accounts) – and claims to have a 99.99% uptime.
Because the software has intelligent inbound routing and storage you can see where your emails are at all times. This is beneficial because identifying email bottlenecks helps you eliminate them.
MailGun works with a variety of programming languages including Java, PHP, Python, Ruby and C++.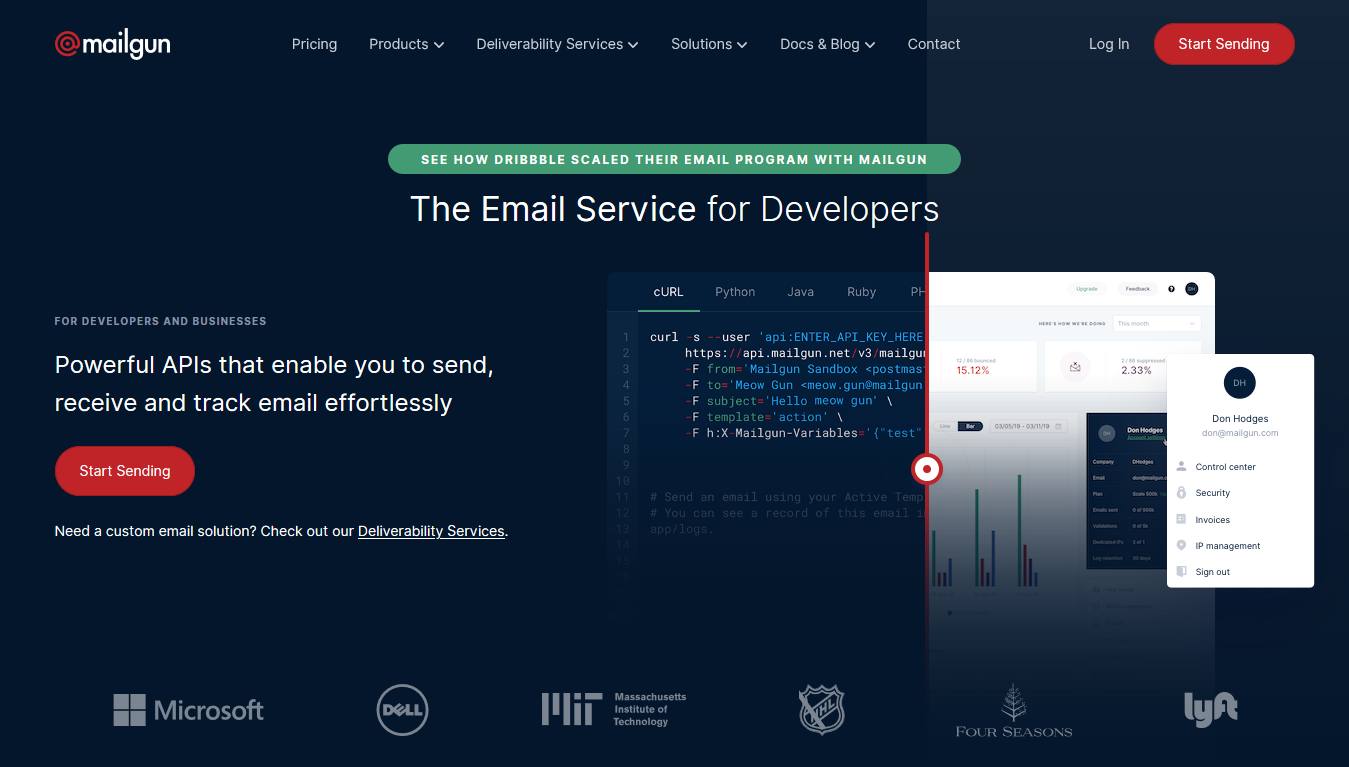 Pricing
The Flex plan is free, and it allows 5,000 free emails a month for 3 months. After that, you pay only for the number of emails you send. Subscribers have access to 24/7 basic support.
Foundation plan starts at $35/month, and you can use it for up to 50,000 emails. This comes with basic support.
Growth plan starts at $80/month and is suitable for up to 100,000 emails. It comes with enhanced support.
The most expensive plan is Growth which starts at $90/month, can be used for up to 100,000 emails and comes with full support.
Features
Great API documentation – this includes libraries for popular languages that allow developers to integrate MailGun easily into their applications.
It is easy to use, with many developers giving it a 9/10 for ease of use and implementation. The user interface is easy to understand and features are laid out in a way that makes them easy to find.
Email analytics – you can track all kinds of metrics using MailGun, including number of clicks, open rate, performance by device, location and more. You can also use the data generated by this software to determine the best day and time to send emails to different demographics in your email list.
You get high deliverability with dedicated IPs. To make sure that most of your emails are delivered make sure to sign up for the Managed Service which provides the right tools and tips to ensure that most of your emails get to their recipients.
Processing inbound emails is easier with MailGun.
---
MailJet markets itself as an integrated API, SMTP and user interface for both transactional and bulk email. You can use it to send email, track delivery rates and compare analytics for every email you send.
One thing that makes MailJet unique is the collaboration feature which allows marketers and developers to work together on the same emails at the same time to ensure high deliverability rates.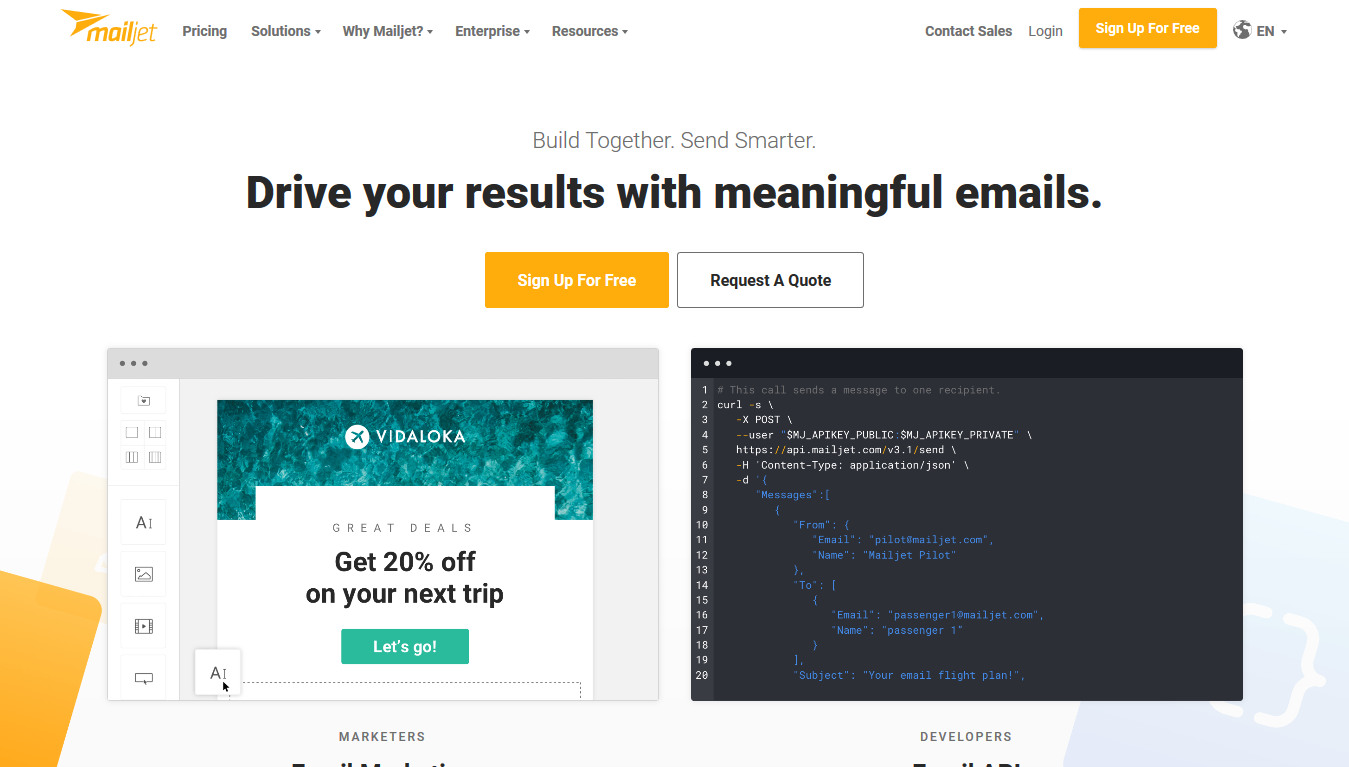 MailJet Pricing
The free package is available to users for as long as they would like to keep using it and can be used to send 6,000 emails every month. However, it's limited to only 200 emails a day.
The Basic plan costs $9.95/month. It has all core features and can be used to send up to 30,000 emails. There is no daily sending limit.
Premium costs $20.95/month. It provides access to advanced features and can be used for up to 30,000 emails a month with no daily limit.
Enterprise is for anyone who would like to get a customized package. To get it contact the MailJet sales team through their website.
Features
It has an intuitive email builder that you can use to design highly effective emails in minutes. The emails can be personalized to speak directly to your audience. Contact management is easy with MailJet and you can assign and track email marketing roles to different team members.
There is a variety of autoresponder email templates that you can use depending on your target audience.
MailJet is particularly good for transactional emails. These are emails that are triggered when a contact takes a certain action. They can include order confirmation, delivery emails and so on. MailJet is designed to ensure that these important emails always end up in the recipient's inbox. The software has advanced features but they require a little coding to implement.
MailJet provides basic reporting for email campaigns. They include bounce and open rate, unsubscribes, clicks and spam. You can also see the percentage of emails that a contact on your list has opened. This tells you whether or not you should keep them on your list or take them off.
It's easy to use. Not only do you get a list that tells you what to do to get a campaign going, the list comes with a step-by-step guide that tells you exactly what steps you should take.
---
What's better than having an integrated marketing software with superhuman features? Sendpulse is comparatively new in the market yet it is a popular choice for bulk emailing. The platform uses artificial intelligence, personalization and predictive analytics to create an exceptional campaign.
With this tool, you can easily gain 50% to 100% user engagement. The REST API allows the fast implementation of email functionality. Moreover, you can integrate transactional emails into CRM and CMS systems, e-commerce and mobile applications. It's the appropriate software for DIY email marketing.
Pricing:
It offers four types of subscription plans. You can start with a free plan that has a limit of 2,500 subscribers and 15,000 emails per month.
The prepaid plan called Pay-As-You-Go allows you to pay only for emails you need.
If you want complete package look for the monthly plan and VIP package and their respective features.
Features
No technical expertise required
Easy and quick installation
Drag and drop editor with 100s of templates for compelling emails
Easy and quick SMTP integration to activate dedicated IP address for bulk mailing
Automates target sending of emails, SMS & Web push notifications through a scheduler with 3rd party integration
Supports mobile devices & comes with exhaustive analytics
It creates a behavioral user profile for an individual subscriber based on the patterns of product purchase, layout, time zone, communication preference and more.
---
SendGrid was recently acquired by Twilio, and according to the new owners their mission is to make it a comprehensive customer engagement and marketing automation software.
SendGrid focuses mostly on deliverability, which is the most important feature of any email marketing software. It ensures that most of your emails end up in inboxes where they have a chance to be read, rather than in spam folders where they'll not be seen.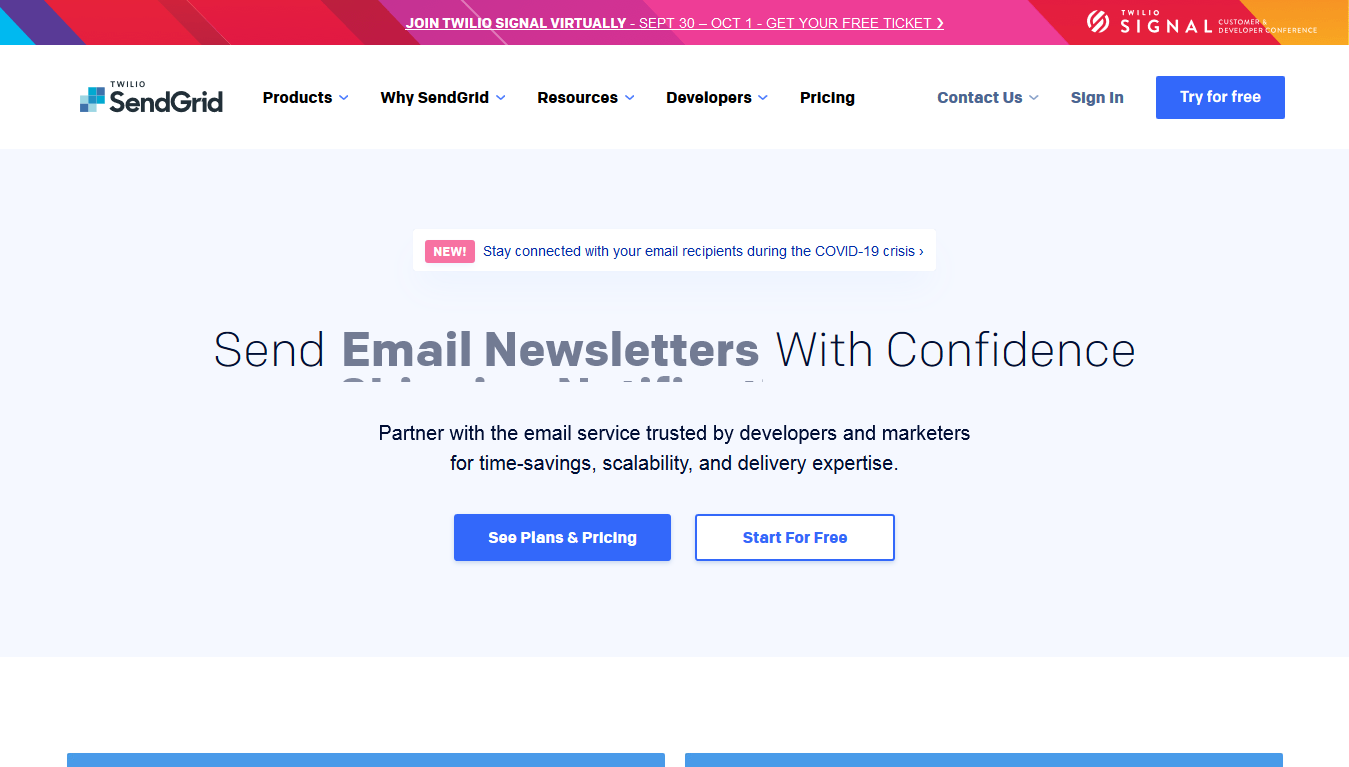 SendGrid Pricing
The free plan allows you to send 40,000 emails for the first month and then you can send 100 emails a day for as long as you like at no cost.
The Essentials plan starts at $14.95/month and you can use it for up to 100,000 emails a month.
Pro costs $89.95/month and can be used for up to 1.5 million emails every month.
Premier plan is custom; contact the sales team and let them know what you need so they can tailor a package for you.
Features
Email design is easy. There is a library of responsive templates and a drag-and-drop interface that helps you get out emails quickly.
You can create a drip series, automate recurring emails and measure the results of each campaign based on select actions.
SendGrid has a high deliverability rate because it relies on dedicated IPs and custom domains. If you experience deliverability problems, there is a team of experts at your disposal.
Well-designed sign-up forms allow you to grow your email list every day.
You can preview and test emails before you send them to see how they will perform.
Detailed reports provide statistics that you can use to improve your campaign.
---
If simplicity is your choice, MailerLite will surely impress you.
No complex settings and tools. Just sign up and start the trial version. This relatively new email marketing service provider is very user-friendly. It has excellent customer support and interesting email designs.
Enjoy effortless campaign design, quick analytical result tracking, efficient subscriber management and more. With everything that small businesses needs, the pricing is the icing on the cake!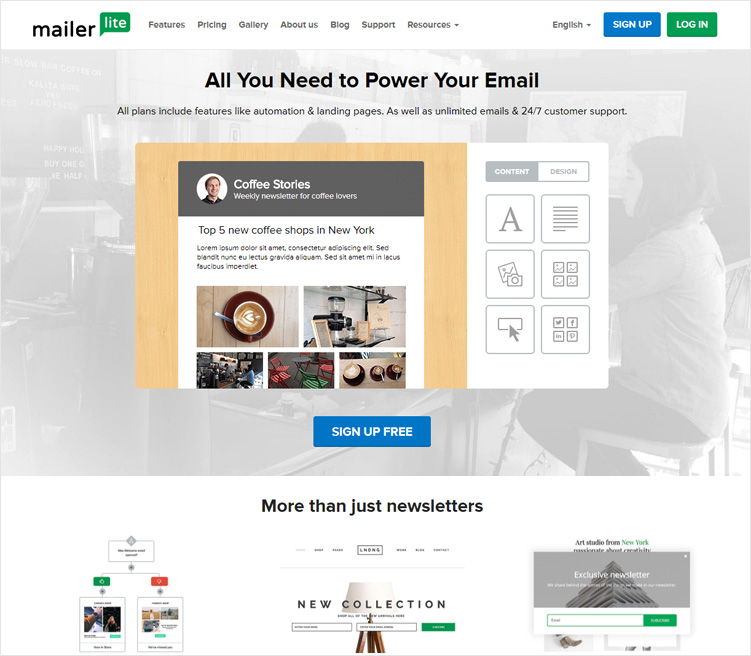 Pricing:
The primary plan with 1,000 subscribers is free for sending unlimited emails.
Its paid plan starts from $15/month with which you can send unlimited emails from 1001 to 2,500 subscribers.
With the $30/month plan, you'll be able to send limitless emails to subscribers ranging from 2501 to 5,000.
The $50/month plan allows you to send emails to 5,000 – 10,000 subscribers in a single click.
Lastly, to send emails to subscribers ranging from 10,000 to 15,000, you've to pay $75 per month.
Note: You can change the number of subscribers & the pricing will change accordingly. For more information visit MailerLite's pricing page.
Features
Easy drag-and-drop editor
Responsive email design
RSS campaign
It can disable the double opt-in
Automated subscription of notifications
Emoji support
Segmentation, tracking and campaign reporting
Email statistics tracker & so on
---
Pure360 is more than just an email service provider for small, medium and large businesses. It has four different plans ('Suites'), and each has unique features and specialties.
The Maturity Model is another interesting feature that helps customers understand how advanced their email campaigns can be.
Pricing:
Price for each suite is available on request. Visit their site and get to know more
Features
It has all the mandatory features including behavioral re-targeting, spam test delivery, inbox preview, free email templates and more
ROI calculator for expected improvement
Web application security to prevent unauthorized account access
The software delivers personalized content, prevents duplication and has intelligent time sending
Advanced email automation
Online 'clipboard' of content snippets
Split content optimization.
---
Sendinblue is an email marketing solution geared towards small and medium-sized business. It has a range of functionalities: basic CRM, newsletters, email tracking and a few others.
If you are looking for email marketing software for big business Sendinblue may not be the answer, but it is recommended for small and medium-sized businesses.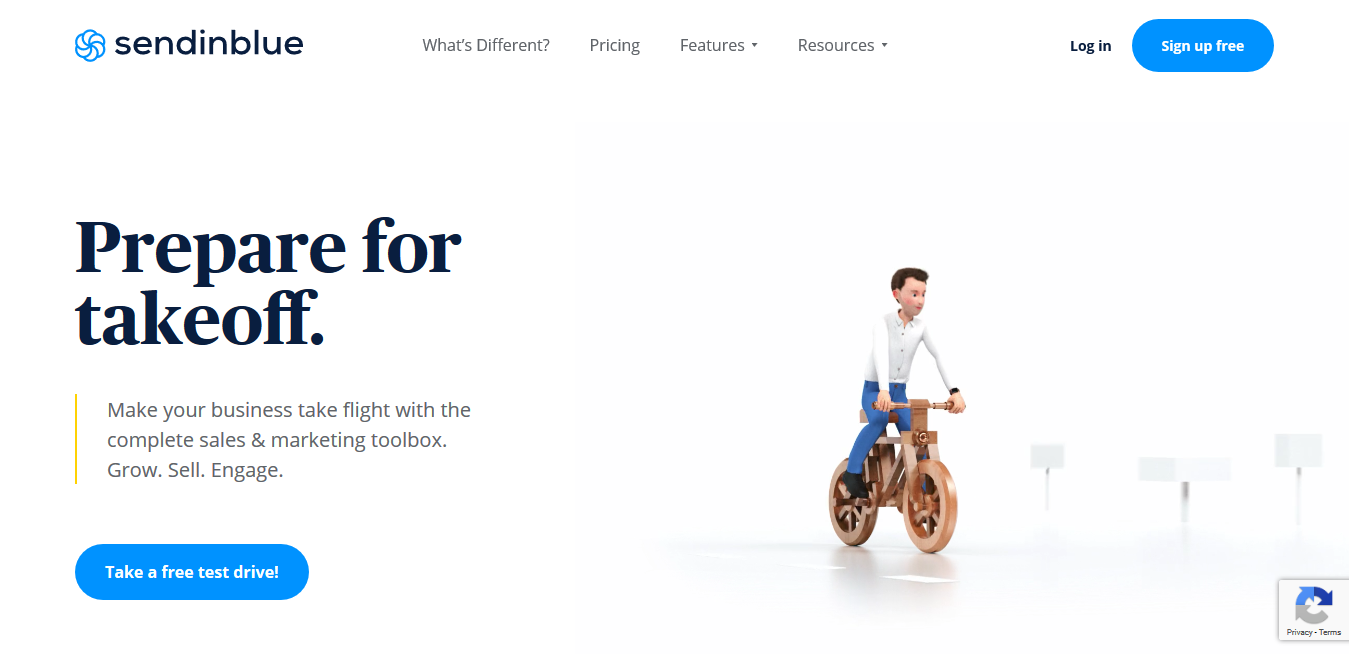 Sendinblue Pricing
The free version allows you to send emails to an unlimited number of contacts, but you get limited features. You cannot take advantage of things like A/B testing, you don't get a landing page builder, there is no Facebook advertising and all emails go out with the Sendinblue logo.
Lite costs $25/month and you get everything in the free version and some additional features.
Premium is $65/month and contains everything in the Lite version and even more features.
Enterprise is the fully loaded version and it is customized for businesses. Get in touch with the sales team to get a quote.
Features
The software has email marketing, SMS marketing and a chat function. The SMS and chat functions are more than many email marketing tools offer, and they are why some business owners opt for this software.
The CRM feature is pretty good, and it allows you to keep track of every contact on your email list from a single dashboard.
You can automate email list segmentation by defining a few simple rules, and you can also design different email messages for different segments.
Email design is easy, and the software provides step by step instructions and tips.
For easier conversions, you get a landing page, sign-up forms, Facebook ads and a re-targeting function.
You get a range of reports, including open rate, click-through, a heat map and real-time statistics that tell you what is happening as it's happening.
---
Keap, formerly Infusionsoft is a remarkable platform for small businesses. It is a complete package for startups and small businesses that have a small target audience and are in the process of learning marketing techniques.
It is simple yet has a powerful bulk mailing service that lets users run successful campaigns and keeps users engaged with attractive newsletters.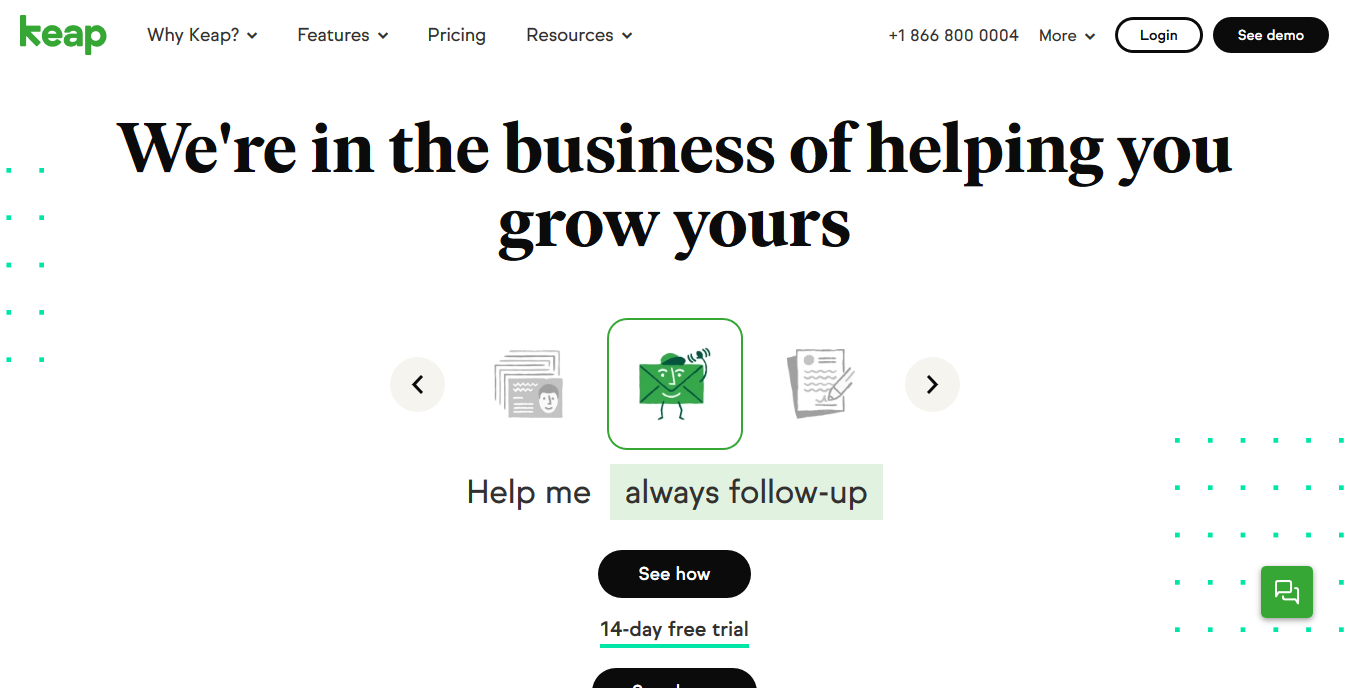 Pricing:
You can choose a yearly plan or a kick-start package. The basic annual package covers three users and costs $199/month. You will get complete CRM and marketing automation along with access to 2500 contacts and 12,500 emails per month.
With full features and access to 100,000 emails per month, the annual plan for a maximum of 10 users sells for $599/month.
You can choose a trial pack of $999 that you can use in conjunction with other plans.
Features
Through its smart CRM, you can not only import and organize the contacts but also segment them based on their needs.
It lets you increase engagement through streamlining leads.
You can initiate personalized communication by analyzing multiple parameters such as email sends, clicks and payment history.
It automatically sends follow-up emails and sets personalized after-sales communications that you can track and manage.
The analytical feature gives the ability to evaluate and improve any campaign or project.
It also saves your system connection time by integrating APIs, synchronizing data with popular accounting software solutions and giving access to third-party apps.
---
This is easy-to-use cloud-based software with part CRM and part email marketing features. With autopilot, you can create personalized journeys and boost them with favorite apps. The in-built integrations for messaging, marketing and lead intelligence make it favorable for SMS, email and physical mailing.
Though the software has an appealing user interface, it is overly complicated to use. However, at $20/month for the start-up plan you should try it.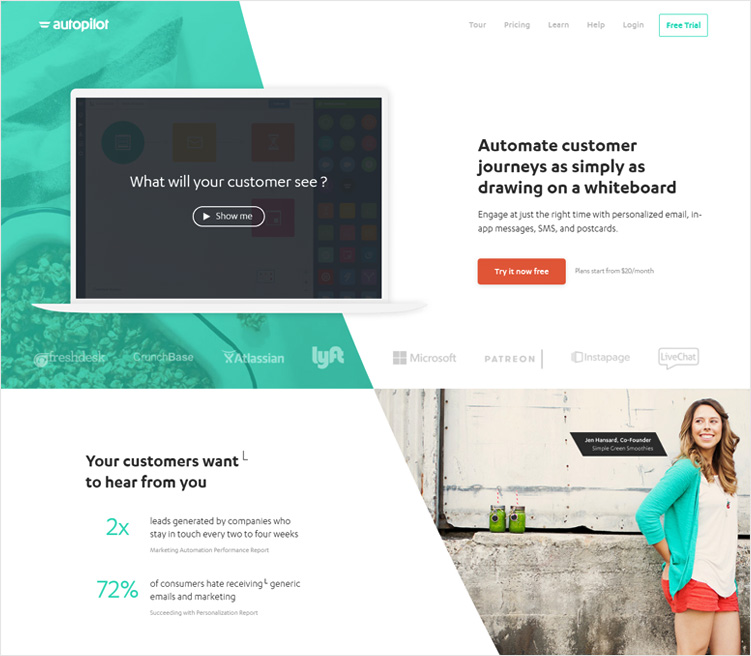 Pricing:
Autopilot has a base plan of $49 per month(Silver Plan) and a business plan of $149 per month(Gold Plan).
The base plan includes unlimited journeys, 2000 contacts, Slack and Zapier integrations, bulk emails, SMS and Headsup, and segments & reporting features.
You can enjoy a 30-Day free trial to test the software.
Features
You can track real-time activity and visualize your campaign with pre-built reports.
Enhance the user experience with built-in integrations
The drag and drop feature allows you to execute a campaign anytime, anywhere.
You don't need IT support as it has in-built end-to-end marketing automation tool.
It also has action-based trigger automation, bulk data import and export, unlimited custom fields, HTML email editor and dynamic text personalization to make your campaign an assured success.
Static and dynamic smart list segmentation, complete email support and online tutorials are other promising features.
---
Conclusion
No two email marketing services are the same, and there are definitely some that are better than others.
Platformly, for example, is more than just a bulk emailing service. It provides a comprehensive set of tools that you can use to develop effective emails, deliver them to the right inboxes and track what happens to them once they are received.
You can use it to compare different campaigns and channels and use the comprehensive reports it provides to make adjustments as needed.
Platformly gets our highest recommendation, but that's not to say that the rest of the email marketing services on this list aren't effective.
As you choose think about your needs, how much you are willing to spend every month and also how much support you'll get. You want a service that's responsive and willing to provide help whenever you need it.