10 Best Email Verification Services & Softwares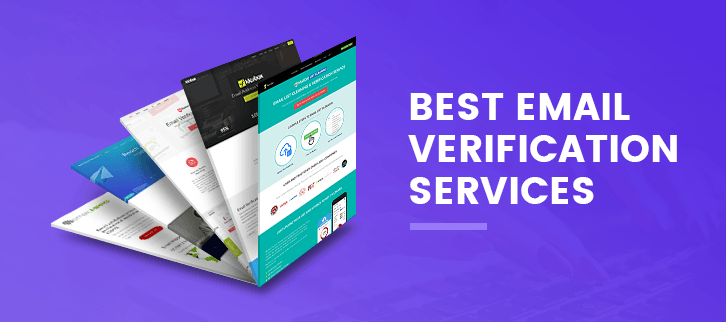 ---
While executing email marketing the word email verification is not new for the merchandiser.
Instead, email verification is one of the significant tasks which everyone performs in email marketing. Many a time, email details which are provided by users may have mistakes or they may be invalid email addresses. For this reason, email verification method is implemented.
Check out some of the amazing articles on similar niche
There are ample of service providers which provide good information and the only difference between them is their email verification methods. So, it is very difficult to opt for the best email verification services because it is an endless job.
Hence, I've turned up with vivid list of 10 best email verification providers.
Let's explore them one by one and find out the best suitable alternative which meets your requirement.
---
The Best Cheap Email Marketing Software
Compared (in full)
Check all the services in detail as per your needs and choose service wisely – by the end, you'll know exactly which one is the right option for you.
MailGet provides you the best email cleaning software which will clean the lists in a segmented manner which means the software will clean on three lists termed as the, suspended, bad and inactive addresses.
It is one of the affordable email list cleaning services as it is almost 100x cheaper when compared to other service providers.
Along with email verification, it also offers best inbox deliverability and usage of multiple SMTPs makes it the perfect solution for email marketing. You can use MailGet to built best templates for newsletters, campaigns, promotions etc for which you have to pay some extra bucks.
---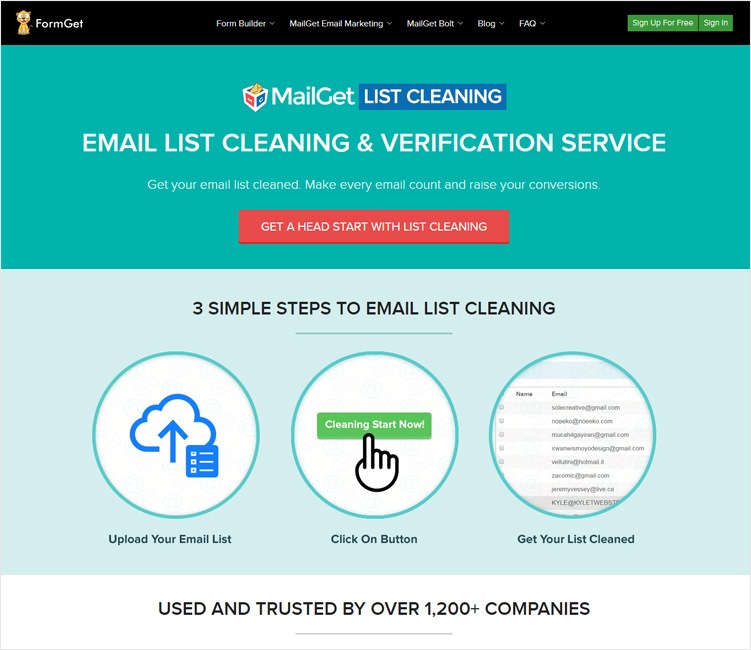 ---
Features of MailGet are-
The best element about MailGet is its email verification service
MailGet verifies it's the email address via domain validator, MX validator, DEA checker etc
It provide series of email address which may have spam or may be undeliverable case
Drop your emails to customer's inbox and boost the percentage of conversion with MailGet
MailGet send the emails via various SMTP services like Amazon SES, Postmark, Google etc. to accomplish best inbox deliverability
Pricing :-
The software provides a number of pricing plans among which we have displayed the lowest three and the highest pricing plans three plans for the full pricing details you can hop onto the software website.
Talking about the smallest plan is $4 where list of 1000 emails are cleaned, on the same track, 5000 email list can be cleaned for $12, and 10,000 emails are for $20,
And so far as the highest in the range are concerned 2.5 Million emails will be cleaned for $1100, 5 Million for $1699, 10 Million for $2899.
Just in case if need some advice that can help you out to clear out the confusion then my suggestion is that you should go with the MailGet as it is providing the best service in terms of accuracy and the economic pricing plan starting at $4.
---
Another to lineup is Email Hippo which is a well known name for email verification service. The best feature of Email Hippo because of which thousands of companies trust it is that it keeps secrecy of your data and never shares it. Additionally, it verifies the email addresses in real time using its easy to use and feature rich API
---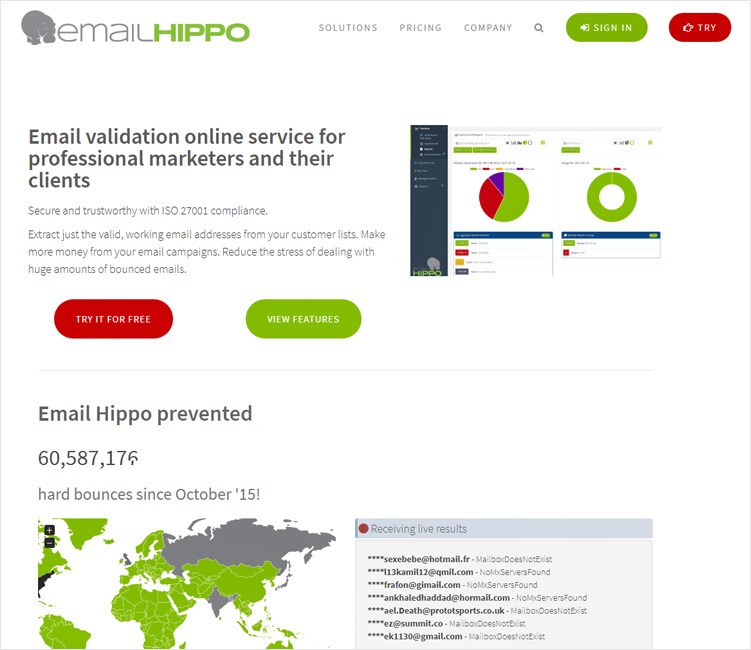 ---
Features of Email Hippo are –
It provides you with quick, reliable service and their list cleaning element is very impressive
They improve your email list by recognizing false or useless emails, which in turn accelerate deliverability and restrain from bounces
No software installation is required in Email Hippo
It can handle huge list of email addresses which ranges up to 500,000 email addresses
Pricing :-
The charge to trim list of 10000 emails is only $50 and then you may pay as you opt for more authentication of emails.
---
Kickbox service has the first class email reputation and overall email data quality. Its ability to search email addresses at a very fast rate makes it different from the others services.
---

---
Features of Kickbox are-
It assures that the email is delivered to authentic users and it isolates the low-grade addresses from high value address
KIckbox accredit and certify your email address
You have to give your addresses into the kickbox interface and they will array the profitable and useless addresses for you
It certifies the email addresses with their Real time API
Analytical team of Kickbox ensures 95% + email deliverability, first class email reputation and inbox placement
Pricing :
Kickbox provide the first 100 verifications for free and if you wish to purchase more verification then the charge is $5 for 500 verifications and then you may pay as you choose the service.
---
It is one of the quickest and finest email validating services where you can easily attest your emails. Bulk Email Verifier provides the cost effective validation service online.
You can upload many files and Bulk Email Verifier will charge only once. It supports multiple data files and saves the files according to their names for the ease of customers.
---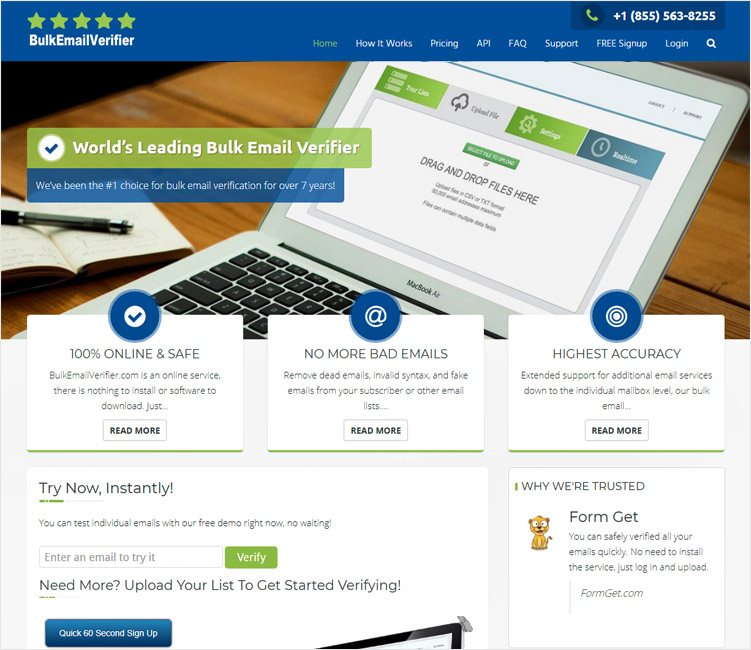 ---
Features of BulkEmailVerifier are-
In BulkEmailVerifier you don't have to install the service, you just have to log in and upload the email addresses
This service provider eradicates all the invalid emails from your list of addresses
They also provide free trial for individual emails at website
Along with bulk verification this service provider offers more than 95% accuracy
They are widely present in many companies and users located in UK, US and other larger EU member's nations
Pricing:
There are two different verification plans
Monthly Emails: In monthly plan, you can verify 4000 email for 2 months at the cost of $79
Numbers of emails: This will cost you around $75 for verifying 15000 emails
VIEW THIS ITEM
---
Brite Verify provides real-time address list verification solutions which helps in enhancing the quality of the database, deliverability and email marketing. It is located at Charlotte, NC (USA) and London (UK).
These provide quick, reliable and exact addresses to their users. Moreover, they have Self-Service Tools and Developer APIs which makes authentication of domestic and international Business to Consumer (B2C) and Business to Business (B2B) emails very convenient.
---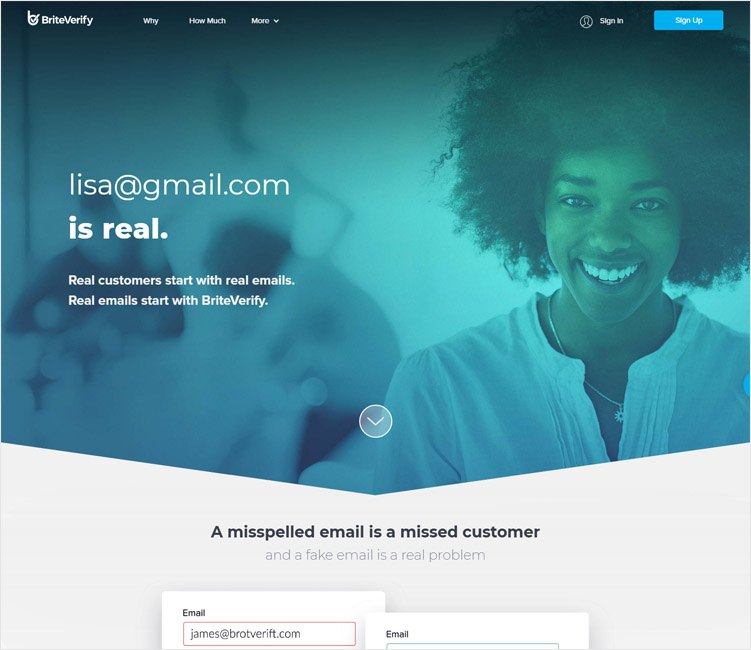 ---
Features of Brite Verify are-
Brite Verify can perform the bulk verification
It can also detect the poor domain quality
Verification of disposable email address (DEA) is possible in Brite Verify
Real Time Verification service/API service is also available
Brite Verify offers free trials to its users which makes it simple to go from assessment to production
Users don't have to download and installation of software
Pricing:-
Brite Verify charges very nominal cost for their users. There is no setup fees in Brite Verify. They cost $ .01 per verification from 0 to 250K and then you have to pay as you go.
---
Data Validation is an email verifying service that finds and discard invalid email addresses. They provide you with quick and complete information about email addresses.
---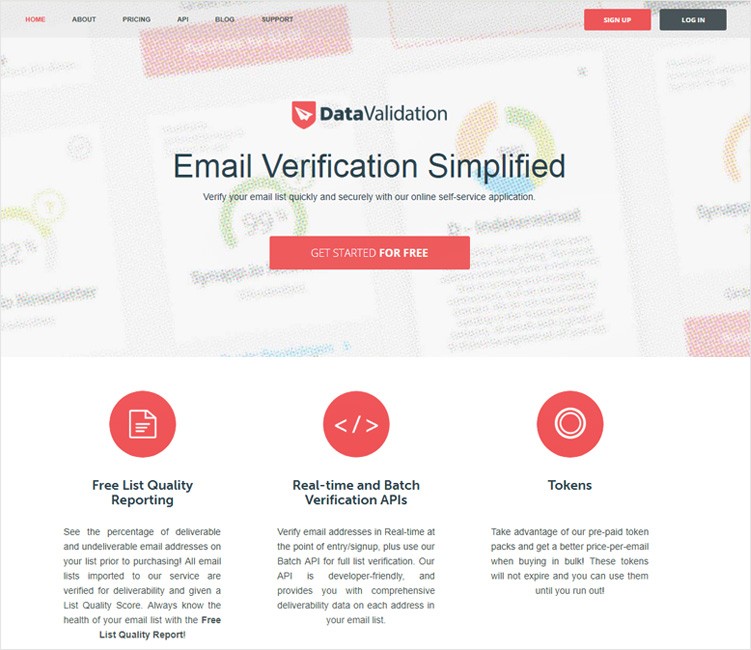 ---
Features of Data Validation are-
One of the great features of this service is that it stops email bounces much before they happen
Data Validation uses ESP Integrations to easily link an account, and hence validates the address very quickly
It verify email addresses in real time and uses Batch API for full verification of the list
Email addresses which are provided to this service are verified for sending and are provided 'List Quality Score' which shows the health of the email list
Pricing:-
The Data Validation charges are based on the number of emails you verify. If you validate a list of 10000 emails then Data validation will charge you $50.
---
This service is one of the finest validation services available in market. It provides the optimum results for invalid email addresses very quickly.
You just have to upload the email address list to its web interface and in turn this service provides you with an authentic list which is ready for sending.
---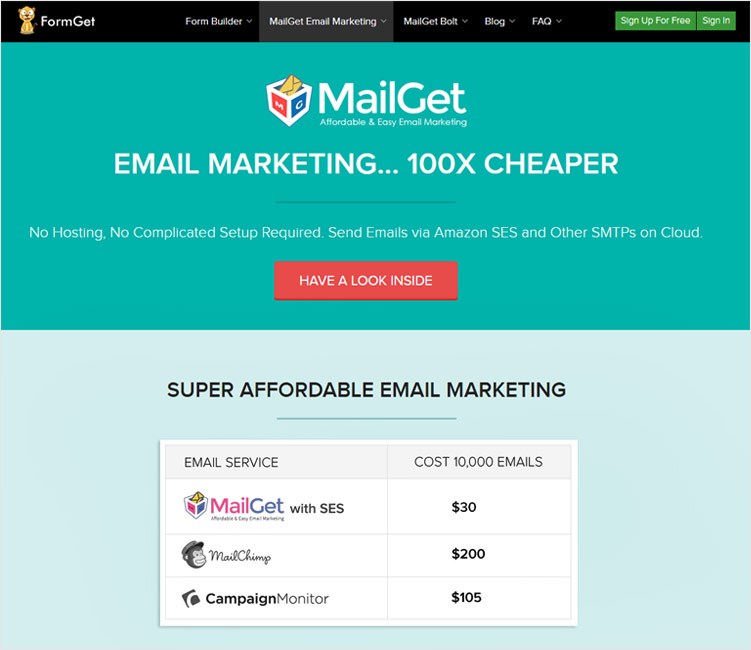 ---
Features of Email List Verify are-
They prevent duplication of the email addresses from the list
Email list examines high risk keywords and high risk top level domains in an email address
They verify the inactive domains and finally discard those domains
Email address with false syntax is directly excluded from the list provided by the user
This service examine whether the mail transfer agent is having the valid mx records or not
Real time verification of the email address list is done in order to get the accuracy
Pricing:-
There is no set up cost for email list verify and it provide you with two different ways of pricing. The first one is the monthly subscription and the other is "pay as you go" plan. The pricing of the plans starts with $4 for 1000 mails. $15 for 5000 mails and so on.
---
Never Bounce analyze the email addresses from the list and figure out all the invalid and inactive addresses. Similar to other service providers, this one also provides the real-time verification service.
Never Bounce service guarantees the 97% mail delivery accuracy and if there is a bounce of over 3%, it will return the difference.
---

---
Features of Never Bounce are-
Never bounce gets rid of 99.99% of all the bounced emails from the list provided
It assures the data privacy i.e. you can only view your secure data and the data will never be corrupted in any way
It also provides the easy access of your data thorough any mobile devices
Never Bounce can collect the email addresses of any size
Securely takes the backup of your lists at regular interval of time
Pricing:-
The charge for cleaning 10000 mails is $50 and for sending 100000 emails is $400 and so on. If you want to calculate the cost of email verification then a cost calculator is provided on the website.
---
QuickMailVerification is one of the best email verification services available online. It authenticates email addresses in real time using REST-API.
Thousands of email addresses are verified every minute to detect false and inactive email. The verification process is carried out in different steps which starts from syntax checking and ends with the existence of the end user's mailbox.
---
---
Features of Quick Mail Verification are-
Quick Mail Verification carries out its process of verification according to IETF standards
During the verification process QuickMailVerification service examines and validates DNS entries of the email address
It has the email verification accuracy of 97%
Role addresses are related to a group, department or role and these addresses are easily verified via QuickMailVerification service
It takes the list of addresses from your ESP and provides you with the result easily
Pricing:-
One time verification services and monthly services are available at QuickMailVerification. Processing of 1000 emails / day is offered at no cost as free trial.
---
Verifalia is one of many trustworthy verification services available online. It verifies the address available on your list and boost deliverability of email on addresses provided by you.
The analytical team of verifalia analyses the non working and invalid email address. Verifalia can verify even the Yahoo! mailbox.
---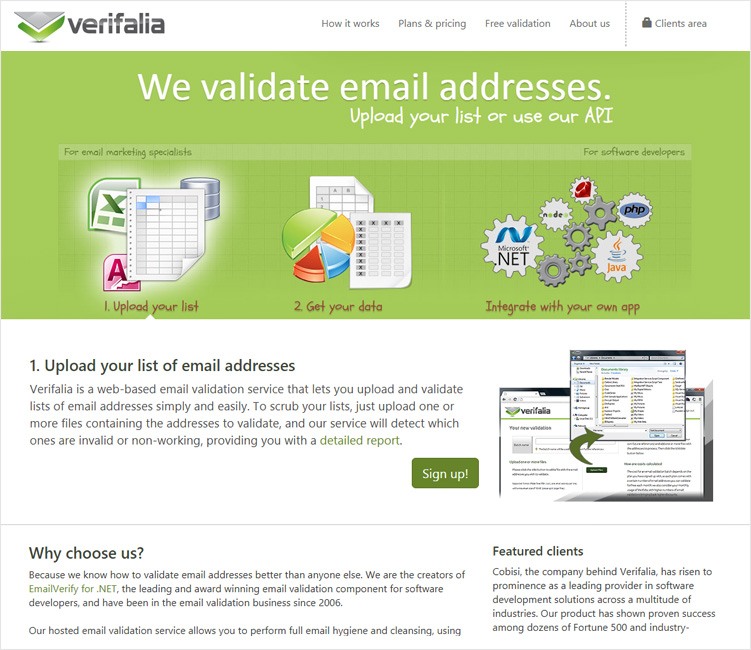 ---
Features of Verifalia are-
Easy detection of Role accounts can be carried out by Verifalia, i.e. if the address is not authentic it will be displayed
The Verifalia performs a full cleaning process through the DNS validation and MX record look up
Temporary mailbox unavailability can also be detected through Verifalia
Pricing:-
A free 125 validations per day are provided at Verifalia and then € 7.90/month are charged for 250 validations, € 43 are charged /month for 1250 validations and so on.
---
Conclusion –
I hope these 10 email verification services are useful for you. So choose the best according to you requirement and start verifying your mails.
Is any better email verification service missed? Share it in the comment box below and we'll look forward to review it.