10+ Best Email Verification Services & Softwares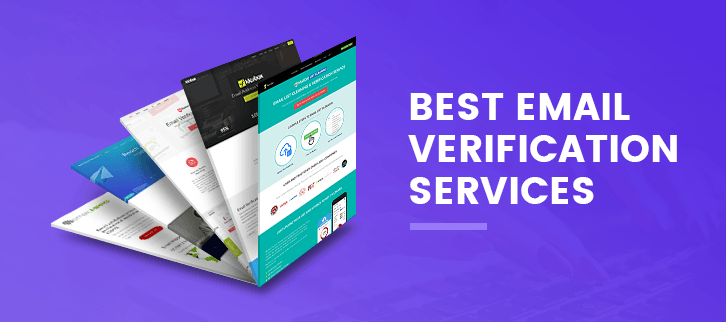 Email verification services – what are they and how do they help businesses?
Email verification is a significant task for anyone who does email marketing.
Many a time, email details provided by users may have mistakes, especially invalid email addresses. This may affect the credibility of your site and as a result, you may get blocked.
To stop this from happening, you need email verification services. They help you filter email lists and weed out bad emails or the ones that are of no use.
Email verification services are of great help they help identify email accounts that are not verified for whatever reason. After you use email verification software, you do not send emails to dead email IDs.
Find more articles on email marketing software below
Have a look at a comparison chart of the best Email Verification Services
There are lots of email verification service providers that provide good information. The main difference between them is the methods they use for verification. For the novice, it can be difficult to choose the best email verification service.
To help, we've compiled a list of 11 best email verification providers.
Let's explore them one by one and find out the suitable options that meet the needs of most small and medium businesses.
---
The Best Cheap Email Marketing Software Compared (In Full)
Check all the services in detail according to your needs and choose your service withe your future needs in mind.
Email Verifier from Hunter allows users to verify the validity of any professional email in seconds.
It makes validations at multiple levels: format, domain information, response of the mail servers and comparison with Hunter's unique base of 100+ million professional email addresses.
Email verification can be performed for a list of email addresses with the Bulk Email Verifier. Upload your file in the dashboard and watch it being enriched with the email validations.
The main Hunter services are also available directly through their API. Get the complete check result of any email address with a simple API call.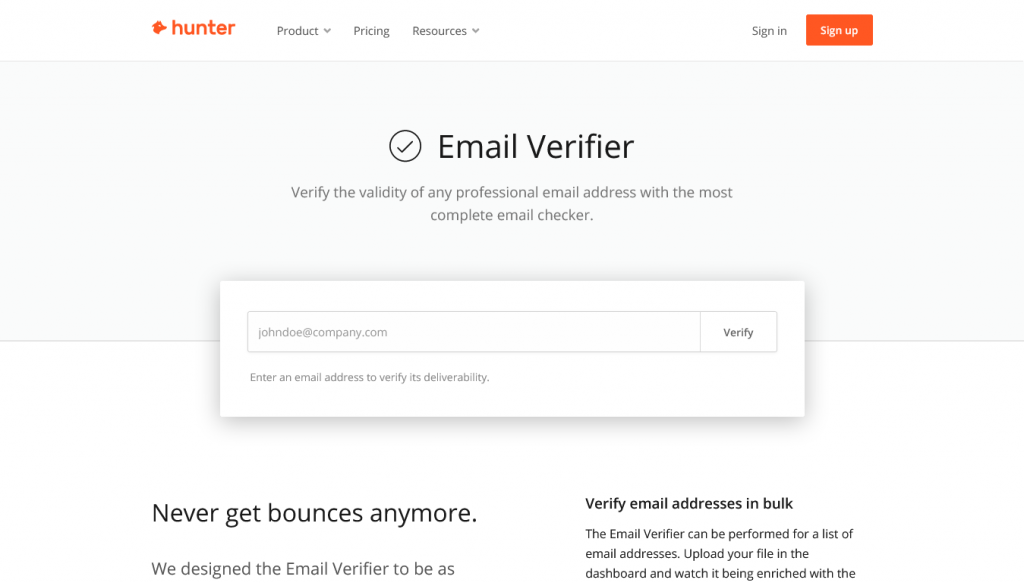 Pricing
Hunter provides 50 free email verifications on a monthly basis.
Paid plans start at $49 per 100 verifications. You can request a quote for a custom plan if you need more than 60,000 email verification at once.
Features of Hunter Email Verifier are:
Verification at multiple levels (format, domain information, response of the mail servers, etc)
Verification in bulk for multiple emails
Availability in API
Recognition of the "Accept All" emails
Free account with 50 email verifications available on a monthly basis
---
MailGet provides reliable email cleaning software that cleans lists in a segmented manner. It can clean on three levels: suspended, bad and inactive addresses.
It is an affordable email list cleaning service and is almost 100x cheaper compared to other service providers.
Along with email verification services, it also offers high inbox deliverability and usage of multiple SMTPs. This makes it one of the best software solutions for email marketing.
You can use MailGet to built best templates for newsletters, campaigns, promotions and more. They cost a little extra but are worth it.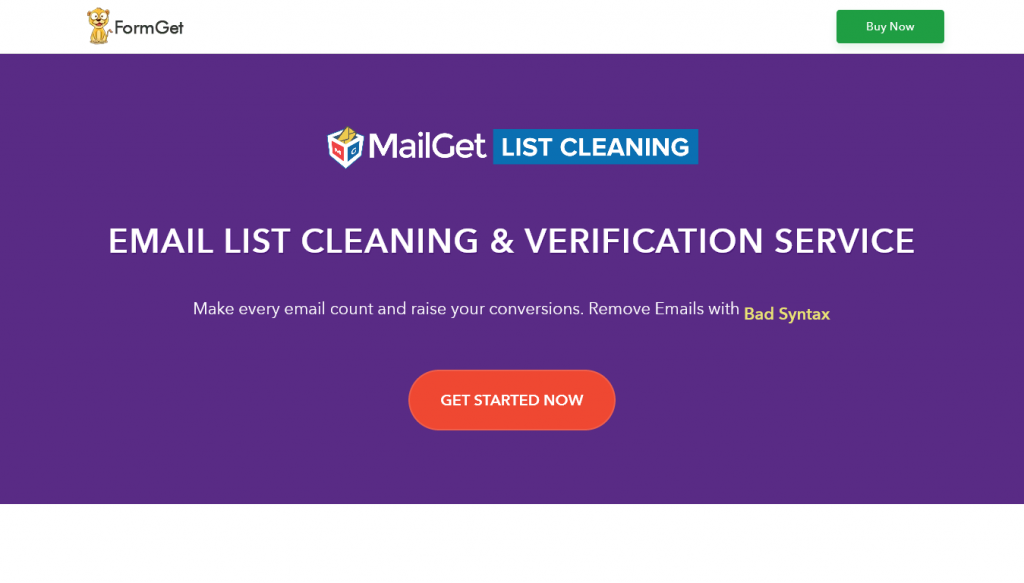 Pricing
The software provides a number of pricing plans. In this post we show you the lowest three and the highest pricing plans. For the full pricing details you can visit the website.
Pocket-friendly Budgets – the smallest plan is $4. You can use it to verify email lists of up to 1000 contacts. In this plan, you can verify email lists with 5000 contacts for $12, and email lists with up to 10,000 contacts cost $20.
Higher Plans – the most expensive plans can accommodate email lists with up to 10 million email addresses. 2.5 Million contacts costs $1,100. If you want to verify a list with up to 5 million contacts you pay for $1,699 and for 10 million contacts it will cost you $2,899.
Features of MailGet List Cleaning are:
The best feature in MailGet is its email verification service
MailGet verifies email addresses via domain validator, MX validator, DEA checker etc.
It provides a series of email address which may be spam or may be undeliverable.
Drop your emails to the customer's inbox and boost conversion rates with MailGet.
MailGet send the emails via various SMTP services like Amazon SES, Postmark, Google and others for high inbox deliverability.
For those with small budgets, we suggest you go with MailGet. It provides the best service in terms of accuracy and has pocket-friendly pricing plan starting at $4.
---
Pabbly email list cleaning analyzes email addresses from your list and figures out all the invalid and inactive addresses. Similar to other service providers, it also provides a real-time verification service.
Pabbly List Cleaning Service guarantees a 97% email deliverability rate with a minimal 3% bounce rate.
Pricing
To verify 10,000 mails is $25 and to verify 100,000 emails costs $165.
If you would like to calculate the cost of email verification then a cost calculator is provided on the website.
Features of Pabbly List Cleaning Service are:
Pabbly list cleaning gets rid of 99.99% of all bounced emails from email lists.
It assures the data privacy i.e. Only you have access to your data and it cannot be corrupted by outside entities.
The software provides easy access to your data on mobile devices.
Pabbly List Cleaning Service can be used on contact lists of any size.
It securely takes the backup of your lists at regular intervals.
---
InkThemes Email List Verification Service is a fairly new service in the email verification services industry.
It maintains the secrecy of your data and never shares it with anyone. Because of this, it is trusted by a lot of companies.
It also verifies email addresses in real time, is easy-to-use and has a feature-rich API.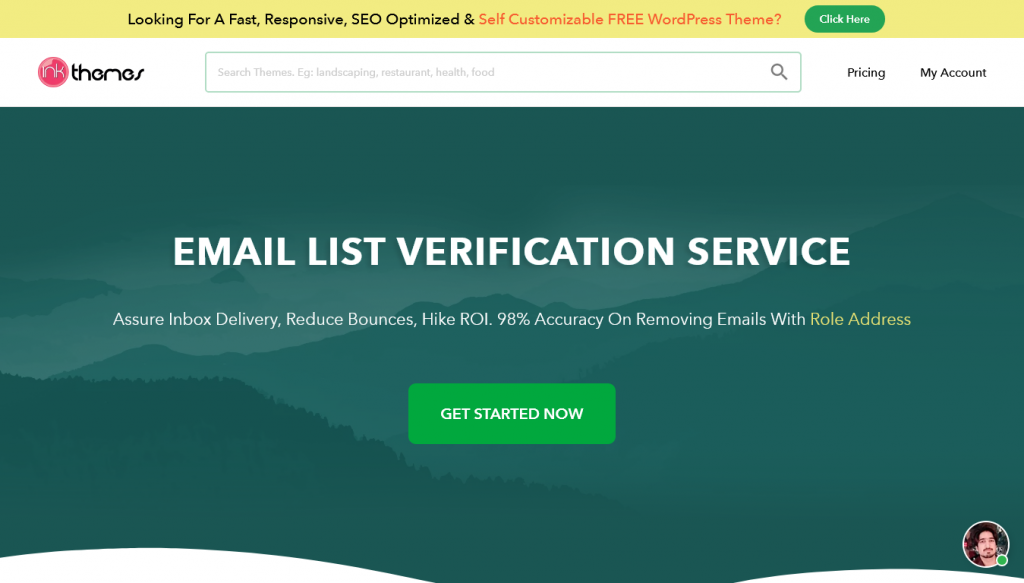 Pricing
The pricing for this service depends on the number of emails you verify:
Starter: you can start with the lowest price of $4 to verify up to 1,000 emails.
Rookie: this one verifies up to 5,000 emails and costs $12.
Pro: for this plan, you pay $20 and it verifies up to 10,000 emails.
Advance: this is a custom plan that can be used to verify between 15,000 and 20 million email addresses. It costs between $35 and $4,990.
Features of InkThemes Email List Verification Service are:
It provides you with MX record validation to make your email campaign more effective and authentic.
With the help of Greylist checker you can improve your email list by recognizing false or useless emails, which accelerates deliverability and reduces bounce rates.
InkThemes Email List Verification Service effortlessly filters role-based emails and removes them from lists.
This software takes measures like pre-suppression to remove bad emails.
---
Kickbox – Email Verification Tool
Kickbox has a first class email reputation and overall email data quality in the email verification services industry. Its ability to search email addresses fast rate makes it different from the others services.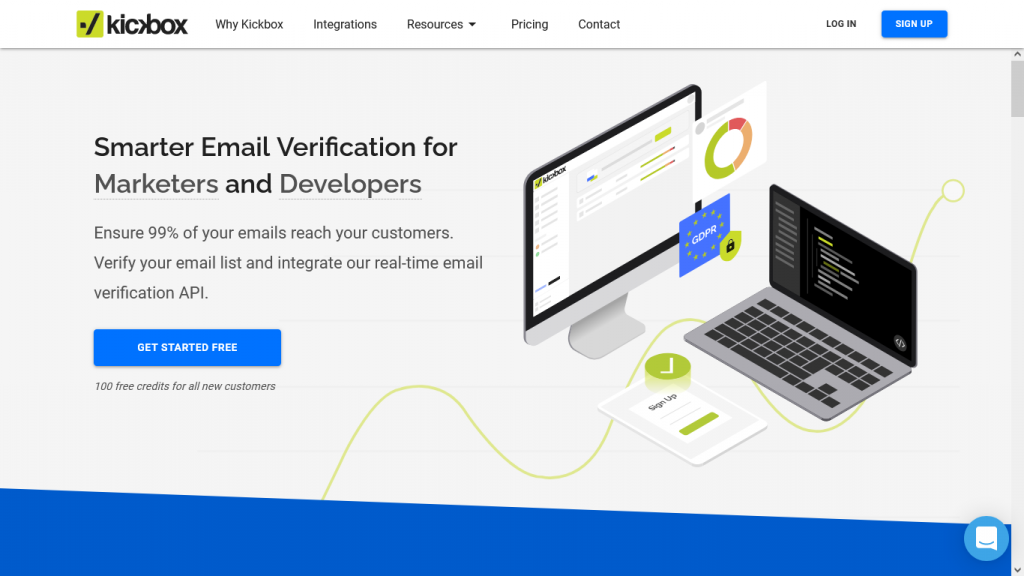 Pricing
Kickbox provides the first 100 verifications for free. For small businesses that don't have big lists, a charge is $5 for 500 verifications may be sufficient.
Features of Kickbox are:
It ensures emails are delivered to authentic users and isolates the low-grade addresses from high-value address.
KIckbox accredits and certifies email address.
After you submit a list of addresses to the Kickbox interface it will separate profitable and useless addresses into 2 distinct lists.
It certifies email addresses with a real-time API.
The Kickbox team ensures 95% + email deliverability, first class email reputation and inbox placement.
---
It is one of the quickest email validating services. Bulk Email Verifier provides a cost effective email validation service online.
You can upload many files, and Bulk Email Verifier will charge you only once. It supports multiple data files and saves them according to their names.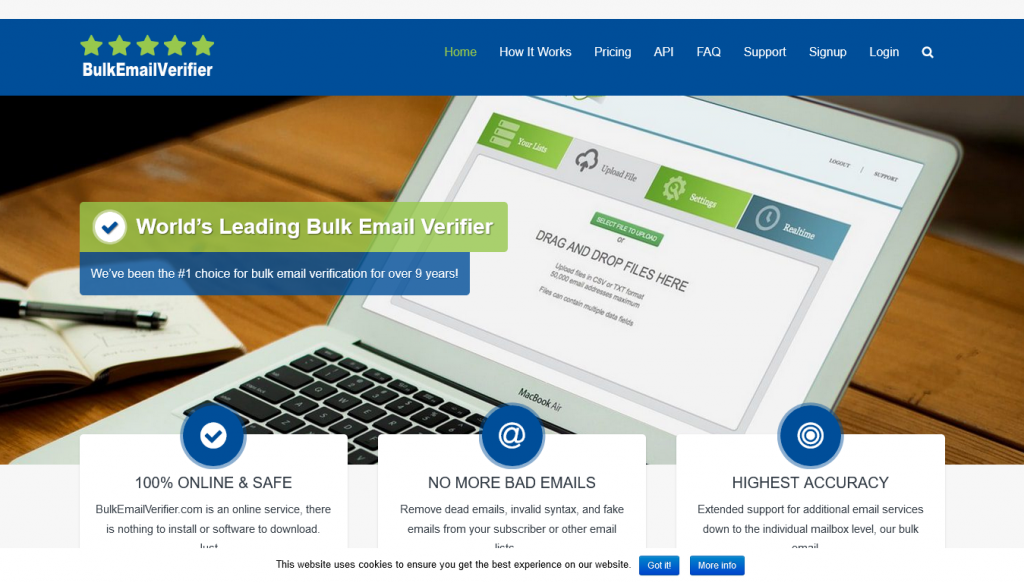 Pricing
There are two different pricing plans:
Monthly Emails: In the monthly plan, you can verify up to 4,000 emails for 2 months at the cost of $79.
Numbers of emails: This will cost you around $75 for verifying 15,000 emails.
Features of BulkEmailVerifier are:
You don't have to install the service; just have to log in and upload the email addresses.
This service provider eradicates all the invalid emails from your contact list.
It also provides a free trial for individual emails on any website.
This service provider offers more than 95% accuracy.
It's commonly used by many companies and users in the UK, US and other large EU member's nations.
---
Validity (Formerly BriteVerify) – Verification Tool For Emails
Validity provides real-time list verification solutions that help in enhancing the quality of your database, deliverability and email marketing. It is located at Charlotte, NC (USA) and London (UK).
It provides quick, reliable and exact addresses for users.
This software has Self-Service Tools and Developer APIs which makes authentication of domestic and international Business to Consumer (B2C) and Business to Business (B2B) email convenient.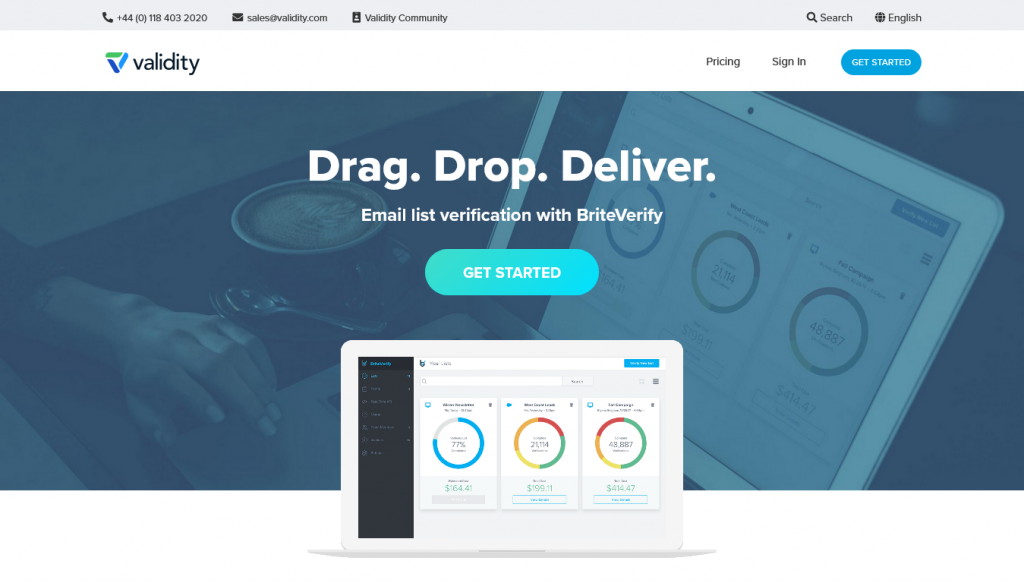 Pricing
Validity charges very nominal cost for their users. There is no setup fees for this SaaS service.
It cost $ .01 per verification from 0 to 250K and then you have to pay as you go.
Features of BriteVerify are:
Validity can perform bulk verification.
It can detect poor domain quality.
Verification of disposable email address (DEA) is possible in BriteVerify.
Real Time Verification service/API service is also available.
Validity offers free trials to its users and makes it simple to go from assessment to use.
Users don't have to download and install software.
---
DataValidation – Email Verification Simplified
DataValidation is an email verifying service that finds and discards invalid email addresses. It provides quick and complete information about email contacts.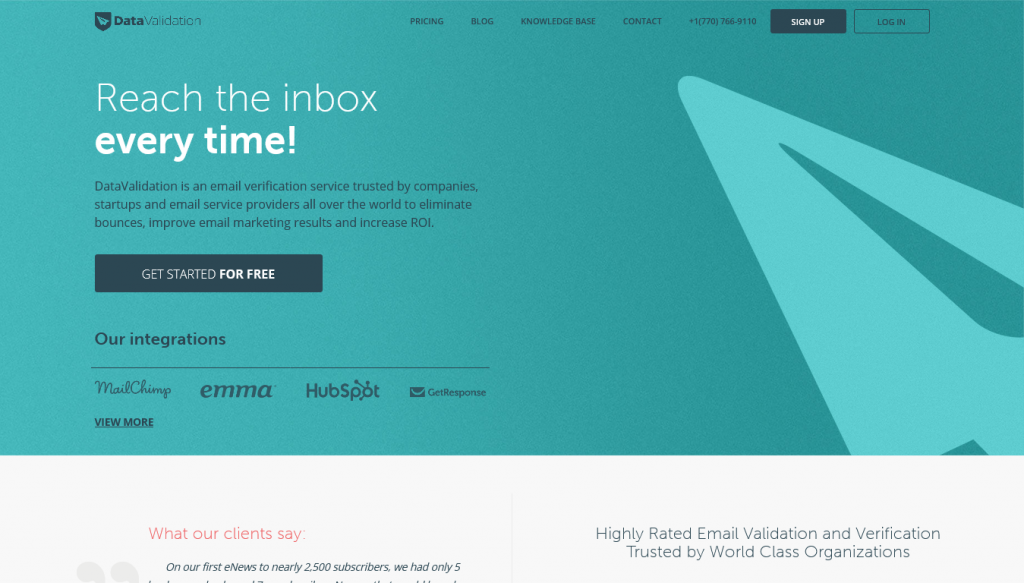 Pricing
DataValidation charges are based on the number of emails you verify. If you validate a list of 10,000 emails Data validation will charge you $0.007 per email.
Features of DataValidation are:
One of the great features of this service is that it stops email bounces before they happen.
DataValidation uses ESP Integrations to easily link an account and hence validates addresses fast.
It verifies email addresses in real time and uses Batch API for full verification of lists.
Email addresses rendered to this service are verified and then provided 'List Quality Score' which shows the health of the email list.
---
QuickMailVerification is one of the best email verification services available online. It authenticates email addresses in real time using REST-API.
Thousands of email addresses are verified every minute to detect false and inactive contacts.
The verification process is carried out in various steps. It starts with syntax checking and ends with checking the existence of the end-user's mailbox.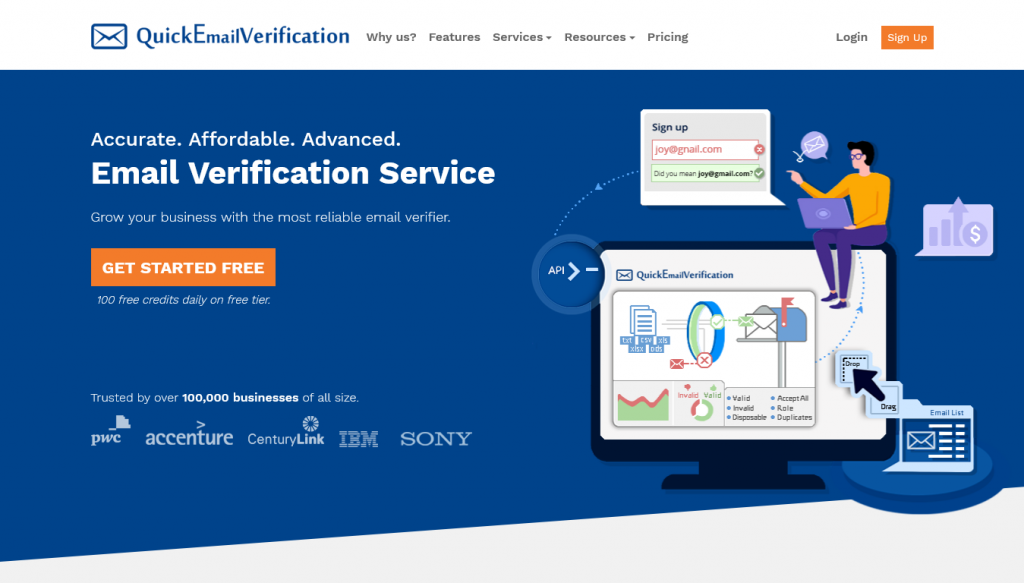 Pricing
One-time email verification services and monthly services are available at QuickMailVerification.
Free trial – you can process up to 1,000 emails/day at no cost.
Features of QuickMailVerification are:
QuickMailVerification carries out its verification process according to IETF standards.
During the verification process, QuickMailVerification examines and validates DNS entries of all email address.
It has an email verification accuracy of 97%.
Role addresses are related to a group, department or role and these addresses are easily verified via QuickMailVerification.
It takes the list of addresses from your ESP and provides you with the result easily.
---
Verifalia – Verifying Tool for Emails
Verifalia is a trustworthy verification service available online. It verifies the address available on your list and boost deliverability of of your contact lists.
The team at Verifalia analyses and highlights non-working and invalid email address. Verifalia can verify even a Yahoo! mailbox.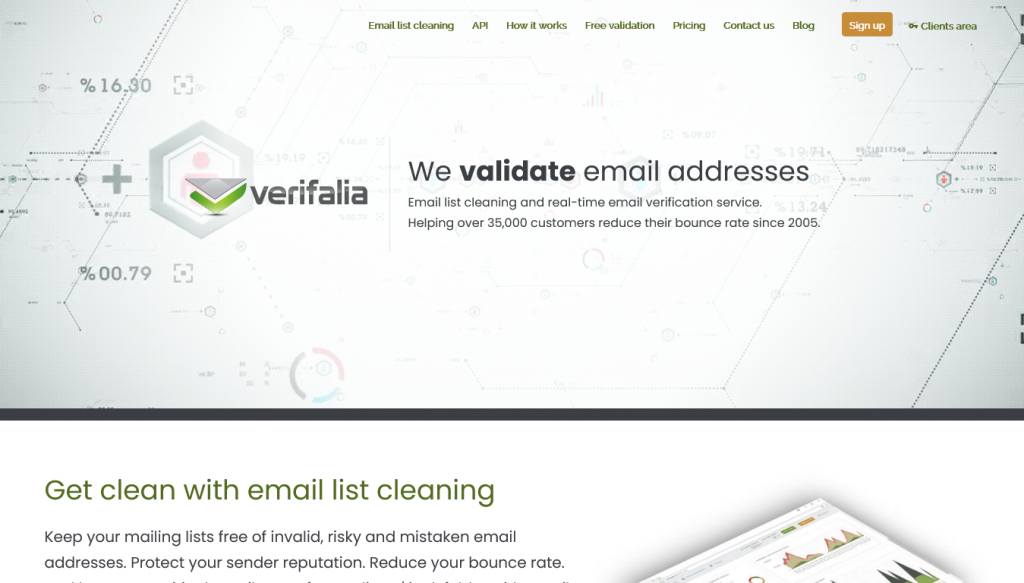 Pricing
Vreifalia provides free 125 validations per day. It charges $9.25/month for 250 validations, $50.33/month for 1250 validations and so on.
Features of Verifalia are:
Easy detection of Role accounts i.e. if the address is not authentic it will be displayed.
It performs a full cleanup process through the DNS validation and MX record lookup.
Temporary mailbox unavailability can also be detected with Verifalia.
---
MailGet – Email Marketing Service
This is one of the best validation services available in the market. It provides optimum results for invalid email addresses very quickly.
You only need to upload email address list to its web interface. The software provides you with an authentic list which is ready for sending.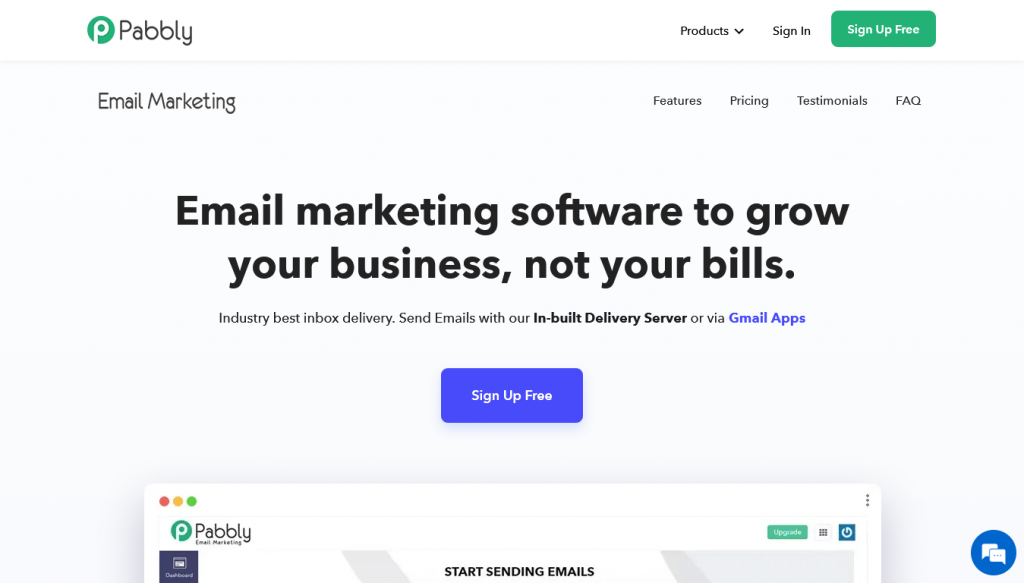 Pricing
There is no setup cost for email list verification. There are two different ways of pricing.
The first one is the monthly subscription and the other is "pay as you go" plan. The pricing of the plans start at $4 for 1000 mails. You pay $15 for 5000 emails.
Features of Email List Verify are:
It prevents duplication of email addresses in contact lists.
The software looks for high-risk keywords and high-risk top-level domains in email addresses.
It verifies inactive domains and discards them.
Email addresses with false syntax are excluded from contact lists.
This service checks whether the mail transfer agent has a valid mx record or not.
It does real time verification of email addresses.
---
Xverify – Intelligent Email List Cleaning Service
Xverify is an industry leader in the email verification services space.
What makes it unique is that you can call and speak directly with an email consultant.
The company is located in the US and has been in business more than 8 years. You can trust them to safely and accurately verify your emails.
Note: Be careful about sending your email list to providers that you can't call and speak to directly.
Xverify is CERTIFIED by a two-privacy framework, the EU-US PRIVACY SHIELD FRAMEWORK and SWISS-US PRIVACY SHIELD FRAMEWORK.
They offer a data processing addendum's to any client who needs them as part of their GDPR Compliance.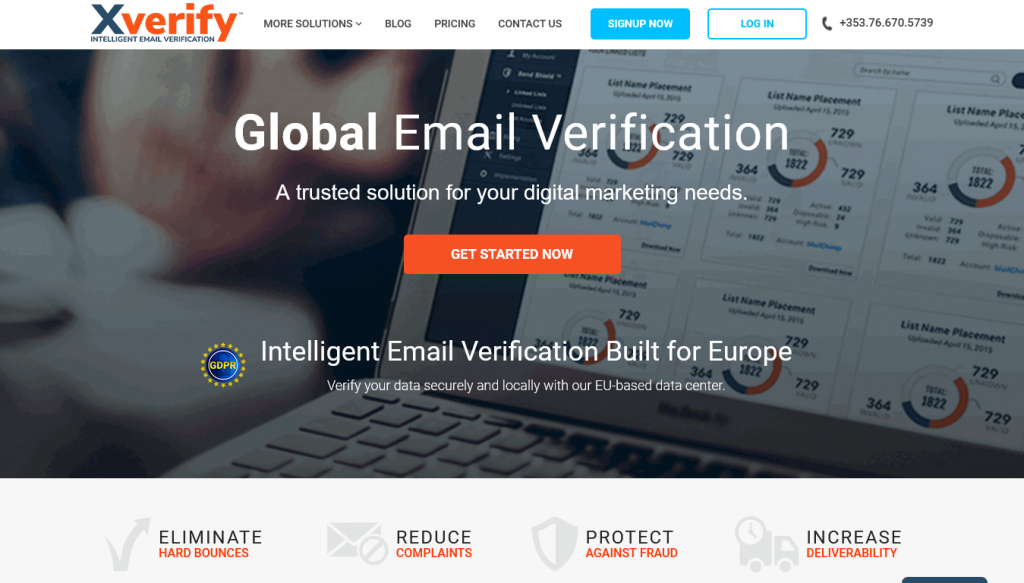 Pricing
It starts at half a cent per verification for 50,000 verifications and goes down to just under 1/10 of a penny per verification based on volume.
Features of Xverify:
Along with verifying if an email is deliverable, it checks for high-risk emails, complainers, disposable emails, emails linked to online fraud, roll based accounts, and various other risky emails that can negatively affect deliverability. No other provider goes to this level of detail.
Reporting – Xverify's user interface allows for detailed reporting and analysis of campaigns.
ESP integration – Xverify has integrations with nearly every major ESP.
Real-Time and Batch Processing – Xverify's API can instantly validate emails as soon as they are collected on web forms in real-time. The batch processing module can verify email files ranging in size from 10 records to over 100 million records.
Security and Accuracy – Xverify's offers the highest accuracy rates in the space at over 98%. They are also are the most secure and trusted source to send your data to.
---
Conclusion
I hope these 10 email verification services are useful for you.
Choose the best according to your requirement and start verifying your emails.
Is there good email verification software we missed? Share it in the comment box below and we'll review it.
You can also let us know your views in the comments section below.
Thanks for reading!