10 Best SMTP Service Providers & Servers 2018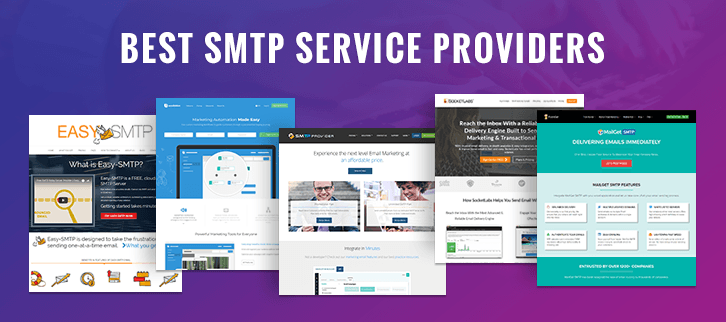 ---
The protocol that is meant to send and receive emails is SMTP. This protocol is based on the application layer. Email transmissions and distributions in the web network is facilitated by this protocol.
Marketers have to face a lot of trouble while sending emails. And many of them after sending are worried about the proper delivery of emails to the recipient's inbox. Are you one of them feeling the burn of insufficient mail server?
Picking up from a plethora of options available now can be baffling at times. In order to make your task easy and considering all your wish list in mind here, we give you the best SMTP servers from around the web.
Go get the one that suits your needs and desire.
I am sure from the below-mentioned list you will definitely get the right best SMTP service providers for you to add it to your bucket.
Already selected an email marketing service for sending emails?
If not, go with MailGet – an email marketing application that gets easily integrated with unlimited SMTP servers.
Have a look at these amazing articles also:
---
The Best SMTP Service
Compared (in full)
Check all the services in detail as per your needs and choose service wisely – by the end, you'll know exactly which one is the right option for you.
MailGet SMTP is one such email relay service which focuses on delivering your emails at any cost. The SMTP service also facilitates lightning fast email sending process irrespective of your plan.
The MailGet SMTP relay service can be used to send emails for miscellaneous purposes and the option of prompt customer support can be availed for further assistance.
---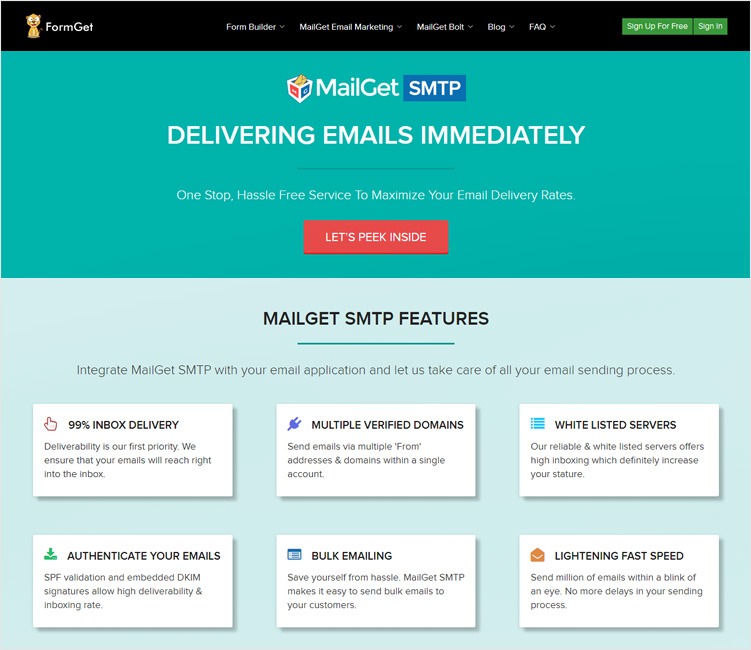 ---
Features:
High Delivery – The service sends emails through whitelisted servers which surely reach your customer's inbox.
Email Authentication – Every email sent is embedded with DKIM signatures and validated through SPF, ultimately resulting in improving your stature.
Bulk Emailing – MailGet SMTP also allows you to send emails via multiple domain names.
Price:
MailGet SMTP has got you covered even if you have variable email sending needs? It offers you multiple plans depending upon your usage. For example –
$10 – 30,000 emails
$25 – 75,000 emails
$50 – 150,000 emails
$75 – 225,000 emails
$100 – 300,000 emails
All the testing & products exploration pointed out –
MailGet SMTP offers the best deliverability rates in an extremely affordable pricing range.
Isn't this what you've been looking for? Get this amazing offer without any further delay.
---
MailGet Bolt is one such SMTP service which packs email marketing service within itself along with several other functionalities.
The 2-in-1 software, however, is best known for its SMTP relaying capabilities as it offers high inboxing, email tracking, etc. in a cost-effective manner.
---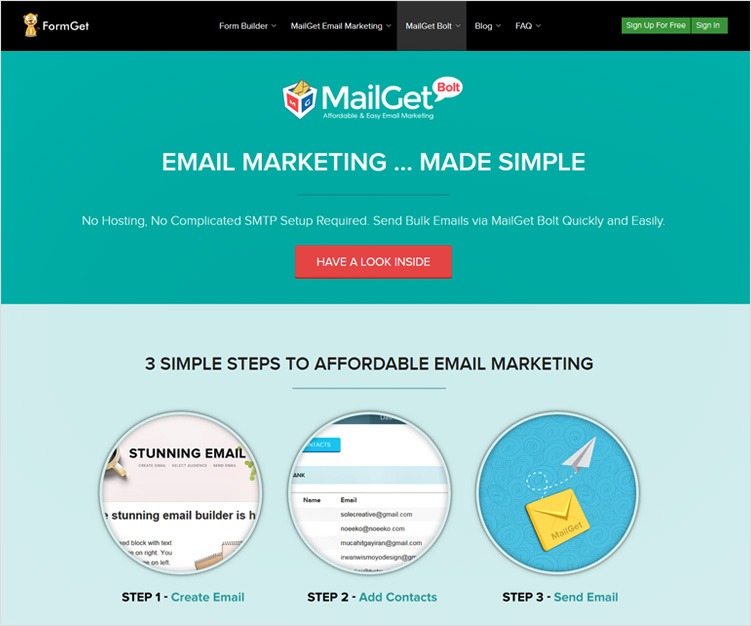 ---
Features:
Improved Email Inboxing – Considering the number of emails going in the spam folder, MailGet Bolt ensures high inbox delivery.
Bulk Emailing – From sending a single email to 1000s, MailGet Bolt provides a flexible option to select your email list volume.
Twice The Open Rate – An exclusive feature of reaching those email recipients who have not opened your previous email campaigns.
Price:
MailGet Bolt offers multiple affordable pricing plans based on your number of subscribers which can be billed either annually or monthly. The plans offer –
Unlimited emails to 10,000 subscribers in $42/month.
Unlimited emails to 15,000 subscribers in $59/month.
and so on.
---
Email marketers heavily rely on something substantial and concrete to support their business promotions, and for that the ideal option above all, could just be the sendinblue. Setting up and operations are simple and even a less tech savvy someone can use it with convenience and comfort. Pricing and the rate of delivery, go hand in hand. It is worth for the money that you ought to spend, as the stats are significant.
Here transactional SMS messages can be sent along with the transactional emails. Yeah, this is the specialty. Transactional email API is special feature here, to make it discreet from the rest. SMS marketing will be a value-added supplement to make your marketing campaign fare more effective than ever before along with the transactional emails that you ought to send.
---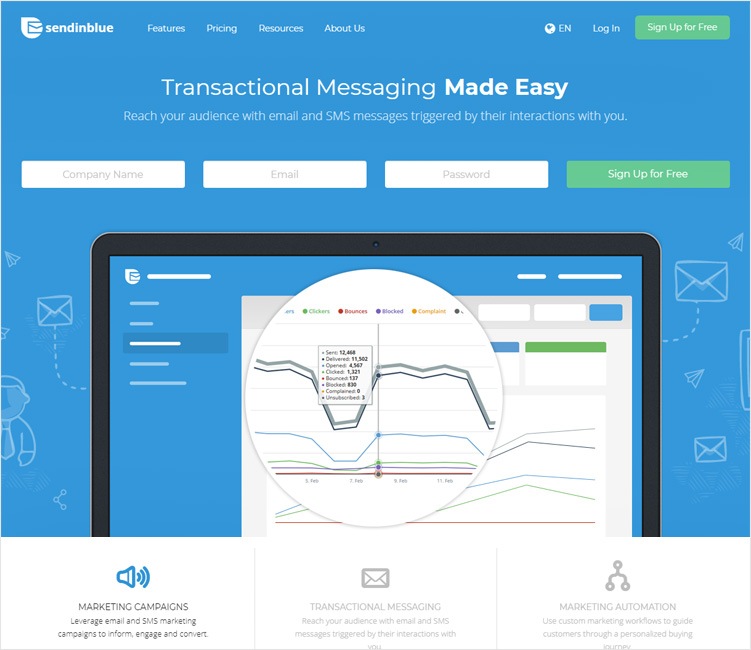 ---
Features:
Easy to use tools – You design the email that is to be sent in massive numbers to reach your target audience. Best widgets are accessories as tools to develop your campaign mailer are highly useful. You can edit the mailer and preview that before you ought to submit it to the admin for review. Any changes before or after making the campaign mailer ready, is also easy to do.
Useful API & Integration – Same REST API is used to create campaigns for marketing platform, or to send transactional email, as well as SMS messages too. Customers data maintenance becomes easier while integrating the sendinblue CMS and the ecommerce platforms. And then it is just a click of an app, to trigger a campaign.
Campaign tracking – Tracking email campaign facility is the best feature in SendinBlue that also provides reports based on click rate, bounce, open rate etc.
Easy campaign creation – Campaign creation through responsive email design, dynamic personalization, image hosting offers added advantage.
Price:
It has four types of plans where the free options allow you to send emails to 9000 ids in a month. Micro category has a price of 8USD for what you can send about 40000 emails in a month. Bronze level costs you forty bucks. You can send about 60000 emails in a month. Silver level costs you 66USD for what you can send about 12000 emails per month. Gold level would cost you 173 USD and you will send a maximum of about 35000 emails for one month.
---
Next level of email marketing experience for affordable costs is the specialty when you are to deal with the SMTP provider. There are two distinct plans for you. Transactional plans as well as the promotional plans are available. Data driven emails can be sent through the powerful and reliable API for the transactional emails. Reaching more number of customers instantly is possible with the promotional plans by just paying about a couple of dollars for 1k email ids. Deliverability is higher. So, does the results as well.
There are resources to practice or marketing email features to integrate without any issues. It is not essential that you must be tech savvy. So many non-developers are easily integrating the platform with their functional ecommerce needs and CRM needs, precisely. You can build your newsletter with smart tools.
---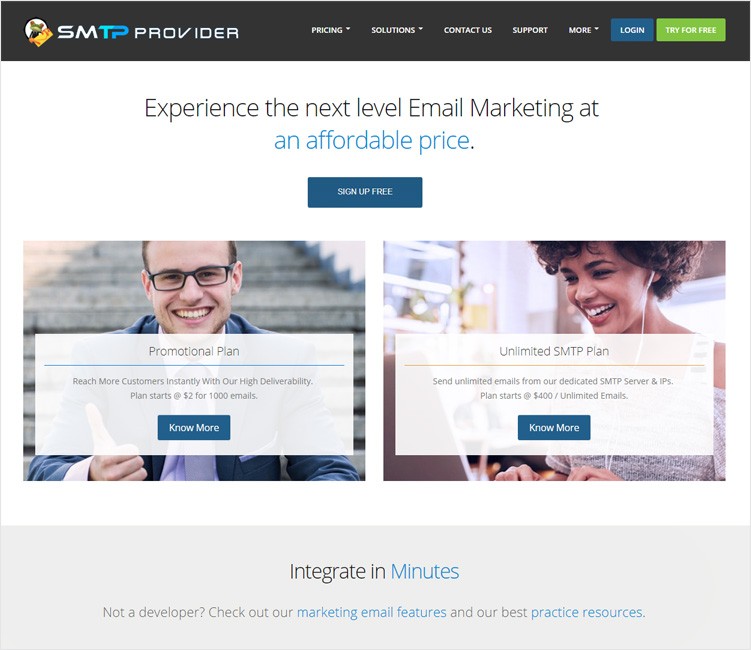 ---
Features:
Easy Integration – Easy integration does not require any expert hands rather everything can be done by you only.
Higher deliverability – High deliverability is another important feature which is possible at affordable and reasonable range.
Flexible plans – Flexible plans are available here, almost 12 plans, with a free plan that allows you to send ten thousand emails per month.
Unlimited plans – There is also the unlimited plan. It means you just pay six hundred bucks and you can send to any number of email ids, as you want in a month.
Price:
The transactional plan is the perfect one if you are a big business owner who needs to send more than millions of emails per month. Of course 3 million newsletters sent to clients, in a month, can surely bring in revolutionary changes in the promotional trends and at the same time, your costs are not higher, either. All you spend for that is just under five bucks and that must be noted as well. Considering that, one can easily say this is one of the best in the business today.
---
There is no need to change the server settings, when you are using the mysmtp. There is no need to compromise the professional identity of your own when you are using this SMTP service provider. Small and the medium sized businesses find this one to be a perfect option to deal with, as there are immense benefits in the form of best flexibility to deal with the plans, terms and so forth.
Sales consultants are using it extensively just for these reasons in particular. Freedom to email is one-step ahead in these global servers where you can send emails from your comfort zone using any of the gadgets, like laptops, tablets or desktops and so forth.
---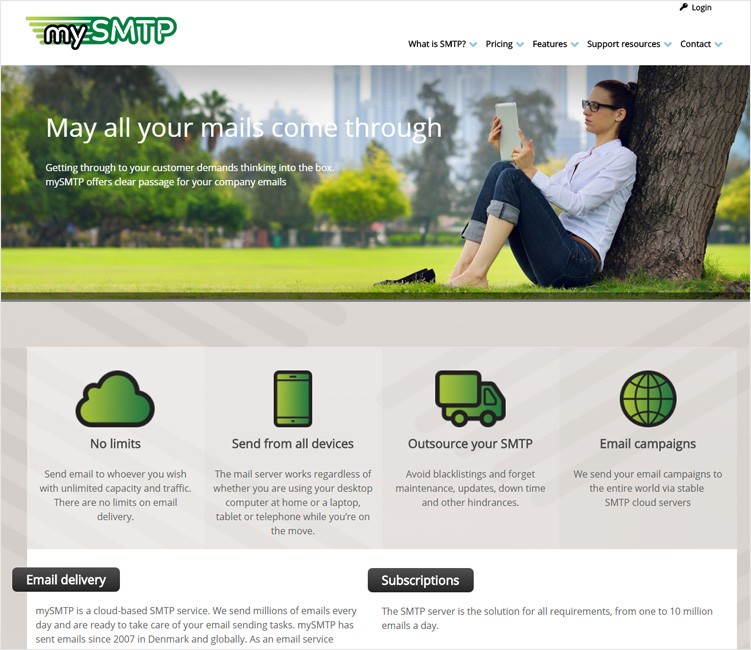 ---
Features:
No credit card required – You do not have to have any credit cards to test the services
Service testing opportunity – You can be sending twenty emails every day per email id, to test the worth of the services.
Scalable – SMTP cloud is scalable
Quick setup – Just takes a couple of minutes to do the setup
Email reaches directly to inbox – Email reaches the inbox folder only and not the other folders or junk mail folder.
Price:
There are twenty-five percent waivers for two-year subscriptions. Also there are options. You can pay just forty Euros for a year, to be sending 75 emails every day. Based upon the credits that you have you will send mails in bulk numbers. The cost of basic 250 credits will be 22 Euros. You can get up to 5000 credits, for 1500 Euros.
---
Managing the email marketing campaigns from your desktop and doing the needful changes in the newsletters as and when it is necessary is done with ease, when you are selecting the sandblaster.
Some of the special attributes for the pro editions are: Number of parallel connections, possible number of recipients at a single stretch, how many lists, programmable tags, supporting file attachments, customized attachments, number of Segments, adding the calendar events for you, Search engine listing, easy means to be exporting the mailer lists, into csv files, password protections etc. You get fifteen days money back guarantee. Plans are explained as below. You can track emails using cloud-based server. Reports are submitted to do improvisations in the email campaigns.
---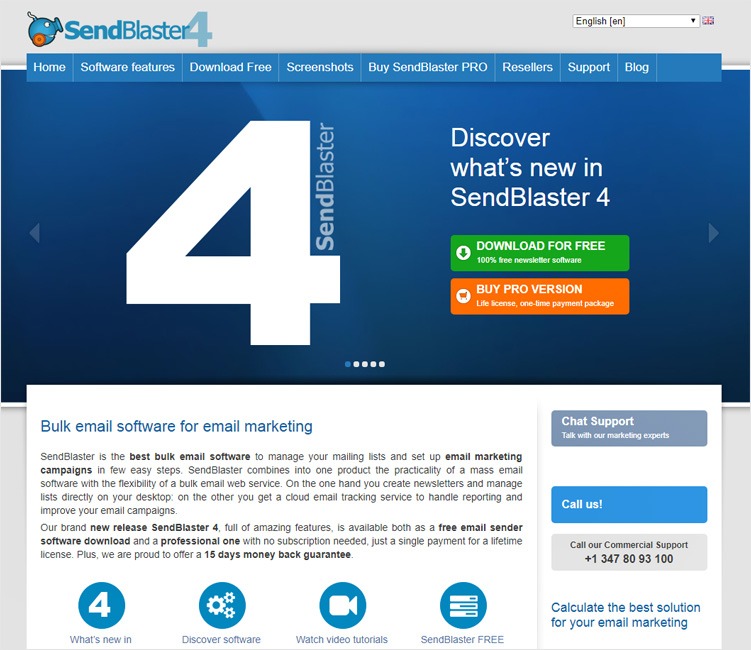 ---
Features:
Easily create email Newsletter – The Mailstyler Newsletter creator let you compose email with ease which is rendered at once without using any single code. Also, optimized Newsletter is possible to create that will be perfect for all kind of clients and senders.
Email Campaign analysis – This is another feature that let users analyze the click rates, user's action on email etc. through the use of TrackReport while the collected data can be used in order to improve the Newsletter and to change the timing.
Send Email campaign – No need of worrying for duplicate content, recipient or email, just send the email campaign while you can also schedule the email campaign to avoid flooding.
Easy Mailing list management – The Subscribe and Unsubscribe function let users easily manage and update the email list. Also details regarding your contacts can be viewed here such as who all are active and who all are subscribed to your email campaigns.
---
It is one of the easy to integrate kind of logical operations that is attractive here in the SocketLabs as a SMTP service provider in the market today.
---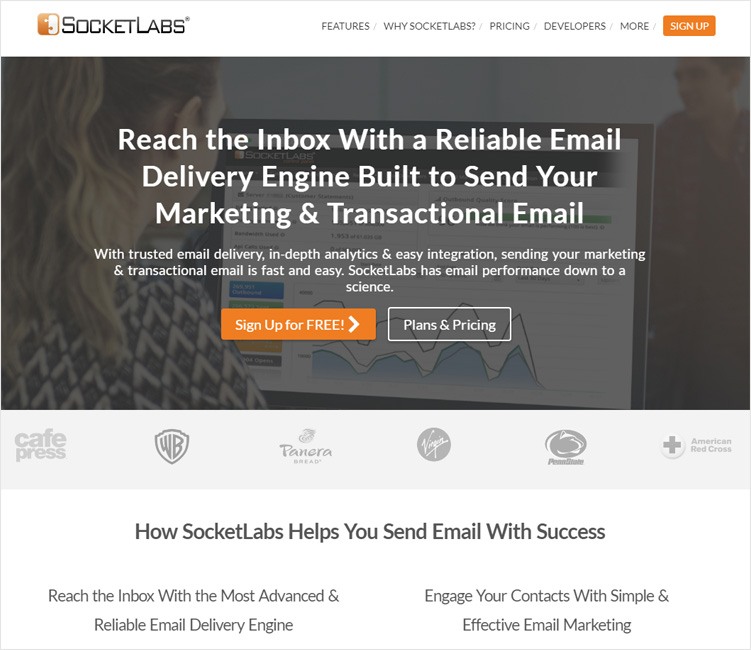 ---
Features:
Easy Integration– Easy to do the integration quickly
Great Email performance – email performances are down to science
In-depth analytics – In-depth analytics is available that provide real-time data so as to monitor and improve the way of connecting to audiences.
Confirmation of Email delivery – Trustworthy email delivery with receipt of confirmation as reports
Demonstration – Demonstration videos are available to do the scrutiny closely or to learn the art of functioning of the whole set up. Logical operations filter spams and abuse.
Best technology and safety measures – Proprietary Platform of Hurricane is used. A top-notch technology used assures on safety. Entrepreneurs class system design to deal with big volumes and best deliverability standards. Email applications are crisp.
---
Lists back up are automatic here in case of easy SMTP. More than ten thousand emails are free. A scalable architecture is a specialty. Deliverability is outstanding. Detailed reporting system in place. Emails are sent so secured ways through the SSL. It is possible to deliver emails one at a time basis.
---

---
Features:
Easy tracking – The server is cloud-based, so tracking is easier.
Higher deliverability – Scalable architecture along with higher deliverability makes it one of the best.
Flexible plans – Four types of plans are available from a diamond to bronze. Reviews clearly state that the silver plans are appropriate for the SMB sector to get the full worth of the money spent. You have to be spending about $70 for that plan. Higher plans would cost you up to 150 bucks.
---
Starter accounts are cheap in price with authsmtp. Control panel management is discreet and simple. Responsive support system both from computer monitoring and from human support is amazing benefit here. You can use this SMTP server for reputation monitoring as well, as they are the reliable hands in the industry today who is into this business for more than a decade. Startup is instantaneous.
---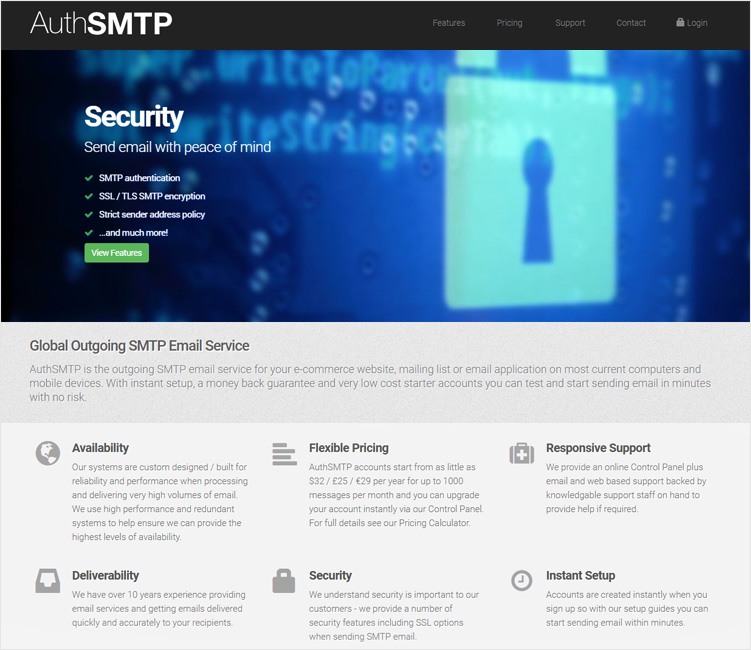 ---
Features:
Quick setup – You do not have to wait. Start sending mails in just two minutes or so, from the enrollment done. SMTP authentication is done.
Great customer support – Responsive webmail and best support is a major plus.
Reputation monitoring – Reputation monitoring is possible with the cloud-based server.
Flexible plan – The plan starts at a minimum range and you can upgrade later on as per your need. The silver plan is the most attractive of all, there are hundreds of positive reviews that are posted online as user experiences from the premium companies that belong to the SME sector in particular.
---
The beauty of scanf is the unlimited number of emails that you can send with the dedicated cloud SMTP servers, for scanf. Even if you are in the basic plan, you are sure to get the best benefits of 15000 mails to be sent in an hour. On the other hand, if you are using the big plans, then you gain over 150000 as mails to be sent in just an hour's time.
---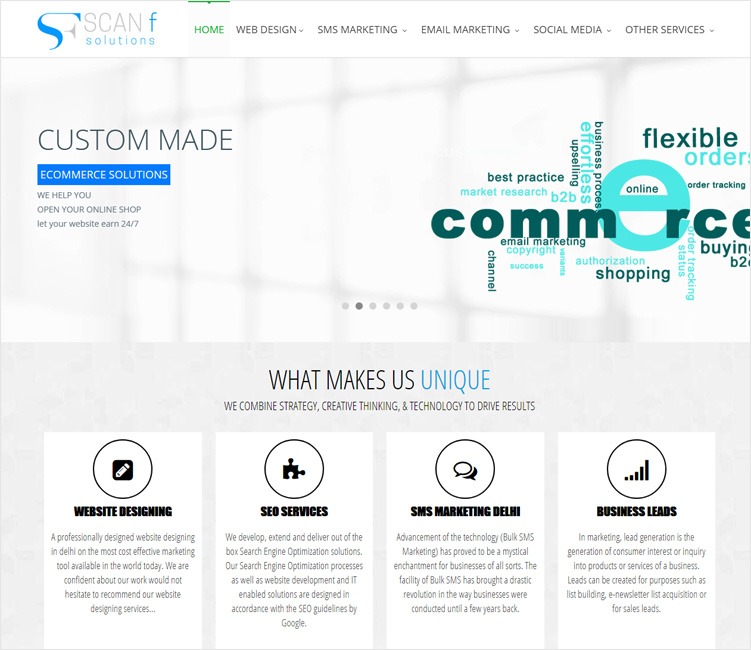 ---
Features:
Domain Keys – Domain Keys identified mails
HTML Supporting services – This makes things easier and you can connect to your audiences with ease.
Images Support – Image support is another feature which makes this plugin one of the best.
Bounces Report – Reports on mail bounces and mail opens as well is available that allow you to take the necessary step.
Other features – Other features include Operating Systems of 32bit, Panels WHM/Plesk, Email Panel Interspire, Web Panels, Dedicated IP 4 and more.
---
Conclusion:
Now that you have gone through the comparison of all the best SMTPs providers, you can now decide which is the best tool that will help you increase your business productivity.
If I missed any good SMTP please be free to comment below so that I can review the Tool and add it to the list.
Also, if you are looking to implement emailing via WordPress the consider reading the following blog –