The 7 Best Email Marketing Services for Small Businesses in 2022
Email marketing services for small businesses are a dime a dozen. Trying to find the right one can be difficult if you don't know exactly what you are looking for.
Many online marketers choose an email marketing service either because it's popular or because they know someone who's using it. While this may help you find the right software for your business, it isn't a sound way to choose such critical software.
This post looks at all you need to know about email marketing services – what they are, why you need them, how to choose and the best for 2022.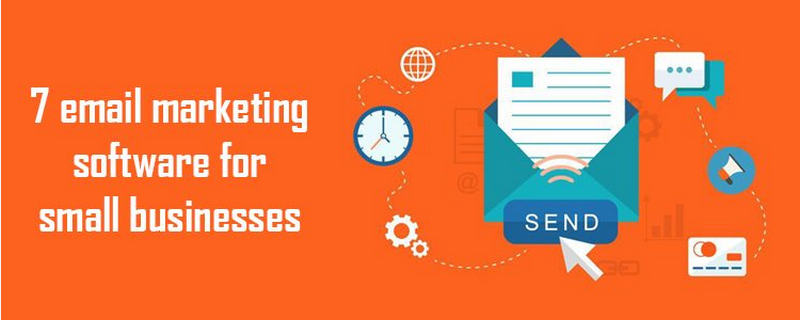 ---
What is Email Marketing Software?
It is software that helps you manage your contact list. The best email marketing solutions do everything.
They provide forms to help you capture email addresses, have templates that you can use to design different types of emails and then send and track them to make sure they are delivered and see what happens to them once they get to a user's inbox.
Email marketing software makes email marketing easy. If you choose wisely, it isn't expensive and it's easy to use.
You can leverage email marketing in different ways. You can choose to send out a monthly newsletter, for example, or send out a product-related email to your contact list every few days.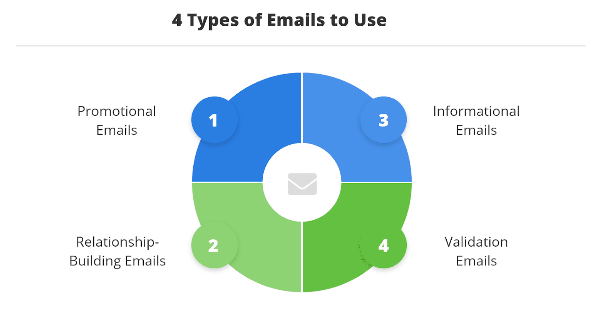 Whatever approach you choose will require a tool tailored for it. What ultimately determines which email marketing software you choose is what you'd like to do with it and how much you can afford to pay for it.
We'll go into details about how to choose email marketing services a little further down the post.
---
Why Do You Need Email Marketing? (Isn't it Dated?)
One of the most frequently asked questions by those just venturing into online marketing is, "isn't email marketing dead?"
At best, it looks like a dated way to communicate, especially when you consider it's been around since the late '90s.
Email marketing isn't dead. Only some practices associated with it are. It remains one of the most effective ways to reach out to customers. It also has a very high ROI.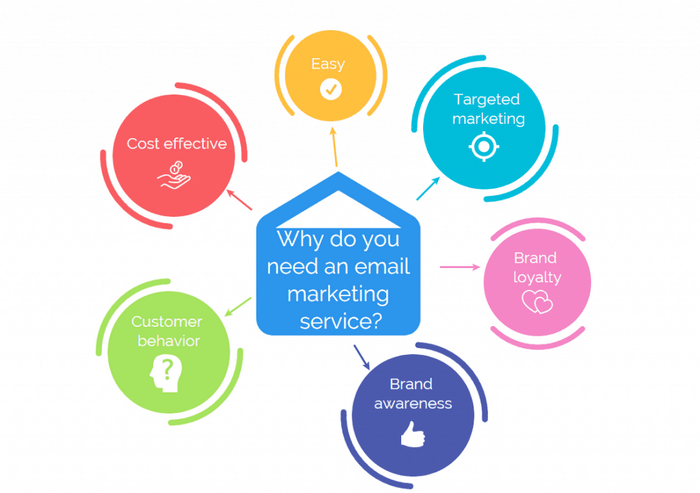 According to Oberlo, for every dollar you spend on email marketing you can expect to make approximately $44.
There is almost no other marketing strategy that yields such high returns. According to the same study, it's expected that there'll be 4.3 billion email users in 2023 up from 3.9 billion in 2019.
With almost 3 billion emails sent daily, you can hardly afford to ignore email marketing if you want to succeed in online marketing.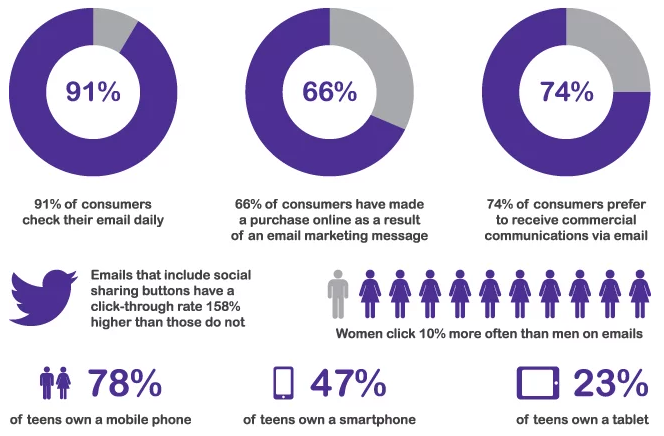 While it's used primarily as a means to communicate and keep in touch with prospects, there are several other reasons you should be using email marketing services:
You can reach customers anytime, wherever they are because most people now access emails through mobile devices.
If you craft interesting emails with enticing offers you'll get people to engage, and selling to them becomes easier.
It's easy to measure results from an email marketing campaign.
You can easily segment an email list and therefore send more relevant and targeted messages.
Email is an affordable way to market online goods and services. You can use a free email marketing service that may have limited features, or you can pay a small amount for more advanced features.
It is a great way to increase brand awareness. Come up with a smart strategy and you'll find the level of engagement with your emails growing every month.
Email marketing isn't dead or even dated. It's alive and well so long as you are careful to use the latest strategies.
Dead and dated email marketing strategies include impersonal subject lines, using templates that don't display correctly on mobile, poor layout and design, not tracking metrics and misusing users' personal information.
---
Why Use an Email Marketing Service ? Why Not Gmail?

Should you go to all the trouble of choosing an email marketing service when you already have an email account? Why not just use that?
If you use personal mail regularly you've no doubt noticed that it comes with some serious limitations.
One of the biggest is that you have no say over what your emails look like. Gmail, for example, doesn't allow you to change email design at all. You have to make do with what they give you.
Other limitations of personal email include difficulty in delivery and keeping track of campaigns. You can never tell whether your email was delivered and if the recipient opened it.
If you are serious about using email for marketing you need to measure and understand these metrics.
That's not all. You cannot use your personal account to send bulk emails, you cannot segment your list and your emails don't look professional.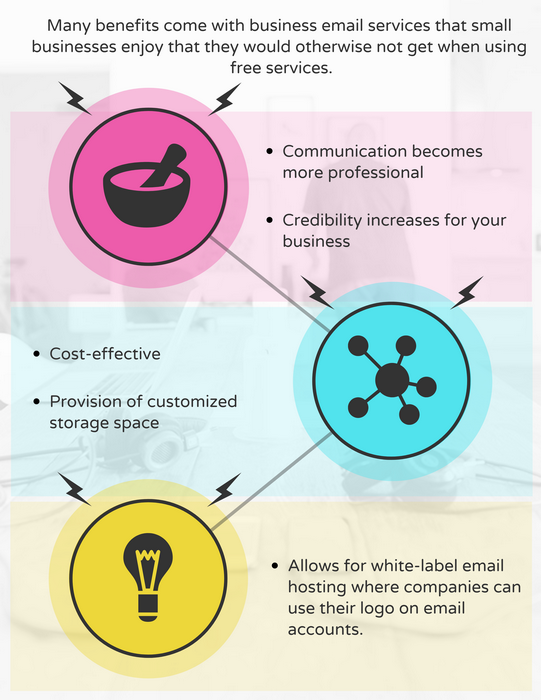 If you want to appeal to prospects, look professional and compete, invest in email marketing software for small business.
To sign all your emails with an email signature generator, click here…
If all you're looking for is the best email autoresponder software click here…
---
Email Marketing Trends to Consider for 2021
The pandemic has brought fundamental changes to online business. It's worth looking into whether or not small business email marketing has been affected.
Studies show that more people are now reading email, and the trend is expected to continue.
If you create a good email campaign in 2022 and use the right software, you will increase engagement and sales.
That said, there are some important trends to keep in mind for the future: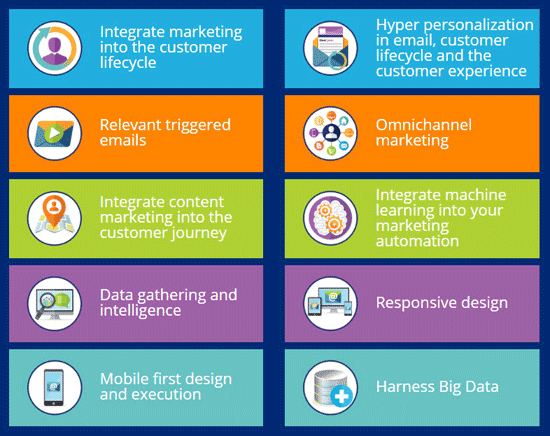 The most important is mobile-optimization. According to Statista, 51% of all internet traffic in the United States was viewed on a mobile device. It means if your emails don't render correctly on phones and tablets you're losing more than half your prospects and quite possibly sales.
Redirecting users to an infinite-scroll experience will be helpful. As we have seen in recent months, Tik-Tok and Instagram have become quite popular because of this strategy.
Integrate social media links to take advantage of all that is happening on social media platforms.
---
How to Choose an Email Marketing Service for Your Business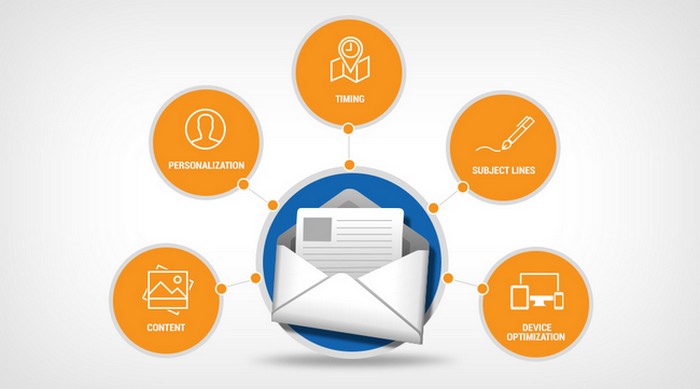 With all the above in mind, how do you choose the best email marketing service for small business?
Here's what you should take into account:
Unlimited Emails – As your business grows your email needs will grow as well.
Image Library – Choose an email marketing service that has a vast library of free images so you can customize each email and make your campaigns interesting.
Templates – There's no need to recreate the wheel. The best email marketing tools have lots of templates you can choose from.
Customization – It allows you to put your brand in every email you send out.
Autoresponders – One of the most extensive uses of email marketing software is autoresponders. Make sure to choose a service with a robust autoresponder module to make your job easy.
Tracking and analytics – an email service is only complete if it can give you detailed reports about each campaign.
Email signup forms – There's no point in buying one software for sending email and another for capturing email addresses. Many tools do both and integrate with CMS systems to give you a comprehensive view of everything in the sales pipeline.
Opt-in and opt-out options – This is probably the most critical feature of any good email marketing tool. Give users the choice to stay or leave, and when they opt to leave, remove their details from your database.
Mobile compatibility and social media integration – These are the two most important current trends so make sure they are within your software.
Ease of use and good support – The software you choose should be easy to use and there should be a support team on standby for when you need them.
---
Best Email Marketing Services for Small Businesses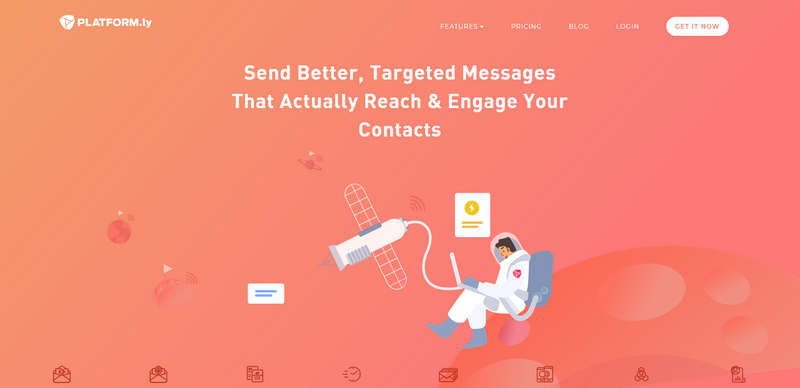 Platformly combines two essential aspects of email marketing software – functionality and simplicity. It takes you through the whole email marketing process with ease.
You can capture leads on your website, nurture them through the sales cycle with email sequences and track every campaign to ensure you're getting desired results.
All the while, you'll gain valuable insights into customer behavior and preferences and you can use that knowledge to build lasting relationships.
The software has an abundance of personalization features, and you can tailor each email to fit a lead's particular situation.
Features
A full-featured drag-and-drop editor – you can set up email sequences in minutes and you don't need to have any coding expertise to do it.
Templates – choose from a catalog of professionally designed templates. They are fully customizable.
Tracking – you can track each email you send to see whether it was delivered, opened and whether the recipient clicked on any links within it.
Broadcasts and one-on-one – you have the option to send broadcast emails to large segments or send one-on-one emails to single contacts. You choose based on what stage of a campaign you're in.
Automation – Platformly has an excellent automation module. You can set up emails to go out on specific dates and specific times. Use triggers to make set up autoresponders throughout the sales cycle.
Follow up non-responds – whenever leads don't open your emails you can see and send follow-ups with different subject lines that are more likely to be opened.
Platformly allows you to send the right message to the right people at the right time. However, it's more than email marketing software. It provides business dashboards, link tracking, a detailed CRM, can integrate with lots of software and provides detailed reports.
---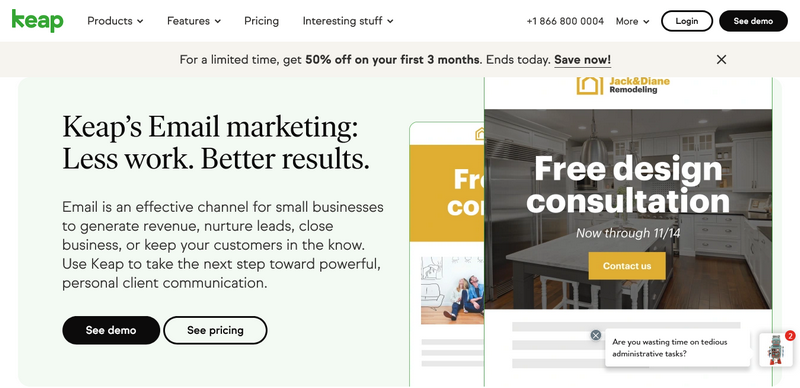 Keap is dedicated to helping small businesses build stronger relationships with their prospects and customers through email. It provides automation tools that are easy to use for more strategic and efficient campaigns.
You can use Keap throughout the sales funnel. Start by sending welcome emails when leads opt in and then follow-up emails with strong calls-to-action that encourage prospects to become customers.
Keap has impressive statistics: it sends more than 1 billion emails every month and has an open rate of 20%, higher than the industry average. It has a click rate of 13%.
Features
Templates – a rich library of templates means you don't have to worry about email design. Choose a template that suits your brand and campaign and customize it as desired.
Segmentation – Keap's segmentation module allows you to split your contacts by different criteria.
A/B split testing – you can create more effective campaigns by passing them through the split testing module to see whether they'll get desired results.
Automatic spam checker – the software checks for spam to increase deliverability rates.
Free design consultation – if you think the available templates aren't enough, the Keap team will help you design original templates free of charge.
Keap is more than an email marketing service for small businesses. It provides sales and marketing automation, has a CRM and sales pipeline, you can use it to process payments, make appointments with clients and it has a variety of integrations.
---

Sendinblue promises to grow your brand with beautifully designed emails. It's easy to use. After you design your message, personalize content, choose your recipients and then send.
You don't need to know how to code to use this software. It has an easy drag-and-drop builder and an intuitive user interface that tells you what to do every step of the way.
Features
Set-up options – you can set up different types of emails: API, SMTP, Relay or marketing automation. The software also has eCommerce plugins.
Personalization – talk to your contacts and make them feel special with a variety of personalizations.
High deliverability rates – advanced SMTP infrastructure ensures most emails reach their intended recipients.
Segmentation – send the right message to the right audience with the segmentation feature.
CRM – it keeps all your contacts in one location and makes it easier to track campaigns.
---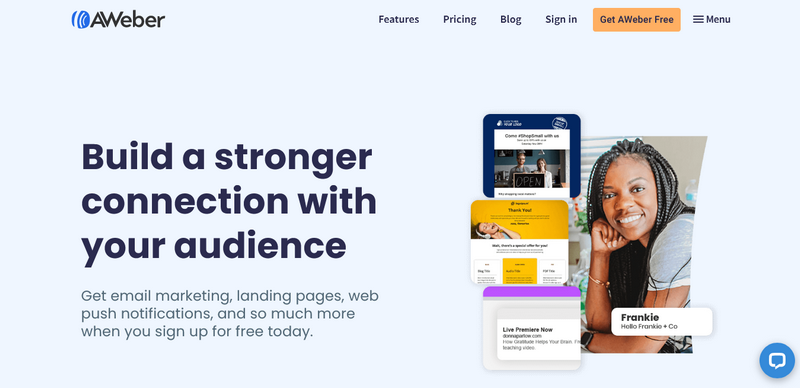 AWeber is one of the most popular email marketing platforms and has been in the market longer than many services in the same category.
Many online marketers choose AWeber because of its free features and ease of use. However, don't opt for AWeber blindly. Although it offers a free plan that you can access indefinitely, it lacks two critical features: split testing and abandoned cart emails.
You cannot test campaigns to see whether or not they'll work, and if a cart is abandoned you have no way to reach out to the customer and save it. Also, you cannot use the free version for more than 500 contacts.
For someone who's just getting started in email marketing it provides the bare basics needed to build an email list.
Features
Landing page and form creator – you can build your email list by creating landing pages that have opt-in forms.
Smart Designer – this is an email template-designer that you can easily and quickly use to brand your emails.
Autoresponders – AWeber autoresponders are easy to set up. However, you can only trigger them based on duration. Many other tools allow a variety of triggers.
AWeber Campaigns – this is the new automation feature that triggers specific actions when a user clicks on a certain area of your website.
Reporting – this software's reporting module provides analytics for your email campaign.
---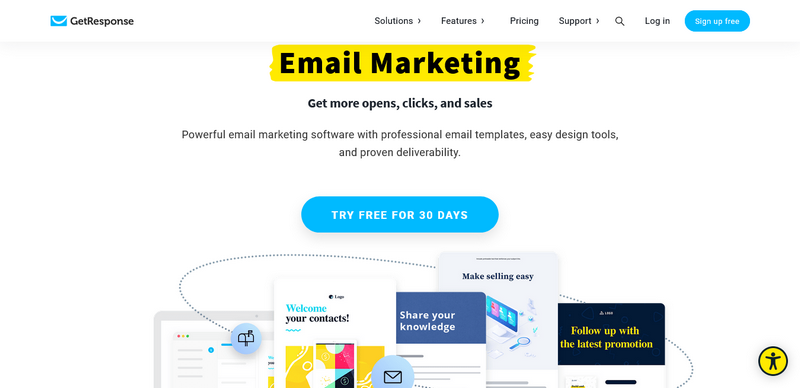 With GetResponse you can create different types of emails for different campaigns. It allows you to talk to different segments of your list with ease.
Use it to create newsletters, autoresponders, automated blog digests, transactional emails and trigger-based emails (customer birthdays, anniversaries and so on).
The software is easy to use and has an intuitive interface. It's reliable and consistent.
Features
Drag-and-drop editor – building emails is easy with this feature. With just a few clicks you can get the layout and message and then preview to make sure it's ready to go.
Mobile friendly – you can create emails for both mobile and desktop.
Templates – there are plenty of templates to choose from and you can customize them to suit your campaign. You can build your own templates and save them to a library.
Timed delivery – you can choose the best time for subscribers to receive emails.
High deliverability – the software offers higher than average deliverability rates.
---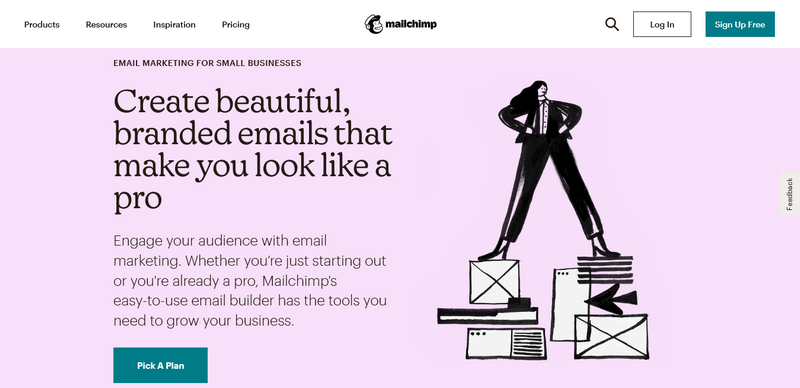 MailChimp promises to help you design emails that portray you as professional. You can design your own templates or use the ones provided within the software. It allows you to create your own catalog of images that you can use to add to emails in future campaigns.
You can use MailChimp to create single-step automation or more complex triggers for campaigns for various segments.
Features
Drag-and-drop builder – create professional and attractive emails easily with the easy editor.
Marketing automations – automate emails throughout the customer journey and reduce your workload.
Real-time analytics – they tell you what's working and what's not so that you can make the necessary changes.
Unique URLs – you can add unique links for subscribers based on products bought or pages visited in the past.
Subject Line Helper – this one helps you discover which subject lines work best for different segments.
---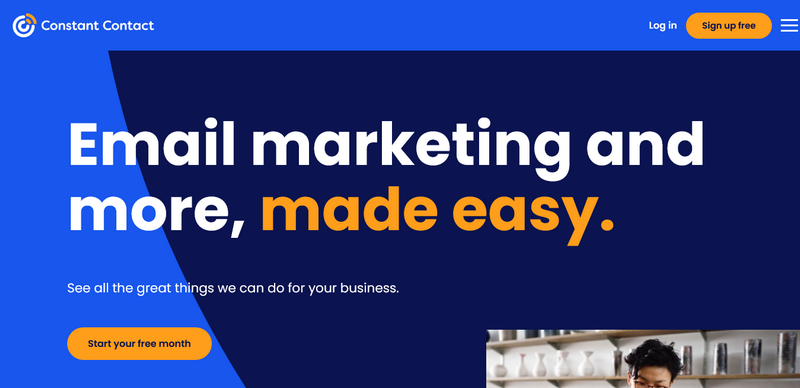 Constant Contact is a popular email marketing software that promises to make life easier. Instead of working harder you can work smarter. This software is quite popular with eCommerce stores as it has features to help grow their email lists and turn subscribers into buying customers.
Features
Drag-and-drop editor – create attractive emails in minutes without any technical knowledge.
Segmentation – there are various segmentation features to help you understand leads and send them relevant offers.
Smart emails – these are set up using triggers, and you can trigger them in various ways.
Resends – you can see which of your prospects didn't open your emails and send them again with a more convincing subject line.
Social media marketing – Constant Contact helps you get new leads from social media by scheduling and posting ads.
---
Conclusion
With 7 of the best email marketing services for small business, this post has something for everyone. Whether you're just starting out or are an experienced marketer, you'll find a tool here that suits your needs.
If we had to pick, we would go with Platformly and Keap. Both have superior automation features, excellent editors and are both easy to use.
They are more than email marketing services; each has additional modules that make them worth every penny you spend on them. Both Platformly and Keap are also very well supported.
Free email marketing software may be tempting, but remember it comes with limitations that will ultimately hold your business back.