10+ Best Autoresponder Email Marketing Services & Software
"Start using autoresponder email marketing services & create a virtual presence in front of customers! "
Autoresponders are automatic emails sent to your subscribers when triggered by events you determined. They can be used to say hello to new subscribers, confirm their registration, inform them about new products, or even wish them a happy birthday.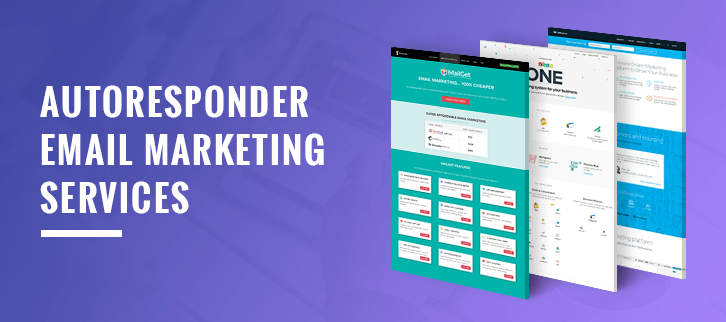 As a key aspect of your business, autoresponder services are very important for developing a loyal customer base, and for improving your sales.
So what should you consider when choosing an email marketing tool?
The level of deliverability, options to integrate your list management with a shopping cart, and to import offline contacts are among some of them. Another important feature is, of course, the price. Monthly fees can range from low prices to hundreds of dollars.
To help you decide, here are more than 10 best autoresponder email marketing services on the market. Start visiting these services and choose the one that fulfills your requirements.
Explore out all the top rated email marketing service providers in the following articles:-
Quickly compare various Autoresponder Email Marketing Services
---
MailGet Bolt is a premium service provider which has an amazing feature known as the autoresponder. It sends an auto-generated email to the customer who has filled and submitted the form on the website. This feature allows you to continuously communicate with your customers.
A distinguished way of creating your own emails is also possible through the drag and drop builder in which the fields are selected and dropped in the content section and you will find an attractive email has been created with few clicks and swipes. On the same thought process, several features have been included in the software.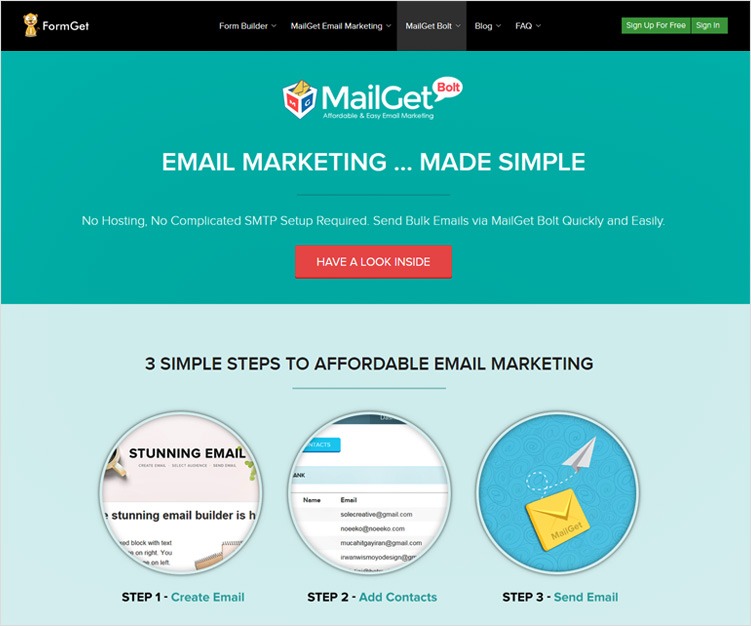 Pricing:-
Its Starters plan costs only $9 on monthly basis in order to send unlimited emails to 2,500 ids.
For 5000 ids, you can opt for the Rookie plan charging $19/m with 10 monthly campaigns.
In order to purchase the Pro plan which allows sending email notifications to 10,000 subscribers, you have to pay $34 on monthly basis. Also, you will get the live chat support system.
The Advance plan is way too different. You have to opt for price plan ranging in between $49/m & $439/m for more subscribers.
Features:-
A feature known as the email list cleaning has been incorporated into the software so that all the unwanted & faulty emails can be removed from the software.

SMTP has been integrated with the software which provides an edge over other software as other software do not provide the same, you have to buy it separately.

Send a series of emails to a number of people with the support of drips section by choosing the time slot and sending that mails at that specific time only.

You can track your emails through email tracking feature of the software like whether it has been delivered to the recipient or not.

The system enables you to add subscription forms to your website which will capture leads for your business, one more way of capturing leads is through the in-built lead capture tool.

Get updates on the status of emails that have been delivered to the people in the spam folder or got suspended or bounced.

Import email addresses to your list within the software, also, manage all your subscribers' list at one place so that you can have a hassle-free workflow.
If there is a confusion at your end about which service you should go for then MailGet Bolt would be the service to bank upon.
All the features to create the perfect email is included in the MailGet Bolt and available at an economic plan of $42 per month, also the OPEN RATE is also quite high which is 25% in the initial phase itself.
---
MailGet is a reliable email marketing tool, which comes at a very low price, and offers lots of effective marketing features. Its autoresponder allows you to easily send automated emails to the list of selected subscribers.
This tool is unique, offering you the option to connect with any SMTP service you want. From the very cheap Amazon SES to Mailjet, Mailgun, Sendgrid and others. Setup significant emails to be sent on the basis of specific subscriber activities such as those who click the link on your welcome emails.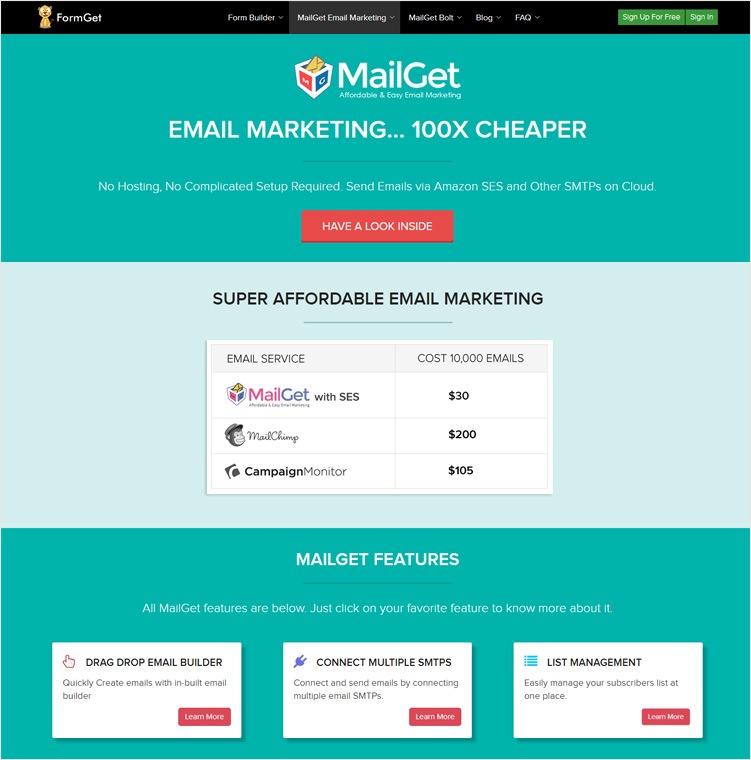 Pricing:
Its $5/month plan allows sending unlimited emails to 5000 without any restrictions.
The Rookie plan is also affordable charging only $29 per month for 25,000 email ids.
For the Pro package, you have to pay monthly $49 in which you can send limitless emails to 50,000 subscribers.
Finally, for the higher yet flexible emails, you can try the Advance plan ranging from $79/m to $672/m for more subscribers (100,000 – 1,000,000).
Features:
Drag and drop editor is very easy to use feature for anyone who wishes create and send email newsletters.
There is no limit on the number of autoresponders that you want to trigger. Configure any number of mails you want.
Email tracking feature lets you track the number of mail sent and know how many of them have viewed, marked as spam or unseen.
Drip emailing feature let you set just time and date after which shoots mails according to the set schedule.
Integration with Wufoo, Google Analytics and Zapier
---
iContact offers its users a very straightforward, user-friendly service, with a simple design and an excellent help centre, making it perfect for rookie email marketers. It comes in three versions. Basic, Pro and Premier.
The starting price is reasonable. However, a problem might arise for smaller campaigns in the form of substantial additional fees. There is also a slight lack of tools available for more advanced users, especially in the Basic version.
Let's have a look at some of the features of this email marketing platform: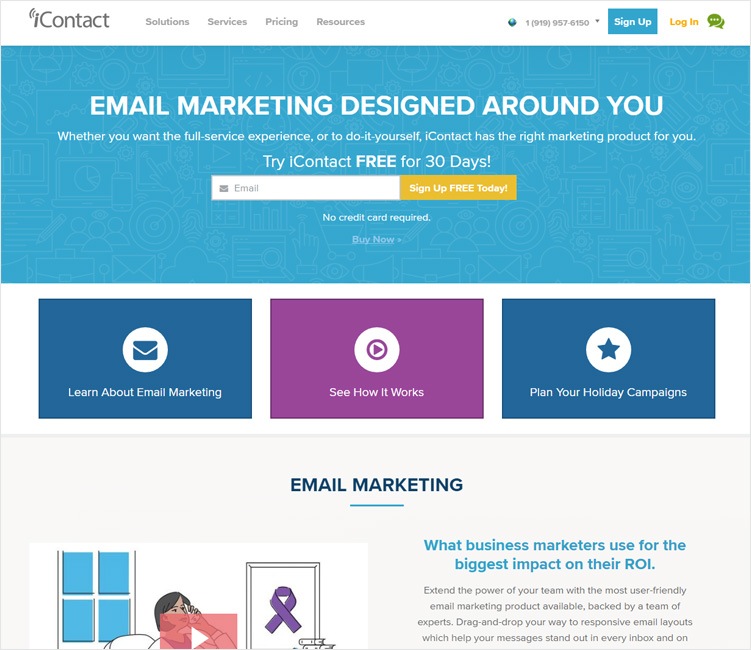 Pricing:
As previously mentioned, this service offers three plans: Basic, Pro and Premier.
Its basic plan starts from $14 per month for up to 500 subscribers, going up to $239 for 35,000 subscribers.
The Pro plans come at a higher price of $99 per month for up to 2,500 subscribers and $369 per month for up to 25,000 subscribers.
Features:
MessageBuilder– a WYSIWYG email editor is offering an efficient toolbar as well as drag and drop features. It also offers many templates, organized into various categories such as travel, technology, children, etc.
MessageCoder – an email personalization service, useful for HTML professionals.
Email Delivery – iContact uses many ways to make sure that the customer's emails travel to inboxes successfully.
Reporting and Analytics – premier plan members can enjoy the commodities of Google Analytics, but Basic and Pro users can enjoy various analysis features as well. They can see the analysis of opens, clicks, forwards, etc. as well as be able to segment their lists and gain access to social media metrics.
Autoresponders – available in every plan, this feature lets users set up an automatic message system.
---
Keap, formerly Infusionsoft is an online sales and marketing service designed specifically for small businesses. Offering its users excellent tools for marketing automation as well as tools for social media, there's no surprise that Infusionsoft's customer base is growing.
Infusionsoft offers many plans with different features, the number of users and monthly emails.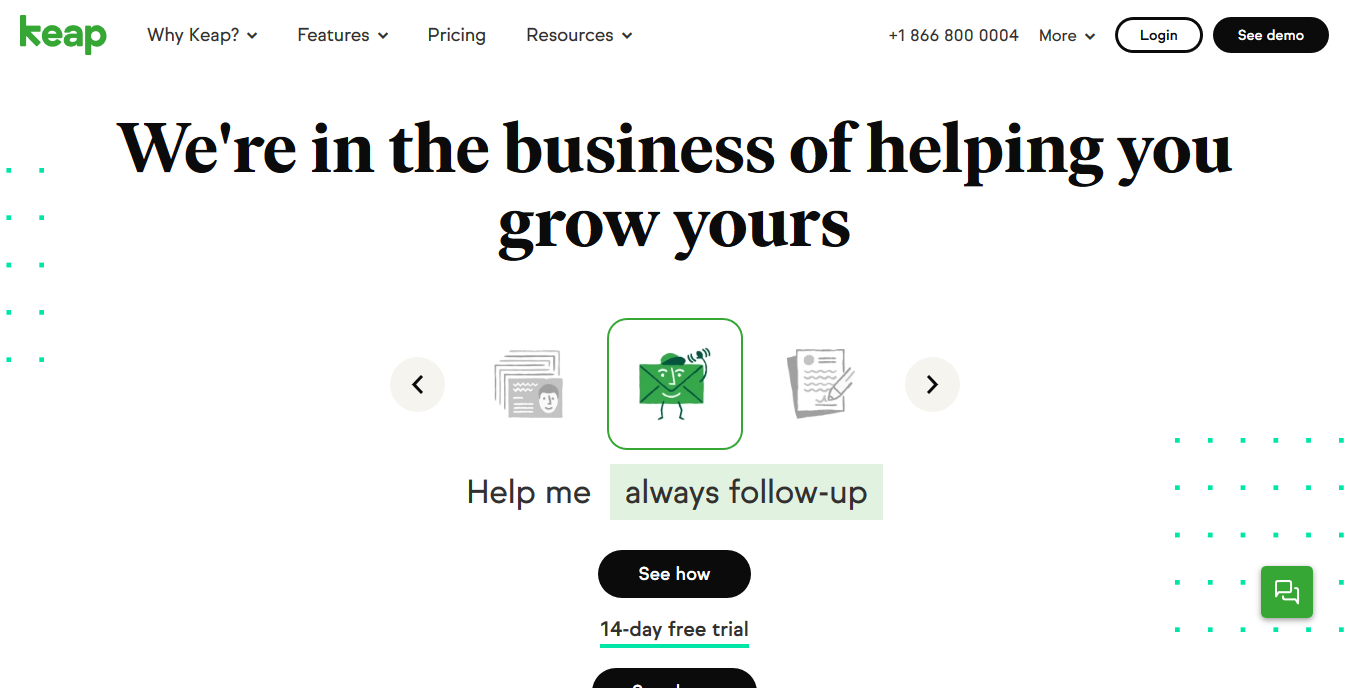 Pricing:
Infusionsoft offers many plans with different features, number of users and monthly emails.
For companies with basic needs, there is the essentials plan, with a monthly price of $199, and 3 users included, together with 12,500 emails per month.
There is also the Deluxe plan with 4 users and 25,000 emails for $299 per month as well as the Complete plan, including 5 users and 50,000 emails for $379 per month.
Features:
CRM and Task Management – easily organize customer information, sales history, appointments, etc. Segmentation is also included, helping users send targeted messages.
Automated Sales and Marketing – automation of important tasks is included in this autoresponder marketing tool as well. It lets you create a campaign very easily, aided by templates.
Online Sale, Services, and Apps– many e-commerce tools are included, as well as options to receive payments through PayPal and credit cards. Infusionsoft also offers extensive support and training service.
---
As one of the oldest email marketing programs, GetResponse is still an excellent product with many features. It represents one of the cheapest ways to communicate with an email database if you are ok with the basic email plan.
The biggest advantage of GetResponse is the unique tracking option as well as marketing suggestions, making it particularly useful for new users, and even though it has some limitations in customization, it's still a great choice, especially for startups.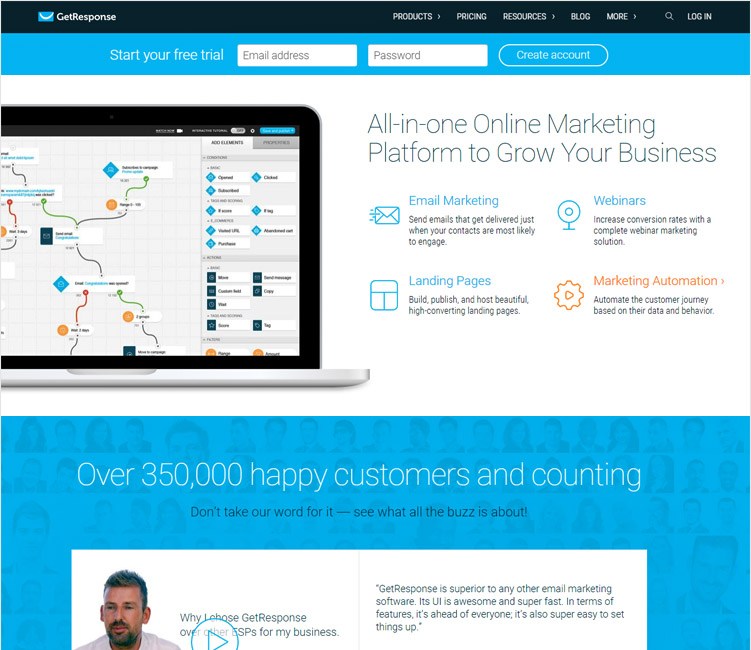 Pricing:
The price increases significantly as the number of subscribers increases, topping at $450 (email) and $580 (max) for up to 100,000 subscribers.
Features:
GetResponse offers a top-notch autoresponder feature, including a "Marketing Automation" feature, which is still in Beta mode. This lets you create automation workflows with a simple drag and drop builder.
Comprehensive analytics and reporting options such as: one click segmentation, metrics over time, email ROI etc.
Split testing an excellent feature, standing out compared to competitors.
The pricing for GetResponse is divided into three basic plans – Email, Pro and Max, and is further divided according to the number of subscribers. Users with up to 1,000 subscribers can sign up to GetResponse for as little as $15 for the email plan, up to $165 for the Max plan.
---
AWeber offers some excellent features, making it especially useful for businesses looking to send the same series of messages to its base of subscribers. With a user-friendly autoresponder setup, AWeber also lets users add video to messages.
However, it does come with some disadvantages, mostly when it comes to social media. The price is also not that affordable, especially for small businesses.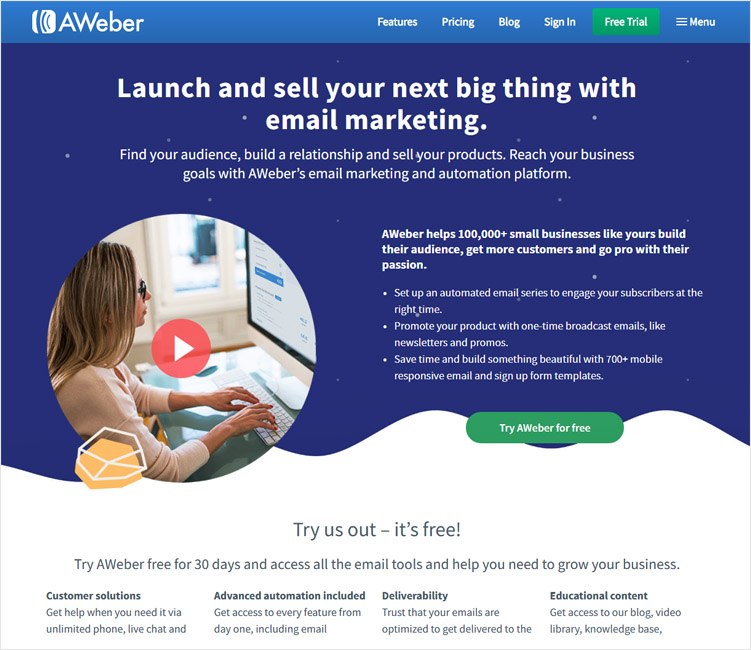 Pricing:
AWeber offers a simple pricing plan which ranges from $19 per month for up to 500 subscribers to $149 per month for over 25,000 subscribers.
There is also a plan for over 25,000 subscribers, but the pricing for this is not available on their website, so you should check with AWeber to get the details for this.
Features:
Drag and drop editor – more than 700 templates with responsive designs, optimized for mobile phones
Excellent autoresponder email service provider.
Signup Forms – various options and many form styles available for signup form customization. You can create a signup form for your website using one of the hundreds of provided templates. AWeber also offers javascript and HTML code options.
List Segmentation – segmentation by any criteria you can come up with.
Global Text Snippets – tool for changing information in many emails.
Subscriber Options – various unsubscribe and preferences options.
Automation Rules – rules to automatically remove or add users to lists.
Analytics and Reports – 28 reports in total.
Blog Broadcasts – lets you automatically email your blog audience
API – AWeber offers an API, to let users create their own integrations with other programs.
---
Turn your customers into loyal fans with the amazing Campaign Monitor email marketing that also offers services like automated email campaign, transactional emails, extensive WYSIWYG editor, split campaigns, API as well as various automation and analytics tools.
Campaign Monitor is very user-friendly and has a beautifully designed interface (UI). You can also use Campaign Monitor new and unique visual journey designer to create more timely emails that keep your audience engaged, and automatically drive revenue.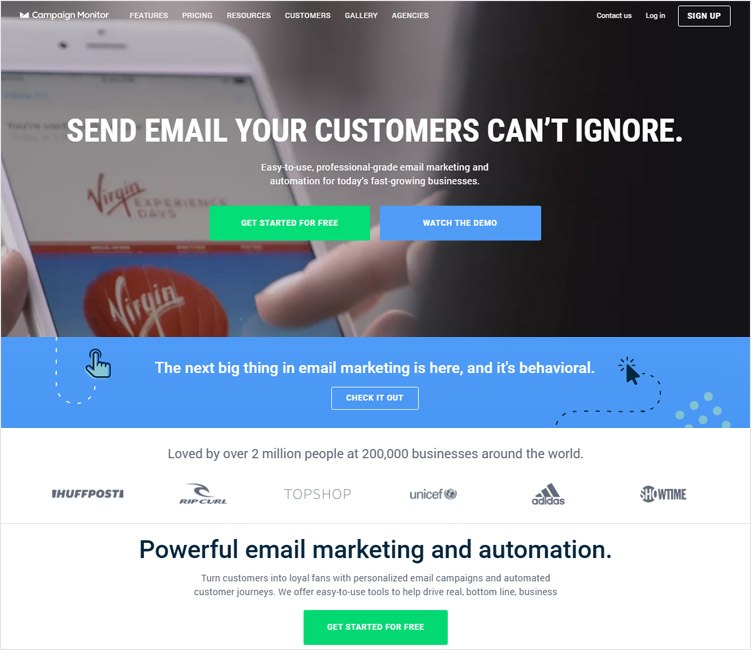 Pricing:
Campaign monitor offers an extensive, complicated pricing plan, suitable for everyone's needs.
For users looking for the cheapest autoresponder service, Campaign monitor's basic plan is probably the best choice as it offers a starting price of just $9 for up to 500 subscribers.
Features:
Create professional looking email marketing campaign through drag and drop email builder.
Use the sign-up forms on your website to grow your email list.
You can create, edit and optimize the transactional emails right inside Campaign Monitor.
You can see real-time performance of your email campaign with interactive data and analytics.
It connects with hundreds of pre-built apps and integrations such as Shopify, Salesforce, Magento, Facebook, Google Analytics and much more, to fit your company's need.
Get 24/7 expert customer support.
---
Ontraprt is the best autoresponder service that offers help in propagating information product. Those looking to run a membership site of have any kind of online training or education company may enjoy the benefits offered by Ontraport.
It has a user-friendly manual and attracts the customers with even low practice in the internet building. The unique features offered by Ontraport make it a reliable offer by our state of the art mechanism of software engineering.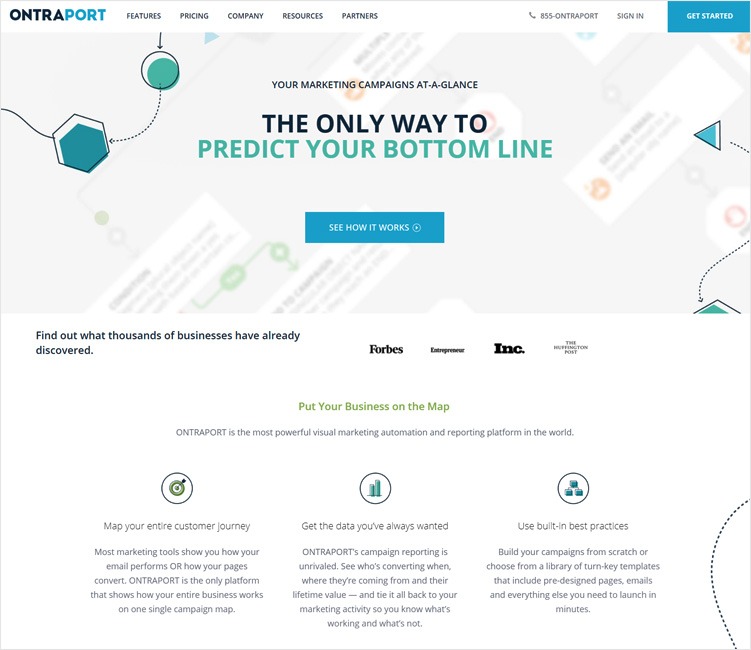 Pricing:
It is also among the most affordable tools as well as it sets a price of $79 for the basic version, $297 for Pro version and $597 per month for the team version. It comes without any setup fees, giving you access to all features, which is something that competitors often charge thousands of dollars.
Features:
Best customer relationship manager
Offers shopping cart
Equipped with affiliate management tool, landing page
Helpful in micro-site creators, auto-responders
Holds a WordPress membership platform
Works as online event creator and task automation
---
Benchmark autoresponder is another unique product specially designed for small and medium-size businesses. It caters the needs of those looking for a simple email marketing tool.
Benchmark autoresponder system lets you schedule individual emails to send at automatically whether in a day, a week, month or even a year. You can also customize a drip campaign for your new subscribers. Build exciting lead up to sale or cover any special event from mini-list of your best customers to large lists of subscribers that tend to buy a certain line of products.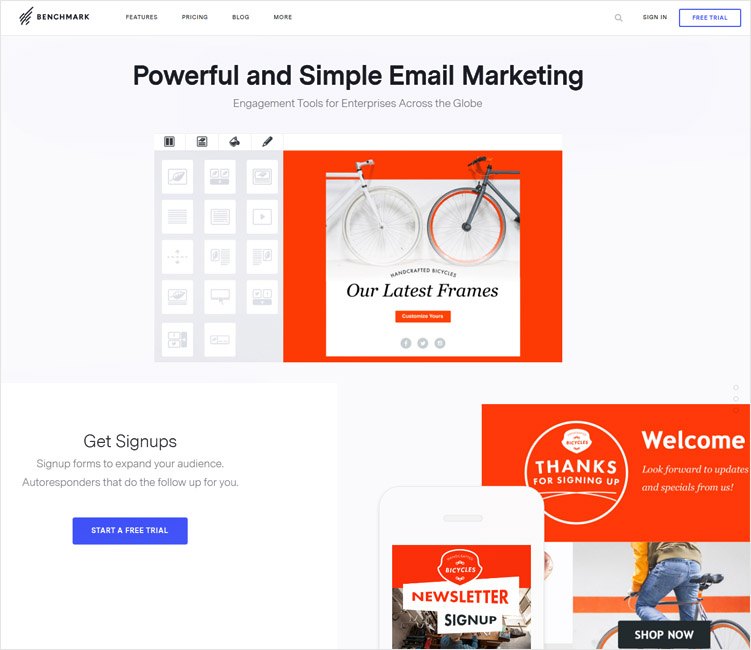 Pricing:
Its prices start from $9.95 per month for up to 600 emails, on the send based plan.
The same will cost you $11.95 on the list based plan, and as for high volume plans, prices range from $399 per month for 150,000 emails and go all the way up to $4,000 per month for up to 4,000,000 emails.
Key features :
Benchmark offers mobile apps, API, analytics, etc
Autoresponder offers all features on every plan type
It offers 3 basic plan types namely Send Based, List Based, and High Volume plans
Plans are further listed into budget, professional and enterprise plans
---
If you are looking for a customer relationship management (CRM) at an extremely cheap price, then here is the most suited service i.e, Zoho. It is a unique CRM which easily beats every other competitor when it comes to the cost.
Share any relevant information with your subscribers, autoresponders take care of all your promotional events. Email action based autoresponders let you send follow-up emails based on your subscribers' interactions. It even has a free option. It easily has the best range of features compared to the price.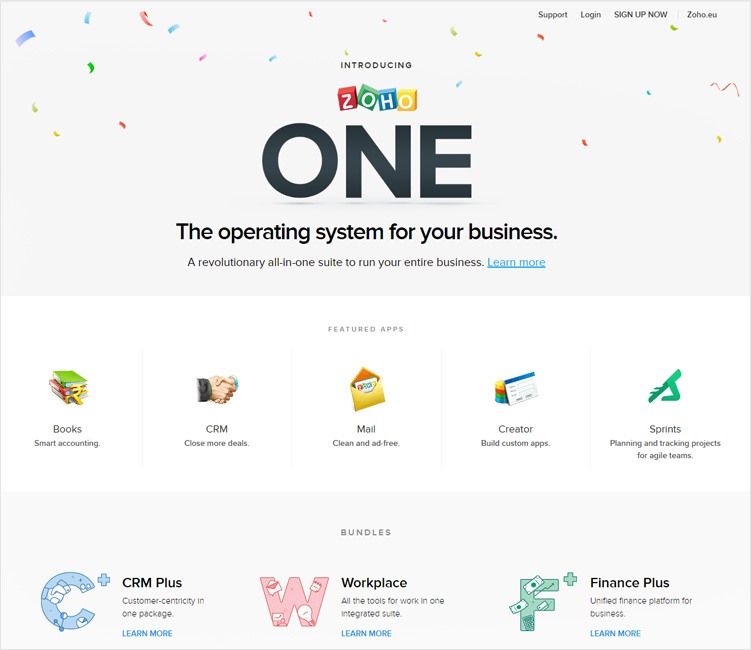 Pricing:
Zoho offers simple pricing plans and options for users of various needs. All of them are very affordable. As mentioned, there is a free edition, which lets up to 10 users operate freely on the platform.
There are also the standard, professional, and enterprise plans, which come at $12, $20, and $35 per month, respectively.
Features:
It offers an Inventory management system
Complement your email marketing efforts with social media. Reach a wider audience by promoting campaigns on Facebook, Twitter and LinkedIn.
Helps in building the document library
User-friendly workflow customization
To send an email campaign, you do not have to be logged in to your web account, simply manage it from your mobile devices.
The Zoho Campaigns mobile app also gives you immediate access to campaign reports.
It offers a dynamic pipeline tracking.
---
arpReach is an affordable, automated email marketing service with no monthly fees and no increasing cost. Manage email delivery in-house or outsource it to experts. With arpReach create any number of follow-up autoresponders for multiple networks and add as many messages as you want to send it over at any time interval.
It lets you segment and targets your contacts in infinite ways by creating segments that can have any number of criteria based on a huge number of contact and subscriber information. It is not all as it further offers a free email course, providing necessary assistance to its users.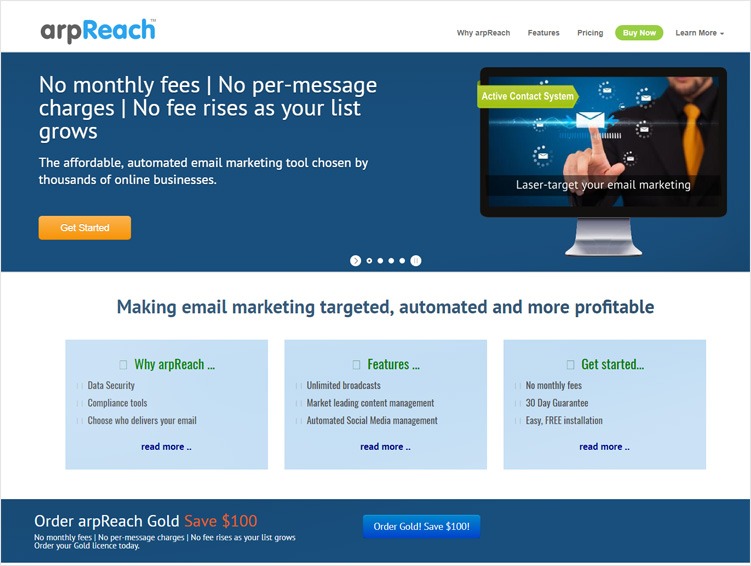 Pricing:
arpReach requires you to pay a one-time fee of $195 for the standard version and $395 for gold version, after which you do not need to pay a monthly fee.

The gold version, on the other hand, lets you have five installations and as many administrative users that you want. You will also receive two years of free access to upgrades and support, compared to only one year access that comes with the standard version.
Features:
Features provided by arpReach are standard for autoresponder services.
It offers segmentation, essential to strengthen email marketing strategy
This tool also offers compliance and system integration tools
It has excellent design freedom to its users
It is helpful to form of social media updates
---
Conclusion
The market for autoresponder email marketing tools is ever increasing, and there is an option for everyone. Whether you are a small business or a large enterprise, this list gives you more than enough options to choose a reliable autoresponder service.
For users looking to get a full range of features and a robust analysis system, Platformly is an excellent choice.
So determine your needs, and your budget, and get started with your email marketing plan.
For any queries & suggestions, just drop a comment below & we'll reach out to you soon!
Also go through the email marketing plugins which are available for free:-
You may also like to read: