Klaviyo Review – Email Marketing Platform for E-Commerce
Editor Rating:





What is Klaviyo? How does Klaviyo pricing compare to other email marketing software? How effective is it for E-Commerce? Read this in-depth Klaviyo review to find out whether it's right for your business.
A Quick Overview of Email Marketing
Email remains one of the most lucrative online marketing strategies. According to the statistics, there are currently 3.9 billion email users, and this number is expected to grow to 4.3 billion by 2023.
Email is more than a way to trade messages; it is a powerful marketing tool, especially when you take into account the fact that for every $1 spent on email marketing, the average return is about $42.
Despite all the hubbub about social media, email marketing still has the highest numbers for customer acquisition and retention. That is not to say that you should abandon your social media strategy, but that you should always keep email marketing front and center.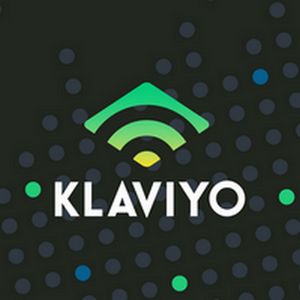 Email marketing is not a magic wand. You have to know the best strategies to make it work. You also have to know the best email marketing software for your needs. The problem is, there is so much email marketing software that it can be hard to choose, especially if you are a beginner.
Klaviyo happens to come highly recommended, whatever your niche and regardless of the size of your business. This review will look at things like Klaviyo features, Klaviyo pricing, and more. By the end, you will know enough about it to be able to decide whether it will work well for your business.
What is Klaviyo?
Klaviyo is email marketing software for online businesses. It is designed to make personalized emailing easy. In the past, this capability was limited to big companies. They'd hire teams to ensure that each email that went out was personalized.
With Klaviyo, even a small start-up can send out emails that speak to the recipient. You don't need to hire a team to get results with Klaviyo. It has a simple user interface, and anyone can use it to communicate with hundreds of thousands of contacts on their email list.
Klaviyo's unique ability comes from its ability to collect and analyze data and provide reports that guide email marketing strategy.
Klaviyo Features
Automation
For email marketing software to be effective, it has to be able to automate many functions, and Klaviyo is perfect at this.
Not only can you create email quickly using the email builder and templates within the software, but you can also send out personalized newsletters, follow up on abandoned carts, send follow-up emails on sign-up, thank customers after a purchase and more.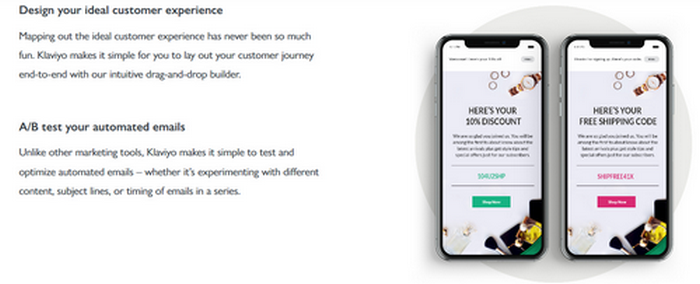 Klaviyo has a vast collection of autoresponder emails (called Flows). You can use existing flows, or create your own based on customer behavior. Creating Flows is quick and easy because you have a wide selection of templates to choose from.
Mailing List Management
List segmentation is one of the strongest features of Klaviyo. To start you off, there are default lists that divide your customers into those who are actively engaged with your emails and newsletters, and those who aren't.
Based on this you can create emails for each group. For the engaged lot, you can send them more information about your products and business to ensure that they stay that way, and for those who need a little more information, you can design the right kinds of emails.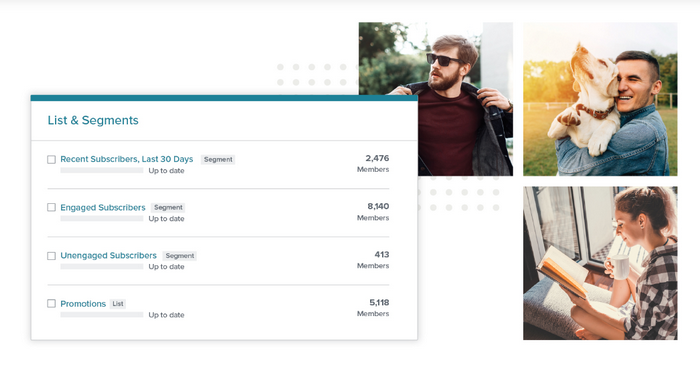 You can segment your contact list further. You can, for example, have a list of those who buy certain types of products, those who buy at certain times of the year and so one. The more refined your segmentation, the easier it is to create targeted emails.
Lists can be segmented based on customer behavior, on events (such as interest or purchase), promotions sent, date of subscription, click-through rates, purchased items and so on.
You can combine segments or exclude certain contacts for concise, detailed and in-depth reports.
Email Builder & Email Templates
Before you buy email marketing software you must check that it has a variety of templates; it saves you from having to design emails from scratch every time, and you don't need coding expertise to make your emails look nice.
Klaviyo has quite the selection of templates. They are arranged according to themes so that you can find what you need without wasting time. All templates have all elements so that all you need to do is add your business information.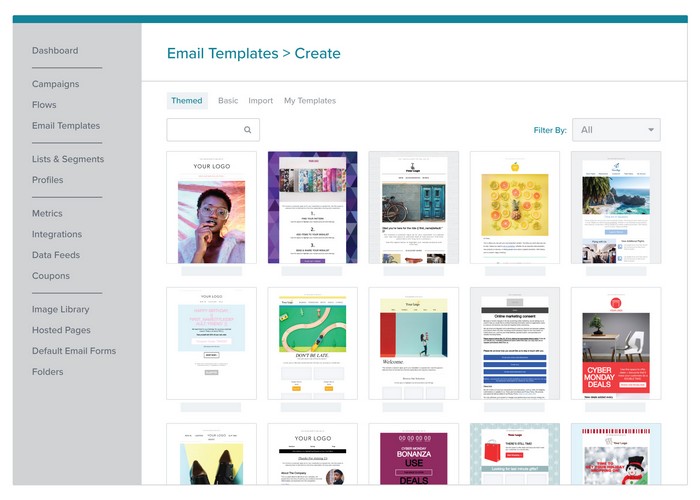 For simple emails there are basic templates that are quick to create. They have all the elements that are included in the more complex templates, so you won't miss out on anything.
There are templates for newsletters and product selections (just plug in your products, pricing, and information) and you can also combine the two types of templates into one.
Drip Campaigns
In Klaviyo, drip campaigns are also called branch email flows. Drip campaigns facilitate lead nurturing; you deliver a series of emails to a lead until you can convert them into buyers or repeat buyers.
For drip campaigns to work you have to segment your lists appropriately, have good content lined up and send emails out at the right time.
Klaviyo has an excellent drip campaign feature, as well as a guide and tips on how to make your campaigns a success. It also gives you drip campaign ideas to get you started.
Integrations
No email marketing software is not complete if it cannot show you what customers are doing. The only problem is, no email marketing tool allows you to see everything contacts are up to (in regards to buying habits).

You can only do this if you can integrate the right apps into the software. Klaviyo allows you to integrate a multitude of apps. They include 3dcart, ActBlue, AfterShip, Amazon Marketplace, BigCommerce, Campaign Monitor and more.
Mobile Optimization
Mobile optimization on Klaviyo is easy because it is automated. You can enable and disable optimization as you wish by going to the "Style" tab on your template. As you build a template, you can toggle between desktop and mobile views to see how each will look once you're finished.
You can select any blocks that you wouldn't like to appear on mobile view, and stretch an image to fit a mobile screen.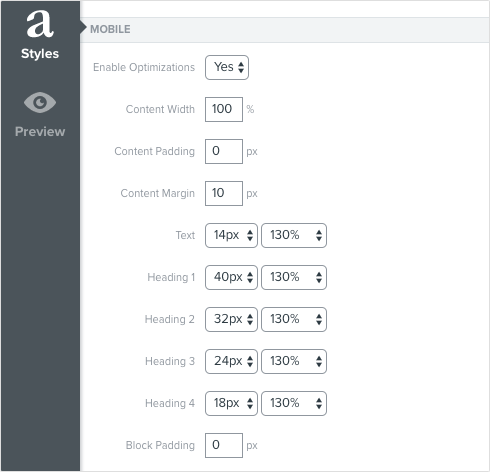 Klaviyo allows you to see how many people are opening your emails on mobile; go to "Advanced Reports" to see performance by email domain, performance by email client and performance by country. You can also see what a contact did after they opened your email.
Reporting & Analytics
Mobile reporting is just the tip of the iceberg. Klaviyo has a variety of reports, including A/B testing data, ROI-based reporting (see how much you are spending on marketing and how much you are getting in return), and you can also link the software to Google Analytics.
You can see period reports (today, last 7 days, last 30 days and so on).
Lead Capture
Your business cannot grow without lead capture. It helps you grow your email list as well as gather vital information about your contacts.
You can design lead capture forms using Klaviyo quite easily. It gives you templates, tips and a complete guide on how to create appealing and compelling forms.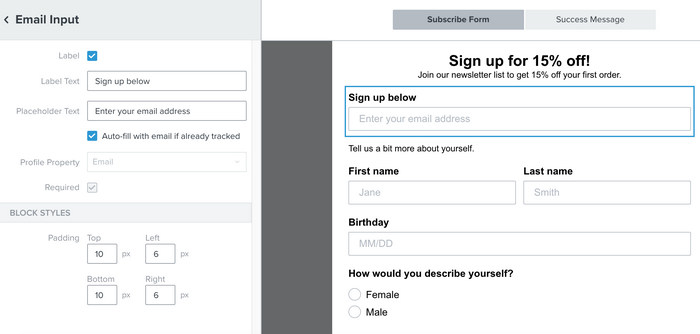 With Klaviyo data capture forms you can ask for more than just email addresses; you can collect additional information about your contacts that will come in handy as you take them through the sales funnel.
The app offers endless customizations, so you will find a theme that matches your business.
Cons of Klaviyo
The main con of Klaviyo is pricing; it is high compared to other email marketing software.
The thing you have to keep in mind when comparing Klaviyo to similar tools is that it offers stellar functionality. It can do lots of things that other tools will not do.
If you are in doubt give it a test drive; most people who try it are so happy with its functionality that they buy it after the free trial.
The other con, according to some, is that Klaviyo has quite the learning curve. Don't let this dissuade you from buying this software. So long as you know your way around similar tools you will learn how to use Klaviyo quickly enough.
Customer Support
Klaviyo offers plenty of customer support on their website. At the Klaviyo Academy there are lots of videos that teach you how to use the software. You can learn how to build lists, segmentation, flows, and you will also see what's new in Klaviyo.

If you want to learn even more about Klaviyo, just go to the webinars. On offer are topics like "How to accelerate business growth with Klaviyo and Shopify", "How to Grow Your Subscription Service Through Personalization" and more.
There are Beginner and Advanced level guides on the website that are available to all users.
You can contact the Klaviyo team through Live Chat (only on weekdays) or through email.
Klaviyo Pricing
There are three options: Klaviyo Email, Klaviyo SMS, and Klaviyo Email & SMS. Price is based on the number of contacts on your email list. For example:
For up to 1,000 contacts you pay $30, and you can send unlimited emails. You get email and chat support.
Up to 5,000 contacts costs $100, and you can send unlimited emails. You are entitled to email and chat support.
Up to 10,000 contacts costs $150 for unlimited emails and email and chat support.
Up to 20,000 contacts costs $375 and you get unlimited emails, email and chat support.
If your list has more than 200,000 emails you should reach the company directly for a quotation.
Klaviyo has a free offer. You can create an account and send up to 500 emails to 250 contacts. After the 500 emails you have to buy to continue using the software.
Do We Recommend Klaviyo?
Yes, we recommend Klaviyo without hesitation. There is a lot of email marketing software out there, a lot of it cheaper, but Klaviyo is in a league of its own. It is packed with useful features and provides reports and guides that you can use to come up with an email marketing strategy that works.
User Reviews
Anne S. is very happy with the software: "I moved to Klaviyo 2 months ago and so far love it! There is a learning curve because they have so much to offer, but the staff there is always ready to help."
Kiri Nicholas thinks the software has a lot to offer: "I love it! Sometimes I wish I had more time to follow up on their tutorials. There is a lot of tools and development that can be done by only following them."
Humphrey Lee enjoys using Klaviyo: "Klaviyo has been a breeze! I love using it and really enjoy the built-in features. For a shared IP service this is top-notch."