Constant Contact Review: Top Email Marketing Software or Hype?
Editor Rating: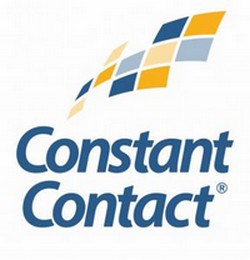 Constant Contact has been providing email marketing solutions for small businesses since 2005. The company was well known for acquiring smaller businesses in the same niche; e2M Systems, NutshellMail, Bantam Live, CardStar and SinglePlatform in about 10 years. Endurance International bought Constant Contact in 2015 for more than 1 billion dollars.
In the time it has been around Constant Contact has become a popular email marketing tool, acquiring more than 650,000 customers. The company improves the software every year, adding features that provide users with lots of email options.
What is Constant Contact?
Constant Contact is an integrated suite of online marketing services, including email marketing. The suite of online marketing services includes online surveys, EventSpot management software, SaveLocal deals, social media management software, and of course, email marketing and management software. All these services are bundled together into the Constant Contact Toolkit.
The toolkit is a one-stop-shop for any businesses seeking a digital footprint. Constant Contact remains popular because it has an easy user interface which is ideal for beginners.
However, before you buy please read this Constant Contact review to find out more about this software's email marketing package, its features, cons, pricing, and what other users have to say.
Constant Contact Review
Email Automation
Email automation (or automated emails, or autoresponder) is a vital part of any good email marketing software. Not only does it take over the mundane task of sending out emails, but it also ensures that nothing falls through the cracks.
Email automation is one of the strongest features of Constant Contact. The autoresponder tool allows you to create personalized emails to your contact list (or even just one contact) and then send them when certain conditions are met.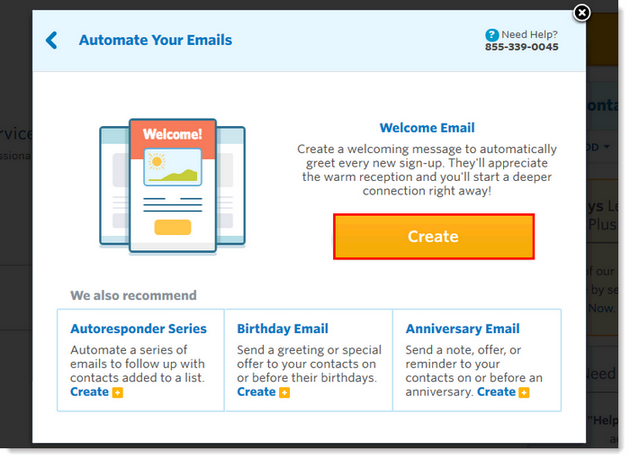 You can, for example, send out an automated email when a customer purchases a product, reaches a purchasing milestone (and earns a discount perhaps), or when a user signs up.
In Constant Contact you can create your autoresponder series and forget about it. The emails will are sent out to the right people at the right time, and as you add new contacts to your list they too will receive the emails.
You can import email contact lists from Gmail, Excel and even Outlook. When contacts unsubscribe, or emails bounce, the software automatically removes them from the list.
Constant Contact tracks each email in your autoresponder series; you can see who opened your email and what they did after that.
Customizable Templates
Imagine that every time you needed to send out an email you had to design it from scratch. It would be an awful waste of time, which is why email marketing software provides ready-to-use templates.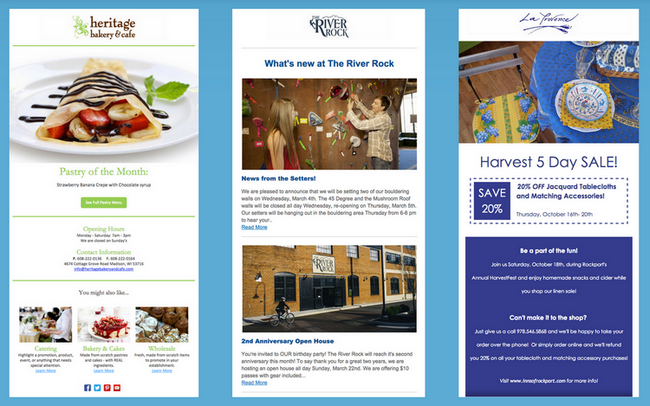 Constant Contact has an easy-to-use WYSIWYG drag-and-drop editor and hundreds of customizable templates. If you would like to create your own email templates, you have access to photo editing software and hundreds of stock images.
Ease of Use
Ease of use is another reason why so many people choose Constant Contact. If you have never used email marketing software before it's a good place to start because it has an intuitive user-interface, and everything is there for you to see.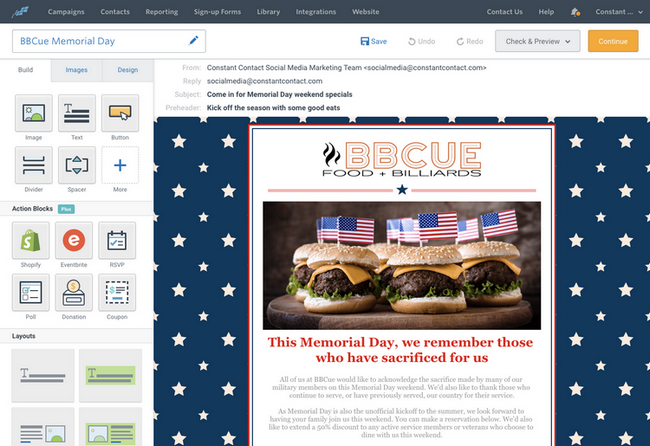 Unlike many other email marketing software, you don't need tutorials or videos to use Constant Contact; you can figure it out just by looking at it. If you are not of a technological bend this software will make email marketing and tracking easy. That is not to say that advanced users cannot use it.
Email List Creation
Email list creation is the first step in email marketing; without a list you have no one to send emails to. Constant Contact lets you create and embed forms in emails, newsletters and on your website. You can use it to create landing pages for your website and for social media.
As you collect leads you can segment them into how they signed up: whether they used the sign-up forms, or whether they came on in another way. You can also segment based on details like location, how long they have been on your list, their interests and more.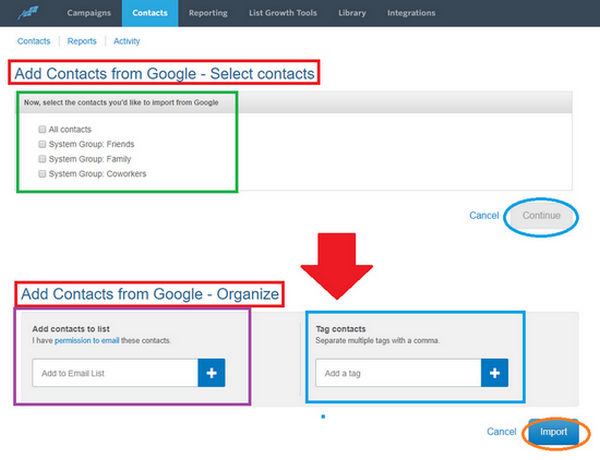 There is an alternative way to create email lists in Constant Contact: you can import files from Gmail, Excel and Outlook. Imports are fast, and duplicate contacts are merged.
However, you cannot use this software to send out group emails, and you need to verify that you have permission from your list before you can use it.
Campaign Creation
Setting up email campaigns is easy using Constant Contact. You get 5 choices: Survey, Event, Coupon, Email and Email Automation. Campaigns can be used more than once, and you can schedule emails to go out on any day of the year.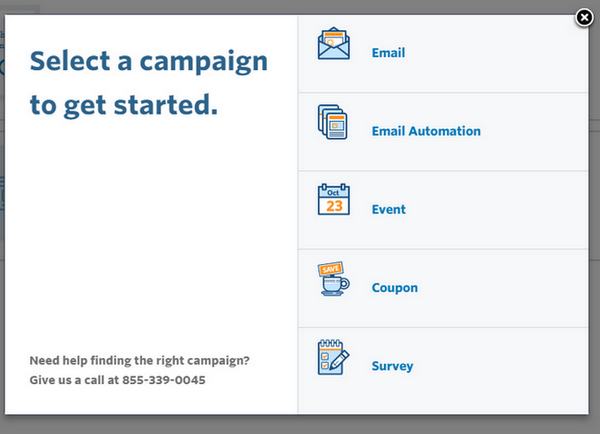 Choose the drag-and-drop editor which has hundreds of customizable templates, or create your own emails using photos from the library.Constant Contact is great for branded campaigns.
It has a branded template builder that allows you to load your company logo and social media buttons.After you create a campaign you can send it out immediately, or you can schedule it to send for a later date.
There is a facility to send out recurring emails for anniversaries and birthdays.Unfortunately, the Constant Contact scheduler doesn't allow emails to be sent daily, weekly or monthly, and you cannot schedule messages to the recipient's local time. This is a big weakness especially because this facility is available in many other email marketing tools.
Campaign Tracking
Running a campaign without tracking it is like walking blind, and that's never good. Constant Contact allows you to track each campaign through the Reporting tab.
The display dashboard shows you the number of opens, the number of click-throughs, unsubscribes as well as bounces. You can also see who opened on mobile and who opened on desktop, as well as which subject lines get the highest engagement.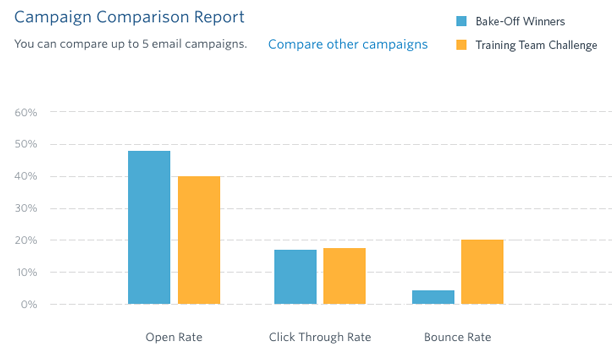 The software has a video tutorial about how to interpret reports, as well as how to create better subject lines so that you can have a higher open rate.
After you send out a campaign you can see who didn't open your emails, and you can resend with a different subject line.
Reporting
After tracking you want to have detailed reports that you can use to make decisions going forward. Constant Contact provides you with good reports that you can use to improve your campaign.
Granted, this software is not as detailed as others in the same niche, but it will give you reports on opens, bounces, unsubscribes, clicks and you will also get spam reports.
You can see total opens and unique opens, and there is a report that shows you where your new contacts are coming from. You can also see industry averages.
Reports are in a simple, easy to understand raw format (bar graph).
Integrations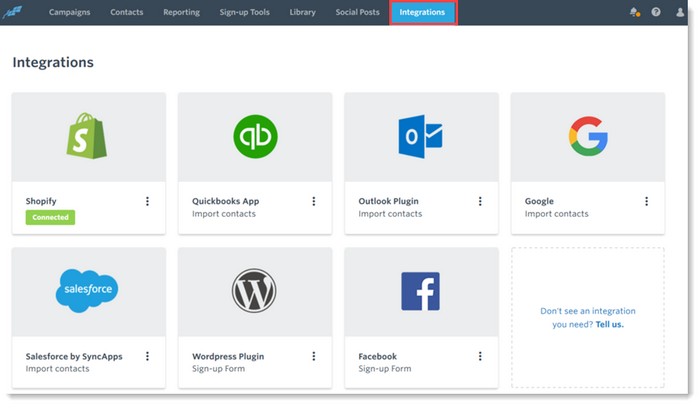 You can integrate Constant Contact with more than 200 apps. The most popular and most important are Google Analytics, WordPress, PayPal, Amazon, SalesForce and Shopify. Social media integrations include Facebook, SimpleShare and Plus Campaigns.
Cons of Constant Contact
The biggest problem with Constant Contact is its price. It costs more compared to other email marketing software that has similar (and often better) features. There are cheaper tools that offer the same features. That's not all:
Many users feel that the software could do more, but is slow when it comes to developing new features. It doesn't have enough reports, tools and options, and could do with better integrations.
The "Save" command in the email editor is easy to miss, and sometimes users lose templates that they have spent time developing.
Editing HTML is not easy, and often emails look different in inboxes that they did during development.
The sales reps can be rather pushy.
Constant Contact Support
When you buy Constant Contact you are provided with tutorials and pop-ups to guide you on how to create emails and campaigns. There is a Knowledge Base for frequently asked questions, as well as webinars about best industry practice and how to use the software.
One thing that's unique about Constant Contact is its Live Support. You can reach them on the phone during working hours between Monday and Thursday, and the customer reps are patient, pleasant and knowledgeable.
You can also make use of the Live Chat function or contact them through their Facebook page. Alternatively, send the team an email and someone will get back to you before long.
Constant Contact Pricing
Constant Contact has two price plans:
Email which starts at $20/month, and allows you to send unlimited emails and provides file storage.
Email Plus which starts at $45/month, and allows you to send unlimited emails and gives access to more powerful features.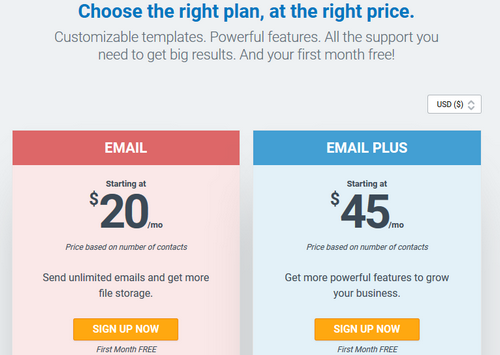 The price of this software increases if you have more emails to send (they don't make this very clear on their website).
For both plans the first month is free, and there is no money-back guarantee.
Do We Recommend Constant Contact?
If you are new to email marketing software and are worried about ease of use, Constant Contact may be a good fit. However, if you need advanced automation features, or have a huge email list, this may not be the best email marketing software for you. If that's your case, take a look at Platformly, which offers a wealth of features at an affordable price.
User Reviews
According to Tyra McDougall, "Personally, I feel that this service is only for those with little or no email marketing experience. I have run campaigns for multiple companies and found this software lacking for those wanting mid-range or enterprise-level features."
Alister Yoder says, "I was able to manage multiple contact lists and was able to remove duplicate contacts automatically. The best part is that you don't need to be a design or tech wizard to use this product. It's perfect for any small business in my opinion."
Grace W: "Some clients report having an issue finding the emails that come from Constant Contact, because the emails end up in spam folders or with warning messages attached."