How To Perform A Quick Local SEO Audit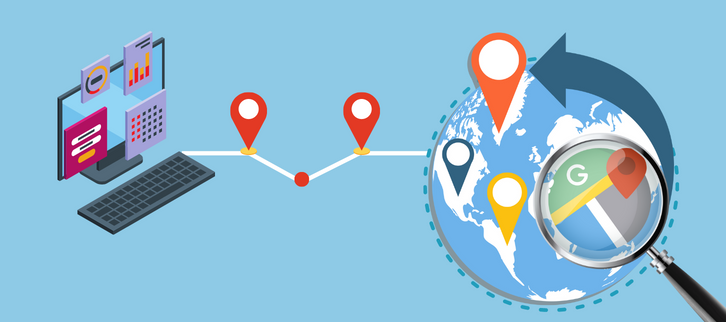 If your company or agency has a physical location, local SEO is a must-have in your strategy. In this article, we'll show you how to perform a local SEO audit, which will allow you to take advantage of local searches to promote your business.
We recommend setting up Google My Business for every physical location of your business. It helps companies tremendously by showing their location, contact information, and other data on Google's map. What's best, this information and your company name show at the top of the results page, before any organic result.
So, without further ado, let's start by asking ourselves: who benefits from a local SEO audit?
---
Who can benefit from a local SEO audit?
When it comes to local SEO audits, all businesses with a physical location could do with them. This does not refer only to stores, as some offices can take advantage of having a public address for prospective customers to walk in.
Also, it is easier to perform an audit if your business (or your client) already uses Google Business Profile – previously known as Google My Business. This guide is also helpful for businesses that are just starting to do SEO.

---
Local SEO checklist
Check your current positions in both organic and local results
Let's start by searching for a keyword that matters to your business. For purpose of this guide, we are going to use a vegan restaurant located in South Portugal called "Raízes". To find it, we searched for "vegan restaurant near me", which is a keyword you would use to find a vegan restaurant in your area. Let's see the results: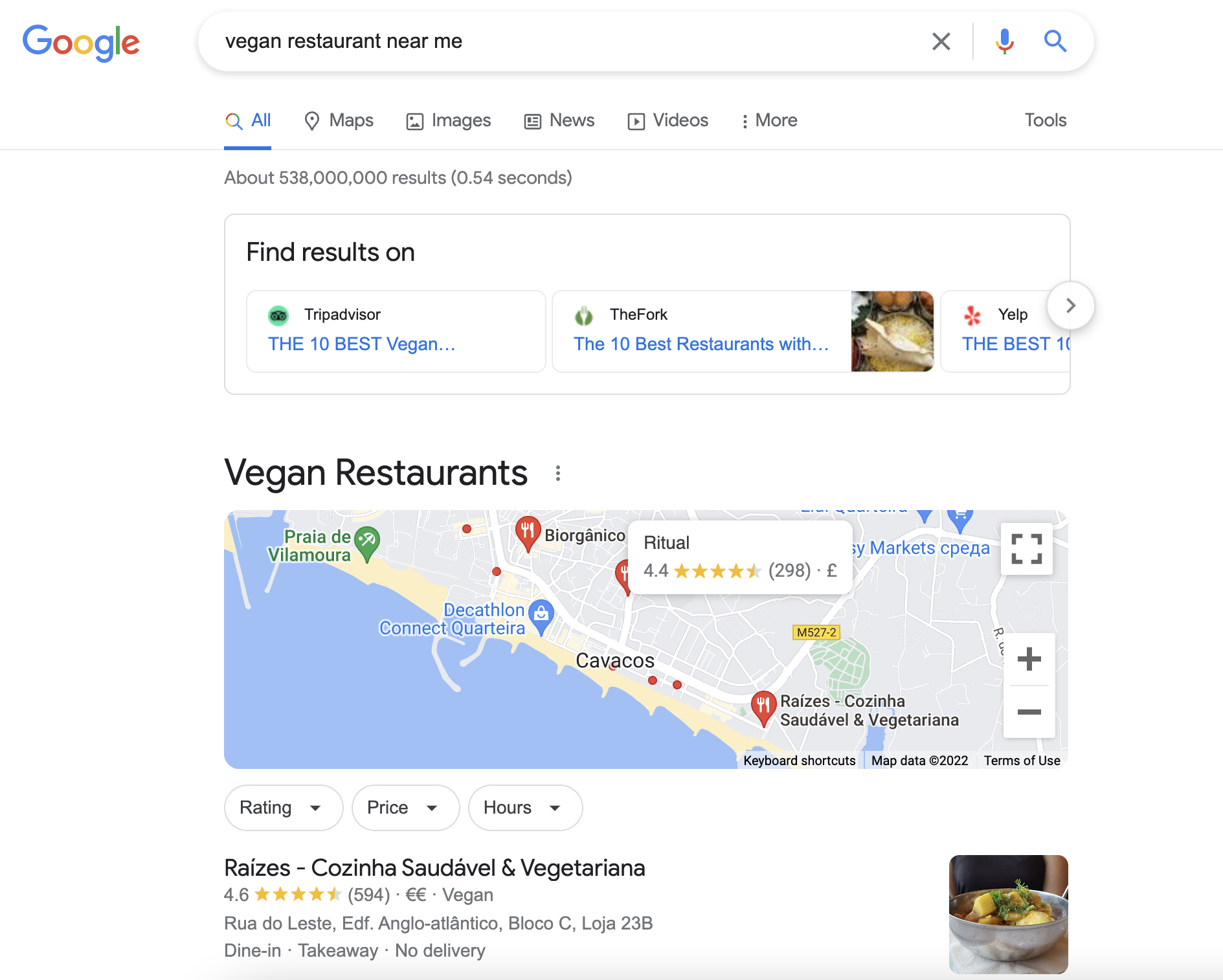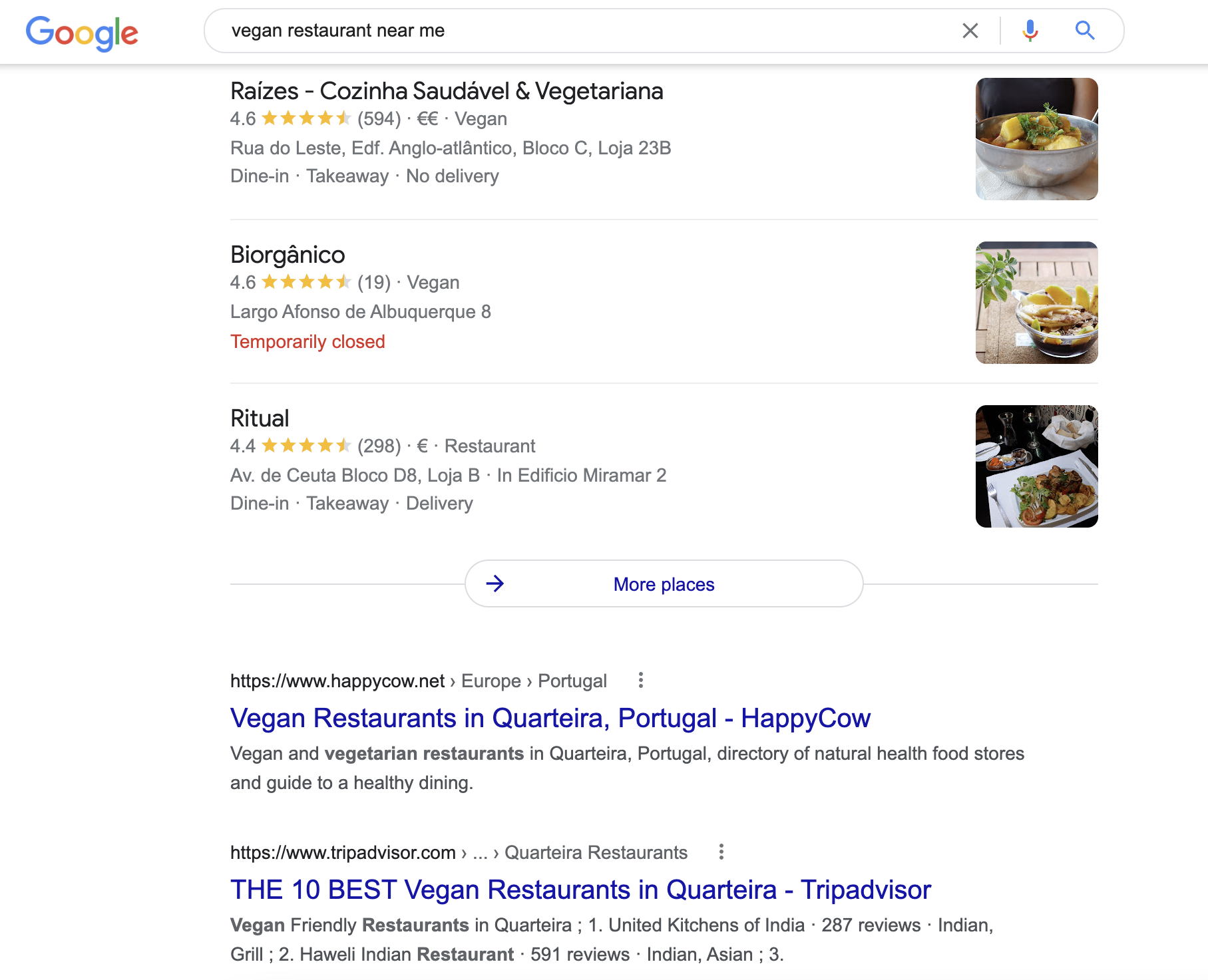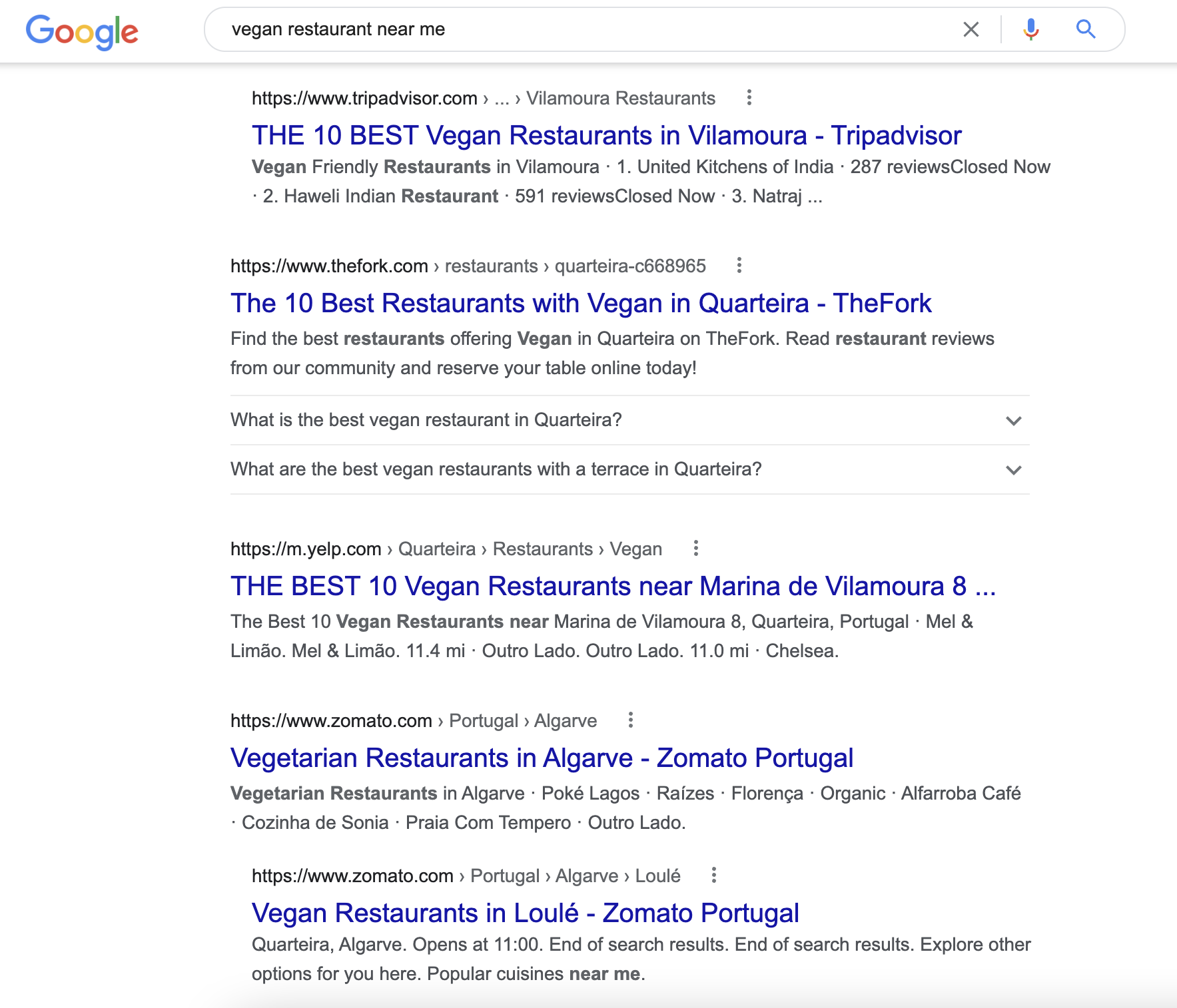 As you can see, the first results are local, deriving from restaurants registered on Google My Business. The map shows the locations of the main results, which help users understand which restaurants are closer to their location.
In local results, "Raízes" shows up first, which is great. It also shows two other vegan restaurants close by. However, when it comes to organic results, you'll notice that none of the first five results (i.e. the first page) are restaurants, but rather review websites like Tripadvisor and Happy Cow.
This is not always preventable, but the fact that the restaurant is first in local results is already a good indicator. Moving forward!
---
Check indexation
No SEO audit is complete without an index check. In order for your website to be found on Google, it needs to be indexed, i. e. Google needs to crawl the page and register it on their index. Only after indexing can your website be ranked on search results for specific keywords.
In the case of local SEO, keywords like "vegan restaurant near me" trigger specific results that Google considers to be relevant for the search intent of a user looking for a healthy lunch.
So, you need to know if your website is fully indexed. There are several ways to go about this, but the easiest and guaranteed way is by googling "site:yoururl.com". This will show you if a website is correctly indexed, including all the pages on that website. You'll get something like this: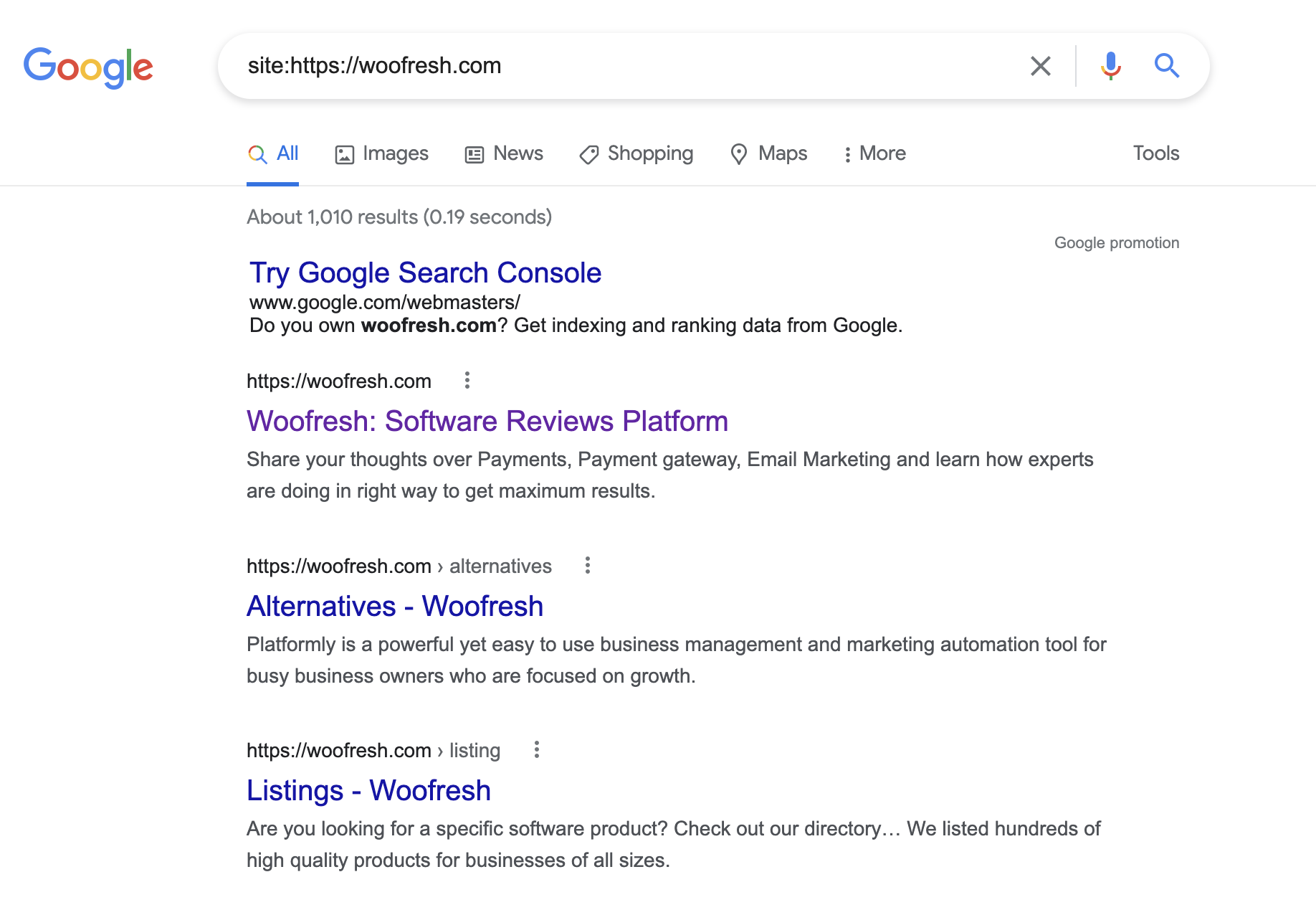 This will help you understand if any pages on your website are not currently indexed. To rank on Google SERPs (search engine results pages), all your pages need to be indexed.
---
Make sure you use a HTTPS secure connection
This goes for every website, and is a good SEO practice in all aspects. In order to get a secure connection, you need to get an SSL certificate for your website. If you don't use one, you'll find Chrome warns users that your website is unsafe, as is the case here:

So, a HTTPS connection is essential for any website. Keep your website and your users safe by getting an SSL certificate if you don't have one yet.
---
Check for URL variants
URL variants can affect your SEO efforts if absent or done incorrectly. Let's say you have a ".co.uk" URL, but also a ".com". How can you make sure all the users get the same experience?
The best way to fix this is to do a 301 redirect from all URL variants to one – the canonical URL. In this case, the main URL could be ".com". To learn more about how 301 redirects work, read this article about search engines.
---
Is your website mobile friendly?
Mobile friendliness is especially important when it comes to local SEO.
If you're still not sure about optimizing your website for mobile, you should know Google recommends it for every website.
In the case of local SEO, most local searches are made on the go, mostly using a mobile phone. If users can't access your website correctly because it is not optimized, they'll leave and go for a competitor with a mobile responsive website.
Mobile responsiveness comprises coding techniques that make a website display flawlessly on displays of all sizes. Your website should be mobile responsive to improve navigation for mobile phone users so you can use those mobile searches to your advantage.
---
Check title tags and meta descriptions
Title tags and meta descriptions are a great way to capture the user's attention when he's searching for products or services like yours. Let's take a look at an example.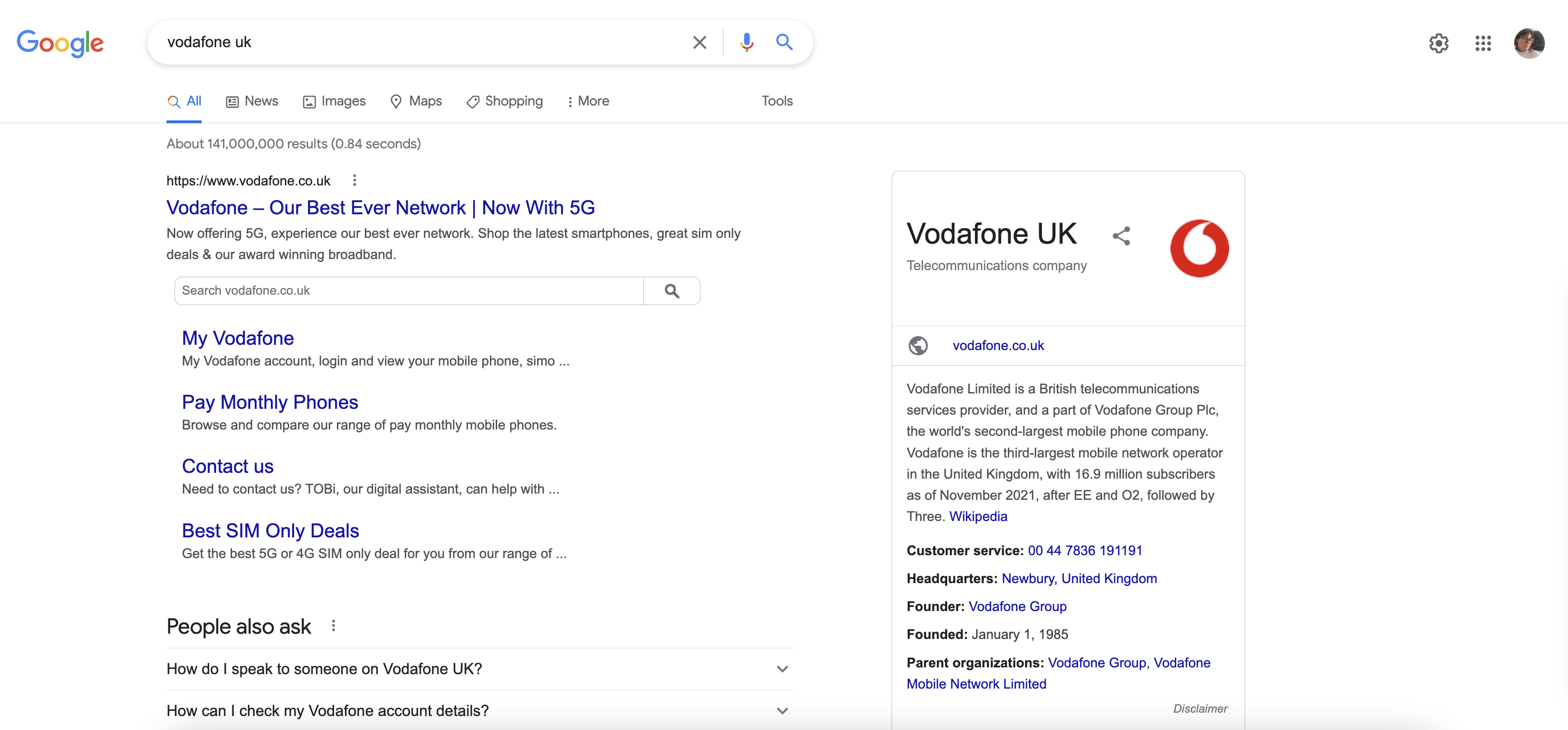 Vodafone UK uses the title tag to display a targeted message – users are looking for mobile services, and the title tag displays their 5G offer.
At the same time, the meta description for the home page shows all you can find on the website: 5G, smartphones, sim-only deals, and broadband. A good summary, isn't it?
You should aim to do the same with all your title tags and meta descriptions. When in doubt, ask yourself: "what is my target audience searching for?"
---
Analyze your content
Your content needs to be absolutely impeccable in every way. This means that not only do you need to use your target keywords, but you need to make sure users understand your content. What's good for humans is good for machines, i.e. bots. Bots crawl the web to find every website and discover its content. Your effort will be rewarded if your keyword density is reasonable (not very low, but not high enough that the text loses meaning).
---
Check for backlinks
Backlinks improve your ranking, but they're not always a positive influence. We recommend checking your backlink profile using an SEO tool.
Once you have your backlink report, you can check which links are toxic for your profile (spammy backlinks such as non-related websites) and remove them from your website.
At the same time, diversify your backlink sources. It's better to have 100 different websites on your backlinks than 100 backlinks from the same website.
This is our checklist for improving your rank on Google's local results. As you can see, optimizing for local results is not very different than optimizing for organic results.
---
Wrapping Up
As you might have noticed, SERPed allows you to set up recurring checks for all your relevant metrics in SEO. This allows you to create monthly reports for you or your clients that show your evolution in local ranks.
Local SEO benefits companies by getting them on searches like "X near me", "X in Leicester" and so on. These searches, usually performed on mobile, tend to increase over time as they have in the past few years.
When it comes to local SEO, it's not as easy to report results as it is on organic SERPs. If you use SERPed, you'll find it helps you improve your knowledge of your local SEO performance. Click here to give it a try…