The 4 Best SEO Reporting Software in 2022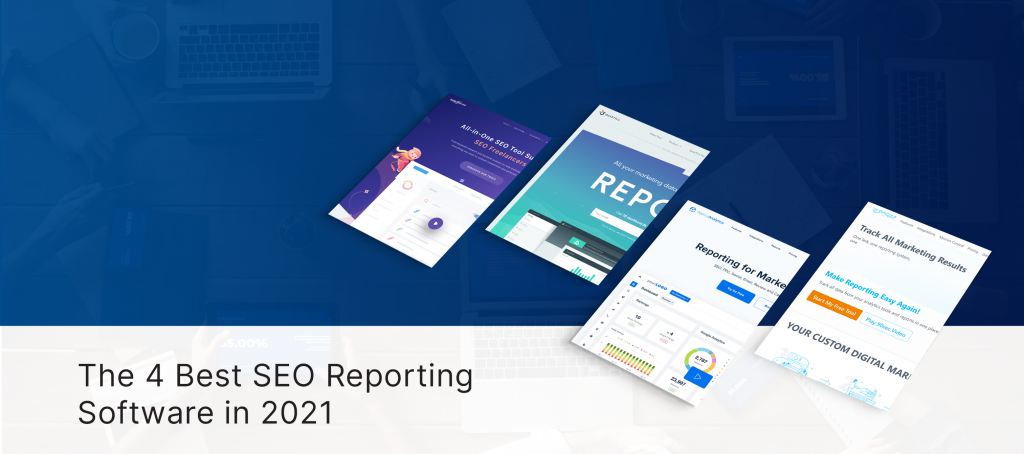 SEO reporting software is a must if you're going to compete in your niche. You may have the best SEO strategy in the world, but how do you whether or not it's working? It's essential to get comprehensive metrics regularly and on-demand when necessary.
The only way to keep track of what is happening in your business, however big or small, is to use reliable reporting software.
One of the most commonly asked questions regarding this topic is – why not rely on free tools like Google Analytics? Such tools provide essential SEO metrics and they're often free.
While Analytics (and similar software) is a vital tool that helps you understand site visitors, it doesn't measure all the different metrics you need to improve your SEO campaign.
If you run an SEO agency your business thrives on your customers understanding their account reports. You need to give them a snapshot of their campaigns from different dimensions, and you cannot achieve this with just Analytics.
For your own small or medium-sized business, these varied and in-depth metrics are just as important. They help you understand ROI, and you can use them to develop better SEO strategies for the future.
---
What is SEO Reporting Software?
SEO reporting tools provide insight into different ranking factors on Google and other search engines. They measure organic traffic, ranking and domain metrics for websites.

The main purpose of these tools is to tell you whether or not your SEO strategy is working.
Good SEO analytics software will show you 2 important things:
At a glance, you can see how much progress you've made. It should tell you quickly how much a site has grown, in terms of SEO, during a given period.
The best software provides insights. They highlight problem areas and provide suggestions on what you need to do to improve performance on Google.
---
How to Choose SEO Reporting Software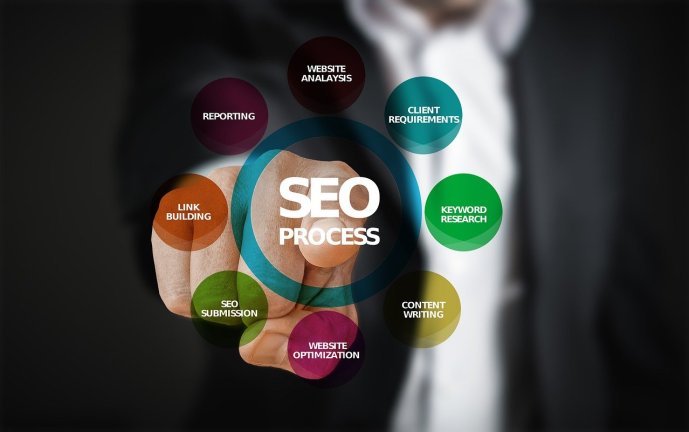 What should you look for in an SEO reporting tool? There is numerous software that purports to provide SEO reports. You need to know the features of robust SEO software to get accurate SEO metrics.
For example, free tools don't continually update data, so any report you get isn't up to date. This isn't helpful, especially when you consider that your competitors may be using software that uses the most up to date information to provide reports.
How can you identify good SEO reporting software? Here's what to look for:
It must provide accurate and current data. We just mentioned that some software doesn't continually update information, giving you reports containing old information.
Any software you choose must have robust features. It should be able to do a complete analysis of your website, including things like position tracking, competition metrics and analysis, backlink tracking and more. Other features to look for include email marketing, social media marketing, backlink tracking and analysis and even paid ads.
Integrations are vital in any SEO reporting tool. You want software that can merge easily with other tools and bring all the information you need into one database. Before you buy check whether the tool you have in mind works with existing software.
Customization is critical, especially if you need reporting software for an SEO agency. Different clients have different KPI's and you should be able to deliver. You'll also require different types of reports for your team, so a customizable tool is necessary.
Can the software scale? Your business will grow, and you want a tool that can accommodate that growth.
Check whether the software you have in mind allows for client integration. They should have access to their dashboards to view SE ranking reports and even customize them for their internal use.
Whatever software you choose should have a white label feature. Your clients will appreciate white-label SEO reports, and your agency can strengthen its brand with the same.
A good tool is an affordable one, especially in the long term. Some reporting software lures you in with a low price point, but as your business grows it quickly becomes unaffordable.
You should be able to export reports in a few different formats.
Make sure that you choose software with automated SEO reports. You should be able to set it up to generate reports daily, weekly or monthly automatically.
It should have a friendly user interface and also be easy to use.
Lastly, choose software that's well supported. When you need help you should be able to get it without delay.
---
Best SEO Reporting Tools
Now that we know the best reporting software features, let's look at some that come recommended, especially for small and medium-sized businesses.
Read Review
View Listing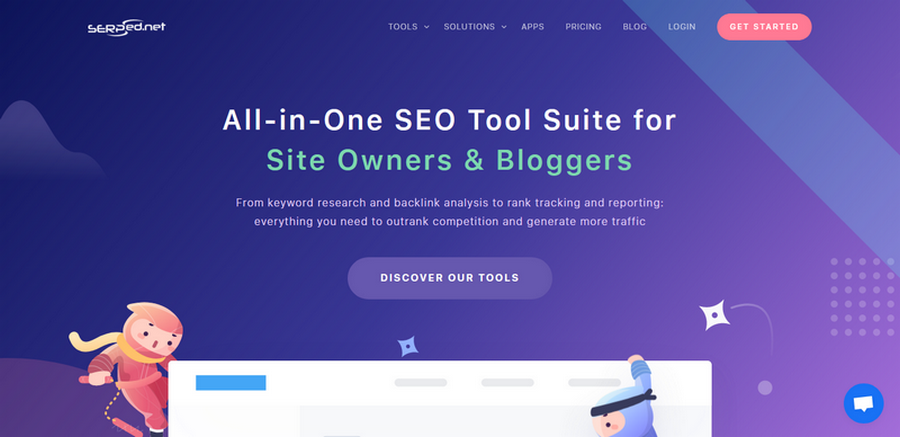 This SEO reporting software for clients is part of the SERPed.net all-in-one suite for agencies, a collection of more than 40 SEO tools for online marketers, teams and agencies. These tools cover all aspects of SEO, including keyword research, backlink analysis and management, competitor analysis, web analytics and more.
The real-time reporting module puts together the information and metrics your clients want to see in customizable PDF format.
Features
You can connect it to all your primary data sources to generate comprehensive SEO ranking reports.
Connect external data sources, including Moz and Majestic. You also get data from Google, YouTube, Bing and Yahoo, GoDaddy, Amazon and more.
Customize all your reports using the white-label feature.
You can choose different metrics for different reports. Show your clients the KPIs they are interested in.
If you find a template that works, save it and use it for future reports.
Use the SERPed.net reporting module to automate reporting. Schedule white-label reports to go out any time, and they will be delivered right to your client's inbox.
You can also include metrics from social media sites (Facebook, Instagram, Twitter and others).
Your clients no longer need contact you every time they need an update. They can log into their dashboards and see their latest data.
It integrates with popular sales and marketing tools.
SERPed.net is more than just SEO reporting software. It can do so much more, with dozens of features that you need to run a successful SEO campaign.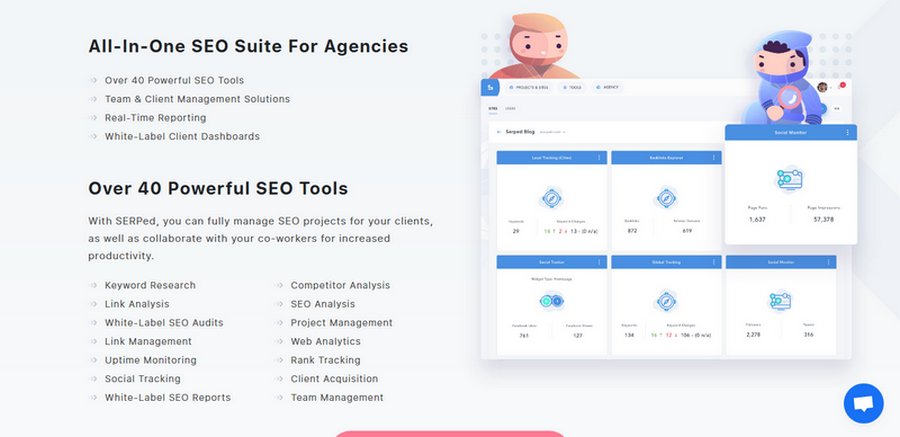 When you buy the full suite you get:
SERPed Agency Client Dashboard – it allows you to manage all your clients from a single interface. You can see all campaigns, the different metrics, and you can customize and generate white-label SEO reports. Connect to various platforms and access all the data you need (Google Analytics, Facebook, Twitter, LinkedIn, Pinterest and more).
Ultimate Research – an easy and reliable tool for keyword research.
What Ranks Where – use it to see what keywords your competitors are ranking for.
Keyword Analyzer – this one helps you find out what influences your competitors' rankings. Find out what keywords you need to go after and which ones to steer clear of.
Long Tail Keywords – they are easier to rank for, and you can find them easily with this module.
Site Manager – a single interface that allows you to site all your sites and blogs effortlessly.
Backlinks Manager – understand your backlink profile and keep it healthy using this module.
Cashflow – never spend hours tracking your finances. Add payments and expenses to this module and it will do the rest.
These are just some of the tools in SERPed.net. There are many more, and you can use them all to optimize your website and stay ahead of the competition.
---
View Listing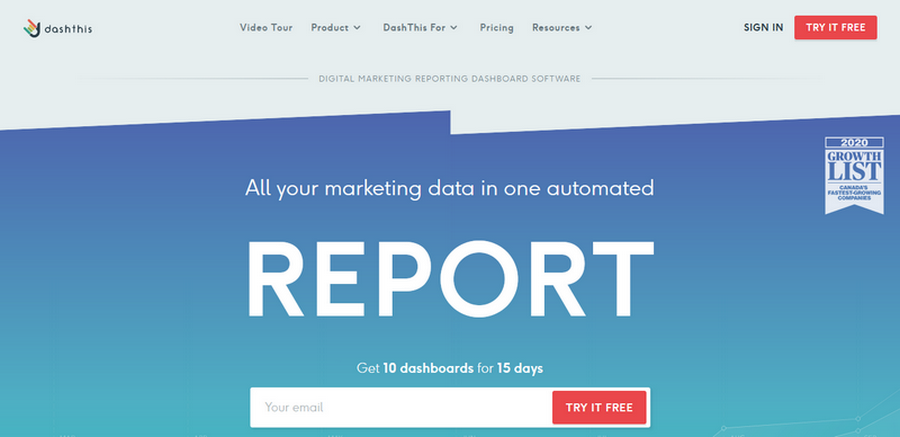 DashThis eliminates the need for endless spreadsheets and hours spent copying and pasting data. After you buy this software, install and select the sources you'd like it to gather data from, and it does the rest.
It collates data from different sources into automated, sharable reports. The software has a variety of pre-built templates and widgets for different KPI's and you can use them to create your own customized reports.
Features
Integrations – you can integrate all your SEO campaigns software with DashThis. Google Analytics, SemRush, Moz, Majestic and a host of other popular software all merge seamlessly with this tool.
It brings together all your KPIs in one dashboard, including rank and SERP position, organic visits and click-through rate, page and domain authority, keyword rankings and more. Just pick a template that has the metrics you'd like included in your report. You can create and save your own templates to save time.
White-label your SEO ranking reports by adding your logo and other company branding.
The ability to import data from CSV files means you can incorporate information from a wide variety of sources into your reports.
The bulk creation and editing service makes this software perfect for SEO agencies. If you need bulk dashboards contact the support team and let them know exactly what you require. You can also modify KPIs across many dashboards at once.
You can create unlimited client accounts and pull data from unlimited sources.
This is good team software as you can add unlimited users.
The Clone Reports feature allows you to use the same report for multiple clients.
Reports are sharable through URLs or email and they come in PDF format.
---
View Listing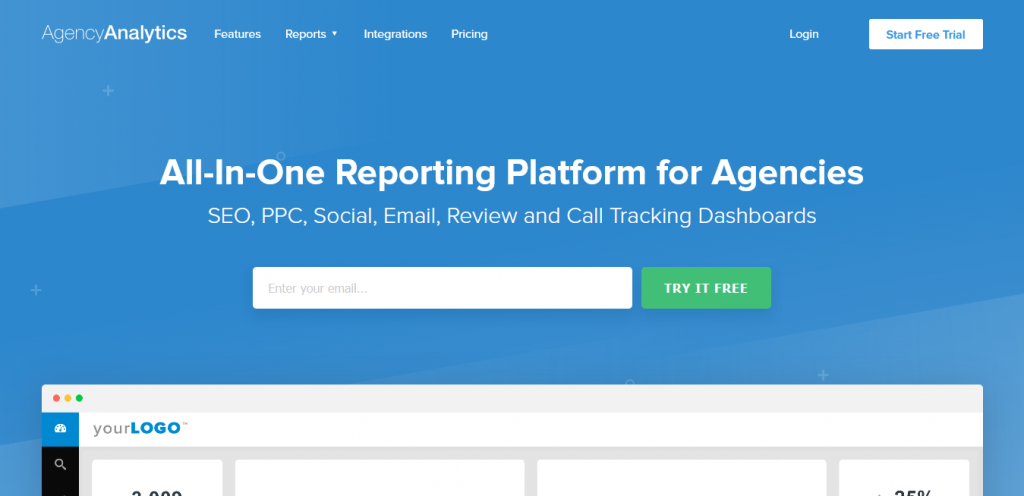 The premise of this software is "easy, automated SEO reports for clients." It is sold as a reporting platform, but it's bundled together with SEO modules. It has a rank tracker, a backlinks monitor, a site tracker and even a competition analyzer.
You can pull data from a variety of platforms, including social media and email marketing software.
Features
You can generate automated reports. Schedule them to be delivered to clients daily, weekly or monthly and append comments to explain the different KPIs. It allows you to create an executive summary and you can add a recommendations section to each report.
Bring together more than 50 different data sources with this software. These include Google Ads, Analytics, Facebook, Twitter, YouTube and more.
The reports are customizable to your satisfaction. The easy drag-and-drop editor allows you to do this in minutes.
Create white-label SEO reports for clients with your logo and colors and company URL.
If a client has multiple campaigns going simultaneously, you can bring them all together in a single report. Use this same feature to keep your team updated on all client accounts.
You can send as many reports as you want every day, and on each you can copy up to 20 people.
Create as many staff accounts as you need and restrict access to team members as necessary.
Important note: This tool's SEO functionalities are rather limited. While it produces excellent reports, you may want to integrate it with other more robust SEO tools.
---
View Listing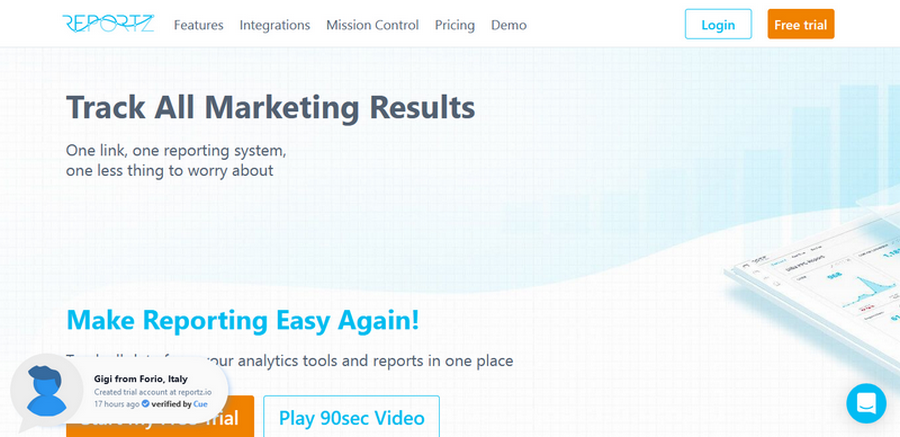 Reportz.io is marketed as "an all-in-one SEO reporting platform." It compiles real-time information from your channels, and you can customize reports with whatever KPIs you like. It is a time-saver; after you set up a dashboard you never need to bother with it again. Reports are sent out as scheduled and they can be shared with clients, the team and other stakeholders.
This tool eliminates the need for hours of data entry and analysis every week and provides clear and concise reports.
Features
Use it to produce white-label SEO reports that have your logo or your client's logo. You can also customize fonts, colors, date ranges and more.
The software allows you to integrate data from multiple platforms. These include Analytics, Search Console and AdWords, SEMrush, Ahrefs, Rank Ranger, Facebook and Instagram.
All dashboards are password-protected and you can regenerate URLs if there is a security breach.
You get a variety of customizable dashboards and pre-built report templates. Each dashboard has access to unlimited widgets. You can create your own widgets to gather data from various channels.
All dashboards are updated in real-time.
Set up reports and forget about them. They'll be sent out to clients and team members as scheduled.
You can import data in CSV format. Reports are exported in PDF or viewed through a URL.
It has a friendly UI and is optimized for mobile.
---
Conclusion
Reporting is one of the core functions of an SEO agency. You must provide clients with accurate and reliable data that shows how their campaigns are progressing. While it's possible to collate metrics from different sources manually, it doesn't make any sense. It is a time-consuming and repetitive task.
SEO reporting software is designed precisely for this purpose. It retrieves data from all your sources and formats it into reports that are clear and concise.
Good reporting software automates reporting – you input the metrics you need and it does the rest.
All the software in this post will get the job done, but if we had to pick one we would go with SERPed.net. It allows you to pull data from multiple platforms and customize reports to suit your clients.
It comes bundled with dozens of other SEO tools that you can use to optimize your site and stay ahead of the competition. The fact that it's affordable as you scale makes it even more attractive. It is well supported, and the team adds new features all the time.
Click here to see our other recommended SEO agency tools… If you're looking for SEO dashboard software click here…