The 6 Best SEO Chrome Extensions in 2022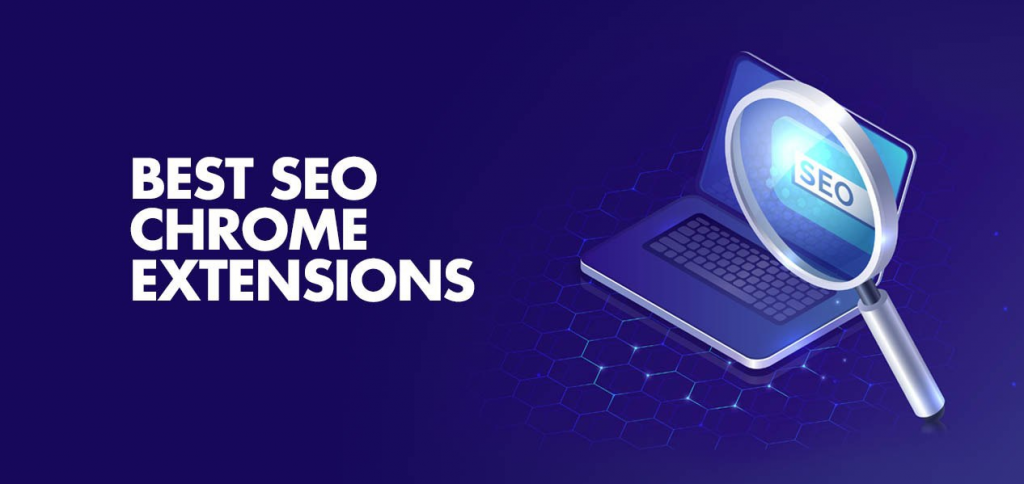 Your browser is probably loaded with extensions to make life easier. Are any of those a Chrome SEO extension?
Experienced online marketers understand that SEO is the lifeblood of their business. It's how they get found. Without it, they'd be lost somewhere in the billions of websites out there.
To do good SEO requires tools, and cost more than small businesses are willing to pay. True, there's a raft of free SEO tools out there but most of them have limitations designed to make you go for the paid version.
SEO Chrome extensions are one way to navigate this problem. They are usually cheaper than buying software packs and they make the process of optimization faster and more efficient.
Because there are hundreds of SEO Google Chrome extensions out there, choosing can be a time-consuming affair. This post brings you 6 of the best. We'll look at their features and drawbacks (no software is perfect).
---
Why Do You Need SEO Extensions?
Even as you read this you may be asking yourself, "How can Chrome SEO extensions be helpful?"
Google owns more than 90% of all searches. About 65% of these searches take place on Chrome. Owned by Google, this particular browser is optimized for this search engine, has loads of inbuilt features and fast load times.
Online marketers spend countless hours each day optimizing their websites for Google searches. To optimize a website properly, you need powerful software.
Fortunately, for SEO, there are Google Chrome extensions that you can use to make life easier. While they have a bit of a learning curve, once you understand how to use them they'll save you time and provide the SEO information you need to optimize your site.
Browser extensions are usually cheaper (many are free) than apps and come in handy for those who don't have a lot of money to spend on tools.
The best SEO Chrome extensions help formulate strategy because you can see competitor metrics instantly. Their ability to provide instant analytics makes them a favorite for many SEO experts.
Note: Although many extensions are said to be "free" they are really not. Downloading them onto your toolbar is free but you often have to pay to access the actual SEO tools with additional features and in-depth metrics.
Some browser extensions are completely free but they tend to have limitations. Before you download look into what an extension has to offer and whether it meets your needs. Check how much you have to pay for additional features in case you need them in the future.
Some marketers get around this hurdle by downloading a bunch of different extensions that have varying functionalities.
---
The 6 Best SEO Chrome Extensions
Read Review
View Listing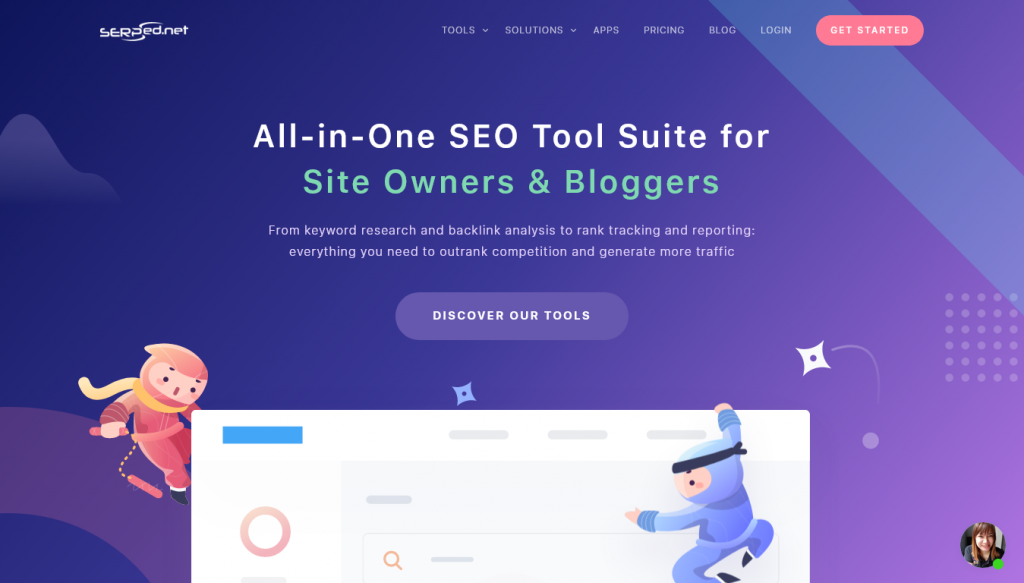 The SERPed.net SEO extension allows you to check SEO metrics on the fly. You can find keyword ideas and see what keywords the competition is ranking for. It also shows you backlink metrics for any URL.
This extension also provides Moz and majestic metrics, SERPed rank, Alexa Rank and social signals.
The SERPed.net SEO extension brings together all SERPed.net tools to your browser, making work easier. You can use it to run a content analysis, check backlinks for different URLs and check the health of a domain.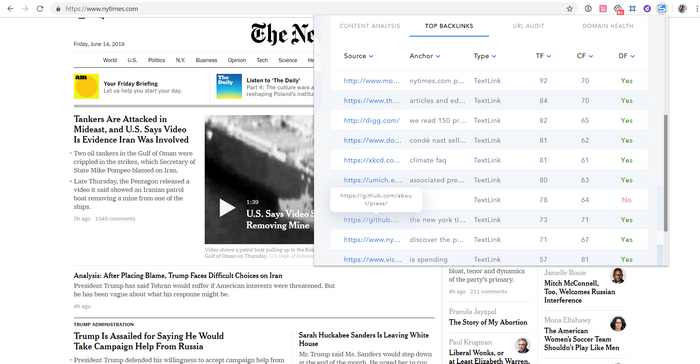 Here's what else you can do with this Google SEO Chrome extension:
Use What Ranks Where to find out what keywords a URL ranks for.
Keyword Analyzer gives you an idea of the competition for any keyword.
Site Explorer provides various domain metrics.
Add backlinks fast with the Backlinks Manager feature. You can use this same feature to remove backlinks if they become inactive or no-follow.
Enable the SERPed.net button in Google results so that you can see search volume and cost per click of keywords you search.
Note: You need to have a paid SERPed.net account to access the features provided by this extension.
Get SERPed Chrome Extension Now
---
View Listing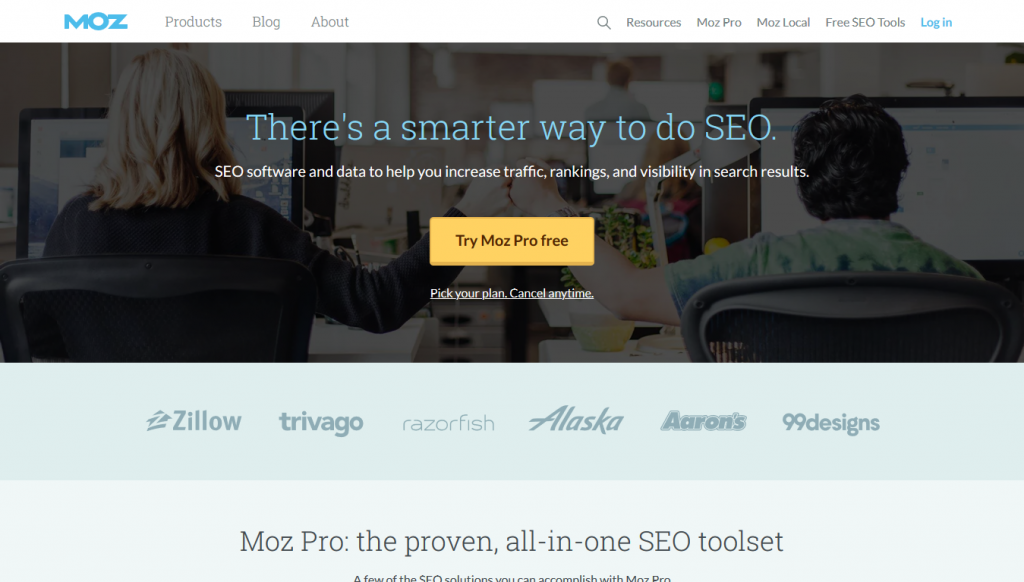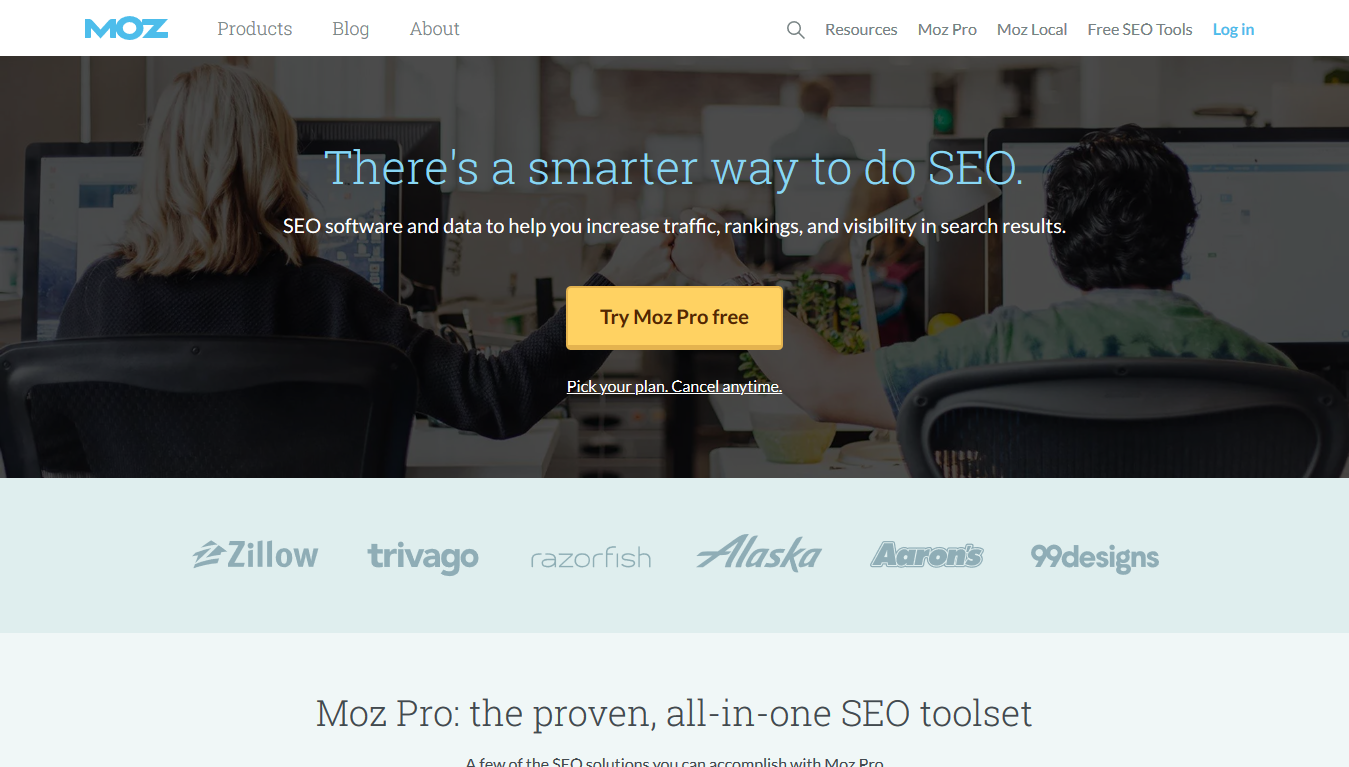 The MozBar extension provides all the important search engine optimization metrics on your toolbar for any URL you search on Chrome. You can use it to do custom searches by search engine, country, region and city. It also shows you the page authority and domain authority of any domain you search.
Use this extension to compare link metrics and differentiate links by type and highlight keywords on any page you search. All results can be exported to a CSV file for easier analysis.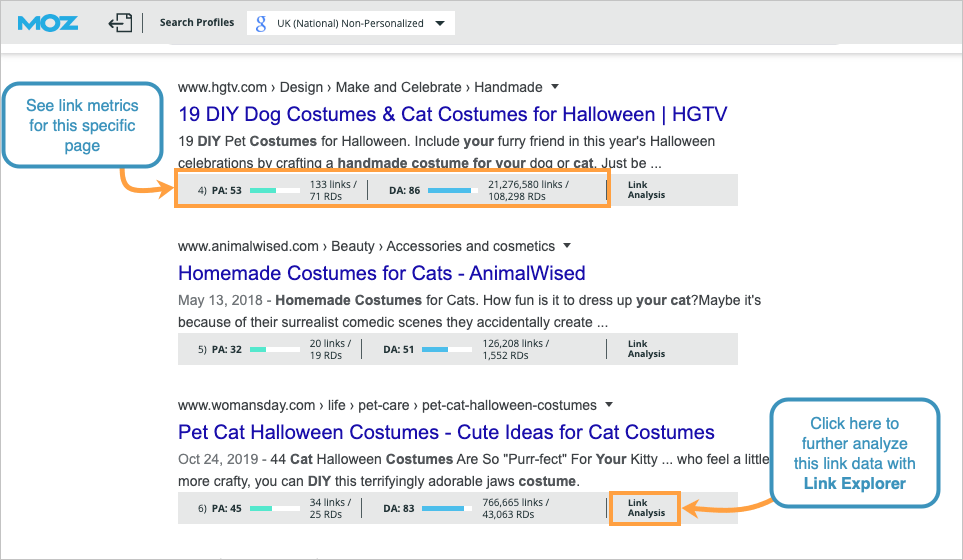 If you get a Moz subscription you gain access to additional features:
You can see the keyword difficulty for any keyword you search
It provides content suggestions and instant page optimization tips
You can analyze any domain in detail to get metrics you can use to improve your strategy.
Note: MozBar is free but with limited functionality. If you're using the free version you won't see things like the number of links pointing to a domain. To access essential features like the Keyword Difficulty Tool you need to have paid Moz subscription.
---
View Listing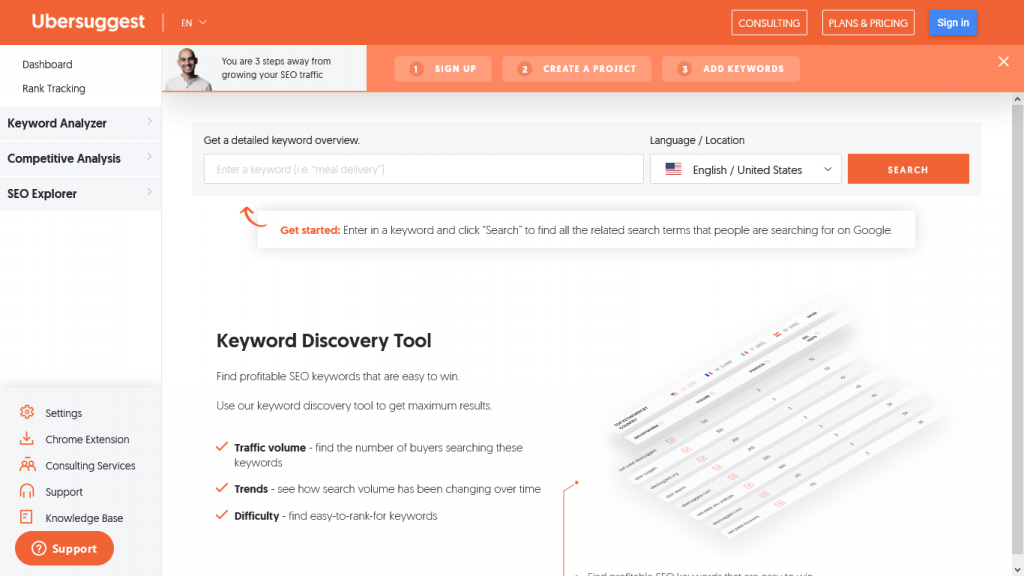 The Ubersuggest extension specializes in SEO and keyword discovery. You can use it to see keywords by search volume and the cost per click for any keyword. Type in any URL to see its data and the keywords it's ranking for.
When you search on Amazon, YouTube and other popular sites this extension will also give you search metrics from those particular sites.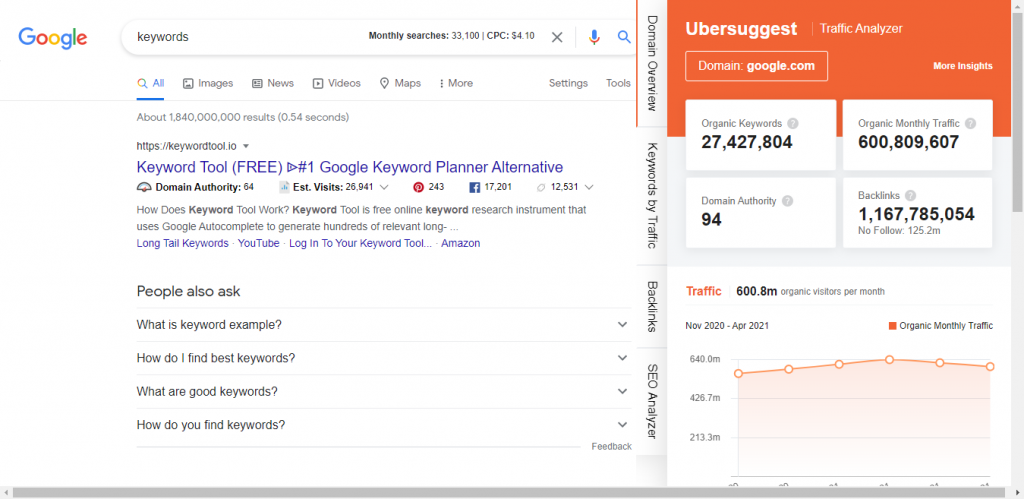 You can get more detailed analysis of URLs and keywords by clicking on the "View All" button within the extension:
It provides graphs that show monthly search trends for both mobile and desktop for any keyword.
You can see search traffic estimations for the first 10 URLs of any search.
This extension provides backlink data: referring domains and authority of referring domains.
For each website you visit you see a brief overview – the number of organic keywords the site ranks for, estimated traffic, domain score and number of backlinks. You can see data going back 6 months.
The extension provides tips to help you rank pages.
Note: If you want in-depth analysis, you have to go to the app, and it only gives you three free searches a day.
---
View Listing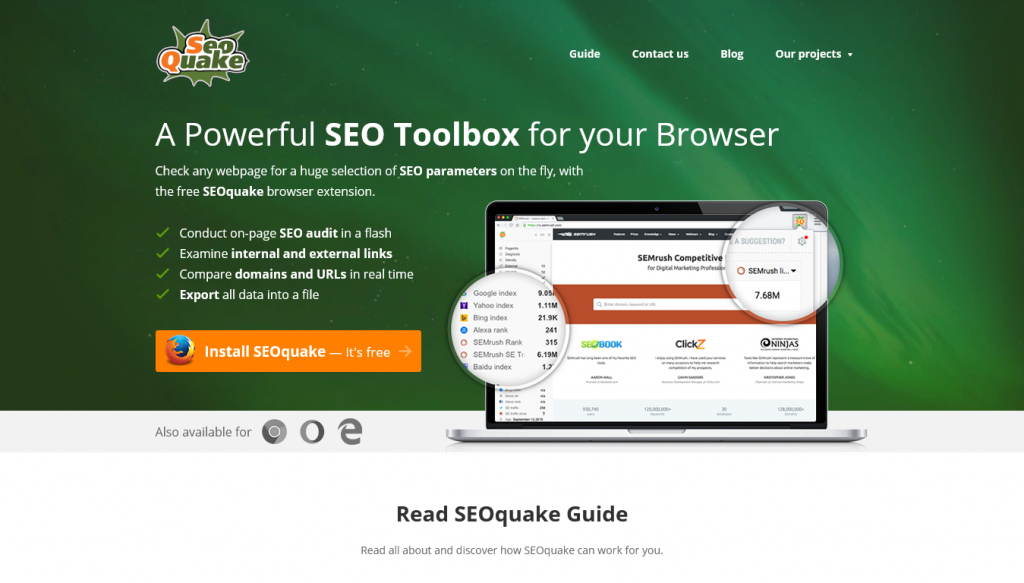 SEOquake is a free SEO Chrome extension that provides you metrics in an instant. It shows you keyword difficulty, checks social media stats for any URL and you can use it to compare URLs. You can use SEOquake to analyze internal and external links.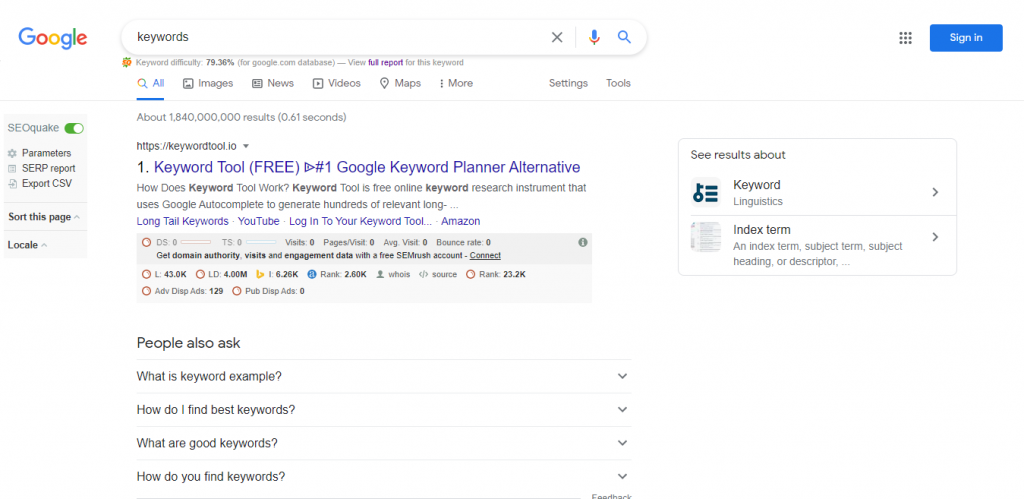 This extension pulls data from Alexa rank, Semrush and more. All reports can be exported in CSV format. You can pull reports for a full domain or for single pages. This extension allows you to customize settings to see the metrics that matter most to you.
Note: SEOquake is only free for the first 100 pages you audit.
---
View Listing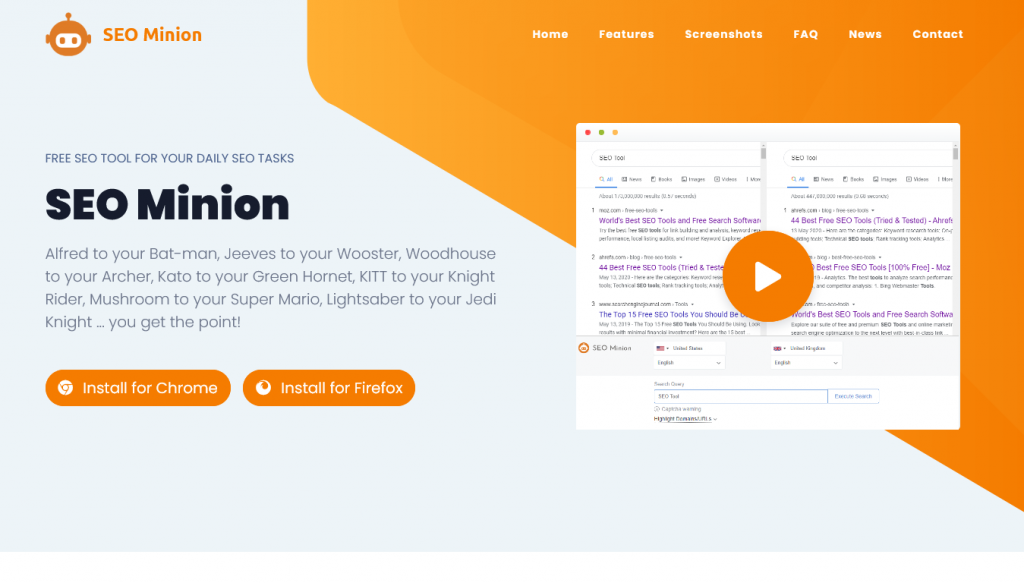 SEO Minion is a free extension that works for both Chrome and Firefox. It gives you a quick SEO overview of any webpage. It's able to analyze backlinks and SERP results as well. The extension also provides PAA (People Also Ask) for any Google search.
This extension was created by the same team that brings you Keywords Everywhere (another excellent SEO extension, see below).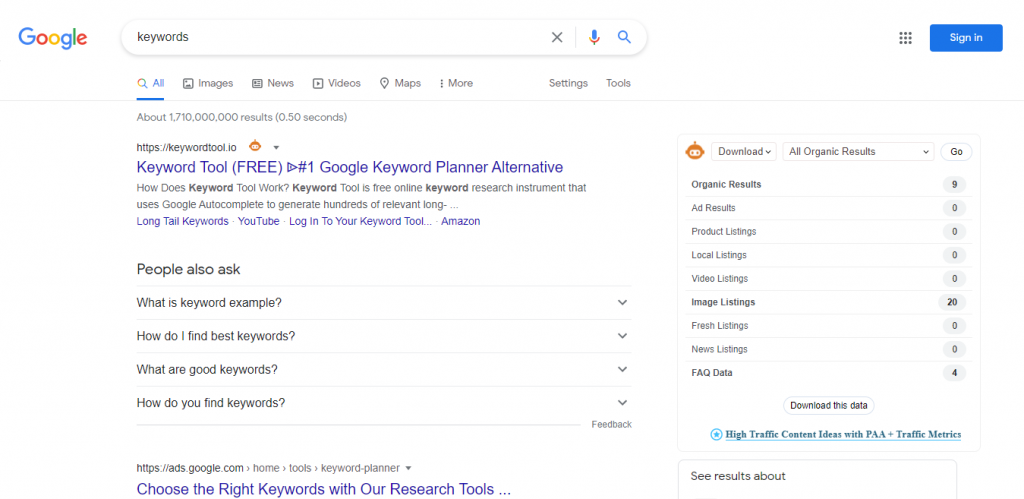 While it doesn't provide you with keywords, it gives you lots of other important metrics that show you how healthy a page is at a glance:
Use it to analyze on-page SEO (empty or long title and description tags, heading analysis, image-alt attribute analysis and more.
It highlights all links on a URL and shows you how many are internal, external, follow and no-follow.
The extension checks for broken links. It also highlights links with errors and redirects.
Use the Preview SERP feature to see how your page looks like in search results.
The SERP Location Checker shows you which websites come in at the top of any keyword search.
You can also use this extension to look at your content before you publish it. It will show you what you may have missed and any formatting issues that may need correction.
Note: While this extension provides excellent SEO analysis on the fly, it's not the most convenient for websites with multiple pages. It takes a long time to check and the results aren't always accurate. If you want to use it to check multiple URLs at once it's a good idea to back it up with another tool.
---
View Listing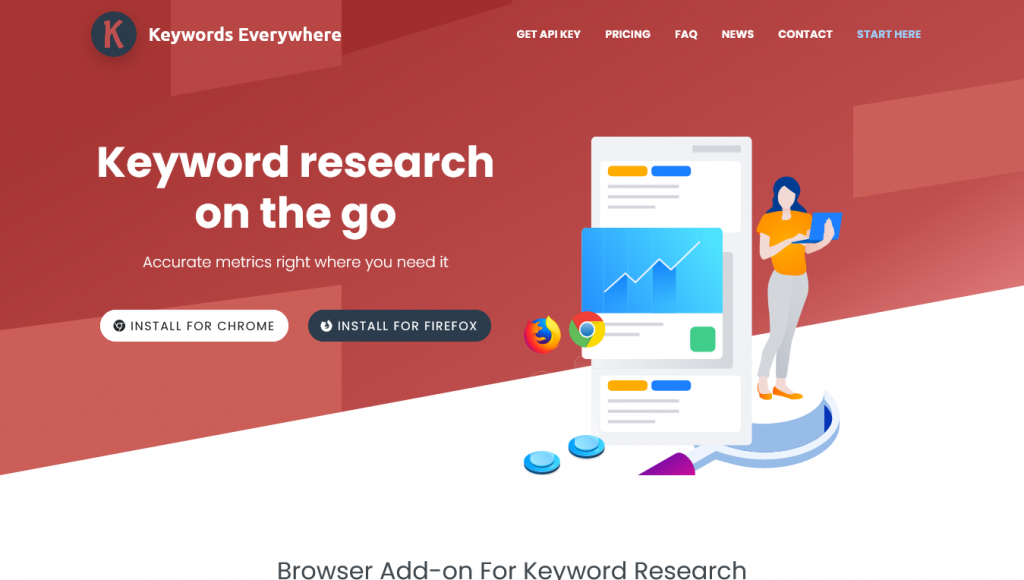 This extension will show you keyword volume, competition and CPC data for more than 15 popular websites. It has built-in tools that show you what keywords any page is ranking for, long-tail keywords and trending keywords.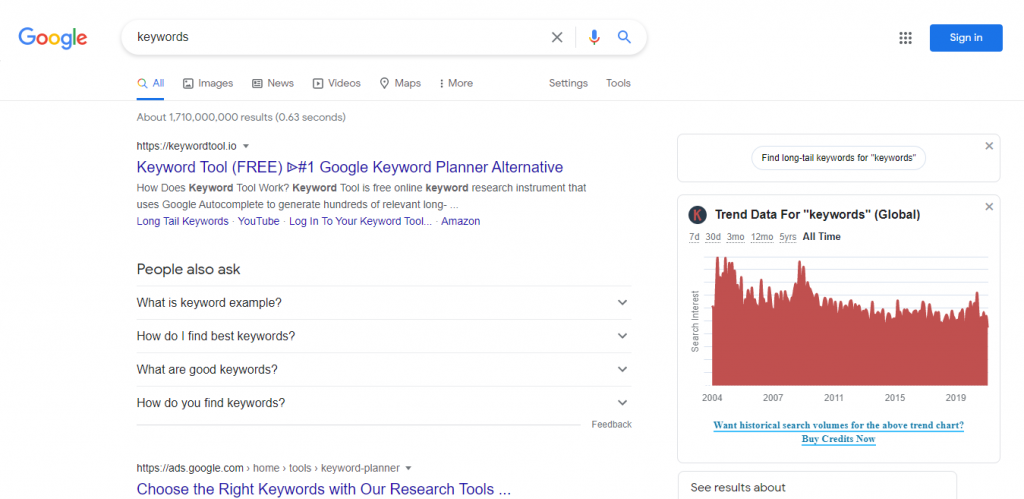 There is a free and paid version. The free version has the following features:
Keyword Widgets shows you related keywords, People Also Search and Long-Tail Keywords. However, you only see the keywords, not volume data.
It provides trend charts, which are useful as you cannot see volume data.
Traffic Metrics provides monthly traffic estimates on any URL
On-Page Analysis is a feature that you can use to check keywords on a page but it doesn't provide volume data.
Competitor Gap Analysis helps you find keywords that competitors are ranking for (and which you aren't).
Note: While this tool provides valuable insights, the fact that it doesn't provide volume data doesn't help. If you want to see actual metrics you have to buy credits, and although they don't cost much some extensions can give you this information for free.
---
FAQ
How can I add extensions on Google Chrome?
The process is simple. Visit the Chrome Webstore and search for the extension you want. You will see an installation button. Click on it and follow the prompts.
The extension will appear on your Chrome extensions list (the jigsaw icon on the top right of your screen).
To pin the extension on your toolbar open the list, look for the extension and click on the pin.
Why are extensions important?
Extensions matter because they help you perform other-wise time-consuming and tedious tasks with ease and speed. They are conveniently available on your toolbar and provide added functionality to your browser.
Many free extensions provide excellent information but you may need to get the paid version of the app if you want added functionality and in-depth analysis.
Can extensions read my password and collect user data?
It depends; some SEO Chrome extensions have access to individual URLs. They can capture credit card details and passwords. They also collect user data because it enables them to function properly and improve results.
Can extensions be harmful?
Yes; they can be used to spread malicious code. Some fake extensions in the Chrome store are used to spread spyware, but they are few and are weeded out regularly. Before you install an extension look at user reviews and see whether there have been any complaints.
Extensions vs. Plugins: what's the difference?
Plug-ins and extensions confuse many, and the terms are often used interchangeably. However, they are different. In a nutshell, plug-ins add functionality to a webpage while extensions add functionality to a browser.
---
Conclusion
Adding an SEO Chrome extension is one of the easiest ways to get your SEO up to speed. They give you important metrics on the fly and some of the best ones are free.
However, there are hundreds of Google Chrome extensions out there. There is a danger of becoming installing so many that you get overwhelmed by the data you receive.
The best thing to do is choose extensions that match your needs. For example, if you need keyword information, check the best SEO Chrome extension for keyword research and look at the information it provides.
If we had to choose one from this post, we would go with the SERPed.net SEO extension. It provides accurate information for the SEO metrics that really matter. It also has a vital backlinks manager function – you can add and remove backlinks on the fly.
---
Compare SEO Chrome Extensions in 2022