4 Best SEO Dashboard Software in 2022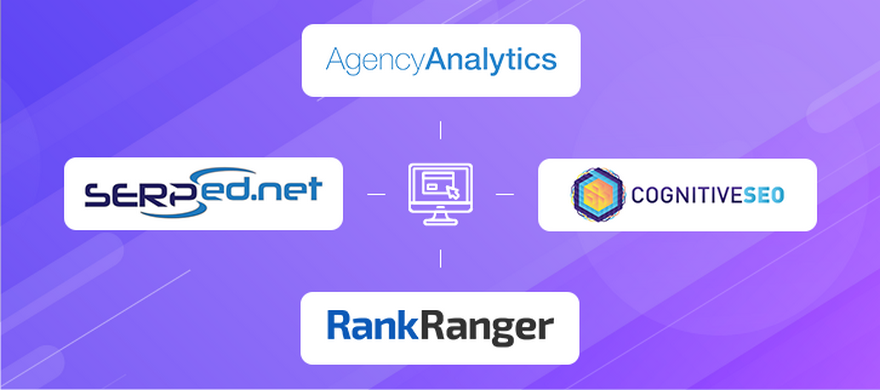 What is SEO dashboard software, and why should it matter in 2020?
Search engine optimization is the core strategy for digital marketing. It's the process of getting your website ranked, or "visible" in organic traffic. The reason SEO exists is to generate content that users are looking for whenever they type in specific search terms. The whole process is monitored by search engines (Google especially) who issue guidelines that marketers must follow to rank.
SEO is competitive; every marketer, in every niche, wants their website to rank at the top of search results in Google. Obviously, this is not possible. There is only one number one slot, and the website that does the best SEO is the one that gets it.
To know whether or not your SEO strategy is working you have to monitor it constantly. SEO has many moving parts: think page traffic, link building metrics, keyword ranking, search traffic, and more.
How do you keep track of all these? How do you make sure that all SEO strategies are getting proper attention and action, and no area is neglected?
Sure, you can do it manually by digging through tons of metrics every so often, but that isn't the best use of your time. You'll do it faster and get more precise results if you use SEO dashboard software.
What is an SEO Reporting Dashboard?
It's a dashboard that shows you all the metrics and KPI's of an SEO campaign in real-time. It includes metrics like organic traffic, web conversions, number of backlinks, rank tracking, bounce rate and more.
An SEO client dashboard is necessary because it saves you the trouble of interrogating each metric individually. You can see, at a glance, the bigger picture about your campaign and also hone into the finer details.
Because a reporting dashboard displays live data, you can take corrective action right away and stand a much better chance of ranking on the top for Google.
---
Best SEO Dashboard Software
SERPed is more than dashboard software; it is a comprehensive SEO solution that brings together more than 40 tools to help rank websites.
For keyword research, the software has 4 different tools: Ultimate Research, What Ranks Where, Keyword Analyzer and Long Tail Keywords.
If you want SEO analysis, there is Site Explorer, Bulk URL Analyzer and Backlinks Explorer.
For site management, you have a choice of 7 different tools and for rank tracking there are 5.
That's not all; you get a host of tools for client acquisition and reporting.
With this many tools, keeping up with what is happening with your SEO strategy can be a full-time job. That's why SERPed has developed one of the best SEO dashboard software available today.
You can view Site Reports and Notifications and Alerts. The Site Report module lets you choose the SEO metrics that you want to appear on your dashboard. You can save report templates and use them in the future, or you can create different templates each time.
Notifications and Alerts is a module that tracks and reports all changes within your SEO projects. It tracks rankings, for example, and lets you know every time there are changes. This allows you to take corrective action immediately, and nothing falls through the cracks.
SERPed also integrates all the data from your Google Analytics and Google Search Console accounts to help users get an all-around view of their SEO metrics and tasks.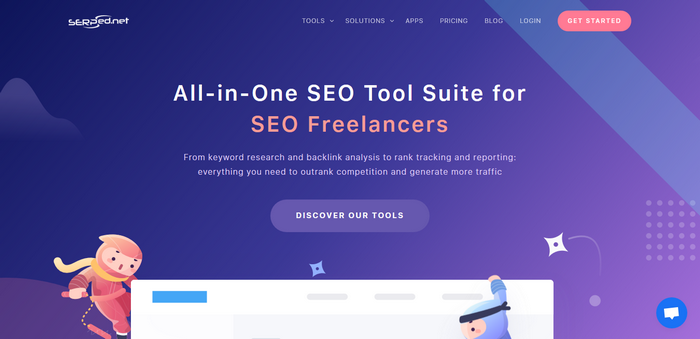 SERPed Features
Agency Module – As the name suggests, this is a unique add-on that's designed for SEO agencies. Use it to create customizable dashboards for clients that they can log into at any time to see SEO performance stats and suggest changes to any part of the SEO strategy. The main purpose of this SERPed add-on is to build better clients relationships as it allows for transparency. The add-on allows you to track all your clients in real-time from one place. Agency Module is easy to use, and there are demonstration videos to guide you through the setup. Easier client communication and transparency will help you get more SEO clients for your business.
Keyword Research – As mentioned earlier, the keyword research feature has 4 different tools to provide you with the best KWs for your SEO project. They are linked to Google Analytics API so you get the latest data. You can search KWs based on a target language, country, related domains and much more.
SEO Analysis – This SERPed feature allows you to do in-depth research and analysis into any domain including data from Google Analytics API.
Site Management – You can see all your websites and blogs in one easy-to-read screen, and you can also track your competitors. Regular audits show you all the issues that are affecting ranking and provide recommendations on how to fix them.
Rank Tracking – You can track rankings locally and by country across different search engines.
Client Acquisition – For this feature, you get Site Auditor Pro, which automates lead generation. Other tools within the software will help convert those leads (from organic traffic) into customers, increasing your conversion rate.
The software has a Link Indexer, Index Checker, Content Curator, Content Restorer and WP Manager.
---
View Listing
AgencyAnalytics is an SEO dashboard software for agencies. It helps monitor and report on clients' SEO campaigns, and you can see all metrics on custom dashboards. You also get Google Analytics integration, social analytics, SEO audits, backlink tracking and reporting software, a keyword tracker, and more to improve your organic search results.
If you are not happy with the standard dashboards that are provided by the software, you can create your own to provide clients with whatever metrics they would like to see. It is a great tool for marketing agencies that offer social media and email marketing to clients.
You can white-label each client's SEO dashboard and provide them with logins so that they can see the progress of their campaign at any time.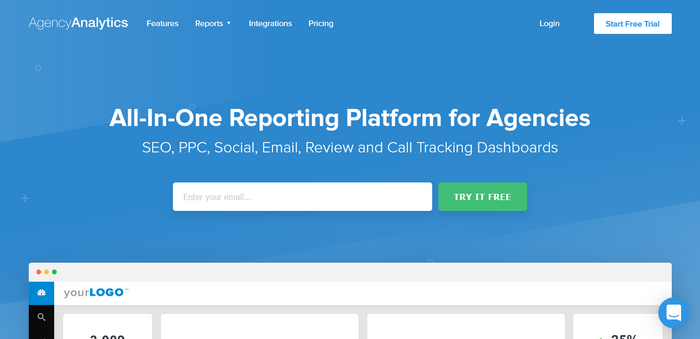 AgencyAnalytics Features
Automated Reports – When you are dealing with many clients, it's important to automate processes such as reporting, and that's exactly what you get with AgencyAnalytics. Choose the metrics you want your clients to see and when you would like the reports delivered and the software does the rest. A comments section allows you to explain the importance of different SEO metrics on each report.
Marketing Integrations – Different clients use different marketing software, and AgencyAnalytics can integrate data from most of them. Integrations include Ahrefs, Avanser, BirdEye, ConstantContact, Facebook Ads, Google Ads, Google Search Console, MailChimp, and dozens of others.
Custom Marketing Dashboard – The software has a selection of widgets that you can use to customize reports for each client. You can further customize by uploading client color schemes and logos, and you can provide reports for different regions in different languages.
SEO Tools – A selection of SEO tools ensures that no part of your campaign is neglected. They include a Keyword Rank Tracker, Monitor Backlinks, a site audit tool, a competitor analysis tool, and more in order to analyze your organic search results.
Agency Management – Managing your agency is easier with AgencyAnalytics. You can assign and track tasks within the team, and all team tasks can be monitored on a dashboard without having to use Google Analytics.
---
View Listing
CognitiveSEO is a website analysis tool that combines a variety of features to help monitor SEO and improve website performance. The tool is ideal for all sorts of businesses, big or small. One of the biggest benefits of CognitiveSEO is A/B testing; you can design campaigns and landing pages and test them for errors before they go live.
You can crawl your site as soon as a campaign goes live. For a more in-depth look at your site metrics, you can connect to Google Analytics and Google Search and get data such as your bounce rate, search traffic data and much more.
CognitiveSEO is a great tool to use if you would like a comprehensive site audit. It will identify broken links, highlight duplicate content, point out pages that have slow response and load time, identify incorrect canonical tags, malware threats, unsecured content, and more. Having a view of these issues can help you achieve your SEO goals.
For each problem highlighted by the software, it provides a recommended solution and an action plan.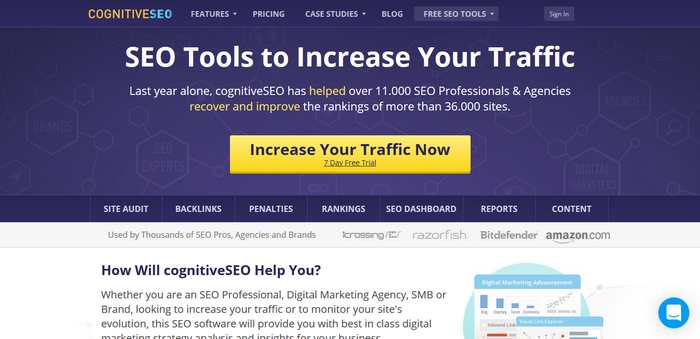 CognitiveSEO Features
Detailed site audits – This tool helps you get an understanding of why your site isn't ranking by providing a complete list of problems as well as recommended solutions to fix them. Dealing with errors quickly ensures that you can get ahead of your competition and achieve your marketing goals.
Backlink analysis – CognitiveSEO aggregates backlink data using trusted databases to give you insights that you can use to rank your website. You can also see what backlinks your competitors are using so that you can develop a comprehensive strategy to outrank them.
Recovery from penalties – Every once in a while Google releases a new algorithm that comes with penalties. Penalties can be devastating for rankings. CognitiveSEO helps identify unnatural links and keep your rankings on an even keel.
Daily ranking data – Do you know how your keywords are ranking? With CognitiveSEO you can see the performance of each KW daily so that you can make the necessary changes to your strategy on this channel. You can track KWs by country, language, city, desktop and mobile and the details are shown in clear charts.
Reports – You can see all the results of your SEO campaign in the detailed reports that are provided by this tool. Reports can be customized to suit your needs and you can also pre-program them to go out to clients on selected days.
Content – CognitiveSEO allows you to see what content is ranking best in your niche and adjust your own so that you can compete. You can use the software for auditing your content to see what works and what doesn't.
---
View Listing
Rank Ranger puts together a series of tools for in-depth SEO analysis. You can use it to track your own keywords as well as those of your competitors, do backlink analysis, keyword research and analyze domains.
You can integrate a variety of tools including AHRefs, Moz, Google Analytics and MajesticSEO.
This tool aims to help sites rank better, taking into account their unique circumstances. You can track your ranking daily, weekly, and monthly, keep an eye on website visibility, compare your site ranking with competitors, track fluctuations across landing pages, check bounce rate, see site traffic on different devices, and more.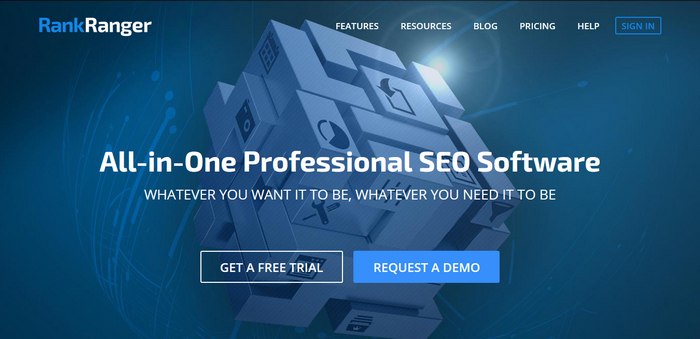 Rank Ranger Features
Search Engine Optimization – Rank Ranger has a host of tools for SEO. They include a rank tracker, local SEO tracker, mobile SEO tracker, link manager, landing pages and on-page optimization.
Marketing – To help you stay ahead with your marketing strategy Rank Tracker offers competition analysis, an insight graph, keyword research, marketing KPI and other tools. You can use them to see what your competition is doing and adjust your strategy accordingly.
Social analytics – Get an in-depth analysis of your social media strategy for Facebook, Twitter, LinkedIn, Instagram and YouTube. You can see the most popular page content, which geographical regions your content trends and you can also track links and see page views.
White label SEO – The white label SEO makes this a great dashboard software. You can customize reports to suit your needs (or your clients') using graphs and widgets. You can time reports to go to clients on pre-determined dates and times, and you can share the report portal with clients so that they can log in whenever they want an update on their campaign.
Integrations – Integrate apps like Google Analytics, Search Console, PPC, WeDevelop and API.
---
Conclusion
While there is a lot of SEO reporting dashboard software available today, not all of it provides the right metrics to help you track your campaign and make adjustments accordingly, and on time.
The four that we have discussed in this post are selected for their strong features, their ability to provide custom reports and affordability. Whichever one you choose, you will have an SEO dashboard to help you stay on top of your niche.