5 Best SEO Agency Software in 2022

What is the best SEO agency software, and how can you identify it? Read on to find out.
Running an SEO agency is a complicated task. There are dozens of metrics to track for each client. You also have to stay on top of the latest optimization strategies and keep your eye on KPI's so that you can adjust strategy accordingly.
It's almost impossible to do this manually, especially when you are dealing with multiple clients. If you tried, you'd end up with endless spreadsheets, and waste a lot of time. SEO agency software is designed to automate this task.
Benefits of SEO Agency Software
SEO agency software does more than make work easier. It plays a key role in client fulfillment, and that's why it's important to choose carefully. Here are some of the reasons why it has become a core part of the business:
Agency managers take time to find the best tools is because they help streamline the client management process. SEO has many moving parts, and if you are managing more than one website you need to find a consistent approach across the board so that you can get good results for each client. SEO agency software is the only way you can do this.
Another benefit of investing in this kind of software is that it provides you with real-time data. If you can see what is happening on each website, you can make the required changes and rank faster. A good tool will provide you with daily stats and suggest how you can tweak your strategy for better results.
Automatically generated reports are another benefit of SEO agency software. Imagine having to compile reports that include all the metrics for each client on a weekly or monthly basis. It's a time-consuming task, and your reports will be likely full of errors. Agency software automates this task, and you can get reports that highlight all sorts of metrics with the click of a mouse.
The best SEO software will help all the websites that you manage rank faster, which makes your clients happy. To grow your client base you should invest in the best agency software you can afford.
Efficiency is perhaps the biggest benefit of SEO agency software. Not only are you able to complete daily tasks faster, but you can also track what each employee in the agency is doing, and you know exactly what needs to be done and when it should be done to improve rankings. You are also able to eliminate any parts of your SEO strategy that don't give desired results.
Different Types of SEO Agency Software
There are several different types of SEO agency tools. They include website audit software, On-Page SEO software, Off-Page SEO software, SEO reporting software, and All-in-One software. We will briefly go through each and give one or two examples.
Website Audit SEO Agency Software
The SEO process begins with a site audit. For each new client you sign up, you have to go through their site to establish how much optimization they have done so far and highlight existing gaps. It lays the basis for an SEO strategy.
Certain tools are designed to do this. They uncover duplicate content, show you broken links, analyze meta-descriptions and more.
Examples of such tools are Screaming Frog and Raven Tools.
On-Page SEO Agency Software
On-page SEO is all about content, and as you know, content is everything when it comes to ranking. If it's relevant and well-written it will help your website rank much faster.
Certain SEO agency software is designed to help optimize content and bring in more organic leads.
It can scan through top-ranking posts for certain keywords and compile a list of additional high-ranking keywords to help you develop better content. It also recommends keywords that you can add to existing articles.
Examples of such tools include page Optimizer Pro and Ryte.
Off-Page SEO Agency Software
These tools are all about backlinks. They automate tasks like link analysis, link building and find authoritative backlinks.
The best off-page agency SEO tools explore websites to find authoritative links, and they can show you what links your competitors have on their site. You can also see the trustworthiness of different backlinks on your site.
Examples of such tools include Majestic and Buzzsumo.
SEO Reporting Agency Software
For each task you undertake during the SEO process you need to know how effective it is, and this requires detailed reports that you can generate any time. Some SEO tools are designed just for this.
They can analyze and produce reports on things like keyword analysis, mobile performance, visitor demographics, browsing behavior and more.
Examples of such tools include Google Analytics and AgencyAnalytics.
All-in-One SEO Agency Tools
These are tools that combine all of the above tasks. They are a great option for anyone running an agency business because they manage and measure all aspects of SEO. Not only do they streamline work, but they also improve efficiency.
They will, for example, help you find the best keywords in any given niche, track ranking, see what your competitors are doing, analyze backlinks, point out duplicate content and more.
There are a lot of all-in-one SEO agency tools, and this post focuses on the ones that provide the best ROI. Each of the tools discussed here will improve efficiency, help websites rank faster and help you get more clients.

---
Read Review
View Listing
We looked at a variety of top SEO agency software, and we ranked SERPed first because it's the most comprehensive. It combines more than 40 individual tools that you can use to rank websites.
SERPed is the ultimate keyword research tool because it eliminates the needs for a host of others. You can use it for anything from keyword research, rank tracking, site management, link analysis, reporting and more.
It lets you see your competition and what they are doing to get their websites ranked. SERPed gives you recommendations on how you can get ahead of them with daily tips and reports.
This tool allows you to create reports that you can share with your clients, which gives them confidence in your strategy. Not only can you help your clients' sites rank better with SERPed, but you will also be able to generate more business for your agency.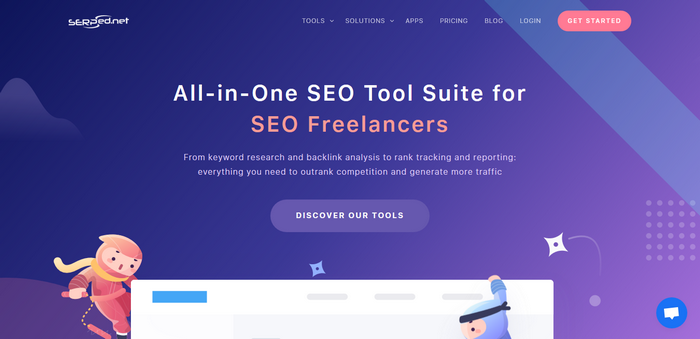 SERPed.net Features
Agency Module – This is a unique feature that allows you to manage all your clients from one location. You can see everything that's happening in each campaign in real-time, connect with other SEO tools and platforms, schedule reports, check social media performance and more. The module allows you to create customizable dashboards for each client that they can access at any time to track the performance of their SEO campaign. Creating dashboards is easy with the drag-and-drop feature.
Keyword Tools – Whether you are looking for keywords to rank content or for an Ad Words campaign, SERPed has a collection of KW research tools to give you just what you need. You can use Ultimate Research to find the most profitable keywords, What Ranks Where to find what keywords a site ranks for, Keyword Analyzer to see who's competing for the same keywords or Long Tail Keywords to find keywords that are easier to rank for.
SEO Analysis – There are three tools that you can use for SEO analysis: Site Explorer, Bulk URL Organizer and backlinks Explorer.
Site Management – You can use this tool to manage all your websites and blogs from one location effectively. All basic information is updated continuously, and you can get on-demand reports for any metrics at any time.
Domain Finding – This feature has 6 tools: Aged Domain Finder, Top Expiring (use it to find top expired domains for your niche), Expired Scraper (find expired domains with backlinks from authority sites), Auction Master (connect to auctions to buy websites on sale), Domain Hacker (find domains in more than 120 top-level domains that haven't been registered) and Exact Match (quickly find domains that match your query).
Social Exchanger – This one helps you to get organic social signals, as well as comments and reviews from social media users.
That's not all; SERPed has many more tools that will help improve your SEO agency's bottom line.
---
View Listing
We decided to include Web CEO in this list of best SEO agency software because although it doesn't have as many tools as SERPed, it has tools that can help with basic SEO. It puts together 19 SEO tools.
They include tools for rank tracking, keyword research, SEO audits, backlink analysis, traffic analysis, social analytics and you can also see competitor metrics.
With these tools you can manage hundreds of client accounts with ease and send on-demand reports. The software allows you to set up a customizable marketing platform that you can host on your own domain.
With Web CEO team collaboration is easy as you can see at a glance all the tasks that need to be done and allocate them to different team members.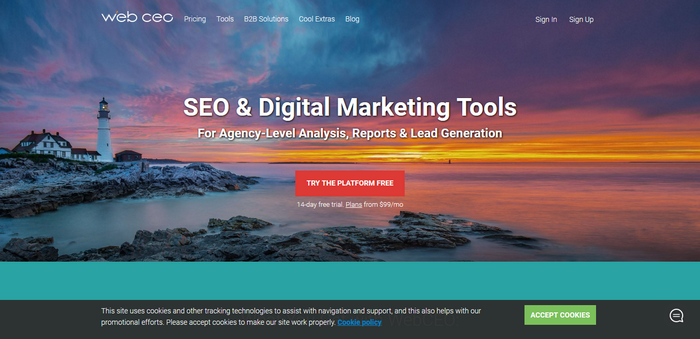 Web CEO Features
Keyword Rank Checker Tool – You can check site rankings on more than 350 search engines. It gives local and global ranking data, mobile and desktop keyword rankings, alerts about changes in ranking and more.
Keyword Research Tool – With Web CEO you don't need to use many different KW tools. It has a tool that brings you unlimited keyword suggestions, competitor keyword analysis, suggestions for local SEO and more.
Site Audit Tool – You can check your site for broken links, missing images, slow pages and other problems. You can set up the tool to send you email alerts every time it discovers a problem.
SEO Analysis Tool – This tool makes sure that your website is search engine friendly. You can use it to optimize your site for mobile.
Search Engine Submission Tool – Find popular blogs, photo and video sharing communities where you can promote your content for maximum visibility.
Competitor Metrics Tool – See what your competitors are doing so that you can come up with strategies to outrank them.
---
View Listing
SEMrush remains one of the most popular SEO agency software. It is made up of more than 40 tools for SEO, social media, content, backlinks, market research and more.
One of the reasons why SEMrush is popular is the price – the cheapest package costs less than $10 but provides enough tools to help any small or mid-sized business to rank.
For agencies, SEMrush has custom solutions that cost more, but that can be adapted to suit your business. You can use SEMrush for Enterprise to do SEO, improve paid traffic through PPC, deliver better content, improve your social media strategy and do market research to find out what your competitors are doing.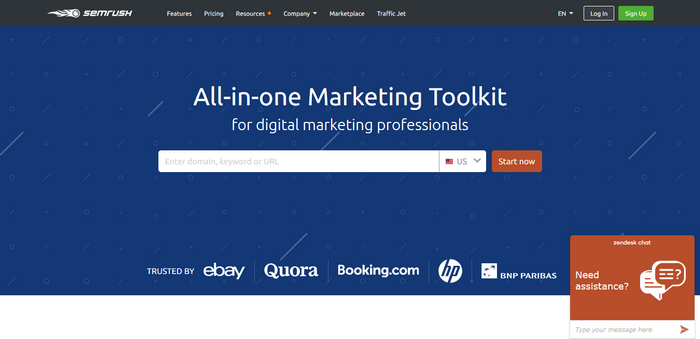 SEMrush Features
Keyword Difficulty Tool – Use this tool to find which keywords have the least competition. By seeing the percentage difficulty of different keywords in your niche you're able to outperform your competitors.
Domain Comparison Tool – By comparing domains side by side you can see how much competition exists in a niche. The tool will show you which keywords competitors are using, how they are ranking in organic search results, which unique keywords they may be using and more. All this information will help you come up with a strategy to rank better, faster.
Charts – This tool allows you to see where your strategy may be failing at a glance. You can use key indicators to compare domains, and you can also conduct an in-depth analysis of your competitors.
Reports – You can put all client data in one report, add branding and logos and then share it with all relevant parties. Reports can be scheduled to go out at any time.
Keyword Magic Tool – This tool can give you more than 20 million KW ideas. You can group them by topic, save any keywords you'd like to use in Keyword Manager, export them to other SEMrush tools and create keyword lists to share with the team.
CPC Map – This is a tool that allows you to see how your CPC campaign is doing in different regions. It gives ideas for A/B testing and you can see what your competition is doing in SEO and CPC.
SEO Writing Assistant – This is an excellent tool to fine-tune the content on your site, and it comes with a plagiarism checker.
---
View Listing
Moz Pro is SEO agency software that offers a combination of simple and advanced tools for search engine optimization.
The software has some unique features. You can see the link authority for your whole site, not just individual pages. You can also see a competitor's domain authority and well as their linking domains.
By typing in a domain, you can see a variety of useful statistics at a glance that indicate its health. They include top pages, spam score, link intersect, link tracking, lost links and more. Using the Fresh Web Explorer you can see recent mentions of your brand online.
While the keyword tool in Moz Pro isn't very different from other tools in the same niche, there are a couple of things about it that are unique. In essence, it's more accurate than many other common tools, and it provides very useful metrics. It will, for example, show you a priority score, which is a combination of competition, click-through rate and search volume.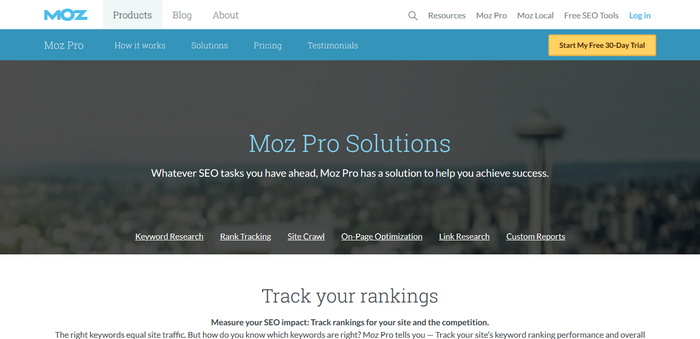 Moz Pro Features
Keyword Research – Discover the best keywords for your domain in a short time, and create a list of keywords that you can use in the future using Moz Pro. You can see which keywords rank for different sites as well as how competitive each KW is.
Rank Tracking – Find out how impactful your SEO has been for any given period using the rank tracker tool. You'll see your website's visibility on search engines, and you can also track your competitors.
Site Crawler – It allows you to find issues on your site and fix them fast. The tool tracks and provides instant reports on broken links, missing tag titles, length of titles and more.
On-Page Optimization – This tool is all about making sure that visitors to your site can find the information they are looking for right away. Search engines like pages that meet visitor needs and rank them faster. Moz Pro will show you pages that have ranking potential and teach you how to fix them so that they are more visible. It also gives content suggestions.
Link Research – You'll be able to increase the number of high-quality links on your site and eliminate spammy ones.
Custom Reports – This is a vital tool in any SEO agency software, and it allows you to create comprehensive reports that you can share with clients, the team and other stakeholders.
---
View Listing
Ahrefs is a hugely popular SEO tool. It's ideal for agencies because it can do site audits, analyze backlinks, rank URL's, analyze competitors and more. Although this software started off as a backlink checker, it has evolved and is now excellent for holistic site analysis.
Ahrefs is easy to use, and you can use it to run multiple projects for different clients at the same time. It provides in-depth metrics on keywords, backlinks and more.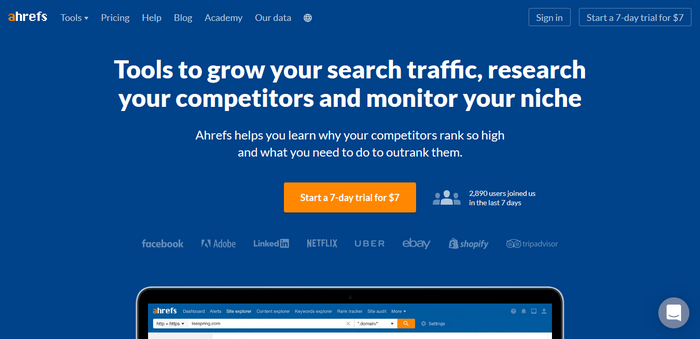 Ahrefs Features
Site Explorer – This will give you a comprehensive analysis of organic search traffic for your site as well as other sites in your niche. You can also use this tool to see the backlink profile of any domain.
Keyword Explorer – Find thousands of keywords for your niche, see their difficulty as well as how much traffic they can potentially bring to your site.
Site Audit – This tool is to help you find out what is stopping your website from ranking. You can use it to see project history. The tool looks at the overall performance of a website, the HTML tags, social tags, content quality, incoming and outgoing links and more. Group issues by type, and there are recommendations on how to fix existing problems.
Rank Tracker – You can see your rankings over a given period and compare it to your competitors. Schedule the software to send reports straight to your inbox. You can set up the rank tracker to see how you are ranking in different countries and see whether you rank in SERP features.
Content Explorer – This tool will show you the best-performing content in your niche. For most popular articles you'll be able to see monthly traffic, domain rating, referring domains, the value of the traffic and social shares. It gives you 12 different filters to help refine your results.
SEO Toolbar – Once installed, this toolbar lets you see the SEO metrics for any website that you visit. You'll see domain ratings, URL ratings, rank, backlinks and more. This is important for SEO professionals as it saves time. You don't have to do an in-depth analysis every time you want to see the basic metrics of a website.
---
Conclusion
There is plenty of SEO agency software online, but very few of these tools offered are reliable. This post has brought you what we deem to be the best based on the number of tools offered, cost, and how much return you get on your investment.
You can use this software for SEO agencies, to manage your own small or medium-sized business, or to run personal digital marketing projects.