15 Best SEO Software & SEO Tools For 2022
If you've ever tried to find an SEO tool that fits your business, you likely were overwhelmed by all the different options. Even if you've been using an SEO tool, chances are you are considering a change. Sometimes, what was a good tool at the beginning of your marketing career might not cover all bases now that technology has evolved. You also might need to manage a bigger team now and need a tool that helps you with managing different projects at the same time. You might be looking for the best SEO for a small business, or the best SEO for agencies. Choosing the right tool is all about your needs.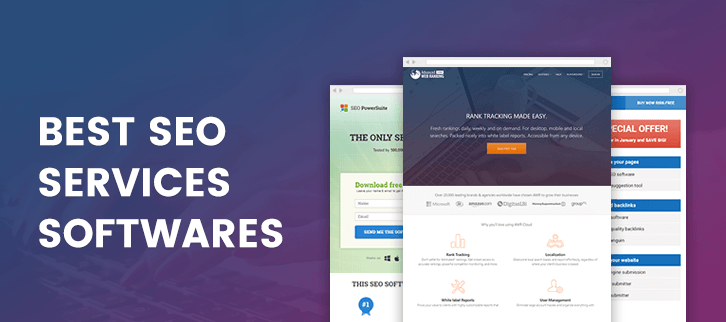 These are a few reasons why we decided to make this list: in order to make it easier for you to pick the right tool that suits your company's internal marketing team or your agency.
In this article, we'll go through the features of 15 different SEO tools. We'll show you the pros and cons of each tool and pricing, so you can decide which one suits you and your company the best.
---
1. SERPed.net
SERPed.net is an all-in-one SEO tool suite that can be used by freelancers, site owners, bloggers, in-house teams, and comes with an add-on for digital agencies.
This tool suite includes over 40 tools that will help you in all things SEO-related: Keyword Research, SEO Analysis, Domain Research, Project Management, Social Acquisition, Rank Tracking, Lead Generation, Reporting, and much more, making it the best SEO software for agencies. It's quite complete and you'll love to discover all its features.
Even being a very comprehensive tool, SERPed.net's pricing plans start at just $79 per month, which makes SERPed.net the best SEO software for small business as well. If you're on a tight budget, you'll really appreciate the wealth of tools provided, including metrics like Majestic and Moz which would be expensive if you had to subscribe to all of them. In SERPed.net, they're included.
SERPed.net is also the best SEO reporting software, including a feature that allows you to create white-label reports that will be sent automatically at the frequency you prefer. With the agency add-on, you can also create white-label dashboards that your clients can access, with all the metrics they need.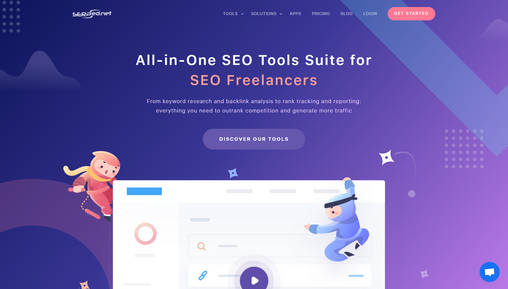 Features of SERPed.net:
Keyword Research: Find the most profitable keywords for your website
SEO Analysis: Use Moz and Majestic to get the metrics for any URL you want
Domain Research: Research aged domains for the right domain name for your project
Project Management: Track all the websites you manage from the same interface
Social Acquisition: Get real users to like, share and retweet your content
Rank Tracking: Get your rankings' evolution for the cities or states of your choice
Lead Generation: Get new leads for your SEO work using tools that are easy to set up
White-Label Reports: Create branded reports in just a few clicks and have them automatically sent
White-Label Client Dashboards: Create an SEO reporting dashboard for each of your clients to access
---
2. WebCEO
WebCEO has been around since 2000 and boasts more than 500,000 customers worldwide. It offers 17 different tools for SEO, including rank tracking, page audits, keyword research, and many more.
It also provides several B2B Solutions for larger organizations. Even though it has plenty of useful features, WebCEO's plans start at $75 per month, which is a reasonable price for the tools included. There's also a free version that allows you to play around with its features if you're not sure about getting a paid plan, although obviously the free version does not offer all the tools included in the paid plans.
WebCEO also offers SEO reports that can be emailed and published as well, although they are branded. It's a small price to pay if you're just looking for an SEO tool for internal reporting at your company. Does this make it the best SEO software for small business? Maybe, but you can always try to see if it works out for you since there are similar-priced tools out there with many other features.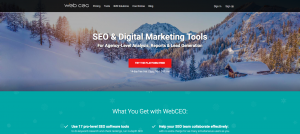 Features of WebCEO:
Keyword Research: Research and figure out which keywords you should aim to
Link Building: Manage your inbound and outbound links easily through link building tools
Landing Page Analysis: Evaluate each single landing page and find out how effective it is for search engines
Backlink Analysis: Get to know your backlinks and figure out which ones are useful and which ones are harmful
Competitor Analysis: Compare your website's performance to competitors and use their tactics to upgrade your SEO strategy
---
3. SEOPressor Connect
Do you want to improve your WordPress websites for SEO but can't find the right tool? SEOPressor's WordPress plugin is quite useful to upgrade your website with perfect tips to enhance your website's ranking for the right keywords.
More than 23 million WordPress sites worldwide use SEOPressor with great results. It offers tools for analyzing 3 billion rows of data and thousands of page rankings. It is highly appreciated by WordPress developers and SEO writers alike, and will highly improve your SEO strategy if used correctly. You just have to follow the tips and fill in all the data requested.
SEOPressor Connect can be added to any of your websites at just $9 per month.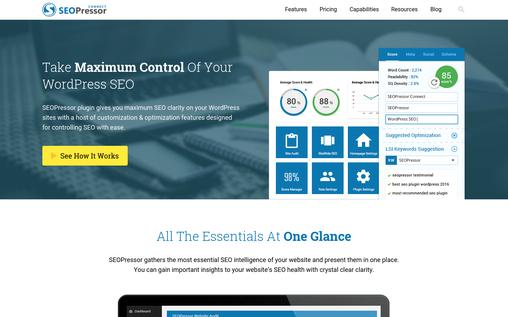 Features of SEOPressor:
Domain Analysis: SEO audits of your domain for better optimization
SEO Alerts: Alerts you for any unwanted SEO activity on your website
Keyword Analysis: Analyzes the keywords you're targeting and tells you which ones you should use
Keyword Optimization: Optimize your keywords and keyword density according to keyword analysis
Comprehensive Semantic Builder: Incorporates markup standards for you to make your website more relevant
Dynamic Crawler Control: Allows you to choose how crawlers read your website and helps you with indexing relevant pages
---
4. Raven Tools
Raven Tools has been around for quite a while. However, this tool is quite pricey, starting at $79 per month for the "Start" plan, which allows for only 4 users at once.
For agencies or companies that need more than four users, there is the Grow Plan, which costs $139 a month. Raven Tools is well known and that's why its price is so high in comparison to other tools on this list – you pay for the brand as well.
However, Raven Tools is quite complete and comprehensive on the toolset it offers. It includes integrations for over 20 data sources, including Google Analytics and Google Search Console, making it useful and a great tool for many users.
If you've been using it so far and don't feel the need to change, it might be just what you need.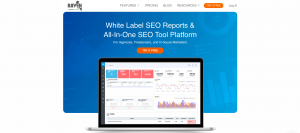 Features of Raven Tools:
Backlink Tools: Figure out harmful and helpful backlinks and structure your backlink strategy
On-Page Analysis: Analyze how any URL ranks for a specific number of keywords you have chosen
Site Audits: Crawl your website like a search engine and discover crawling errors and more
Keyword Analysis: Use your website's subject to discover the perfect keywords to target
SERP Rank Tracking: Understand the evolution of your website's ranking for specific keywords
Brand Alerts: Getting a backlink or your brand getting mentioned generates alerts
Social Analytics: Analyze social links and brand mentions on social media
Competitive Comparisons: Use Backlinks, SERP Results, Domain Strength, and more to compare yourself to competitors
Website Analytics Integration: Extract data from Google Analytics and Google Search Console
---
5. Netpeak Spider
Netpeak Spider is a desktop tool for your everyday SEO audit. It helps you quickly search for issues, perform a systematic analysis, and scrape your website.
Its tools also provide you with an analysis of incoming and outgoing links for a better backlink strategy. You can also find broken links and redirects, improving your indexing status of all pages on search engines. Netpeak Spider's tools also remove duplicate content and analyze content for better optimization, including Titles, Meta Descriptions, Headers and all other content, including alt-img tags.
Netpeak Spider has a great presentation of data as well, showing you all information in accurate graphs for easier analysis. Its packages start at $9.80 per month, so it's not a huge investment if it has all you need. It also includes a free trial with all features unlocked so you can get a feel of all the things that can be done using Netpeak Spider.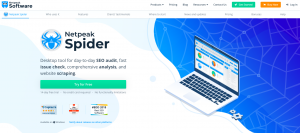 Features of Netpeak Spider
SEO Audit: Analyzes your on-page SEO according to more than 50 standards
Site Audit: Improves indexation using common files like Robots.txt, Meta Robots, X-Robots-Tag, and Canonical pages
PageRank Calculation: Improve your internal linking structure using PageRank calculation for all pages
Crawl Settings: Pick the pages you want search engines to crawl on your website and which to hide
---
6. SEO PowerSuite
SEO PowerSuite has been used for a while for many professionals, especially because of its lifetime deal of $299. It provides four different desktop apps you have to install to use its tools.
If you're confident you're going to use this tool for a long time, it's worth it the extra initial investment. However, we recommend trying out the free version first to see if you adapt. It's quite a difficult tool to manage in the beginning.
SEO PowerSuite has plenty of keyword research tools that are quite effective, and also allows you to analyze up to 10 websites for your competitors. If you've been using it for a long time, you'll probably be surprised at how other tools seem much more intuitive. However, for many users, it's the best tool they've ever used.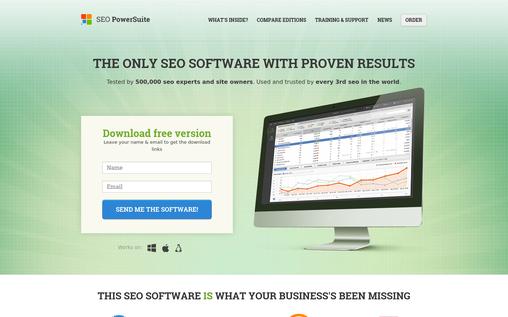 Features of SEO PowerSuite:
Keyword Research: Using data from Google Adwords and WordTracker, SEO PowerSuite offers you great keyword research tools
Link Audit: Analyse any backlink from your website and improve your backlink strategy using SEO Spyglass
Backlink Analysis: Neutralize bad backlinks using SEO PowerSuite's tools for a perfect reputation in search engines' eyes
Proxy Settings: Work offline and unnoticed if you need to
App Compatibility: Its desktop apps work on every operative system and they come in eight different languages for ease of use
---
7. Ahrefs
Ahrefs is an SEO toolset that is mostly aimed at content marketing and competitive analysis. Using its database of over 187 billion indexed pages, you can compare your website to the competition and figure out what they're doing right so you can mirror their strategy.
It also offers other common SEO tools, like keyword research, rank tracking and mentions monitoring.
Ahrefs' plans start at $99 for the Lite plan, which might be a good price for a team but maybe too much for an SEO freelancer or internal marketing team.
Some users reported that there are also issues with its accuracy, which might result in having to use other tools to complement it.
However, it's still a largely used tool that many users rely on.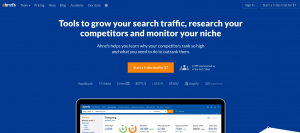 Features of Ahrefs:
Backlink Tools: Discover ways to get more backlinks and eliminate the harmful ones
On-Page Analysis: Audit any page on your website according to your keywords of reference
Site Audits: Fix errors for better indexing
Keyword Analysis: Use your website's subject and target audience to find out the right keywords to target
SERP Rank Tracking: Get historical reports on the evolution of your ranking for certain keywords
Brand Alerts: Get a report if someone links to your website or mentions your brand
Competitive Comparisons: This is the main Ahrefs' strength, using a large database to collect SEO data from billions of indexed pages
---
8. Moz Pro
Moz's first well-known tool was Moz Rank, which is an indicator of how your website ranks online according to its competitors. However, Moz Pro goes way beyond that and offers a complete SEO toolset for professionals and individuals alike.
Moz Pro offers an analysis of possible opportunities for blog outreach ready to improve your link building strategy. Another feature Moz Pro's users enjoy is its wealth of learning resources, which will be great for you if you're an SEO beginner.
Plans start at $99 per month for their most limited package. You can get plenty of other features at a lower price with SERPed, which starts at $79 per month with all features.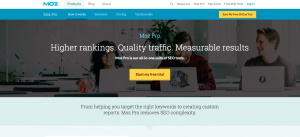 Features of Moz Pro:
Backlink Tools: Discover opportunities for backlinks and analyze the ones you already have
On-Page Analysis: Analyze any URL according to the target keywords of your website
Site Audits: Crawl your website for indexation errors and fix them
Local Marketing: Increase your local rankings using Bing Local and Yahoo
Keyword Analysis: Find your target keywords and upgrade your SEO strategy
SERP Rank Tracking: Use your target keywords to track the evolution of your rankings
Brand Alerts: Every time your brand is mentioned on other websites, get an alert
Competitive Comparisons: Compare your data to your competitors and mimic their SEO strategy
Website Analytics Integration: Import data from tools like Analytics and Search Console
---
9. SEO Suite
SEO Suite includes over 25 tools, considering itself a premium SEO tool suite at a very reasonable starting price of $119.95 per license. With this lifetime deal, you get a lot of value for your money, but it can be considered a bit incomplete if you compare it to other tools in this list.
It includes both Web Ranking Software and Dynamic Submission features, along with many others. If you're going to use it at an agency, it also has the Corporate Edition plan, which is tailored for larger companies and digital marketing agencies. This might be a good toolset if you're looking for a long-term solution for your SEO. We wouldn't recommend going for it without getting to know the tool perfectly, as it might be too much of a bare-bones tool for a more demanding agency or clients.
However, it's still quite comprehensive for SEO professionals, especially if you're used to it. We wouldn't consider it a premium option, although it has quite a few great features for SEO strategists.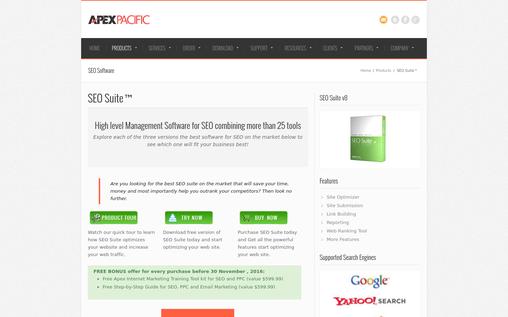 Features of SEO Suite:
Keyword Suggestion: Get an unlimited amount of keyword suggestions according to your website and choose the best for you
Backlink Analysis: Build and manage quality backlinks through SEO Suite's tools
Competitor Comparison: Analyze your competitors' backlinks and update your SEO strategy accordingly
Ranking Analysis: Get page rankings for any page according to your target keywords
Keyword Research: Use a master keyword to create suggestions for long-tail keywords according to your subject
Reporting: Get reports for your ranking keywords and other SEO audits
---
10. SEO Administrator
SEO Administrator is an SEO toolset for web promotion that covers most features of website promotion and optimization. It checks your page rank in several search engines according to your location, determining your current position for the keywords that matter the most for you.
For analyzing website log files, SEO Administrator also offers their Log Analyzer. HTML Analyzer examines your HTML pages and offers an audit of your website.
To increase your positioning on search engines, SEO Administrator provides several tools that will improve your SEO strategy according to what you've already been doing and what you can improve. Its pricing is also reasonable starting at $49 for a lifetime deal, however bear in mind SEO Administrator might not have all the tools you are looking for if you're an experienced SEO professional.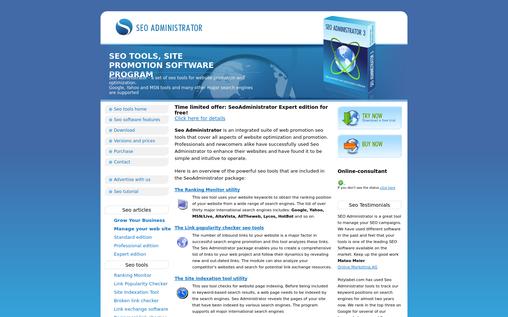 Features of SEO Administrator:
Backlink Analysis: SEO Administrator uses Google's PageRank to check the number of incoming links on your website, while creating a massive link list for any project and analyzing those links to make sure they are useful for your website
Competitor Comparison: Build your own SEO strategy by getting to know your competitors' websites well
Link Indexer: Improve your website's indexation on several search engines to get more relevant in search results based on keywords
Keyword Research: Get the most relevant and powerful keywords for each page of your website
---
11. iBusinessPromoter
iBusinessPromoter is a simple SEO software that will help you boost your page ranking on all search engines. It boasts high rates and reviews and claims to help you increase the traffic on your website. It is quite an old one, going back from 1997, so you can believe that if it has stuck around for so long it means it's got to be good.
One of the reasons that make so many professionals trust iBusinessPromoter is its lifetime deal at $249.95 per license. After all, many users believe that to be a sign of a trustworthy software rather than monthly paid softwares, although that might not be always true. Monthly paid softwares are most likely to receive updates and new integrations, while lifetime deals have fewer reasons to keep on adding new features.
However, if you're a fan of iBusinessPromoter, there's no reason to change unless you feel so. You'll probably find more features you need in other tools from this list, but it all boils down to what you and your company need. If you're a new user, iBusinessPromoter also offers a full refund if you're not satisfied with your results.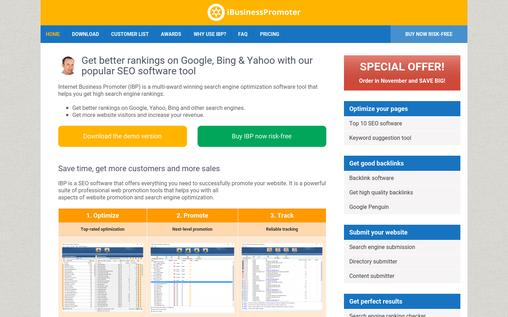 Features of iBusinessPromoter:
Rank Tracker: Provides detailed advice for improving your rankings according to an analysis of your web page for a chosen keyword
Different Tools Available: iBusinessPromoter offers you powerful tools for web page optimization, link building, keyword research and analysis, website submission, rank checking and many more
White-Label Reporting: Allows you to create white-label reports for all your clients
Search Engine Support: Offers ranking info for all search engines
Backlink Analysis: Provides help in getting the right backlinks for your website
---
12. Sheer SEO
Are you not convinced that you've found the right SEO tool for your small business? Are you paying a lot for the tools you are using at the moment?
Sheer SEO provides you with multiple SEO features such as social tracking, backlink management, white-label SEO reports and much more at a very reasonable price: $7 per month for the bare-bones plan. However, if you're feeling finicky about using Sheer SEO, you also get a free trial up to two months – which is a lot more than any of these other tools in this list offer you.
It's a quite cheap tool, but its accuracy is not always guaranteed. It tracks and saves historical data for clients that will serve as a referral point if needed. Sheer SEO also allows you to save your backlinks, review blogs and perform directory submissions effectively for backlinks.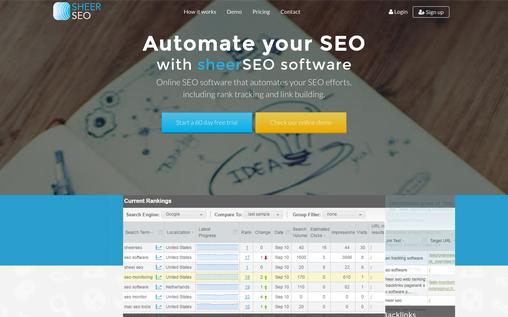 Features of Sheer SEO:
SEO Audit: Get colored charts and graphs that analyze your keyword density
Social Alerts: Monitor social media activity such as likes, shares, and retweets that can affect your ranking
Data Export: Export your SEO data in different formats
Rank Tracking: Sheer SEO's rank tracking software gets you search volume and real data traffic for all the major search engines
Page Audit: Optimize your pages according to your target keywords using OnPage SEO
Backlink Alerts: Anytime anyone tries to drop or modify your backlinks, you get an alert
---
13. SEMrush SEO Software
SEMRush is one of the behemoths in SEO software. It has been around for a few years, and, meanwhile, has been able to amass quite a following. It claims to be trusted by 3 million professionals around the world, which, considering other tools in this list, is quite impressive.
SEMrush offers Advertising Research, Backlink Checker, Product Listing Ads, Position Tracking and many other amazing features in its plans, which start at $69.95 per month, although the cheaper version won't get you all the features. With SEMRush, such as with Raven Tools, you pay for the tool's reputation as well.
If you're looking for a really comprehensive tool that will get you all the features you need to ace your SEO work, SEMRush might be the tool for you. However, beware: you might have to pay more than its starter plan to get all the tools you covet. Investigate well into SEMRush's plans before diving in.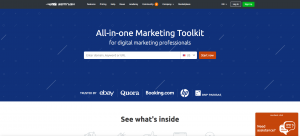 Features of SEMrush:
Keyword Research: For SEO and PPC campaigns, SEMRush's tools get the right keywords for your plan
Competitor Comparison: Compare your keywords to your competitors' and identify the latest websites ranking for your target keywords
Link Analysis: Conduct a deep link analysis at your website
Ad Campaign Analysis: Examine your competitors' strategies on Google Ads and be able to replicate them for better results
Brand Monitoring: Monitor your brand reputation and get alerts for brand mentions
SEO Audit: Audit your website according to your target keywords and SEO strategy
---
14. Advanced Web Ranking
Founded in 2002, Advanced Web Ranking SEO software has been chosen by more than 20,000 leading brands and agencies worldwide and it's quite an old tool. However, it has aged well and it is still quite user-friendly, boasting compatibility with every device.
If you're worried about paying extra for features you don't use, with Advanced Web Ranking, you can analyze several competitor websites without paying any extra. You can also create unlimited campaigns on the same account for the same price. Plans start at $49 per month, making this tool a cheap one for SEO tracking.
Advanced Web Ranking also offers a 30-day Free Trial on all plans without having to install any software on your laptop or desktop.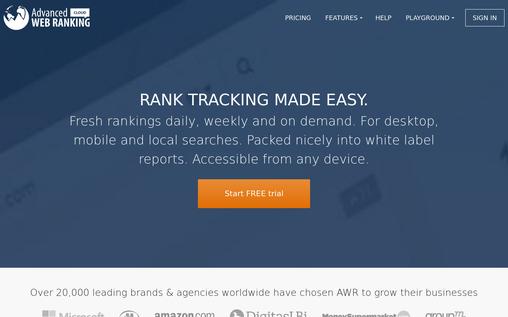 Features of Advanced Web Ranking:
Keyword Research: Find the best long-tail keywords for your website according to its subject
Link Exchange: Exchange links with suitable partners for an organic increase in your ranking on search engines
Competitor Comparison: Get insights for up to 10 competitors with plenty of info
Local Search: Get local rankings easily and accurately
Campaign Analysis: An unlimited number of clients can have access to your campaigns as long as you provide them with a login
Reporting: Offer your clients white-label reports for any SEO purpose
Language Support: Track keywords in Cyrillic, Hebrew, Latin, Chinese, Korean or Japanese without any extra settings using the language tools on the suite
Visit Advanced Web Ranking Now
---
15. Traffic Travis
Traffic Travis is an easy SEO tool for beginners. It helps you navigate the SEO world using a foolproof approach.
Its dashboard has all the important metrics available under the same dashboard, but only for a single website. It's ideal for bloggers or site owners. It also gives actionable insights into ranking your page higher and understanding how to keep that rank. We wouldn't recommend it as the best SEO software for agencies, but it's quite useful for small businesses.
The standard version is Free, however, the Pro plan starts at $97 per year.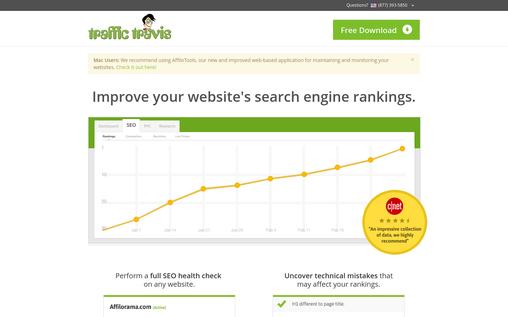 Features of Traffic Travis:
Integrations: Get your keyword information directly from Google using Analytics
Backlink analysis: Build and develop more backlinks towards your website
Keyword Research: Understand which keywords your competitors are targetting according to keyword spotting and match their techniques
Different Search Engine Support: Focus your SEO efforts according to your results from different search engines
Reporting: View and export reports in PDF or CSV for better analysis
Conclusion
SEO software products assist all sorts of businesses at a whole new level. Every business that has a website could benefit from improving its SEO strategy using one of these tools. You just need to understand which one is the best for your business, and that may take a while. Use the free trials available to check the tools that caught your eye, or use our links towards any of these tool suites to find out more.
If you have an Internet-based business, these tools will help you promote yourself in various search engines and boost your revenue radically. SEO tools have gone a long way in these last few years and now there are options for many types of different clients, from SEO freelancers to agencies and in-house teams.
What did you think of this list of the 15 Best SEO Software for 2022? If you have any questions or comments, feel free to leave a comment below.
You May Also Like: