The 5 Best Rank Tracker Tools
What is a rank tracker tool and why do you need one?
Google is all about keywords. When a user wants information, they type in a certain keyword, and then they get a list of links that provide the information they are looking for.
For any topic, there are numerous keyword permutations. Some are more common than others, meaning that users are more likely to use them than others. When you are writing content, you target the keywords that are most often used in searches.
If you want your site to rank at the top of search results, it's not enough to target a keyword, based on how many times it's been searched. This is certainly relevant and important, but it's not all that goes into determining how a keyword is ranked.
Apart from search volume, it also looks at things like keyword relevance, competition and even location.
Every day, Google crawls web pages using complex algorithms. These algorithms determine what is important for a keyword or keyword phrase. When a user does a search, Google gives them the results that best meet certain criteria that are defined by the algorithm.
The problem is, the criteria are not fixed.
It changes, and that's why a keyword or key phrase that's ranking today may not be ranking tomorrow. A keyword may rank in one local area or region, but may in another.
As a digital marketer, or anyone interested in being at the top of search results for keywords relevant to their niche, you want to make sure to use keywords that are ranking at the top, hence the need for a rank tracker tool.
It does all the hard work of sifting through keywords, based on a combination of search volume and rules set by the Google algorithm.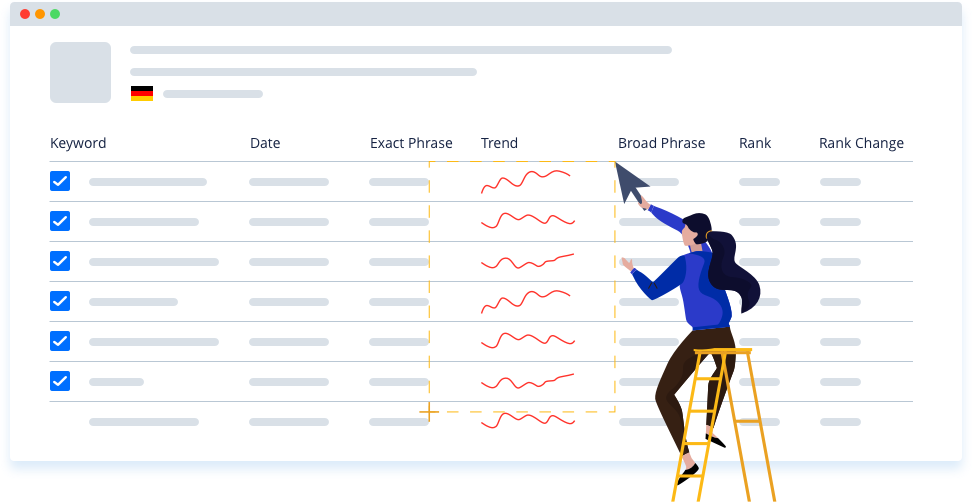 A rank tracker tool goes through Google and other search engines to determine which keywords are deemed most important so that you can incorporate them into your content.
The best rank tracker tools analyze and track the organic position of a keyword over time. They use historical and current data so that you can see trends and optimize your content and dominate SERPs. A good tool will show you:
The keywords you are (or should be) ranking for on your website
Keywords that you didn't optimize for, but that are relevant for your site.
Keywords that your competitors are ranking for.
These three things are exactly what you need to rank above your competitors. If you use the data that you get from your rank tracker correctly, not only will you be able to meet algorithm requirements, you'll be able to outrank your competitors.
Learn about the best free keyword research tools here…
How Important is Rank Tracking?
So far, rank tracking sounds pretty complicated, and the temptation may be to ignore it altogether. You shouldn't. There are two reasons why you should keep a close eye on rankings at all times.
The first is because you want to know how your website is doing. How does it rank for the keywords you want to rank for? Is it ranking for the most profitable keywords?
The other reason you should be interested in a good keyword rank tracker tool is that it is one of the most important KPIs of SEO. For you to know whether or not your SEO strategy has been effective, you have to look at rankings.
How to Choose The Best Rank Tracker Tool
There are many rank tracker tools in the market. If you are choosing one for the first time you will be inundated by the number of choices. To find one that works, there are several important things to look out for:
Accuracy – this is critical for any rank tracking tool. If a tool gives one or two metrics that are off, it throws off all results, and you cannot trust it anymore. One common mistake rank tracker tools make that skews results is to include local data together with organic rankings, which can bring about huge inaccuracies. Local rankings should be included as a separate option for those who want them.
It should be cloud-based – there are many rank tracker tools that run on desktop, but they are not ideal. They may do a great job of tracking and comparing rankings, but they tend to be time-consuming, and many of them complicate things. A cloud-based rank tracker is preferable as it's easy to check rankings, comparisons and historical data.
Can it give local rankings? – Local search is more important than ever. If you want to check rankings for "plumber" or "dentist", you'll notice that organic listings are completely different from local rankings. You want a tool that can provide a separate result for local rankings. This way, you can come up with an effective local SEO strategy. If all results are presented together, you'll never get a clear picture of where your website stands or what keywords you should be aiming for.
Provide data on demand – some people call this the ability to provide manual data. It's one and the same. It's the ability for a tool to give you data whenever you need it, instead of having to wait for the refresh period when databases are updated with fresh information.
Good speeds – you don't want a rank tracker tool that makes you wait one or two hours for results every time you want to get data. The best tools can give you results in just seconds or minutes.
Multiple users – this is especially important if you run an SEO agency, or if you are in charge of more than a few client SEO accounts. A good tool should allow many logins, with each user having their own username and password.
Competitor monitoring – a good rank tracking tool will give you a good look at what the competition is doing. What keywords are they ranking for and how have they tweaked their strategy in the past? A rank tracker tool that doesn't give you an insight into the competition is not providing all the information you need to be at the top of your niche.
Reports – many will agree that any tool that doesn't provide in-depth reports is no good. Rank tracker tools are no different. The best tools are those that send you reports regularly and can produce different types of reports on demand.
---
Best Rank Tracker Tools
Based on the above criteria, what is the best rank tracker tool?
After looking at the most common rank tracking software, we came up with a list of 5 we believe are good ones. We will look at each, taking into account features, drawbacks and pricing, and you can make up your mind depending on your SEO needs.
---
View Listing
Read Review
If you don't already have SERPed in your quiver of SEO tools, you should get it. It contains everything you need to do effective SEO, including a top-notch rank tracker.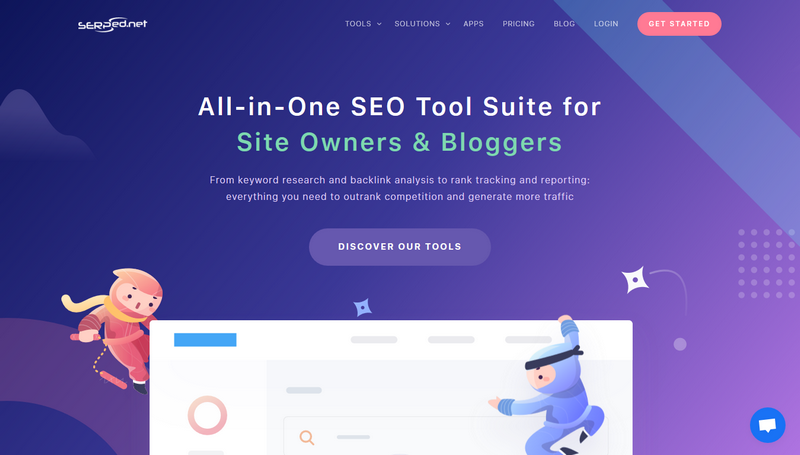 This all-in-one tool has an advanced keyword research module, can do in-depth SEO analysis, it can help you find domains and acquire new clients, is excellent for site management and you can use it to keep track of your website performance on social media.
When it comes to rank tracking the tool gives you two different modules. One tracks organic rankings (different countries and cities) and the other provides data on local rankings.
SERPed.net Rank Tracker
Rank Tracker helps you keep track of your rankings in different countries on Google, Bing and Yahoo. On Google, you can track by country as well as by city and area, and on Yahoo and Bing you can track only by country.
It shows you not only your mobile rankings but your desktop rankings as well so that you can design a wholesome SEO strategy.
SERPed.net brings together data from Google, Bing, Yahoo, YouTube, Amazon, Majestic and many other databases.
For those who want data from just Amazon and YouTube, there's a YouTube Tracker and an Amazon Tracker.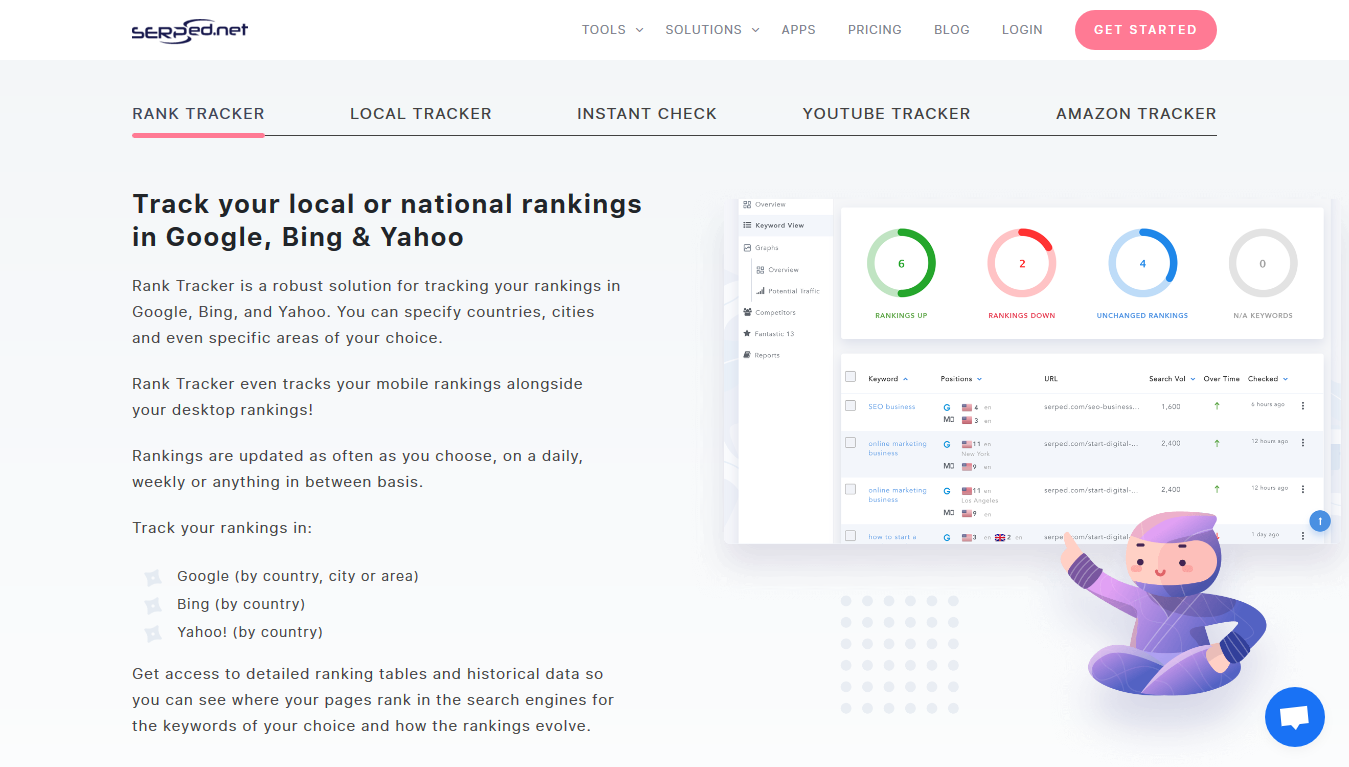 SERPed.net Rank Tracker Features
You can check keyword rankings for any country, any city and area.
Rankings can be updated as often as you want – weekly, daily, or after a pre-determined number of hours.
It provides you with historical data so that you can see how rankings have evolved over time. This kind of information is critical when you are creating an SEO or content strategy for the future. Graphs and tables make it easy to compare data. You can see exactly how your competitors are doing, including what keywords they are ranking for and how they have done in the past. You can follow their progress as they tweak their strategy.
Schedule reports to arrive in your inbox whenever you want – once every few days, once a week etc. You can also generate reports on demand.
SERPed.net Local Tracker
This rank tracker is designed specifically to track local rankings. Although it uses the same basic underlying concepts as Rank Tracker, it focusses mainly on businesses that are registered on Google My Business.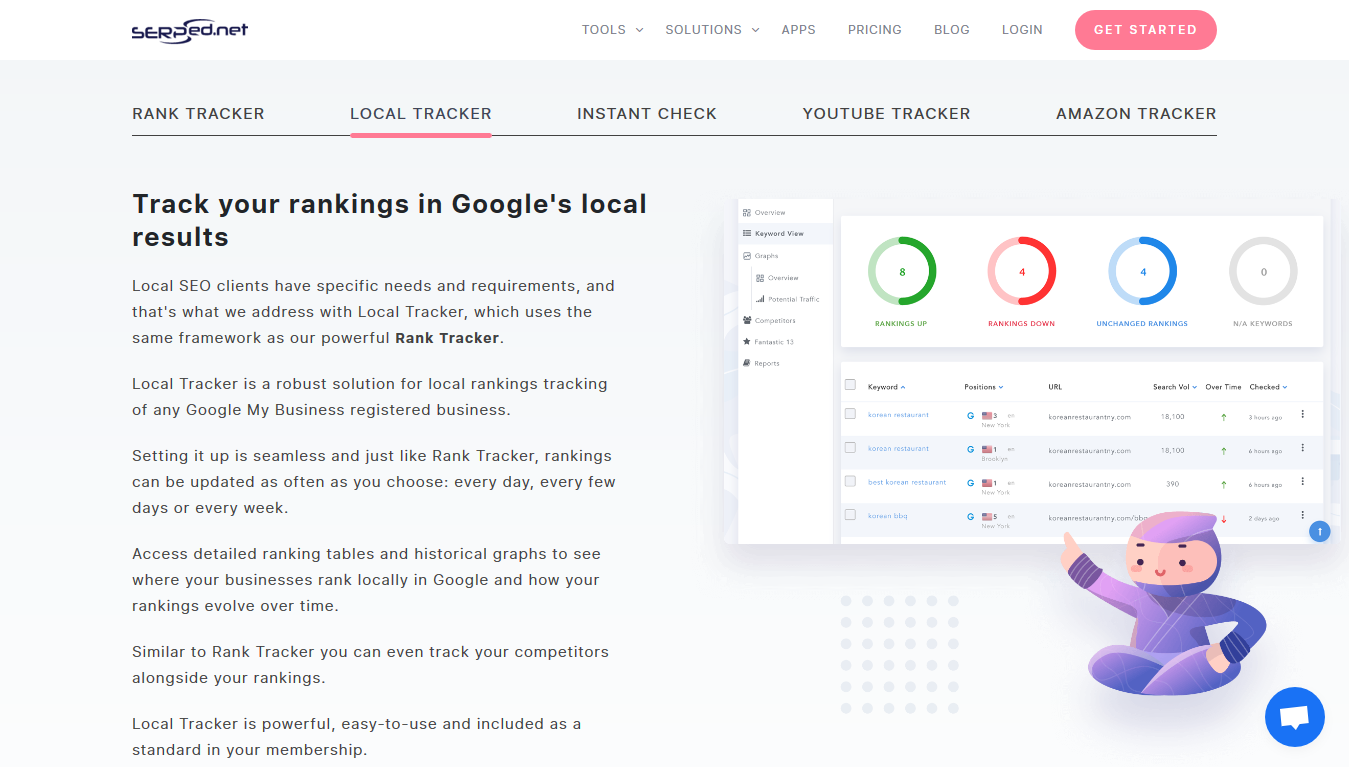 SERPed.net Local Tracker Features
It's easy to set up and use, and you can get ranking updated at any time.
Historical tables and graphs show you trends over historical periods. These are important as they can inform your strategy going forward.
You can see your competitors' rankings, both current and historical.
Drawbacks of SERPed.net Rank Tracker
While the SERPed.net Rank Tracker works pretty well and will keep you updated on your ranking, some users have complained that the tool (as a whole) has so many features that it can take a while to master.
However, if you use SERPed.net consistently, over time you'll be able to make use of its 40+ tools for SEO to stay ahead of your competitors.
SERPed.net Pricing
SERPed Premium is $79/month, Ultimate is $179/month and Enterprise is $379/month.
You cannot buy the SERPed.net Rank Tracker and Local Tracker features as stand-alone modules.
---
View Listing
SERPWatcher is also known as Rank Tracker by Mangools. What makes it an outstanding rank tracker tool is that it's very easy to set up and use, can be used by both newbies and experienced SEO practitioners, and it produces accurate results.
This tool helps you understand where your traffic is coming from, see how your website is performing and also track various keywords.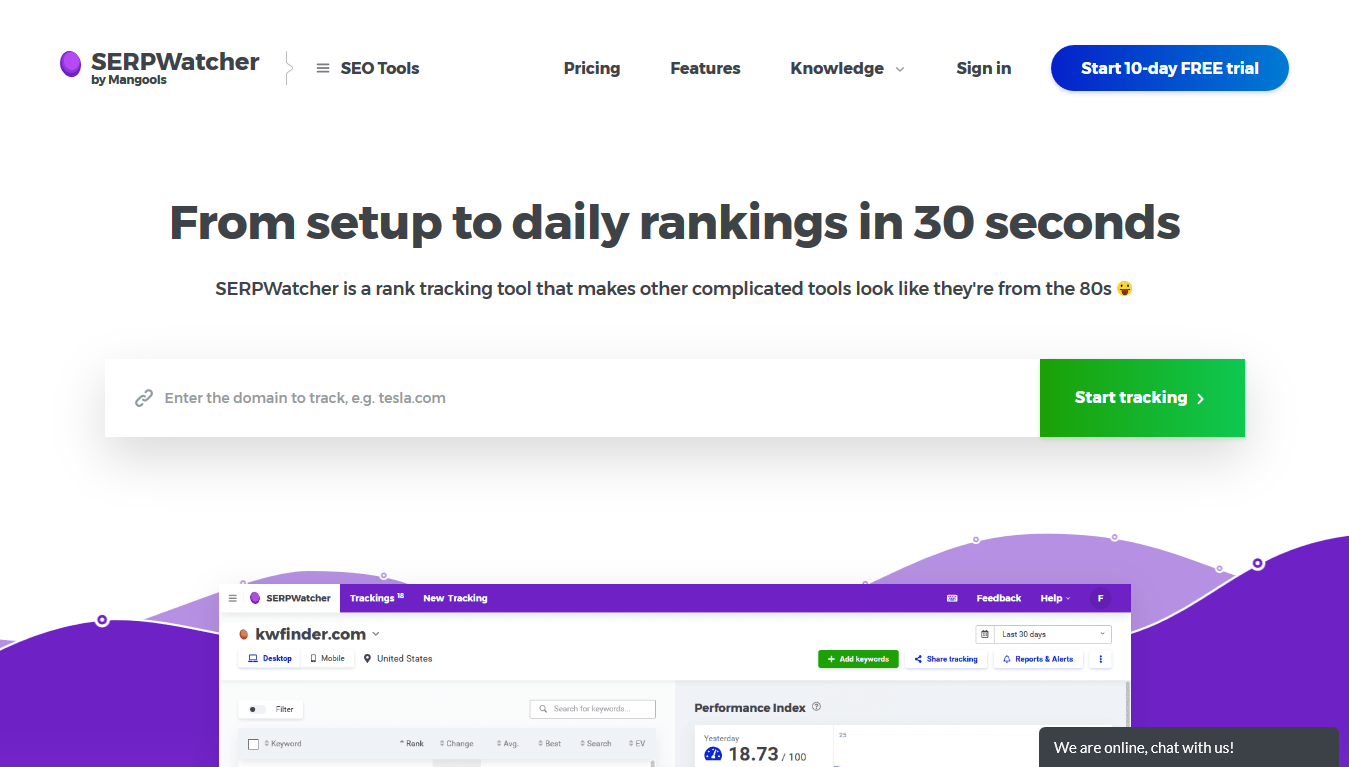 SERPWatcher Features
It makes rank tracking easy, and it is highly effective. All you need is a domain name, location, keywords and a platform.
You can use it to track both mobile and desktop keyword trends. By keeping an eye on both platforms you can tell where most of your traffic is coming from and make necessary changes where they are needed.
You can track by country, region and specific cities.
SERPWatcher shows you how different keywords are performing every day. You can also see historical changes in keyword rankings.
It provides in-depth keyword analysis. You can see a lot of different statistics which help you as you design SEO strategy.
All rank tracking data appears on one screen, making it extremely easy and convenient to use.
It provides reports, and you can set it up to send you alerts when there are changes in ranking.
SERPWatcher Drawbacks
This tool provides estimated data, which is not always useful. There are times when you want data that is completely accurate so that you can know where your website stands in regard to your competition.
SERPWatcher Pricing
Mangools Basic costs $29.90/month, Mangools Premium is $39.90/month and Mangools Agency is $79.90/month.
You can save on subscriptions if you buy annual plans.
---
View Listing
The SEMrush ranking tool is called SEMrush Rank. SEMrush is a popular SEO tool for digital marketers. They love it because it combines a large number of features in one package, and it does a very good job of keyword research.
SEMrush Rank specializes in providing information on domains based on the amount of organic traffic they get in any given period.
The software has been collecting data on the search traffic for different domains since 2012, and they have a massive pool of historical data that you can pull from.
To know how a domain ranks on SEMrush, just look at the number; the lower the number, the higher the ranking. The latest rankings are based on the most recent monthly data.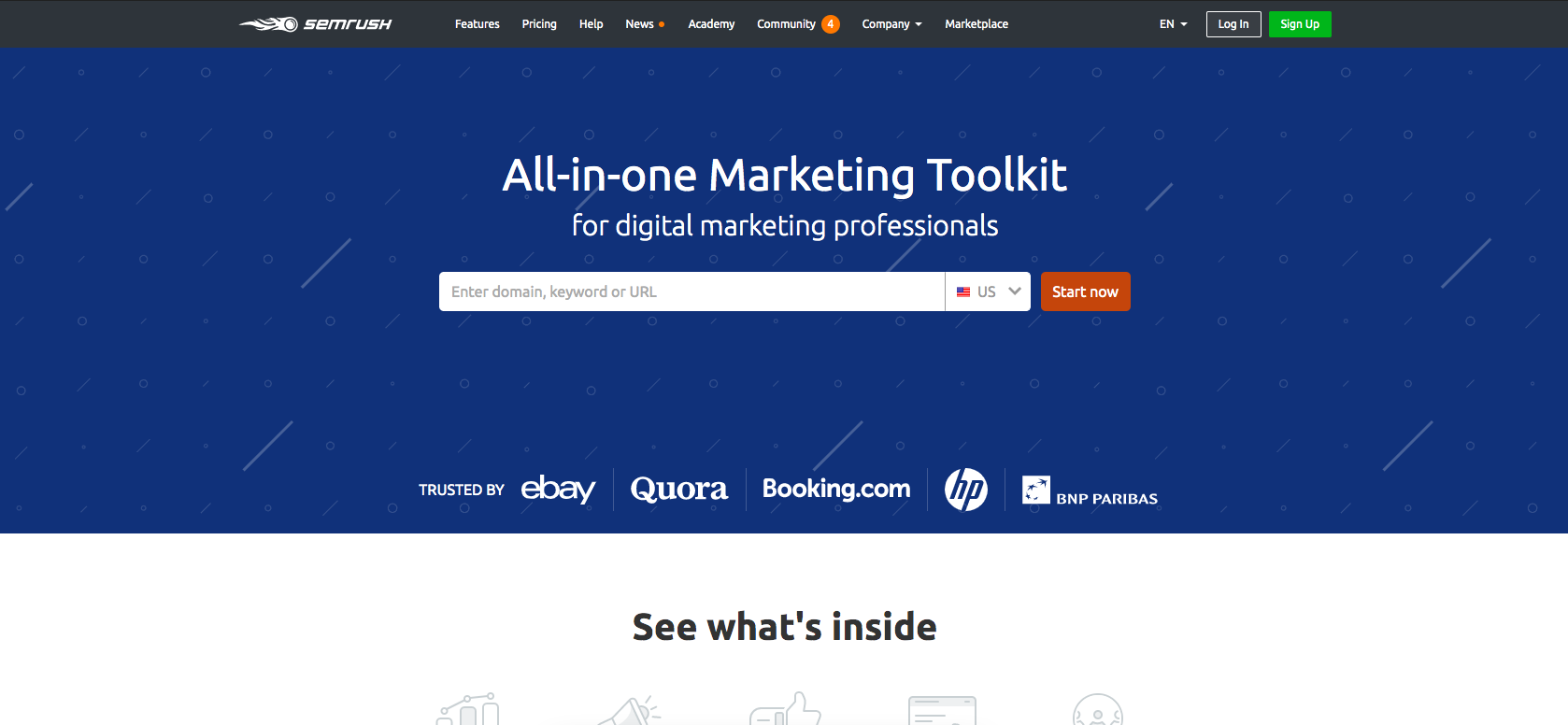 SEMrush Rank Features
You can track your ranking for target keywords.
Use it to track your competitors. See what keywords they are using and how they have performed compared to you. Once you understand which keywords are giving them an edge, you can target the same ones so that you can rank higher.
You can track keywords for different countries, regions and cities. The software also allows you to track for keywords for different languages.
SEMrush Rank is an excellent tool for tracking local rankings. When you know target keywords for local areas you can create a highly targeted campaign. It also shows you your local competitors and which keywords they are ranking for.
You don't have to track each keyword individually, as this software allows you to tag keywords so that you can track them in groups. You can assign up to 5 tags to each keyword.
SEMrush allows you to track keywords on different devices.
Drawbacks of SEMrush Rank
The main problem with SEMrush as a tool is that it has so many features that mastering them all can be an uphill task.
Some of the ranking data generated by this tool is based on estimates; not necessarily a bad thing, but there are times when you need to see exact data.
SEMrush Pricing
SEMrush Pro costs $99.95/month. Guru is $199.95/month and Business is $399.95/month. If you would like a customized solution call the SEMrush team for a quote.
You cannot buy SEMrush Rank as a standalone feature.
---
View Listing
Advanced Web Ranking has more than 20,000 users in about 170 countries. It monitors search performance and organic and paid search. It tracks data from different locations and you can use it to track different platforms.
One of the things that makes Advanced Web Tracking unique is the fact that you can integrate it with Google Analytics and then monitor user data from sites like Baidu and Yandex.
You can use it to track multiple SEO projects at the same time.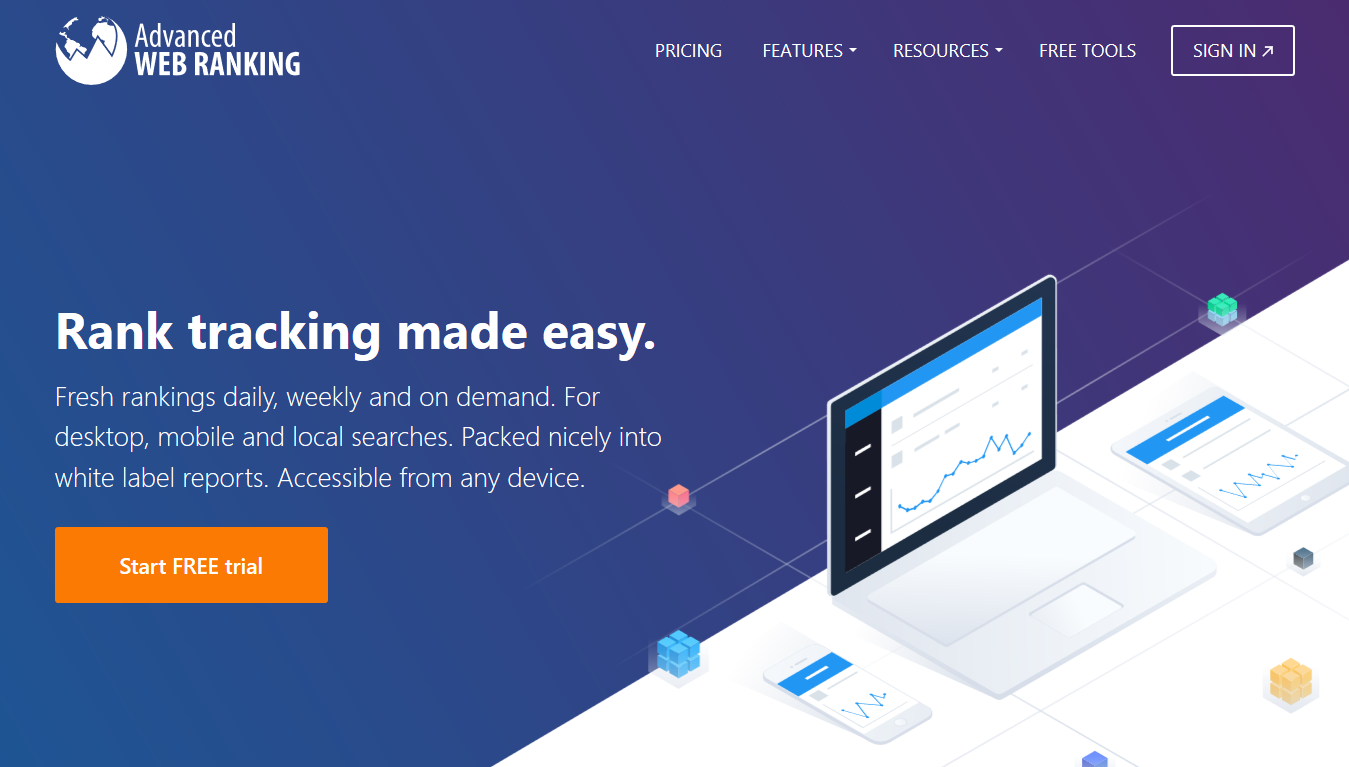 Advanced Web Ranking Features
Unlike many tools in this category, Advanced Web Ranking has a clean user interface, which makes it easy to use especially for those who are new to this type of software.
It does a great job of tracking target keywords and brings you data for current and historical rankings.
You can integrate with Google Analytics and eliminate the need to log into Analytics every time you want to see website stats.
Use Advanced Web Rankings to keep an eye on competitor keyword rankings as well as backlinks. It pulls data from Moz and Majestic, so you know it's reliable.
You can use this software to keep an eye on your social media profiles and collect important metrics that help you see how your campaign is progressing over time.
It has a useful research module that you can use to see a complete overview of how a competitor is performing.
A variety of customizable reports can be exported and shared with others in the team.
Whenever there are significant changes on a website you receive an alert.
Advanced Web Ranking Drawbacks
AWR isn't designed for enterprise. It takes a long time to refresh and update the keyword database, and when you are dealing with a large project you often have to wait for hours to get results.
Another significant issue is that it doesn't separate local listings from organic results so it provides a skewed picture of metrics.
Advanced Web Ranking Pricing
Starter costs $49/month and Pro is $99/month. Agency costs $199/month while Enterprise costs $499/month.
---
View Listing
Ahrefs is another popular SEO tool. Digital marketers all over the world use this tool for keyword research, and it's also great as a rank tracking tool.
It shows you how your website is ranking against others in your niche and you can monitor performance across different platforms. You can monitor the percentage of search traffic on your site and see historical trends.
The Ahrefs rank tracker module also shows you where your site ranks in various SERP features.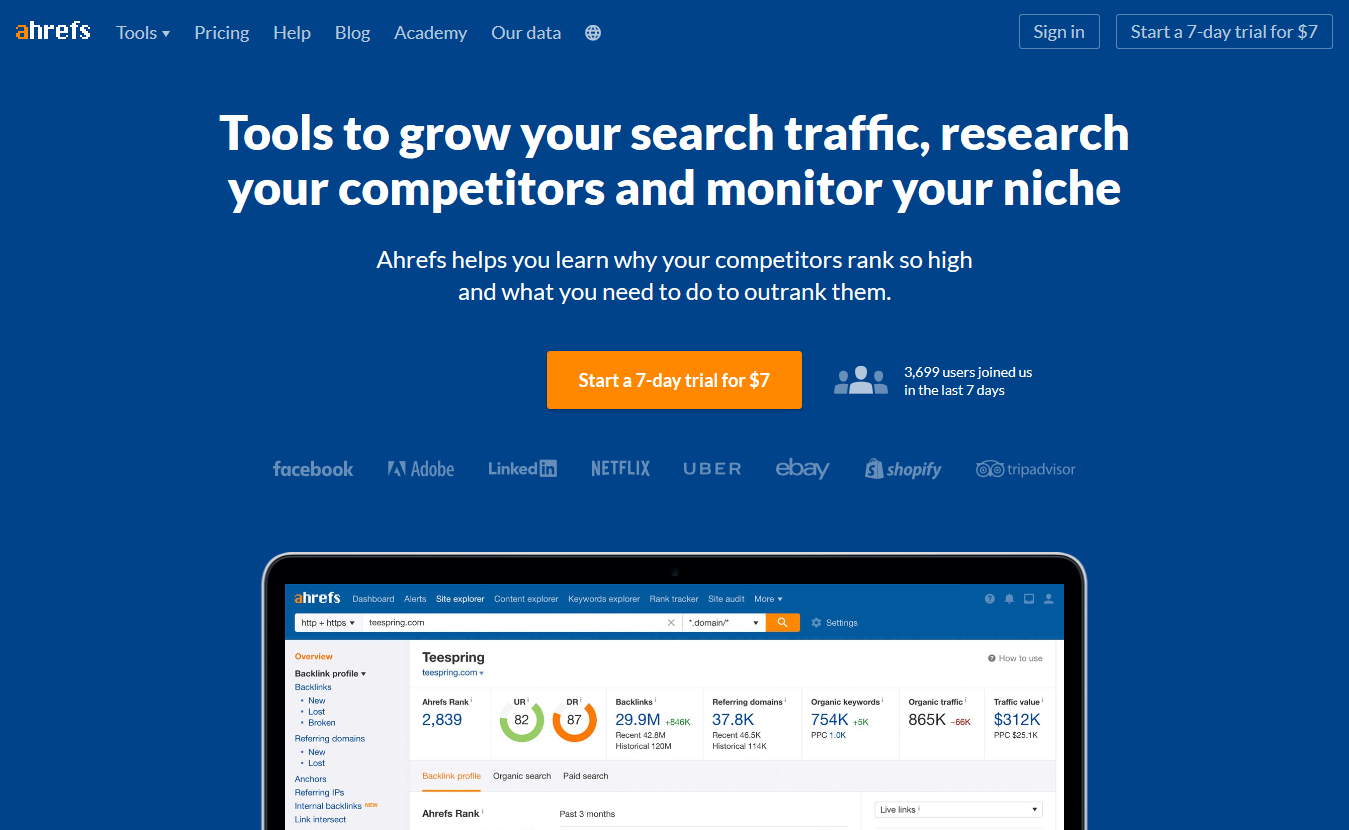 Ahrefs Rank Tracker Features
For each keyword you can monitor position and volume, the total traffic and SERP features.
Ahrefs shows you rankings across 70 countries. You can see current and historical trends, as well as comparison graphs which gives insights into how you have performed against the competition over time.
Some of the SERP features that it tracks include featured snippets, Adwords Top and Bottom, shopping results, Knowledge Panels, Videos and People Also Ask.
Instead of dealing with thousands of keywords, you can filter or tag them to make your job easier.
Ahrefs has a unique feature that shows you how many websites are fighting to rank for a particular keyword. By seeing exactly which website is fighting for which keyword you can decide on the ones you'd rather focus on.
Schedule email reports to arrive in your inbox whenever it's convenient for you. You can also generate reports on demand. You can track how keyword rankings change every day or over a period of time.
Ahrefs Rank Tracker Drawbacks
Two main issues are hard to overlook with Ahrefs. The first is that it's expensive. Some tools can provide similar information and they cost less.
The other problem with this software is that it doesn't integrate with Google Analytics.
Ahrefs Pricing
Ahrefs Lite goes for $99/month and Standard costs $179/month. Advanced is $399/month, while Agency costs $999/month.
---
Conclusion
The choice of rank tracker tools that's available today can leave you confused. It shouldn't. If you decide what's important for your SEO campaign, and how much money you're willing to spend you can find one that keeps track of important metrics for your campaign.
As you choose a keyword rank tracker tool you should check into whether it has a free trial. Giving the free trial a spin can tell you more about the software before you buy it.
Also, make sure you look into how well supported it is. The best rank tracker tools have an active customer support desk that's eager to solve user problems.