7 Best SEO Services in 2022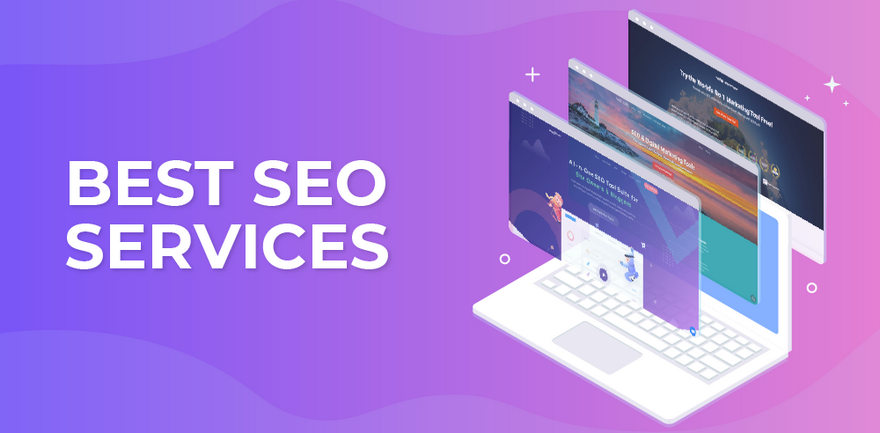 If you run an in-house marketing team or work for an SEO company (or even an all-in-one online marketing agency), you know it's difficult to settle on an SEO tool that will cover all your needs. Some of them are affordable, some others are more, some have a few missing features but compensate with other features that might be useful for your business.
In 2020, the market for digital marketing SEO tools is more competitive than ever. New tools face older tools with new ideas, new visions about what Search Engine Optimization can do for your business or clients in order to increase organic search traffic. Older tools scramble to keep in the hoop, with constant updates and new features being frequently released. In this article, we'll go through a small list of the best SEO services in 2020, so you can evaluate which one would be the best for your business in this new year.
As always, it's difficult to compare all tools: so we'll go through features, pricing, pros and cons of each one. This way, you'll get a better comparison that will help you decide on the best SEO service for yourself. Some of the tools in our list have been around for a long time; some require installation, others don't. For ease of use, we prefer tools that do not require any software to be installed on your computer and rely solely on cloud computing, but we know some people prefer otherwise.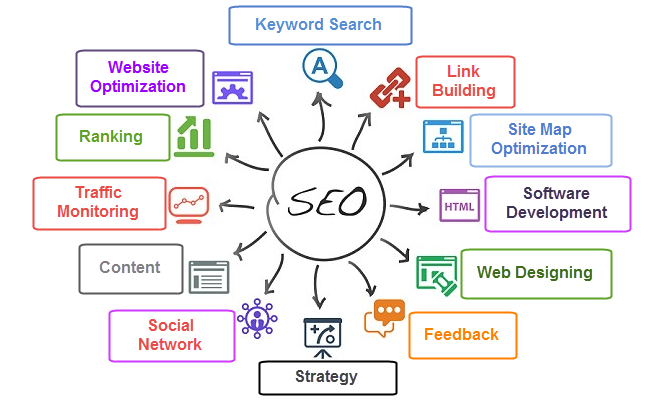 That's why we chose different tools for this list: some will be more suitable for one-man operations, some will be better for an SEO agency or an in-house marketing team. Pricing is also important. We know budgets for SEO tools depend on a lot of factors for every user, from the number of features included to the SEO company's budget for marketing in general. For some people, it might be reasonable paying $299 a month for an SEO tool, while for others paying $99 a month is too much of an investment.
Some companies also need more features than others. For some, domain hunting might be a real need, while for others it might not even cross their mind. However, we have the opinion that, if the price is fair, it's better to have more features than you need right now so you can scale up when those features are needed without having to pick a different tool altogether.
Your company's needs are bound to be constantly evolving, and that's one of the reasons behind this list. What fit you in 2019 might no longer be enough in 2020. It's important to recognize those needs and the possibility that they might change. Is your company or agency growing? If you have increasing revenue, that's very likely that the tools of last year no longer suit you. Read on to discover all the tools we recommend for this new year.
---
SERPed.net is an all-in-one SEO tool suite designed by SEO professionals, for SEO professionals. Its goal is to fill the gaps left by older tools and offer a full-on optimization service that improves the online presence of site owners and bloggers, SEO freelancers, in-house SEO teams and agencies. It comes with over 40 different SEO tools which include expired domain search, the usual rank tracking for search ranks and relevant keywords, local SEO and local search, site management, SEO analysis, site management, keyword research, white-label reporting, an agency add-on to create client dashboards, a social exchange tool to get organic activity…
What we mentioned is just a tiny bit of what SERPed.net can do for your SEO efforts. This engine optimization service is very comprehensive in its scope, allowing for all types of users to perform many tasks automatically, such as sending white-label reports customized previously – which will improve any SEO agency's digital marketing experience – and keeping track of specific queries. It also has other interesting tools such as a tool for client acquisition that collects contacts on your website and automatically sends a report with an SEO analysis for your leads.
This last tool is especially important for agencies that do search engine marketing and marketing services. It sends the message that you know what you're talking about and that you can anticipate your client's desires before they are even aware of them. SERPed.net's social exchange tool is also quite an innovative feature, by allowing you to exchange credits for likes, shares, retweets and much more by real users.
SERPed.net's users can then exchange social media interactions and get credits just by performing these required actions. This is much better than using bots to achieve a high social media status – you get real users to interact with your posts and tweets, sending social media signals that increase your brand's credibility with quality content.
With the agency add-on, your SEO company or digital marketing agency can also create dashboards that your clients can access using their own login. All these tools come at the starting price of $79 per month for SERPed's product, which is a very reasonable price to pay for 40 plus tools. It is one of the best SEO services available with a great customer service.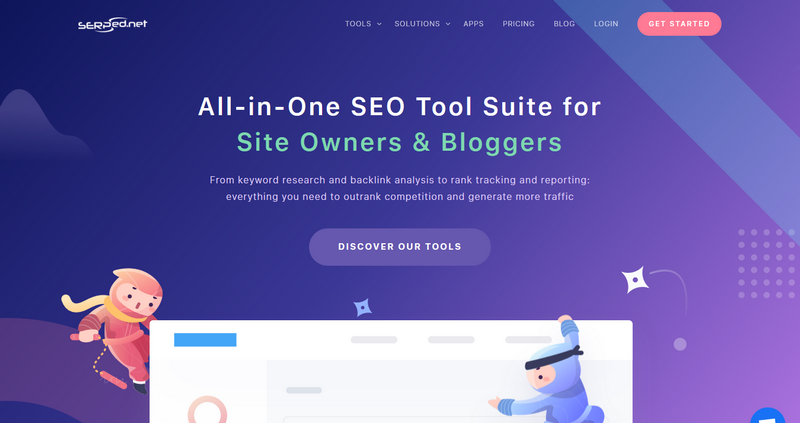 Features of SERPed.net:
Keyword Research: Find the keywords best suited for your website to aim at in SERPs
SEO Analysis: Get a backlink analysis and all the major SEO signals from any URL you need to analyze
Site Management: All your websites under the same roof, visible at a glance right when you open the suite
Rank Tracking: Get historical data for all your rankings for the keywords that matter, in real-time
Domain Finding: Get expired or expiring domains at the best price by searching for the keywords that matter to your business
Social Exchange: Get real interactions on your posts by real users, without having to run ad campaigns to increase your outreach
Client Acquisition: Get contacts of people who have gotten your SEO analysis without having to move a finger
Reporting: White-label reports that you can create and have automatically sent at the frequency you wish
Agency Add-on: More options to satisfy your clients with dashboards that show all the data you want to share with a dedicated login
| Pros | Cons |
| --- | --- |
| All-in-one SEO suite | The amount of tools might be overwhelming for beginners |
| Large wealth of information | |
| Easy to use | |
| Create reports in just a few clicks | |
---
View Listing
Web CEO incorporates 17 different SEO tools, which isn't much in comparison to SERPed.net. However, it's still a very useful tool suite for the basics. It supports twenty-one languages, which is helpful for those who don't know all the SEO terms in English. It also features white-label reports, which is useful for agency and engine optimization company users, although not many agencies in their target audience seem to prefer it.
Web CEO's public lied especially with site owners and bloggers, for its now gone Solo plan. Now, the company is aiming at agencies and startups with its Startup Plan at $99 that allows tracking 5 properties. We understand the move since agencies are more profitable clients to have for SEO software. Single users are usually less likely to invest in a paid tool for their SEO plans. The new pricing plans offer a free trial for 14 days, which might be enough to know if Web CEO works for you.
However, to avoid subscribing and testing a tool that doesn't really fit, we can already tell you that Web CEO offers the basic features for an SEO tool: keyword research, Google Analytics and Search Console integration, internal links optimization, SEO analysis, search rankings and search traffic analysis for specific queries, backlink quality check, local SEO services… Basically, all that you need to start building your SEO strategy and developing your content marketing.
Even with nice features, Web CEO is a bit expensive for what you get. Plus, its plans are not easily scalable – either you go up to the Corporate package at $299 or you get the Agency Unlimited which has plenty of fees not included. This means, you have to pay to get more projects available, you have to pay for more rank tracking, et cetera, et cetera. This makes Web CEO not easy to scale if you need so.
What do we like about Web CEO? It's a good place to start if you're not sure about the importance of SEO for your business. It also offers a great user experience and helps you with content creation and content writing. However, if you need to scale, it's not going to be the best SEO service for your marketing campaigns.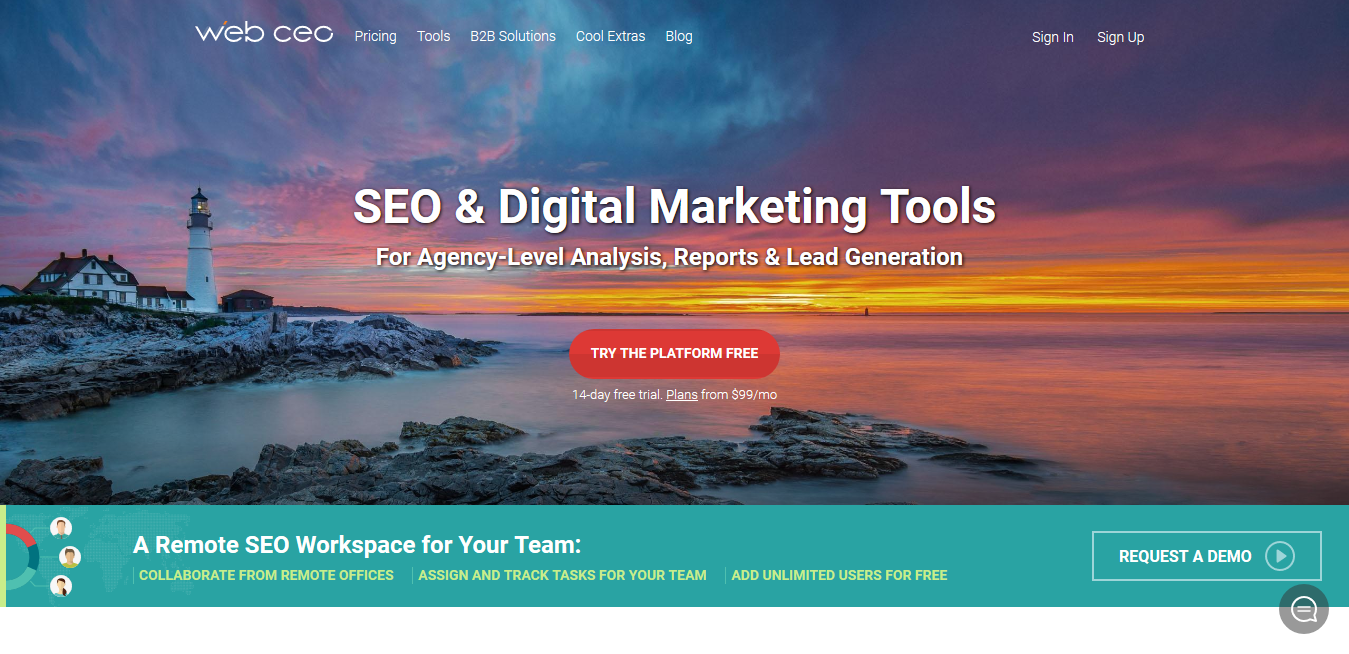 Features of Web CEO:
Keyword Research: Figure out the best keywords to aim to according to your business
Internal Links Optimization: Optimize your internal links easily
SEO Analysis: Get a clear analysis of the current SEO status of your website
Competitor Backlink Spy: Find out which websites are linking to your competitors so you can mirror their strategy
Social Analytics: Get analytics for the social activity regarding your brand and figure out how to improve
Rank Tracking: Track your rank on SERPs and understand which keywords are performing better or worse
Web Analytics: Integrate Google Analytics and Search Console for better results
| Pros | Cons |
| --- | --- |
| Good for beginners | Not easily scalable |
| Supports several languages | Only has 17 tools |
| All packages support unlimited users | Expensive for the tools it offers |
---
View Listing
Ahrefs has been used for a while now at many agencies. It's a well-known tool suite for SEO, even though its features could use a little upgrade. At the moment, it offers six different tools, which include other features inside, but it's not easy to navigate. It has a steep learning curve that makes it unattractive for new users. However, many SEO experts commend it for their everyday use, since they have learned how to use it and don't want to change.
Ahrefs main tools include competitor research, link building, keyword research, content research, rank tracking, mention monitoring, local SEO and website audit. These are great if you're just starting, but if you're looking for a tool from where to begin your SEO work, Ahrefs is too complicated to use for beginners. To make matters worse, the Lite Plan starts at $99, which is a bit expensive for only one user.
This tool also has a questionable practice: you have to pay $7 for the 7-day trial, which kind of defeats the purpose of having a trial period. Obviously, $7 is not much to try this tool for a whole week; but shouldn't the trial period be free to keep you from spending money on a tool you might end up not using? If you're okay with that, then no problem. This is just our opinion and you shouldn't refrain from using this tool if you want it.
All issues aside, Ahrefs is not that bad: we like how complete it is for the agencies that use it, having the tools that are usually enough for simple SEO work and improvement, and content marketing development. People who have learned to use it swear by it, and wouldn't trade it for another tool. However, we feel its toolset is a bit outdated – no social media tools, only one user per account… We don't mean that Ahrefs is a bad SEO service. It is pretty comprehensive for the average SEO professional and will fit the bill for many users. If you're an Ahrefs user and don't feel the need to change, it's alright. Maybe you'll change your mind while reading this article, maybe you won't: and what matters is that you have a tool that suits your inbound marketing needs.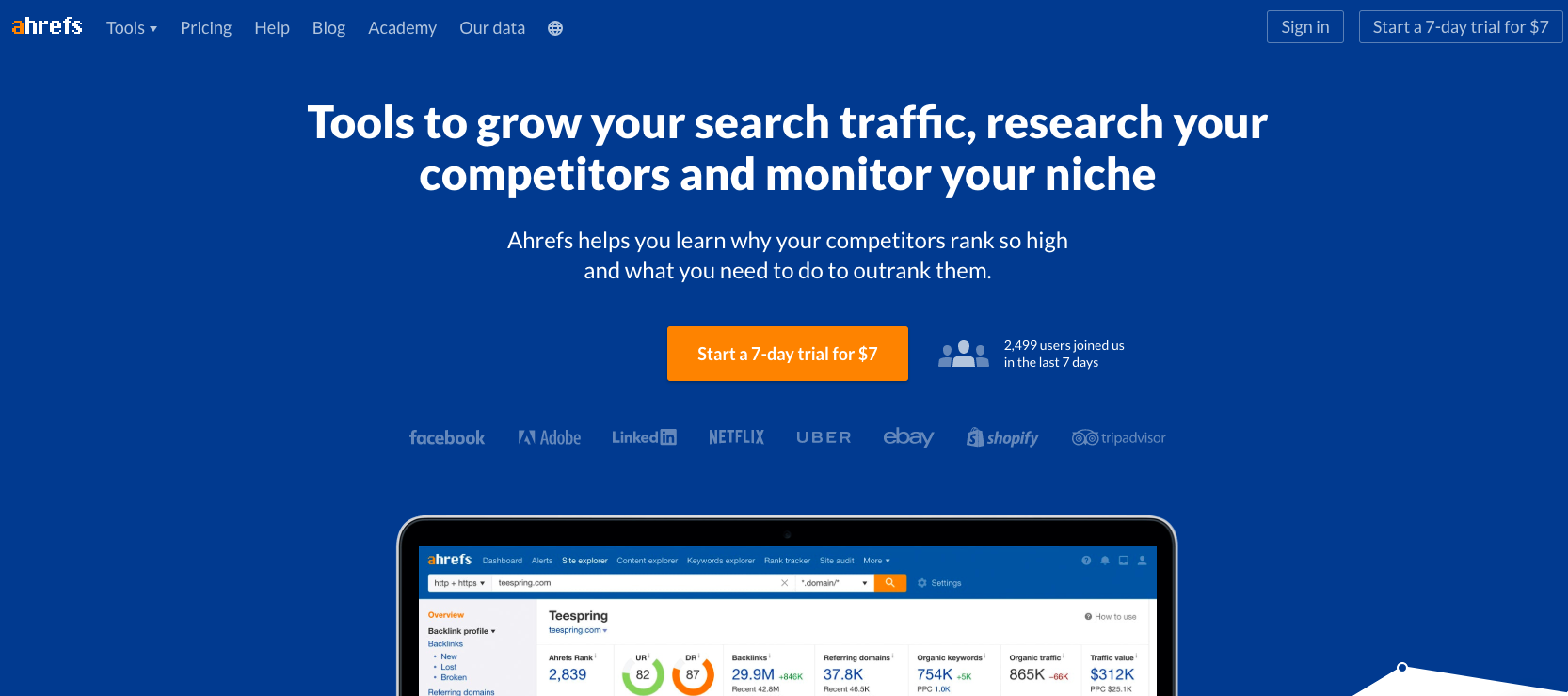 Features of Ahrefs:
Site Explorer: In-depth information about the backlinks and organic search profile of any URL
Keywords Explorer: Discover thousands of useful keywords for your SEO strategy, their difficulty and the potential traffic they can bring towards your website
Site Audit: Discover all that's keeping your website from getting higher on SERPs using technical SEO metrics
Rank Tracking: Get historical reports about where do your keywords rank and their evolution on search results. Get scheduled reports on rank tracking sent to yourself by email
Content Explorer: Discover great content from your competitors that you can use to get ideas for your own content
SEO Toolbar: A free toolbar that supports Chrome and Firefox to get basic SEO metrics for any URL
| Pros | Cons |
| --- | --- |
| Very accurate | There is a daily keyword research limit |
| Good scope of extensive research | Missing PPC information |
| Saves historic data for websites | Rank tracking tool is not that great |
| | Site explorer is a slow tool |
---
View Listing
SEMrush is an agency favorite and has been for many years. It is a very comprehensive tool that includes all you need to ace your Search Engine Optimization work: it even calls itself an "Online Visibility Management Platform", which would be ambitious if it wasn't for the reputation SEMrush already has. However, like with many older tools in the market, you pay for the brand.
SEMrush's cheapest plan is $99 per month. Plus, their Competitive Intelligence add-on is $200 per month for every plan. For a lot cheaper, you can get SERPed.net with all the tools it offers. However, a lot of people have been using SEMrush for a long time and don't feel the need to change. The reasons why are obvious: it has tools for reporting, including analytics for organic research, advertising research, backlinks, keyword research, traffic analytics; it includes site audits, social media trackers, brand monitoring, on-page SEO checker, backlink audit tool, and a few more features like local SEO analysis and content marketing tools.
With all the possibilities SEMrush offers, it's no surprise that it has many clients worldwide. It is a very powerful tool, but its power also implies a steep learning curve. If you use SEMrush at your agency, you'll have trouble training new employees to use it. It's no secret that SEMrush takes skills – but wouldn't you prefer a tool that saves time for you instead of making you spend more and more time training yourself and your team to work with it?
This does not mean SEMrush is not a good tool – on the contrary, it is very comprehensive. However, we do not recommend this tool for beginners. It's going to be a headache to learn and even though it's quite powerful, you could get the same results, or better, with more intuitive tools. There are several alternatives in this list that would probably be just what you need.
We recognize SEMrush is a wonderful tool suite for those who know how to use it. We don't want to make it seem like SEMrush is a bad tool, on the contrary. It is quite great if you know what you're doing. We're just trying to point out that, now that there are alternatives, there's no need to go for SEMrush, different of what happened in the past when SEMrush was one of the only few tools that offered the same features.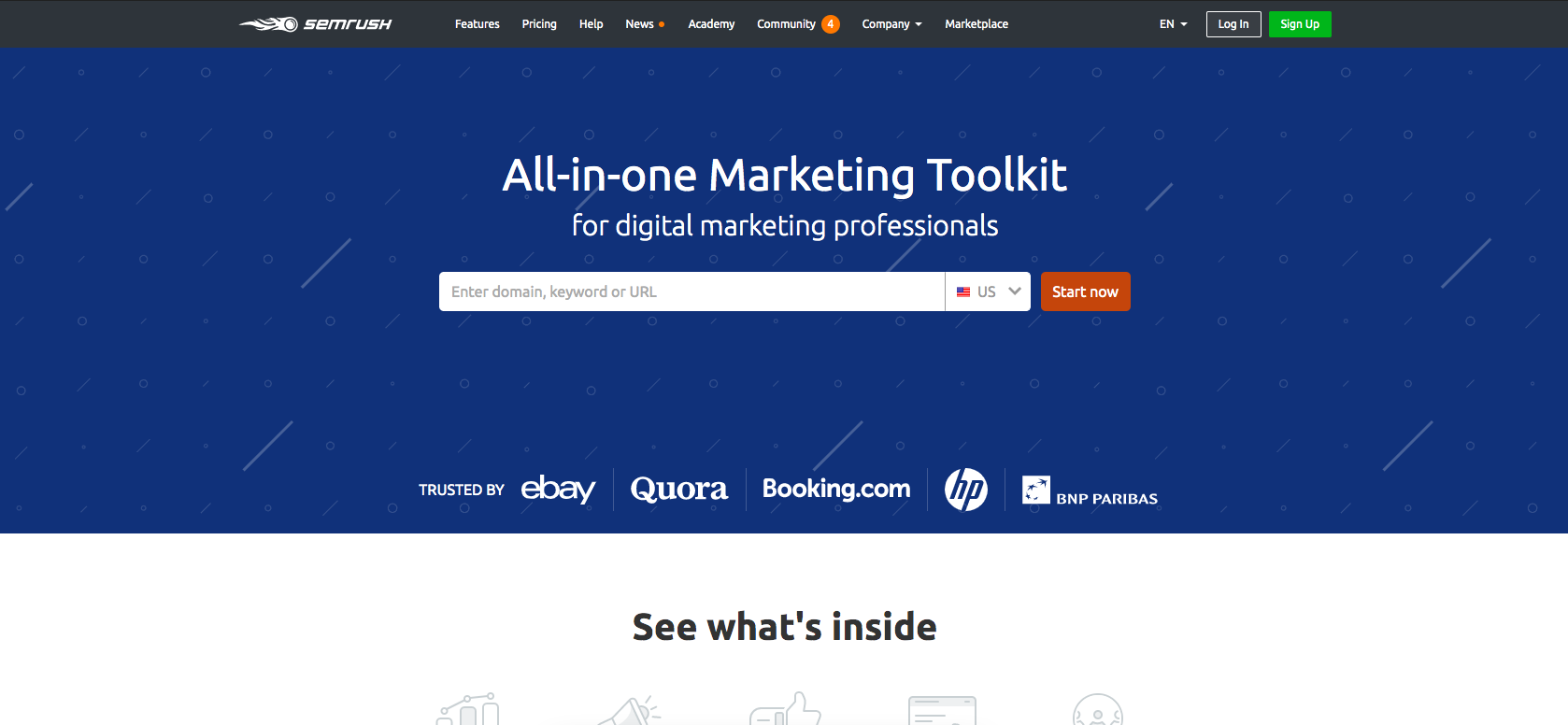 Features of SEMrush:
Analytics Reports: Get insights into your competition strategies in organic and paid search, display advertising, and backlinks
Site Audit: Get access to all the technical SEO aspects of any URL you wish to analyze
Brand Monitoring: Know when and where your brand was mentioned and discover new backlinks
Content Analyzer: Find out if your content is SEO-friendly and get insights into how to make it better
Backlink Audit Tool: Find your most valuable backlinks and dispose of the harmful ones
Organic Traffic Insights: Discover where does your traffic come from, and which are your most valuable sources for organic traffic
Keyword Research Toolkit: Enter your current keywords and discover the best keywords to aim to in your content and tags
| Pros | Cons |
| --- | --- |
| Very complete tool | Very steep learning curve |
| Competitive Intelligence add-on available in separate | A bit expensive |
| | Not very scalable |
| | |
---
View Listing
Raven Tools, like SEMrush, is one of the oldest tools in the industry. It's been around for many years and many agencies and internal marketing teams trust it. It's a quite complete tool, with website audits, backlink tools, rank tracking, marketing reports, competitor research, link building manager, and keyword rank checker.
It's no wonder so many people pick it: it has all the necessary tools for your SEO work, including white-label reports you can customize. You can also schedule them to be sent automatically, but it wouldn't be a good idea: many users report glitches on it like connecting a Google Analytics property to the wrong Google Ads account, which makes its data a bit unreliable.
This is one of the issues that plague Raven Tools. Many users have reported errors in their results, which makes it unreliable and has you buying other tools to correct data or make sure you have the right metrics for your accounts. It wouldn't be an issue if Raven Tools wasn't already $79 per month for the Start plan; if you have to buy other tools to make sure you have the correct data, is it really useful?
On the other hand, for Raven Tools to be trusted by so many brands, it should have something going on about it. Well, it does. Its toolset is quite comprehensive for a digital agency, and the white-label reports make it easier to communicate with your clients about the results of your SEO campaigns.
However, we can't overlook Raven Tools' shortcomings. Its users are limited, and social media tools just report about your presence in social media networks, which you could've gotten using other, more specific tools. Another feature that is also lacking is the dashboards for your clients – they make it easier to access the information you want to display and you can get those with the agency add-on from SERPed.net.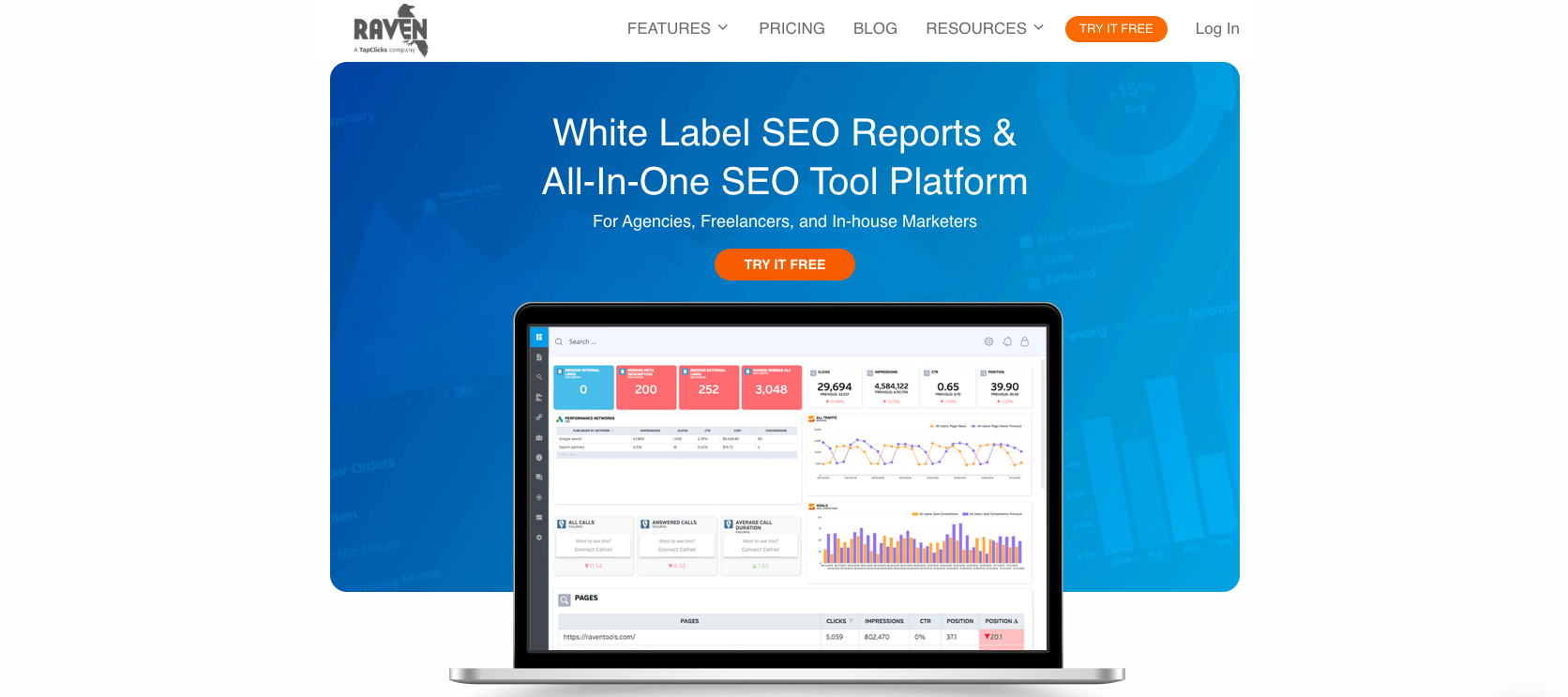 Features of Raven Tools:
Marketing Reports: Use a Drag and Drop editor to build marketing reports about your SEO campaigns and metrics
Competitor Domain Research: Research your competitor's SEO strategy and copy it accordingly for better results
Website Auditor: Audit your website and your competitors for SEO metrics, discover crawling errors and fix them
SERP Rank Tracker: Track your keywords automatically according to the frequency you want
Keyword Rank Checker: Identify ranking keywords for any domain you want
Keyword Research: Find keyword suggestions for SEO and PPC from multiple sources
Backlink Checker: Find link opportunities by crawling other website's backlinks
Link Spy: Search the keywords you want to rank for and find which other websites are ranking for those words already
Social Media: Get reports on your social media sources by connecting directly to the networks
| Pros | Cons |
| --- | --- |
| Plenty of useful tools | Glitchy sometimes |
| White-label reporting | Lacks Social Media signals improvement tools |
| Reasonable pricing | A bit outdated |
---
View Listing
Would you prefer to have an SEO software you can install on your computer? Then SEO PowerSuite might be the solution for you. It allows you to work offline and to cover up your tracks if you need it to. We're not great fans of installing more software on our computer for SEO purposes, but some people find it more stable and easier to manage this way.
SEO PowerSuite comes with four tools included: Rank Tracker, SEO SpyGlass, WebSite Auditor, and Link Assistant. According to Link Assistant, the company that built SEO PowerSuite, this division is supposed to make it easier to work with, but it just makes it all more confusing. You might need to navigate between tools to complete some tasks, and there are a lot of features that are hidden, making it a difficult tool to learn how to use.
On the other hand, SEO PowerSuite offers a Free Version with some limitations, which will allow you to test it out for as long as you need it. The lifetime deal is $299, but we don't advise on going for it unless you're 100% sure this is the right tool for your SEO needs. If you think you'd like to test it, try out the free version first and then see if it's worth it to spend almost three hundred dollars on a license.
There's also the issue with buying software with a lifetime deal when it comes to updates: monthly subscribed tools are more likely to spend time perfecting their features and updating them if they know you can cancel anytime. When you have a lifetime deal, purchased through a license, what's the incentive that the company has into improving its features other than getting new clients?
This is not to say that you shouldn't try out SEO PowerSuite. In fact, we recommend you test out the free version to get a feel of how it works. It will teach you a lot about SEO – however, we wouldn't advise this tool for beginners or solopreneurs. It's highly complex and not worth it unless you have an agency and someone there already knows how to work with it.
However, many agencies use SEO PowerSuite for their SEO work, so they must be doing something right. In fact, it's a highly accurate tool. It will give you plenty of data to work on – even though it's not easily digestible in reports, SEO PowerSuite does not do reports. You'll have to create them yourself using the information this tool suite provides you. Nonetheless, if you can handle it, it's a very useful tool with plenty of hidden features that will give you a lot to discover.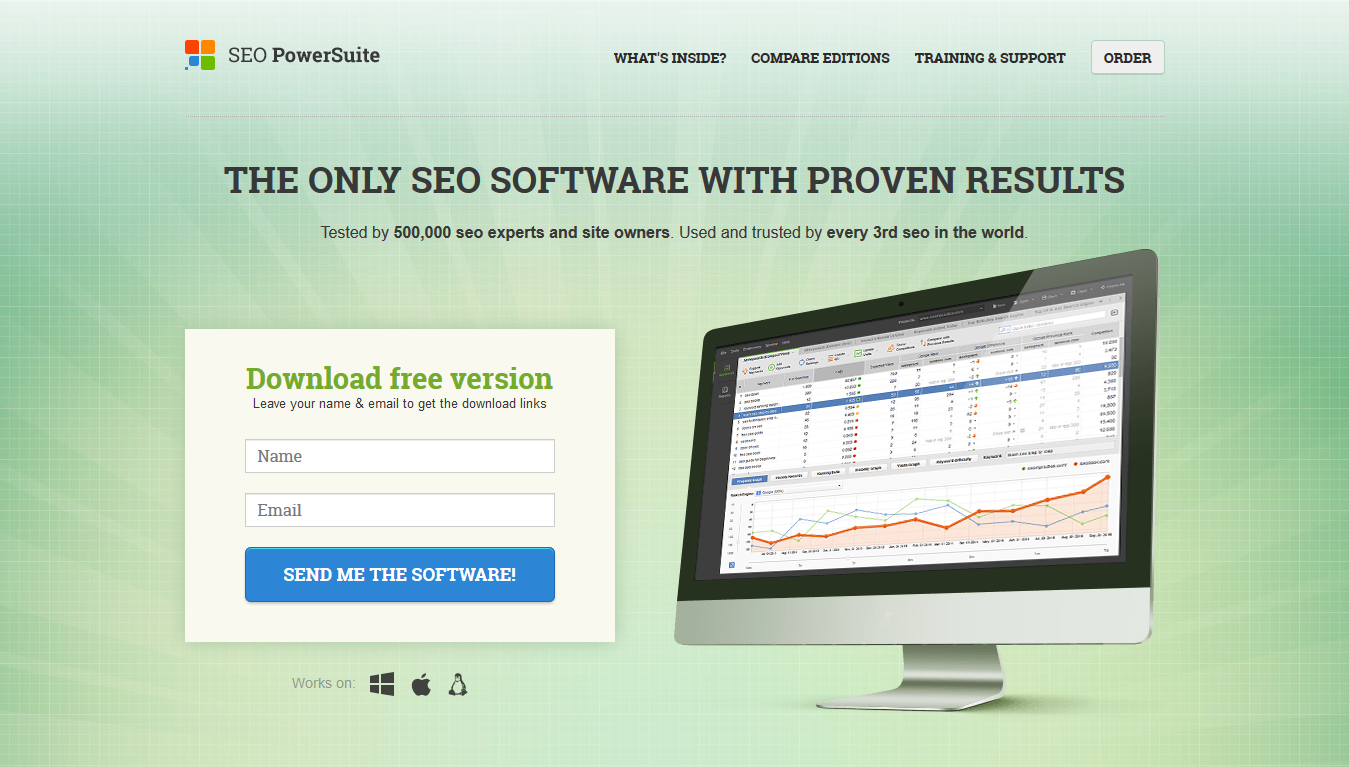 Features of SEO PowerSuite:
Rank Tracker: Check the rankings of your website for your target keywords at any time and do keyword research to find the keywords that best suit your website's goals
SEO SpyGlass: Get a backlink audit for your website and uncover your competitors' strategies so you can get the same links towards your website
WebSite Auditor: Get your own on-site SEO audit with complete metrics and optimize your content for Google
Link Assistant: Find link opportunities for your website according to your competitors' and manage the backlinks you have by analyzing which ones are harmful and which ones are helpful towards your strategy
| Pros | Cons |
| --- | --- |
| Allows you to work offline | Implies installing software on your computer |
| Has plenty of SEO tools included | It is difficult to work with |
| Lifetime Deal | There are no monthly paid options |
| Free Version | Free Version has plenty of limitations |
---
View Listing
Moz has been in the SEO game for a while. They first started out with Moz Rank, which is still a very good way to manage your website's reputation and compare it to competitors – you just need a Chrome extension to have access to that information, provided you have a paid account. However, did you know you could get Moz Ranks from SERPed.net? It's included in its toolset. But let's forget about that for a minute.
If you consider Moz Pro, you should know that it has tools for Keyword Research, Rank Tracking, Site Crawling, On-Page Optimization, Link Research, and Custom Reports. And that's all there is. No social media tools, no dashboards, no website auditing. Not that everyone needs all these tools, but they're useful for agencies and many users.
Moz Pro might be what you need, though. This tool is a newcomer in best SEO services lists, having been released not many long ago as tools like SEMrush or Raven Tools. However, it would seem like it, because this tool does not have that many up and coming features that you can see in newer tools like SERPed.net.
Pricing for Moz Pro isn't that cheap either, with the Standard plan starting at $99 for the most basic features. Let's be honest, this isn't exactly the ideal price for a beginner's package of SEO tools. So we wouldn't advise Moz Pro for those who are starting their SEO work, even though it's fairly straightforward. However, it depends a bit on your affinity towards Moz's tools. If you feel like this might be the tool for you, there's even a free 30-day trial for you so you can test out its features and decide on the plan you need.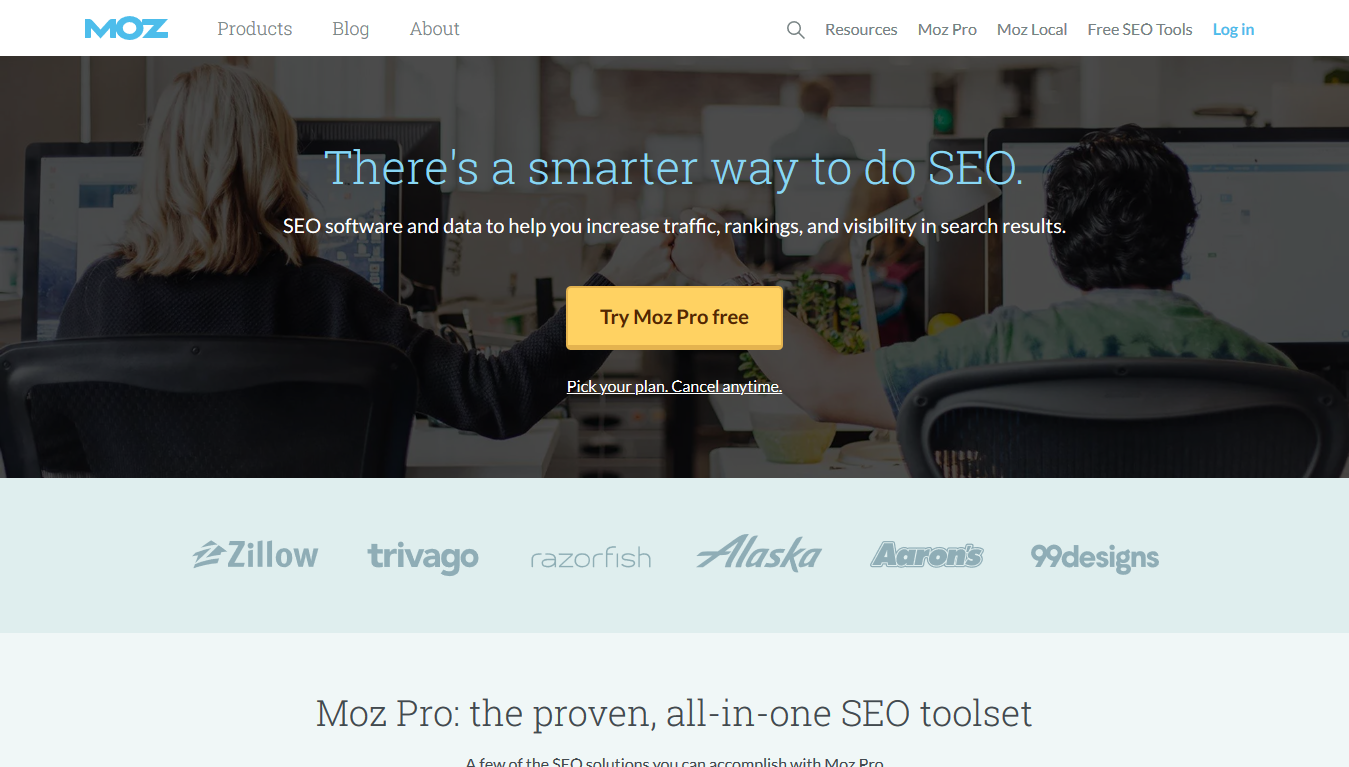 Features of Moz Pro:
Keyword Research: Improve how you discover and pick the right keywords for your project through Moz Pro's tools
Rank Tracking: Track the rankings for your target keywords according to your website and your competitors' websites
Site Crawl: Fix any issues that might be affecting your website's ability to be crawled through by search engines
On-Page Optimization: Analyze your content according to your target keywords
Link Research: Increase your high-quality backlinks and cut off the harmful ones using this tool
Custom Reports: Create reports that reflect your SEO marketing strategy results using a drag-and-drop builder
| Pros | Cons |
| --- | --- |
| Moz Rank included | A few features missing in comparison to other tools on this list |
| Offers all basic SEO features | A bit on the expensive side |
| Customizable reports | |
---
Conclusion
You might have noticed that in this list we bashed some tools a bit. This isn't meant to discourage you from using them, but rather to gain awareness of how you should pick your next SEO service. There are plenty of websites out there singing the praises of SEMrush, Raven Tools, Ahrefs… Our goal is to be a dissident voice in the sea of happy reviews and let you know there might be another side to the story based on reviews from actual users.
From all these tools, SERPed.net is our favorite, as it becomes evident from the comparisons we established. However, it isn't for no reason. SERPed.net really offers a sustainable alternative to the other platforms we reviewed, which are considered by many to be the best in the industry. It is an up and coming platform, which could counter all the reputation that older tools have already with very useful tools for your SEO work. After all, it was designed by SEO professionals who asked themselves: if there are any issues with the current tools, how could I fix them?
For many of you, one of the other tools in this list might be your Holy Grail. And what's wrong about it? Nothing. Our opinion about SERPed.net is nothing but that – an opinion in the never ending space of the internet. Maybe you have partners in business who use Web CEO – if it feels like it's the right tool for you, why not go with it? Let go of your misconceptions. We're not trying to impose anything to anyone. This is just a bit of show and tell about the biggest tools in the SEO industry right now and how you should consider them in 2022.
Feel free to share your criticism, it's always welcome. Be free to ask for recommendations as well – we're always there to give you a helping hand!