The 5 Best SEO Agency Tools
If you had to pick the best SEO agency tool right now which one would you choose and why? With the vast number of SEO agency tools available today, it's completely understandable that you may feel a bit unsure about which SEO agency tool is the right one for you.

Due to the variety of tools available, some people end up feeling confused which results in them opting for SEO reports instead of an SEO Agency Tool. They do this without realizing that there is a difference between SEO agency tools and SEO reports. A good SEO agency tool will put together an array of SEO reports into one report so that you can at a glance see all the information that you want on one screen.
A good tool will also track and provide information from your different SEO efforts such as backlinks, keyword ranking, organic traffic and more, being a close ally in your inbound marketing strategy.
Rather than providing your clients with a number of different reports each time they need an update about their accounts, you can simply show them a dashboard that summarizes all these different reports into one report, showing everything that you have done in a given period.
By doing this, not only do you present yourself as a well-organized SEO agency, but you will also be making it easier and quicker for your clients to understand important metrics.
What is an Ideal SEO Agency Tool?
Have you ever bought an SEO agency tool because its marketing was hard to ignore, or because it comes with such a good offer, or even because an SEO client insisted that it delivers results in search engines? Yet, sooner or later you realized it did not provide the kind of information your clients need to dominate rankings.
Not all SEO tools for digital marketing agencies are created equal. Whether free or paid, there are a large number of tools in the market that are not worth your time or money. And with the rise of natural language processing, data analysis, data visualization tools, machine learning…
That's not to say that there aren't good SEO agency tools out there. There are. You just have to know what to look for to be able to identify them. There are certain qualities that all good SEO agency tools have that put them above the rest.
So how do you identify a good SEO tool from a bad one? We'll tell you how to choose a good SEO agency tool at the end of this post, but for now let's dive right into what we think is the best SEO agency tools that are currently available on the market and the reasons why.
You can find a comprehensive post about the benefits of SEO agency software here. For more SEO dashboard software click here.
---
SERPed is climbing the ranks among SEO agency tools, as more and more digital marketers find out what it can do. Many are now choosing it over other software. SERPed is an all-in-one suite of SEO tools that combines a variety of powerful SEO features into one application, making it the ideal software for anyone who deals with agency SEO.
This comprehensive SEO software has a specific module for agencies that will help you get your clients to the top results on Google Search. Hundreds of small and medium-sized agencies are now using it, all appreciating just how much it can deliver at such an affordable price.
SERPed for agencies simplifies client management leaving you to focus on coming up with winning SEO strategies for your clients. It also allows you to grow your agency business by generating new leads.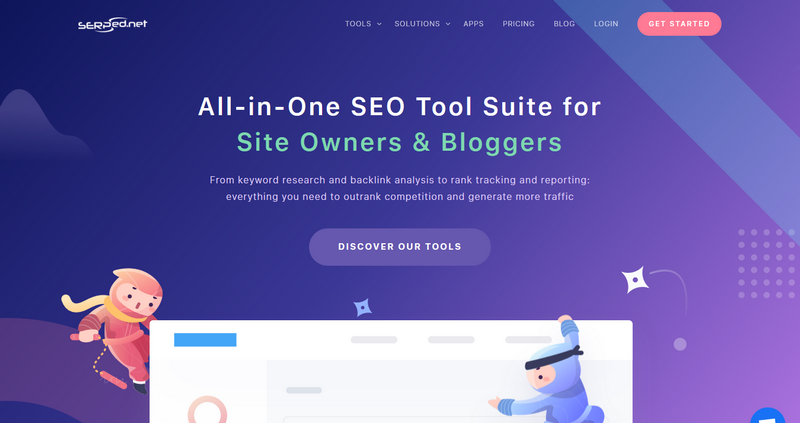 SERPed Features
Keyword research – For this you have Keyword Analyzer, long-tail Keywords, What Ranks Where and Ultimate Research. These features will help you find keywords that have the highest search volume and the lowest competition on search engines, especially Google Search. The keyword data that you get from these tools is accurate as it's derived directly from Google APIs. Each keyword comes with data points to show how profitable it is, and you can filter the data based on different criteria.
SEO Analysis – For SEO analysis you have a site explorer, bulk URL analyzer and backlinks explorer. The site explorer analyzes domains in detail and provides you with metrics that you can use to design an SEO strategy. With the bulk URL analyzer, you can explore metrics for up to 40 URLs at once, while the backlinks explorer will analyze the inbound links on any URL. You also get Google My Business data from Google Maps.
Site Management – Site management tools include site manager, backlinks manager, web analytics (based on Google Analytics data), uptime monitor, cash flow manager, goal tracking and site crawler. You can create projects to improve your workflow and improve project management.
Rank Tracking – In this module you'll find a rank tracker, local tracker, YouTube and Amazon trackers and an instant check facility which allows you to check a site's rankings on different search engines.
With SERPed, you can manage all your clients from one location while tracking client SEO campaigns in real-time.
It offers integration with most commonly used online marketing software, and it shares data from other tools such as Alexa ranks and Majestic score.
You can use SERPed to track social media and local search performance.
You can generate reports on-demand or schedule them to be delivered whenever it's convenient.
It includes a Chrome extension that gives you SEO data for all websites you visit. The user experience is also very constant and pleasant. Data visualization is clear and easy to interpret.
Another important feature in SERPed is its Agency add-on, which includes all the tools we mentioned plus an agency dashboard and social monitor.
If you want leads for your SEO business, you can use Lead Prospector, a very useful tool that looks up websites that rank for specific keywords, but need to be optimized.
Client Management – SERPed offers you plenty of tools to organize your client relationships, such as the Agency Dashboard (included in the Agency add-on), that allows you to access all the details of each project.

The Social Monitor also helps you control your client's popularity on social media and gauge the average feeling about your brand.
What SERPed Lacks…
Similar to several other leading SEO agency tools on the market, SERPed has a large number of features that many users have reported that they feel overwhelmed when they first start to use it. However, don't let this dissuade you, as these features are all designed to help you rank client websites easier and faster. The more you use them, the more familiar they will become.
SERPed Pricing
SERPed Premium costs $79/month, Ultimate is $179/month and Enterprise is $379/month.
---
View Listing
SEMrush is free premium software that specializes in keyword research and competitor analysis. This tool has become very popular among SEO professionals and digital marketers in recent years.
Some call SEMrush the "stealth tool" as it can tell you a lot about what others in your niche are doing, and you can then use this information to create strategies that will take you to the top of results on search engines, increasing your conversion rate and market share.
With SEMrush, there are more than 20 different ways to "spy" on your competitors. For example, you can find out information about their keywords, their inbound links, their content strategy and more.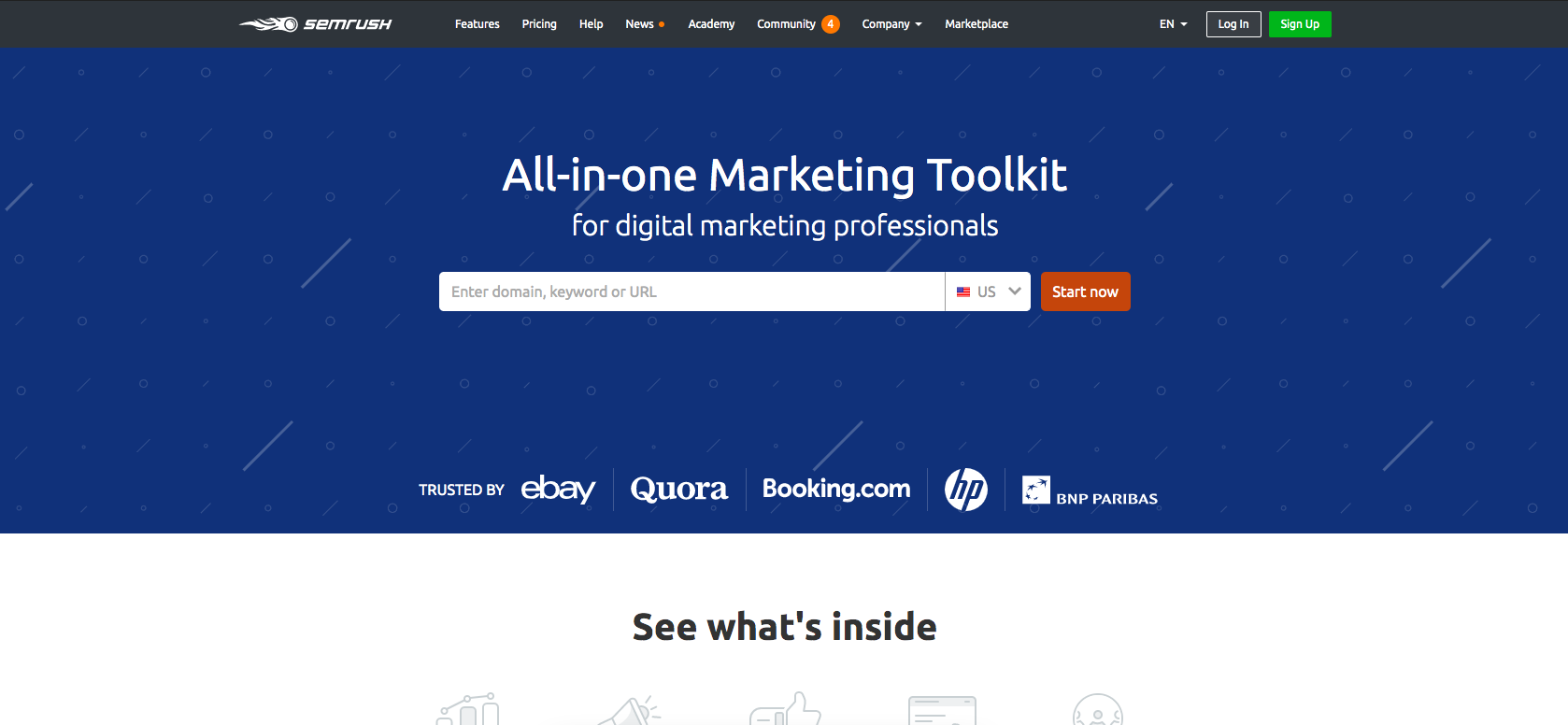 SEMrush Features
Organic Research – Organic Research is a keyword tool that shows you which keywords the websites at the top of a niche are using. Its deep analysis will show you where your website ranks in the top 100, what keywords drive the most traffic as well as which keywords the top-ranking sites in a particular niche are using, by checking Google Trends.
Advertising Research – What is a competitor's paid search strategy on Google Adwords? SEMrush will tell you their budget, the keywords they are targeting and show you new competitors for Google Adwords in your niche. You can also see which ads go to which pages. All good information that will help you to come up with a better placement strategy for your clients' ads.
Display Advertising Tool – Do you know what a GDN is and how it can boost a client's rankings? Find out how to use it to dominate search engine results pages with SEMrush. With this feature, you'll be able to see what your clients' competitors are up to, an analysis of their strategy and even see who's new in the game. If your customers have a paid advertising budget, then they will love this kind of information.
Backlink Analytics – You never have to check backlinks manually if you have SEMrush. Not only can you do a backlink analysis of clients' sites, but you can also see the backlink profiles of their competitors for link building. It also has a facility that filters backlinks according to the criteria that you set.
Keyword Research – Some people are not clear as to the difference between this feature and the Organic Research feature for Google Search. This feature in SEMrush is specifically to help you find the right keywords for search engine optimization and PPC. It provides phrase matches, long-tail and related keywords, keyword difficulty and much more. You can use it to find keywords for different countries in different languages.
Traffic Analytics – This feature will tell you all about the kind of traffic that your clients' competitors are getting. You can see how their visitors are split between desktop and mobile device search, see trends in traffic and even up and coming players in a niche. Gives you more data than Google Analytics, which is always good for your project management.
Additional SEMrush features include Keyword Magic Tool, CPC Map, SEO Writing Assistant, Topic Research and many more. Also, SEMRush recently released a free tool that competes with Google Analytics, worth checking out.
What SEMrush Lacks…
While SEMrush is one of the best SEO agency tools, it's not without fault. There are certain things about this software that can definitely be improved upon.
The first is a common problem among leading SEO agency tools: an abundance of features. There are so many features within this software that for most new users, the initial reaction is a feeling of being overwhelmed and confused for your internet marketing team. Hang in there; the more you use it, the easier it gets, and the more features you get to apply. Unlike SERPed, it does not have a Chrome extension.
Another problem with SEMrush is the accuracy of historical keyword trends. If you know the history of a domain and then look at the historical stats presented by SEMrush, you'll notice that they don't quite match up as they should. Local search is not perfect either.
We miss a structured data tool on this suite as well.
SEMrush Pricing
Pro retails for $99.95/month and Guru for $199.95/month. Both of these packages have a free trial.
If you want SEMrush for enterprise you can buy the Business package which costs $399.95/month.
---
View Listing
You will rarely see Agency Analytics listed among the best SEO agency tools, but this is only because it hasn't been given the same kind of marketing drive or market share as tools like Ahrefs or SEMrush.
Those who are familiar with it love it because it brings together all the metrics that clients need to see and put them together for you on one dashboard. You can use it to track keyword rankings, do site audits, check Facebook and Google Analytics, provide in-depth reports and more. The fact that you can add your own logo to the reports is a bonus.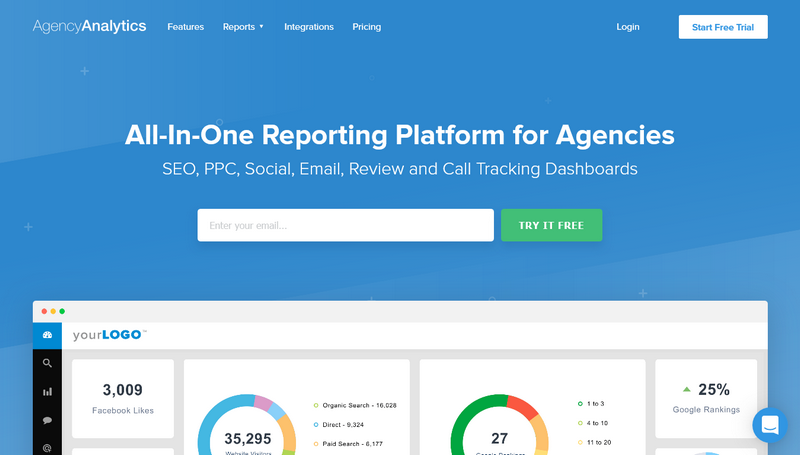 Agency Analytics Features
Keyword Rank Tracker – Rank tracking is one of the most important metrics of any SEO strategy. It shows you keywords that drive traffic to your site as well as to competitors' sites. This helps you to optimize your content strategy for keywords that have the highest search volume on Google Search and lowest competition so that you can rank faster, and it also advises you on duplicate content.
Backlink Monitoring – Your clients need to see the most important backlink metrics, and you can find them with Agency Analytics. It shows you high-quality links and points out toxic ones. It also provides comprehensive backlink analysis that helps with your link building efforts.
Site Audit Tool – What are the issues that are causing a client's website not to rank? The site auditing tool in Agency Analytics can be a powerful ally when your internet marketing team is pitching for new business. If you can show them why their sites have failed to rank, and what you can do to get them to the first page of search results, you will have a better chance of walking away with new business. It's a good alternative to Google Analytics to keep everything in its place, checking your sitemaps too.
Competitor Analysis – Every client in your portfolio wants to know who their competitors are, and you can use the Competitor Analysis to give them this information. Not only does it show you which keywords other domains are ranking for, you can also compare domain authority, backlinks and more.
Automated Reports – You can provide in-depth reports to your clients in just minutes with this feature. Reports can be on demand, or you can schedule them to be delivered when convenient. White Label each report to give your brand a stronger presence.
Integrations – Agency Analytics works with more than 40 tools including Amazon Ads, Active Campaign, Adroll, Call Tracking Metrics, Pinterest Ads, Snapchat Ads, Twitter, YouTube and more.
Agency Management – The Agency Management tool allows you to create an account for each member of the team, and you can allocate and track tasks.
What Agency Analytics Lacks…
While this tool has a good backlinks analysis feature, it doesn't show you where your competitors are getting their backlinks from.
The white label option is a nice addition, but you can only brand your reports with your logo. It would be a lot more useful if it was possible for the client's logo to be incorporated into reports as well, so you can give them a sense of ownership of the data.
It lacks a Chrome extension and structured data tool too.
NOTE: You may see some reviews that complain about this software not being as in-depth as other keyword tools in the market. This may indeed be the case, but you have to remember that Agency Analytics is in a different category altogether (this applies to all the tools discussed in this post). It is an SEO agency reporting tool.
There are tools, like Moz Pro and Ahrefs, which are designed primarily for keyword research. Agency Analytics is an SEO agency tool, which means it does more than just check keywords. It puts together an overview of a variety of metrics. If your primary interest is keyword research or backlink analysis there are tools that are built specifically for this.
Agency Analytics Pricing
The cheapest package, Freelancer, costs $49/month, while Agency retails for $149/month. For Enterprise you'll pay $399/month.
---
View Listing
Most people who do SEO or digital marketing will know Ahrefs. It is an excellent tool for SEO research and analysis.
While many people use this tool for keyword and backlink research and analysis, they don't realize that it also has a powerful agency module that can take your business to a whole new level.
Just like SERPed.net, the great thing about Ahrefs is that you can use it to get in-depth metrics for your clients and then use the agency feature to put together reports that they can use to come up with a future strategy. It also comes with a Chrome toolbar that will help your SEO efforts.

Ahrefs Features
Site Explorer – This feature gives you an in-depth look into organic search trends for clients' and competitors' sites. You can see organic keywords, top pages, top subfolders, top subdomains, competing domains, competing pages and it will highlight content gaps. The Site Explorer feature also provides the backlink profile for any web page and any URL. You can see new, lost and broken backlinks, meta tags and metadata, referring IPs, link intersects, internal backlinks and more.
Keyword Explorer – This tool gives you thousands of keyword suggestions. You can see ranking difficulty as well as how much traffic suggested keywords can bring in. This feature also shows you phrase matches, which content has the same terms (duplicate content also), what other terms you can rank for, newly discovered search terms that you should incorporate into your content marketing and more.
Site Audit – Clients love site audits because they can see where they are going wrong, and what they should fix to dominate SERPs. Ahrefs has a Site Audit tool that gives an SEO health score for every web page on any web page and points out problems and suggestions on how to fix them.
Rank Tracker – This feature allows you to show your clients how they are faring against their competitors. It compares metrics like visibility, average position, traffic, SERP features and more. You can see rank for both desktop and mobile.
Content Explorer – Use Ahrefs to find out the top-ranking content in any niche. You can see the most popular articles based on organic traffic, referring domains, the number of social shares and so on. You can also filter results for content based on a variety of criteria.
What Ahrefs Lacks…
Ahrefs is great for diving into the nitty-gritty of SEO for clients, but it doesn't have a dedicated module for agencies. You don't have a dashboard that you can share with clients, and you have to generate a variety of different reports in order to show your client how their web page is performing.
Ahrefs Pricing
Lite, the cheapest package, costs $99/month, while Standard costs $179/month. Agencies can invest in Advanced for $399/month, or Agency for $999/month.
---
View Listing
Web CEO is SEO agency software that you can use to keep track of multiple projects at the same time.
Web CEO provides certain advantages, but it has shortcomings compared to other software in this post. While it has excellent features, it's up to you to decide on what kind of trade-offs you're willing to make.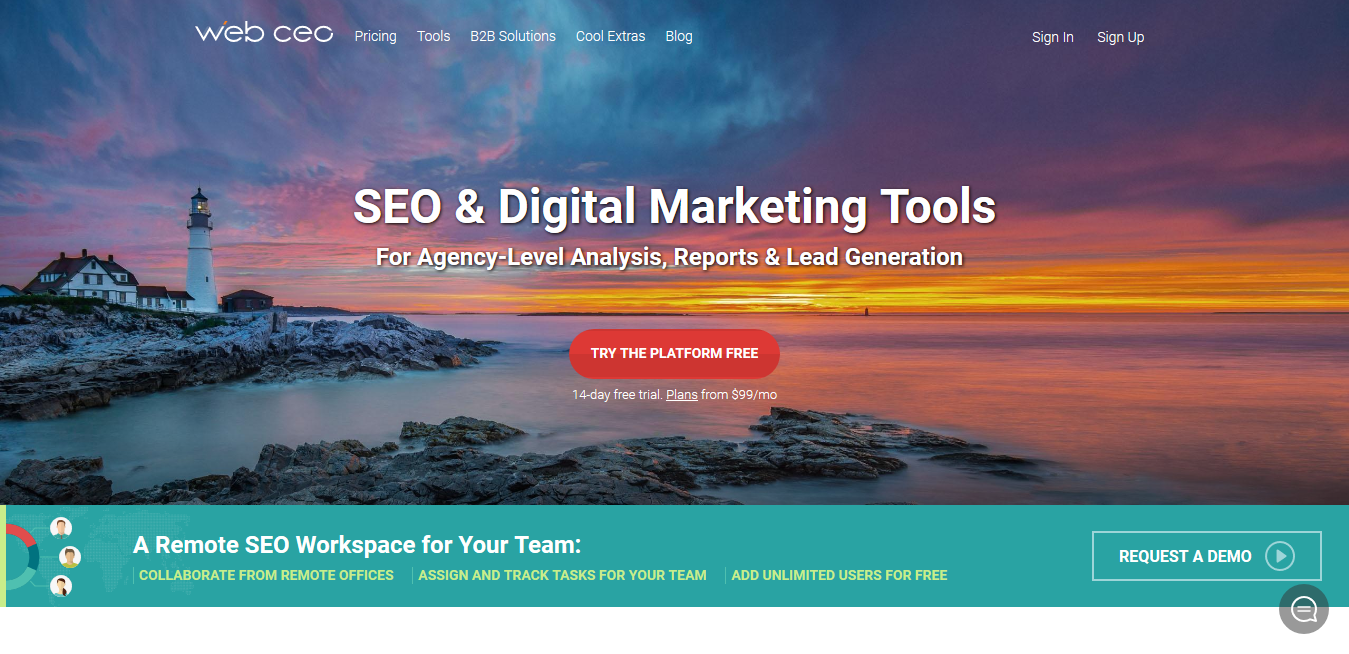 Web CEO Features
Keyword Research Tool – This software brings you keyword data from Google auto-complete, Adwords Planner, related searches and People Ask. You'll also be able to see what keywords competitors are using, and you will also get a host of tips on how to perform the most effective keyword searches.
Rank Tracking Tool – You can see competing domains on up to 370 search engines, and you can track rankings in different countries, cities and even zip codes. You can choose a specific period and then get a rank tracking analysis for it. This feature will show you the top organic competitors for any domain as well as social media activity.
Technical Audit Tool – This feature shows you broken anchor text and links, you can analyze NoFollow pages, check if there are page access problems and get an overall site health report.
SEO Analysis Tool – You can use this feature to analyze a site for SEO issues both on and off-page, get keyword optimization reports, see what factors may be influencing site rankings in mobile search and more.
For B2B, there are a variety of tools that agencies will find useful. You'll be able to get live keyword ranking data, competition analysis, generate leads and there is an SEO teamwork tool that allows seamless work between agency employees.
White-Label – You can attach your logo to reports and promote your agency brand.
What Web CEO Lacks…
It has some shortcomings in terms of how much data it's able to generate.
Other than that, the technical alerts generated by this software aren't always accurate. However, the biggest problem with Web CEO is that to access its best features often requires that you pay more.
Web CEO Pricing
There are two ways you can pay for Web CEO: monthly or annually. If you choose to pay monthly, Solo will cost you $39, Startup $99, Corporate $299 and Agency Unlimited will set you back $99 each month.
If you pay annually, Solo is $29, Startup is $75, Corporate is $225 and Agency Unlimited is $75 each month.
---
How to Choose an SEO Agency Tool
As promised here are tips on how to choose the best SEO Agency tools for your business and you should be looking for:
Accuracy – this is one of the most important features of the best SEO agency tools. It should be able to provide reliable metrics that can be used to formulate a solid SEO strategy.
Client Requirements – this is an ever changing target because each new client you acquire will have their own unique needs, but you should try as much as possible to fulfill client requirements.
Reporting – how detailed are the reports that the software can provide? Do the reports delve deep into metrics and provide information that helps solve problems?
Team and project management – SEO agencies have multiple people working on projects, and the software you choose should enable them to work seamlessly without interruptions. It should also provide an uncomplicated way of managing projects.
Affordability – a good SEO agency tool is one that falls neatly within your budget and doesn't require you to pay more to access features.
Support – this is very important. You should find out whether you will get proper attention from the customer service desk if you ever encounter a problem.
Dashboards – does the software have a dashboard that shows you all the important metrics at once? Not only does it make your agency look organized, but it also saves you from having to dig into multiple reports each time you are updating a client. They can see a snapshot by logging into their dashboard.
---
Conclusion
Finding the best SEO agency tools is not an easy task in a market that's brimming full of them. However, knowing what to look for is a good place to start.
It shortens your search, and even if you end up with a handful of SEO agency tools to choose from, it's still easier to narrow that down to the one that will get the job done for you All the SEO agency tools discussed here work well for small and medium-size SEO agencies. Before you pick any of them you should carefully look at your needs and your clients' needs.
Also consider your budget as well; while some of the tools have excellent features they are a little pricey.
Be the first to comment on this. Become a member or log in now.