6 Best Alternatives to SEMRush
SEMRush has been around for a few years and it is still trusted by 3 million customers worldwide for their SEO analysis and research tools. However, at $99.95 per month for the cheaper plan, it's quite expensive for beginners or small businesses. Plus, their tools can be overwhelming for new users or marketeers of small brands who might not have the time to learn all there is to know about SEMRush's tools. It is a powerful tool, but its high cost and long learning curve might act as a deterrent for many users.
This is why we decided to make a list of the six best alternatives to SEMRush. We included all the features you can expect and what each of them provides, in case you're an SEO beginner and are not familiar with the terminology used to name some of the tools included in each of these six platforms.
If, on the other hand, you're not a beginner and already know how to use SEO to your brand's benefit, you might get some interesting insights from this article that might make you change your SEO services towards a more intuitive and automated platform. Some of the tools mentioned, like SERPed, do a lot of the daily manual work for you, making your days more productive and setting you free for more creative tasks.

---
Read Review
View Listing
SERPed.net is a relatively recent tool that sets out to fill the gaps for existing tools in the market. With it, you can get information that would imply several different subscriptions, all under one platform. With SERPed.net, you lose the need to get Moz, Ahrefs, Majestic, SEMRush and many other tools since they are all provided by the same subscription. Starting at $79 per month, not only is it complete but it will also help you save money.
Whereas by getting the tools mentioned previously your fees would add up to a hefty monthly payment, with SERPed you get all that you need, paying for one subscription only. Plus, it offers an easy-to-use interface that allows you to have the most important metrics for you at a glance. If you are an agency providing SEO services for several clients, you can also create dashboards customized with your company's logo and a color scheme of your choice that your clients can access to get the insights that matter for them.
SERPed also allows you to create recurring reports and email them automatically to your clients. This is another feature that allows you to save time on reporting, using that time to act based on the metrics you can access on real time.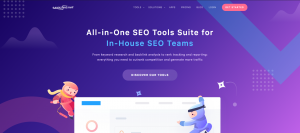 Features of SERPed.net:
Keyword Research: Discover the keywords you should use in your content to rank higher in Google's results
SEO Analysis: Check Moz and Majestic's scores for any website or domain
Domain Research: Discover the right domain for your brand and campaigns among expiring and expired domains
Project Management: Track and monitor all the websites you need under the same roof
Social Acquisition: Get engagement from real users using an exchange system within the platform
Rank Tracking: Check how your websites rank in search results according to location
Lead Generation: Dedicated tools for lead generation
White-Label Reports: Create your reports once and have them sent automatically at an established frequency
White-Label Client Dashboards: Create dashboards for your clients so they can access and monitor only the metrics that matter
Web Analytics: Replace Google Analytics by your own custom traffic metrics
---
View Listing
Although a bit limited in its features, Web CEO might be fit for some businesses. While SERPed offers over 40 SEO tools for different purposes, Web CEO is a simpler solution with only 17 tools included in its platform. However, if you're just looking into managing SEO only for your personal blog or website, this is a useful enough tool: their Solo plan starts at $39 per month, only allowing for one user.
If you're an agency offering SEO services, we do not recommend Web CEO. Just to get 5 active projects (which means tracking 5 different websites), their Startup plan is $99, which is a bit expensive in comparison to other platforms we recommend in this list. As we said, however, if you're on a solo mission to upgrade your own website and only care for the basic features, Web CEO is ideal for you.
With this list, we want to offer a little bit for everyone, and that's why we are including Web CEO. Its Solo Plan is brilliant for bloggers who are beginners in the SEO game and just want to improve their rankings and get to explore a bit of what Search Engine Optimization has to offer them. If that's your case, Web CEO will be perfect for you!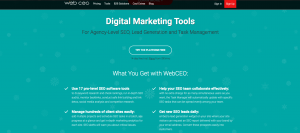 Features of Web CEO:
Backlink Tools: Analyze your current backlinks based on whether they benefit your reputation in SERPs or not
On-Page Analysis: Use your target keywords to analyze any URL accordingly
Site Audits: Crawl your website like a search engine and discover common errors
Local Marketing: Create locally relevant listings for your area
Keyword Analysis: Find out which are the best keywords to target according to your website's main subject
SERP Rank Tracking: Discover if your rankings have improved in the last few months according to your SEO efforts
Competitive Comparisons: Discover the areas you should improve through an analysis of your competitors
Website Analytics Integration: If your website has Google Analytics set up, you can access and monitor it through Web CEO
---
View Listing
SEO PowerSuite is one of the oldest tools around for SEO. Even though it claims to be a powerful tool, its features are split up between four different apps: Website Auditor, Rank Tracker, Link Assistant and SEO SpyGlass. So, instead of one platform, you have to get used to four and discover by yourself where are the tools you need in each of these programs – which you have to install on your laptop instead of accessing them from your browser.
These downsides make SEO PowerSuite a tool that has not withstood the test of time. Maybe further updates will bring their four tools together into a single platform, but only time will tell. Many agencies still trust SEO PowerSuite, so do not let these drawbacks affect your decision: SEO PowerSuite is still pretty much in the game.
Provided by Link-Assistant.com, this tool is the only one from this list that offers a free version. However, the free version is quite limited and won't get you very far. For a Professional plan, the price starts at $299, so it's only worth investing in once you have tested it and believe it's the best for your business. It does offer an unlimited-time free trial, so if you're a one-man show when it comes to SEO, it might be worth it. Nevertheless, the time it will take you to figure out how to access your most important metrics might make it a tool that is too clunky for personal use.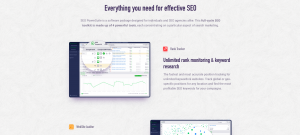 Features of SEO PowerSuite:
Backlink Tools: Access your website's backlinks for a simple analysis
On-Page Analysis: Analyze a URL using the keywords you're aiming for
Site Audits: Discover what you can improve on your website to get better rankings
Keyword Analysis: Discover which keywords you should be using in your content
SERP Rank Tracking: Track your URL rankings for your target keywords
Brand Alerts: Monitor new incoming links for your domain
Competitive Comparisons: Compare your website's performance to your competitors according to backlinks, SERP and much more
Website Analytics Integration: Import Google Analytics and Search Console metrics into SEO PowerSuite
---
View Listing
Raven Tools is an SEO maverick that still attracts many users across the web for different purposes. However, this tool is quite pricey, starting at $79 per month for the "Start" plan, which allows for only 4 users at once. If you're running an agency and you need to have more than four people using Raven Tools, you'll need at least the Grow Plan, which costs $139 a month. With Raven Tools, you pay for its reputation as well. If you take a look at its features, you'll see there are other products on this list that offer more at a lower price.
Nonetheless, you can't dismiss the accuracy of Raven Tools. This platform has been around for a while, and many users trust it because it is effective. It all depends on whether you know which features you're going to use or not. Raven Tools could have included more tools in its platform in the many years it has been available, but has decided to focus on the features it already had.
Not that there's anything wrong with that. Raven Tools has brought with it integrations for over 20 data sources, including Google Analytics and Google Search Console, which are quite useful. So, Raven Tools' focus on the tools it already had made it very effective for its users, so if you already use it and don't feel the need to have any more tools, it might just be what you need.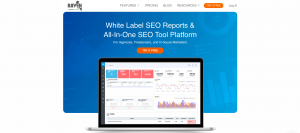 Features of Raven Tools:
Backlink Tools: Build more backlinks to your website and figure out which backlinks you should keep
On-Page Analysis: Use your target keywords to analyze any URL and understand how it ranks for those keywords
Site Audits: Check for errors which might affect crawlers from search engines
Keyword Analysis: Find out which are the best keywords to target according to your website's subject
SERP Rank Tracking: Get historical reports for your target keywords and rankings
Brand Alerts: Get reports when your brand is mentioned on other domains or when someone gives you a backlink
Social Analytics: Analyze social links and brand mentions on social media
Competitive Comparisons: Compare yourself to your competitors regarding Backlinks, SERP Results, Domain Strength, and more
Website Analytics Integration: Get data from Google Analytics and Search Console on Raven Tools
---
View Listing
Ahrefs is a comprehensive SEO toolset that is mostly aimed at content marketing and competitive analysis. With a database of over 187 billion indexed pages, it's easy to discover what your competitors are doing right so you can replicate it on your website and strategy. It also offers other common SEO tools, like keyword research, rank tracking and mentions monitoring.
However, what's impeditive about Ahrefs is mostly its price: their plans start at $99 for the Lite plan, which might be too much to spend if you're an SEO freelance professional or a small business. On another note, some customers complained about the accuracy of rank tracking and mentioned having to use other tools to complement it, which increases your costs a lot.
Nonetheless, Ahrefs is still a very good tool for SEO professionals and we recommend it as an alternative to SEMRush. The tools included are pretty much the same, with a few lacking like local marketing (which are included in other platforms we mention on this list like SERPed).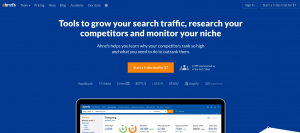 Features of Ahrefs:
Backlink Tools: Remove backlinks that might damage your reputation and explore ways to get more backlinks
On-Page Analysis: Use your target keywords to audit any page on your website
Site Audits: Crawls your website and finds out errors, telling you how you should fix them for better indexing
Keyword Analysis: Discover the right keywords to use according to your website's subject and target audience
SERP Rank Tracking: Get reports that show the evolution of your rankings according to your target keywords
Brand Alerts: Get alerts every time someone mentions your brand or links to your website
Competitive Comparisons: Main Ahref's strength, using a quite large database to collect SEO data from your competitors
---
View Listing
Moz started out to be a small tool that only offered Moz Rank, which is an indicator of how your website ranks online in terms of reputation. However, Moz Pro does a lot more than that – it's a full-fledged SEO toolset that offers a lot of different useful features. Moz Pro monitors your website's health in terms of SEO and indexability and also offers tools that help you with keyword research.
Moz Pro also provides you an analysis of possible opportunities for blog outreach (with link building in mind). Another feature Moz Pro's users enjoy is its wealth of learning resources, which will be great for you if you're an SEO beginner. For advanced users, this feature might not mean much, but for individuals who are still learning about SEO's ins and outs, it is quite useful.
Unfortunately, Moz Pro also falls under the category of expensive tools in this list, at $99 per month for their most limited plan. You can get plenty of other features at a lower price with SERPed, which starts at $79 per month.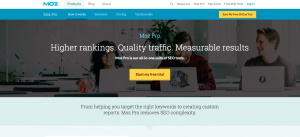 Features of Moz Pro:
Backlink Tools: Discover which backlinks are harming your SEO strategy and which ones are helping your website grow
On-Page Analysis: Use your keywords to analyze any URL accordingly
Site Audits: Discover the errors which might be keeping your website from being correctly indexed
Local Marketing: Use solutions like Bing Local and Yelp to help increase your local rankings
Keyword Analysis: Discover which keywords you should be targeting for better rankings
SERP Rank Tracking: Track the evolution of your rankings for your target keywords
Brand Alerts: Receive an alert for every mention of your brand on other websites
Competitive Comparisons: Analyze your competitors' SEO strategy and find what might work for you too
Website Analytics Integration: Get data from Google's tools like Analytics and Search Console
---
Conclusion
As always, we tried to include different options in our lists to help you make an informed decision when it comes to picking your next SEO platform. Some are more adequate for individuals (like Web CEO), while others are useful for agencies or internal marketing departments of businesses (like SERPed).
Plus, we chose tools with different price tags to give you an idea of what to expect to pay for an SEO platform that suits your needs. In terms of price-quality ratio, SERPed offers over 40 different SEO tools with plans starting at $79, so it is the best option if you need a comprehensive tool but don't want to spend a small fortune in several different tools.
Plus, the advantage of tools like SERPed is that you'll have all you need without having to switch to another platform. It also provides you with a service that will work on any computer in the same way, unlike tools like SEO PowerSuite which require downloading the whole toolset.
In short, this is our list of SEMRush alternatives. We're confident you'll find the best one for you among the options we provided!