The 5 Best SEO Checkers for Website Audit in 2022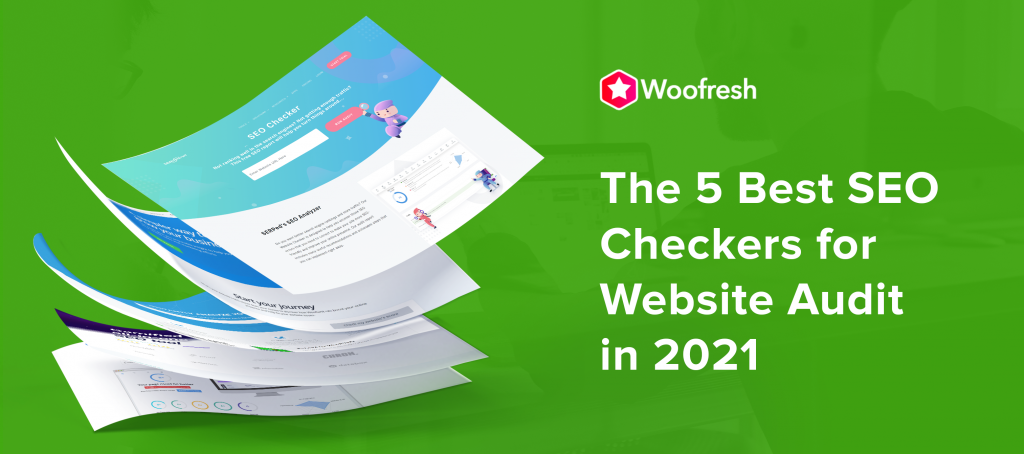 If you have an online presence, and especially if you hope to sell products or services, you need an SEO checker. What are SEO checkers and why are they necessary?
Most online marketers know what SEO is – it is the process of implementing changes to a website to make it more visible. Search engines, primarily Google, provide the recommended changes and all you have to do is implement them.
If you apply the changes as outlined, your website is ranked higher and higher, and sooner or later it will be on the first page of SERPs. This is the coveted position; it automatically gives a site an edge, as this is where you get clicks and leads).
Unfortunately, it's not very easy to comply with search engine algorithms. Even the best SEO experts will miss something, and hence the need for a tool to show you what you have missed and how you can fix it.
SEO checkers give you a list of errors or oversights on a website stopping it from achieving top ranking. They show you what you may have omitted or what you could be doing better to get your website to the top spot. In a nutshell, they are website analysis tools.
The best website analysis tools will show you a list of errors based on their potential impact on traffic. In other words, they'll provide a list of the errors that are hurting your traffic the most in descending order.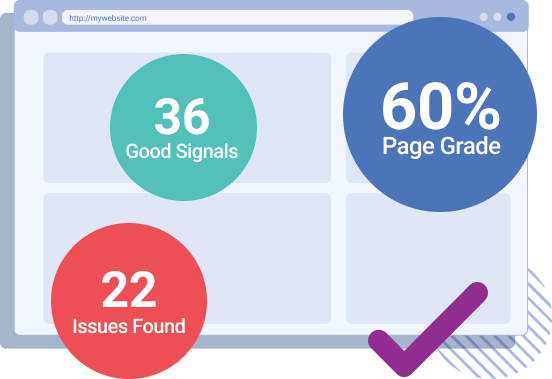 After you fix the problems you can run the tool once more to see whether you have corrected the problems.
This post is about the best SEO checkers for 2022. We'll talk about their features and what they can do for your website.
Before we get into them, we'll answer common questions regarding this topic.
---
What Does an SEO Checker Look For?
The list is long; different website audit tools check for different things. When shopping for one, it's best to look for a tool that's as comprehensive as possible. It should check many different areas so that you are covered on all fronts.
A good tool will look for any technical issues hindering search engines from properly crawling and indexing your website pages before anything else. If you don't fix these kinds of problems, any SEO you do on the site will be useless as search engines will not pick it up.
An SEO audit checklist can be broken into two main areas: on-page SEO and off-page SEO.
On-Page SEO
This involves optimizing individual website pages so that they can rank higher and get more traffic. It deals mainly with content and HTML code. On-page SEO ranking factors change often, so it's essential to keep up. They include:
Content (keywords and keyword placement, readability and so on)
Title tags
URL and URL structure
Image alt-text
Incoming and outgoing links
Off-Page SEO
These are the things you do outside of your website to get it to rank higher. It deals with improving website perception (trustworthiness, authority). It is just as important as on-page SEO, and it tends to be more time-consuming. Some of the areas covered in off-page SEO include:
Evaluating backlinks
Social media marketing
Guest blogging
…anything else that will give your website more visibility
---
How Do Website Analyzer Tools Work?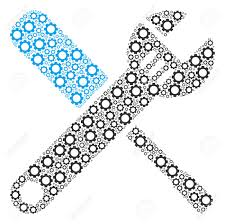 The process is simple. All you need to do is enter the domain name of the site you'd like to check or a particular page URL. The analysis takes place in the background within the tool.
In a few seconds it will produce a report with metrics on different areas of the site and SEO recommendations on what you can do to improve rankings.
You should go through the audit report and implement the recommended changes and then rerun the tool to see that you've fixed all problems.
A good SEO checker tool also can look into your competitors. If you enter their domain and run the tool you can see where they are doing well – or at least better than you – and improve your site to surpass or at least match theirs.
---
Why Should You Use an SEO Checker?
A website is a complex thing made up of many parts, and they all have to work properly for it to rank. Algorithms are even more complex; they give long lists of recommendations, and they change frequently.
If you were to comb through a website manually to check what could be improved you might not be very successful; you'd likely be overwhelmed and it would take too much time.
A website checker tool takes mere seconds; just by providing a URL, you receive a list of all the things you can do to make your site more competitive.
Not only does the tool tell you what needs to be done, it provides guidelines on how to do it and what kind of benefits you can expect.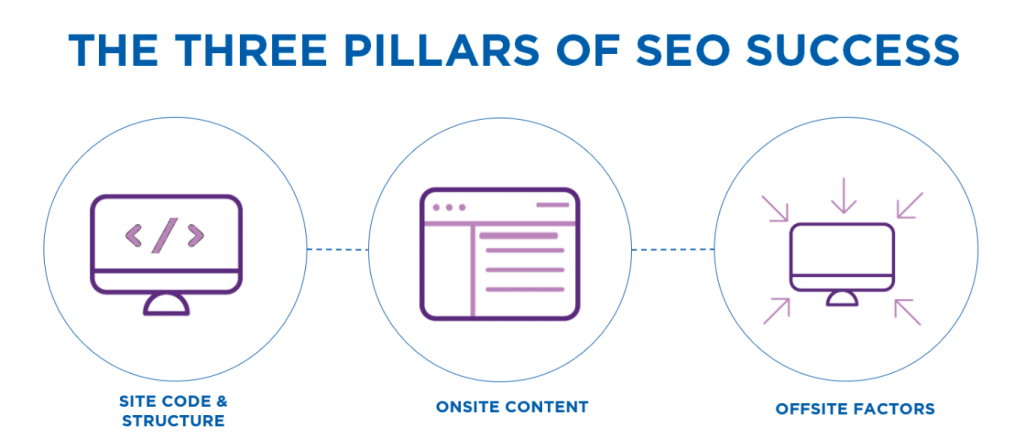 ---
Best SEO Checker Tools
Read Review
View Listing
This tool's premise is simple: If you are not getting enough traffic and are not ranking well in search engines it will tell you why and show you how to turn things around.
The SERPed SEO analyzer helps you find the errors that are stopping your website from ranking. The software tells you how to make your website more user friendly by outlining you what you need to do to fix each problem on your site.
It doesn't just give abstract suggestions. You get to understand the necessary steps to make sure that you implement proper fixes.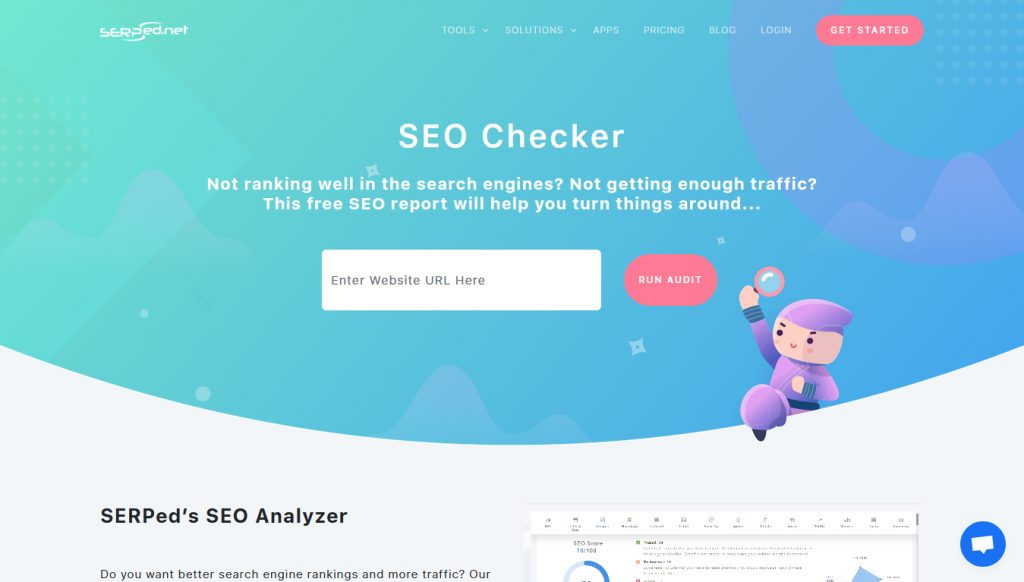 Features
On and Off Page SEO Analysis
The SERPed SEO tool looks at all aspects of your website: URLs, title tags, images, content, backlinks, social media signals and more. For each area checked, you receive a summary of the problem and a detailed recommendation on how to fix it.
Speed is a critical element of SEO; if your site is slow users will abandon it and move on to others that load faster. The tool does a speed test to tell you which areas of your website are slowing things down.
Mobile sales were nearly $3 trillion in 2020. The latest statistics show that 7 out of 10 mobile users look for and buy products on their devices. Your website must be optimized for mobile.
The tool does a check to see whether your site meets all criteria. If it doesn't, it provides you with the exact areas you need to work on to make it mobile-friendly.
This website analysis tool will check your HTTP protocol – whether it's installed and working as it should. It also checks for malware and phishing.
At the end of each check you get a list of tasks you need to undertake to optimize your site. The tasks come with step-by-step instructions so you don't need to waste time finding out what you need to do.
SEO Checker comes as part of SERPed.net – it is more than your average audit tool. Not only will it do a site audit, but SERPed.net also provides a host of other tools that help boost SEO.
It has tools for keyword research, site management, rank tracking tools, a domain finder, several client acquisition tools, a social exchanger, content curator, content restorer, link indexer and WordPress manager
---
View Listing
Woorank helps you analyze thousands of web pages in just seconds to discover SEO problems. After doing an analysis, it gives you a step-by-step list of what you need to do to better rank your site.
It comes as a free Chrome extension that allows you to analyze competitor sites with ease. For each site you visit you can see a basic analysis – SEO, mobile-friendliness, usability, backlinks, social media, traffic and more.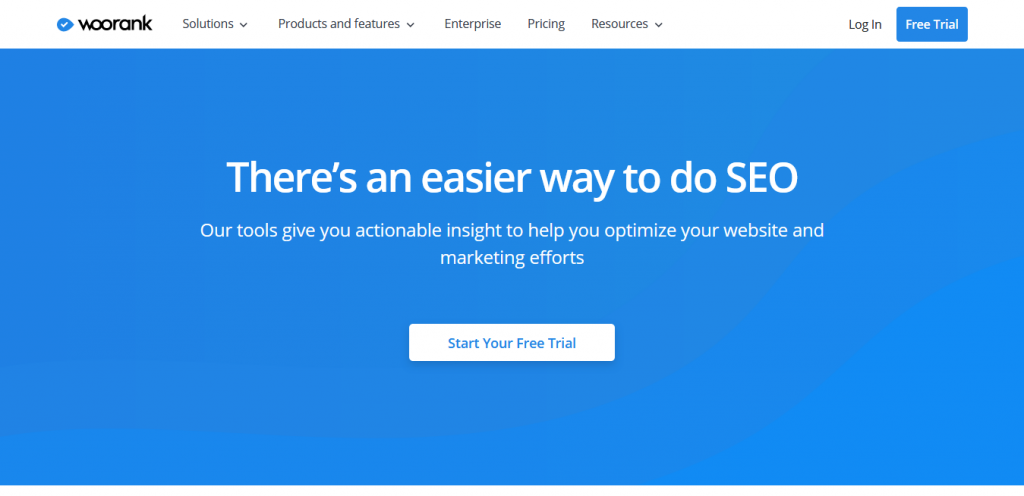 Features
You can crawl your site every day to ensure you have the most up to date information. You can schedule the crawler to run once a week or bi-weekly, depending on how often you wish to check your site's health
Google Vision is a feature that tells you how Google views your website. It shows you indexed and non-indexed pages. For the pages that haven't been indexed, the tool tells you why and provides a recommendation on how to fix the problem. This feature aims to make sure that Google can easily crawl as many pages as possible on your site.
All results from every site audit can be downloaded and shared across teams.
These help you understand technical jargon and clarify issues so that you can implement changes without delay
There are a variety of resources to help make site audits easy. They include a list of HTTP status codes and quick website reviews. You can also establish a project to monitor long-term SEO, and there is a white-label reporting feature.
---
View Listing
This is a tool developed by Neil Patel. It puts together several features that allow you to check the overall health of your website. All you need to do is enter the domain name of a site and click "Analyze Website". The tool does the rest.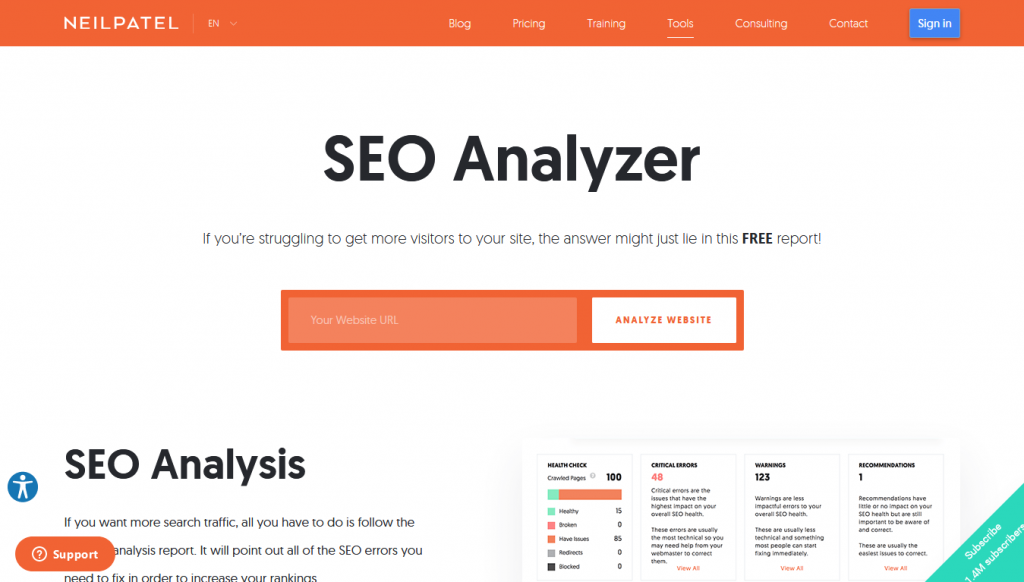 Features
You get a complete website analysis in an instant by just typing in a URL. It shows you things like critical errors, link analysis and also provides recommendations
What errors are stopping your website from ranking? SEO Analyzer gives a full list of errors and tells how you can fix them. The errors are ranked according to how much they impact your site. It would be best if you focused on fixing the ones at the top of the list and then work your way down.
Site speed is a factor for ranking, so always ensure that your site's speeds are optimal. This tool tests how fast pages load and tells you what you can do to get them to load even faster.
Backlinks are one of the most important ranking factors. SEO Analyzer shows you who you're linked to and your domain score. You can see each link's status and there are recommendations on what you can do to improve the backlinks on your site.
t the end of each audit you receive a complete SEO report that tells you everything that's affecting your ranking score and what you can do to improve.
---
View Listing
Morning Score's premise is that you don't need a collection of complex tools to help you understand your site's health. It brings together everything you need in one tool that anyone can use with ease.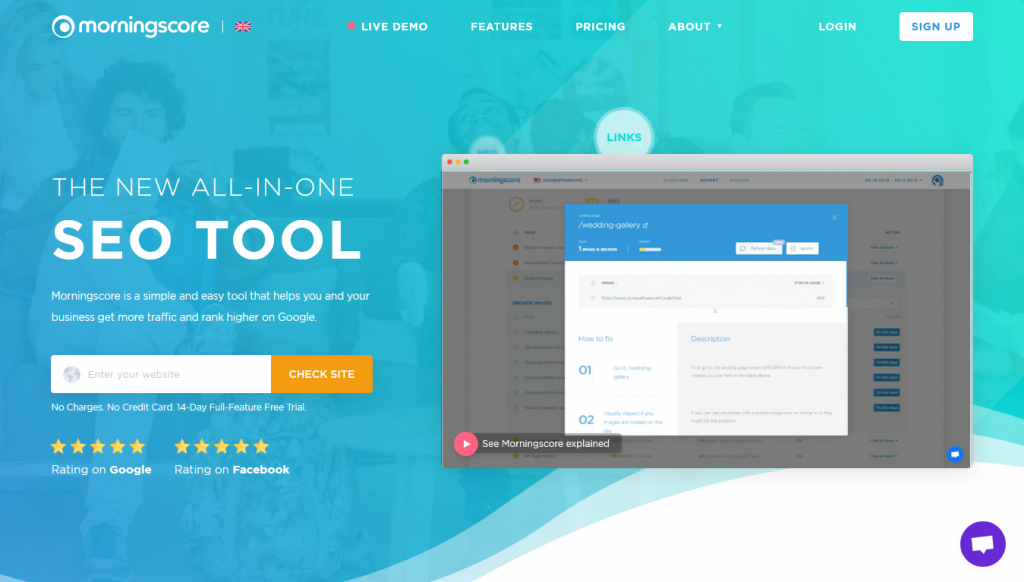 Features
he best-ranked sites are the ones that use the most relevant keywords, so you need to incorporate these into your content. For each keyword you'd like to include, you can use Morning Score to see how it ranks on Google, its cost-per-click and the amount of traffic it generates
Google Guidelines SEO Health Check
You can see an an SEO score and in-depth view of all the issues affecting your site and suggestions on how you can fix them. The report is divided into 3: basic ranking factors, technical factors and ideas for optimization.
y running a URL through this tool you can see a list of all backlinks and their status. There is a link rank that shows you how strong your links are compared to other sites.
You can see how your competitors are ranking for top keywords. This tells you which KWs you should be targeting.
You get a complete SEO report on what you should be doing to improve your site's ranking.
---
View Listing
This tool is used by some pretty big brands, including Deloitte, Ogilvy and Shopify. It can complete a website audit and provide an SEO score in just seconds, and it gives you all the necessary metrics and the changes you need to make.
It's easy to use and you don't need technical expertise to do audits. This is one reason it comes recommended for small and medium businesses.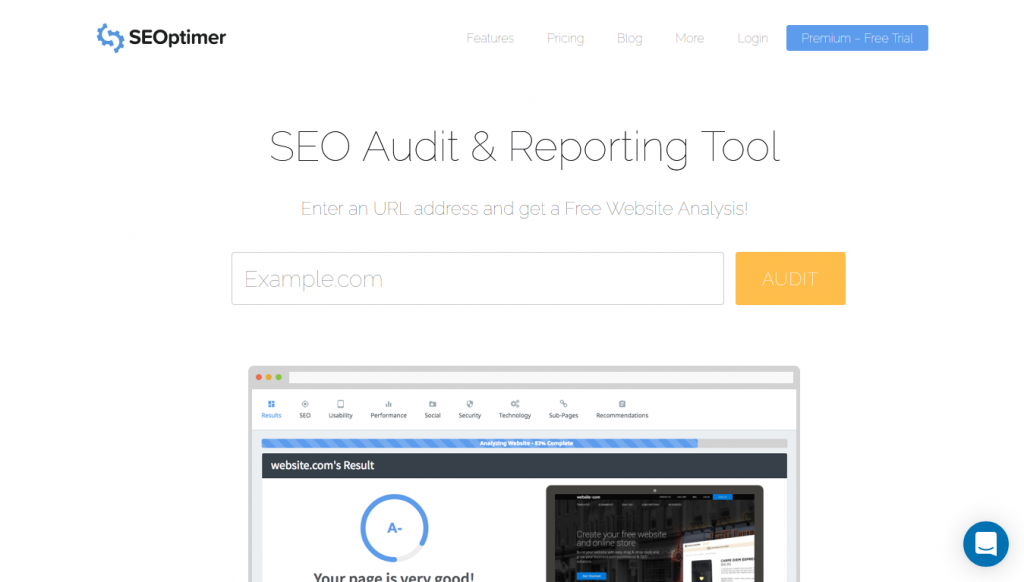 Features
Comprehensive Site Audits
It shows you all the problems that are holding your website back as well as recommended fixes.
These are particularly useful for SEO agencies as they can help promote the company brand. All you need to do to brand reports is upload your logo and company details.
The tool provides reports in several languages including German, Spanish, French and Spanish.
These include a metatag generator, a keyword generator, a backlink checker, an XML site generator and more.
---
Conclusion
Getting a website to rank is harder today than it's ever been. Not only are most niches extremely competitive, but there are also many factors to rank for.
An SEO audit tool will tell you whether you are optimizing for the right factors. It highlights the problems that stop your site from ranking and tells you what you can do to fix them.
One common question about these tools is whether a free SEO analyzer is any good. The answer is that while most free website analyzers work, they are limited in some way. They will give you highlights, and if you want a full health report of your website you have to subscribe.
Also, not all SEO checkers are the same; some are more comprehensive than others and provide a great deal more information. All the tools discussed here work pretty well, but our recommendation is SERPed.net. It's an SEO analyzer that audits and brings together a host of SEO tools you can implement immediately.