7 Best Alternatives to Raven Tools
Raven Tools is widely known these days as one of the best SEO tools available. However, Raven Tools is quite pricey for the tools it includes and by now there are several alternatives which might reveal themselves as extremely useful for your business.
Each tool comes with its own advantages and disadvantages. There isn't a perfect SEO tool for everyone, instead, there is the perfect tool for your company, business, or industry.
Using the right tool for your company, you can make the wise decisions you need to outrank the competition and stay on top of your SEO game. We'll discuss seven alternatives to Raven Tools that might be right for you, listing their features so that you're aware of what you're buying and what it will bring for your company's SEO strategy.
With this article, we want to help you navigate the world of SEO platforms with confidence, knowing the tool you've chosen is the right pick for you. So, on to the list!

---
Read Review
View Listing
SERPed has been considered by many users to be a life-saver. It includes all the tools you would expect from Moz, Majestic, Ahrefs, SEMRush and much more while using the same platform all the time. The price-quality ratio on this one is quite remarkable, with pricing plans starting at $79.
SERPed has been designed by SEO professionals, for SEO professionals. Even though its toolset is quite comprehensive, SERPed is built for ease of use as well.
SERPed offers tools for Keyword Research, Rank Tracking, SEO Analysis, and everything else you might need for your SEO project. It also allows you to create white-label reports that can be sent automatically to clients on a regular basis. Everything on SERPed has been designed to make your life easier, from project management to reporting.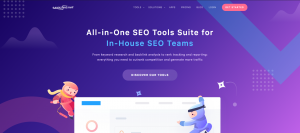 Features of SERPed.net:
Keyword Research: Find the right keywords to aim for on Google Results
SEO Analysis: Using Moz and Majestic's metrics, check scores for any domain
Domain Research: Find available domains on a list of expired and expiring domain names
Project Management: Use a single platform to track and monitor all your projects
Social Acquisition: SERPed provides you with engagement coming from real users
Rank Tracking: Check keyword positions for specific locations of your interest
Lead Generation: Get new leads easily using powerful lead gen tools
White-Label Reports: Create reports for your clients and email them automatically
White-Label Client Dashboards: Your clients can see the metrics that matter for them through their own dashboard in the platform
---
View Listing
SEO PowerSuite has been around for a while, and it includes several different apps that make up for a nice toolset. It includes Rank Tracker, Website Auditor, SEO SpyGlass and Link Assistant. The fact that it uses different apps for different features makes it easy to maneuver, but at the same time makes it harder to create all-inclusive reports. SEO PowerSuite is also a bit expensive, at $499 for a Professional license that only allows for one user at a time.
On another note, a good feature of SEO PowerSuite is that it has an offline mode, allowing you to work on your projects without needing to be constantly connected to the internet. It also allows for an easy platform for beginners, while having the option to enable expert features if you're a senior SEO professional.
 
Features of SEO PowerSuite:
Backlink Tools: Analyse and increase your website's backlinks
On-Page Analysis: Analyse an URL using the keywords you're aiming for
Site Audits: Crawls your website pages and points out possible errors
Local Marketing: Helps manage listings on local search like Yelp or Bing Local
Keyword Analysis: Find the right keywords to target your intended audience
SERP Rank Tracking: Track the rank of a specific URL for your ideal keywords
Brand Alerts: Monitor your mentions and new links to your domain
Social Analytics: Analyze social mentions and links relative to SEO
Competitive Comparisons: Compare Domain Strength, backlinks and SERP Results between your website and the competitors
Website Analytics Integration: Use Google Analytics and Search Console integration
---
View Listing
According to customer reviews, the greatest strength of Web CEO is its support team, which helps you along every step of configuration and daily use. However, this toolset is not quite easy to manage from the beginning, which can make it quite frustrating. The paths for each tool are quite difficult to figure out the first time, but once you're acquainted with this platform, its 17 tools won't seem as daunting to manage.
Web CEO shows you what mistakes you are making with your website, offering you suggestions for improvement. Their help team helps you figure out how to put the solutions in place and is quite patient even if you're just a beginner in SEO matters. Web CEO's pricing plans start at $39 for a Solo Plan.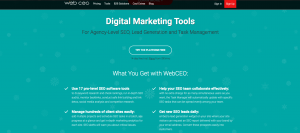 Features of Web CEO:
Backlink Tools: Understand if your current backlinks are being helpful for your strategy or damaging
On-Page Analysis: Analyse any URL based on the keywords you should be targeting
Site Audits: Monitor your website from a crawler's perspective, find broken links and other errors
Local Marketing: Manage your local listings according to your location's most used tools
Keyword Analysis: Find which keywords you should be targeting in your content
SERP Rank Tracking: Reports that show the evolution of your ranking in different search engines
Competitive Comparisons: Compare your website to your competitors' and check its strengths and weaknesses
Website Analytics Integration: Integrate Google Analytics' metrics into your monitoring
---
View Listing
Ahrefs is another toolset for SEO which takes care of competitor research, link building, content research, website audit, rank tracking, and many other features. With a database of 7 billion keywords and 187 billion indexed pages, its results are quite accurate and will help your website become the best it can be according to helpful data from competitor websites.
This toolset is heavily based on competitor analysis: its main goal is to make your website overcome competition, which has its advantages according to its enormous database. However, it lacks features like social analytics and Google Analytics' integration. If you're looking for a simpler solution, it might just be your cup of tea. Pricing starts at $99 for the Lite Plan.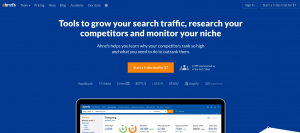 Features of Ahrefs:
Backlink Tools: Get additional backlinks towards your website and remove harmful backlinks
On-Page Analysis: Audit any URL according to your most relevant keywords
Site Audits: Points out main crawling mistakes that can prevent pages from being indexed
Keyword Analysis: Points out which keywords you should be using in your content to get the right visitors to your website
SERP Rank Tracking: Get reports for different search engines that show your evolution in search results for targeted keywords
Brand Alerts: Track mentions of your brand and links from other domains
Competitive Comparisons: Collect data from billions of other websites and upgrade your SEO strategy by knowing what worked for your competitors
---
View Listing
SEMRush is not only about SEO. Actually, it is a platform for online visibility management and content marketing, which makes it part of our list for its SEO features but also makes it quite complicated to learn due to including 30 different tools. SEMRush also offers data for 140 countries, which might come in handy if the country you're aiming for is not an English-speaking country.
The strengths of SEMRush lie on its keyword database, SERP history, and rank tracker. Competitor analysis also works quite well, considering both organic and paid traffic. These tools help you not only with SEO but also with Search Engine Marketing. However, display campaigns aren't easy to analyze if you're only using SEMRush, which might be a downside for those of you who are investing in Google Ads and similar platforms.
Nevertheless, SEMRush is quite useful for market research as well, which might be important for your business. Pricing starts at $99.95 per month.

Features of SEMRush:
Backlink Tools: Analyse the backlinks on your website and which you should keep or disallow
On-Page Analysis: Choose your target keywords and analyze any URL using those keywords
Site Audits: Find out which pages of your website might be an issue for search engine crawlers
Local Marketing: Manage your local search listings on websites like Yelp
Keyword Analysis: Find out which keywords you should target according to your website's theme and goals
SERP Rank Tracking: Historical reports show the evolution of your website's rank on search results according to your chosen keywords
Competitive Comparisons: Compare your website to competitors and analyze what you could do to be successful
Website Analytics Integration: Integrate Google Analytics as part of your website audit
Paid Keyword Optimization: Check which keywords you should use for your PPC campaigns
Content Creation Tools: Tools that help you create the right content for your audience according to your company's marketing strategy
---
View Listing
Moz Pro is a minimal set of tools for SEO that will provide you with insights about your website's performance and how your backlinks and content keywords affect your SEO. It also offers what Moz calls "site health", which is a combination of factors that will define your Moz ranking and your position on search engine results.
Users find it quite useful for inbound marketing as well as analyzing competition and showing you new opportunities for blog outreach and link building. You can also use its Research Tools to get a grip on the keywords you should be targeting to get relevant visitors to your website. If you're looking into learning more about SEO, Moz is also famous for its learning resources. For the number of tools Moz Pro offers, it might be on the expensive side with pricing starting at $99 per month for the standard plan.

Features of Moz Pro:
Backlink Tools: Check your backlinks and keep only the ones that are meaningful and incremental towards your SEO strategy
On-Page Analysis: Analyze any URL according to your best keywords
Site Audits: Check for crawling issues search engines might have on any of your website's pages
Local Marketing: Engage in local search through Yelp and other similar solutions like Bing Local
Keyword Analysis: Find the keywords that best suit the searches your target audience is making on search engines
SERP Rank Tracking: See if your ranking on search engines is improving according to the keywords you're targeting and change your strategy accordingly
Brand Alerts: Find out every time someone mentions your brand or links to your domain
Competitive Comparisons: Compare your results with competitors and find out strategies you should replicate
Website Analytics Integration: Integration for Google Analytics, Search Console and similar tools
---
View Listing
Unlike other tools on this list which try to focus on several pain points, Advanced Web Ranking is mostly focused on monitoring ranking data and turning it into actionable insights. You can get search rankings for keywords in different regions and countries, ranking reports, keyword performance metrics and complex data analysis to process the rankings you're interested in.
Advanced Web Ranking is more like a bare-bones solution for SEO if you're only interested in checking how your keywords rank and which keywords to target. However, an interesting (and useful) feature of this tool is that it allows for unlimited users per subscription. You can always use it on the side if you're looking for the advanced ranking metrics but need other solutions. Pricing starts at $49 per month for the Starter pack.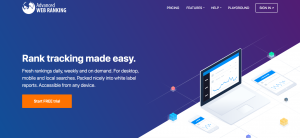 Features of Advanced Web Ranking:
Keyword Analysis: Find out about the keywords you should be using to be found easily on search results
Competitive Comparisons: Use your competitors' tactics for your personal benefit knowing the keywords they're targeting.
Website Analytics Integration: Use insights from Google Analytics and Google Search Console to see how your strategy is working out.
---
Conclusion
In this list, we tried to analyze Raven Tools alternatives which might give you the best price-quality ratio according to your needs as a business/agency. A few of these are mostly used by individuals (like Web CEO) while others have better scalability (like SERPed, SEO Power Suite or SEMRush). Some of them have a larger set of features (like SERPed and SEMRush) while others are better as a side tool (like Advanced Web Ranking).
Many of these tools offer the same features since their goals are similar. We tried to make a reasonable comparison by listing all the features each one has and the pricing for each – our goal being to showcase Raven Tools alternatives while allowing you to make an informed decision by understanding the limitations each tool has and their pricing. There's no harm in going for a cheaper tool as long as it has all the features your business requires for its SEO strategy. However, we recommend SERPed for a comprehensive toolset that will upgrade your SEO strategy while having very reasonable pricing.
What are your thoughts on this list? Is there any tool you'd like to see on this list? Have you used any of these before? If so, what was your take on it?