Does Surfshark Work for Netflix?
Read Review
View Listing
Editor Rating:





User Ratings:





(5)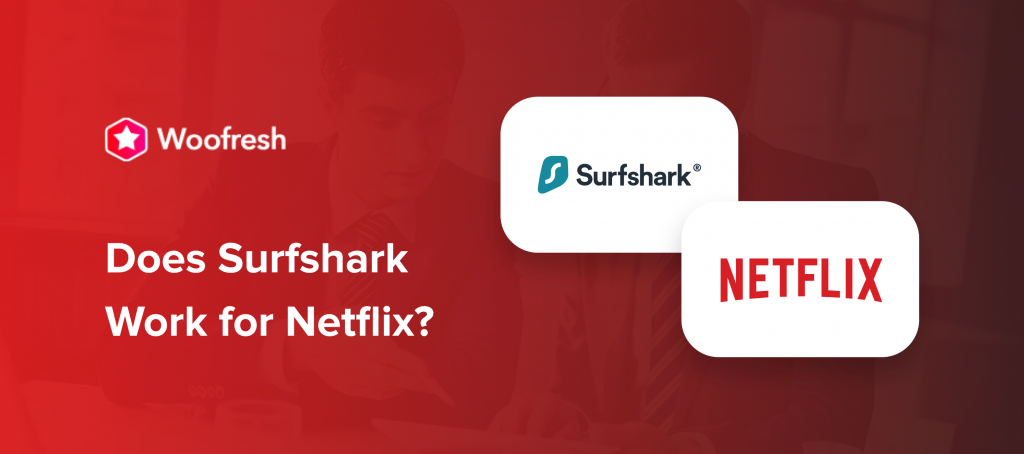 Is a Surfshark Netflix combo going to improve the quality of your TV experience? Read on to find out.
You're all set to watch a show that everyone's talking about, but when you turn on your Netflix you get an error message on your TV screen like, "You are not allowed to watch this video: Geo-Fencing Restriction." or "Geographic restrictions apply (1005). This video isn't available. Due to licensing restrictions, we can only offer this video to our United States customers."
You know your Netflix subscription is up to date, so what could be the problem? When you get an error message on a streaming service because of your location, it's called geo-restriction.
It happens all the time, and this article will tell you how you can use Surfshark to get around it and watch any show you want on Netflix from any country at any time.
---
What is Surfshark?
Surfshark is a brand of VPN or Virtual Private Network. A VPN is a type of software that creates a secure network within the internet by encrypting traffic and hiding your IP address.
Each time you connect to the internet through a VPN no one can see where you are or what you're doing online. In a nutshell, every moment you spend online is private.
However, that's not the only benefit of a VPN.
One of the primary reasons why people are buying VPNs today is because they offer greater access.
You can use restricted streaming sites without detection. You'll no longer get error messages when you try to stream certain shows from Netflix because they cannot tell where you are to block you.
A good VPN allows you to watch any show from anywhere in the world by hiding your streaming footprint.
Apart from Netflix, you can access additional streaming services like Hulu, Amazon Prime, Apple TV, HBO, BBC iPlayer and lots more.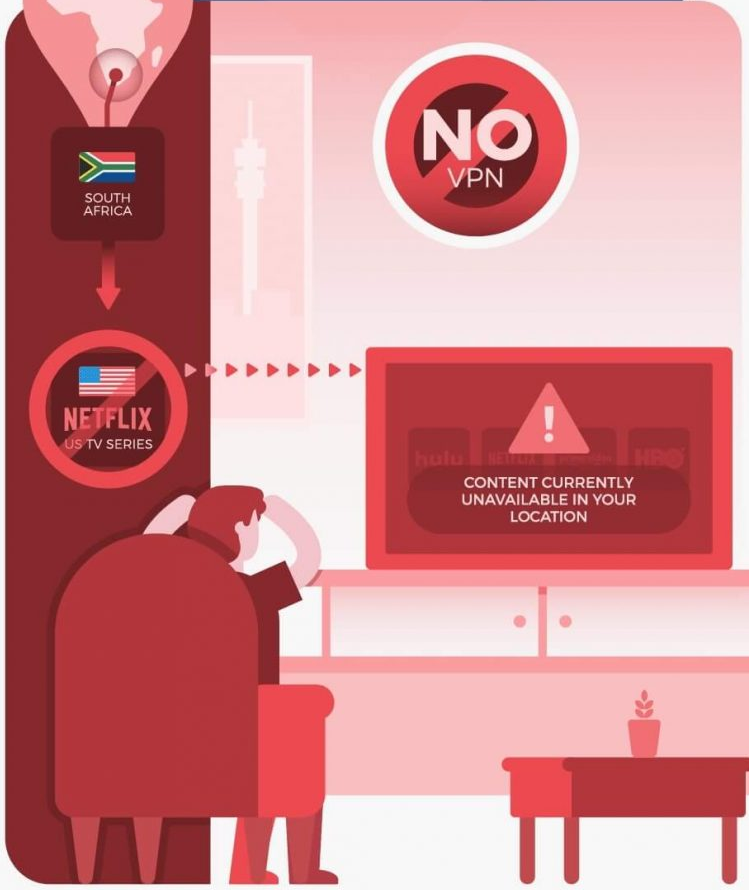 There are many VPNs in the market, and Surfshark is among the best. When it comes to bypassing Netflix geo-restrictions, it is among the top three.
A Surfshark Netflix subscription will give you access to Netflix, Disney+, Amazon Prime, BBC iPlayer, HBO, Hulu and more. You can find a full list here…
If you want to learn more about what is a VPN, how it works and its benefits, click here… You can find a list of the best VPNs, their features and benefits in this article
---
How Does Surfshark For Netflix Work?
When you try to get onto any Netflix server without a VPN, the server can read your IP address. It tells the server where you are, and if you are in a region that has geo-restrictions you're automatically blocked.
A VPN works by allocating you a different IP address, one that isn't subject to geo-restrictions.
If, for example, you want to access a show that's only available on Netflix Australia, Surfshark will allocate you an IP address within Australia and give you full access to the Australia library.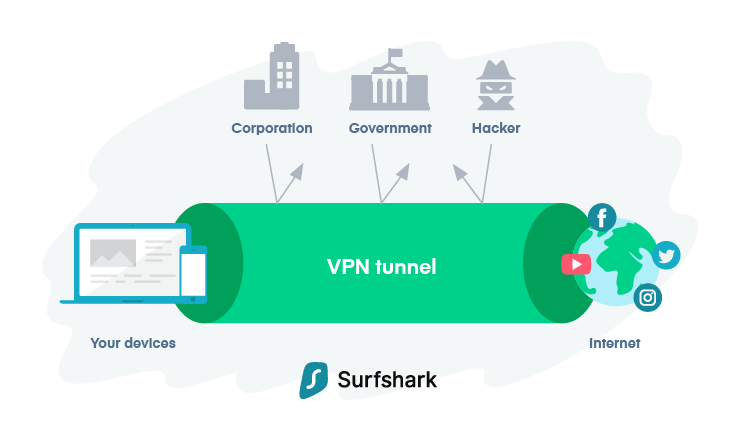 It works the same way for all Netflix libraries. The VPN looks at the show you're trying to watch and allocates you an IP address in a server in a non-geo-restricted region.
It also encrypts everything you stream. No one can see what you're streaming and when you stream. Even your ISP cannot throttle your bandwidth because they are blind to your streaming activities.
---
Surfshark VPN Netflix: What You Need to Know
We tested several different locations using a high-speed connection and we were able to get good recults on all tests.
Surfshark may not be as fast as premium services like Express VPN but it's counted among the best for streaming.
You can watch shows without worrying about poor connections and buffering issues.
Here's what we were able to get:


Surfshark can unblock more than 30 Netflix libraries.
The best way to access a Netflix library is to connect through a server in that country. So, for example, if you want to watch a show in the Canada Netflix library, you should connect through a server in Canada.
Once you install Surfshark you have access to all libraries. They include the US, UK, Canada, France, Germany, India, Australia, Germany and many more.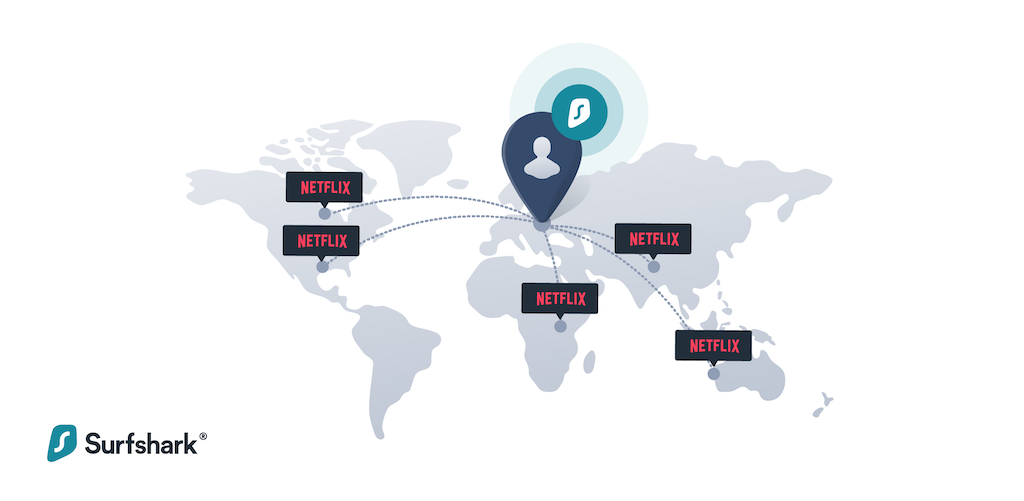 What streaming services does Surfshark unlock?
Apart from Netflix, you can use Surfshark to unlock the following streaming services: Disney+, Amazon Prime, BBC iPlayer, Hulu, Hotstar, HBO Now, DAZN, ESPN, YouTube TV, AT&T, Sling TV and many more.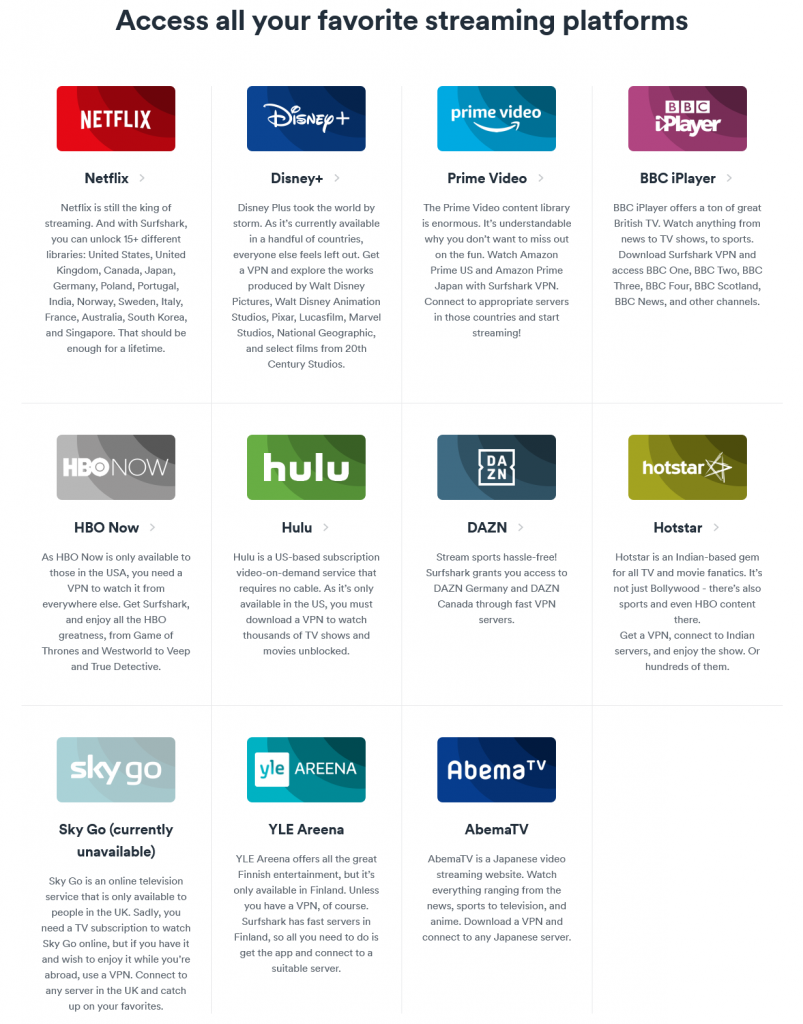 Does Surfshark work in China?
Yes, you can use Surfshark to watch Netflix in China. It's currently one of the best for bypassing censorship and geo-blocks in China.
However, it's not easy to set up as you cannot download the app when you are in China. There are detailed guides online to help you set up Netflix in China.
How safe is Surfshark for Netflix?
Netflix is very safe, and you don't have to worry about Netflix catching up with you and shutting down your connection. Netflix indeed tries to stay ahead of VPNs but Surfshark uses the latest technology to bypass restrictions. For now, you are completely safe using Surfshark for Netflix.
In addition to that, this VPN doesn't keep user logs, uses military-grade encryption and has strong security protocols.
They use RAM-only servers, which means that all your data is wiped every time you turn off your VPN connection.
Is Surfshark for Netflix legal?
This is one of the most commonly asked questions for those who are seeking a Surfshark VPN Netflix connection.
Using a VPN to access Netflix, or any other online content is legal in most parts of the world.
There are a handful of countries where VPN use is illegal (North Korea, Russia, Iran, China, the UAE, Turkey and a few others).
VPNs are restricted in some countries. This means that there is a list of VPNs that are legal to use.
Just to be safe, you should check whether it's legal to use a VPN in your country before you install Surfshark.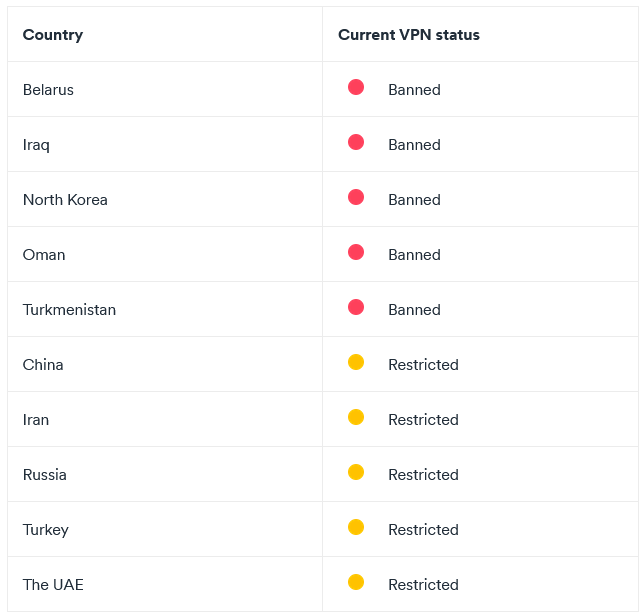 Can I use Surfshark for torrenting?
Yes, you can use Surfshark for torrenting. It offers fast speeds, unlimited bandwidth and powerful security so no one can see what material you're torrenting.

---
How to Connect Surfshark For Netflix
To watch Netflix with Surfshark VPN you need two things: a Netflix subscription and a Surfshark subscription. Learn how to install Surfshark here…
Once you have these two things use the following steps to get your Surfshark Netflix connection working:
Connect Surfshark and choose a server in the country whose library you'd like to access. You can connect directly to the Netflix US library by connecting through any of Surfshark's 3200+ servers.
Log into your Netflix account. So long as you have an active subscription you can use it to access any Netflix library so long as your VPN connection is active. Refresh your browser and you'll see the following button:

Click on it and choose whatever show you want to watch.
---
What Else You Can Do With Surfshark
Other than watching Netflix, your Surfshark subscription is good for the following:
Protect your identity every time you go online. No one can see what you do online, and you're safe from hackers.
Protect the data on your devices.
Protect your email accounts.
Stay out of reach of advertisers and marketers. If they cannot see what you do online, they don't know your preferences and cannot serve you adverts.
Protect your Wi-Fi connection from hackers.
Keep business data safe and transactions anonymous.
Secure your gaming activities.
Avoid bandwidth throttling by your ISP.
Access blocked sites (this is vital in countries like China where access to some sites is restricted).
---
FAQ
Surfshark Netflix not working – how do I resolve it?
There are several reasons why your Surfshark connection for Netflix may not be working.
Often, you can resolve the problem by disconnecting from the server and reconnecting again through the same server.
After that, refresh your browser and try again. It should work, but if you experience any further issues you should contact the Surfshark support team.
Why am I getting a Netflix site error?
If you try reconnecting the server and you get a site error it may mean that Netflix has detected that you're using a VPN. It will bring an error message that says "you're using an unblocker or VPN".
To get rid of this problem you should clear your cache. You should also try connecting through other servers.
If it happens when you are gaming, disconnect your gaming device and give it a few minutes.
Do a DNS test leak – that might be the problem.
How do I get Netflix to work on Surfshark?
Please check above for step-by-step instructions on how to get a proper Surfshark Netflix connection.
Can I use a free VPN for Netflix?
Some free VPNs claim to be able to unblock Netflix but they come with serious drawbacks.
It's almost impossible to find free VPN services that offer the combination of speed, unlimited data, thousands of servers and absolute security.
If you choose a free VPN you'll sacrifice one or more of these things and your TV experience isn't guaranteed to be a good one.
---
Conclusion
Surfshark eliminates Netflix content restrictions and gives you access to dozens of libraries and thousands of shows.
It works for many other streaming services as well, allowing you to access movies, news and sports from all parts of the world.
Connecting Surfshark for Netflix is easy. You need an active subscription for both.
Install and activate Surfshark and then choose a VPN server to connect through. You'll be directed to the Netflix library for that country and you can watch any show therein.
If you experience any problems as you try to connect, the Surfshark team provides excellent support and they are available 24 hours a day.