Surfshark for Chrome
Editor Rating:





User Ratings:





(5)
Is there an easy way to set up Surfshark on Chrome? Does the Surfshark Chrome extension work just as well as installing the VPN on your desktop? Read on to find out how Surfshark Chrome works, how to install and use it.
Google Chrome is the most popular browser in the world. It has more than 2 billion users and works for various platforms, including macOS, iOS, Android and Linux. It is the default browser on all android devices. Unfortunately, this browser doesn't provide more than basic security and privacy.
Compared to Mozilla Firefox and Opera, Google Chrome lacks vital security features. Both Mozilla and Opera have developed alternatives that have in-built VPNs to minimize privacy risks for the everyday user.
Google Chrome is yet to do this, but many users are unwilling to stop using it because of its superior features. If you love Google Chrome and would like to continue using it but are uneasy about security, you can install a VPN to secure your online activity.
Surfshark happens to be one of the best VPNs for Google Chrome. There are two ways to take advantage of its advanced security features. You can install Surfshark as a desktop app or go for the easier method and install an extension.
This post will take you through the process of installing the Surfshark Chrome extension. You can see how to install the Surfshark app on desktop here…
But first, a quick overview of Surfshark and what it can do.
---
What is Surfshark?
Surfshark is one of the most popular VPNs. Based in the British Virgin Islands, it has thousands of servers in different countries to ensure that users have access wherever they are.
This VPN is easy to install and use, and the company has now developed an extension that you can install directly on Google Chrome to ensure that your online activity is secure at all times.
---
Surfshark Features
You can read an in-depth review of Surfshark here, but here is a quick rundown of features that make this VPN so popular: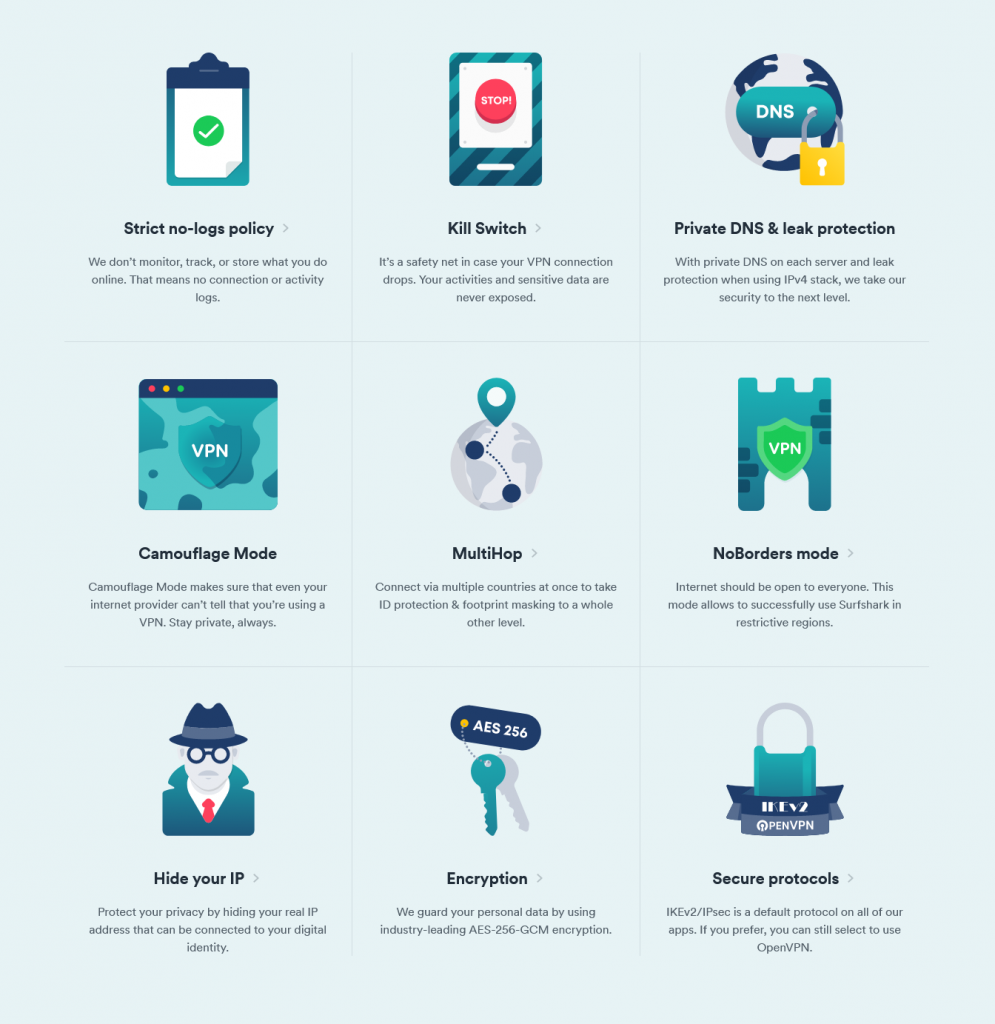 It's great for unblocking streaming sites. It works well with Netflix, Amazon Prime Video, Hulu, BBC iPlayer and others.
It's excellent for bypassing georestrictions. You can use it to access censored websites.
You can connect Surfshark VPN to streaming devices like Amazon Firestick, Apple TV and more.
Surfshark encrypts all the data from your device and passes it through a secure tunnel where it's safe from prying eyes. No one can see your online activity or tell where you are because you're assigned a new IP from a Surfshark server every time you go online.
The company has more than 3,000 servers in 65 countries providing wide reach and fast speeds.
It uses military-grade encryption to keep your information secure and ensure that your data doesn't leak in case of a dropped connection.
Surfshark has a strict no-logs policy and you don't have to worry about the company collecting your personal information or the websites you visit.
You can connect unlimited devices through a single subscription.
The VPN allows you to torrent safely and doesn't have bandwidth caps.
In a nutshell, so long as you install Surfshark on any device, whatever you do on that device will be protected from prying eyes.
Surfshark is one of the most affordable VPNs today and it comes with a 30-day money-back guarantee.
---
How The Surfshark For Chrome Extension Works
It's no different than the desktop app. After you install Surfshark, each time you go online your data is encrypted. You're also assigned a random IP address to hide your location.

Once installed, it secures all your data. You leave no online footprint for anyone to follow and even things like ads and malware cease to be a problem.
For more detailed information on how Surfshark works click here…
---
Surfshark VPN App vs. Extension
Is there a difference between the Surfshark app and the Surfshark extension? Yes, there are a few differences, but you get exactly the same from both in terms of protection and privacy. Here are the key differences between the app and the extension:
The app is a complete software program, so it needs extra resources and disk space. On the other hand, the extension is a small program that doesn't need much disc space.
If you want to secure multiple devices you need to download and install the app. The extension only secures the device it's installed on and cannot be shared between devices.
If you leave Chrome and start using another program connected to the internet (say another browser), your connection is no longer encrypted and you are no longer secure.
These are the only differences between using the Surfshark Chrome extension and the Surfshark Chrome app.
---
How to Install The Surfshark VPN Extension For Chrome
Note: You need to have an active Surfshark account to be able to use the extension. To register you'll need a credit card number. Click here to buy Surfshark…
Click on "Add to Chrome". The button is on the top left of the page.

The next screen will have a pop-up window confirming that you want to add the extension. Click on "Add Extension".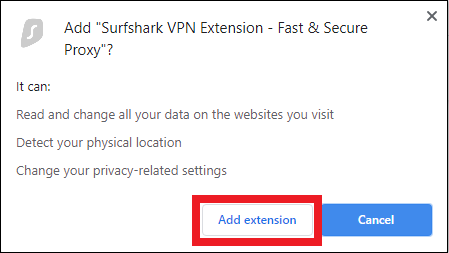 The extension will be downloaded into Chrome and you'll see the Surfshark logo on the top-right corner of Google Chrome.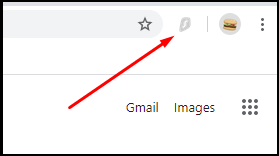 You can now log in to Surfshark by clicking on the logo. If you don't see it, click on the little jigsaw for "Add-Ons". You will find it there. Click on the pin to pin it to your browser.
To log in you need to click on the Surfshark icon. It will open a log-in page that asks for your email address and password. Use the same credentials that you used to register for Surfshark.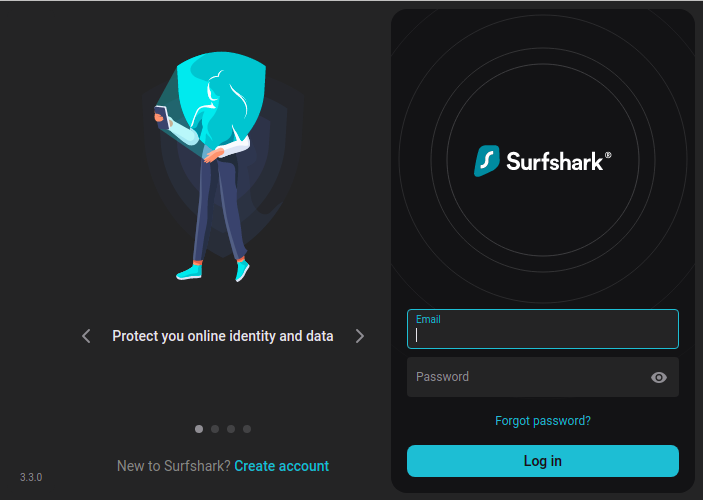 It takes you to the extension's homepage. You'll see a column for locations on the right, and on the left is the "Connect" button. You can choose the fastest server, the nearest country, or you can select a country to connect through from the list provided.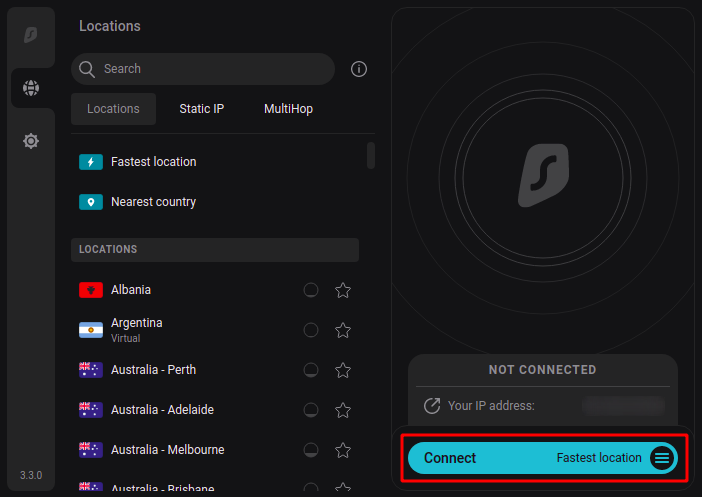 Click "Connect". The status of the button will change to "Connected" and when you want to disconnect you can click on the same button.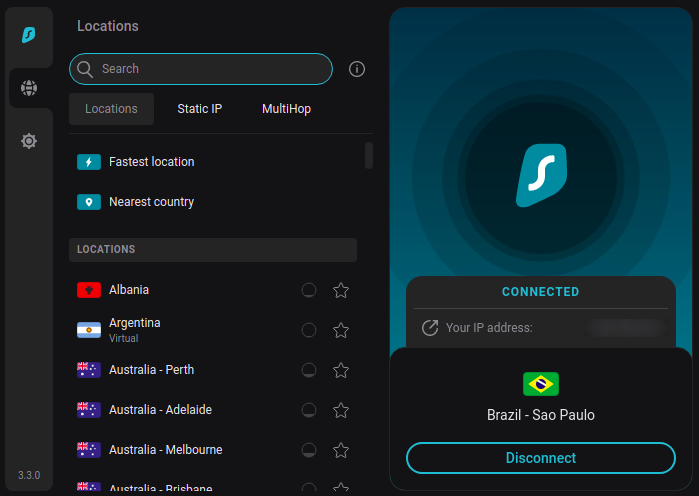 If you choose a location and it isn't fast enough, you can easily change servers by clicking on the globe icon on the far right of the screen. Some countries have servers in multiple cities and you can choose your preferred city to connect through after you click on the country's flag. Choose a server and click "Connect".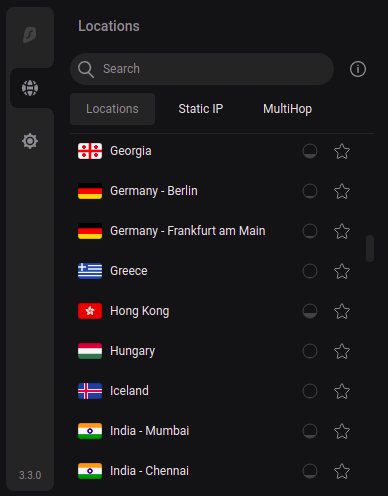 You can change settings by clicking the "Settings" tab. Choose "Connect on Browser Launch" and activate the CleanWeb and WEBRTC features for maximum protection.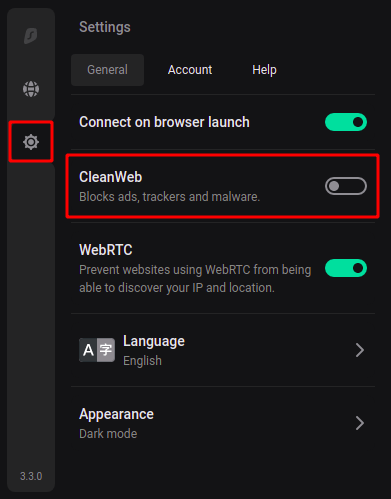 The "Account" tab has your subscription details and you can change language here.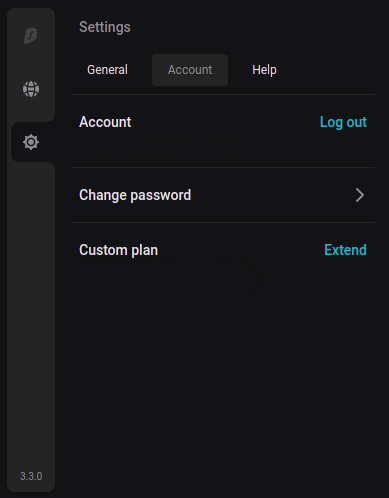 The Surfshark Chrome extension is now installed, and all traffic through Chrome will be encrypted and safe from prying eyes.
---
FAQ
Which is better – NordVPN vs. Surfshark?
Both these are excellent VPNs. There's only one significant difference between the two. NordVPN has more servers and therefore tends to be faster. That's not to say that Surfshark is slow. On the contrary, it's fast enough for users to stream lag-free content.
What you should keep in mind is that NordVPN costs more than Surfshark. For long-term users, the costs can become significant. However, you'll enjoy exactly the same features from both, so unless you need extremely fast speeds you'll do fine with Surfshark VPN.
Why is Surfshark not working?
If you've connected correctly and the VPN is not working it could be because the parental controls are turned on.
You should also check whether you're using an IPv6 internet connection – Surfshark doesn't support this setup as yet.
If these checks don't reveal any issues you can try changing the connection server, and if you still cannot connect, contact the Surfshark team.
Why does Surfshark take long to connect?
If Surfshark takes more than a few seconds to connect it could be because your computer is spreading resources thin. Try turning off your anti-virus, file-sharing clients and any other programs running in the background and aren't absolutely necessary. Then you'll be able to connect faster.
---
Conclusion
A Surfshark Chrome extension is a quick way to protect your computer or laptop. It works just like the app but you cannot use it to connect multiple devices.
The important thing to remember when you use the extension is that if you exit Chrome and go online using another browser you are no longer protected by Surfshark.
The installation process is simple and fast, but if you encounter any hurdles get in touch with the Surfshark support team. They are available 24/7 to answer your questions.