6+ PayPal Payment Forms: Start Collecting Recurring Payments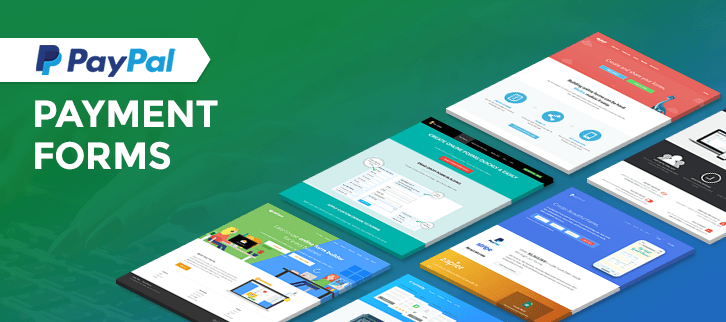 Days back, creating the form was a little bit difficult task. But now with the help of online form builders, you can easily create forms like – payment forms, registration forms, contact forms & many more.
This article is solely focused on multiple form builder software able to provide the facility of PayPal payment forms. This type of payment form helps you to collect one time and recurring payment privately via PayPal payment gateway. 
After analyzing the features of all these software's, a huge difference has been recorded between them. Have a look at this beneficial information below:-
Have a look at the following blogs on form building software:-
Following is the list & description of top PayPal payment form builder tools which varies according to business requirements:
---
1. FormGet – Best In PayPal Payment Forms
FormGet is a remarkable form builder software. It has a bundle of features through which a person can design interesting forms as well as collect leads. This tool will also let you attach a sliding/popup forms on a website. Various variety of forms are supported with this software like payment form, information gathering form, lead capture form etc. A person can collect instant, repetitive & one-time transactions using the payment forms.
Moreover, the advanced features will let you access the 260+ pre-designed ready-to-use templates. Also, it facilitates a user dashboard to manage all the task through a single interface.
---

---
 Key Features At Glance –
Canned Replies:

With the help of the canned replies functionality, a person can respond faster to their customer. Further it reduces the repetitive efforts of replying to frequently asked questions.
Third-party Integrations:

 Other than PayPal, this software supports a number of amalgamation such as Stripe, Dropbox, MailGet, Aweber, Salesforce and many more.
Conditional Logic:

Conditional logic is another great feature of it

 

through which a person can create a dynamic form that will change when certain conditions are met.
Pricing Plan –
Basic Plan: It is completely FREE for lifetime. With this plan, you get access to all the premium features for a single form. Moreover, you are completely free to use it anywhere on the web.
For more features to enable multiple extensions,  you can switch to Pro Plan.
Pro Plan: Here you can find the multiple extensions such as PayPal, Stripe, team members, custom branding & many more. It consists of 4 plans:
The first plan is a Starter Plan that will cost is $50/year for a year which gives a complete package of extensions, single form license and payment form.
Second plan is a Rookie Plan, you have to pay $350/year for payment forms, full bundle of extensions, and license for 5 forms.
The third plan is the Pro Plan it charges $790/year for Unlimited forms license, complete set of features and payment forms.
An Advance Plan for the Unlimited premium functionalities will cost just $990/year only.
FormGet Price Comparison
FormGet
Wufoo, Jotform, Formsite, Paperform, Formidable

$990 per year

Formsite $999.95 per year

Payment Collection

Unlimited Forms

Users & Submissions [Unlimited]

User Notification [Unlimited]

Paperform $99 * 12 = $1188 per year

Wufoo $74.08 * 12 = $889 per year

Jotform $99 * 12 = $1188 per year

Formidable $99 * 12 = $1188 per year
---

I am using FormGet for a year and tested all it's working. It helps me increase form creating capabilities by 50%.
So, if your focus is on it then I would recommend you to use FormGet as it's completely FREE & reliable service among all the form building tools.
---
2. Pabbly Forms – Reliable In PayPal Payment Forms
The Pabby Forms is a reliable tool for businesses involved in payments. It basically provides to extremely secure payment gateways i.e, the PayPal & the Stripe. It also renders Google and forms analytics for the custom made forms that you create. Further, you can apply custom branding to your forms too.
In addition, there are many advanced options also avilable like Creating forms in multiple languages and using multiple different currencies in payment forms and much more.
---

---
Some Peculiarities With The Pabbly Forms –
Advanced Security: This tool provides various security mechanisms on many different levels. Such as SSL encryption, reCAPTCHA for forms and spam prevention for the emails.
Social Sharing: It is a unique feature of this software using which you can share the forms onto different social media platforms. Also, there is a live chat option for communication purpose.
Custom Branding: With the efficient use of this feature you can easily promote your business online. You only need to apply custom branding on your forms.
Pricing Plan –
The Pabbly Forms offer 5 plans namely-
Free Plan: This is a dedicated free plan for testing all the advanced functionalities of the product for a single form.
Starter Plan: The starter plan cost $5/month for a single form, a single user with 1200 submissions/month.
Rookie Plan: In the rookie plan the cost estimate is $35/month for 5 users, 25 forms and 25K submissions/month.
Pro Plan: Pro plan will cost $79/month for 10 users, unlimited forms and 60K submissions/month.
Advanced Plan: It is a dedicated plan for unlimited access to the premium features lifetime.
---
3. Wufoo – PayPal Payment Form
Wufoo is an interesting form designer tool with the help of which a person can create contact forms, online surveys and invitations. These are mainly used to collect data, payments & registrations according to the business needs.
This software provides the facility for collecting one-time & recurring payments via PayPal with built-in error checking & validation. 
---

---
Key Features Of Wufoo –
Powerful reports For Better Insights:

 Stay informed and organized with the analytics dashboard of this software. A user can easily check and analyze entries from any devices as soon as they roll into the account.
Accept Secure Online Payments:

 This software is integrated with premium payment gateways. It supports PayPal, Stripe & Authorize.Net payment gateways.
Collect Responses Anytime:

A user can easily collect responses by sharing form on any social media site or can insert it into his own site. These forms are mobile responsive to support swipe gesture and can also adjust to different screen sizes.
Pricing Plan –
Free Plan: This Plan is completely FREE with 5 forms, 100 entries. It also provides 10 fields, single user, unlimited reports and 100 API request.
Starter Plan: For Starter Plan, you can just pay $14.08 per month and get 10 forms, 1,000 entries. It also provides unlimited reports, 1 GB uploads facility and 10000 API request.
Professional Plan: The Professional Plan costs $29.08 per month for unlimited forms, 5000 entries, maximum fields. Apart from these, access to 5 users plus unlimited reports, accepts payments, 5 GB data uploads and all the prime features plus 25,000 API requests.
Advanced Plan: In Advanced Plan, you can get unlimited forms, 25,000 entries & 20 users. In addition, unlimited reports, 10 GB file uploads, accept payments and 50,000 API request. It will charge $74.08/month.
---
4. JotForm – PayPal Payment Form
JotForm is an easy-to-use online form creator software for every business. With the help of it, a person can create creative online forms and publish them on their site or on any social media platform.
One important fact of this form builder is that it has multiple Content Management System (CMS) apps.
---

---
Some Features Of JotForms –
Big Section Of Free Templates:

Here a person will find a variety of free templates which will help them to get a quick start on their form-work. All kinds of templates are available whether it's a payment form, scholarship application form or any other form type.
Reliable Payment Facility:

Other than PayPal, this form creator software supports multiple payment gateways such as Stripe, WePay, PayJunction, Square and many more.
Mulitple Form Widgets: You can choose from hundreds of online form widgets to include extra features such as video, social media or maps in your forms. These additional features can make your forms a centre of attraction for users and put more impact on them.
Pricing Plan –
Starter Plan: This plan is FREE in which you can create 5 forms, accept 100 monthly submissions and 100 MB space with SSL secured submissions.
Bronze Plan: In the Bronze plan, the charge is $19/month in which you can build 25 forms, accept 1000 form submissions and 10 GB space with SSL security.
Silver Plan: Under this plan, you will be charged $39 per month. By buying it, you will be able to build 100 forms, accept 10,000 form submissions and 100 GB space with SSL security.
Gold Plan: In the Gold plan, you will design unlimited forms, receive 100,000 form submissions and 1 TB space with SSL secure submissions. It will charge you $99/month.
---
5. Formsite – PayPal Payment Form
Formsite is a responsive form builder software with which a person can easily build any kind of forms by simply dragging the required field. Also, they can share this forms on any social media platform or embed it on their own site.
The plus point of this software is that it shows the results in graphs & tables rather than showing in a raw data form.
---

---
Features Of Formsite- 
Another Integration:

This tool can help the user connect with multiple software like Dropbox, Google Drive, MailChimp, Microsoft OneDrive, Salesforce, Zapier and many more.
Collect Payments:

Along with PayPal, this software also accepts payments with other gateways such as Braintree, Authorized.Net, Stripe and it also accepts credit cards.
Email Notification:

Use personalization tool to target visitors interests and address them individually. Also, a user can send automated reports to the management for managing the response of their customers.
Pricing Plan –
Free Plan:
In the free plan, you are able to create 5 forms, accept 10 results/form & 50 MB file space.
Deluxe Plan:
Deluxe plan charges $14.95/month. You can build 5 forms, accept 500 results/form & 500 MB file space with SSL security.
Pro 1 Plan: This plan charges $24.95 per month. In this price, you will be able to build 10 forms, 1 GB file space & accept 10,000 form submissions. It is an Ad free plan with SSL security mechanism.
Pro 2 Plan: In this plan, you will be able to design 25 forms, receive 25,000 results per form and 2 GB file space. With SSL secure submissions, 5 sub-users, unlimited PDFs, unlimited workflows it will charge you $49.95/month.
Pro 3 Plan: It is a premium plan which includes all the features of the previous plans for 100 forms, 10,000 results per form, 4 GB file space and additional security compliance. It will cost $99.95/month.
---
6. Paperform – PayPal Payment Form
You can build form faster with Paperform. It also has a theme store from where a person can directly access the in-build forms like invitations, event registration, survey and much more.

A single user can even use multiple accounts from different gateways, set currencies for forms, and set permissions on it.
---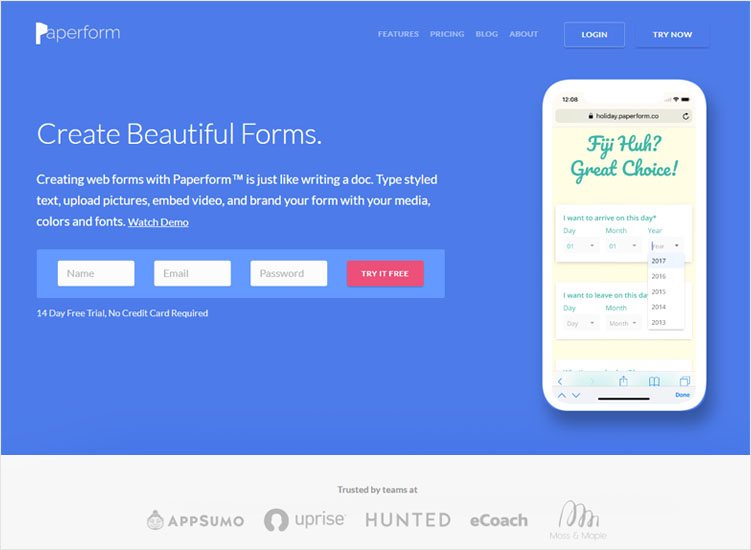 ---
Some Features Of Paperform –
Integration With 3rd-Party:

With Zapier tool of this software, a person can connect with over 750 apps without writing a line of code.
Multiple Payment Gateways:

This platform supports multiple payment gateways like Stripe & Braintree.
Social Media Sharing:

A person can fluently embed their forms to WordPress, Squarespace, and other sites. Either they can share their forms on Facebook, Twitter or can directly share them by using its unique URL.
Pricing Plan –
Essentials Plan: In the Essentials plan, the user will have to pay $15/month & would get unlimited forms, payments, 1K subs/month and many more.
Pro Plan: In this plan, the user will have to pay $39/month. After paying it, the user can access unlimited forms, multiple payment accounts, unlimited subs, 1GB uploads/form and more features.
Agency Plan: In this plan, the user will pay $99/month & the user will get to create forms for clients and across teams, multiple users, unlimited payment accounts, custom domains and many more.
---
7. Formidable – PayPal Payment Form
Another wondrous form maker tool which allows the user to create professional forms and provide all the features is Formidable. It can be integrated with other payment services like Bootstrap, MailChimp, AWeber, WooCommerce, Zapier and many more.
---

---
Features Of Formidable –
Easy to use: By using the Formstack tool, a user can easily design beautiful and attractive online forms without any programming knowledge.
Import & Export Data: Its export data feature enables the user to arrange and export the form data in any other format.
E-signature Security: This form maker software provides e-signature facility so, the user can easily add an electronic signature field in any of the forms.
Pricing Plan –
Personal Plan: The Personal plan will be charged $49/year. In this plan, you will get one-year standard support & one-year plugin updates. If you want more innovative features then you can purchase add-on separately.
Creator Plan: In the professional plan, you will be charged $99/year. For this price, 3 sites visibility, 1-year plugin updates, 1-year standard support along with 6 premium add-ons will be provided to you.
Business Plan: For the small business plan, you have to pay $199/year which will give you 15 sites visibility, 1-year plugin updates, 1-year standard support along with 6 premium add-ons & 10 advanced add-ons.
Enterprise Plan: In the enterprise plan, you would be charged $399/year which gives you unlimited site accessibility, 1-year plugin updates, 1-year standard support along with 16 premium add-ons & 5 advanced add-ons.
---
Conclusion:
In conclusion, these were the best listing of the domain PayPal payment forms. I hope that reading this article might help you in your search. And the idea of using a payment form for your business is much clearer.
You are free to choose any product from the above listing. And if you are having a better software you can suggest us the same in the comment section below. We'd love to sum up a worthy product.