5+ Form Creator Software | Create Eye-Catchy Form In Few Clicks
For business purposes, you use form creator software to build forms for collecting payments, leads, surveys, registrations & many more. But to opt for a tool through which you can design a beautiful & rich form is quite challenging.
Why?
It is because nowadays, the users are more likely to fill those forms which are easy to understand as well as beautiful. If they don't find it the same, they might not fill it & all of your efforts will have been wasted.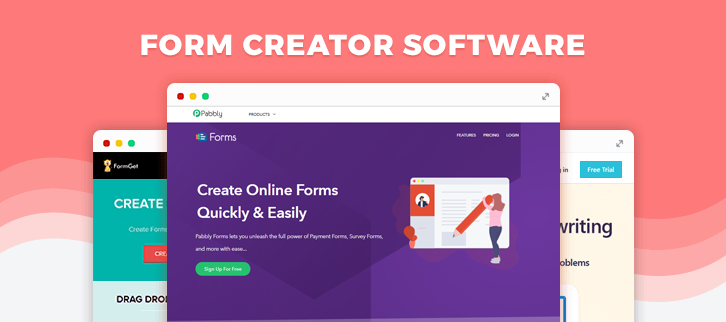 That's why we have mentioned some of the best form creator tools in this blog which include varieties of functionality and add-ons. These software contain a wide range of features like the drag and drop option, custom designs, collect online payments and lots more.
Let's Have A Glimpse At Various Form Creator Software
In fact, form maker software also helps you collect a large amount of data and summarize it in a single place. Also, you can embed forms on different websites and share them on numerous platforms like email contents, social network etc.
So, let us briefly understand the functions of the 6 best form creator software that will assist you to collect leads and payments as well.
We also have some more form creator software blogs for you:
---
Platformly is a leading software for email marketing. It's perfect for businesses that want to capture more leads and enhance engagement with prospects. One of the ways it does that is with web forms.
Web form creation with Platformly is easy: just point and click to create surveys, quizzes, payment forms and more. It has conditional branching logic for those who are interested in more complex forms. The software can segment visitors based on the answers they give to certain questions.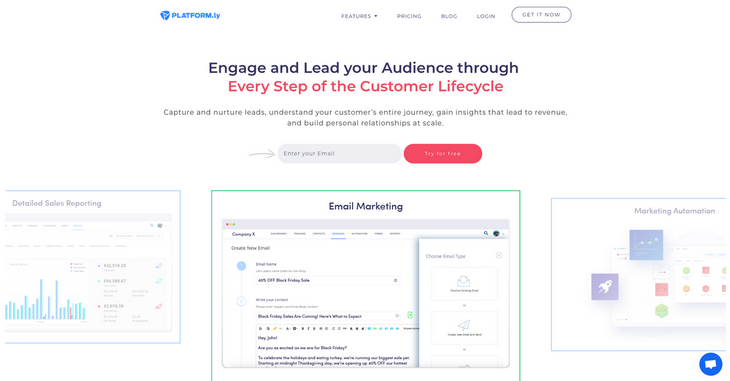 Pricing
Platformly offers a 15-day free trial during which you can test all features in any package.
Starter: Starter Package costs a minimum of $19/month and can be used for as few as 1000 contacts.
Growth: Growth Package starts at $49/month, and it comes with 5 dashboards, 5 domains and unlimited integrations.
Unlimited: Unlimited Package starts at $99/month, and you get to send unlimited emails, unlimited dashboards, unlimited domains and unlimited integrations.
Rich Profiles: For an additional fee you can have Rich Profiles, which allows you to search for pesonal or company data using email addresses and domains to help you get a better perspective of your prospects.
Key Features
You can create behavior-driven opt-in forms. In other words, you can create different forms for different users depending on their preferences, lifestyles etc.
With Platformly you can manage all user interactions from one location. By clicking on a user you can see all interactions you have had with them in the past.
Business dashboards allow you t see everything that's happening with your campaign at a glance.
This tool integrates easily with other business software including paypal, Zapier and Google Analytics.
---
FormGet form creator is remarkable and one of the top software for designing numerous forms within a few clicks. It allows you to collect one-time or recurring payments in a secure way.
This tool helps you generate different forms and you can customize them through custom design editor & change their background color, font size and other entities through it.

Pricing
FormGet provides a 14-day FREE trial, in which the customer can design unlimited forms using all the paid features of the software.
Starters Plan: includes one user, you can create one form, 1200 form submissions/m and it's been integrated with PayPal & Stripe. This plan will cost you $5/m & $50/year.
Rookie Plan: offers you 260+ ready templates for forms, custom email notification service and custom branding. This plan will cost you $35/m & $350/year.
Pro Plan: is a very popular pricing plan of FormGet. It benefits you with third-party integration, social share options and it accepts multiple currencies. This will cost you $79/m & $790/year.
Advance Plan: includes all the services which are provided by the above three plans and also it includes some more add-ons like unlimited form submissions, unlimited users, and embeds unlimited domains to your website. This will cost you $99/m & $990/year.
Features
This software allows your form to look smart and short by enabling conditional logic functionality in it. Through which users can create dynamic forms that will automatically change whenever certain conditions are met.
Its drag and drop option helps you to create different form patterns and also drag the details like name, email, contact etc to the forms.
You can easily review all the form submission at one place. And you can easily filter them according to your requirements.
Also, it includes third-party integration other than PayPal and Stripe. Like Dropbox, MailGet, Aweber, Salesforce and many more.
---
Pabbly Forms software helps you in designing the topmost forms for your brand which helps you collect leads. This form builder allows you to generate different forms like payment forms, contact forms, signup forms and much more without requiring any technical skills.
It provides you with different kinds of pre-built templates which can be used to create forms. In fact, whatever form you create is responsive in nature that it can be adapted by any screen size like desktop, tab or tablet.

Pricing
Pabbly Forms pricing is categorized into 4 different plans:
Starter Plan: includes one online payment account, Google analytics integration and you can embed 10 domains on your site for $5/m & $50/y.
Rookie Plan: benefits you with services like you can view forms up to 100k/m, upload files till 2GB, 260+ ready templates for $35/m & $350/y.
Pro plan: provides you with services like priority support, provides your agents/clients with dashboard and custom email notifications for $79/m & $790/y.
Advance Plan: includes form scheduling option, custom branding, export data, and conditional logic can be applied on forms for $99/m & $990/y.
Features
This software supports multilingual languages which means forms can be created in any kind of languages all around the world.
With this software function, you will immediately receive an email confirmation along with a complete description whenever a user submits a form.
It allows you to connect different types of forms with email marketing services like iContact, MailGet. This helps you in collecting leads online and promotion of your brand.
You can provide form access permission to your team members so that they can also create forms and can manage them on their own.
---
123FormBuilder is an easy to use and trustworthy online form creator software through which you can design different form types like contact forms, sign up forms, payments forms and many more.
Also, this software allows you to embed forms in your own website or share them on any social media platforms. You can integrate this tool with Google Docs.

Pricing
Basic Plan: is FREE. You will get some features like create 5 forms, add 10 different fields on forms, and it has no storage space.
Gold Plan: will cost you $24.99/m & $249.9/y provides you with unlimited API calls, mobile platform support and contain form templates collections.
Platinum Plan: will cost you $44.99/m & $449.9/y which includes services like 20,000 form submissions, real-time form builder, third-party app integration and internal technical support.
Features
With its drag and drop functionality, you can build web forms within a few clicks. Also, you can insert some fields like name, contact, email, address etc on the form in an easy way.
You can choose any kind of pre-built templates from the given one and can customize them according to your needs.
Through this software, you can easily store or manage the data of forms in a systematic manner.
Further, it benefits you with an advanced security system, you can add a password, quiz or CAPTCHA on the form whenever a user is submitting the form.
---
Formlets helps you in creating contact forms, online surveys for market research, make registration forms according to your needs. It allows you to auto-fill the field of form which was already filled by the user in the last form.
This software is protected by CSRF which will prevent the forms from being filled by any spam customer. Also, it has e-signature function through which a user can easily drop an electronic signature on the form whenever required.

Pricing
Personal Plan is FREE and includes great services like view 5000 forms/m, exports your data easily, 500+ app integrations included etc.
Small Business Plan which costs you $18/m & $180/y provides services like publish 10 forms, add a brand logo to form and has PayPal & Stripe integration option.
Professional Plan for $48/m & $480/y it easily passes external data to forms, custom thank you page and conditional logic display on specific fields.
Enterprise Plan for $260/m & $2600/y benefits you with request custom functionality, 50GB space for file upload and client support facility 24/7 online.
Features
You can allow your customers to upload files like images, docs or any other kind with the help of async file upload function. The size of the files uploads up to 2TB.
This software helps you in creating multi-page and column forms within a few minutes. In fact, it is responsive and user-friendly in nature.
It allows you to display the form data in RTL language which definitely showcases the forms in a unique way.
Also, you can customize the file sizes according to your form requirements. And set the minimum and maximum file dimensions on the form.
---
Formogram is another powerful form builder tool that has a wide range of features. This software allows you to add the URL in the form, embed it into your sites or share them on social media platforms like Facebook. Twitter etc.
It helps you send personalized messages, graphic email invitations and also you can schedule reminders for them. Further, you can accept online payments for event signups, merchandise donations in a secure way through PayPal and Stripe payment gateways.

Pricing
Formogram plans are given below in brief:
Starter Plan is FREE and it includes services like 3 active forms, provided with 15 fields per form and you will receive 25 emails/m.
Piccoli Plan will cost you $23.10/m which benefits you to 1000 email/m, public file uploads, SSL encryption and fantastic email support service.
Medio Plan for $46.25/m which has services like create unlimited form fields, 50 active forms, 4500 emails/m and payment forms.
Grande Plan will cost you $57.83/m which has services like design unlimited forms,  add unlimited form fields and you can receive 2000 emails/m.
Features
You can instantly create forms with the help of its drag and drop editor and view the real-time changes.
It allows you to use its form designer tool through which you can change the option on forms like font faces, font sizes, font colors, background colors, images and more.
You can view the detailed analytics of forms on the basis of view count, response rate, geographic locations, referrals, average response time and more.
Formogram form builder software easily allows you to export the data on other formats like Microsoft Excel or Qlikview or import it to your own browser in no time.
---
Wufoo is an interesting and simple form creator software which can be used by any person without requiring any coding knowledge. Within a few clicks, you can create beautiful and responsive payments, contacts or other types of forms.
Through PayPal or Stripe payment gateways, you can collect both one-time as well as recurring payments easily.

Pricing
Wuffo pricing plans are as below:
Basic Plan is FREE, with this plan you can create 5 forms, 100 entries,  insert 10 fields and create unlimited reports.
Starter Plan will cost you $14.08/m & $19/y. This include services like create 10 different forms, add unlimited fields and add a custom brand logo on the form.
Professional Plan will cost you $29.08/m & $39/y. It includes services like online payments, Google analytics tracking, and password protection.
Advanced Plan for $74.08/m & $99/y. It provides you functions such as receiving a custom confirmation page, redirects, confirmation emails, and third-party integrations.
Features
You can create different kinds of forms by using its 400+ prebuilt customizable templates, add your brand logo or modify it according to your needs.
This software helps you collect feedback responses anytime-anywhere. All you have to do is to share the forms on social media or embed them your websites. Also, it is responsive in nature & adaptable to any screen size.
It allows you to stay informed with the report analytics dashboard of the software. Also, dig into any of the specific categories and analyze its targeted reports.
You can connect this form creator software with other popular tools such as Salesforce, MailChimp, and 60+ others.
---
Conclusion
All the software present above are best form creator tools that will help you in creating different kinds of forms within a short time. Each software is unique and provides you with a variety of features.
Through most of them, you can create unlimited number of forms, add videos, images, reCAPTCHA, conditional logics & many more.
We hope that you will pick the best one as per your requirements and create a unique identical form for your brand.
If you have any query or suggestion then please comment below.