4+ Software To Create Forms | Build Forms For Payment & Surveys
"Use software to create forms & collect payments + leads on an unlimited basis!"
For any kind of business work, you need to collect surveys, donations, information, leads, inquiries & many other matrices. And the best way to do this thing is via online forms.
But there is an exception!
The viewers of your form will only submit any action to your form if they find it:
Beautiful
Responsive
And with lots of new features.
In this case, it should be an IDEAL  FORM. Then only you will receive responses from your desired customers/viewers. And an ideal form can be the one which is created by using a form builder software. If you use the best tool of its kind, I bet that you will achieve your desired goal!
So keeping all these things in mind, we have discussed some web-based software to create forms in this article. All of them are competitors of each other, yet they are the best in their segment.
---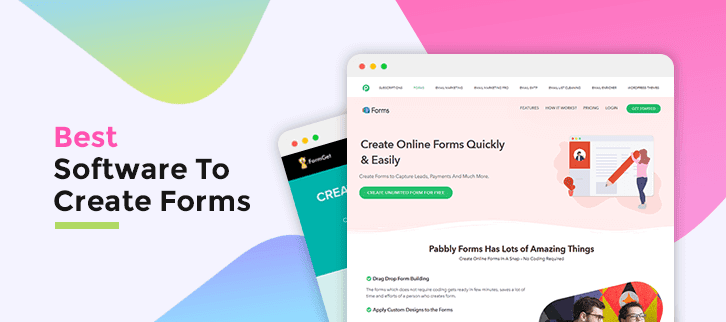 ---
Through the forms created by these software, you will be able to gather subscriptions, feedbacks, contacts and many more things. But before moving on, let's have a glimpse on some of the form builder services:
According to the table, you will get some features like autoresponders (for automated replies), form analytics (for tracking your form's activity) & SSL encryption (for security/privacy point of view). But this ain't the end!
You will also get to use the conditional logic feature for creating a smart form. It will consist of variable fields visible depending upon the selection of choices.
Moreover, they will allow you collecting payments in multiple global currencies. So, no need to worry about losing any international client. And when a user fills & submits your form, both you & the user will get an instant email notification about it.
We can't stop discussing the merits of this blog as neither the feature's list will end nor the world! But time is money for people like you. So without wasting a single minute, let's dive together into this article:
Read some more blogs too!!!
---
1. FormGet – Form Maker Software
FormGet is one of the best form builder tools for all kinds of your current needs. With it, you can create forms with simple drag and drop options with an unlimited number of form entries.
Moreover, it has an option to add your own branding to the forms like you can add up your logo, brand image, etc. It is a small thing, still plays a big role while performing online surveys, collecting one-time/recurring payments & leads.
Also, it is highly customizable which allows you to do easy changes in the field entries, background color, and a lot more in just a few clicks. That means you own each an every key for creating a form of your will!
---

---
Features:
Also, it has various social sharing options by which you can share your forms on various social sharing platforms.
It is translation ready in nature so that one can create forms in any language. So losing a user/customer of any tongue will never be an option.
For preventing a search engine robots from filling your form, you can use the reCAPTCHA feature for collecting authentic leads.
You can embed forms on multiple websites and manage them all from one single location with the help of this form builder software.
---
Pricing:
Free Trial: It offers a free trial of 14 days where you will get to use all of its features without any boundations.
Starters Plan: Buy this plan at a reasonable price of $9. You are getting 1 user and 1 form access along with 1 payment account and more.
Rookie Plan: It cost you $35/month in which you get 5 users and 25 forms, features such as PayPal Integration and 2GB storage.
Pro Plan: In this plan $79 in which all the extensions will be applicable for 10 users. Further, you will get features such as email notifications and up to 7 GB storage.
Advance Plan: You can get this plan, you will be paying $99 monthly in which you will get all the features of the above plans. Also, in this plan extensions will be applicable for the unlimited users and 10GB file uploads.
---
2. Pabbly Forms – Online Form Builder
Pabbly Forms is another finest software in this list. Through it, you can easily build a form for collecting leads like resumes for hiring purpose & registrations for any tournaments.
Also, you can create the sliding/pop-up forms which throw a unique reflection on a user who sees it for the first time. Believe us, they attract a greater number of users.
It comes with a variety of pre-built templates that you can use for creating the forms. All of them are mobile responsive and ready to use to help you create any type of forms instantly.
---

---
Features:
It has a feature named as 'required field'. By using it on any form's field, the user has to fill that area. Otherwise, his/her form won't be submitted.
You can connect your forms in various email marketing applications such as MailGet, Salesforce etc. This will help you to capture leads and send them instantly in your email marketing application.
Pabbly Forms provides you conditional logic and branching in forms. This helps you to convert your longer forms into a shorter one by hiding fields accordingly.
One noteworthy feature of this software is that it allows adding images as well as videos to the forms. It is really a plus point for you if you use these things in your form.
---
Pricing:
There are 4 different plans these are-
Starters: Available at $5/month with 1 user, 1 form access, get an autoresponder and sliding/popup forms, and you can embed to 10 domains using this plan.
Rookie: This plan cost you $35/month along with 2GB file uploads, more than 25k submission per month. Also, many Dropbox account integration etc.
Pro: You can buy this plan at $79 for a month and its yearly at $790, you will get 10 users and captcha/spam prevention options.
Advance: Grab this advance plan at $99/month where you are allowed to use unlimited payment account along with 10GB file uploads.
---
3. NinjaForms – Create Form With Ease
NinjaForms is the most powerful, and easiest WordPress form builder software to create forms with more than 11,000,000 downloads. These forms can be of the various type such as feedback form, subscription form, donation form and a lot more.
You can control every element of your form and fine-tune every part of your form from general settings, submit actions and emails.
---

---
Features:
The noteworthy feature is you can add a NinjaForms to your site easily with a widget, shortcode, template function. Also, you can append it automatically to any content you choose.
NinjaForms has multilingual support so that you can change your form into any language according to your need.
With the help of easy drag and drop, you are able to customize almost everything in just a few clicks. Further, you can add as many field entries as you want in your forms using this software.
---
Pricing:
Agency Plan: You can buy this plan at $499 for a year with unlimited sites license and 1 year of regular updates & fast support.
Professional Plan: This plan cost you $199 /year with 20 sites license and full support. Further, it has a builder pro pack consist of various layout & styles, file uploads and a lot more.
Personal Plan: Buy this plan at just $99 with 1 site license and get 20% off in additional add-ons and full updates up to 1 year.
---
4. 123FormBuilder – Software To Create Forms
123FormBuilder helps you to build any type of online forms, manage workflows and collect accurate data with ease. You can create HTML forms, contact forms, email forms, order forms, event registration forms and any type of web forms.
This software to create forms helps you to save your time and kept the data of your users organized in an easy way.
---

---
Features:
You can protect your web forms with SSL, Captcha and more. Also, you can create password protected contact forms & other HTML forms. Further, the software permits you to publish the form anywhere online.
One can integrate one or more payment processors with their order form and sell anything without the need for a shopping cart.
With the help of this software, you can connect your web forms to other online services such as Google Drive, MailChimp etc. This will help you to automate your data collection processes in a snap.
It has an option to track your online form performance through in-depth analytics. You can use graphical reports present in this form builder software for data mining.
---
Pricing:
Basic Plan: This plans you cost you nothing as it is a FREE plan which comes with 10 fields entries, 5 forms building access, and 3rd party apps integration.
Gold Plan: This plan is available at $24.99 comes with UNLIMITED Fields, 20 forms, 5000 submissions/month and more.
Platinum Plan: Buy this advance plan at $44.99 where you will get all the above features as well as 20,000 submissions /month, 2GB storage for uploads and more.
---
5. Formogram – Form Builder Software
This form maker software allows you create custom, beautiful web forms for surveys, invitations, contact, sales & a lot more. The best part is you can share your forms in various social sharing platforms. You can use a link to the form, embed it into your site or share directly on social media.
Formogram permits you to create advanced forms with many field types to choose from with just a few clicks. It has easy drag and drop options field and you can review the results of your changes instantly with the help of this software.
---

---
Features:
Using this software you can easily create and send beautiful, graphic email invites to the contacts you want to get feedback or RSVP from. Further, the option of reminding invitees who have not yet responded these reminders can be scheduled to the date and time of your choice.
You are able to add payment options to your forms to charge for everything from event tickets, your website products, donations and more. It supports the secure payment service Payson by which your users can do payment with ease.
It has detailed analytics functionality by which among the data collected for each form you will find views count, response rate, etc,. Also, you will get to know about geographic locations, referrals, average response time and more.
One can export their data in various formats at any time in software like Microsoft Excel or Qlikview, or for imports to your own support systems.
---
Pricing:
Strater Plan: Buy this plan at Free of cost, yes you read it right you are getting 3 active forms, 15 fields/form, 50 entries per month and more.
Piccoli Plan: You can buy this plan at $19.95€ with 10 active forms, 100 entries/form and 300 entries per Month.
Medio Plan: This cost you 39.95€/month comes with 50 active forms and full support. Further, you are getting 4500 emails per Month, payment forms and more.
Grande Plan: Grab this plan at just 49.95€ / with unlimited forms, unlimited form fields, unlimited entries and more than 20000 emails per Month.
---
Conclusion:
As we have reached at the end of our blog, we hope that you have found the right software to create forms. Each software mentioned above have their own features and they all vary with the pricing. You can choose any of the above according to your requirement.
If you have any queries, you can ask in the comment section.
Stay tuned for more form builder software.